Easy, Rich, and Creamy Homemade Keto Alfredo Sauce Recipe
Keto pasta and zoodles taste better when smothered in this keto alfredo sauce recipe!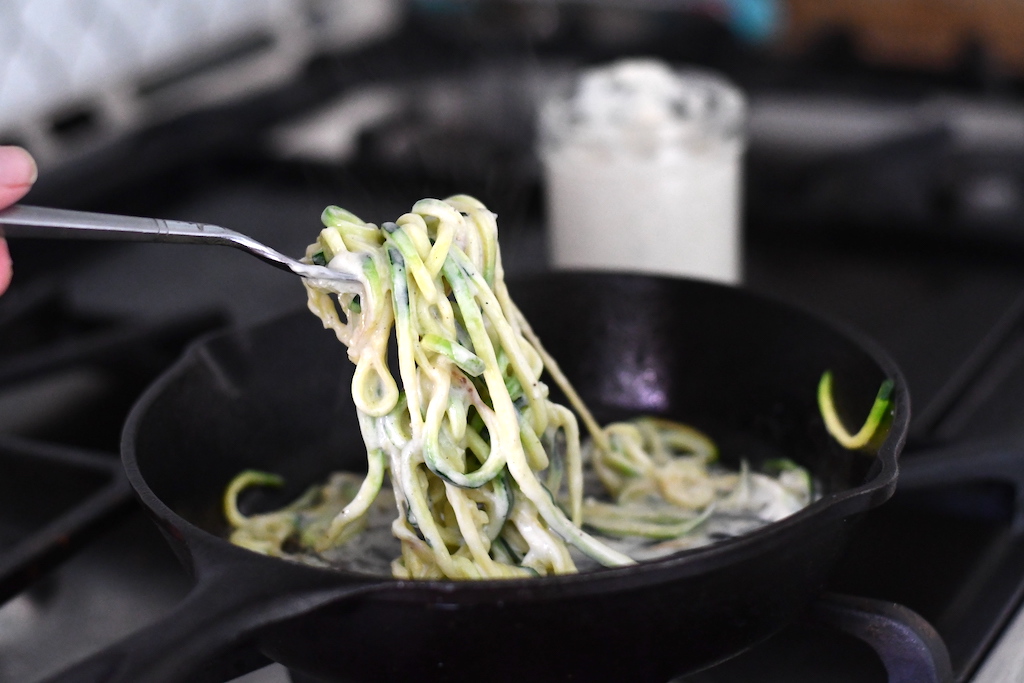 Love alfredo sauce over noodles?
You won't believe how easy it is to make creamy keto alfredo sauce at home on the stove! It takes just a few ingredients and tastes AMAZING! The creamy texture and garlic cheese taste are super satisfying and delicious. There's no thickener needed, and your family will want this low-carb sauce on everything!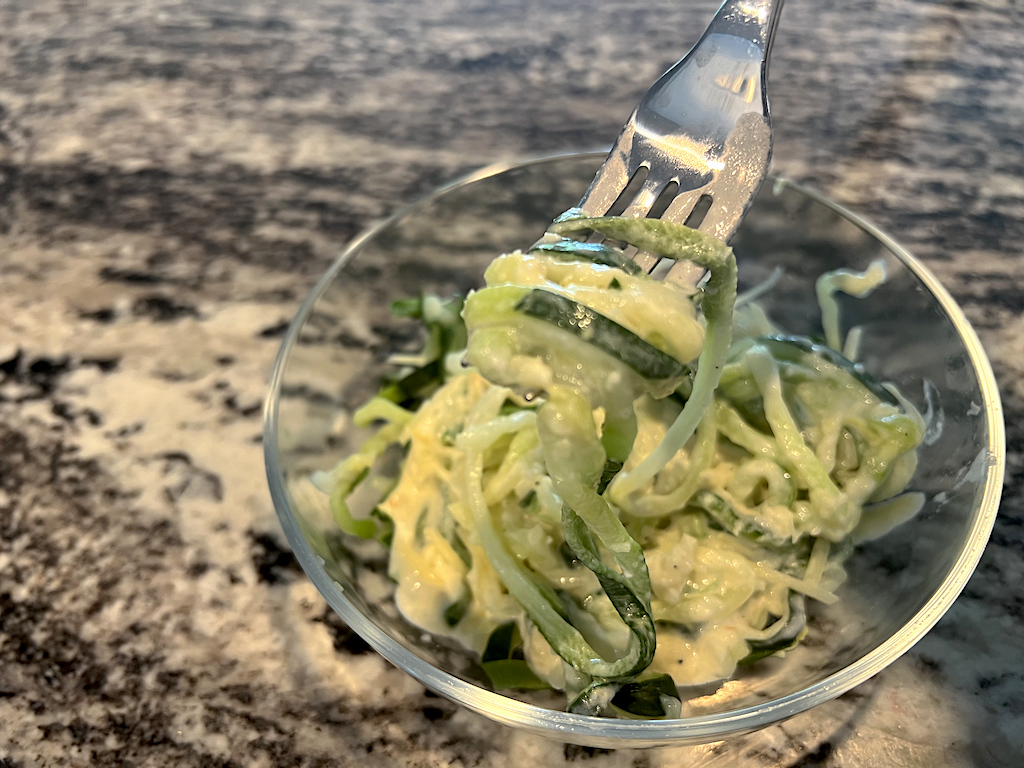 Creating this alfredo sauce couldn't be any easier! It comes together quickly by melting all the ingredients together on the stove, and it takes just a few minutes.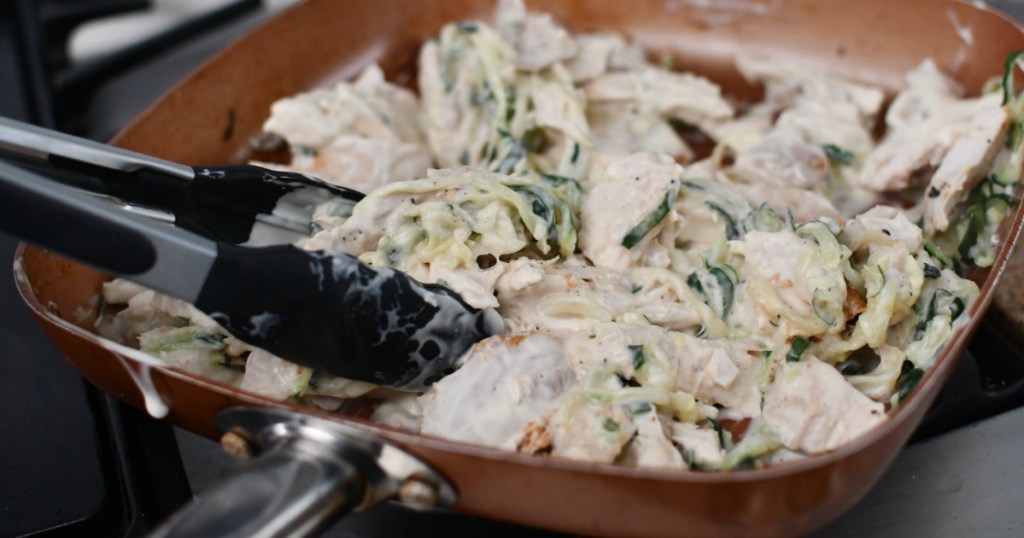 I served mine over some quick zucchini noodles and pieces of chicken as a yummy and easy dinner. This sauce is so versatile and can serve as the backdrop for other delicious keto meal ideas. For instance, you can use it to make a chicken alfredo Fat Head pizza, or spoon this homemade alfredo sauce over these 2-ingredient keto noodles. YUM!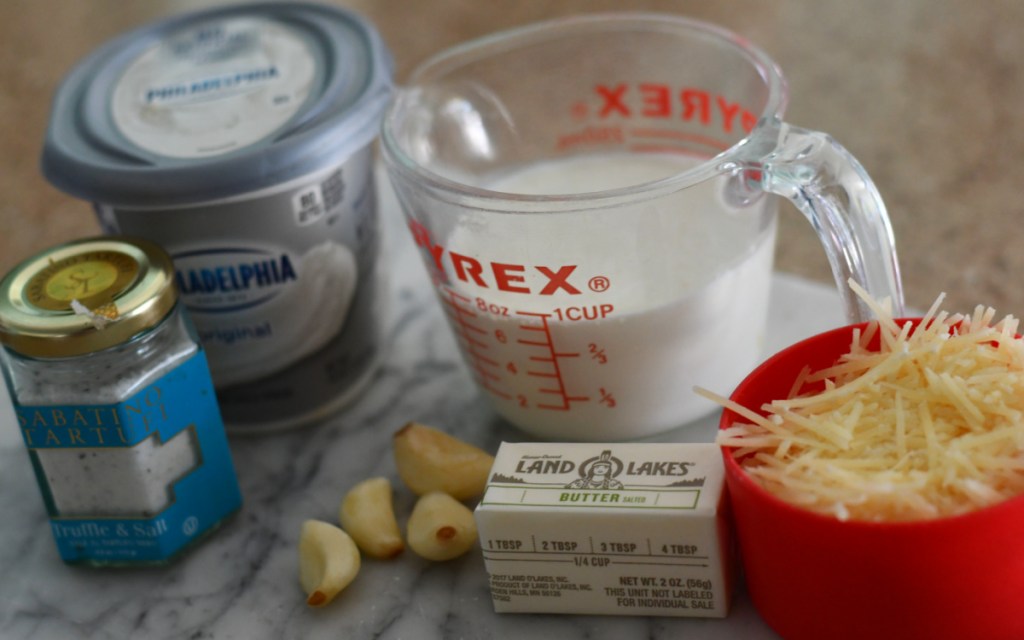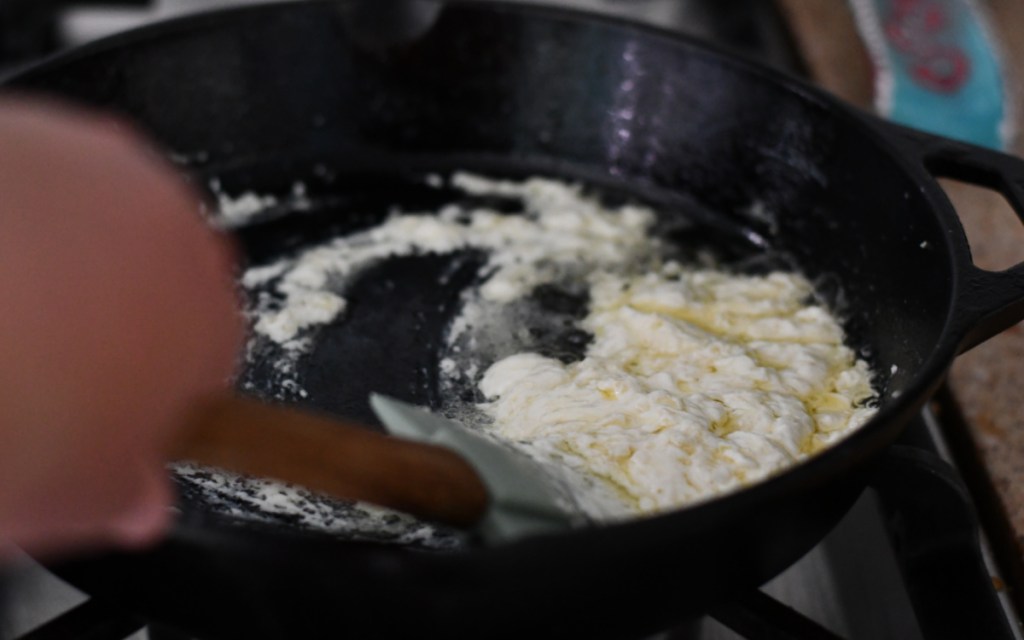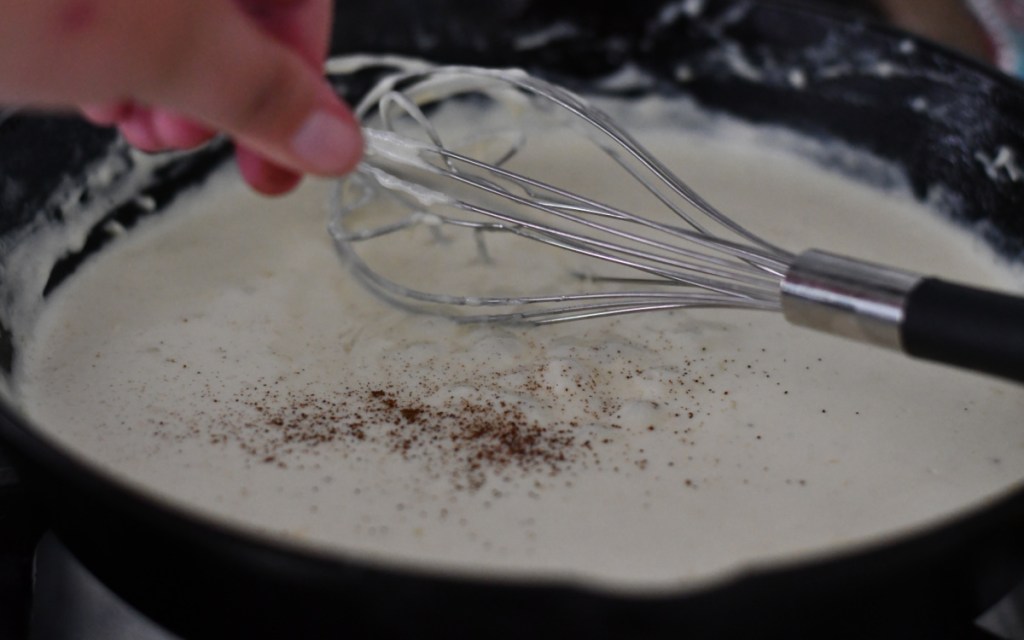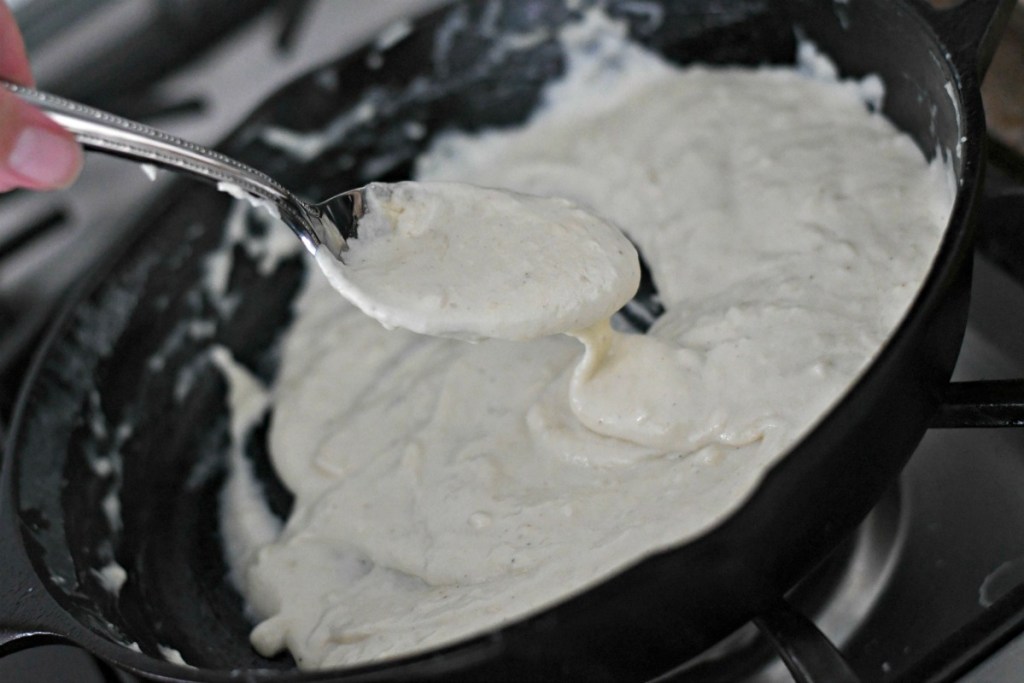 ---
yield: 4 SERVINGS
prep time: 10 MINUTES
cook time: 10 MINUTES
total time: 20 MINUTES
Cheese, cream, and garlic get melted into the most delicious keto alfredo sauce that'll rival any Italian restaurant!
Ingredients
2 tablespoons butter
2 tablespoons cream cheese, room temperature
1 cup heavy whipping cream
1 cup parmesan cheese, shredded
3 fresh cloves garlic, minced
pinch of white truffle salt
pinch of black pepper
pinch of nutmeg
Directions
1
Melt butter and cream cheese in a medium saucepan or skillet on the stove using medium heat.
2
Add garlic and cook until fragrant, 1-2 minutes.
3
Add heavy cream and stir in parmesan cheese a little at a time, stirring until incorporated. Let melt and thicken for 5-7 minutes, stirring occasionally.
4
Season with salt, pepper, and nutmeg. Serve warm, or store in a jar with a lid for later. Enjoy!
Nutrition Information
Yield: 8 oz., Serving Size: 2 oz.
Amount Per Serving: 381 Calories | 36.2g Fat | 3.8g Total Carbs | 0.1g Fiber | 2.3g Sugar | 11.3g Protein | 3.7g Net Carbs
---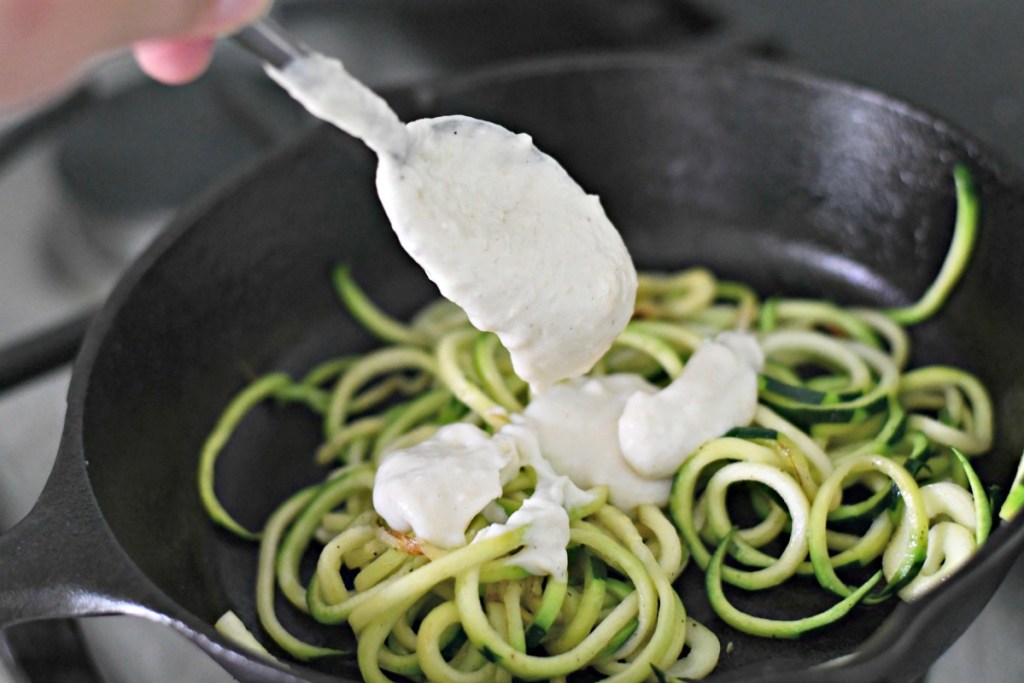 Hip Tips for this keto alfredo sauce recipe:
Season your sauce as desired. I used a little bit of my favorite truffle salt, and it worked so well with these flavors! Of course, traditional salt is fine, too. A bit of nutmeg is common in alfredo sauce and I love it here, too.
Adjust the consistency according to your liking. If it's too thick, thin with a little broth or more cream.
Spiralize your own zoodles! My veggie spiralizer is one of my favorite kitchen tools for keto, as it makes ideas like this one quick and easy to make.
Make ahead and store it. Homemade alfredo sauce can be stored and covered in the fridge for about 3-4 days. This would be a smart sauce to have on hand for meal planning during the week!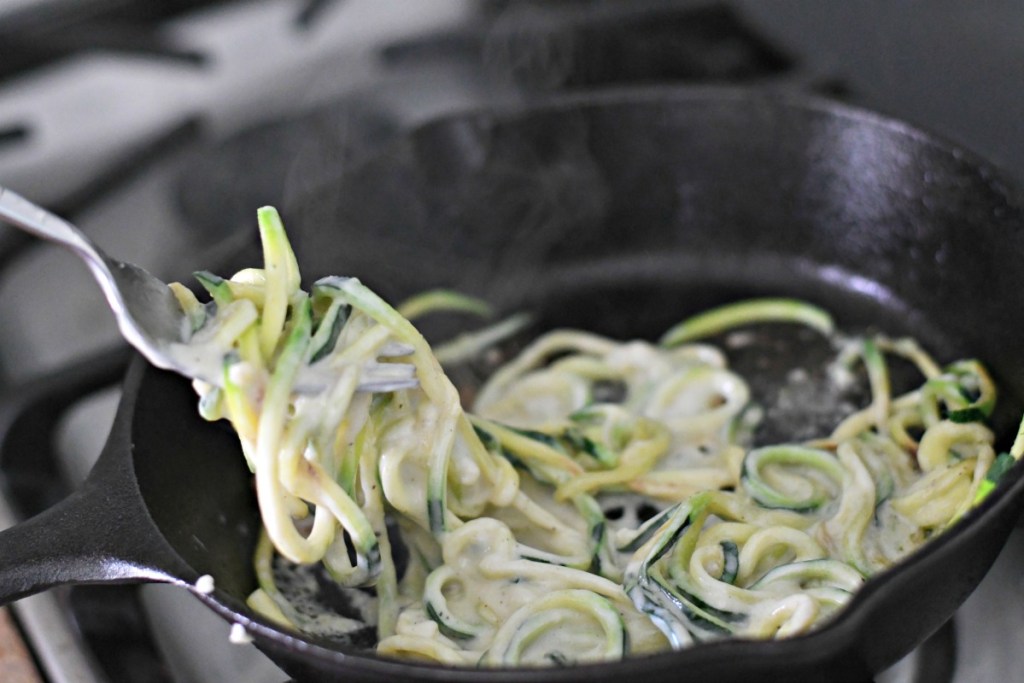 This alfredo sauce will have fussy eaters coming back for seconds!
I know, because my kids completely loved it, and they've already asked if I can make it again soon. I love that it only took a few minutes to make, and it's perfect for very simple meals. This idea doesn't disappoint, and I'm excited for you all to try it!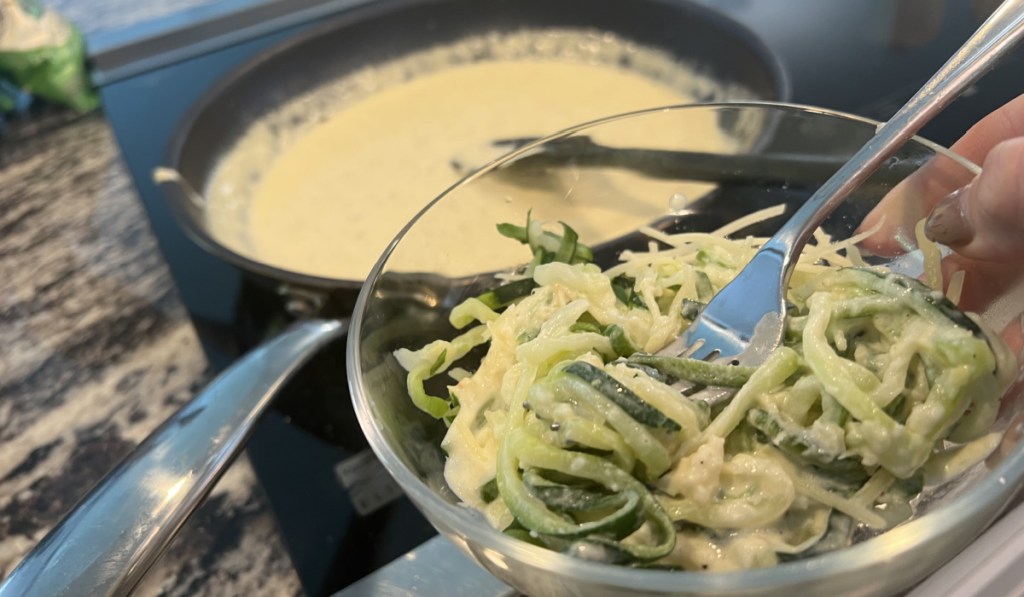 Collin made this keto alfredo sauce, and here's what she thinks:
"This alfredo sauce is SOOOOO yummy and creamy, and I seriously could eat it by the spoonful. I followed this recipe exactly, and it turned out perfectly. I served mine with zucchini noodles and additional parmesan cheese. When I enjoy meals like this, I wonder why more people aren't jumping on the keto train. High fat, flavorful, and filling dinners like this always hit the spot!"
---
We love this keto ravioli, and you'll never guess what we use in place of pasta!