ALDI Sells Keto Marinara Sauce For Cheap & My Whole Family Loves It!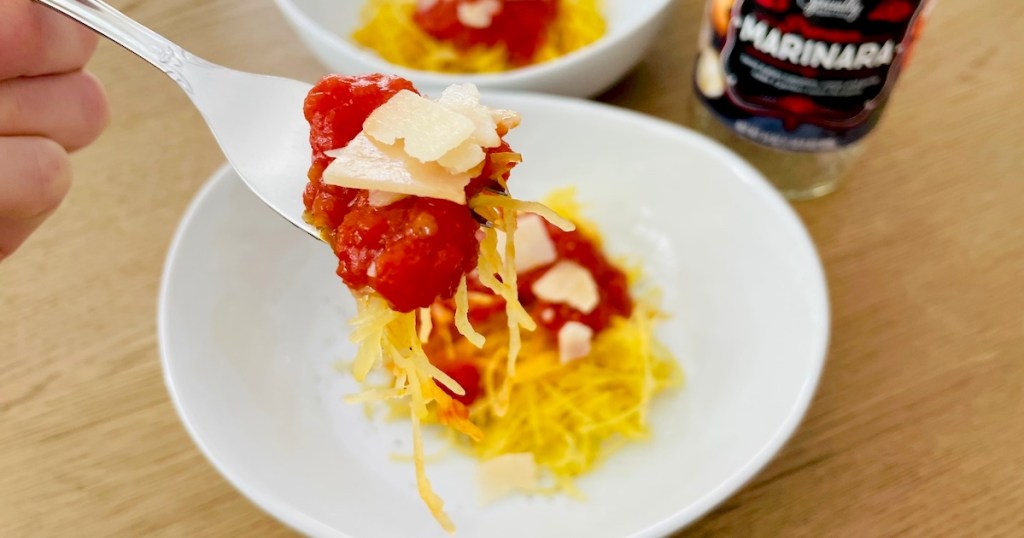 We like to make cooking easy & cheap… even on keto. 🙌
Looking for an easy dinner idea to make at home? I recently spotted this super affordable jar of keto pasta sauce at ALDI and knew I needed to give it a try! I'm sharing my honest review and what my kids thought of it. 😏
---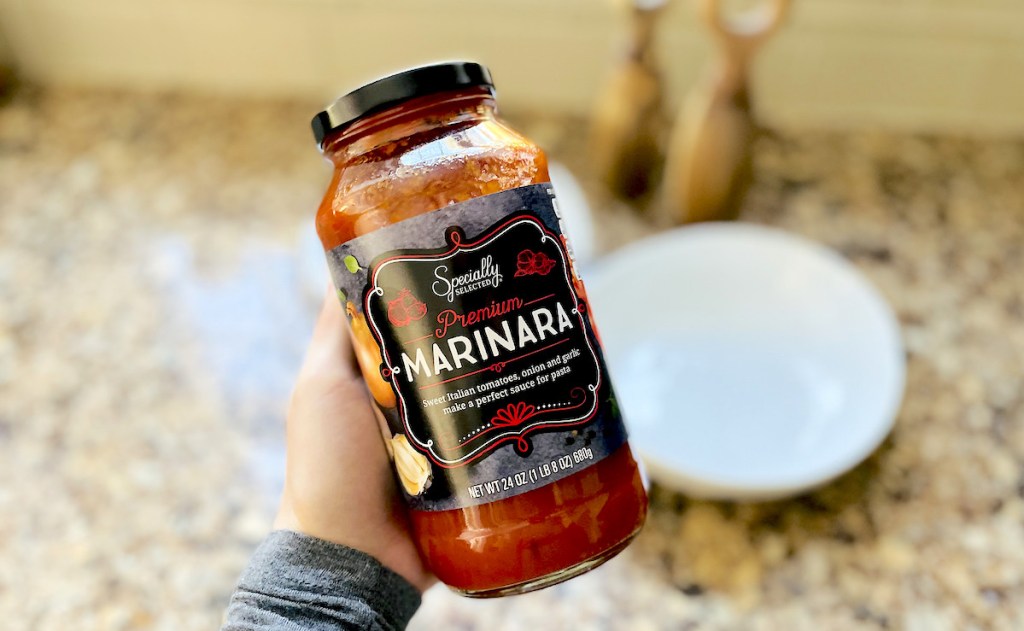 You can score a jar of this Specially Selected Marinara Sauce for just $2.49 at ALDI! 😱
The ingredients for this ALDI keto pasta sauce are super simple, just the way a delicious marinara sauce should be. It's made up of Italian tomatoes, olive oil, onion, salt, garlic puree (garlic, water), basil, black pepper, and dried oregano. YUM! Best of all, no sugar is added and it's just 3g net carbs per serving!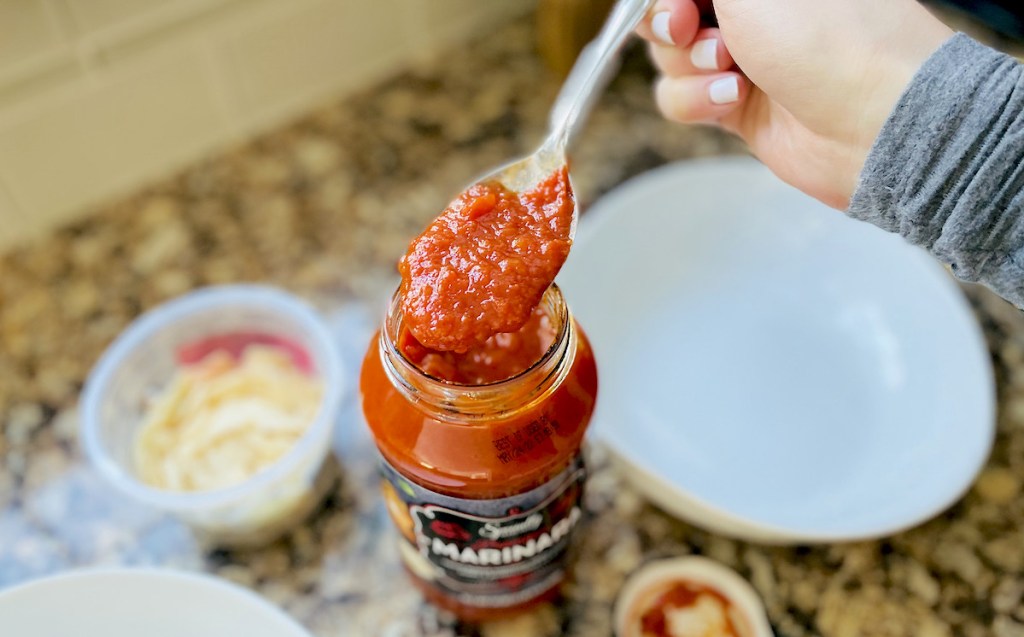 Let's break down the nutrition of one serving of this ALDI keto pasta sauce:
Serving Size: 1/2 cup | 90 Calories | 7g Fat | 7g Total Carbs | 4g Fiber | 4g Sugar | 0g Sugar Alcohol | 1g Protein | 3g Net Carbs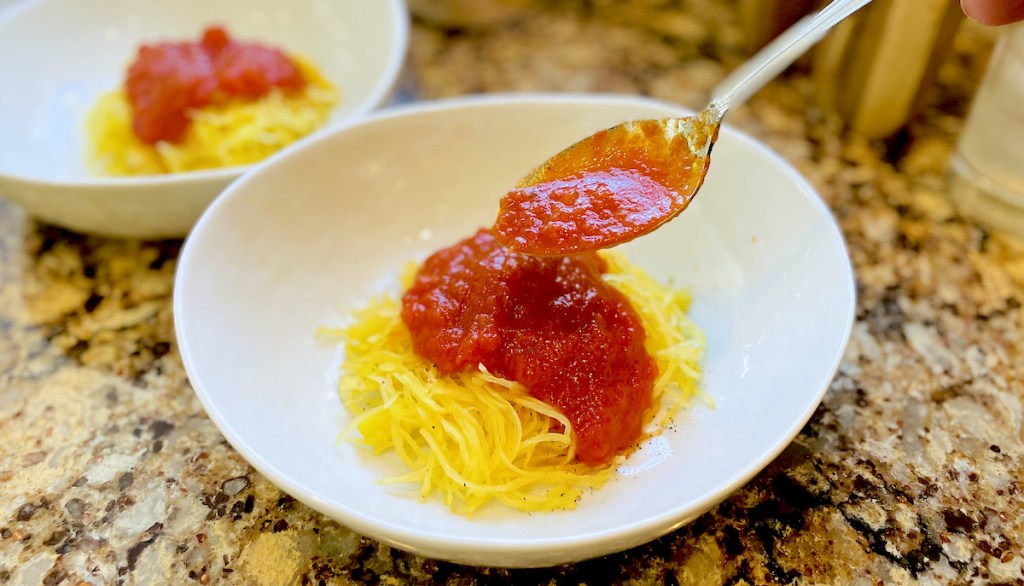 My favorite way to eat some delicious keto pasta sauce is with some spaghetti squash, grilled chicken, and aged parmesan cheese, but for the sake of solely testing the marinara, I skipped the poultry this time around.
To bake your spaghetti squash: Preheat your oven to 350˚. Then cut off both ends and cut the squash down the middle longways. Scrape out the guts and lightly coat the inside of the clean squash with olive oil and sprinkle with salt & pepper. Turn both halves upside down and bake between 30-40 minutes depending on the size. Once it's done, scrape a fork to gather your spaghetti squash noodles! It's really that easy!
For more helpful tips & tricks on baking spaghetti squash, be sure to read this post.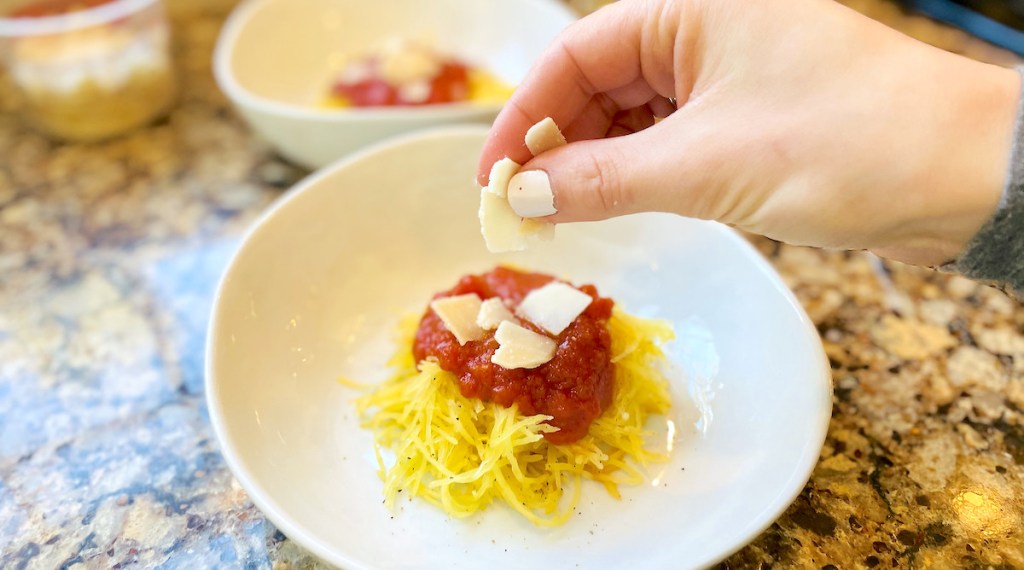 While my spaghetti squash was baking, I let the ALDI keto pasta sauce simmer on the stove. Again, for the sake of solely giving this sauce a real taste test, I added nothing to it!
Not a fan of spaghetti squash? Try this with zoodles instead!
I plated about half a cup of squash (which is a little less than 3g net carbs per serving), paired with about 1/4 cup of the keto marinara sauce (roughly 1.5 net carbs) and about one serving of parmesan cheese, for a super low carb meal.
So what did I think of it?! 🤔
"It's smooth, not too acidic, and has the perfect texture resembling a creamy tomato bisque. YUM!"
I really did enjoy this sauce, the simple flavors, and I loved that it wasn't thick and overly acidic like a typical jar of sauce. Plus, considering the price and how easy it is to whip up, you can't beat it!
Even better, my oldest son who lately hasn't been a big fan of any red sauce actually asked me if we could have this keto marinara sauce from now on! 😱🤯 Done, kiddo! 😉
---