Our "Apple" Handheld Keto Pie Recipe has a Secret Filling + No Pie Pan Needed!
You'll never guess what makes up the filling of our keto pie recipe.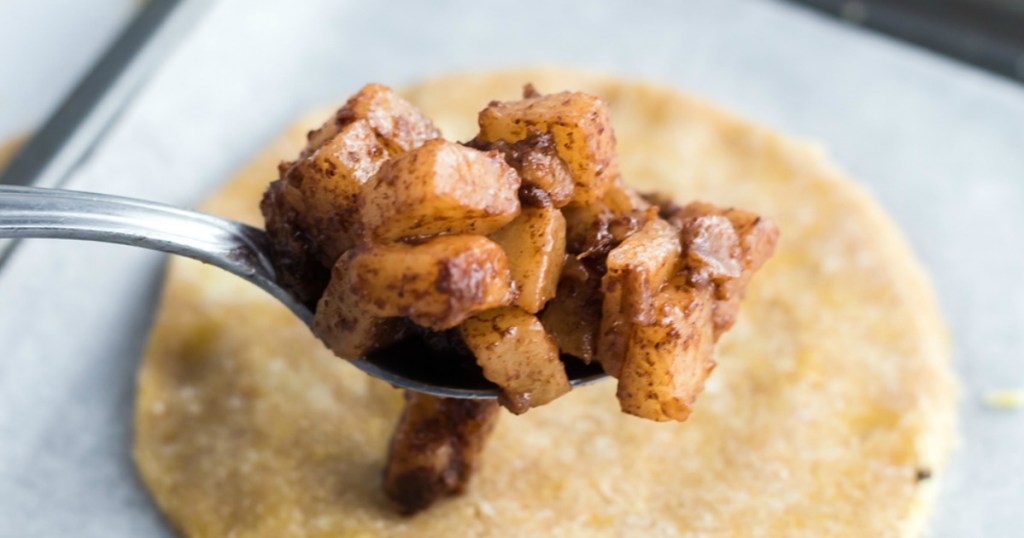 This sweet keto snack bends all the traditional rules.
A flaky crust, some sweet "fruity" filling… we can't believe this keto pie recipe doesn't contain any actual apple! Want to know our secret? Read on to see the clever ingredient that made our fruit-filling keto hack possible.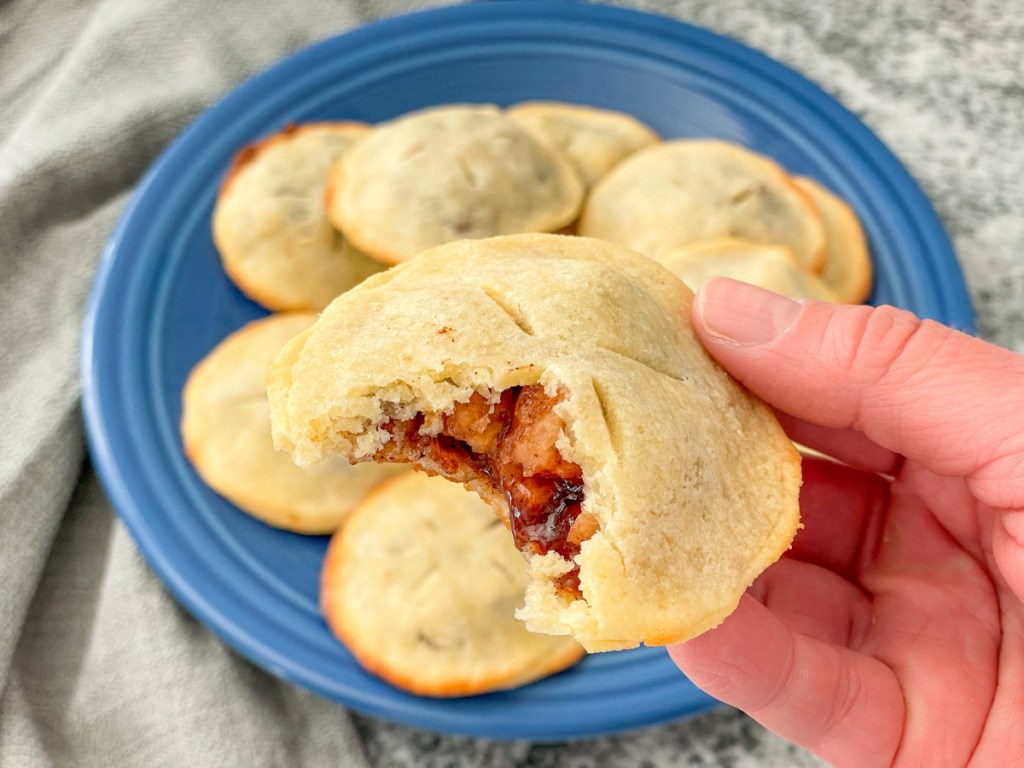 So how did we make a fruit filling while still keeping these mini apple keto pies low carb?
The all-mighty jicama! This versatile vegetable is commonly used as a keto-friendly potato replacement like in our keto French fry recipe. Jicama truly has so many different uses. We've used them in our keto Pico de Gallo recipe, our keto "potato" salad, and even these keto wontons.
When jicama is sweetened with Swerve, cinnamon, and nutmeg, it mimics the taste and texture of an apple. Once you sauté the jicama in butter, sweetener, and spices, it really seals the deal as cinnamon "apples" that are used in apple pie. How cool! It really makes this handheld keto pie recipe amazing.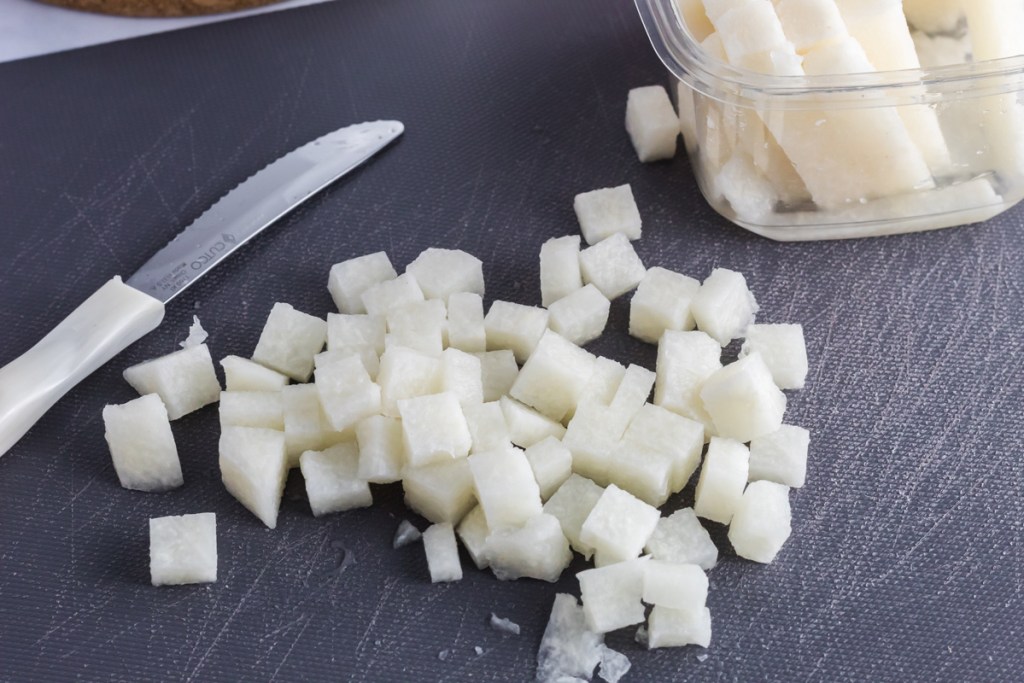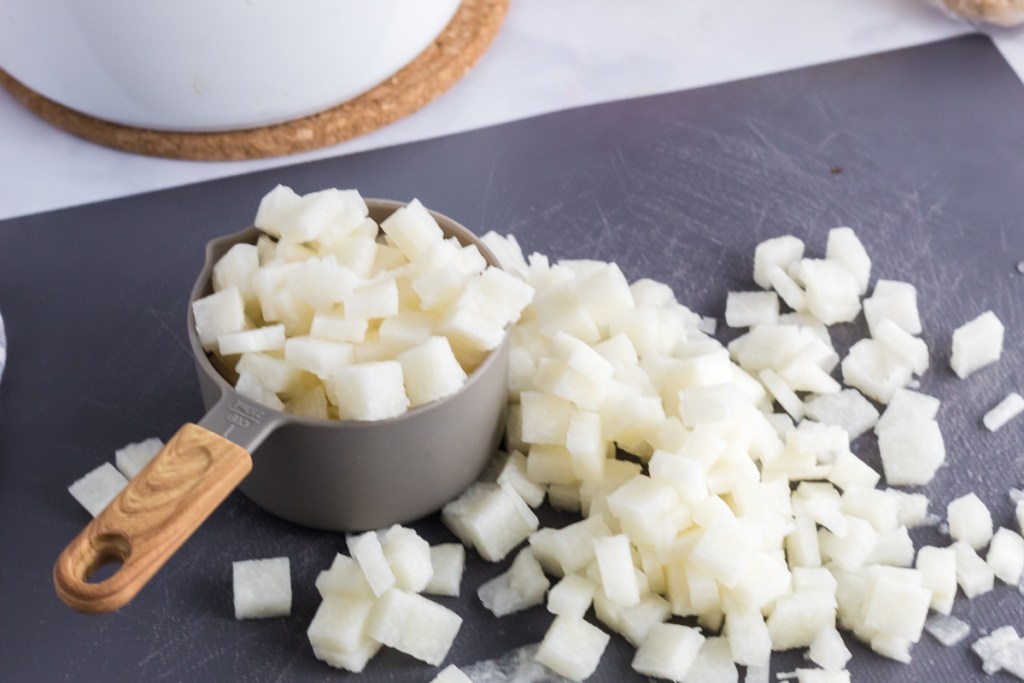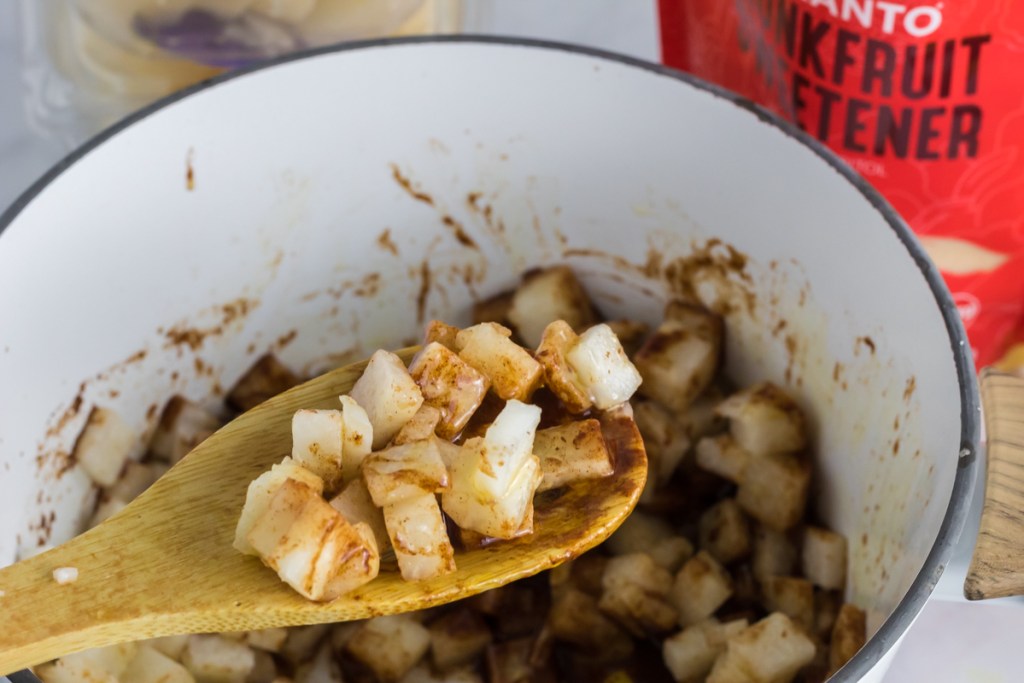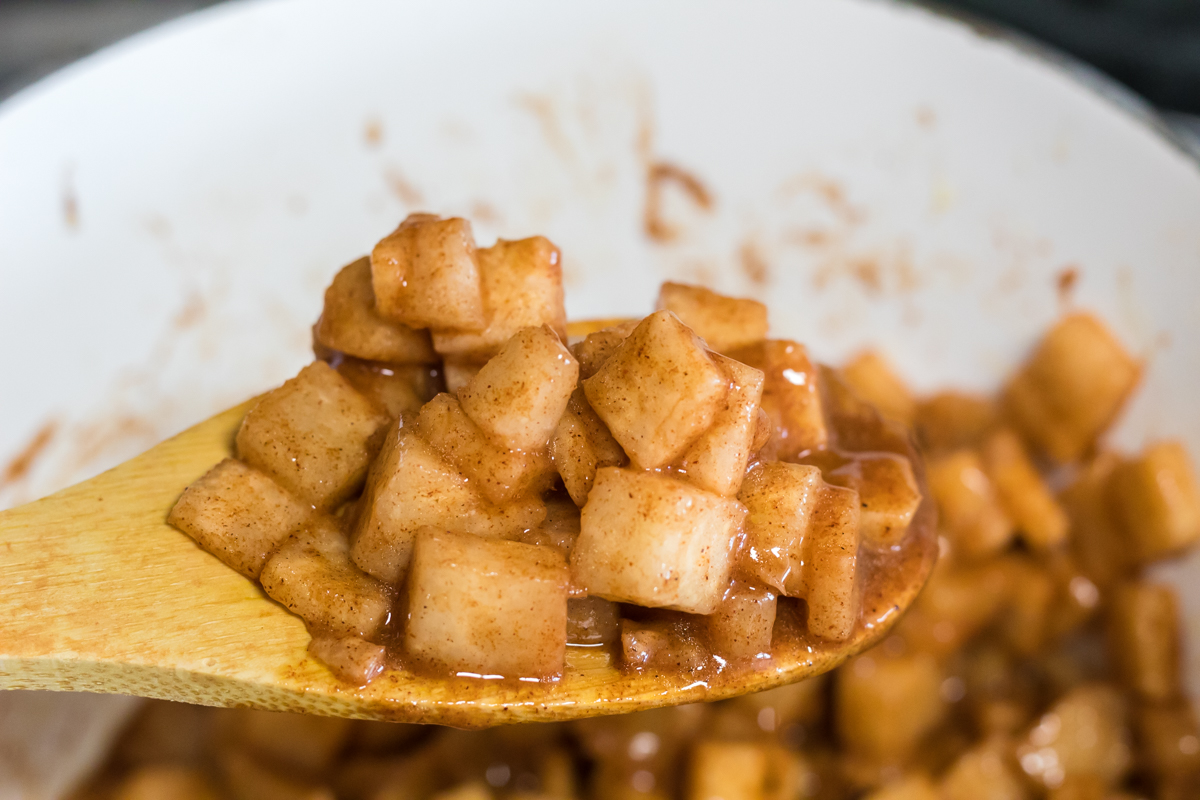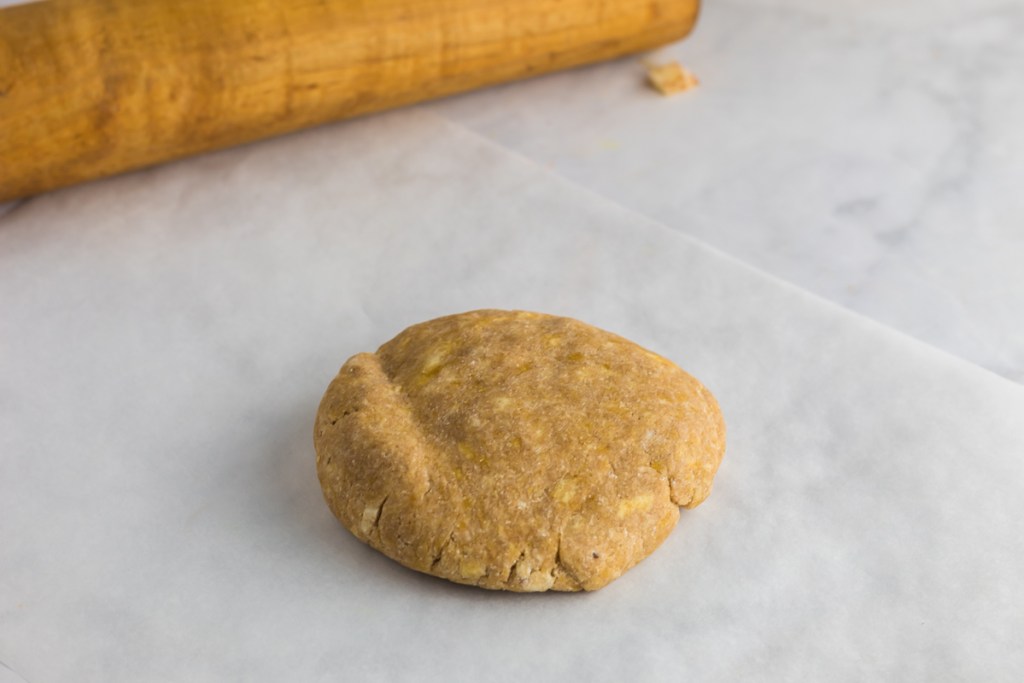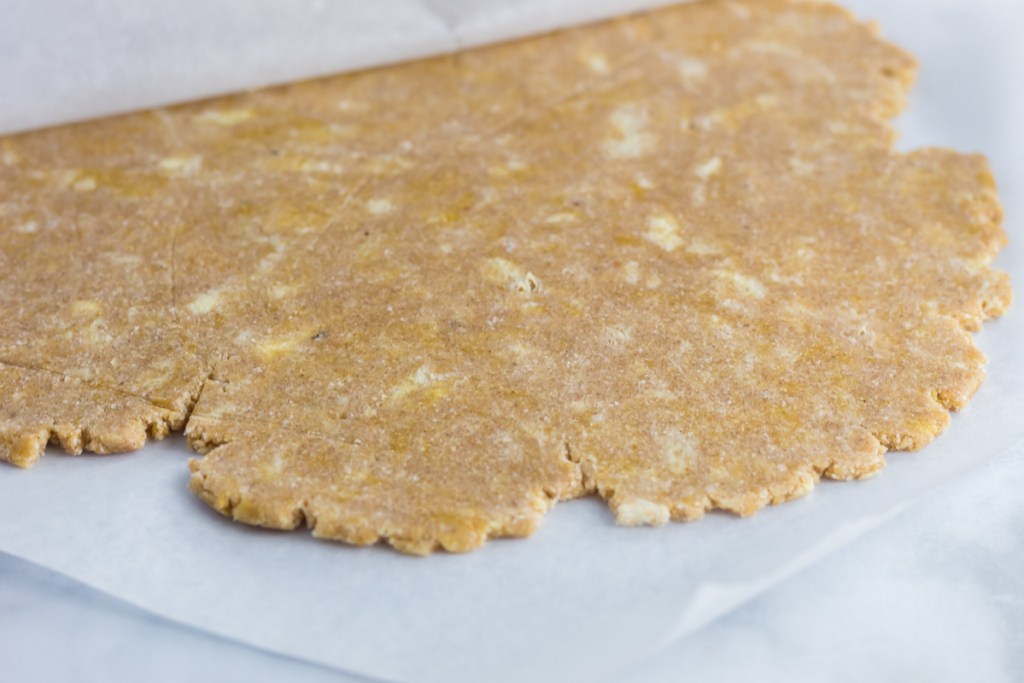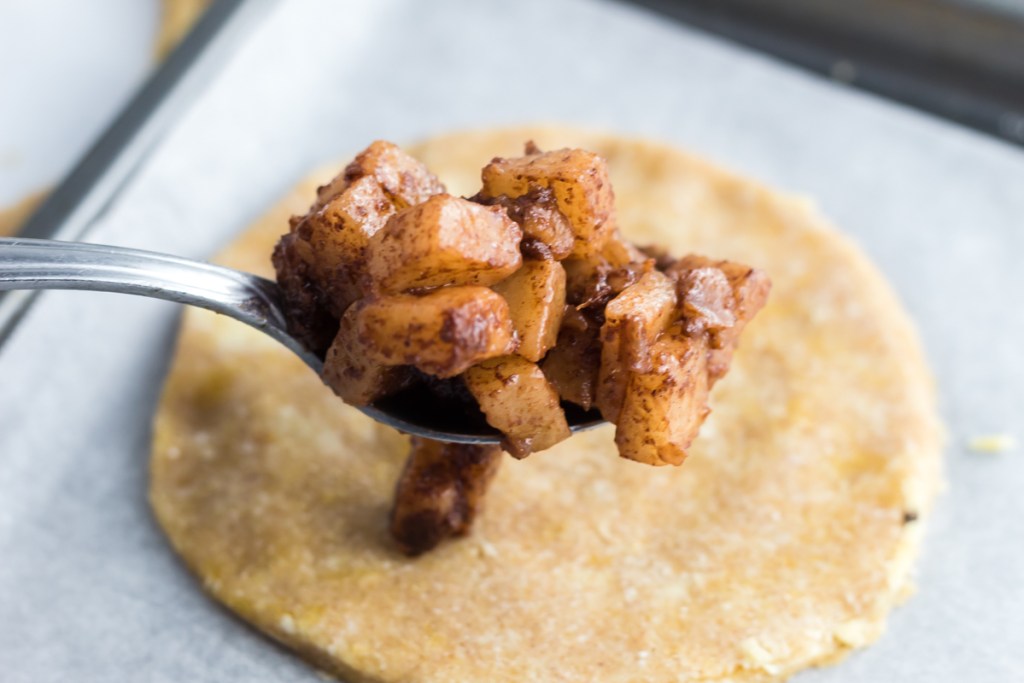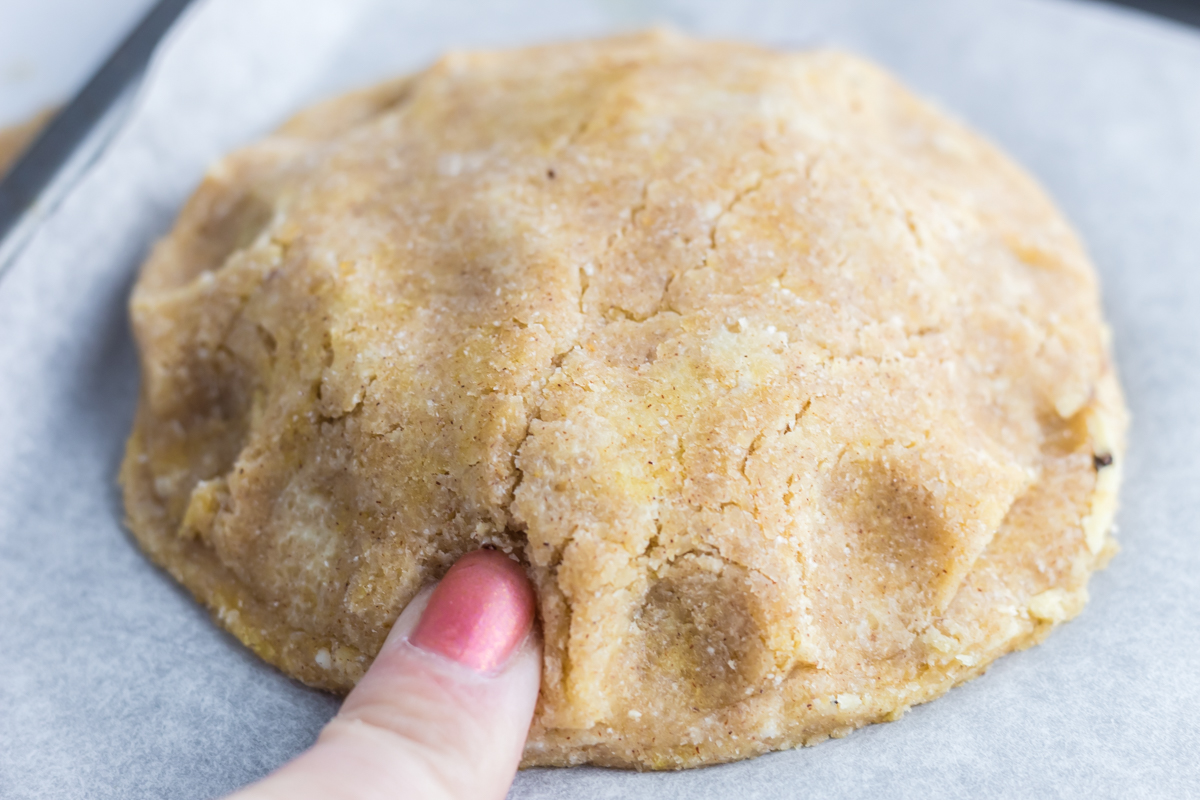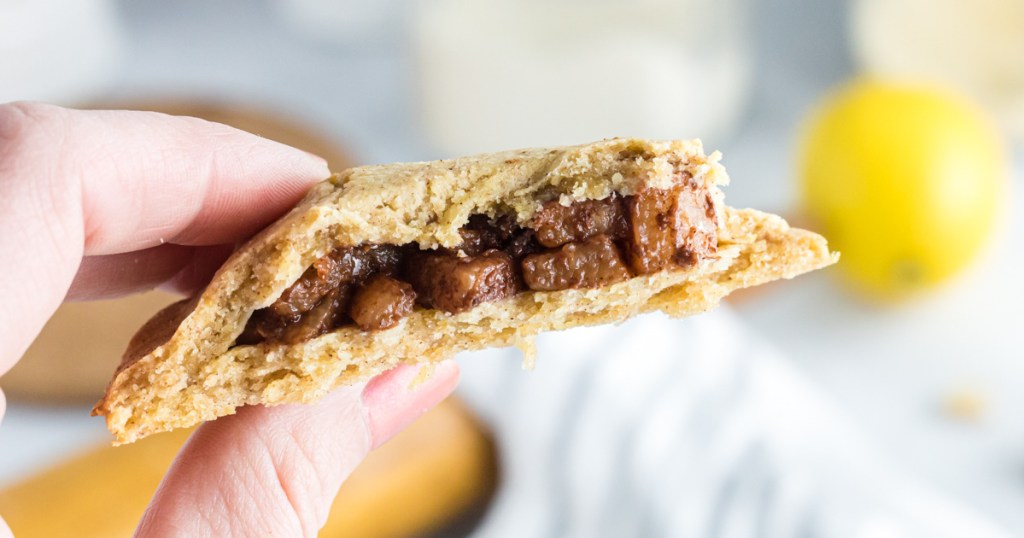 ---
Print
Keto "Apple" Hand Pies
yield: 6 SERVINGS
prep time: 1 HOUR 10 MINUTES
cook time: 60 MINUTES
total time: 2 HOURS 10 MINUTES
Flaky crust and an unusual non-fruit filling are the components of this delicious keto-friendly treat.
Ingredients
Flaky Keto Dough:
1 teaspoon cinnamon
5 tablespoons cold butter, cubed
2 tablespoons cold cream cheese, cubed
1 tablespoon cold water
1 egg
Filling:
2 cups chopped jicama (no larger than 1/4" cubes)
3 tablespoons butter
2 teaspoon cinnamon
1 teaspoon nutmeg
2 tablespoon lemon juice
1 teaspoon vanilla
1/2 teaspoon salt
Directions
1
To make the dough:
In a large bowl, add the almond flour, coconut flour, xanthan gum, Swerve, and cinnamon. Whisk together to combine.
2
If using a food processor:
Add all dry ingredients to a food processor. Add cold butter and cold cream cheese and pulse several times to create a crumbly dough.
Without a food processor:
Use a pastry blender or a fork or your fingers to blend in cold butter and cold cream cheese into the dry ingredients until a crumbly texture forms.
3
Add in the egg and cold water, mixing until a dough ball has formed. This may separate a bit which is fine as it's a flaky crust. Wrap dough in plastic wrap and chill for 1 hour in the refrigerator.
4
Remove the dough from the fridge and roll it out between two pieces of parchment paper. For the best texture, you will want to get it as thin as you can, about 1/8th to 1/4-inch. Cut out 3 to 4-inch circles and place them on a baking sheet. If using a 3-inch circle, you'll end up with around 12 hand pies.
5
Place the baking sheet in the fridge to chill while preparing the filling.
6
To make the "fruit" filling:
Microwave the jicama for 8 to 10 minutes, until soft. Melt the butter in a saucepan over low-medium heat. Once the butter has melted, add in Swerve granular and brown Swerve, cinnamon, and nutmeg. Whisk until Swerve has dissolved, about 2 minutes.
7
Add the softened jicama, lemon juice, vanilla, and salt. Sauté over low heat with a covered lid and let simmer for 40 minutes. Jicama should be softened but will still have just a slight crunch. Stir occasionally. Once jicama is cooked, sprinkle xanthan gum over the mixture and stir to combine. Set aside to let cool.
8
To bake the hand pies:
Preheat oven to 350 degrees.
9
Add one large spoonful of jicama filling to a pie crust circle, about 2 tablespoons or so. Leave enough room around the edges to seal. Cover with another pie crust circle and pinch all around the sides to seal up the pie.
10
Once all pies are made, cut a small slit in the top of each to let air escape while baking. Bake for 20 minutes, until lightly browned. Let cool for a few minutes before serving.
11
Serve the hand pies by themselves or with your favorite keto ice cream. Enjoy!
Nutrition Information
Yield: 6 pies, Serving Size: 1 pie
Amount Per Serving: 296 Calories | 25.6g Fat | 29.3g Total Carbs | 7.4g Fiber | 2.3g Sugar | 16.2g Sugar Alcohol | 5.8g Protein | 5.6g Net Carbs
---
Tips for this handheld keto pie recipe with a sweet "apple" filling:
To soften jicama quicker after chopping, microwave the jicama chunks for about 8 to 10 minutes before adding them to the saucepan.
Egg washing the tops of the pies before baking helps result in a golden flaky crust.
To make the Fruit Pies in an Air Fryer: Spray the bottom of your air fryer to prevent sticking. Cook at 300 degrees for 20 minutes or until golden brown.
Don't limit yourself to just jicama! For a berry keto hand pie, try out blackberries and raspberries. YUM!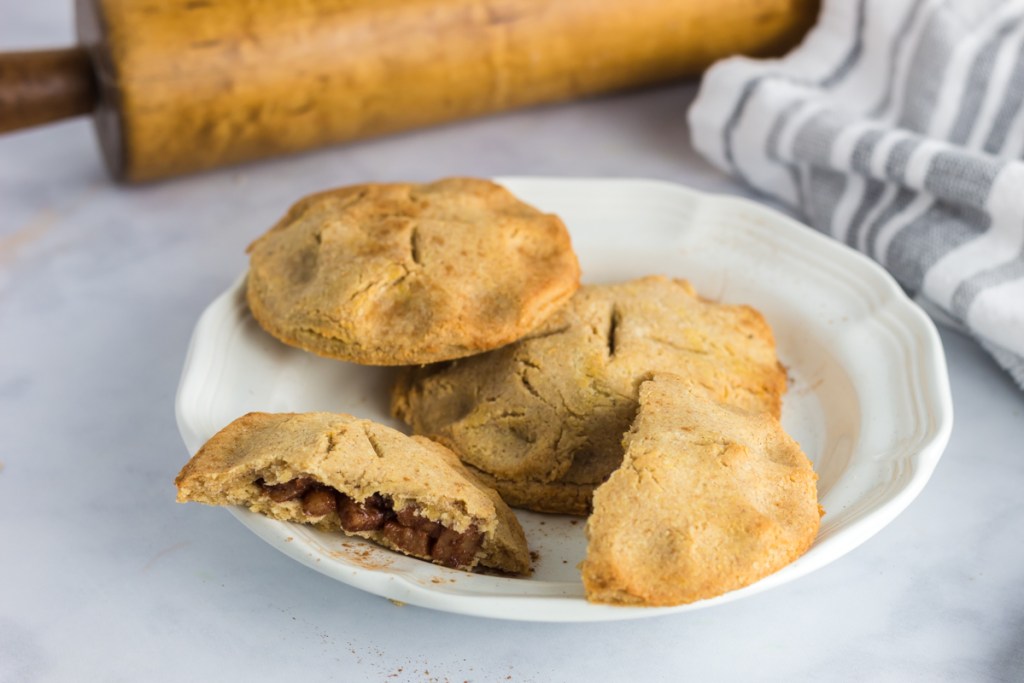 What a surprisingly fruity low-carb hand pie… without the fruit!
Ask your friends and family to guess the secret ingredient of our handheld keto pie recipe after they've tasted the deliciousness. I bet they'll be shocked to hear it's, in fact, a vegetable! I bet your non-keto friends won't even be able to tell the difference in taste.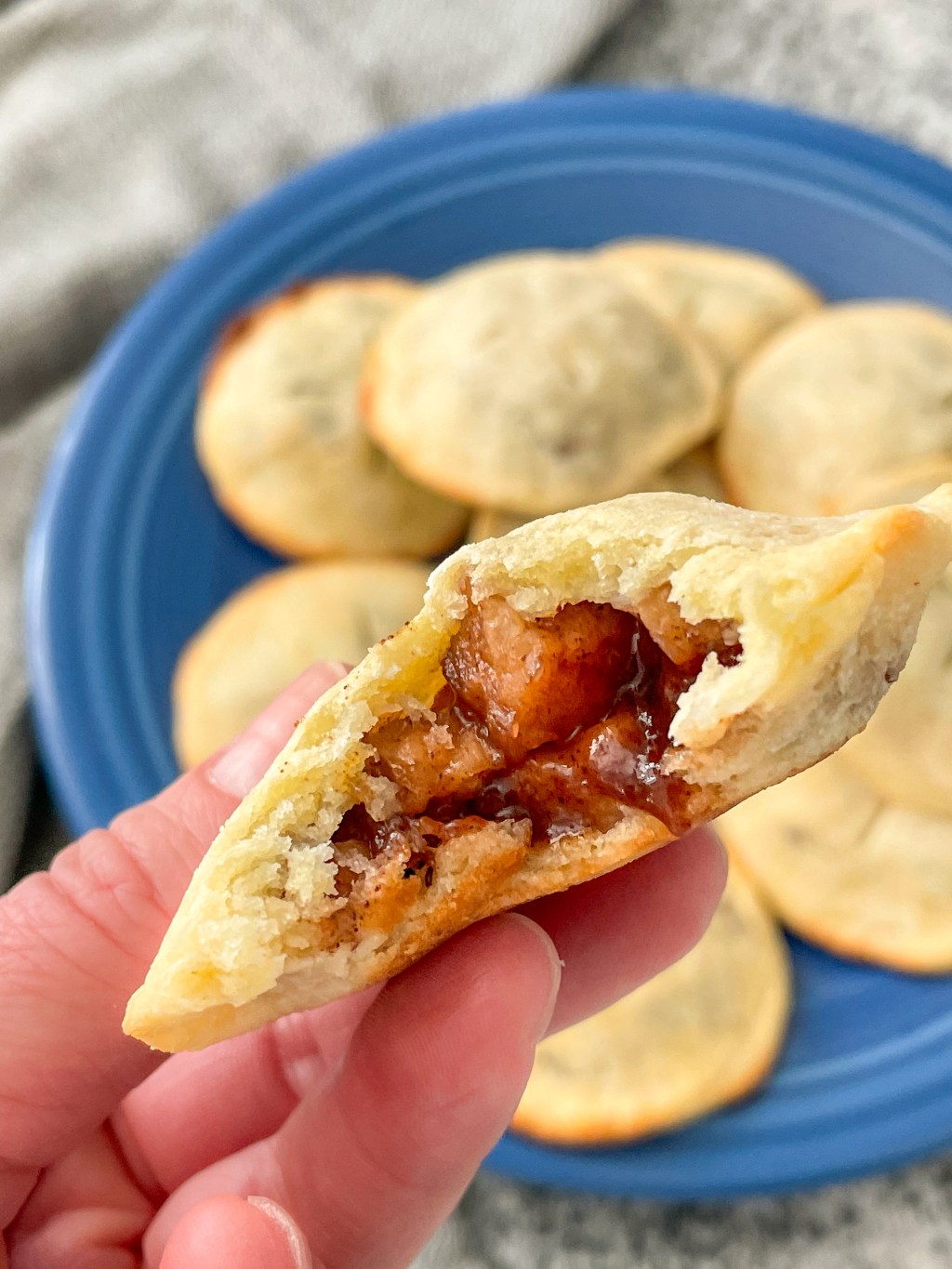 Here's what my Hip sidekick Emily had to say about this keto pie recipe:
"Yum! These are so good and cute! You would never know that the filling is made of jicama instead of apples. I love the flavor of these hand pies. They disappeared quickly at my house!"
---
Love desserts as much as I do? Try out this easy keto ice cream!