This Loaded Jicama Potato Salad is For The Potato Lovers Out There!
This loaded jicama "potato" salad will even fool the potato lovers.

Potato salad, what?! Jicama is in the house!
That's right, potatoes are out and jicama is taking the spotlight! Once you cook jicama, dress it up with all the goodness that is potato salad, and then load it up with bacon, shredded cheddar, and green onions, how can you go wrong?!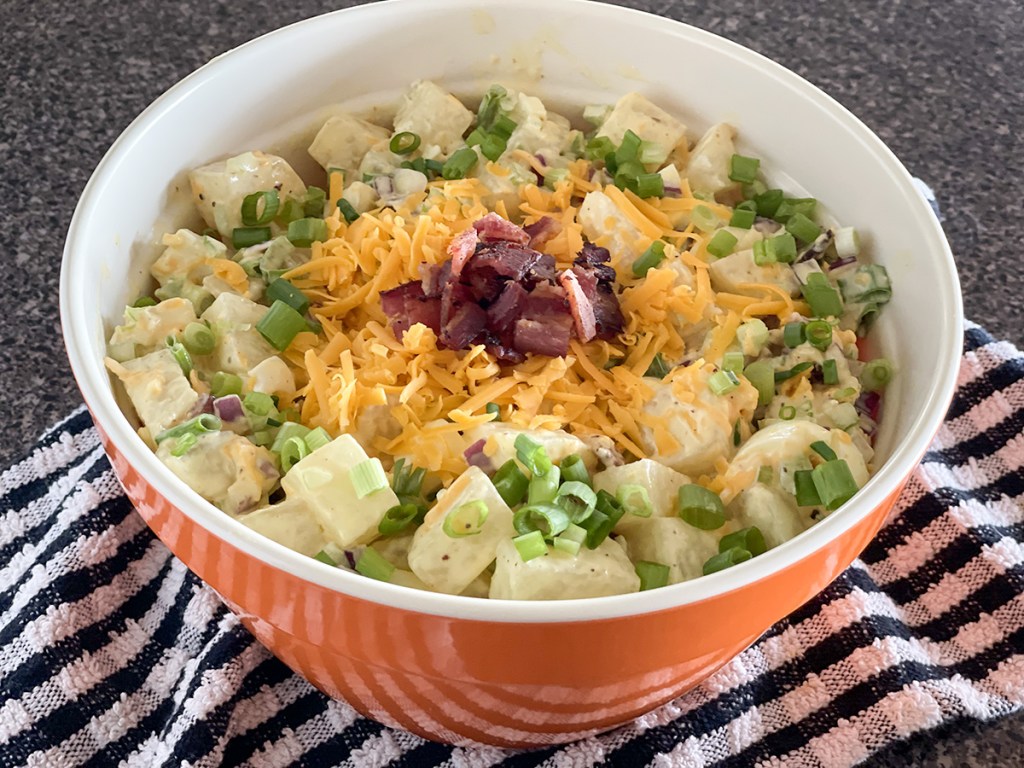 Is jicama keto-friendly?
Yes, jicama is keto-friendly! Honestly, I was a little nervous about using jicama since I don't cook with it often. But I found myself eating this loaded jicama potato salad directly out of the bowl, one spoonful after the other. It turned out so good!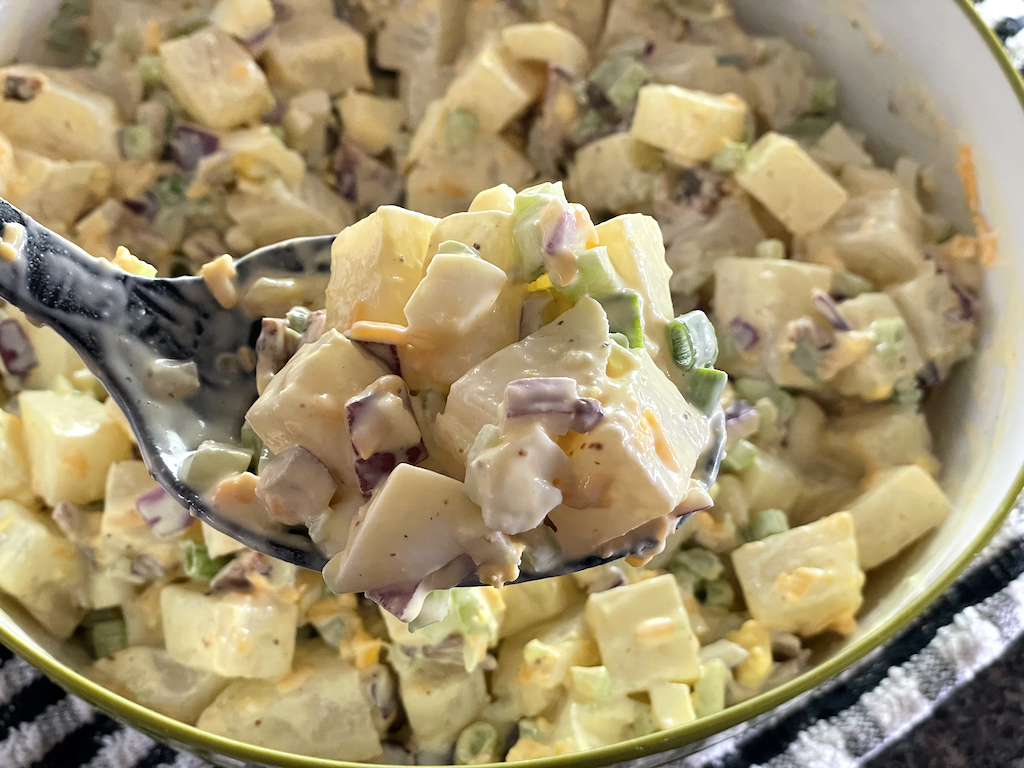 Reducing your carb intake can be difficult at first, especially if you enjoy foods like potatoes. To keep yourself on track, make this loaded jicama potato salad. No one will even know it's not potatoes!
One cup of raw jicama has 5.1 grams of net carbs. Compare that to 1 cup of potatoes, which has about 24 grams of carbs. Jicama is definitely keto-friendly and saves you a ton of carbs versus eating actual potatoes.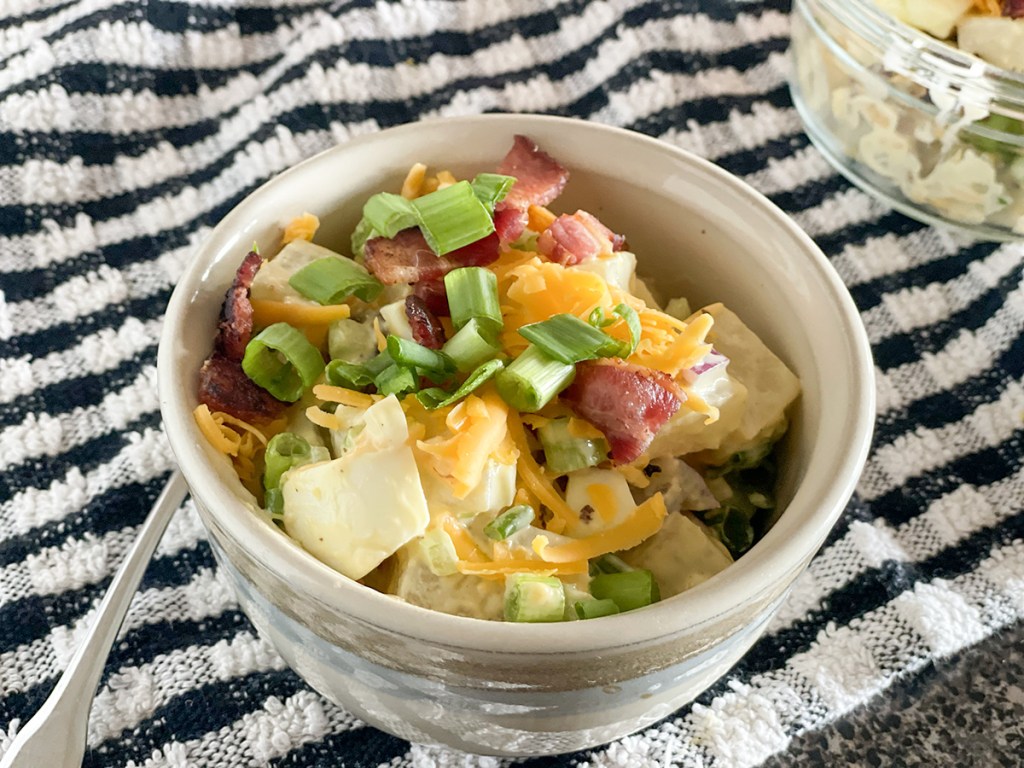 Tips for making the best loaded jicama potato salad:
Make sure you boil the jicama until it's soft enough to pierce with a fork. I found that it takes longer than it would to cook potatoes, or at least that's how it seemed to me! 😂 It took about 45 minutes.
If you cut the jicama into smaller pieces, 1/4 inch instead of 1/2 inch, it will reduce cook time.
This salad tastes better the next day. Let it sit overnight if you have time. If not, let it chill in the fridge for at least 3 hours.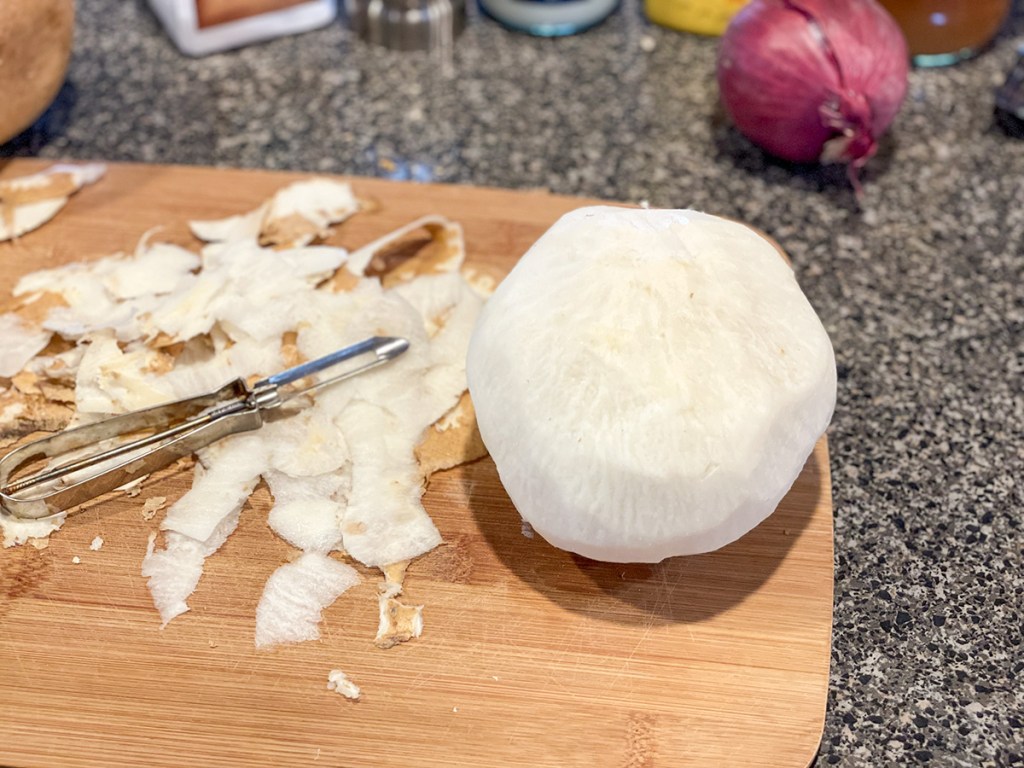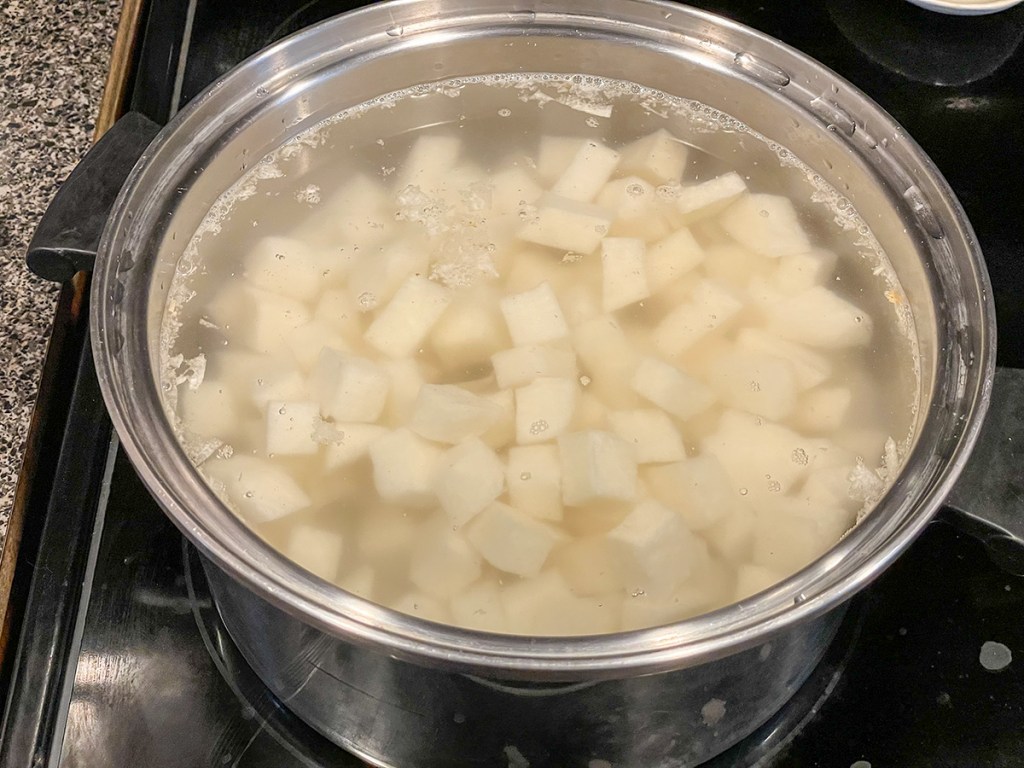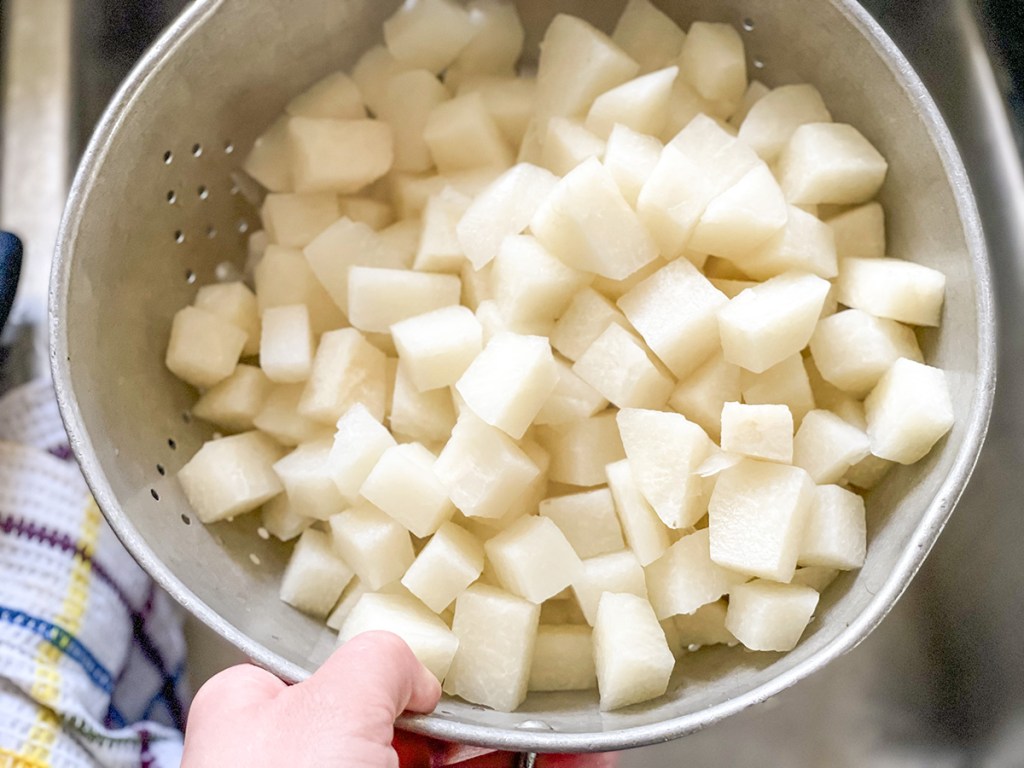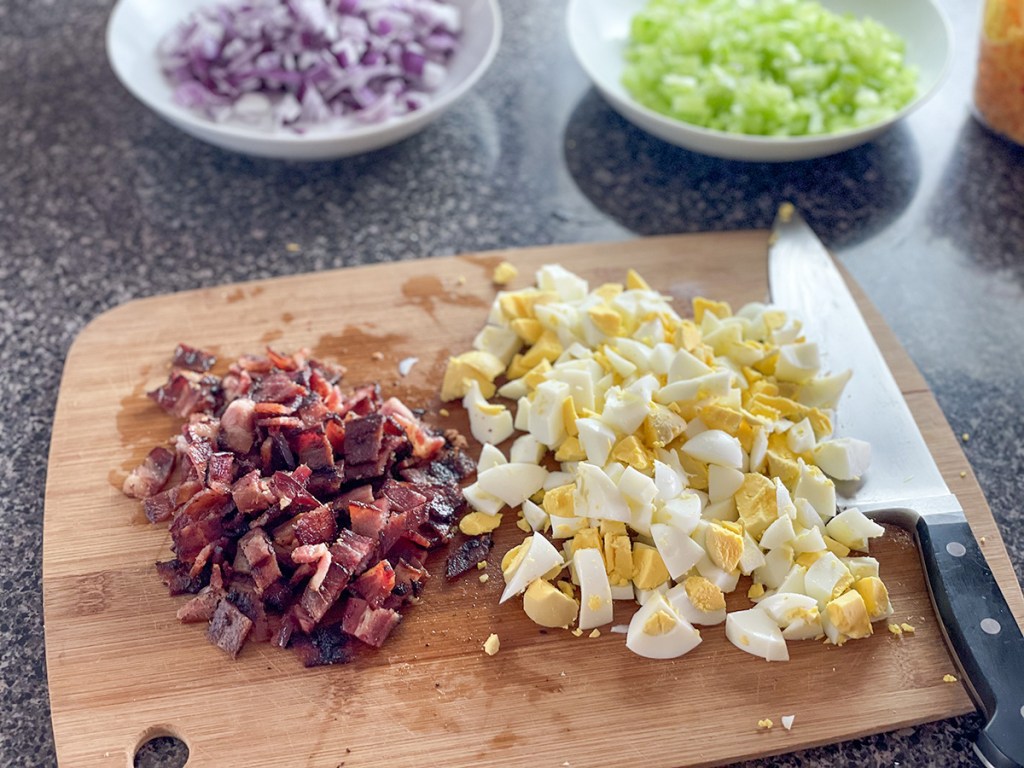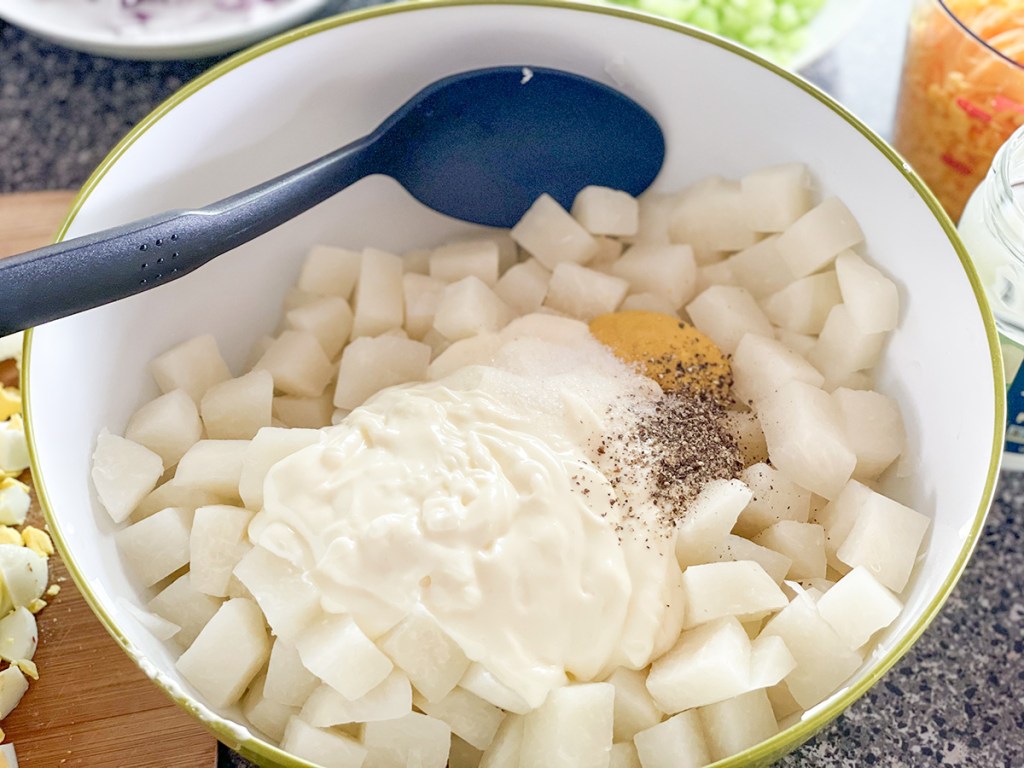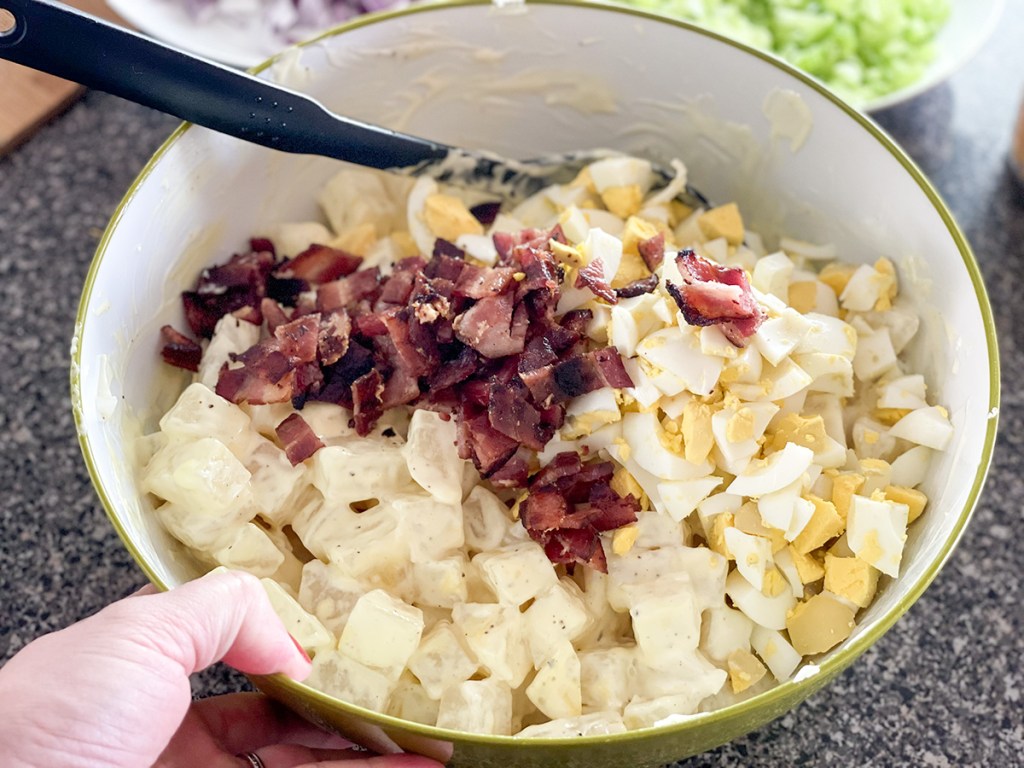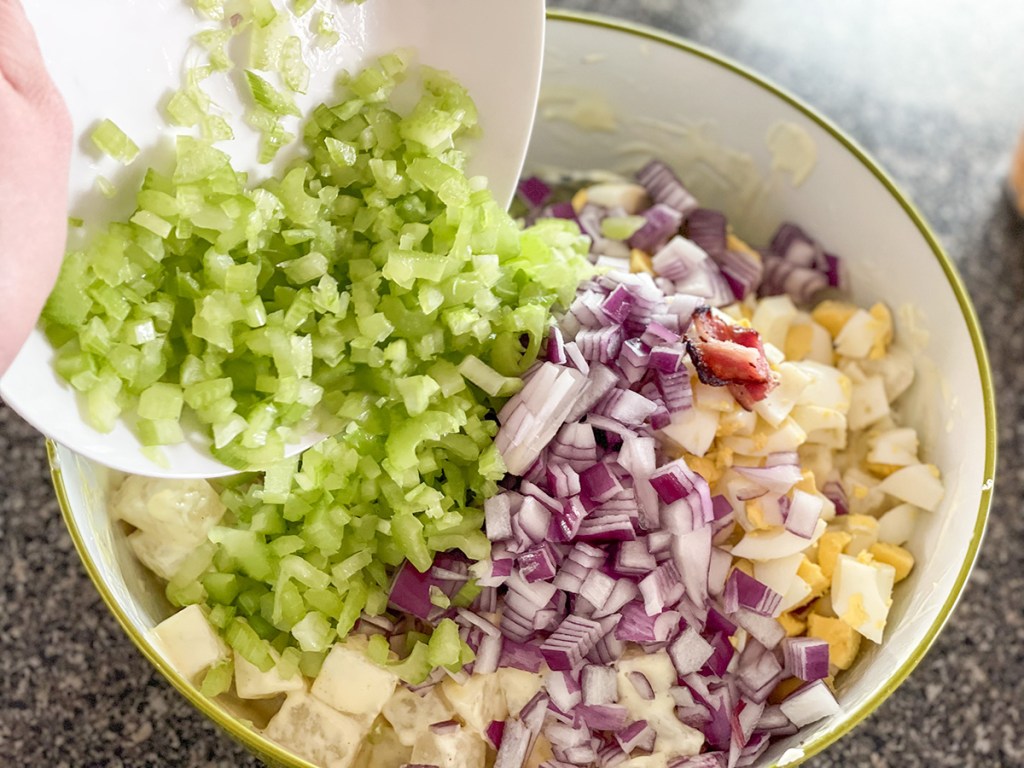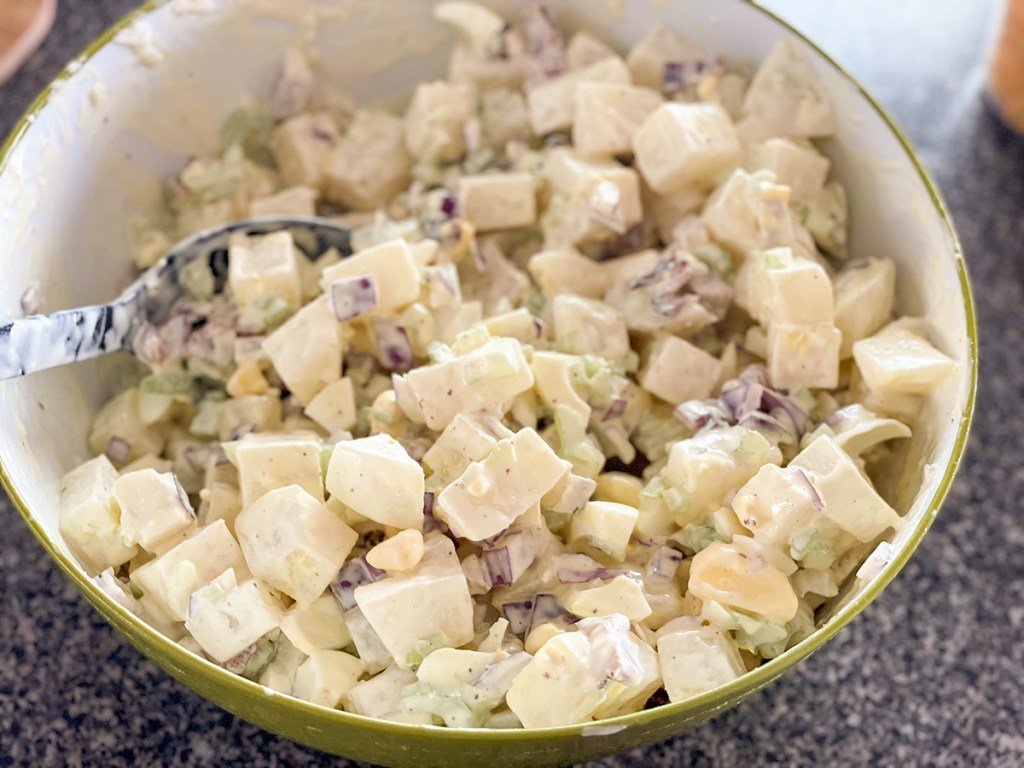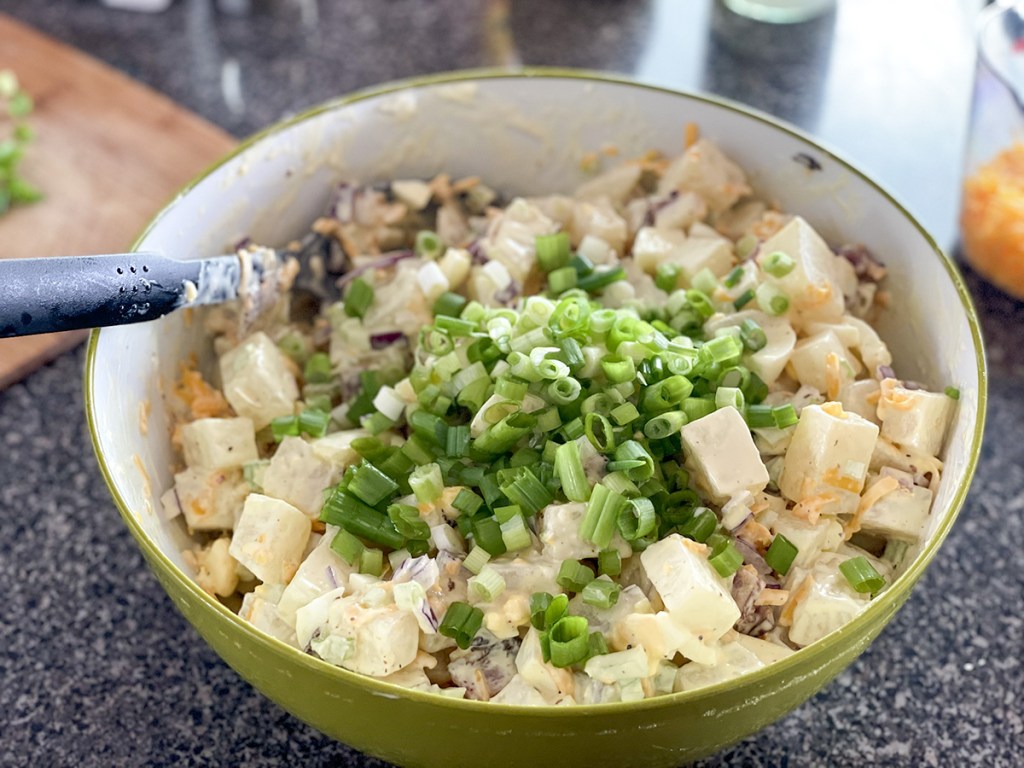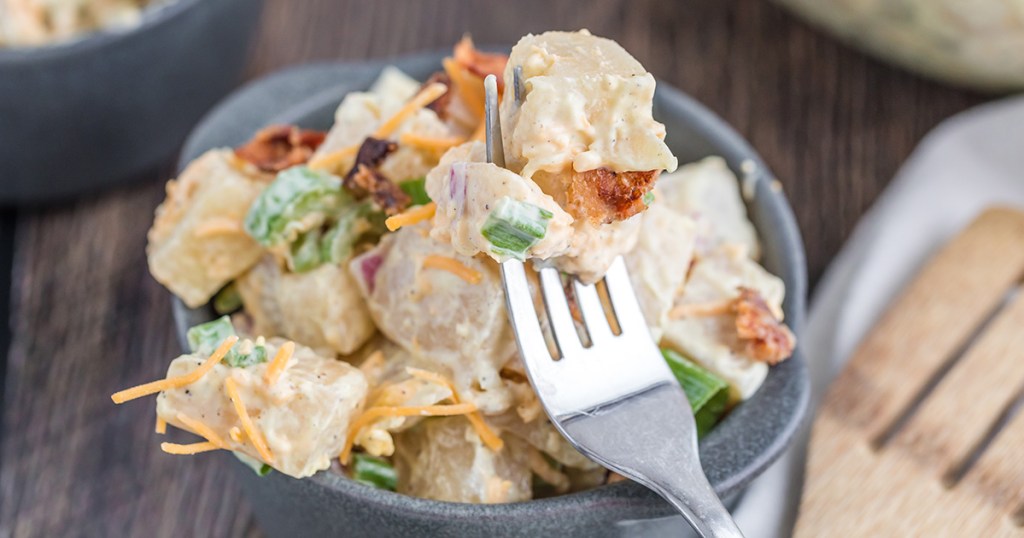 ---
Print
Keto Loaded Jicama Potato Salad
yield: 12 SERVINGS
prep time: 60 MINUTES
cook time: 45 MINUTES
total time: 1 HOUR 45 MINUTES
Jicama is used in place of potatoes to make this loaded potato salad keto-friendly.
Ingredients
2 large jicama (bigger than softballs), peeled, cubed into 1/2-inch pieces (about 10 cups)
6 eggs, hard boiled
10 slices bacon (10 oz package), divided
1 small red onion
4 celery stalks
2 cups cheddar cheese, shredded, divided
1 1/2 cups mayonnaise (12 oz jar)
1 tablespoon mustard
1 tablespoon apple cider vinegar
1 teaspoon salt
1 teaspoon pepper
1 bunch green onions, divided
Directions
1
Peel and chop jicama into 1/2-inch pieces. Place the jicama in a large stockpot and cover with water. Salt the water. Bring to a boil over high heat and then reduce heat to medium and simmer for about 45 minutes. Start checking for doneness around 30 minutes. Jicama is done when you can easily pierce it with a knife or fork.
2
While the jicama is boiling, you can hard boil the eggs, cook the bacon, mince the red onion, chop the celery, shred the cheddar cheese, and chop the green onions.
3
When the jicama is soft, pour it into a colander to drain off the water. Rinse with cold water and let cool for about 10 minutes.
4
While the jicama is cooling, chop bacon and hard-boiled eggs.
5
Once the jicama has cooled, transfer it to a large mixing bowl. Mix in the mayonnaise, mustard, apple cider vinegar, salt, and pepper. Then stir in the bacon and hard-boiled egg. Reserve about a 1/4 cup of the bacon as a topping.
6
Next add in the onions and celery. Mix until everything is well combined. Finally, stir in the cheddar cheese and green onions. Reserve about a 1/2 cup of cheddar cheese and 1/4 cup of green onions for toppings.
7
Top the salad with reserved bacon, shredded cheddar, and green onions. Place it in the fridge for at least 3 hours or overnight before serving. Enjoy.
Nutrition Information
Yield: 12 servings, Serving Size: 1 cup
Amount Per Serving: 398 Calories | 33.3g Fat | 12.3g Total Carbs | 5.9g Fiber | 2.9g Sugar | 13g Protein | 6.4g Net Carbs
---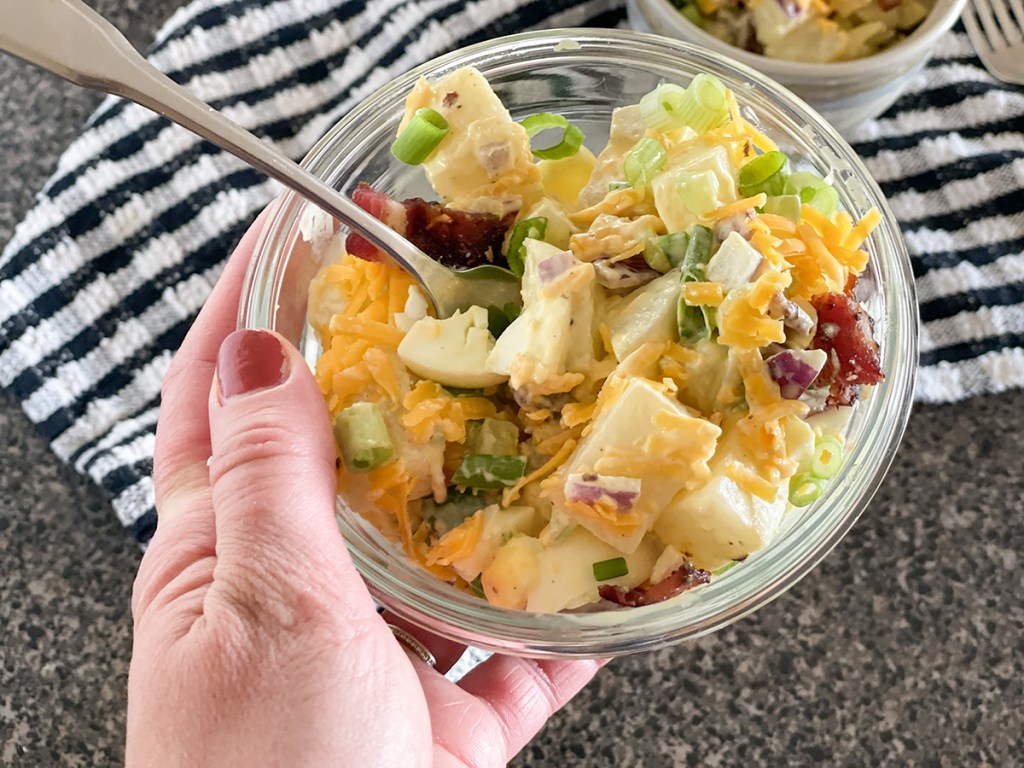 You won't be able to stop eating it!
Once you start, it's all over. I keep finding myself wanting to go back for more. Loaded baked potatoes are the best – so of course, a loaded jicama potato salad is absolutely amazing!
Let us know what you think of this recipe — I'd love to know if you've used jicama as a potato replacement and if you like it or not.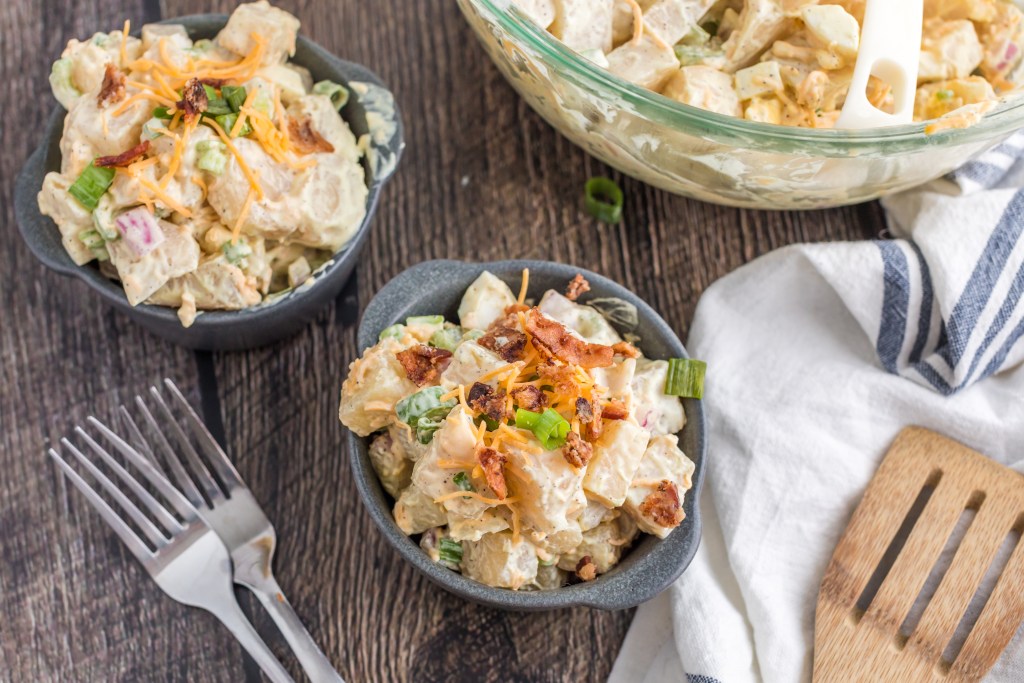 Here's what my Hip sidekick Jenna had to say about this loaded jicama potato salad:
"This recipe blew my mind! It's official, jicama makes better potato salad than potatoes… even the kids agree! There is something so familiar about the flavor, like a classic potato salad but it's even more fresh and full of flavor. I am a huge fan of this recipe and I am definitely making it again for a summer BBQ soon."
---
Looking for more great keto salads? Try our popular and keto-friendly Columbia 1905 Salad recipe!