Careful, These Keto Wontons with Cream Cheese Filling Are Addicting!
Our keto wontons put this tasty bite-sized Asian appetizer back on the menu, and wait until you see what we used for the keto wonton wrappers!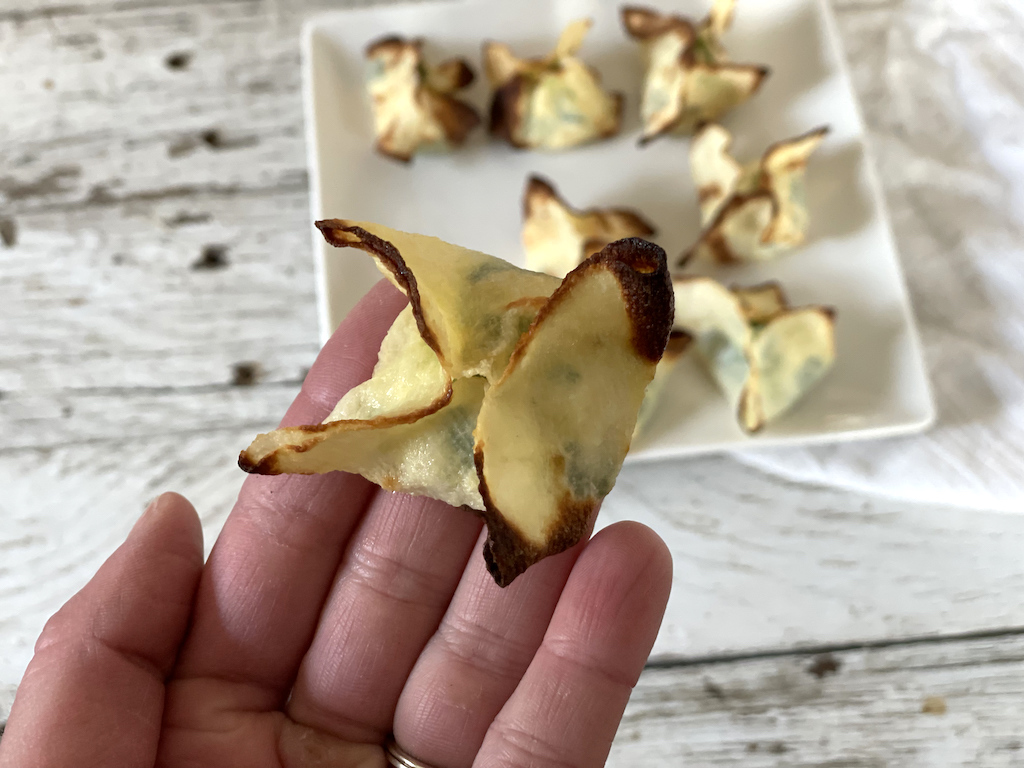 The perfect easy keto wonton recipe is here!
Our keto wontons use jicama wraps in place of traditional wonton wrappers but have a cream cheese & green onion filling that tastes just like the original!
This recipe makes 12 wontons and they won't last long, so you might want to consider doubling the recipe. I've been eating them for lunch, dinner, snacks in between… you get the idea.
We used jicama wraps as keto wonton wrappers!
To be honest, I was a little worried that the jicama wraps wouldn't turn out. I mean, who would've thought that jicama could make such a delicious wonton? I tried making my own keto wonton dough and it was a lot of work.
That said, there is a trick with the jicama wraps. The key is to heat them in a skillet before you fill them and fold them. Heating the jicama wraps makes them pliable so they fold without cracking. I also used an egg wash to get the edges to stick together.
Keto wontons might just be better than traditional wontons!
The inspiration for this recipe came from a reader who was asking for a non-fathead dough keto wonton. As I mentioned above, I did try making my own dough and while the final product was tasty, the dough was pretty finicky. So I tried using the jicama wraps instead!
Now, these aren't exactly like traditional wontons, they're definitely a keto-fied version. The trick is to try to get as much moisture out of the jicama wraps as you can before cooking them. But luckily, there's not much that changes with the tasty cream cheese filling.
For the filling, I went with cream cheese, garlic powder, ginger, salt, pepper, a splash of sesame oil, and lots of chopped green onions. Super simple and super tasty. You could go for a crab cream cheese filling if you want, but if using imitation crab, check the carb count. Canned crab would be a better option.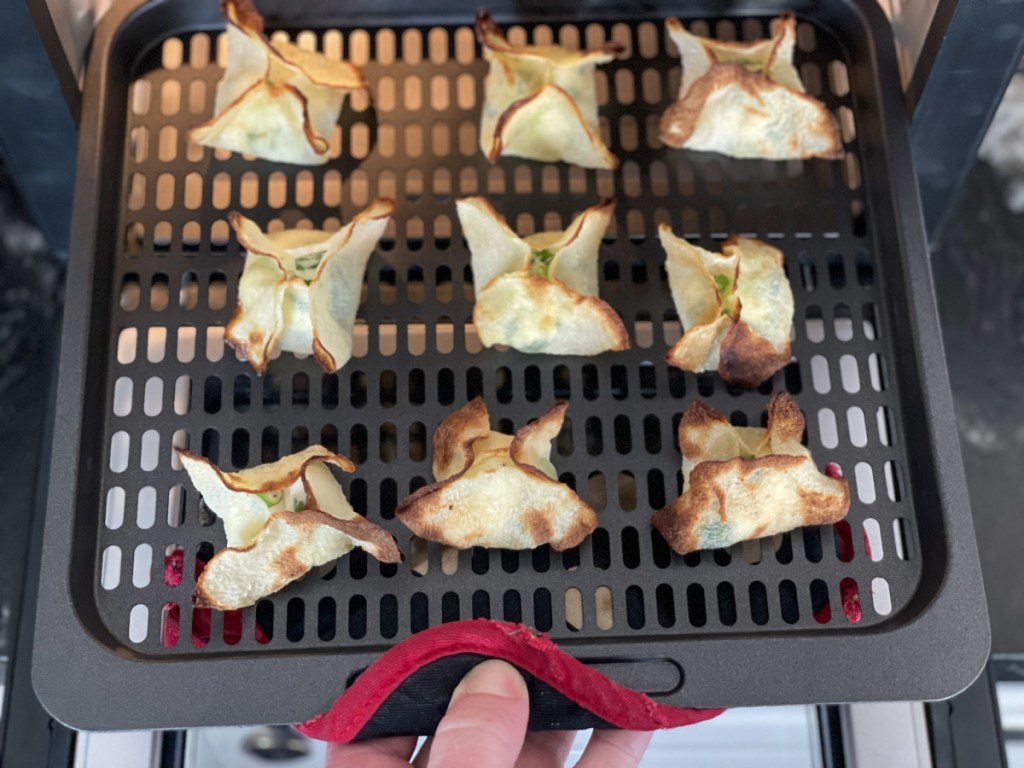 You can make these keto wontons in the air fryer too!
Cooking in the summer or don't want to heat up the entire oven for a small batch? Air fryers to the rescue! You can cook these in an air fryer at 375 degrees for 6 to 8 minutes. Either way you cook them, watch the wontons closely when baking them as the edges can easily start to overcook.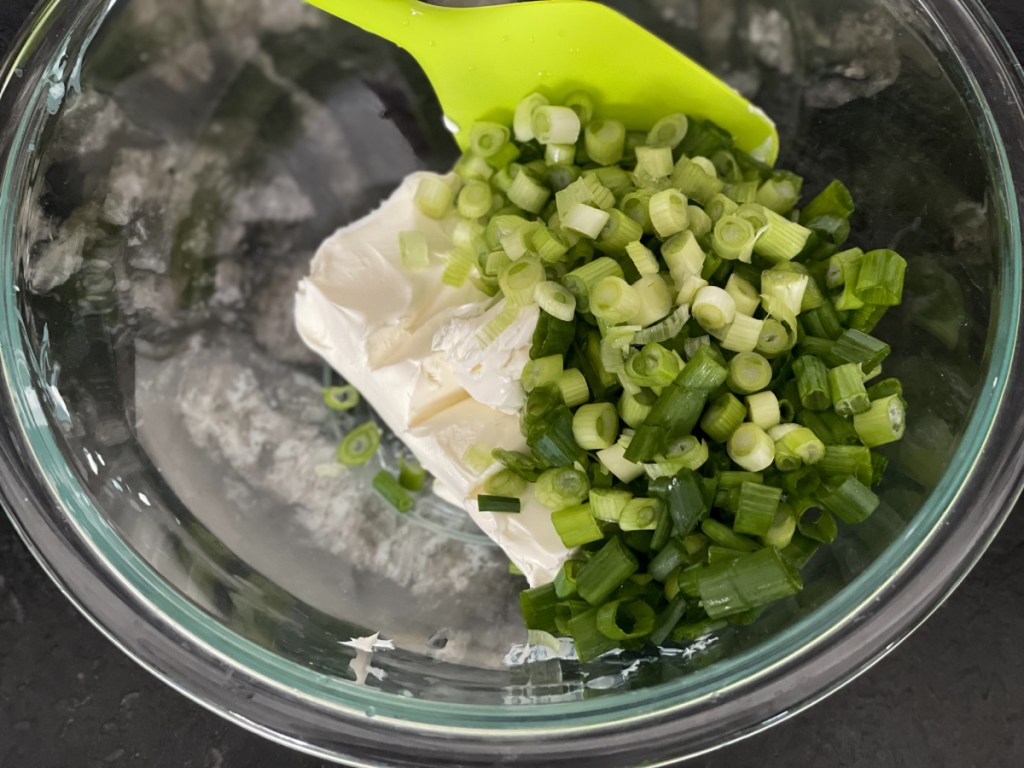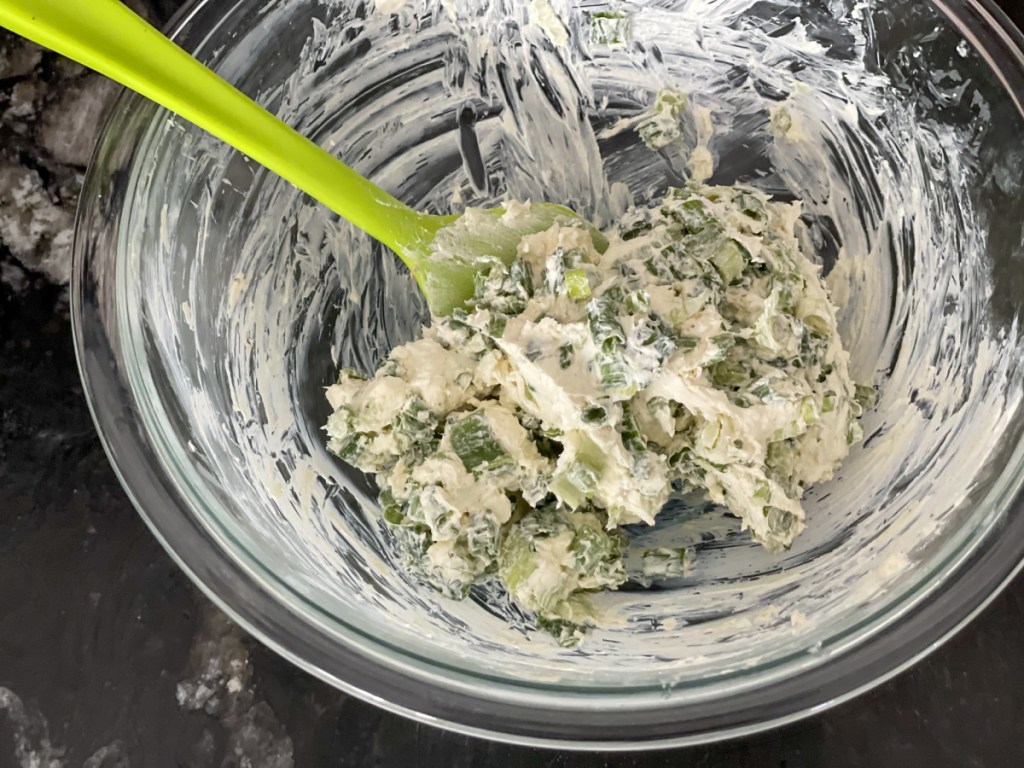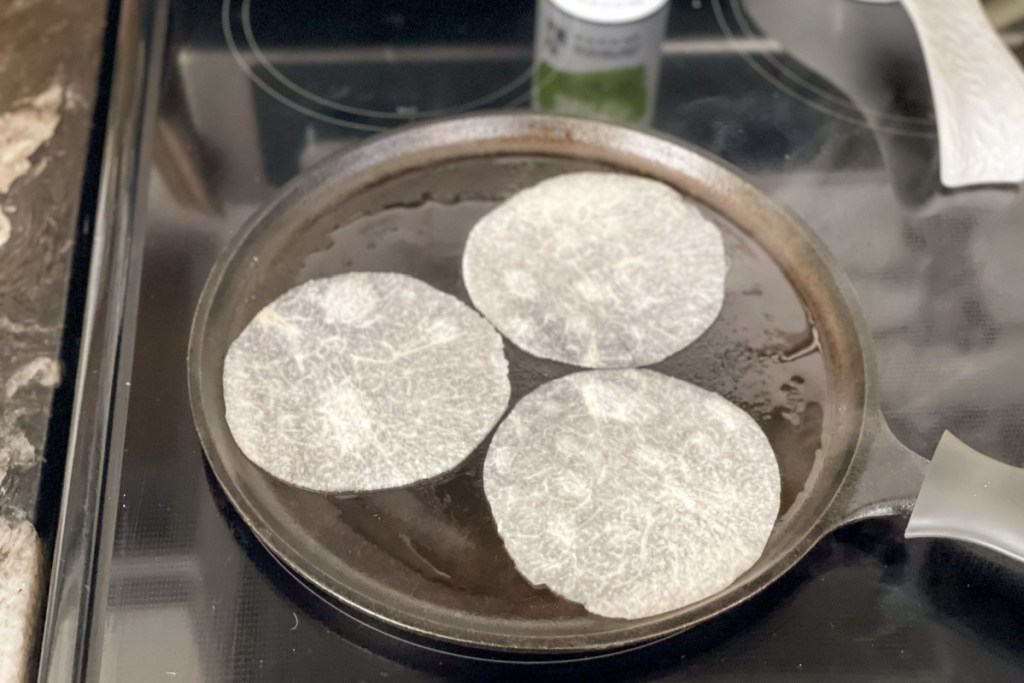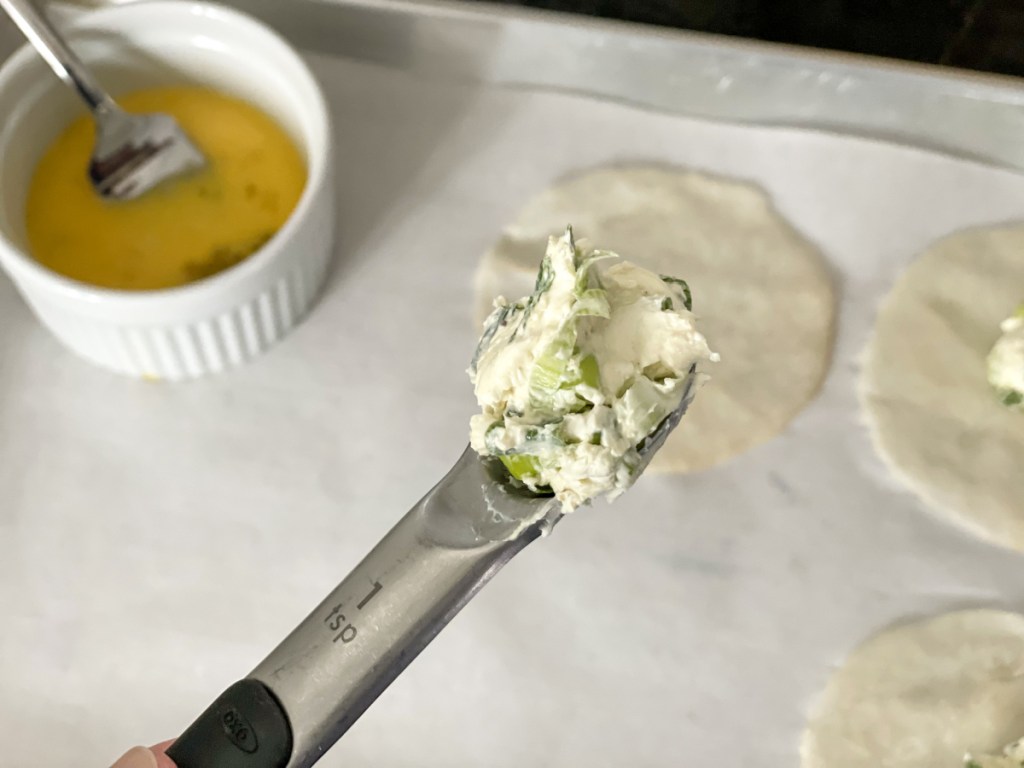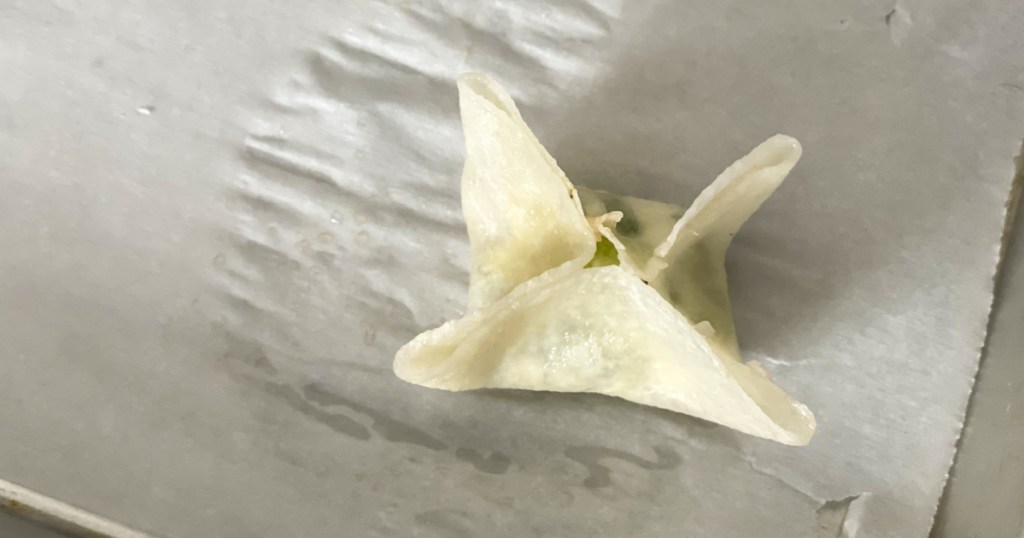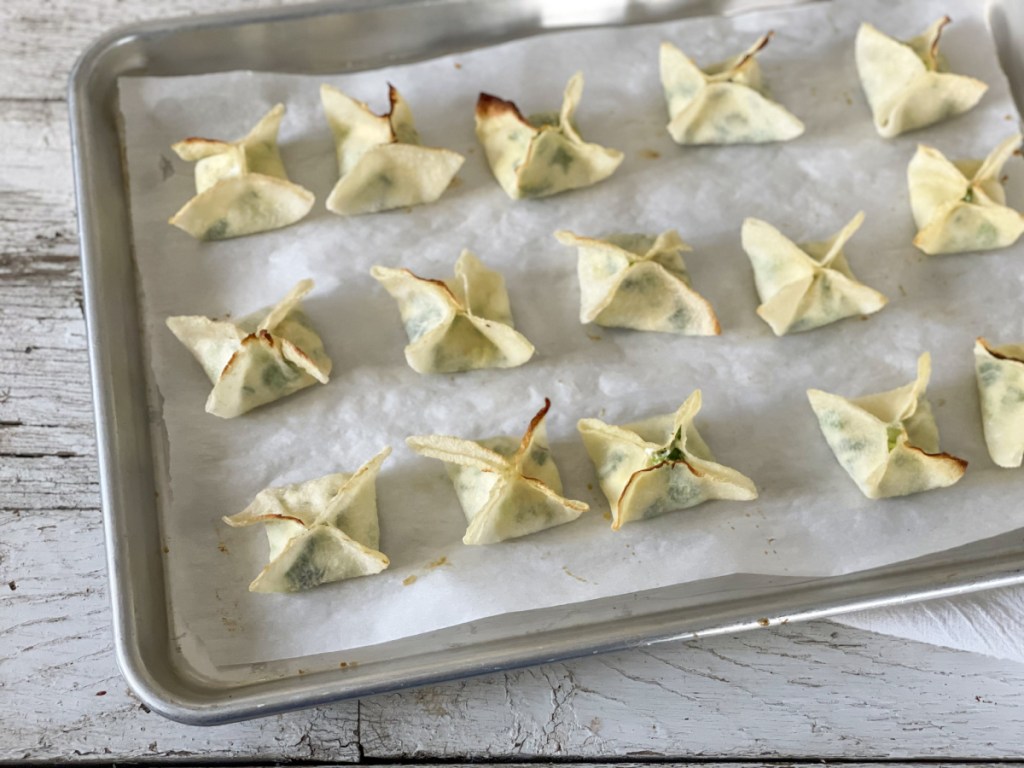 ---
Print
Keto Wontons with Cream Cheese Filling
yield: 12 SERVINGS
prep time: 30 MINUTES
cook time: 10 MINUTES
total time: 40 MINUTES
Keto wontons made with jicama wraps and then stuffed with a savory cream cheese green onion filling.
Ingredients
Cream Cheese Filling:
6 oz. full-fat cream cheese
1/2 teaspoon garlic powder
1/4 teaspoon ginger powder
1/4 teaspoon salt
1/8 teaspoon pepper
1/4 teaspoon sesame oil
4 green onions, finely chopped
Jicama Wonton Wraps:
12 jicama wraps
Cooking spray (I used avocado oil cooking spray)
1 egg, beaten
1 tablespoon water
Directions
1
Preheat oven to 375 degrees. Line a large baking sheet with parchment paper.
2
In a medium-sized bowl, mix together cream cheese, garlic powder, ginger powder, salt, pepper, and sesame oil. Then stir in the chopped green onions. Set aside.
3
In a small bowl, make the egg wash by mixing the beaten egg with the water.
4
Heat a skillet over medium to medium-low heat. Spray with cooking spray. Working in batches, place 2 to 3 jicama wraps on the skillet and heat for about 1 to 3 minutes per side, until soft and just slightly starting to brown.
5
Once the jicama wraps have been warmed, remove them from the skillet and place about 1 1/2 to 2 teaspoons of the cream cheese filling in the middle of the wrap.
6
Using your fingers, coat the edges of the jicama wrap with the egg wash. Then fold two opposite sides together over the cream cheese filling. Fold the remaining two opposite sides up over the cream cheese filling to form an "X". Pinch all the edges together to seal. Continue with the remaining jicama wraps and cream cheese filling.
7
Place the wontons on the baking sheet. Once all the wontons are made, bake for 10 to 12 minutes. Watch them closely to prevent them from overcooking. The jicama wraps will start to brown around the edges when done.
8
Remove from the oven and enjoy warm, either on their own or with a dipping sauce.
Nutrition Information
Yield: 12 wontons, Serving Size: 1 wonton
Amount Per Serving: 69 Calories | 5.6g Fat | 2.4g Total Carbs | 1.3g Fiber | 0.7g Sugar | 1.6g Protein | 1.2g Net Carbs
---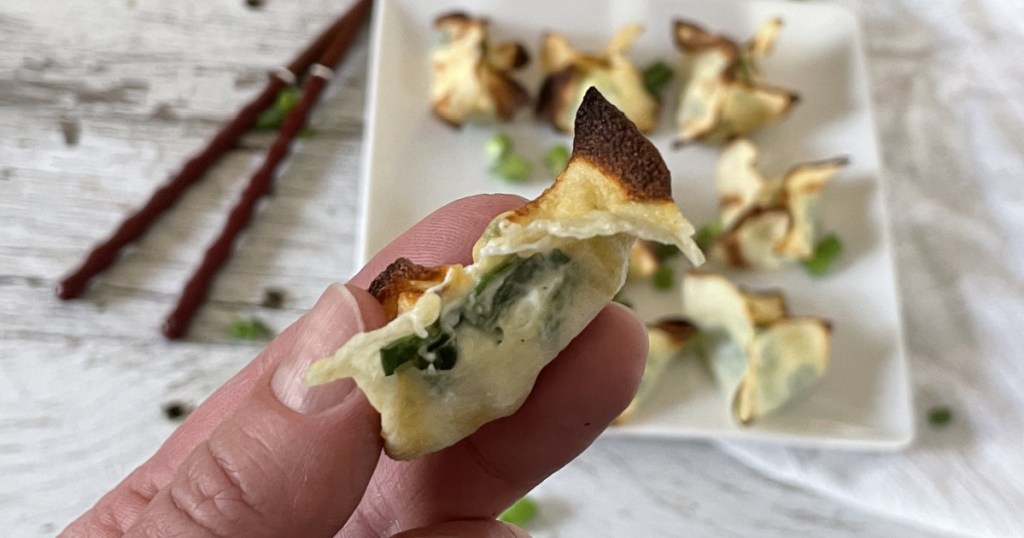 Tips for making the best keto wontons:
You can find jicama wraps at Trader Joe's or Whole Foods to use as keto wonton wrappers. The trick is to heat the wraps in a skillet to remove as much moisture as possible. Heating them also softens the wraps and makes them easy to fold.
Note that I doubled the recipe when I was making it to take pictures. So that's why you're seeing more than 12 keto wontons on the baking sheet. I highly recommend doubling it as well!
Use an egg wash to get the edges of the jicama wraps to stick together. I was pretty generous with how much egg wash I used.
Feel free to make a dipping sauce for the keto wontons. I mixed pickled red peppers with mayonnaise for a creamy sauce with a little kick. A sugar-free apricot jelly with a red pepper sauce would be super good too! Or keep it simple with just coconut aminos or tamari.
If your wontons unfold during the cooking process, it's very easy to pinch them back together after they have cooled for about 2 minutes. They will still keep their shape and look beautiful.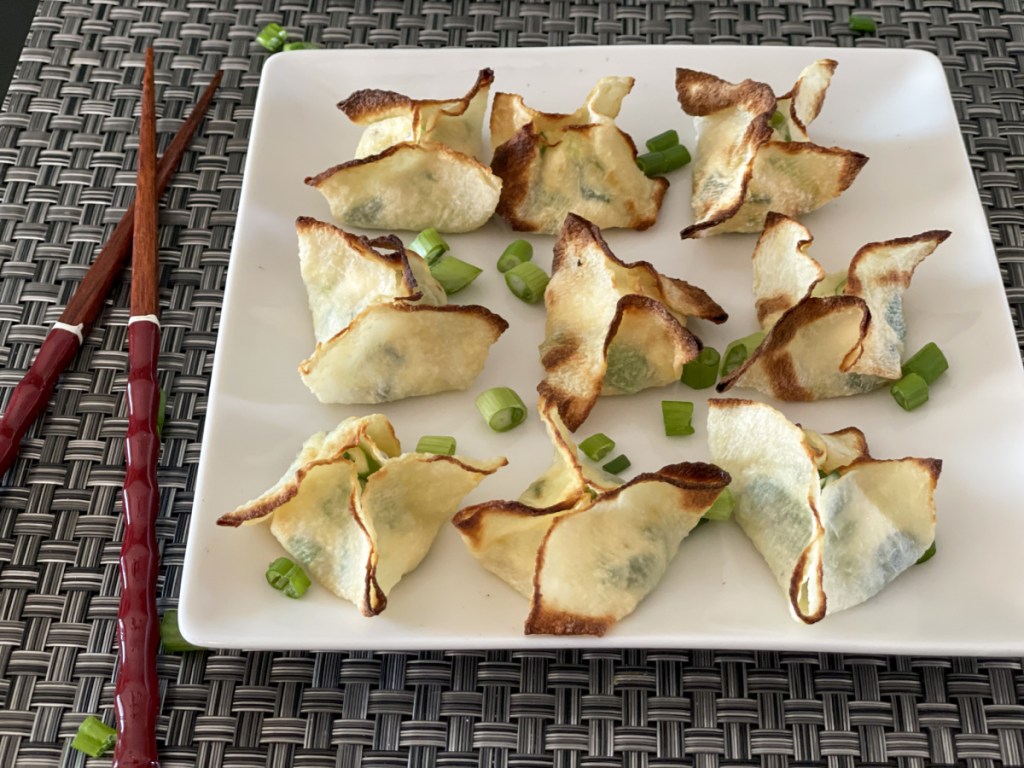 Share the keto wonton love!
These are a perfect appetizer to take to a party or serve with a stir fry dinner. I hope you enjoy them as much as I do!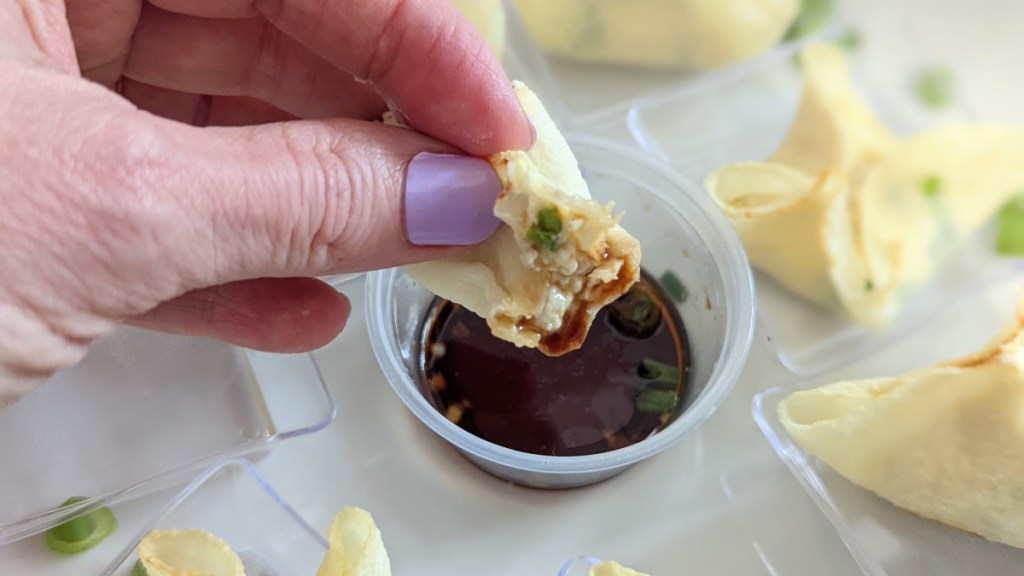 Here's what my Hip sidekick had to say about these keto wontons:
"OMG! These are so good! I love them and they'll be on my weekly rotation. They were easy to throw together and once I had the folding technique down they were fast. They look beautiful out of the oven and are ready to serve. The creamy inside and soft crunch on the outside is decadent!
I would bring these to a work party or family gathering without reservations. You can use a dipping sauce, but I thought they were perfect without one."
---
Loving this appetizer recipe? Check out all of our amazing keto appetizers!