Dot's Inspired Seasoned Pork Rinds Recipe (Better Than Store-Bought!)
We hacked the popular Dot's recipe to make just-as-addicting seasoned keto pork rinds!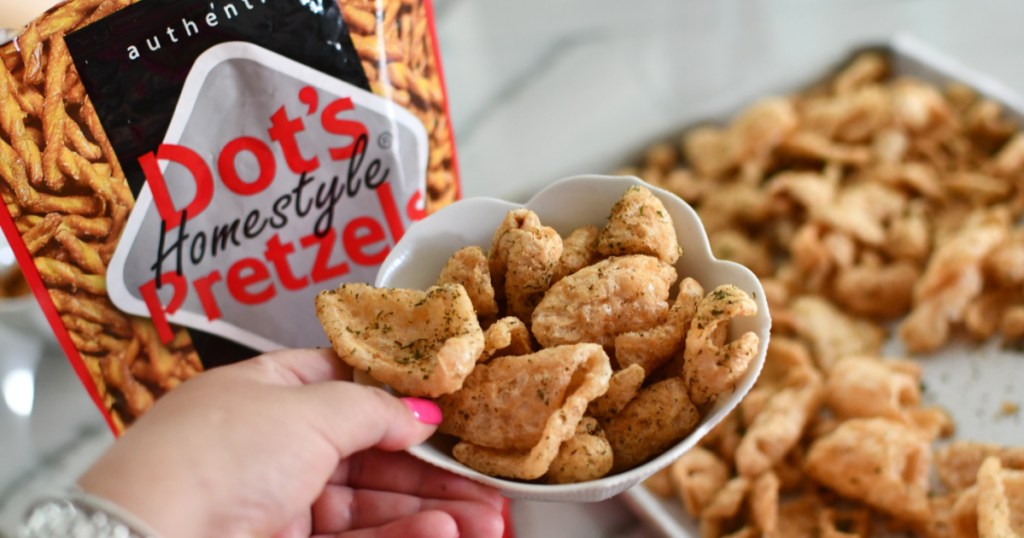 Make seasoned pork rind snacks that taste like Dot's seasoned snacks!
Ever heard of the buttery Dot's seasoned pretzels? 🥨 They are so delicious but unfortunately so not keto-friendly! The brand released Dot's seasoned pork rinds to cater to keto and low-carb eaters, however, they're hard to find in the stores. Even if you do spot them, they still run about $6 at the grocery store. 👎 🙅‍♀️
We've come up with an easy way to create a similar snack so you can have freshly seasoned pork rinds for less! If that's not convincing enough, my Hip teammate Emily says they're even better than the store-bought pork rinds, too.😉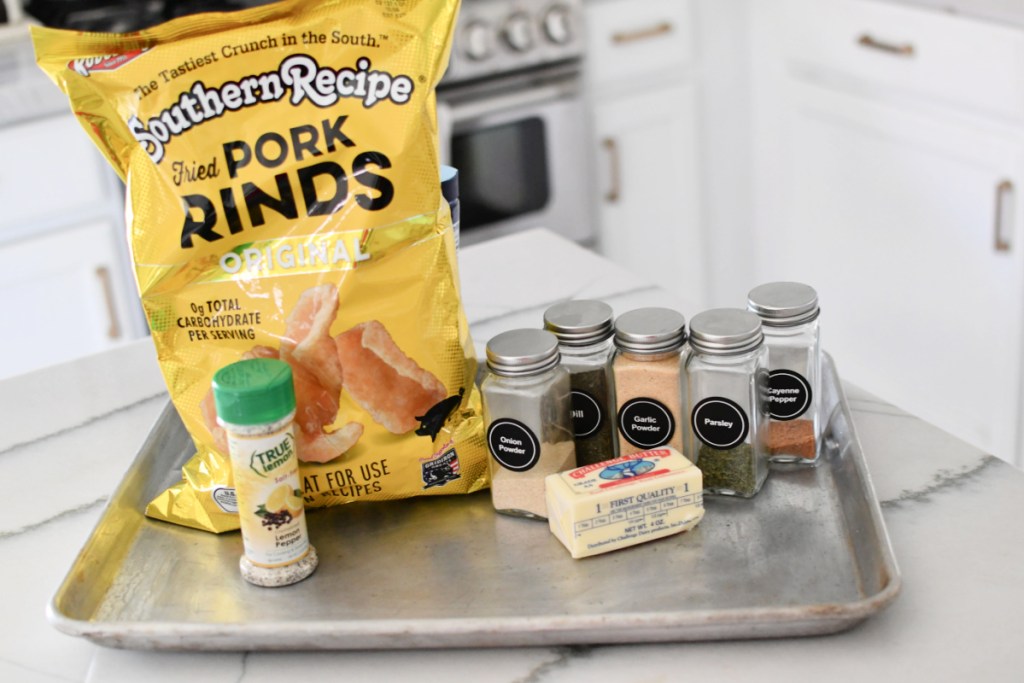 By baking plain pork rinds with butter and bold seasonings, you can make an easy and flavor-bursting keto version of Dot's seasoned pork rinds at home! I love that these are kind of spicy with cayenne pepper and yet tangy with lemon pepper. There are also garlic and onion flavors that pair so well with a crunchy pork rind. You'll understand the hype around these pretzels after your first bite.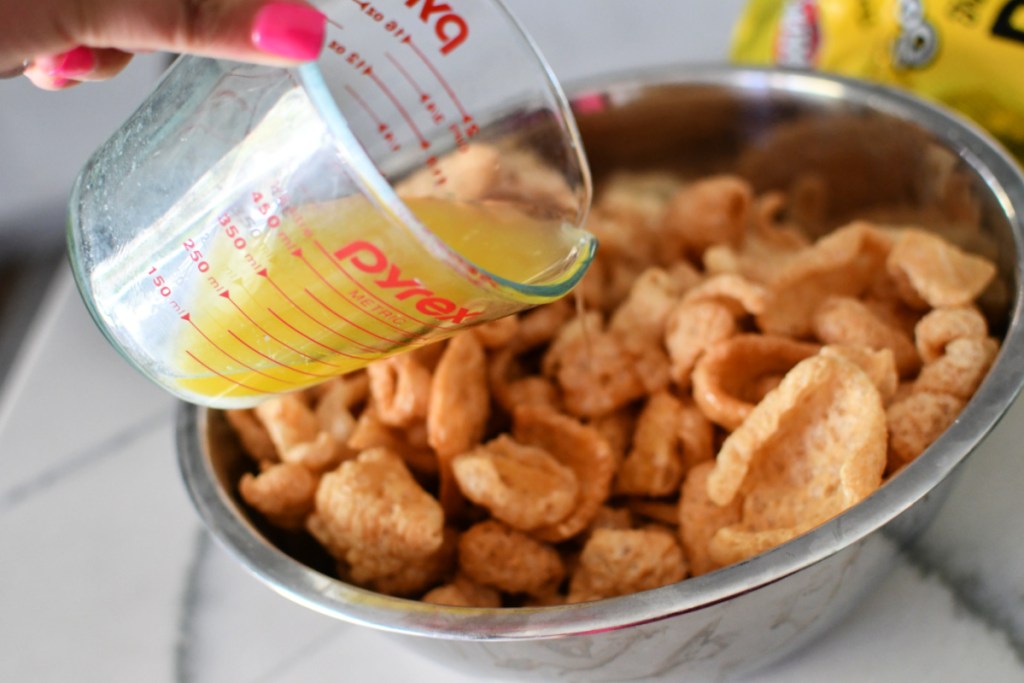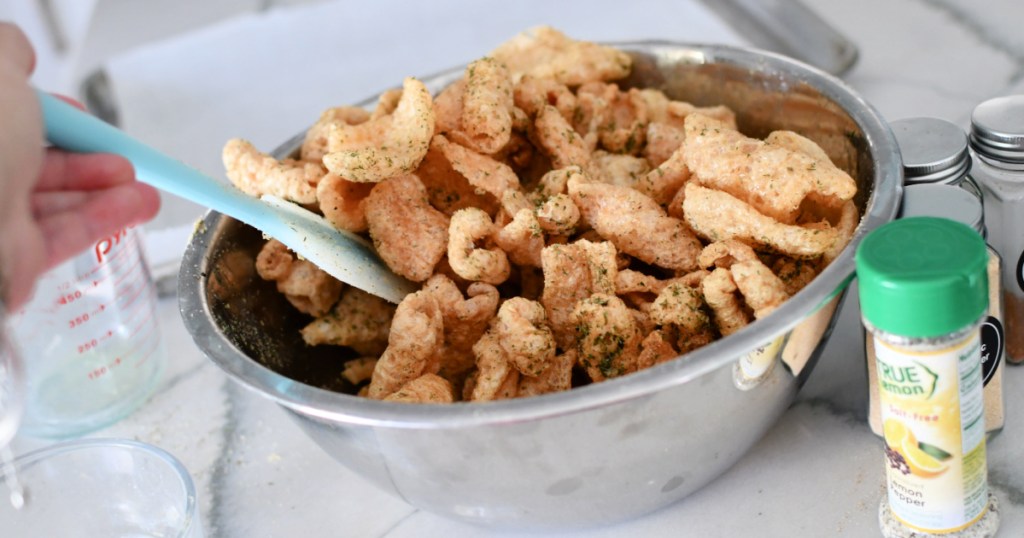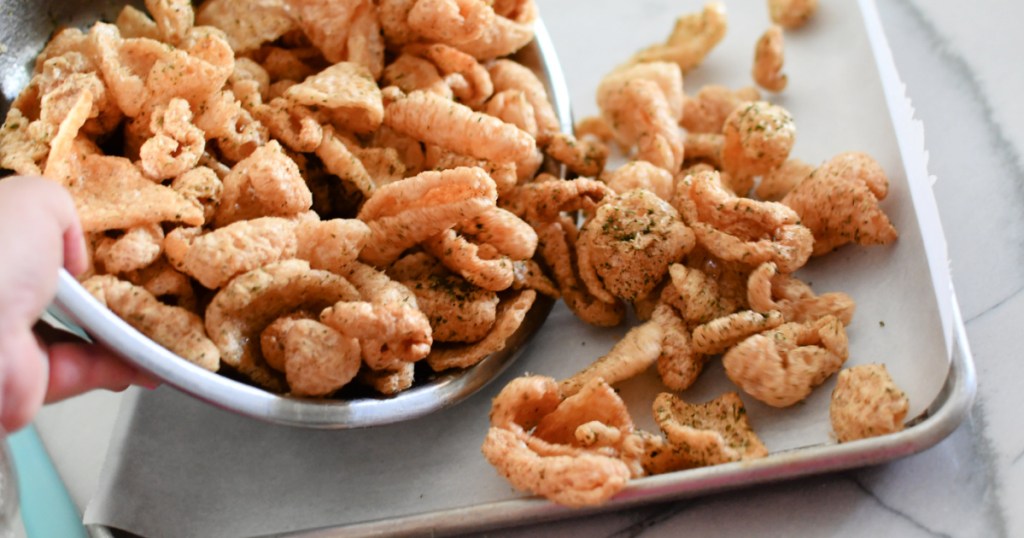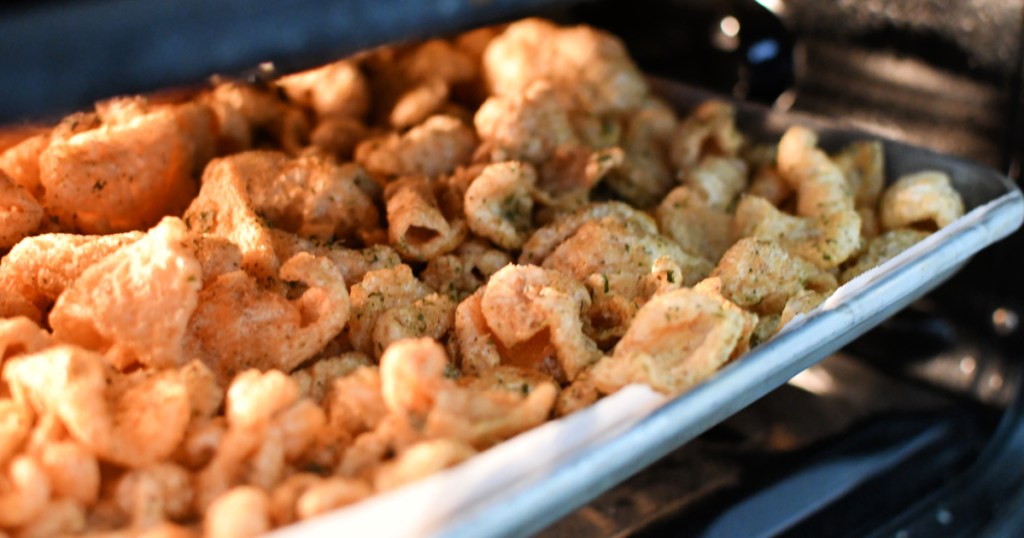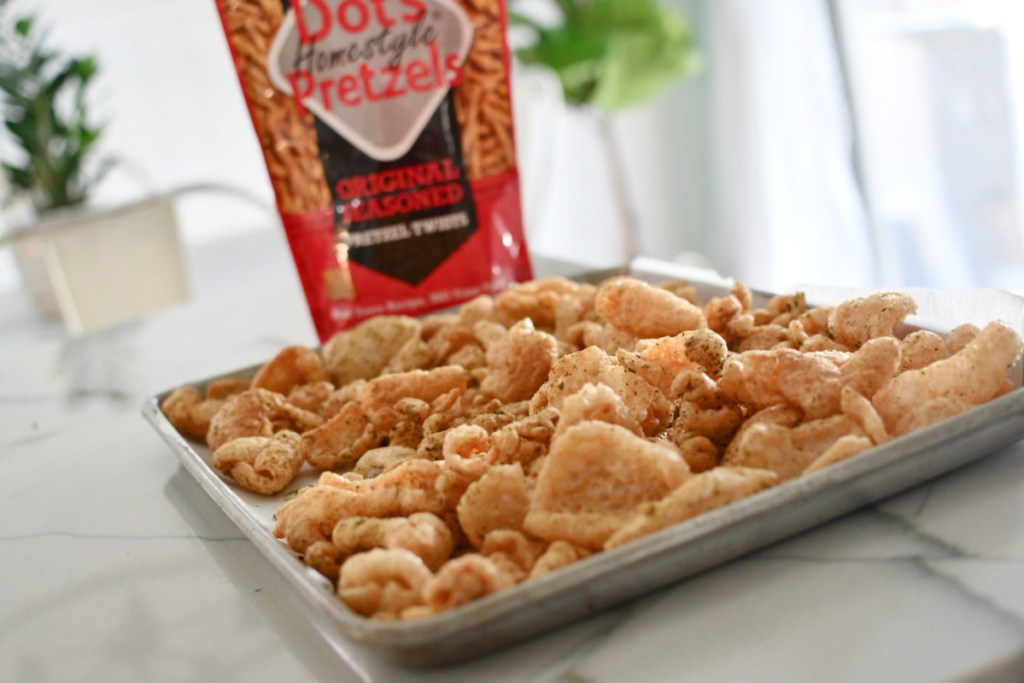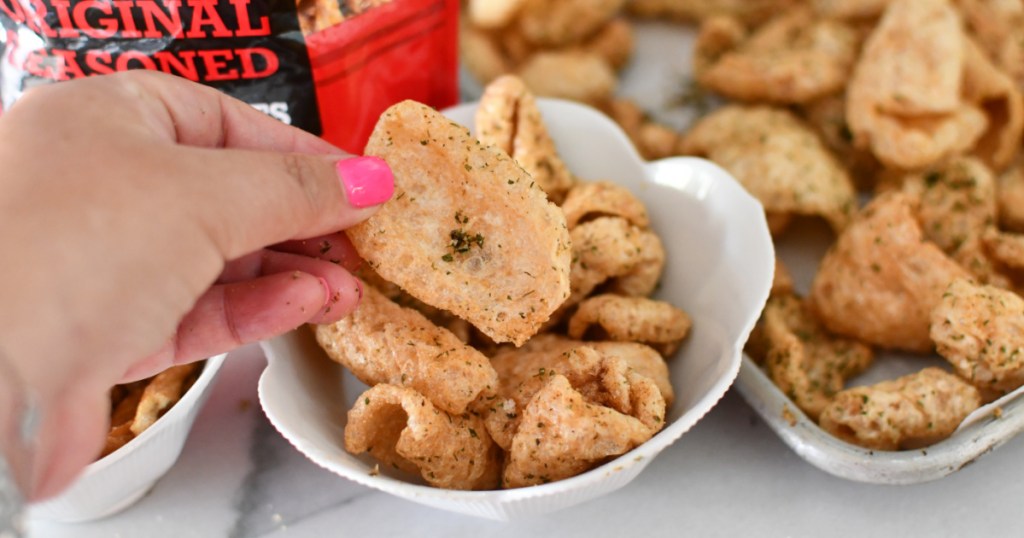 ---
Print
Dot's Inspired Pork Rinds
yield: 16 SERVINGS
prep time: 10 MINUTES
cook time: 30 MINUTES
total time: 40 MINUTES
Jazzed-up pork rinds with loads of spices rival the popular Dot's seasoned snacks.
Ingredients
1/3 cup butter, melted
1/2 teaspoon salt
1/4 teaspoon pepper
Directions
1
Preheat the oven to 250 degrees. Line a large sheet pan with parchment paper.
2
Add the pork rinds to a large bowl. Toss them with melted butter, and stir.
3
To a small bowl, add all the seasonings and mix. Toss in with the pork rinds and mix them up.
4
Pour the pork rinds on the sheet pan in a single layer.
5
Bake in the oven for about 30 minutes, flipping once halfway through bake time. Once cool, enjoy them as a snack. Store leftovers in a covered container.
Nutrition Information
Yield: 16 oz., Serving Size: 1/2 oz.
Amount Per Serving: 114 Calories | 8.3g Fat | 0.6g Total Carbs | 0.1g Fiber | 0g Sugar | 8.8g Protein | 0.6g Net Carbs
---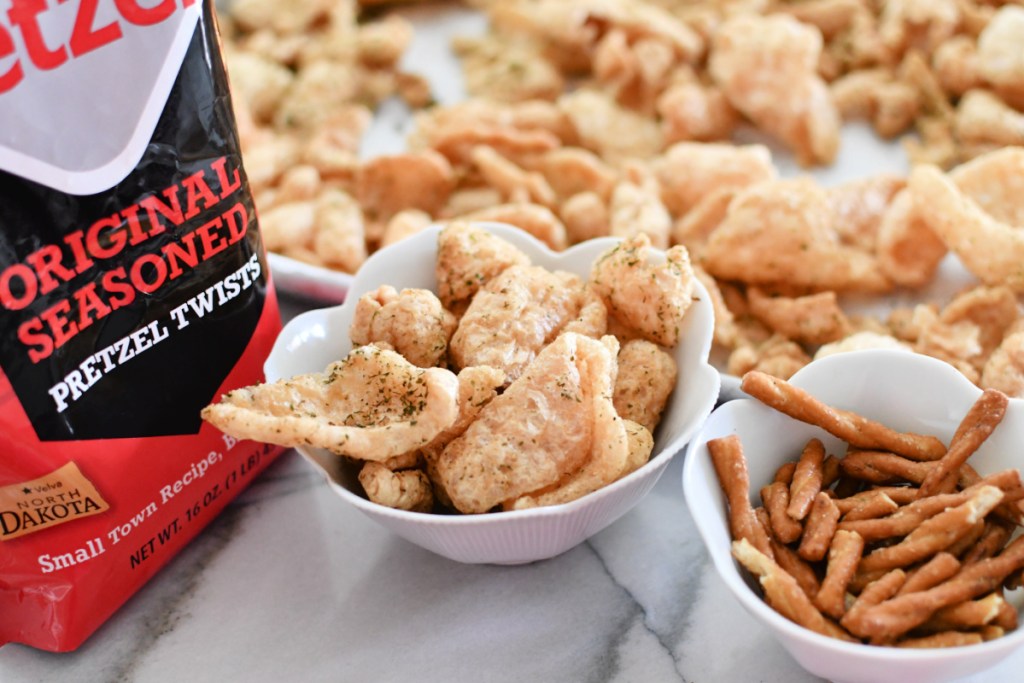 Tips for making keto copycat Dot's pork rinds:
This idea can be made to taste. If there is a spice that doesn't sound pleasing or if you don't like spicy, then dial back the cayenne pepper.
Let's talk about salt. 🧂 I did not add any additional salt because my pork rinds were plain, but already well-salted. If yours need salt, add some to the seasoning blend as desired.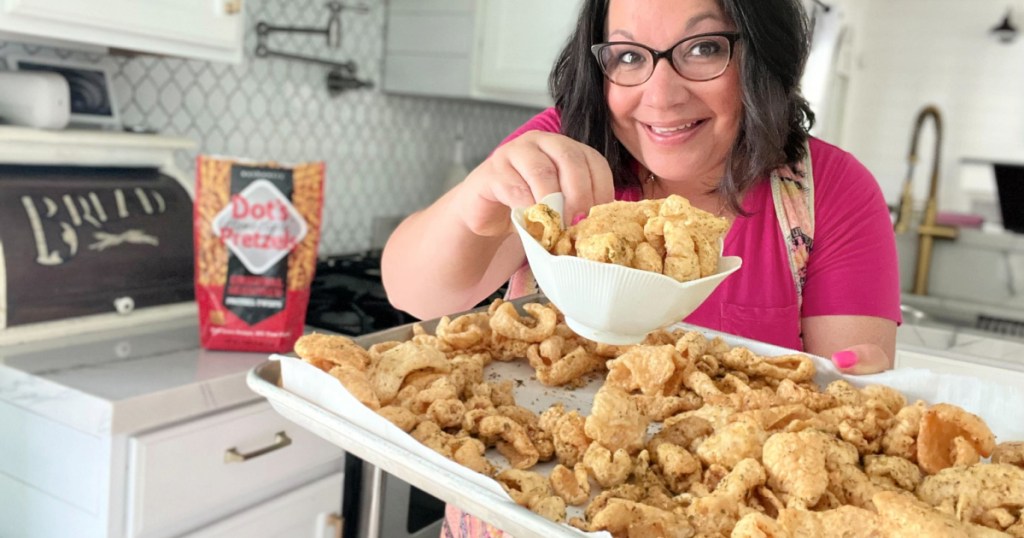 I love the idea of jazzing up pork rinds for lots of added flavor!
This was so easy to accomplish and is such a tasty keto snack. You can totally make them your own by adding other desired spices too. I also love that you can crush them up to use for future keto recipes like bread crumbs.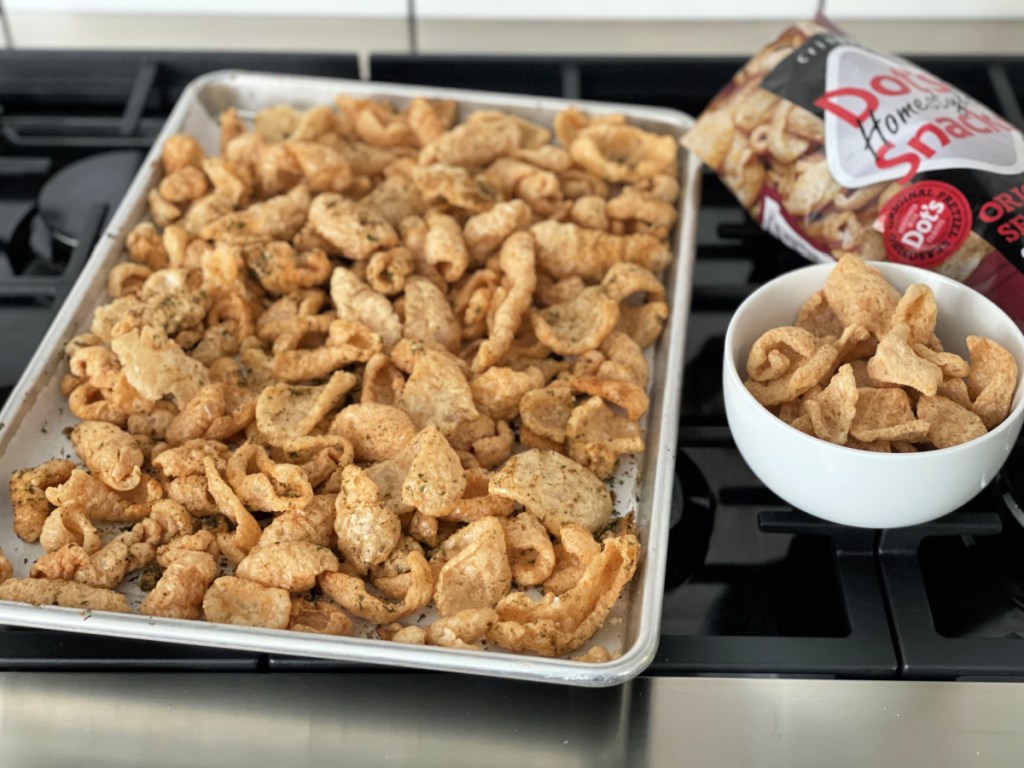 Check out what my teammate Emily had to say after making this recipe:
"These are better than the original Dot's Pork Rinds. I tried them side-by-side and prefer the copycat recipe! The fresh seasoning tastes so good, I couldn't stop eating them. Highly recommended making your own seasoning over buying the name brand!"
---
Bake some sugar-free roasted almonds as another sheet pan keto snack idea!