Sugar-Free Keto Roasted Spiced Almonds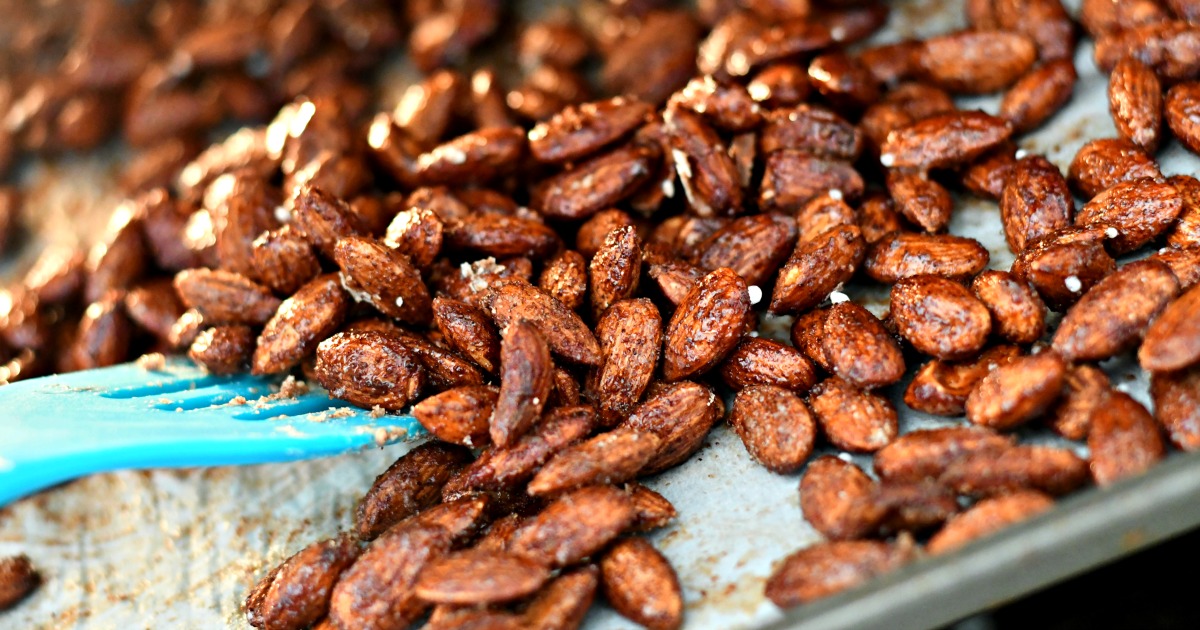 We love a good sweet and salty snack!
This sugar-free version of roasted spiced almonds will satisfy your keto snack cravings with the perfect combination of cinnamon, nutmeg, and sweetener! Not to mention, they're also easy to make and so YUMMY.
You'll love this idea, and I doubt anyone will even know they're sugar-free unless you tell them! Not only do these roasted spiced almonds taste great, but they're also simple to bake in the oven. Plus, they make your home smell AMAZING—what a perfect treat!
---
Here are a few tips to keep in mind when making sugar-free roasted spiced almonds:
You can use your favorite keto-approved sweetener by referencing our keto sweeteners & conversion guide. I used 1/2 cup of Swerve granular and loved how they turned out with such a yummy taste and texture! Feel free to use more if you like things extra sweet, but I felt like 1/2 cup is the perfect amount.
When these candied spiced almonds first come out of the oven, they will be sticky initially, but don't worry, after cooling for about 15 minutes, the coating will harden.
Need a thoughtful holiday gift? Consider making a few batches and giving them to friends as a homemade and delicious gift idea!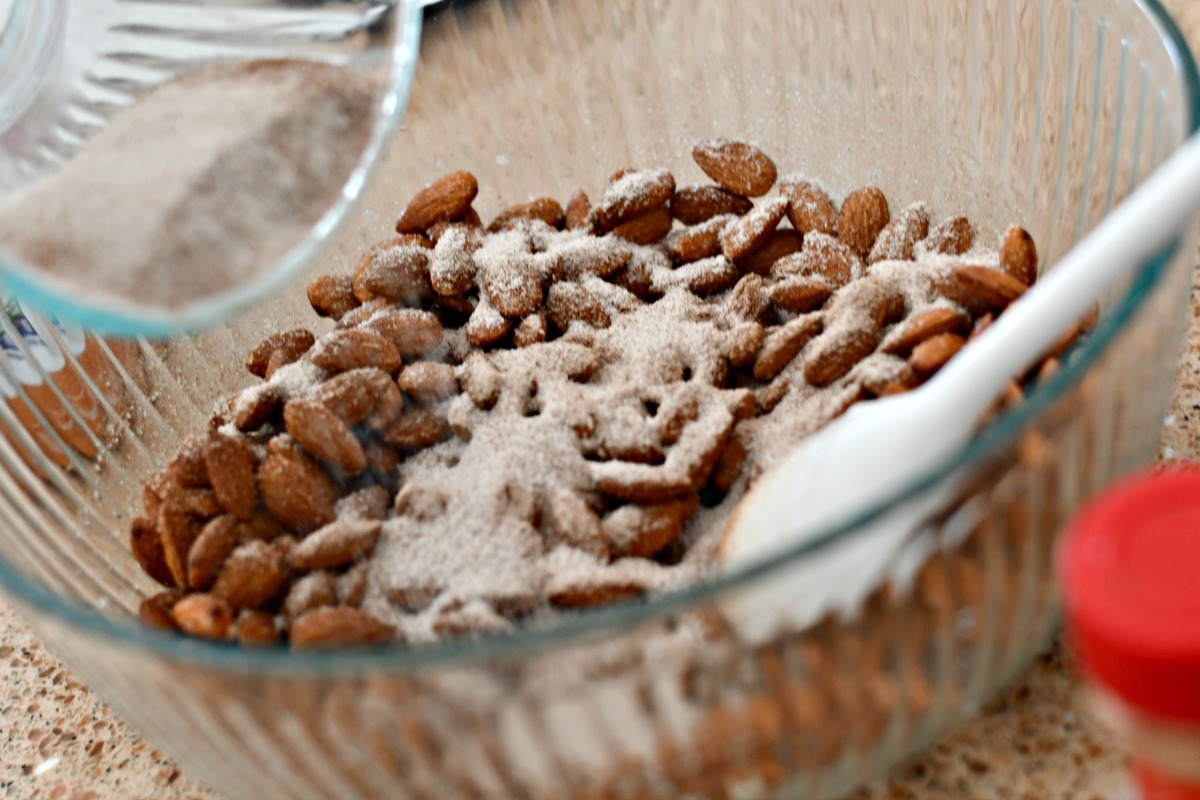 ---
Print
Sugar-Free Keto Roasted Spiced Almonds
yield: 16 SERVINGS
prep time: 5 MINUTES
cook time: 20 MINUTES
total time: 25 MINUTES
No one will even know these delicious spiced almonds are sugar-free!
Ingredients
16 oz. raw almonds
1 large egg white
1/2 cup keto-friendly sweetener (I used Swerve granular, Swerve Brown would be yummy too!)
1 teaspoon cinnamon
1/4 teaspoon ground nutmeg
1 teaspoon salt (or more if you love the sweet & salty combo)
Directions
1
Preheat oven to 325 degrees, and prepare a baking sheet with parchment paper.
2
In a large bowl, whisk egg until frothy and stir in the almonds to coat.
3
In a small bowl, stir together Swerve (or another keto-friendly sweetener), cinnamon, nutmeg, and salt. Pour that mixture over the almonds and stir until fully coated.
4
Pour almonds onto a baking sheet and spread in even layer.
5
Bake for about 20 minutes, turning over almonds on the pan halfway through cooking for even baking. Remove from oven and let cool for at least 15 minutes (will be sticky right from the oven).
6
Store leftovers in an airtight container. Enjoy!
Nutrition Information
Yield: 16 servings, Serving Size: 1/4 cup
Amount Per Serving: 162 Calories | 14g Fat | 10.5g Total Carbs | 3g Fiber | 4.5g Sugar Alcohol | 6g Protein | 3g Net Carbs
---
This is crunchy candied spiced almond heaven!
Once your spiced almonds cool for a bit out of the oven, they become super crunchy. I love the cinnamon sugar taste. I think this is such a genius way to enjoy a traditional holiday treat or snack while sticking to a keto lifestyle!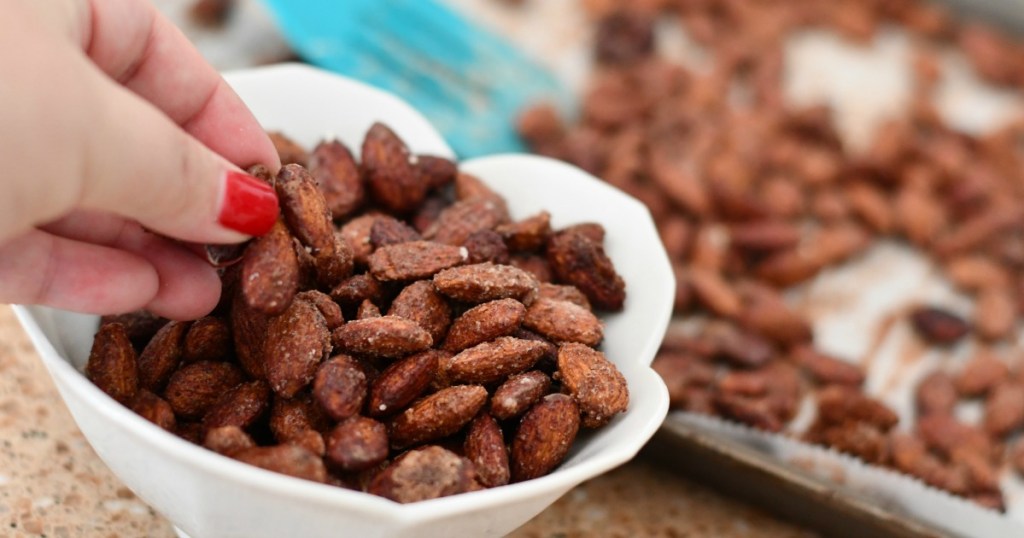 Such a fun and festive recipe! Enjoy!
---