Keto Dill Pickle Chicken Wings in the Air Fryer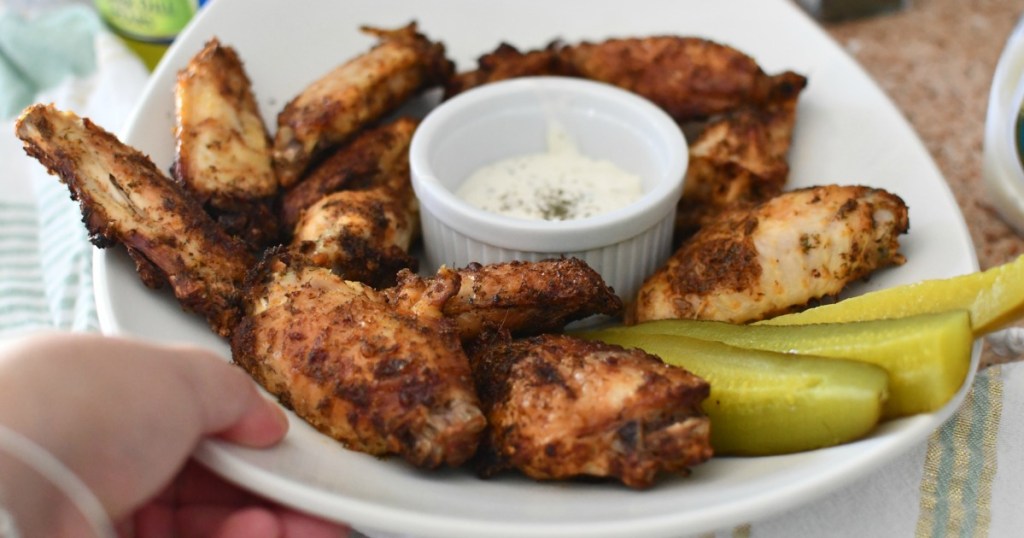 Chicken wings are one of our favorite keto appetizers and makes a great dinner idea, too!
If you love that tangy, salty dill pickle taste, consider making flavorful dill pickle chicken wings brined in dill pickle juice! Next time you're done with a jar of pickles, don't toss the juice, and instead, make some tasty chicken wings!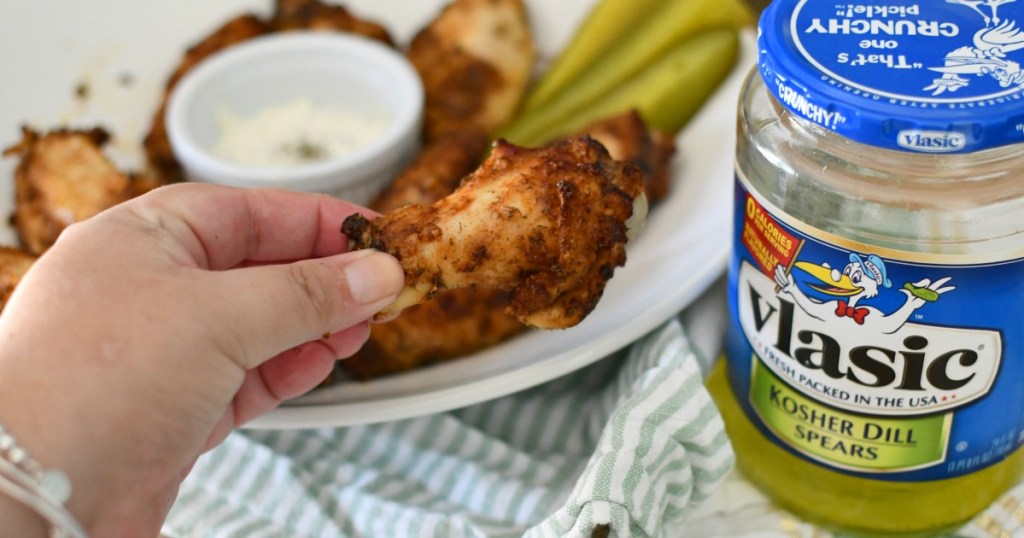 They taste so delicious without overdoing it with the pickle flavor, I promise! In fact, salt & vinegar wings are one of my favorites to order at restaurants, so I immediately knew I'd love this unique dill pickle chicken wing flavor idea!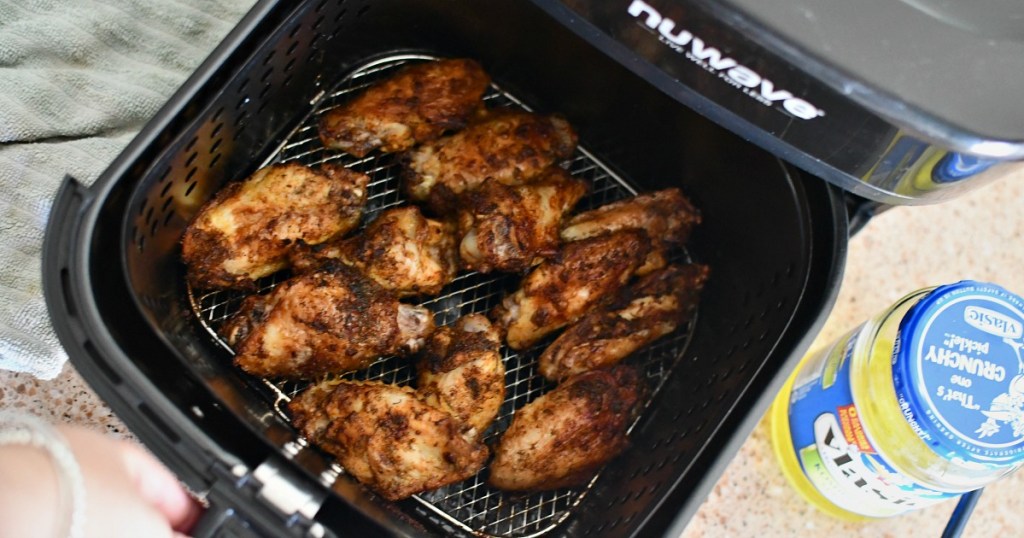 Making chicken wings in the air fryer is so easy and always turns out the BEST!
I love how crispy and yummy the skin gets when cooking wings using an air fryer, so I pretty much make wings only using that method. You can of course make them in the oven, so I've included cooking instructions for both.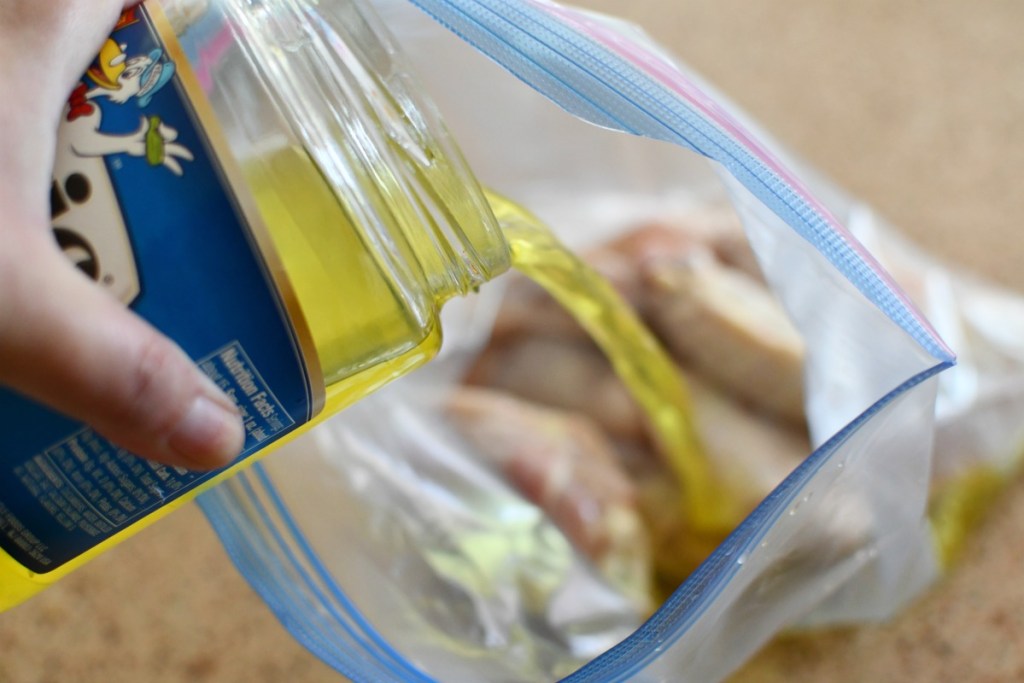 Here are a few recipe tips when making dill pickle chicken wings:

If you have the time to brine overnight, they'll be a stronger pickle flavor. I marinated mine for about 5 hours, and the pickle flavor was definitely there, yet subtle.
Forget to thaw your chicken wings? No worries! You can easily and safely thaw them in the microwave by using the thaw button and setting it to 2 pounds weight.
Don't forget to dip your dill pickle wings in ranch or blue cheese dressing! Here's a wonderful homemade keto ranch dip to consider.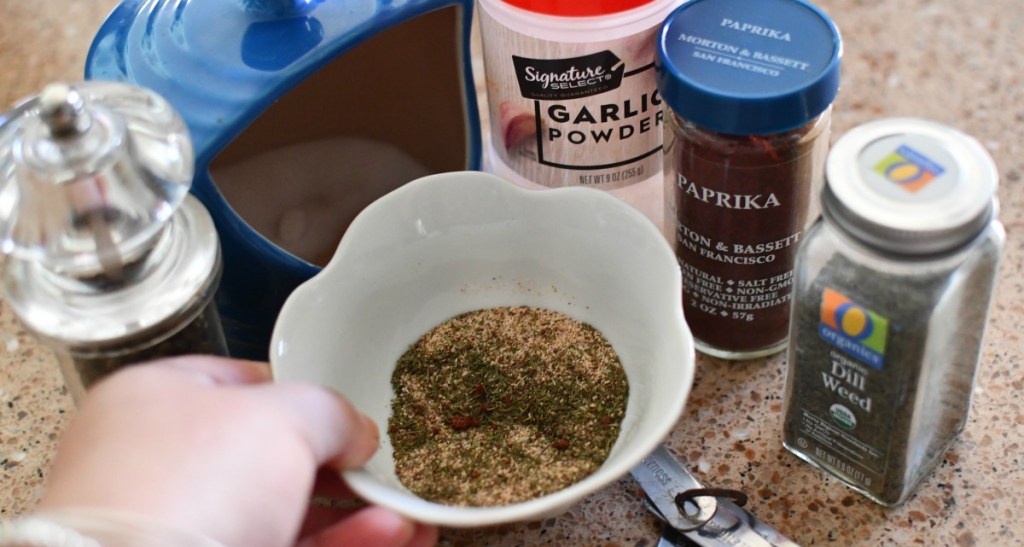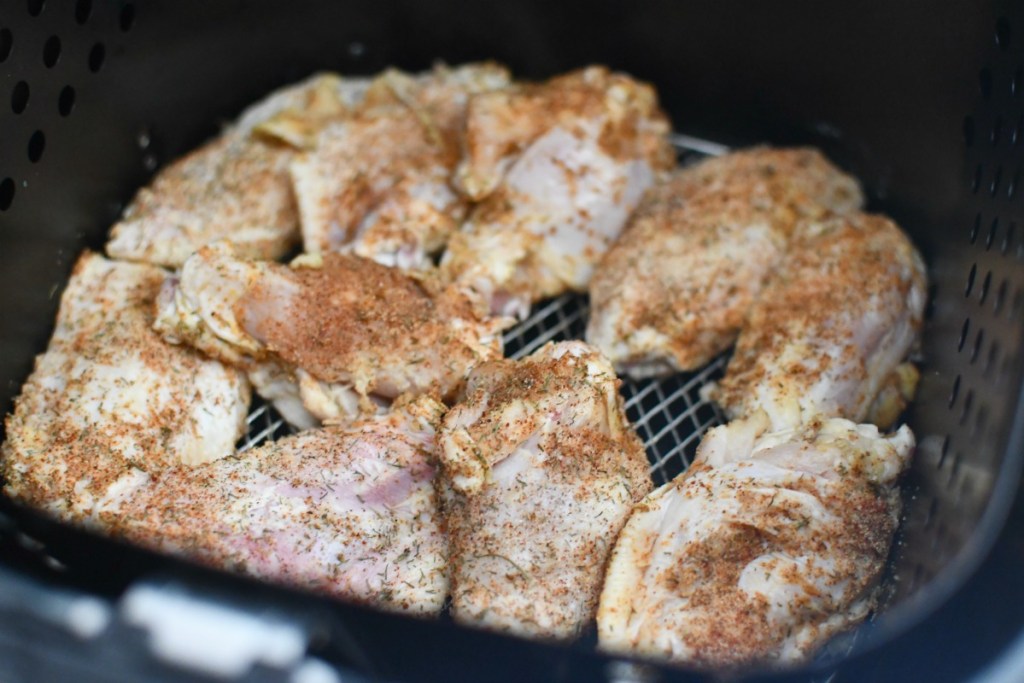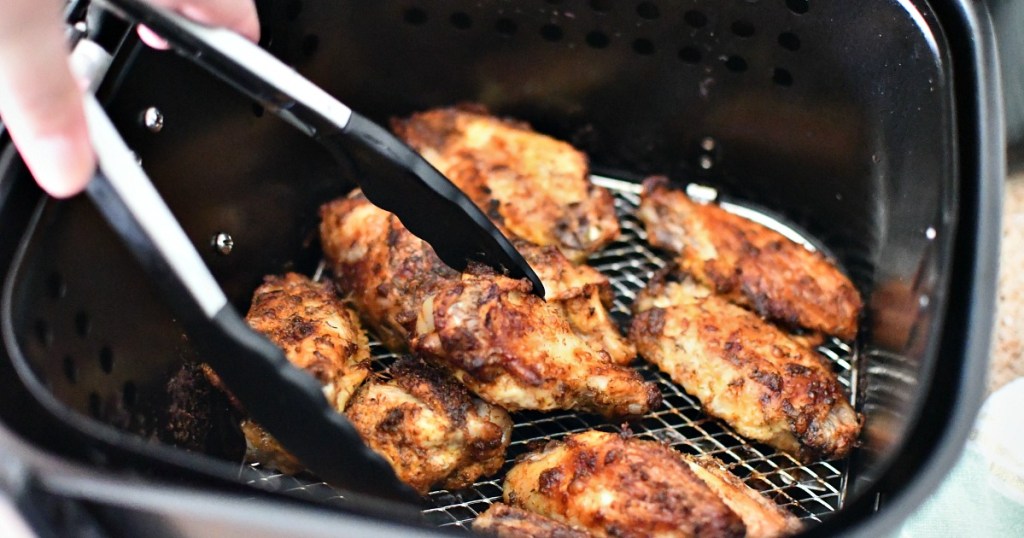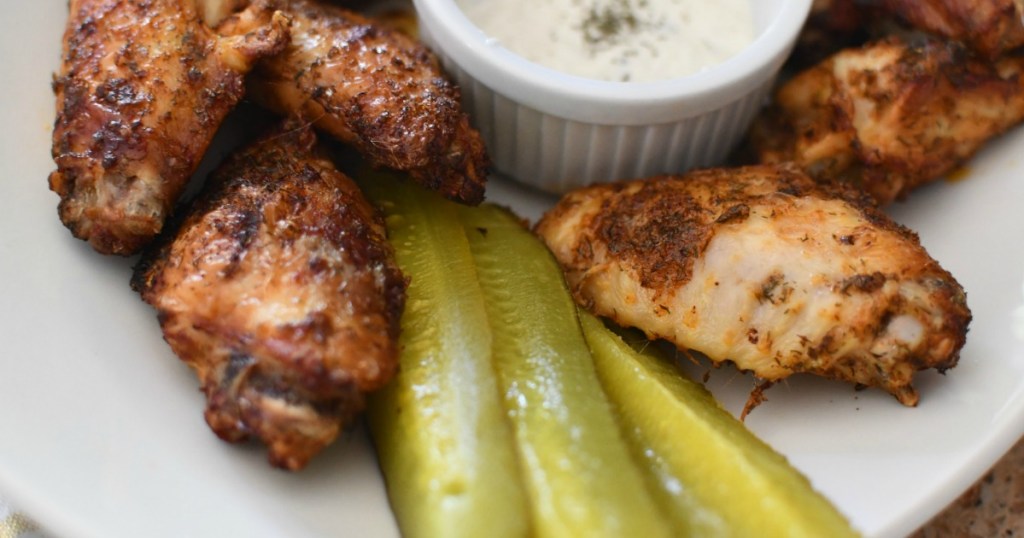 ---
Print
Keto Dill Pickle Air Fryer Chicken Wings
yield: 4 SERVINGS
prep time: 5 HOURS
cook time: 28 MINUTES
total time: 5 HOURS 28 MINUTES
Brine chicken wings in pickle juice for a tangy flavor, and cook them using an air fryer for homemade crispy wings!
Ingredients
2 pounds raw chicken wings, thawed
about 1 cup pickle juice from the jar
2 tablespoons melted butter
2 teaspoons garlic powder
2 teaspoons paprika
1 teaspoon dried dill weed
1 teaspoon salt
1/2 teaspoon pepper
Directions
1
Add pickle juice and raw chicken wings to a gallon-sized Ziploc bag and marinate for at least 5 hours in the fridge (or longer if you really like that pickle juice flavor).
2
Remove wings from bag and discard juice. Pat all the wings dry using paper towels. Coat wings in melted butter.
3
Combine all seasonings in a dish, and coat the wings on both sides with the seasoning.
4
Grease the air fryer basket and add wings to the air fryer in a single layer. I was able to fit all 12 wings at once.
5
Set temp to 370 degrees and 14 minutes. After the first 14 minutes, turn the wings and set the timer for another 14 minutes.
6
Alternate oven instructions:
Instead of using the air fryer, you can bake the wings in the oven at 425 degrees. Bake for 20 minutes, turn wings over, and bake for another 20-25 minutes until desired crispiness.
Nutrition Information
Yield: about 12 wings, Serving Size: 3 wings
Amount Per Serving: 334 Calories | 23g Fat | 2g Total Carbs | 1g Fiber | 24g Protein | 1g Net Carbs
---
These dill pickle wings didn't last long around here!
They are so YUM! If you are a fan of dill pickles, for sure add these wings to the list of recipes to make soon. My family definitely enjoyed them, and I bet yours will too.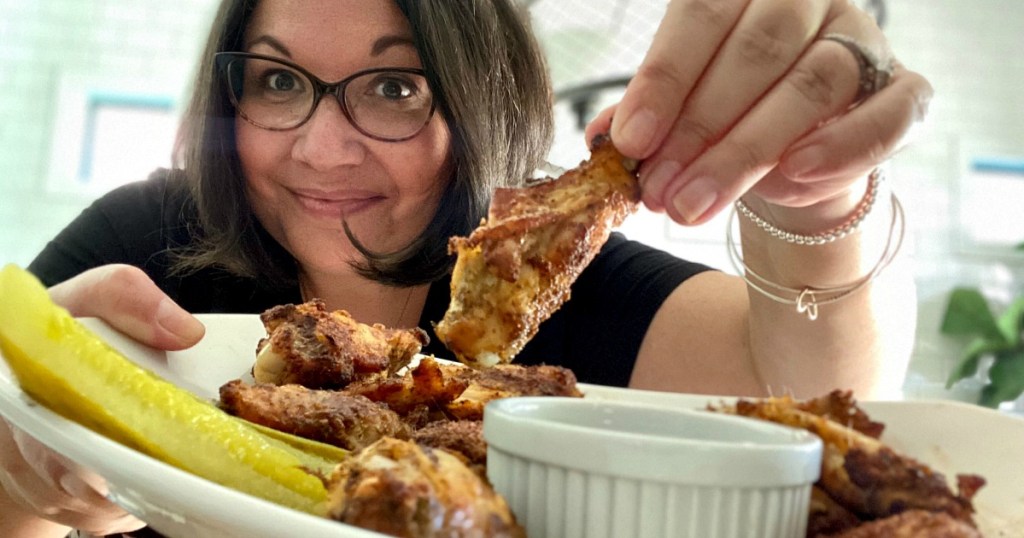 ---
Here are 10 more reasons I love using my air fryer to make keto foods!