Keto Pickle-Brined Chicken Bites with Sweet Mustard Dipping Sauce (Tastes like Chick-fil-A!)
This crowd-pleasing keto fried chicken is pretty darned simple.
Do you think of fried chicken as being complicated? Do you worry about a lengthy process and messy batter? Fear no more! With only a few easy steps, this pickle-brined keto fried chicken bites recipe won't leave you in a pickle (but it will TASTE like one). And the sweet sauce is reminiscent of a keto honey mustard dipping sauce, similar to the one at Chick-fil-A… yum!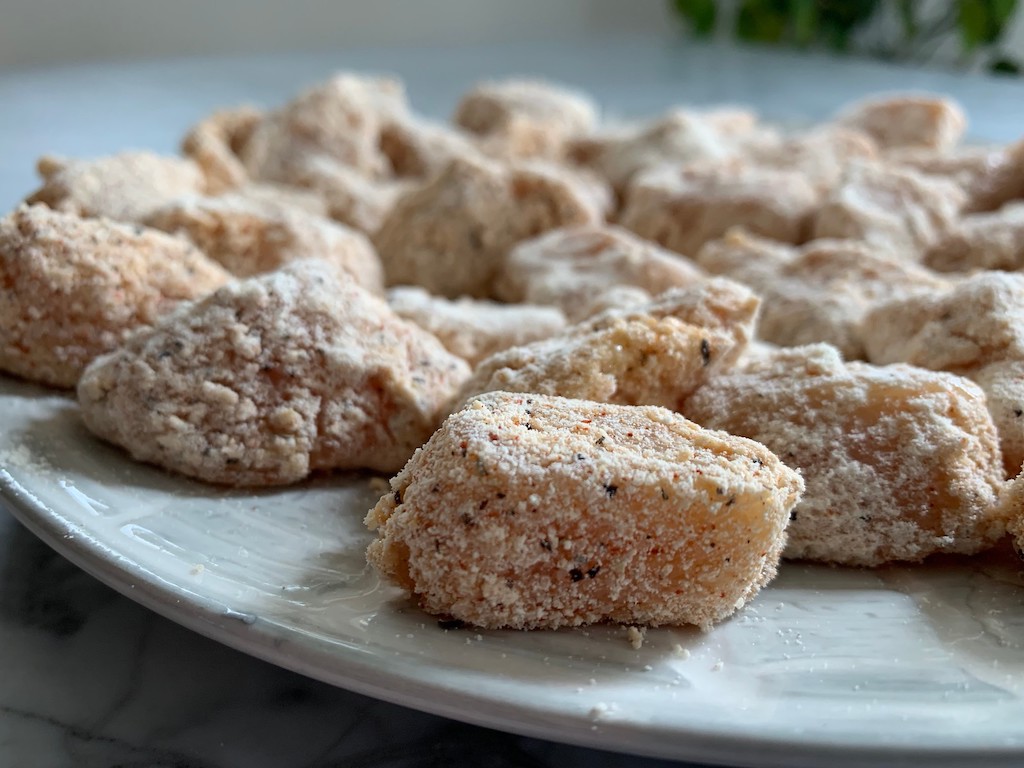 This keto fried chicken is super low in carbs (only 1 net carb per serving) because it swaps traditional flour with unflavored whey protein isolate. Whey protein is sticky by nature, allowing you to skip the typical egg wash. This means fewer steps and less mess… YESSSS!
Oh, and don't worry—much to my amazement, whey protein fries like a champ. It creates a thin, flavorful coating that wraps the pickle-brined chicken in crispy deliciousness. In fact, these little bites are so good, I swear they taste a lot like Chick Fil A's chicken nuggets! Winning!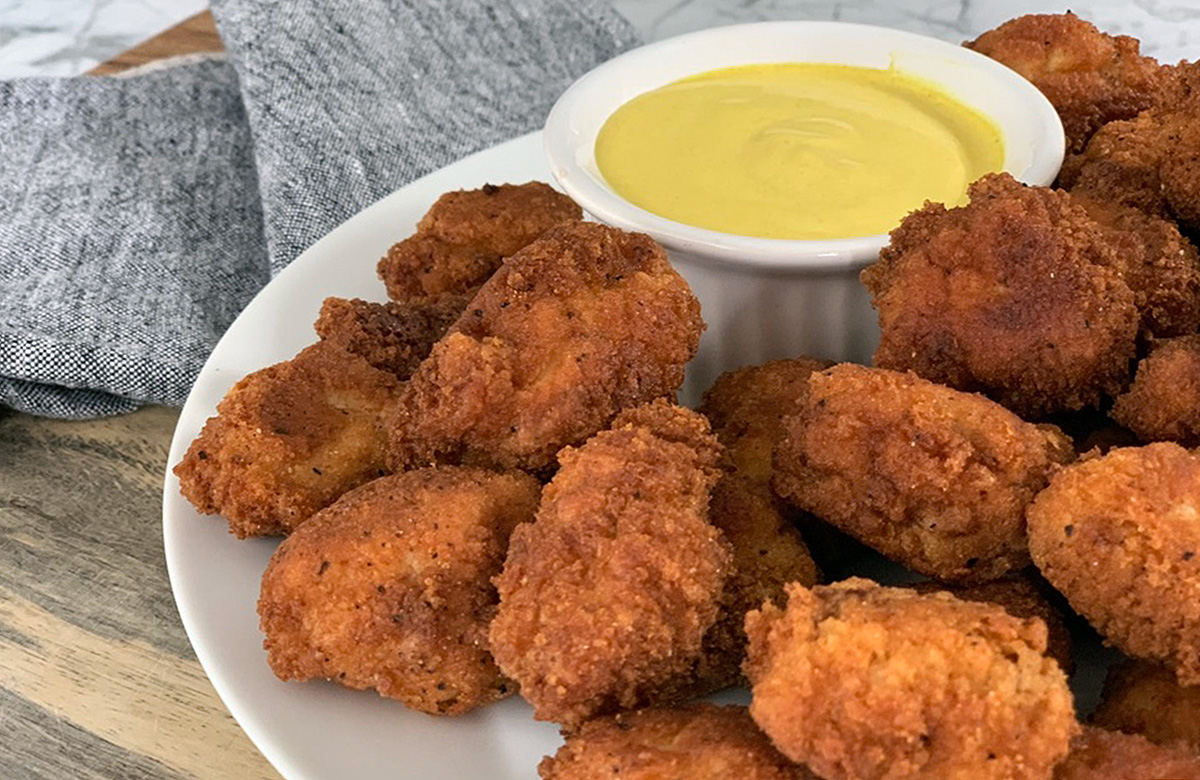 You had me at the pickle.
If you're a pickle fan, this keto fried chicken is sure to become your new fave.
Although the brining process is short, it packs a surprising punch and adds a depth of flavor that really works! The result is juicy chicken with an underlying zing that'll make you sing! (No joke, my kiddos love this chicken so much—They literally sing and dance with each tasty bite!)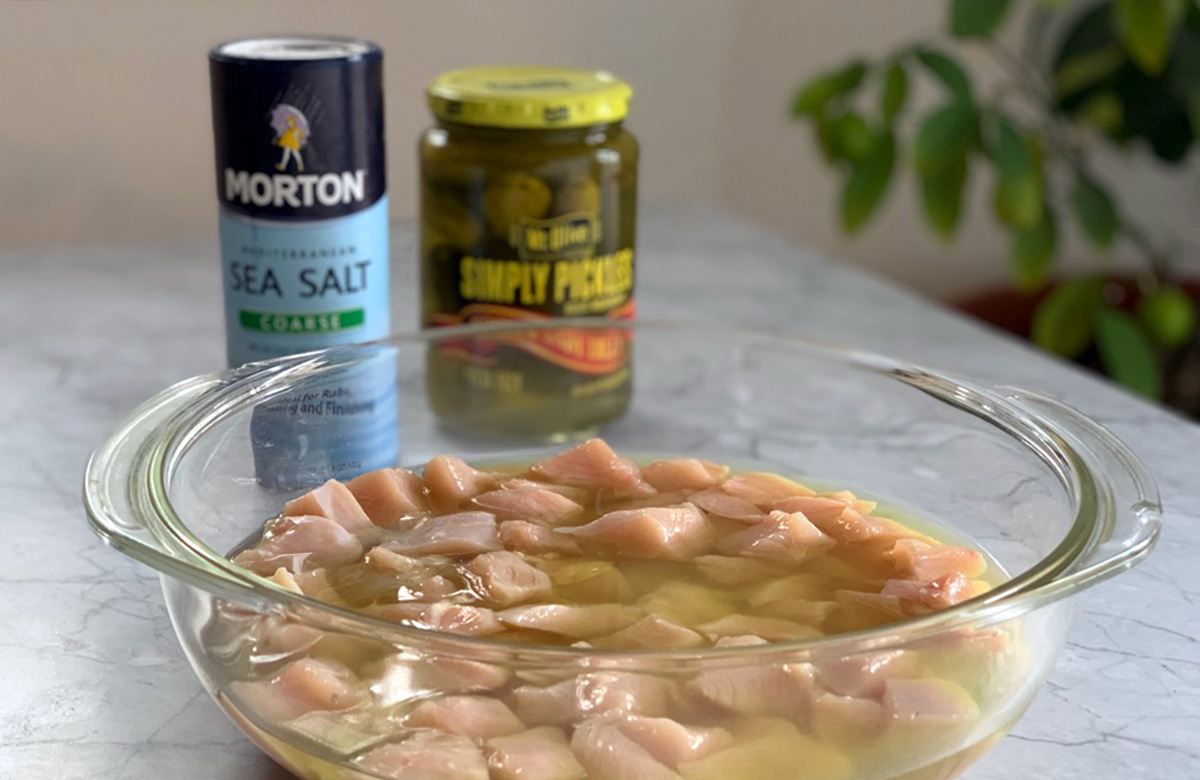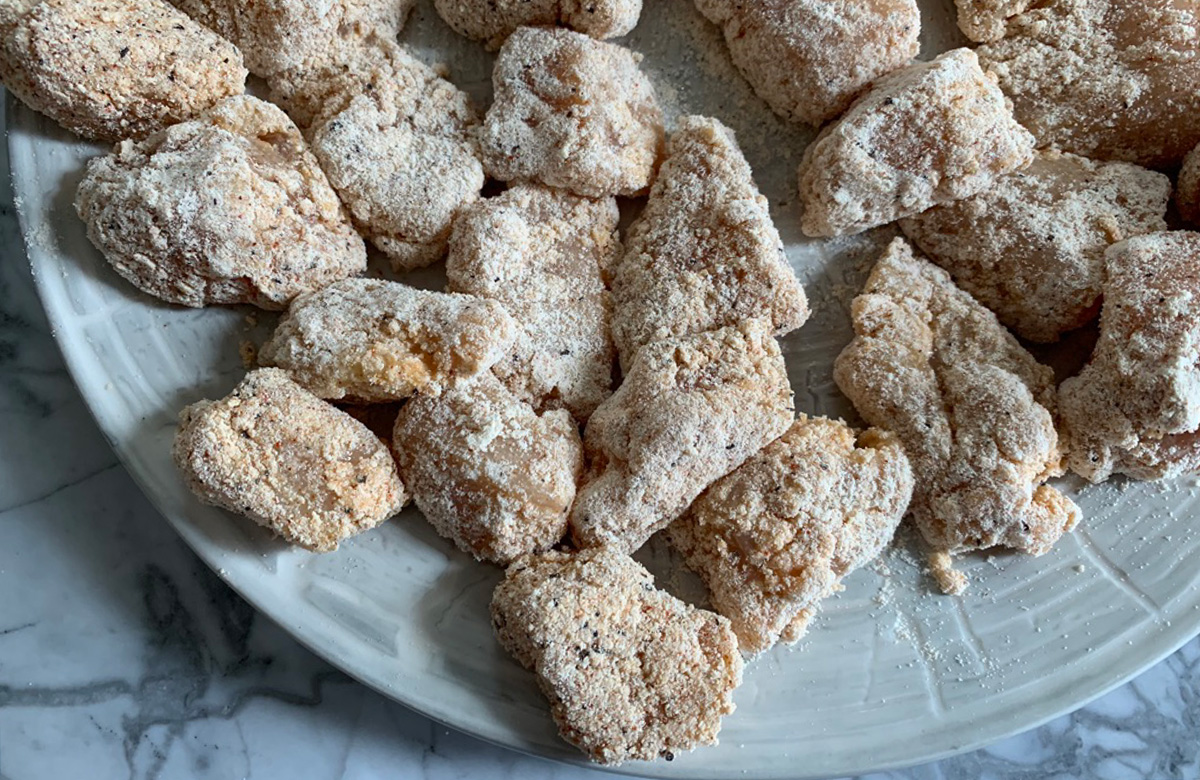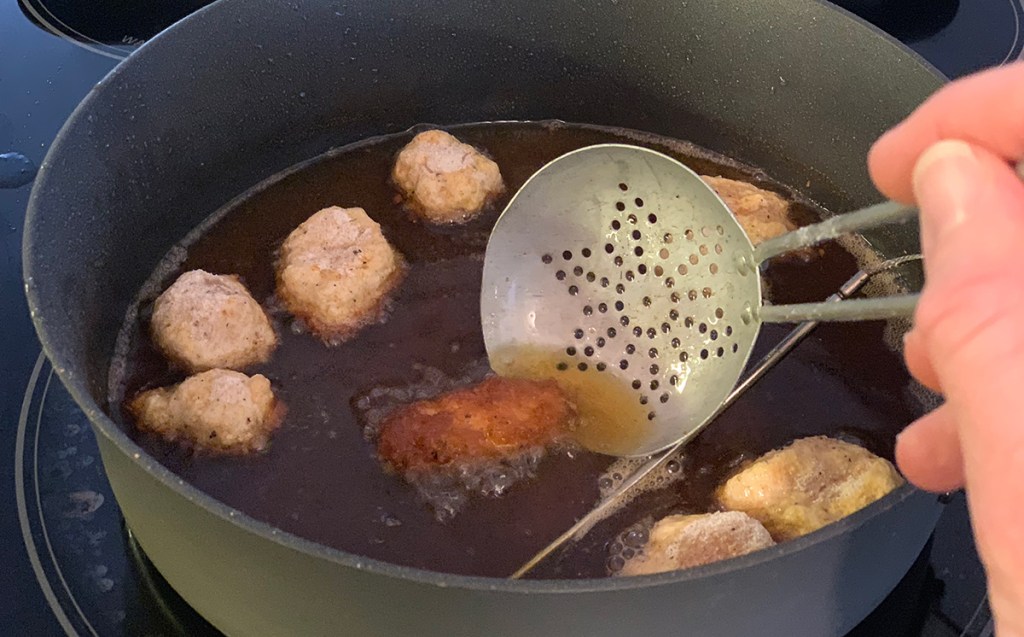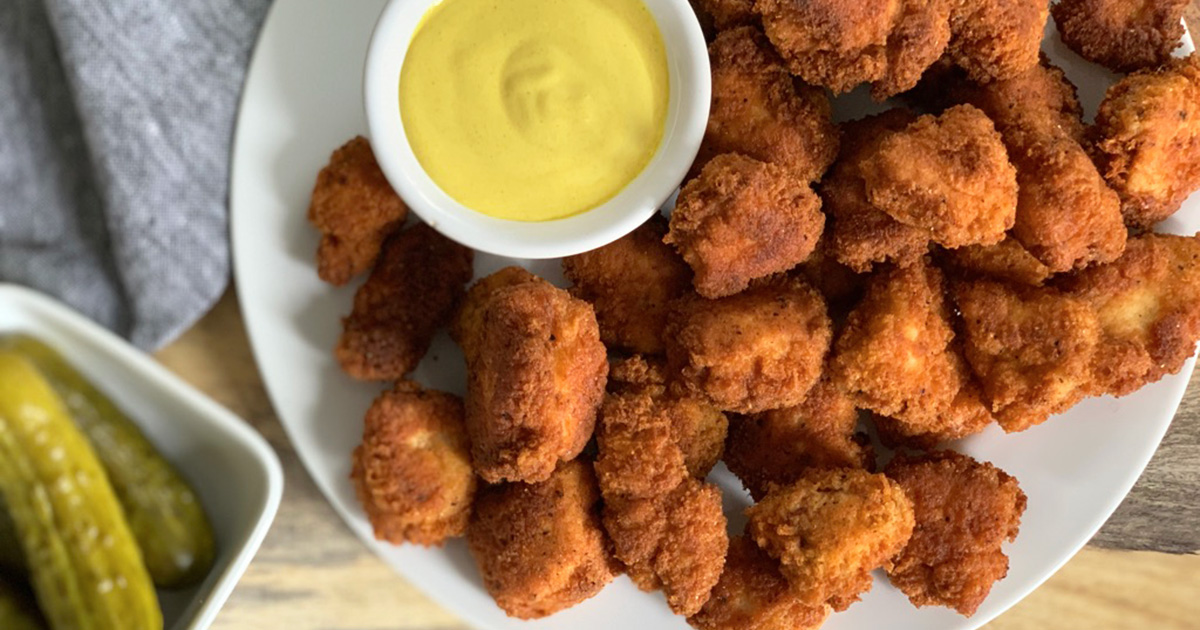 ---
Print
Pickle-Brined Keto Fried Chicken Bites w/ Sweet Mustard Dipping Sauce
yield: 4 SERVINGS
prep time: 1 HOUR 20 MINUTES
cook time: 20 MINUTES
total time: 1 HOUR 40 MINUTES
With only a few easy steps, this keto fried chicken recipe won't leave you in a pickle!
Ingredients
For the keto "honey" mustard sauce:
1/2 cup mayonnaise
2 teaspoons dijon mustard
2 teaspoons apple cider vinegar
1/2 teaspoon garlic powder
1/4 teaspoon turmeric
1/4 teaspoon onion powder
10-15 drops liquid stevia (adjust to taste as many stevia brands vary in sweetness)
For the chicken:
1 pound hand-trimmed chicken breast, cut into 1-inch pieces
1 to 2 cups pickle juice
1/2 teaspoon coarse kosher salt
1/2 cup unflavored whey protein isolate (I use grassfed)
1 tablespoon baking powder
1 tablespoon erythritol, confectioners
1/2 to 1 teaspoon salt (I like salt—I use 1 teaspoon)
1/2 teaspoon garlic powder
1/2 teaspoon paprika
1/2 teaspoon black pepper
oil for frying, high heat tolerant (I use avocado oil)
Directions
1
For the sweet keto "honey" mustard sauce:
In a small bowl, mix together mayonnaise, dijon mustard, vinegar, garlic powder, turmeric, onion powder, and stevia until well combined. Cover or place in a sealed container. Set aside until chicken bites are ready to serve.
(Note: Mustard sauce can be stored in a sealed container in the refrigerator for up to two weeks.)
2
For the chicken:
Place the cubed chicken in a ziplock bag or shallow dish, then add pickle juice and kosher salt. Mix well and make sure that all chicken pieces are submerged in pickle brine. Place chicken in the refrigerator to marinate for 30 to 60 minutes. Remove from fridge about 25 minutes prior to frying to let the chicken come toward room temperature. This helps promote even cooking and superior texture.
Once marinated, drain the brine and pat chicken pieces dry. Set aside.
3
For pan frying:
Place a large, high-sided frying pan over low to medium/low heat. Pour oil into pan to create a minimum depth of 1/2 inch oil. For best results, use a thermometer and keep the oil temperature around 350 degrees. (If the oil is too hot, it will burn the batter. Alternatively, if the oil isn't hot enough, the batter will absorb excess oil and may not crisp up very well.)
For deep frying:
Turn on your fryer and set to about 350-degrees (if it has a temperature gauge.)
4
While the oil is heating, combine whey protein powder, baking powder, erythritol, salt, garlic powder, paprika, and pepper in a medium low-rimmed bowl. Mix well.
5
Roll each piece of chicken in the mixture until all sides are thoroughly covered. Place coated bites on a pan or dish lined with parchment paper. Once all pieces are coated, you can re-roll any pieces that need additional coating until all the mixture has been used up.
6
Drop chicken bites into hot oil and allow to fry for 4-6 minutes or until cooked through. If pan frying, flip halfway through cooking. The length will depend on oil temperature and size of chicken bite. I suggest cutting into larger pieces to check for doneness and gauge cooking time. Place fried nuggets on a cooling rack lined with paper towels.
7
Chicken is best eaten right away while hot and crispy. Serve with sweet mustard sauce or your favorite dipping sauces. Enjoy!
Additional Notes
Reheat leftovers in a 350-degree oven for about 5 minutes or in an air fryer at 375-degrees for 3-5 minutes. Microwaving leftovers is not recommended.
---
Main nutritional information is for fried chicken only. Please note that 1/4 cup of avocado oil was included to calculate nutritional data (to account for absorption).
Values for mustard sauce are as follows:
NUTRITIONAL INFORMATION:
Yield: 8 servings, Serving Size: approx. 1 tablespoon
Amount Per Serving: Calories: 92, Total Carbohydrates: 0g, Fiber: 0g, Net Carbohydrates: 0g, Total Fat: 10g, Protein: 0g
Nutrition Information
Yield: 4 servings, Serving Size: 4 oz. of chicken bites
Amount Per Serving: 284 Calories | 17g Fat | 3g Total Carbs | 0g Fiber | 2g Sugar Alcohol | 34g Protein | 1g Net Carbs
---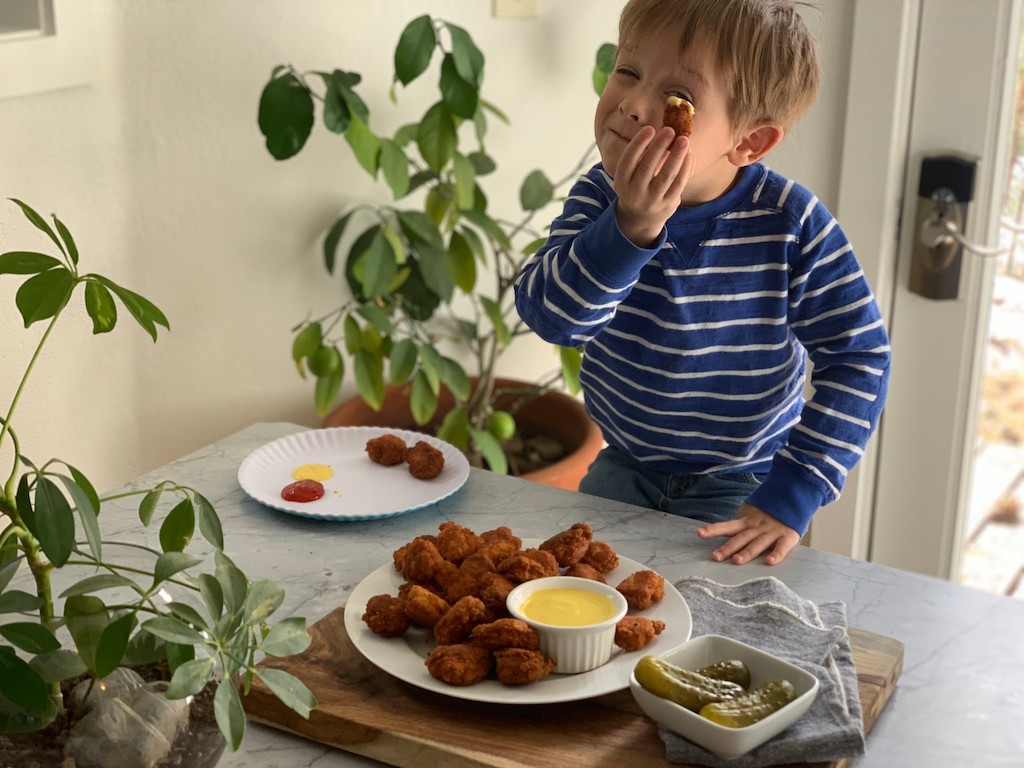 Hip Recipe Tips:
Cube your chicken before you brine it. The smaller pieces help to speed up the brining process.
Place battered chicken (waiting its turn in the hot oil) on parchment paper to keep it from sticking.
If a fair amount of frying is in your future, I HIGHLY recommend a countertop deep fryer. A deep fryer helps to maintain perfect oil temperature AND cuts down on clean up.
If pan-frying, use a thermometer to keep a close eye on the oil temperature.
To reheat leftovers, either bake in a 350 degree oven for about 5 minutes OR use my preferred method and cook in an air fryer at 375 degrees for 3-5 minutes. (I love my Philips Air Fryer Viva TurboStar.) If you prefer crispy nuggets, I do not recommend reheating in a microwave.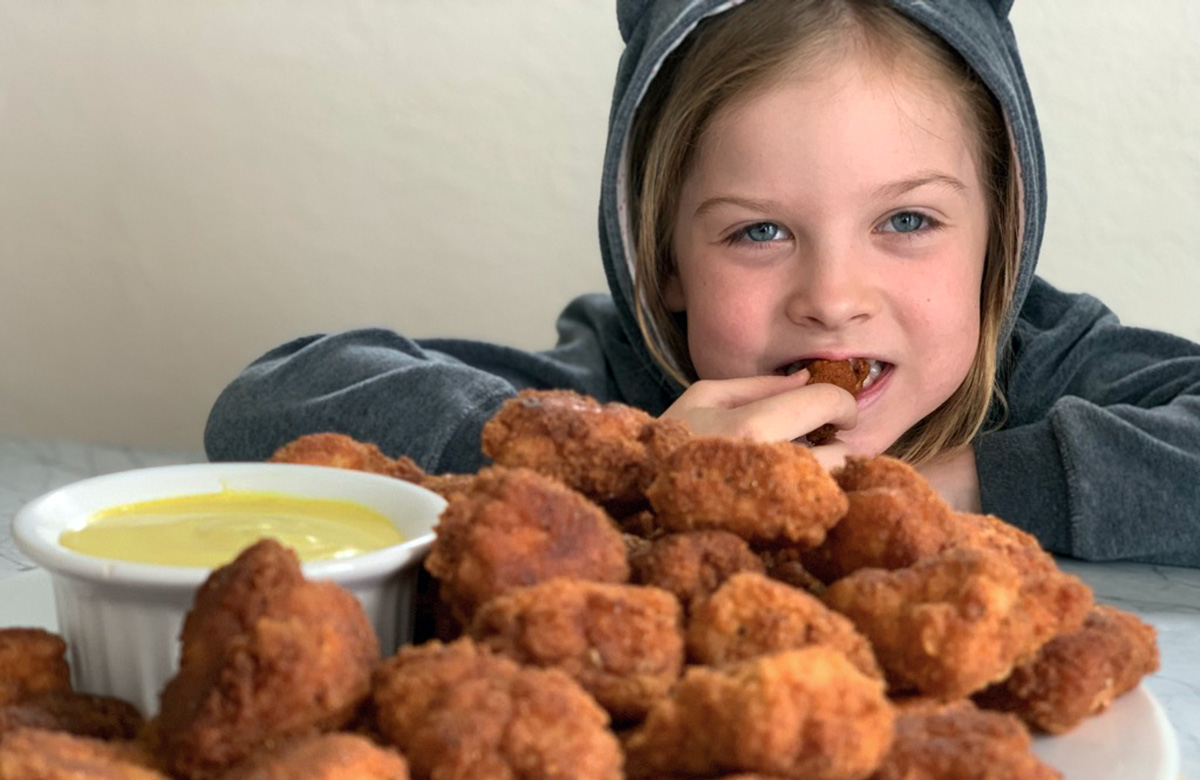 ---
If you love pickles, try this Air Fryer Fried Pickles Recipe next!