There's Coleslaw… And Then There's Keto Blue Cheese Coleslaw w/ Bacon!
You're going to love this keto-friendly blue cheese coleslaw!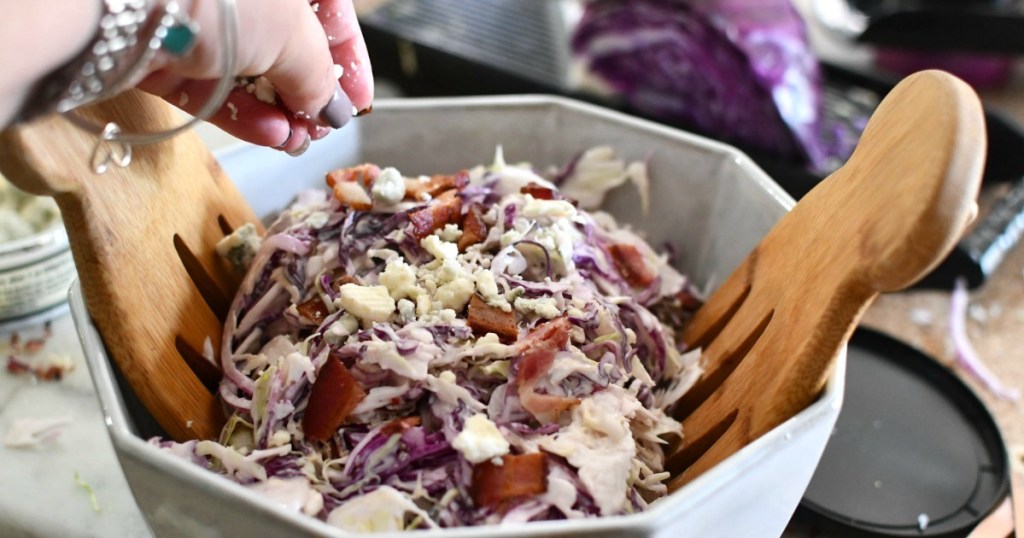 Ready for a creative keto coleslaw side dish idea?
If you're a blue cheese fan, you've gotta try making this homemade creamy keto blue cheese coleslaw recipe with bacon! It's so yummy and super easy to toss together with a simple-to-make dressing.
The taste of blue cheese isn't overwhelming due to the balance of apple cider vinegar and a little sweetness thanks to a touch of granulated monk fruit.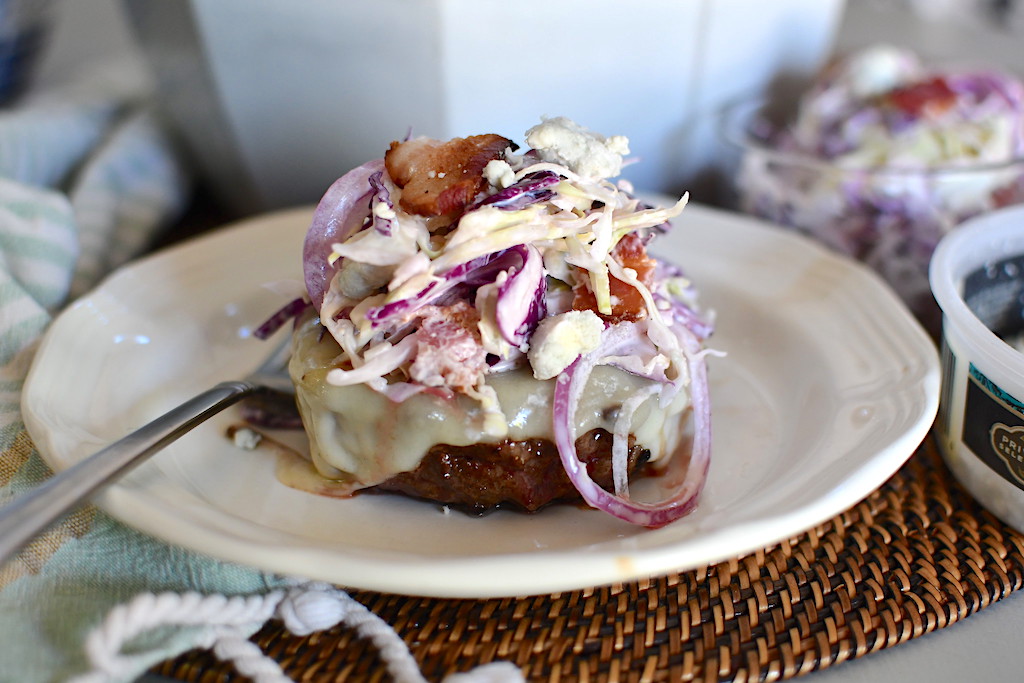 The addition of blue cheese crumbles to this dressing makes this slaw taste extra special and fancy, yet it's a cinch to throw together as a side dish. Consider topping a juicy cheeseburger with this slaw for an entire over-the-top keto meal experience!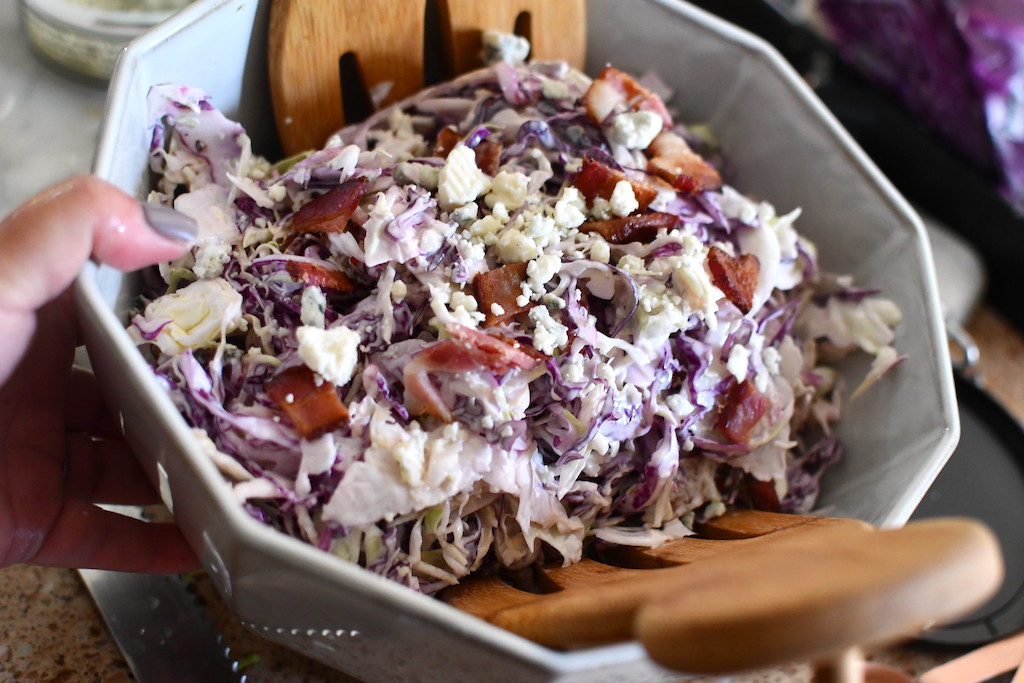 Tips for making the BEST keto blue cheese coleslaw with bacon:
I used a mandoline-style food slicer to easily cut my own cabbage into coleslaw shreds, but you could also use a knife instead. I didn't use a prepackaged store-bought slaw mix because they usually have carrots included, and it ended up being pretty simple to cut it myself.
I shredded about 1/2 of a head of green cabbage and about 1/3 of a head of red cabbage. It came out to about 10 cups of cabbage altogether. If you just wanted to use only green cabbage, you could do that instead.
As far as the sweetness for the dressing, I started with a teaspoon of monk fruit, but if you like things sweeter, taste it, and add a little more if desired.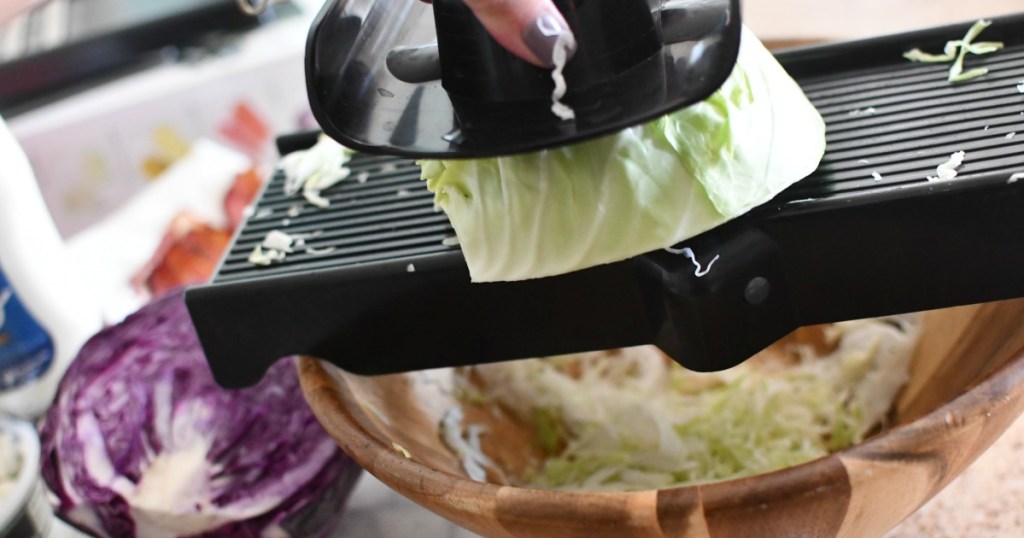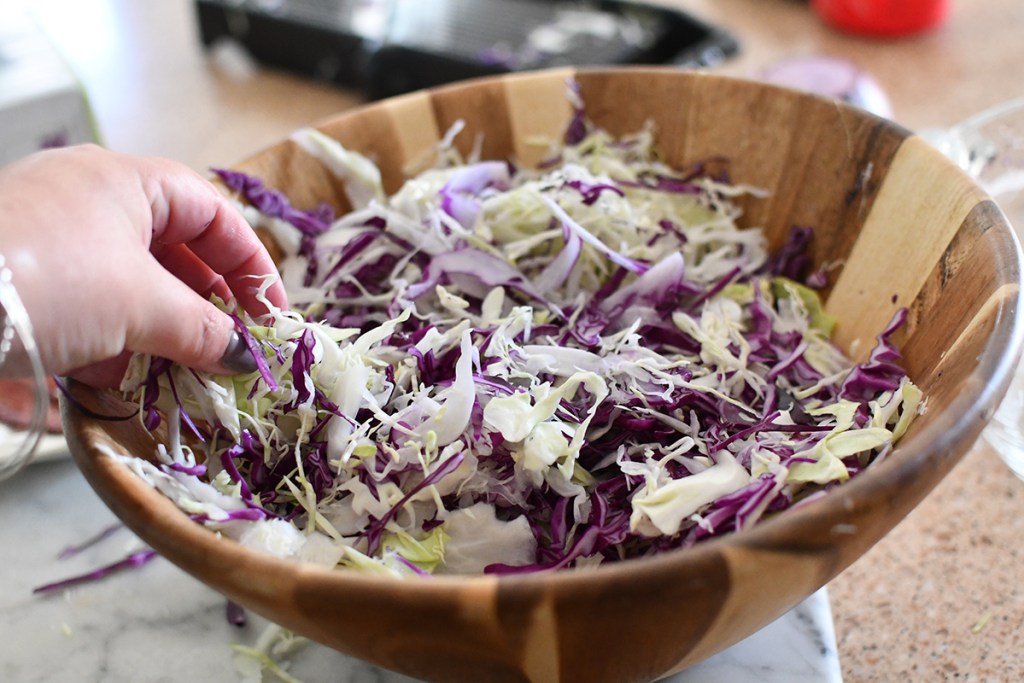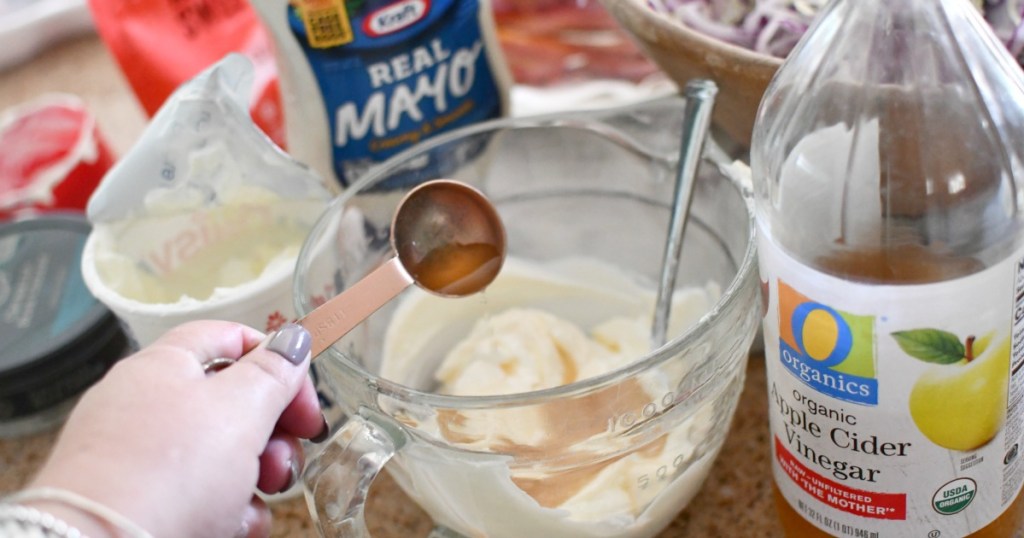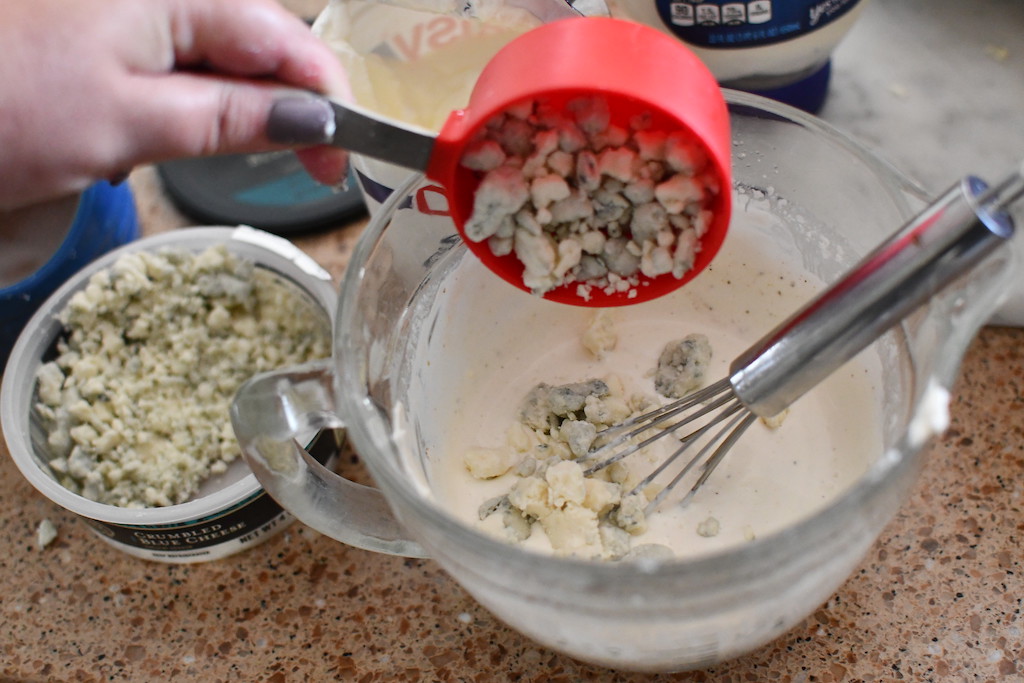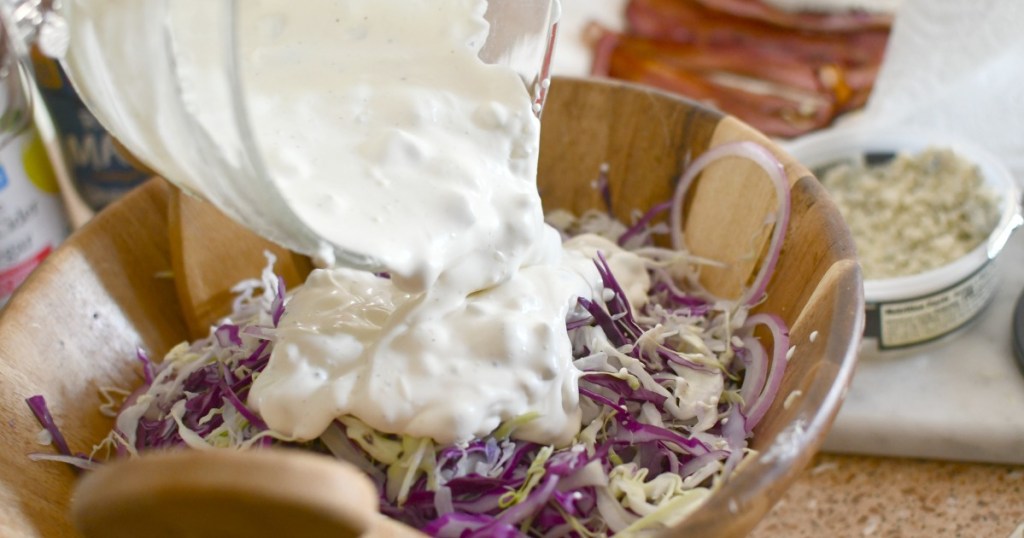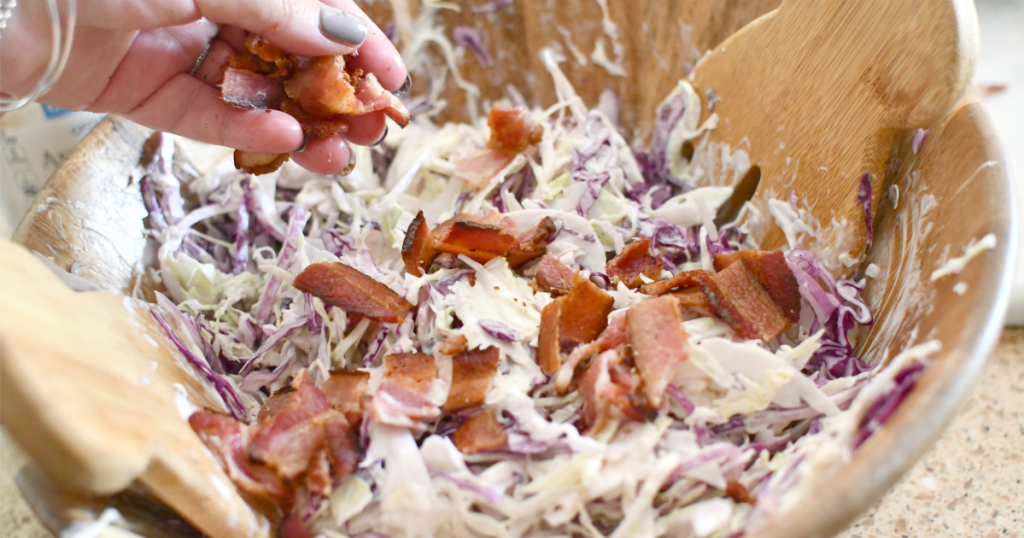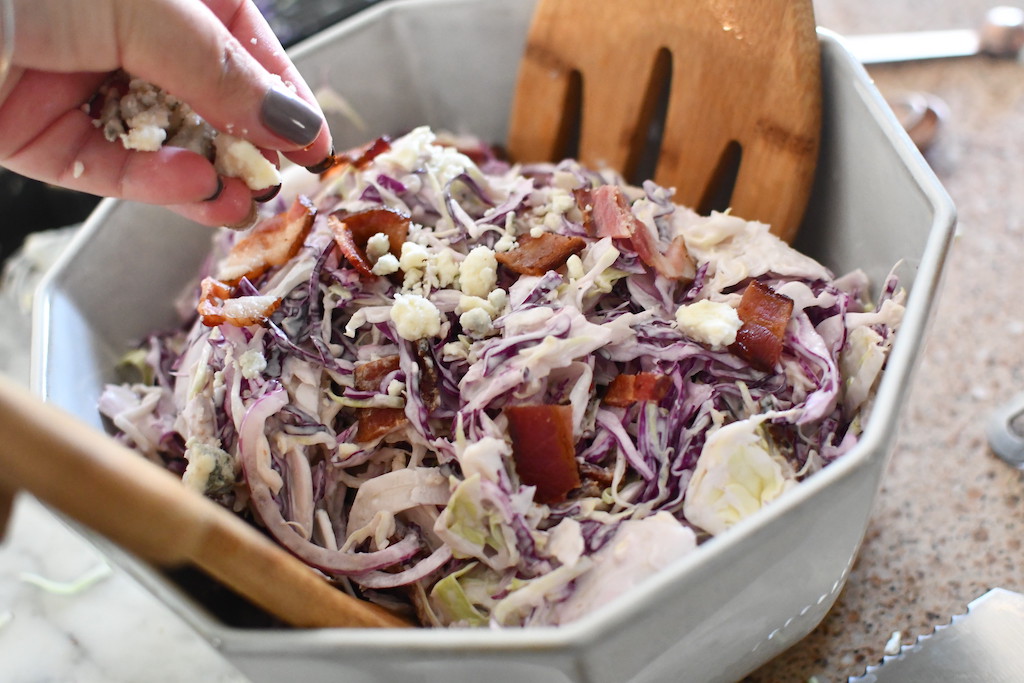 ---
Print
Keto Blue Cheese Coleslaw with Bacon
yield: 8 SERVINGS
prep time: 20 MINUTES
cook time: 10 MINUTES
total time: 30 MINUTES
Homemade coleslaw featuring chopped bacon and a rich & creamy blue cheese dressing.
Ingredients
For the coleslaw:
1/2 a green cabbage, shredded
1/3 of a red cabbage, shredded
1/4 cup red onion, thinly sliced
5 pieces of bacon, cooked & chopped
For the dressing:
3/4 cup real mayonaaise
1/2 cup sour cream
2 tablespoons apple cider vinegar
1-2 teaspoons granular keto sweetener (such as monk fruit)
1/2 teaspoon salt
1/4 teaspoon pepper
1/2 cup crumbled blue cheese
Directions
1
In a large mixing bowl, shred the cabbage and toss in the red onion with it.
2
In a separate bowl, whisk together the dressing ingredients for a minute or so until creamy and well-combined.
3
Pour the dressing over the coleslaw and toss together until well combined and evenly coated. Mix in the bacon and top with additional blue cheese crumbles if desired for garnish. Served chilled and enjoy!
4
Refrigerate leftovers covered in the fridge for up to a few days.
Nutrition Information
Yield: 8 cups, Serving Size: 1 cup
Amount Per Serving: 179 Calories | 13g Fat | 8g Total Carbs | 2.5g Fiber | 3.8g Sugar | 1g Sugar Alcohol | 9.5g Protein | 4.6g Net Carbs
---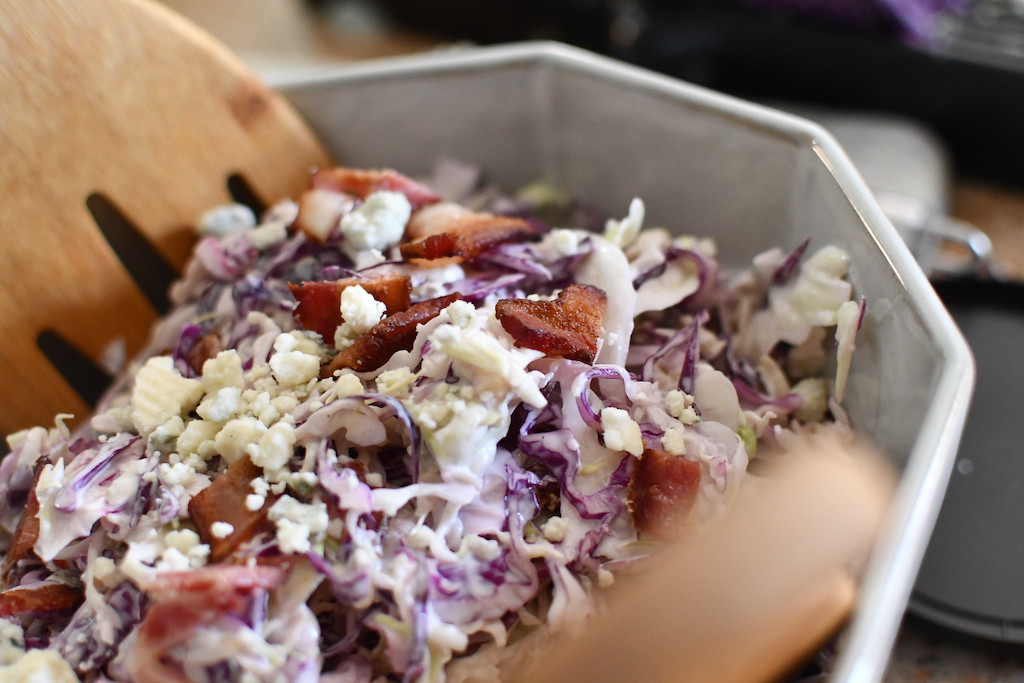 What a beautiful coleslaw that tastes as amazing as it looks!
I love the crunch cabbage has, and then with the creamy blue cheese flavors and smokiness of the bacon, oh my! In fact, my whole family thought this blue cheese & bacon coleslaw was an overall winner, and I think yours will, too!
This would be a great side dish for burgers, steak, chicken, fish, and even on top of some shredded pork BBQ. YUM!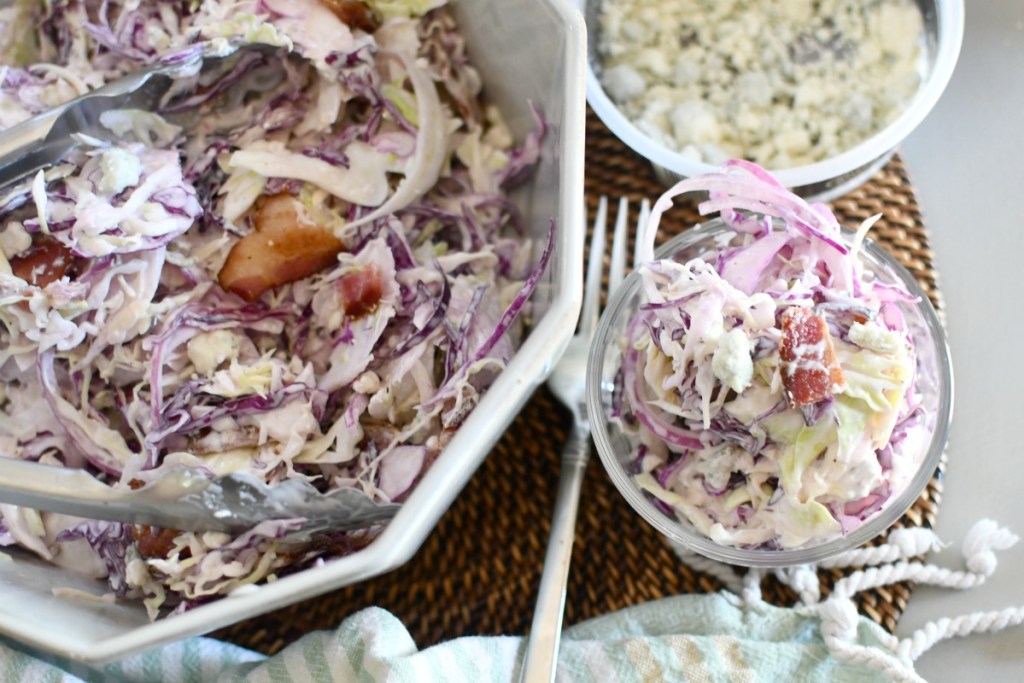 Here's what my team member and recipe tester Jenna had to say about this blue cheese coleslaw:
"I am a huge fan of coleslaw and I have had quite a few different kinds. I have to say this is in my top 3 favorite coleslaws ever… I was eating this by the plateful before I even refrigerated it lol! I am a HUGE fan of blue cheese and I cannot get enough of this, and my daughter who isn't as into blue cheese as I am also loved this!
It was super easy to make and that dressing is just the best! I love the use of the crumbles whisked in the dressing, as well as on top of the slaw! The salty bacon and the extra sweetness really made this slaw so tasty."
---
Love traditional coleslaw? Try this recipe for sweet and tangy classic keto coleslaw!