This Blue Cheese Burger Salad Will Change the Way You Do Salads
Sometimes salads just need an upgrade so let me introduce you to this incredible blue cheese burger salad!
This blue cheese burger salad will forever transform the way you eat salads!
Getting bored with the same old, same old salad every day for lunch? If that's the case, we have got the solution for you! Meet the blue cheeseburger salad. It's a mesh between our wedge salad and a blue cheese-smothered burger, minus the bun of course. The end result is the best salad you've ever had!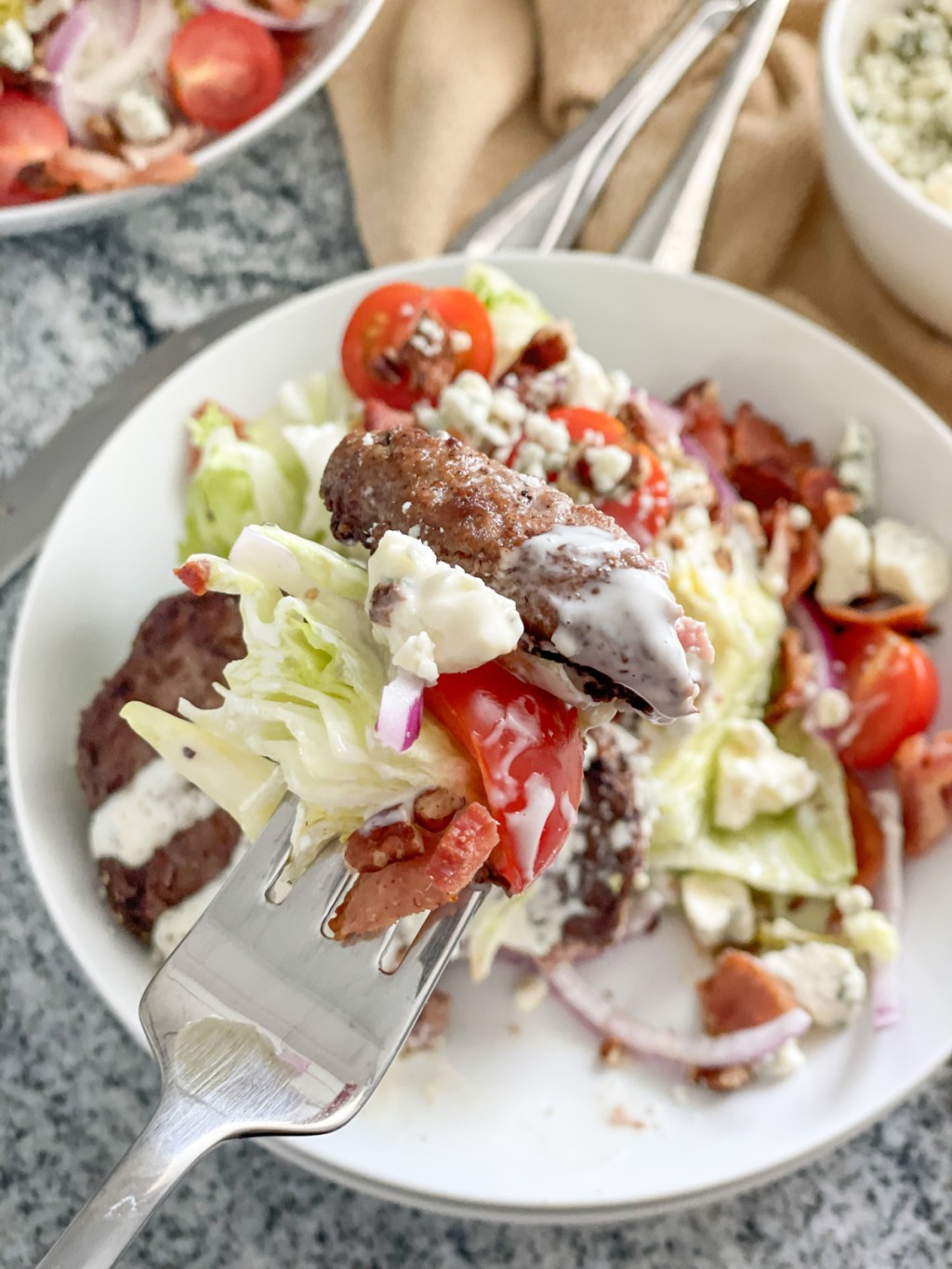 Protein is key to taking this salad from a side dish to the main course.
Wedge salads are my absolute favorite salad to order at restaurants and make at home. But they're usually just a side salad. By adding a burger patty, you transform the wedge salad into the perfect meal and it's amazing.
My Hip teammate, Erica, came up with this brilliant idea and I have to thank her for it. This idea uses Costco hamburger patties (which I always have in the freezer) and my love of wedge salads. So it's a win-win recipe in my book!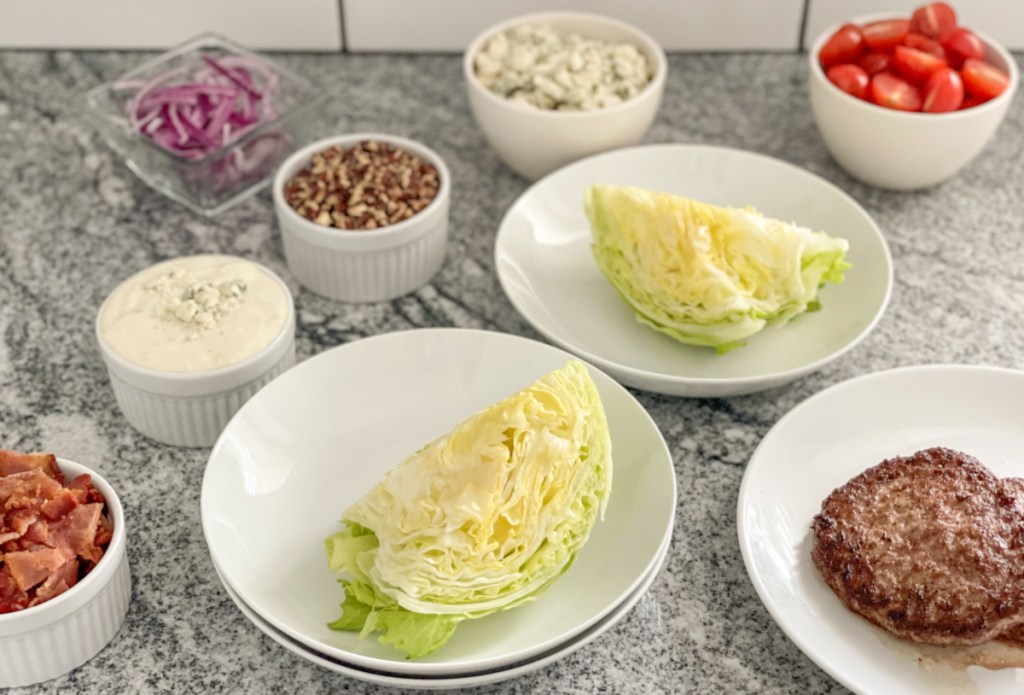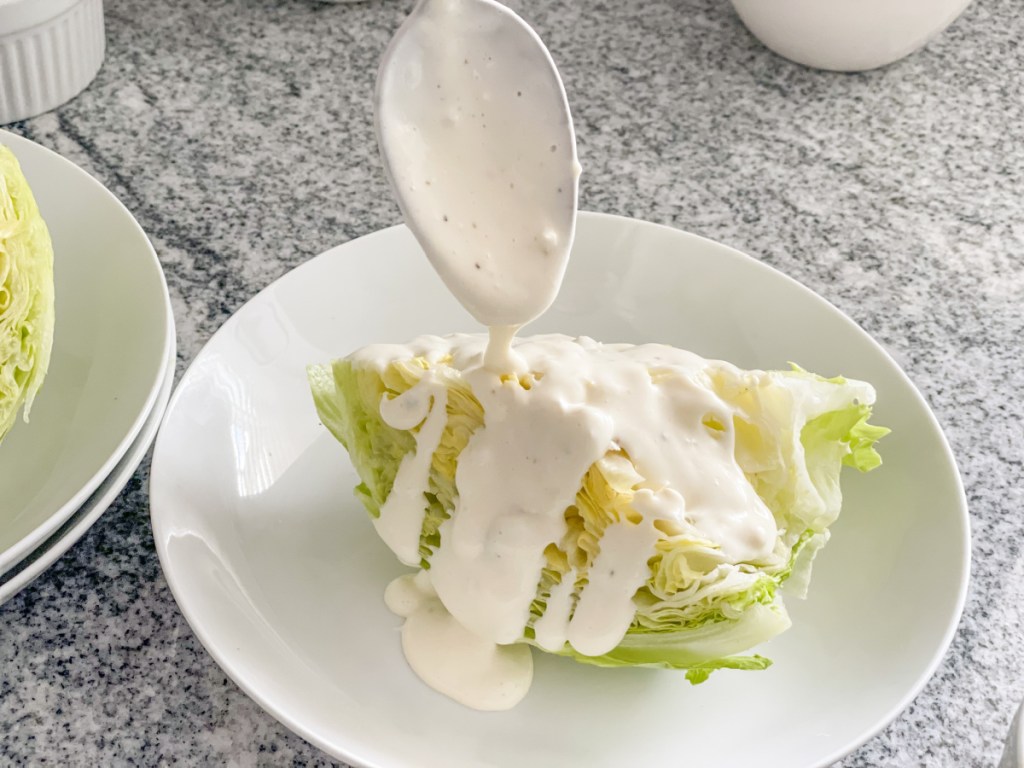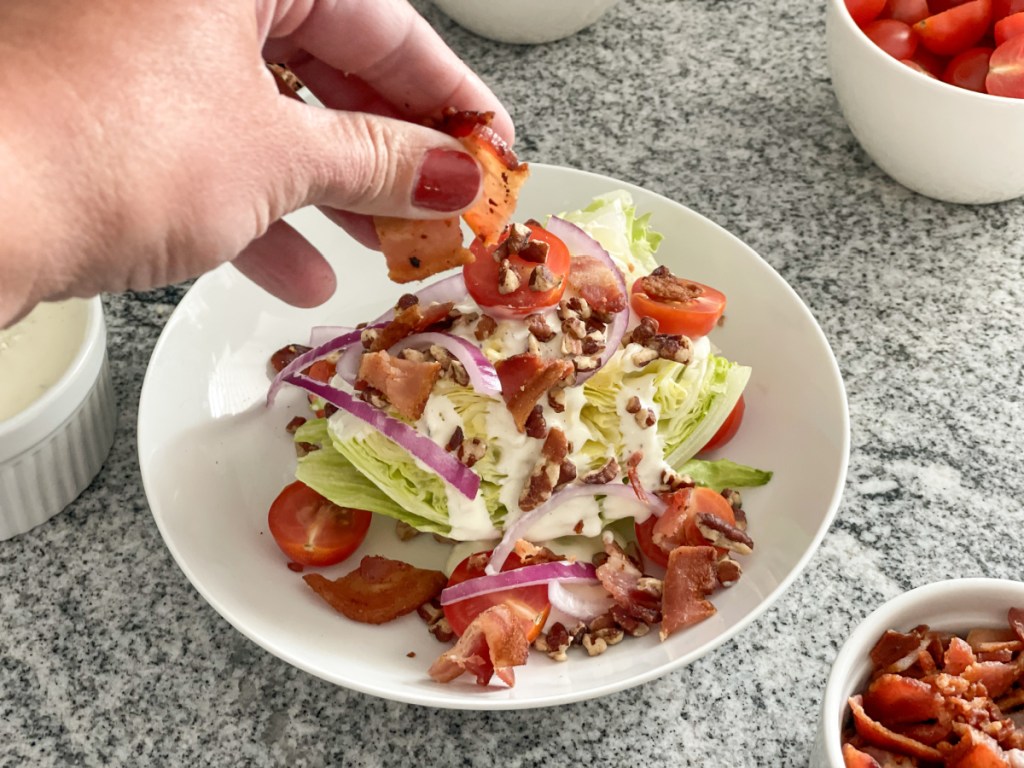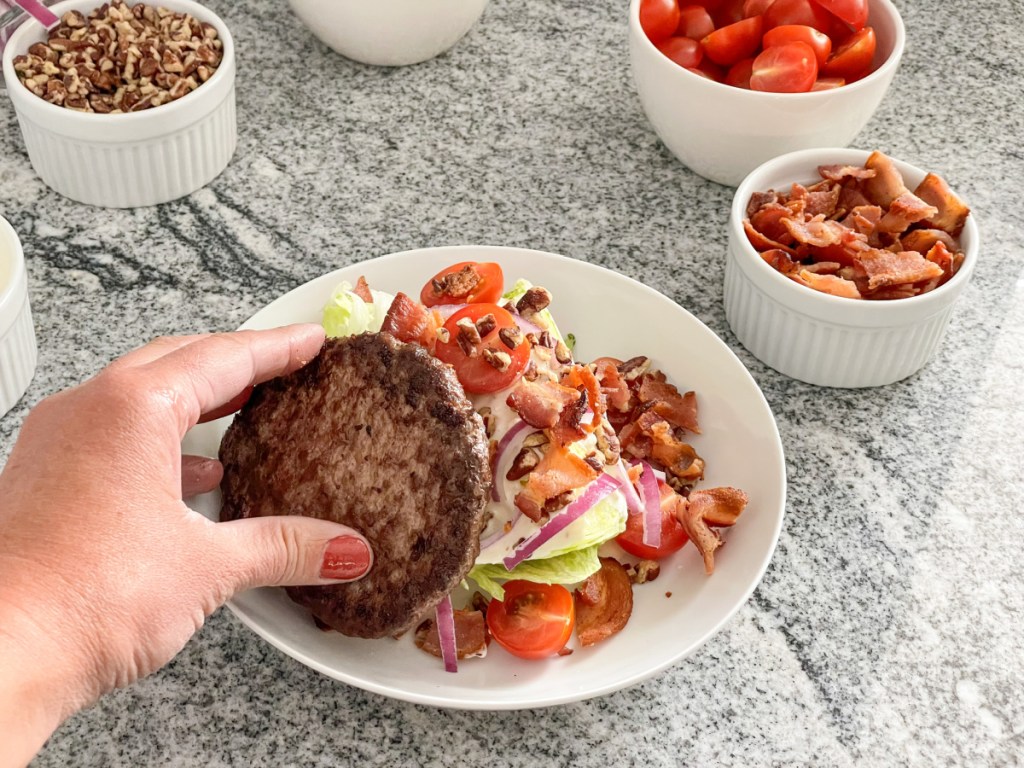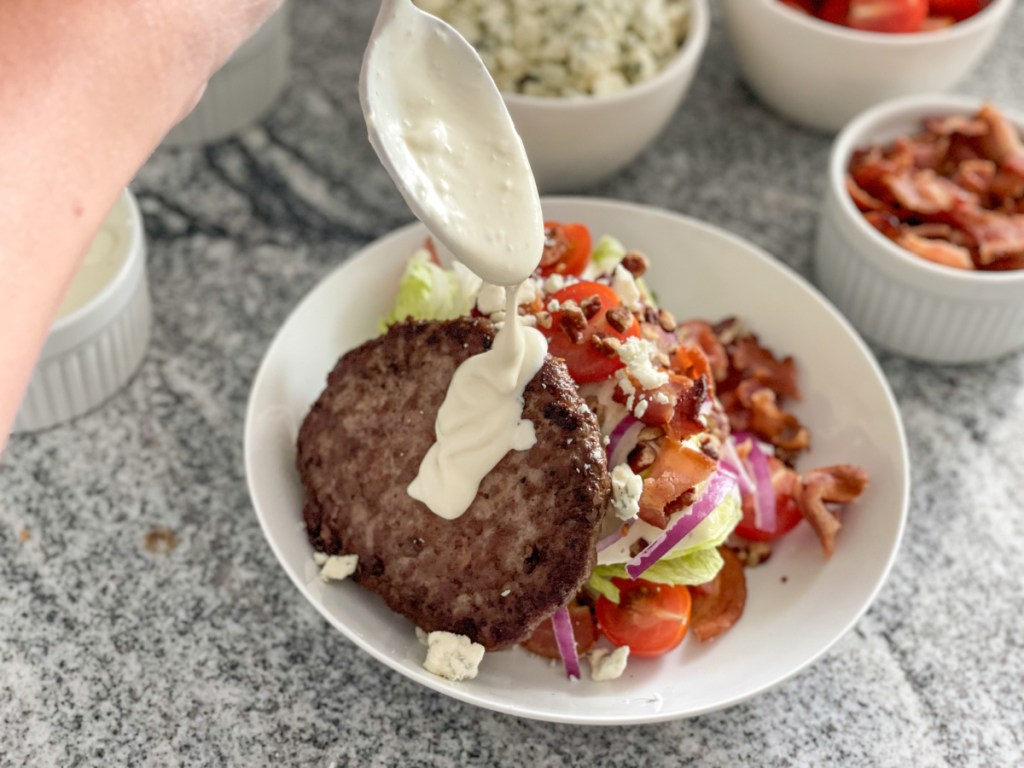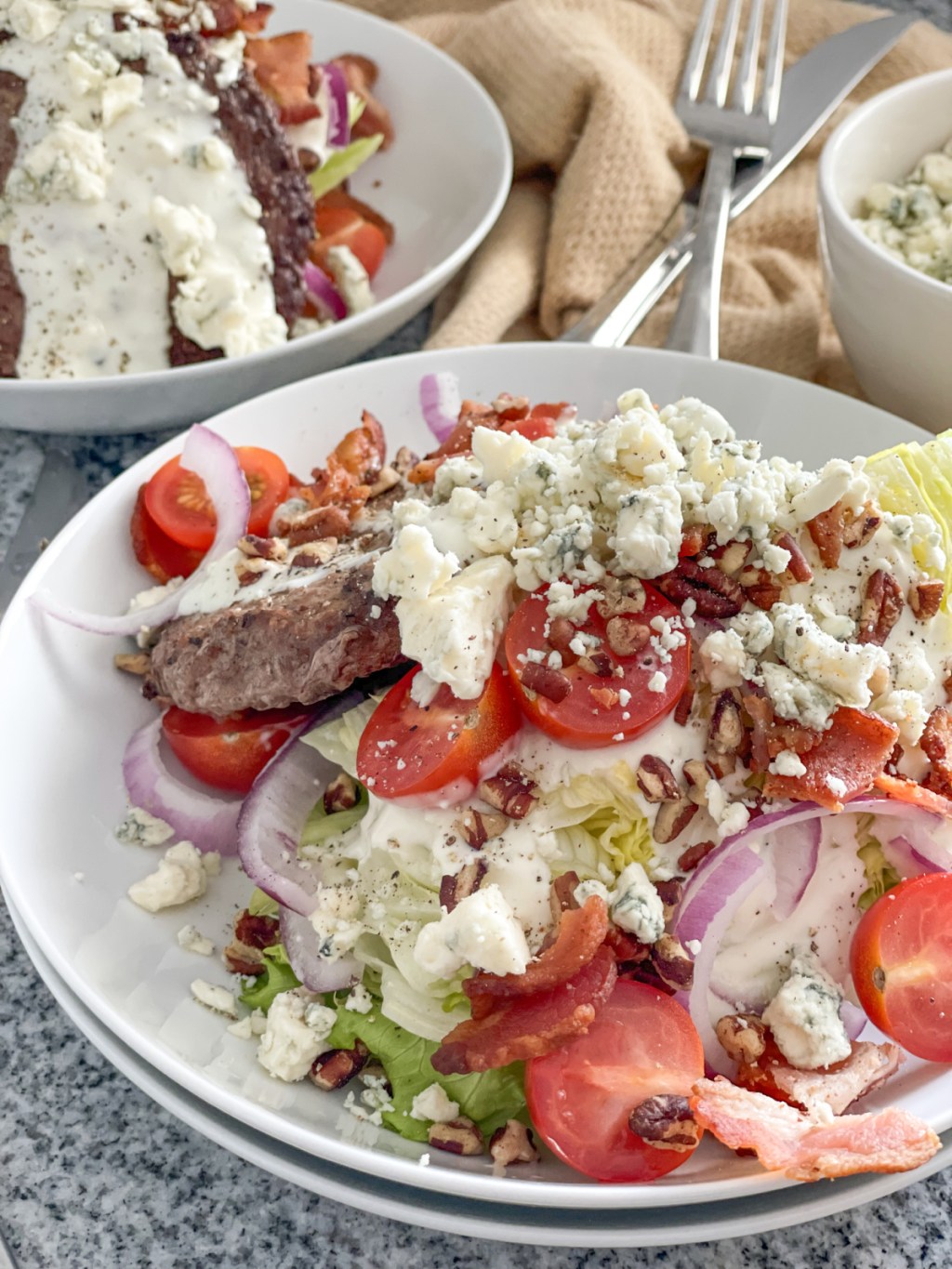 ---
Print
Blue Cheese Burger Salad
yield: 4 SERVINGS
prep time: 10 MINUTES
cook time: 10 MINUTES
total time: 20 MINUTES
Our classic wedge salad topped with a hamburger patty and other keto-friendly toppings.
Ingredients
1 head iceberg lettuce
1 cup cherry tomatoes
8 slices bacon, cooked
1 small red onion
1/2 cup pecans chopped
Directions
1
Cook frozen hamburger patties in a large skillet, about 5 minutes per side. Salt and pepper to taste (and season however you'd like). You may have to do this in batches. Set aside once cooked.
2
While hamburger patties cook, prep the vegetables. Cut the head of iceberg lettuce into 4 wedges, slice the tomatoes in half, and thinly slice the red onion.
3
Place each iceberg wedge on a plate. For each wedge, drizzle with 2 tablespoons of dressing, top with 1/4 cup cherry tomatoes, 2 slices of bacon crumbled, a few slices of red onion, and 2 tablespoons of pecans.
4
Place a hamburger patty on each wedge salad and top with 2 more tablespoons of dressing. Sprinkle each salad with 2 tablespoons of blue cheese crumbles. Enjoy!
Nutrition Information
Yield: 4 servings, Serving Size: 1 wedge salad with hamburger patty
Amount Per Serving: 952 Calories | 87.2g Fat | 10.5g Total Carbs | 3.3g Fiber | 6.8g Sugar | 39g Protein | 7.2g Net Carbs
---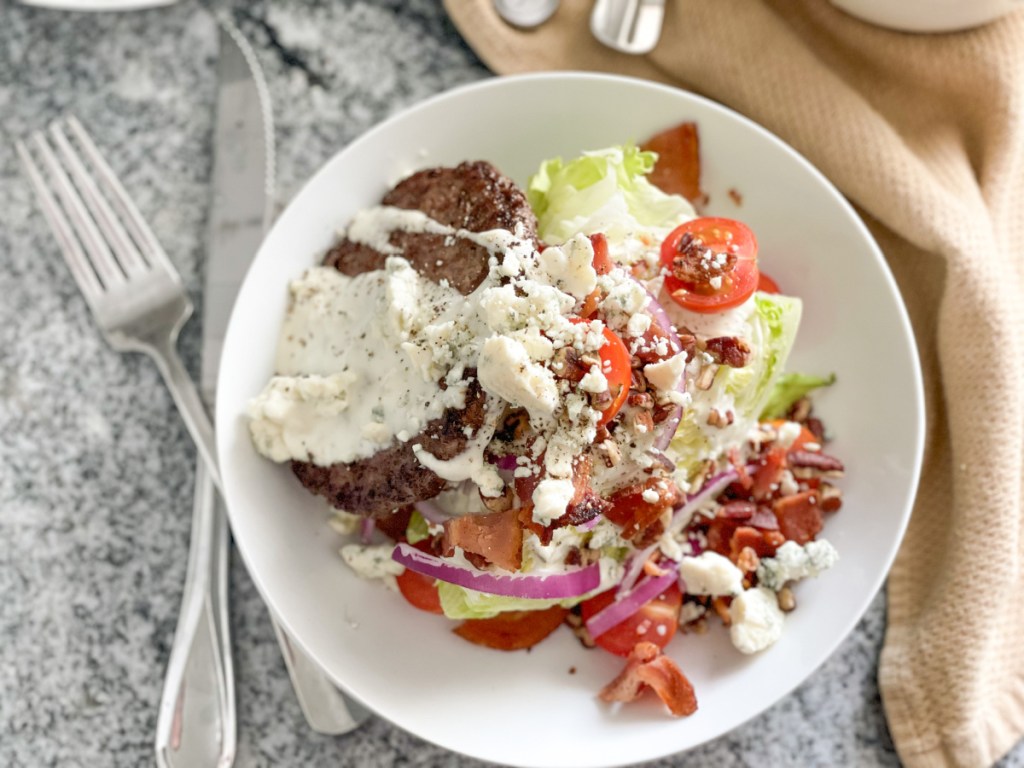 Tips for making the best blue cheese burger salad:
Costco has really good frozen hamburger patties! I always have these on hand, but you can use any store-bought hamburger patty, make your own, or just use crumbled ground beef.
If blue cheese isn't your thing, ranch would be amazing on this salad. You could do shredded cheddar cheese in place of blue cheese crumbles, too.
Feel free to make this salad your own using your favorite salad toppings!
Healthy, hearty, and super simple salad recipe.
You'll never go back to regular salads after you try this blue cheese burger salad. It's that wonderful. Every bite is bursting with flavor, and the best part is that you can make this salad in about 15 minutes!
Here's what my Hip sidekick Erica had to say about this blue cheese burger salad:
"I love making this for dinner time! The salad is so filling and SO, SO GOOD! If you love wedge salad, you're going to love this burger wedge. I love that you can just toss whatever you'd like on there – it's so good with blue cheese or gorgonzola and I also like to switch up the dressing, too. Sometimes I use ranch and other times I'll go with blue cheese!"
---
This famous Columbia 1905 salad is one of our most popular keto salad recipes yet!