Save on ChocZero's Keto Christmas Collection, Includes Peppermint Bark, Syrup, & Chocolates!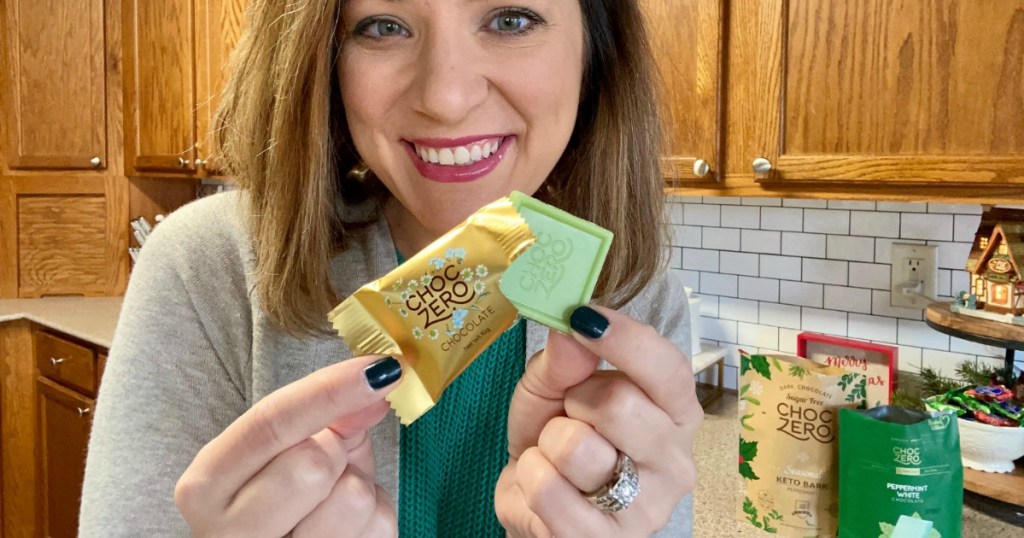 If there's one thing that screams holiday season, it's anything peppermint flavored.
In the St. Nick of time, ChocZero has come out with a collection of peppermint-infused chocolates and syrups to capture the flavors of holidays and save your desserts from being riddled with sugar. Like other ChocZero products, this festive line of keto Christmas treats is sweetened with monk fruit so you can enjoy all the sweets of the season without putting a damper on your keto lifestyle.
Want even more sweetness? We've got an exclusive promo code for our Hip2Keto readers! Read on to see why these mint chocolate treats are putting us in the spirit this holiday season.
Stock up before they're gone!
If there's anything to know about seasonal releases from ChocZero, it's that they are simply irresistible! I swear, every time I go to reorder more after falling in love with their latest and greatest product offerings, all the other ChocZero lovers beat me to it. So this is my advice to you, friends — don't wait to give these products a try!
Here's what I thought of the new keto Christmas treats from ChocZero: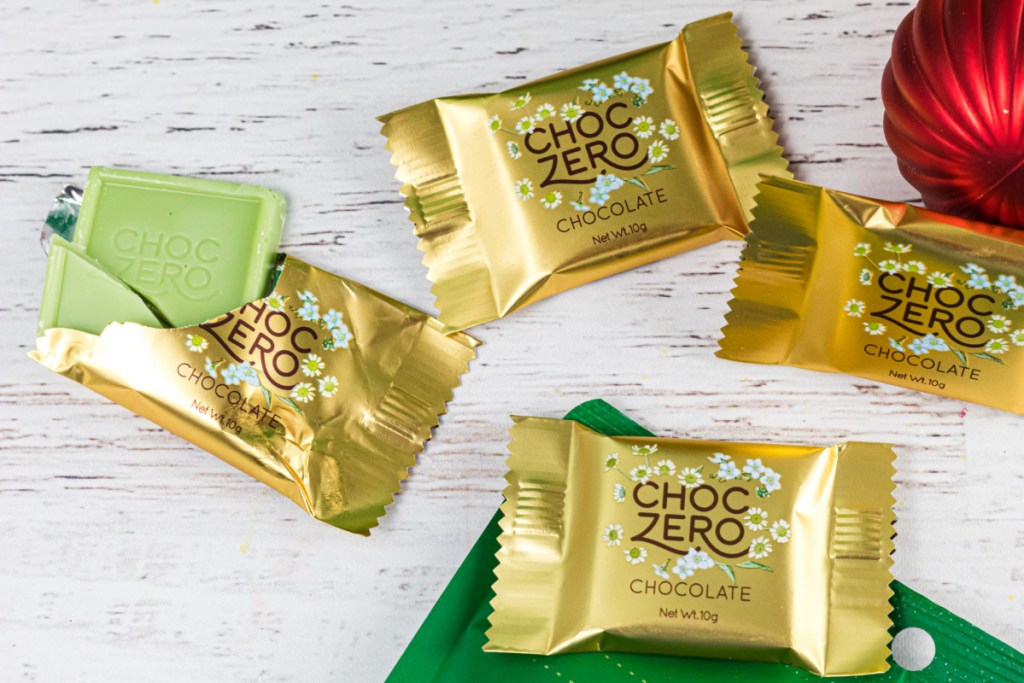 I'm not typically a white chocolate fan, but let me tell ya, these white chocolate peppermint candies were so delicious! With the slight hint of peppermint, these little guys can get addicting. In fact, they remind me of a candy cane so the holiday vibes are definitely there!
Serving Size: 1 piece of candy
60 Calories | 4g Fat | 5g Total Carbs | 4g Fiber | 1g Sugar | 1g Protein | 1g Net Carbs
Ingredients: Cocoa butter, soluble corn fiber (Non-GMO resistant dextrin), whole milk powder, sunflower lecithin, monk fruit extract, natural caramel flavor, natural peppermint flavor, natural green color, Madagascar bourbon vanilla beans. Contains dairy.
---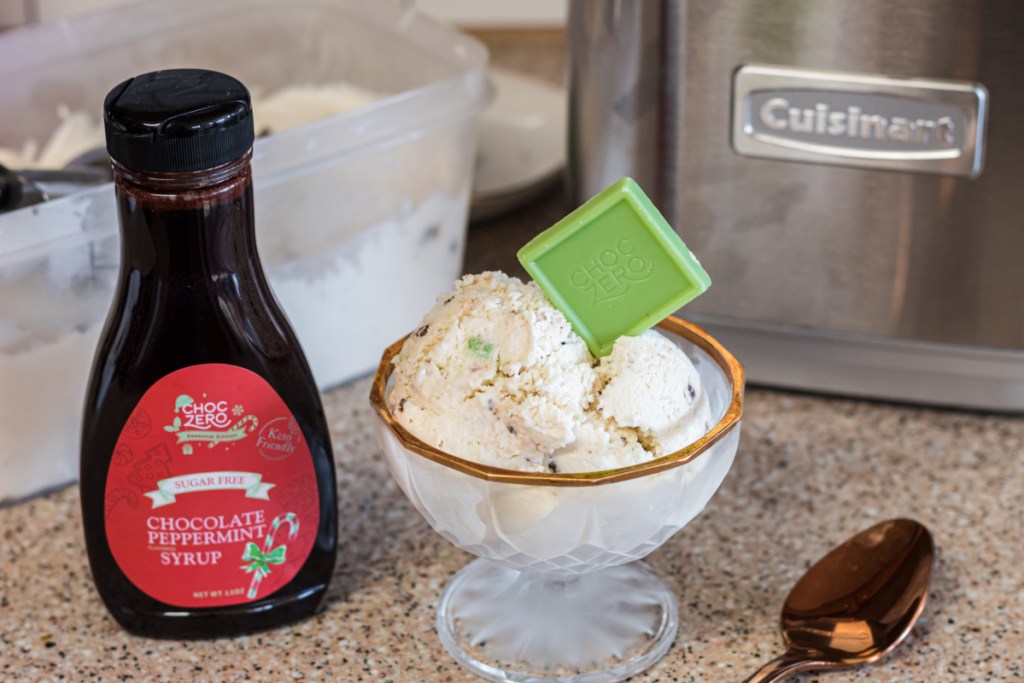 I always turn to ChocZero for keto-friendly flavored syrups, and they haven't let me down yet! The syrup from the keto Christmas treats collection has a nice and thick texture, which I can't say the same for many other sugar-free syrups. I love that they use monk fruit for the sweetness since it's not overpowering with that weird aftertaste you can get from other sugar-free products.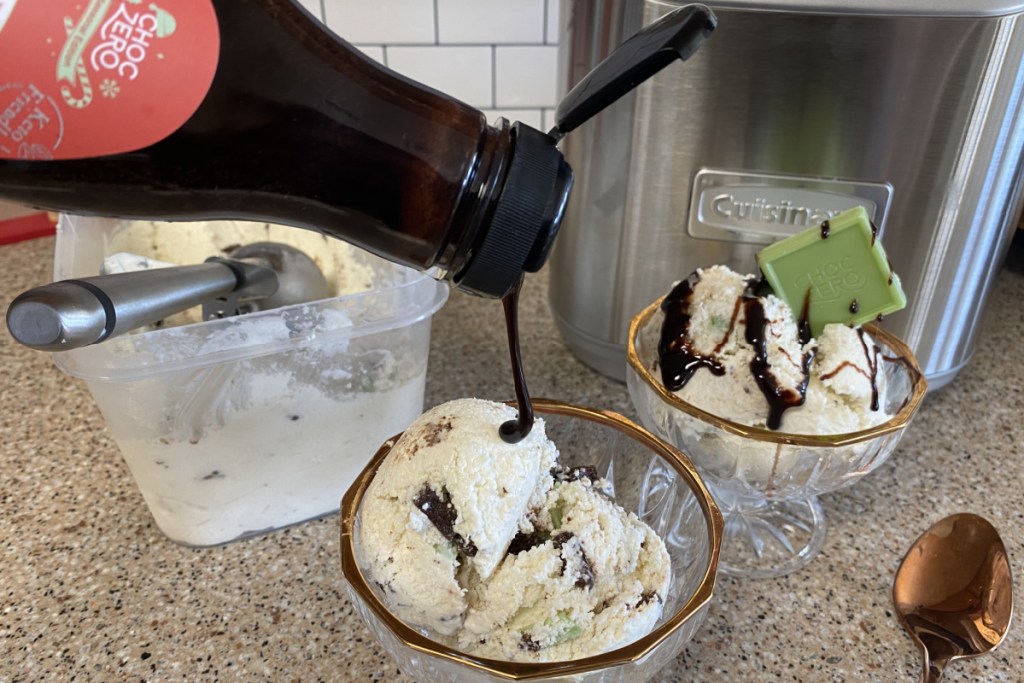 Serving Size: 1 tablespoon
45 Calories | 1.5g Fat | 17g Total Carbs | 16g Fiber | 0g Sugar | 0g Protein | 1g Net Carbs
Ingredients: Soluble corn fiber (Non-GMO Resistant Dextrin), cocoa powder, coconut oil, natural chocolate fudge flavor, natural peppermint flavor, monk fruit extract
---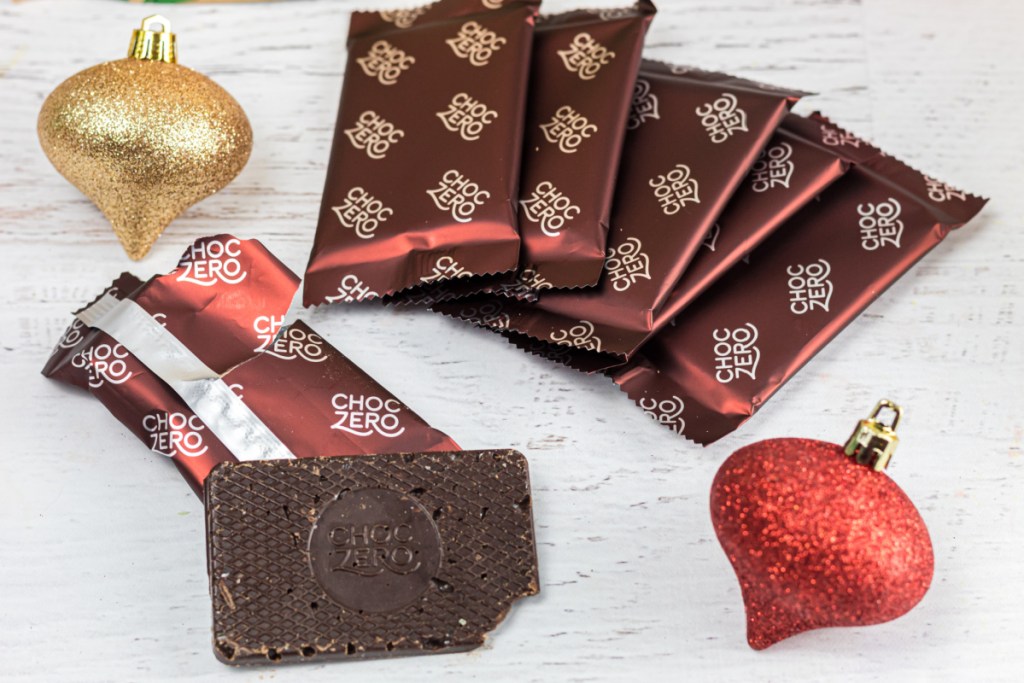 Dark chocolate is my absolute favorite so peppermint bark bars really hit the spot. They are the perfect size to throw in your bag for a sweet treat on the go. Since they're so low carb you may even be tempted to throw the entire bag in your bag. Shhh, we won't tell! 😉
Serving Size: 1 piece of candy
120 Calories | 10g Fat | 15g Total Carbs | 13g Fiber | 0g Sugar | 1g Protein | 2g Net Carbs
Ingredients: Dark Chocolate (unsweetened chocolate, cocoa butter), Soluble Corn Fiber (Non-GMO Resistant Dextrin), Peppermint Pieces (monk fruit extract, vegetable fiber, peppermint flavoring), Sunflower Lecithin, Monk Fruit Extract, Madagascar Bourbon Vanilla Beans.
---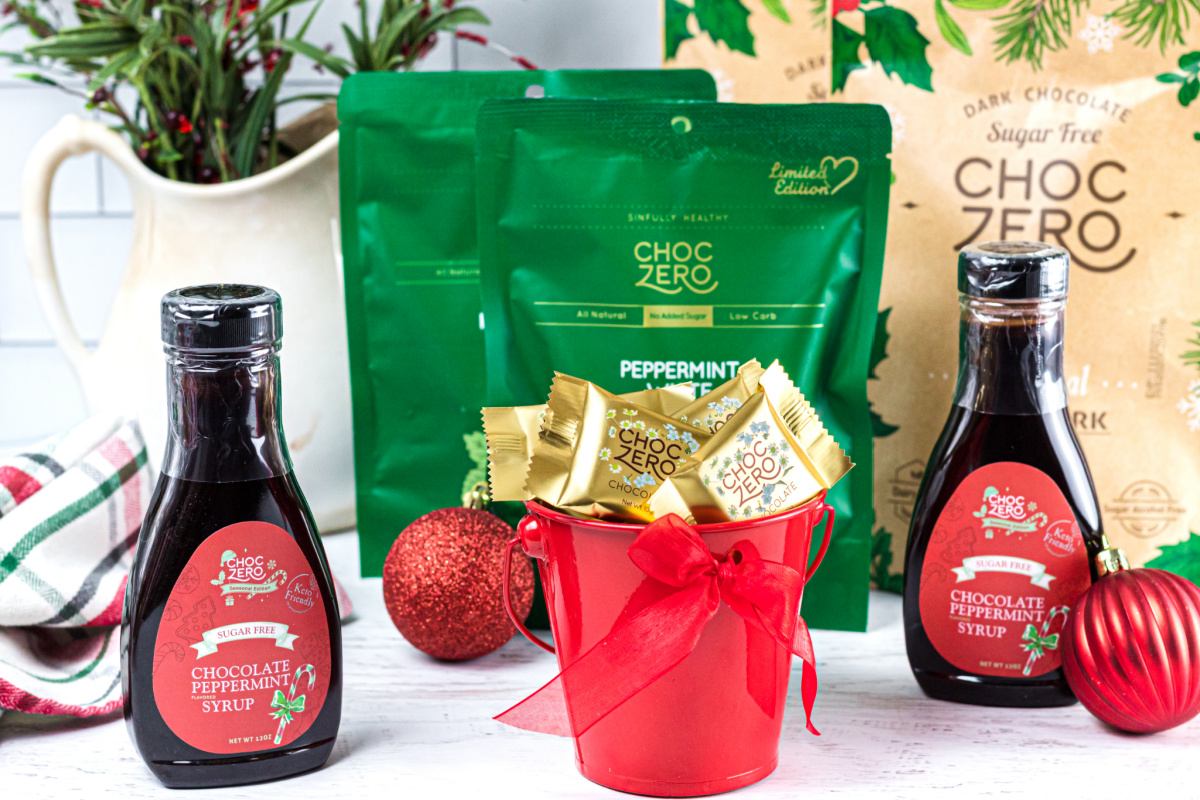 Score a sweet deal on these festive favorites!
Get all 3 and save on shipping since it's free on $35+ orders!
---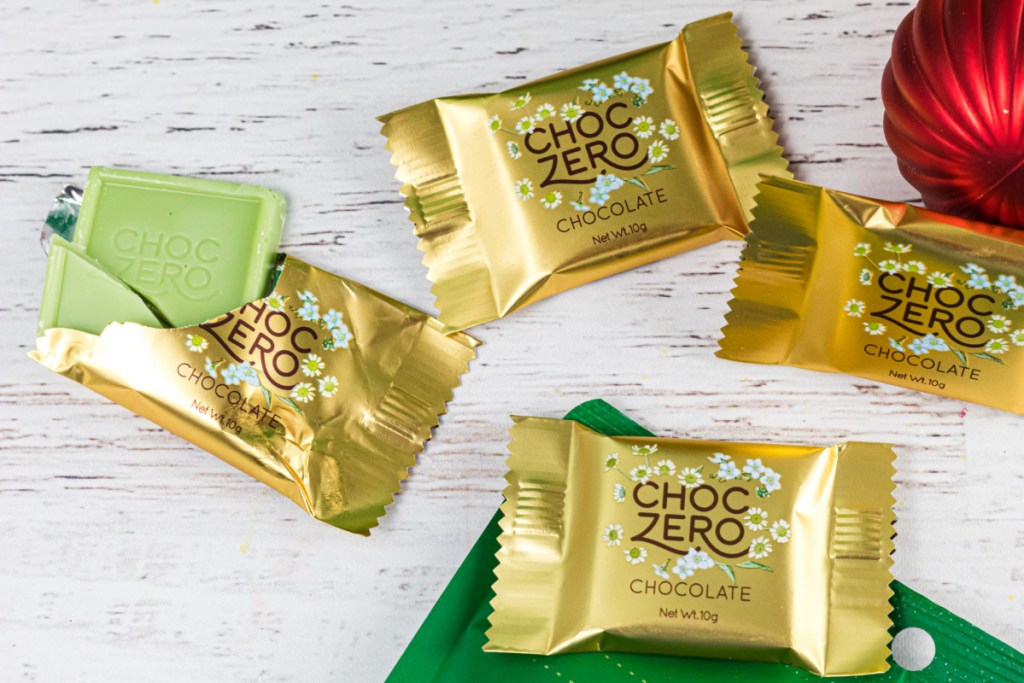 Make your holiday perfectly pepperminty with ChocZero!
Friends, I'm telling ya right now, this delicious keto Christmas treats collection will for sure sell out so you won't want to miss out on this limited-edition line. It will make all your keto holiday baking a breeze!
---
Need ideas for Christmas desserts? Check out this recipe for keto white chocolate macadamia nut cookies!