Keto White Chocolate Macadamia Nut Cookies (Less Than 2 Net Carbs Per Cookie)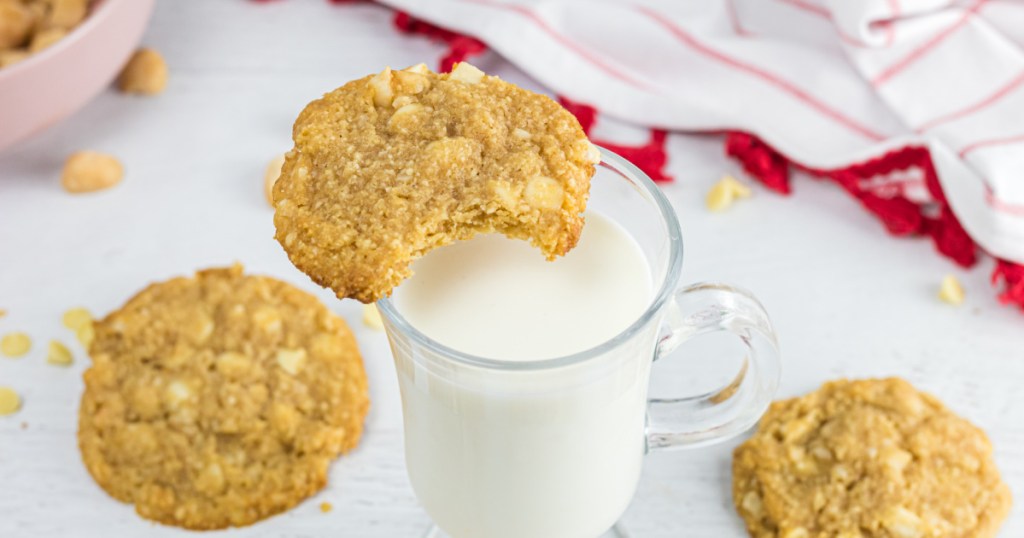 Calling all keto cookie monsters!

Get a head start on fall baking season with none other than a festive keto white chocolate macadamia nut cookie recipe. These crispy outside, chewy inside cookies are what low carb dessert dreams are made of!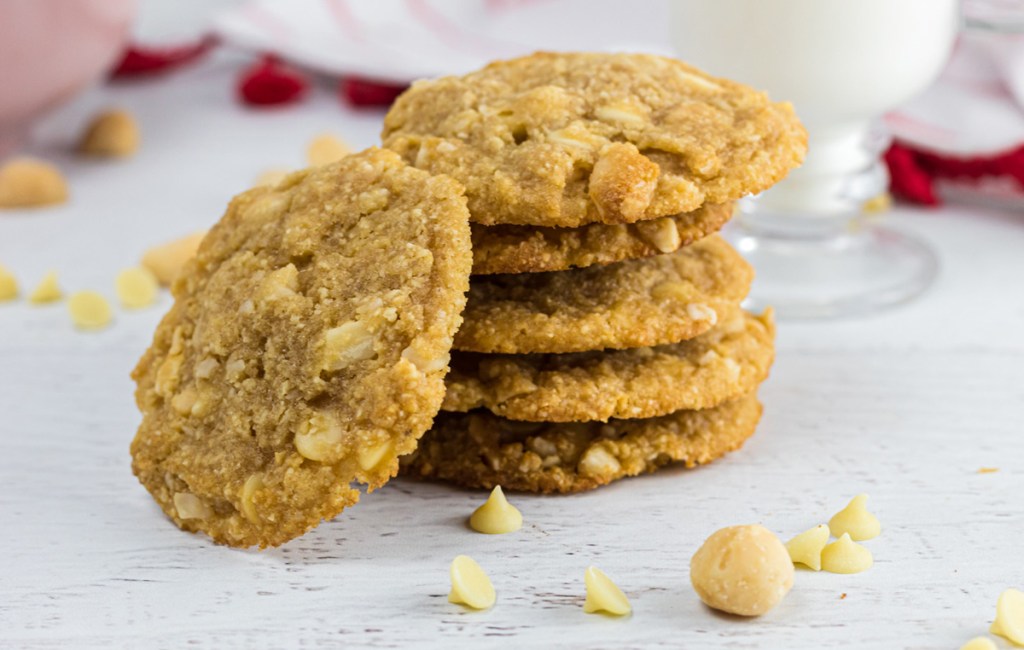 I love when I can fill the counter up with a variety of cookies that leave me with no guilt. It feels almost sinful to sink my teeth into these sweet circles full of macadamia nut chunks and silky white chocolate chips.
You really can have your favorites without cheating on keto!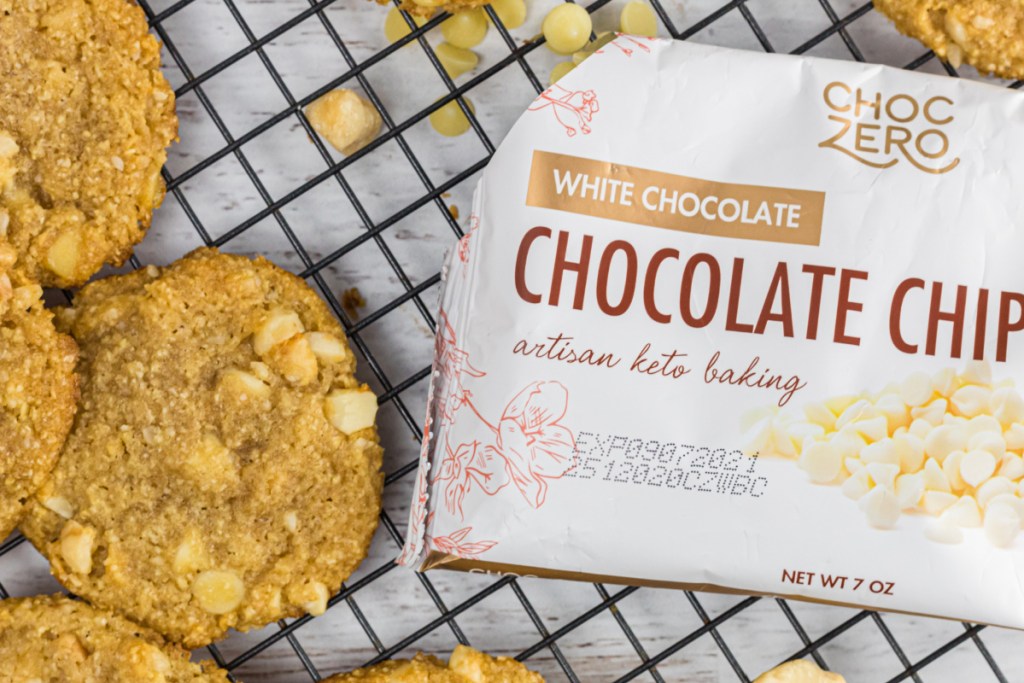 Hip tips for making the best keto macadamia nut cookies:
It's crucial to allow cookie dough to chill for at least two hours, if not overnight, and sit at room temp for 10 minutes before baking. This will help the cookies from becoming flat disks and cook evenly throughout.
You can pre-make cookie dough, form it into disks, and place them in the freezer until you are ready to use them. Perfect when making ahead for the holidays!
I used unflavored beef gelatin to make sure I got a chewy and soft center. If you're in a pinch, you could get away without it, but adding collagen into baked goods is great for the texture – and extra health benefits, too!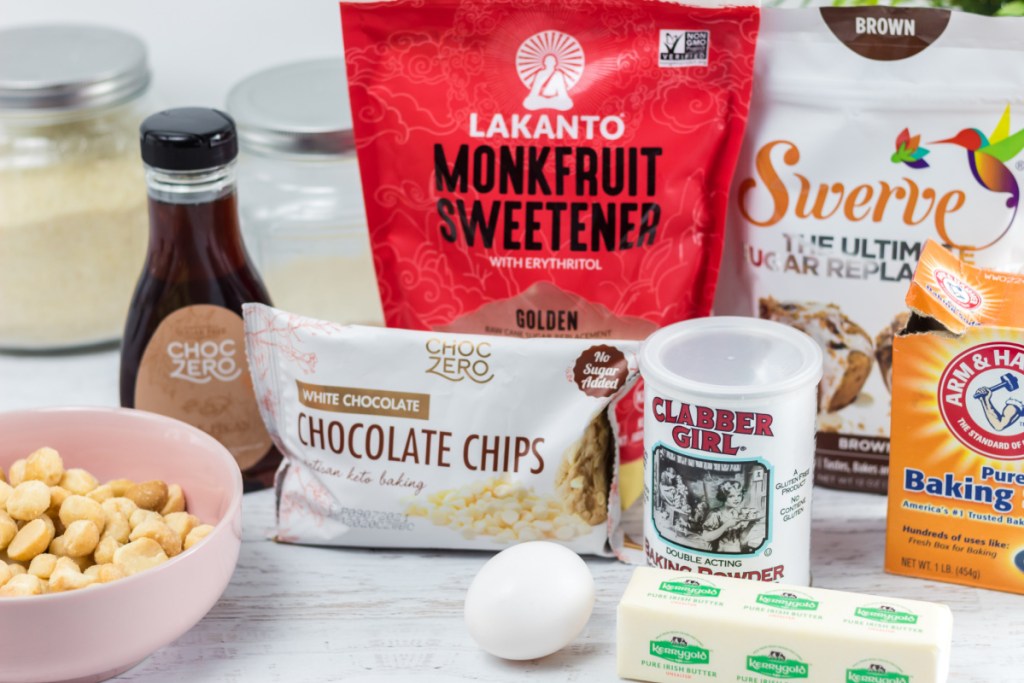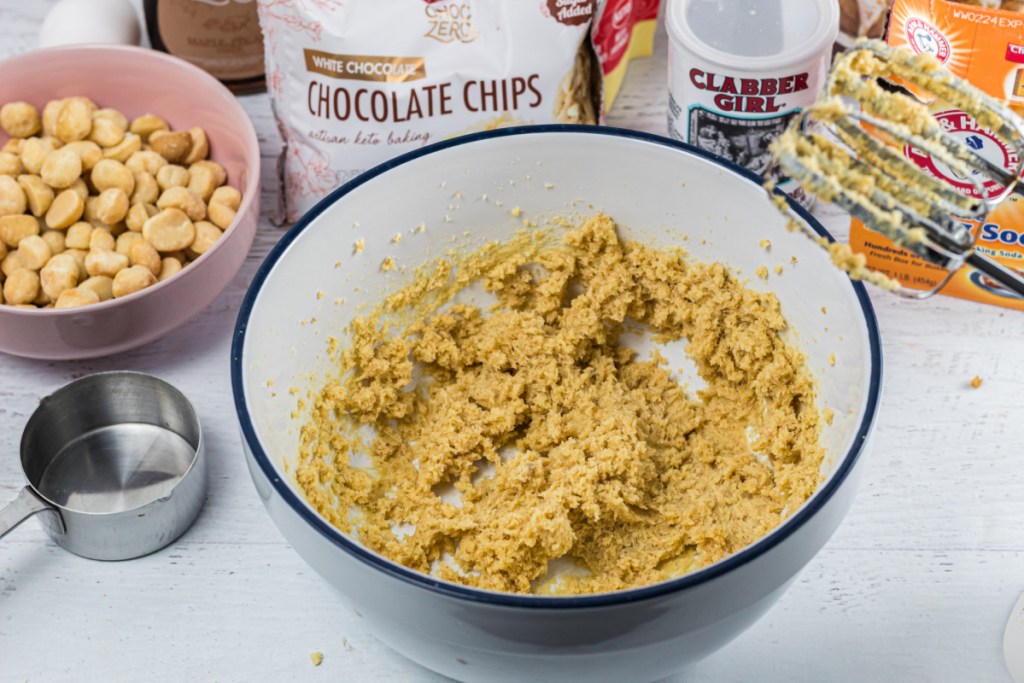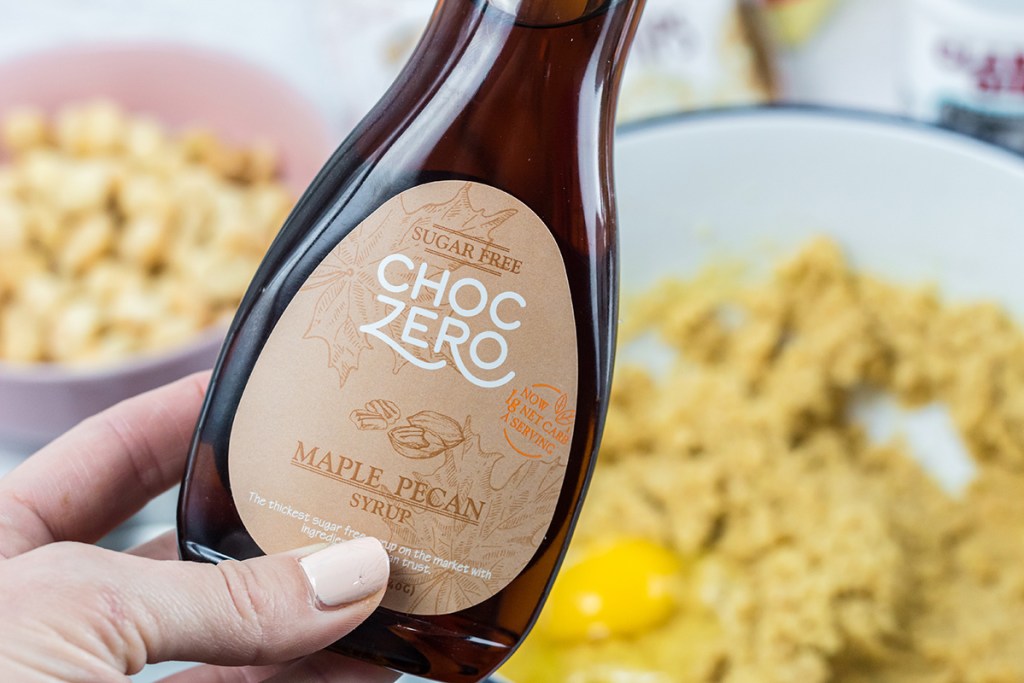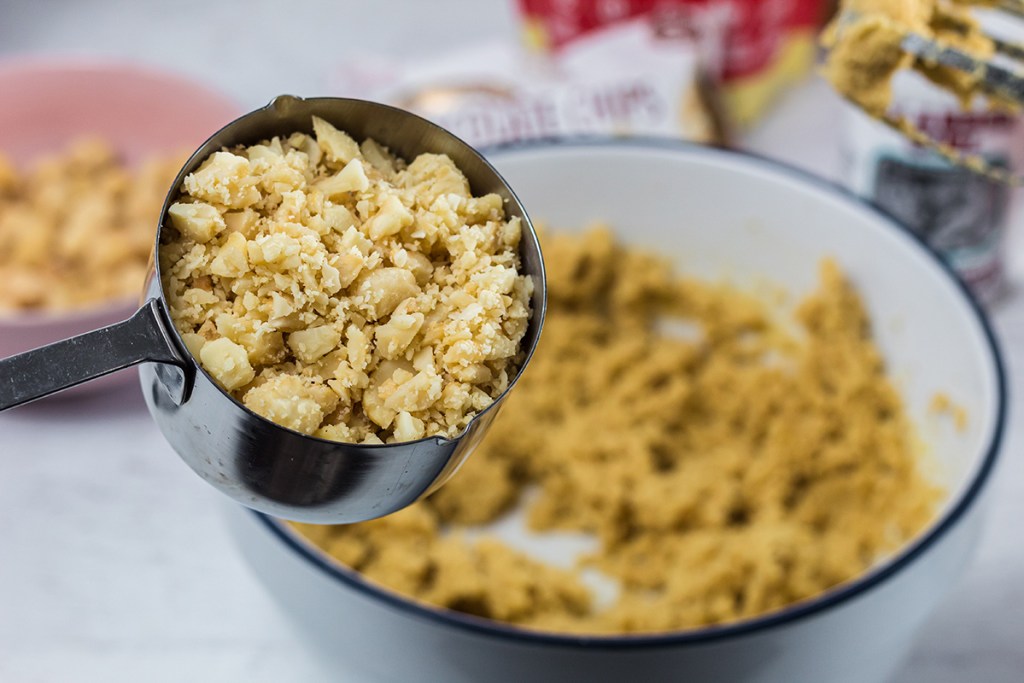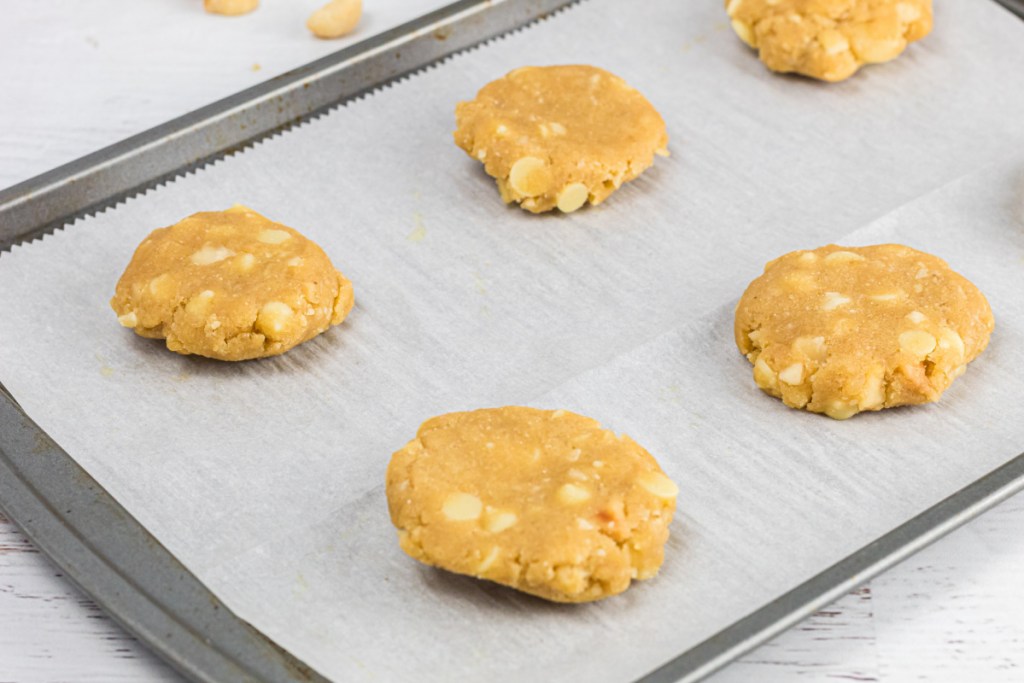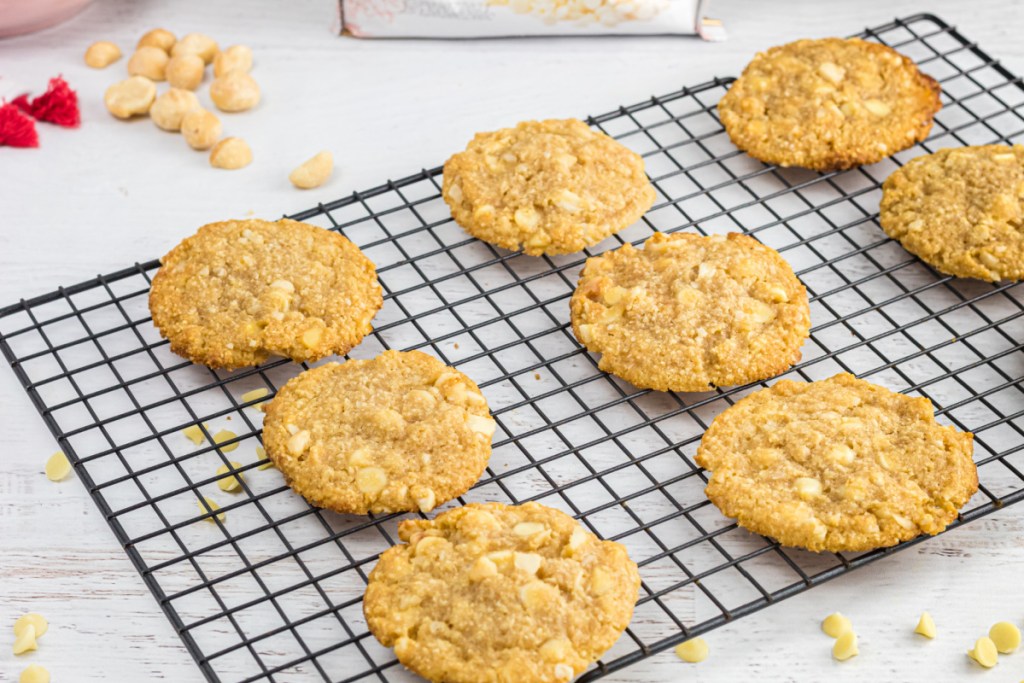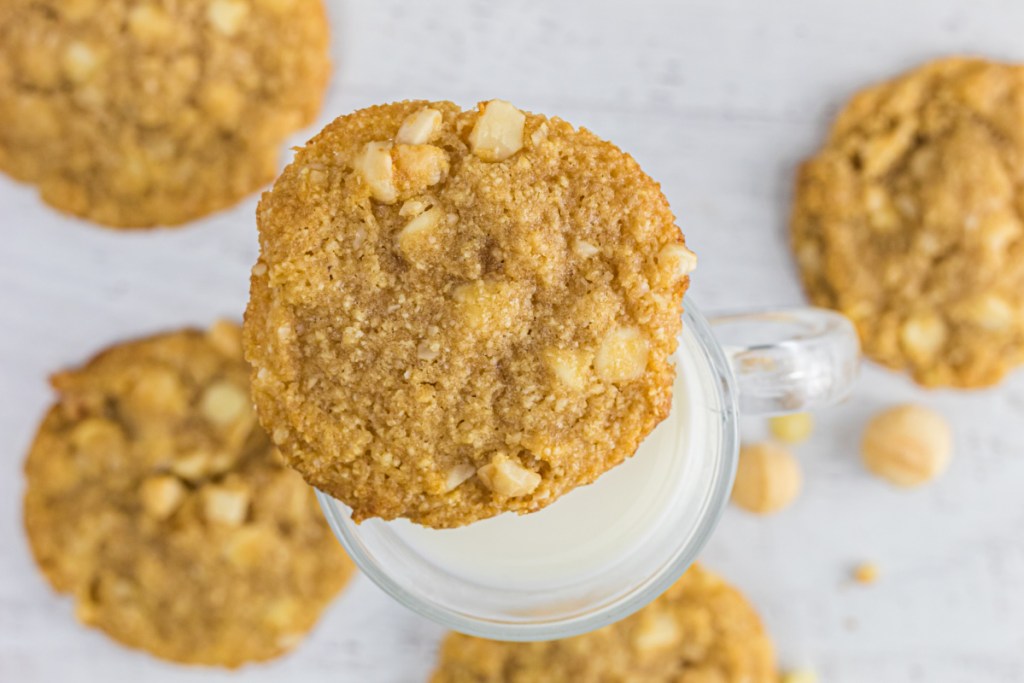 ---
Print
Keto White Chocolate Macadamia Nut Cookies
yield: 16 SERVINGS
prep time: 2 HOURS 20 MINUTES
cook time: 12 MINUTES
total time: 2 HOURS 32 MINUTES
These keto-friendly cookies are crispy on the outside, chewy on the inside, and packed full of crunchy macadamia nuts and ChocZero white chocolate baking chips.
Ingredients
1/2 teaspoon baking powder
1/2 teaspoon baking soda
1/2 teaspoon salt
6 tablespoons butter, softened
1 egg
1 cup macadamia nuts, chopped
Directions
1
In a large bowl, mix together almond flour, coconut flour, beef gelatin, baking powder, baking soda, and salt.
2
In a separate bowl, cream together with an electric mixer butter, brown Swerve, and monkfruit sweetener for about three minutes. Add in egg, syrup, and vanilla extract, mixing until well incorporated.
3
Add in dry ingredients to wet ingredients and mix for 30 seconds. Stir in white chocolate chips and chopped macadamia nuts.
4
Chill cookie dough for at least two hours or overnight. This is super important! If you skip this step, your cookies will overspread and be completely flat.
5
Preheat oven to 350 degrees.
6
Removed chilled dough from the refrigerator and let sit at room temperature for 10 minutes. Scoop out a large tablespoon of the dough and form the dough into a disc shape. This will help keep a tight circular shape for the cookie.
7
Place the baking sheet in a preheated 350-degree oven for 12 minutes, just until cookies are slightly turning golden brown around the edges. Remove cookies from the oven, but KEEP cookies on the baking sheet until they are completely cooled before moving to a cooling rack. This will allow time for the almond flour to cool down and harden.
8
Store in a sealed container for up to five days. Enjoy!
Nutrition Information
Yield: 16, Serving Size: 1
Amount Per Serving: 155 Calories | 14.9 Fat | 14.1g Total Carbs | 3.7g Fiber | 9.0 Sugar Alcohol | 2.9g Protein | 1.4g Net Carbs
---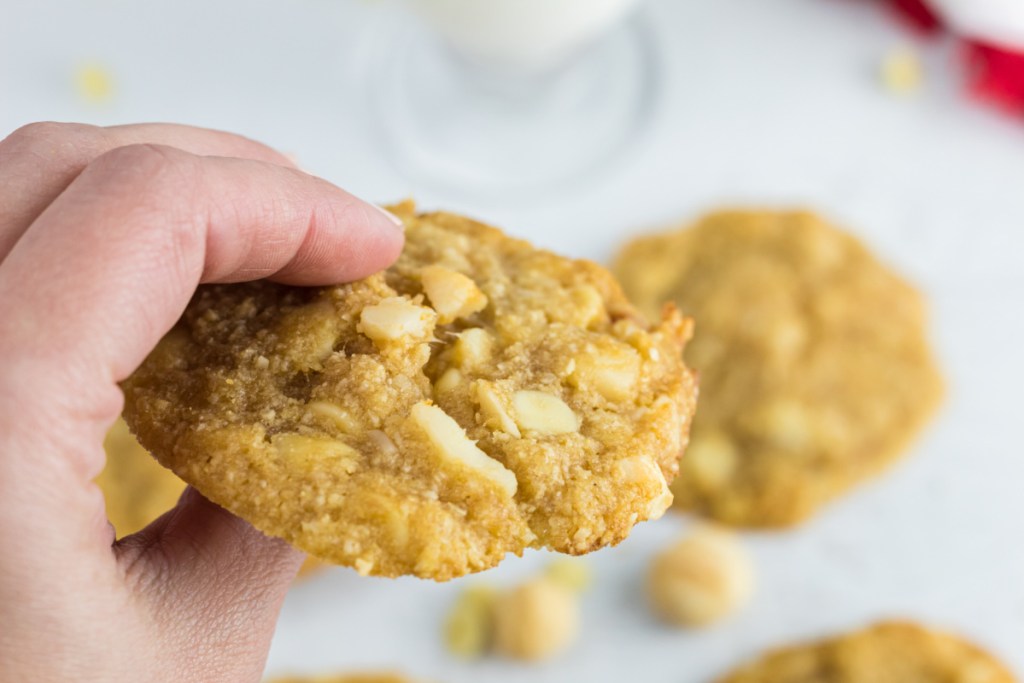 Surprise your friends & family with a batch of keto chocolate macadamia nut cookies!
This recipe is so delicious, even your picky non-keto friends won't know they're low carb. I LOVE dropping off little packages filled with goodies to friends and family.
Grab a cute tin from Dollar Tree to package these cookies and leave them on their doorstep as a treat… but don't be surprised if they beg you for the recipe. 😉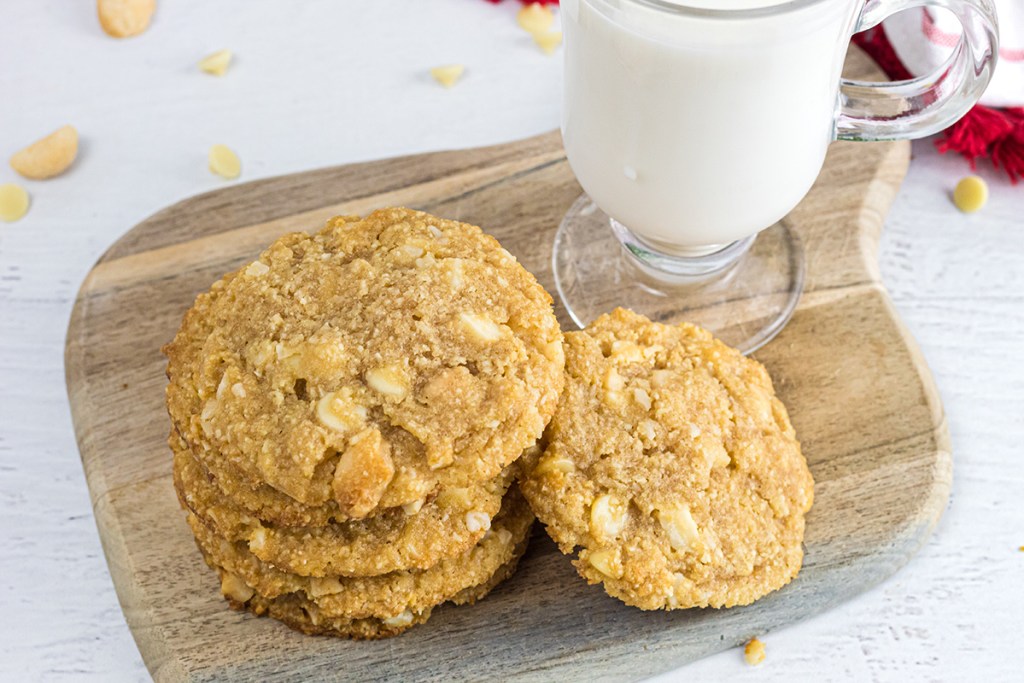 My Hip sidekick Jenna tried out this recipe and here's what she thought!
"These turned out great and I loved how chewy and full of flavor they are. The combination of white chocolate and macadamia nuts is so yummy. I gotta say, these ChocZero white chocolate chips are my new favorite and you absolutely cannot tell they are low carb.
The maple syrup really added in a special touch that made these cookies a home run. I know what kind of cookies I'm leaving out for Santa this year." 🎅🏻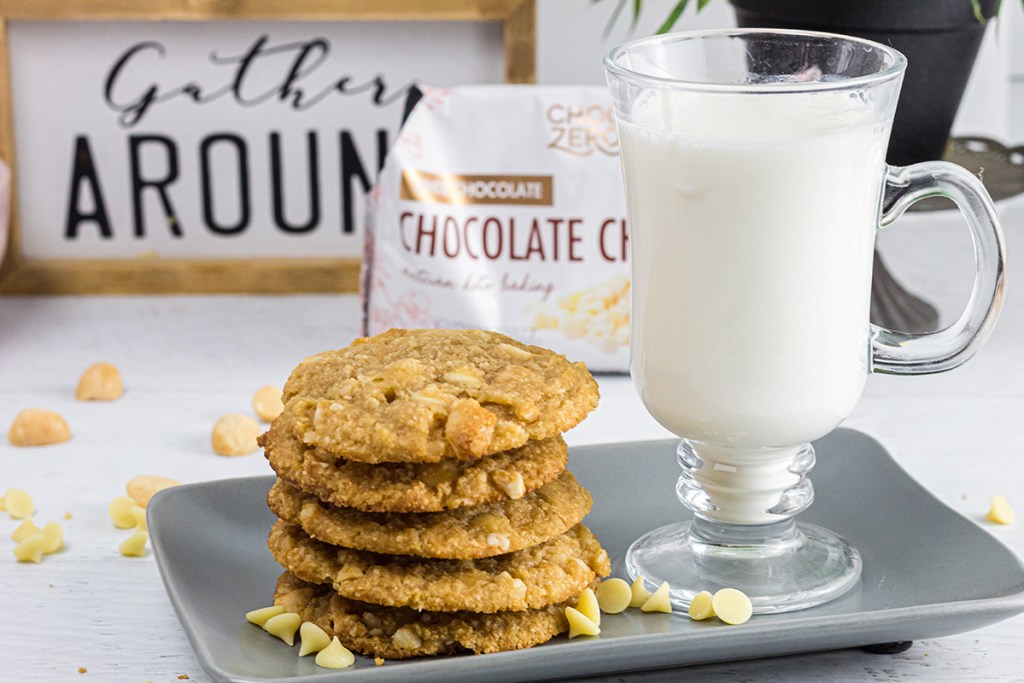 ---