Keto Mint Chocolate Cupcakes – Must Try Dessert Recipe!
Indulge in these divine keto mint chocolate cupcakes!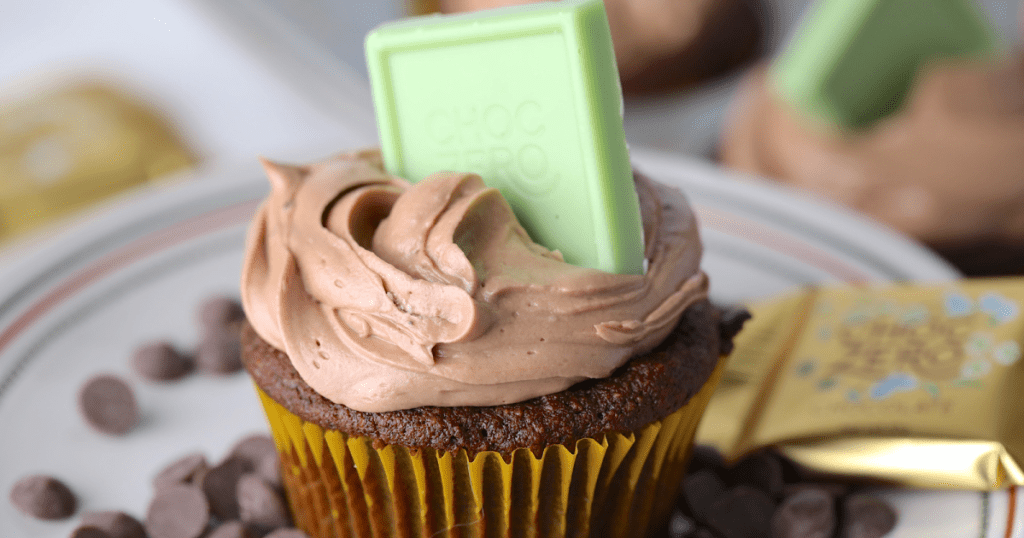 Perfection in a cupcake!
Who doesn't love mint chocolate?! It's the iconic winter and holiday flavor. Not only is the cake portion decadent, but the keto buttercream frosting sets it over the top.
And it's because of ChocZero that these cupcakes are possible! ChocZero currently has two amazing peppermint chocolates available, and if you're a fan of mint chocolate, I highly recommend that you try them both!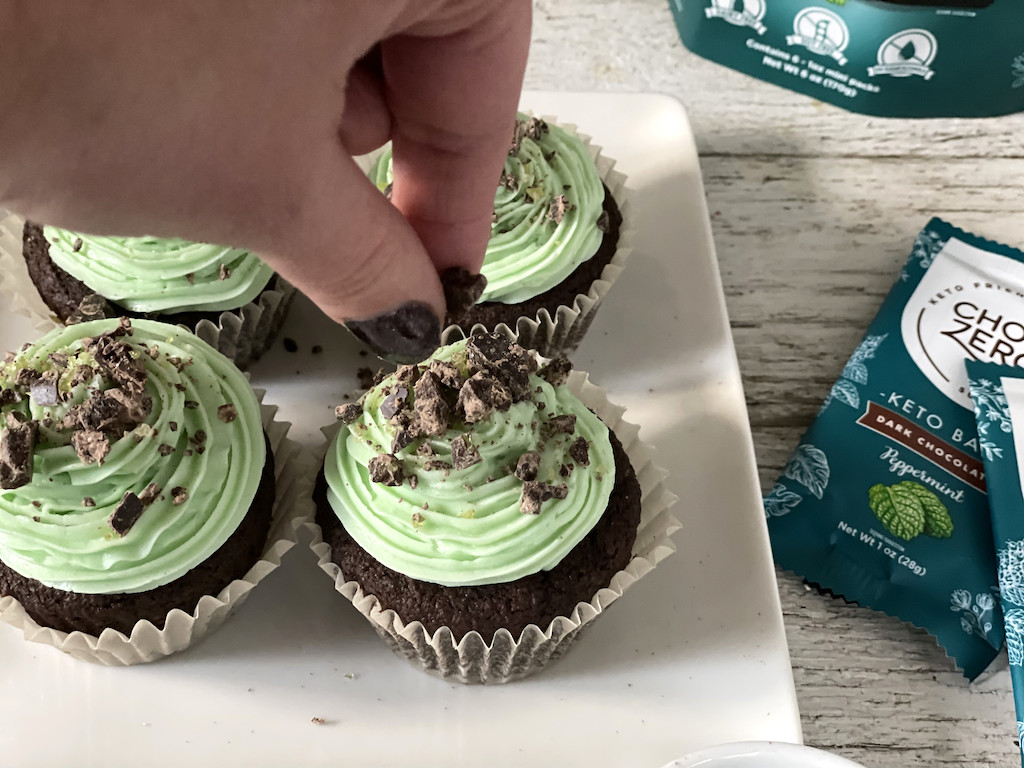 I incorporated the chocolates into the batter and topped half the cupcakes with a ChocZero White Chocolate Peppermint Square and the other half with crushed up pieces of ChocZero Dark Chocolate Peppermint Bark.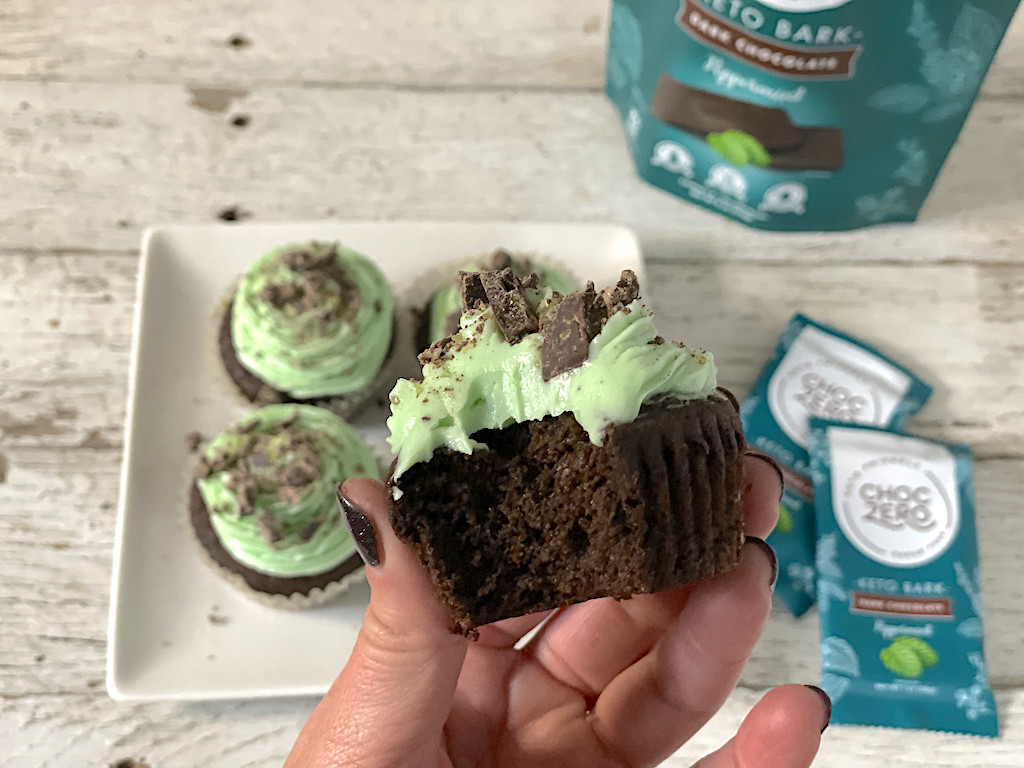 Easy to make and so easy to eat!
These keto mint chocolate cupcakes will be the star of the party this holiday season! Make them for Christmas or New Year's! I made them for an early Christmas gathering and they were a huge hit! Not only do these cupcakes have a perfectly moist texture and mint chocolate flavor, but they also look gorgeous and scrumptious.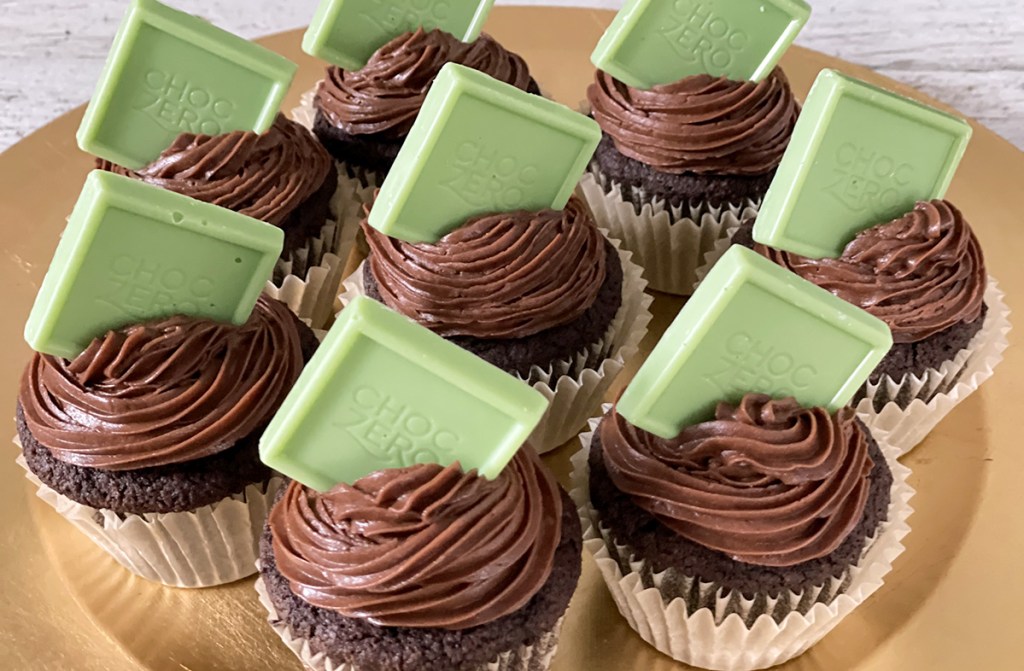 Tips for making the best keto mint chocolate cupcakes:
Souring (or curdling) the heavy whipping cream helps create a rich chocolate flavor so you won't want to skip this step! You could use unsweetened almond or coconut milk instead of heavy whipping cream.
When melting the keto chocolate chips and ChocZero peppermint squares together, you may need to add in some coconut oil to keep the chocolate from clumping. Also, watch the chocolate closely as it's melting to make sure that you don't scorch it.
Do not over mix the batter when you add the dry ingredients to the wet ingredients. You want them to be just combined. Overmixing will prevent the cupcakes from rising.
Treat yourself to ChocZero this holiday season and use our exclusive promo code HIP2KETO to score 10% off your order! Be fast, the White Chocolate Peppermint Squares are a limited edition item.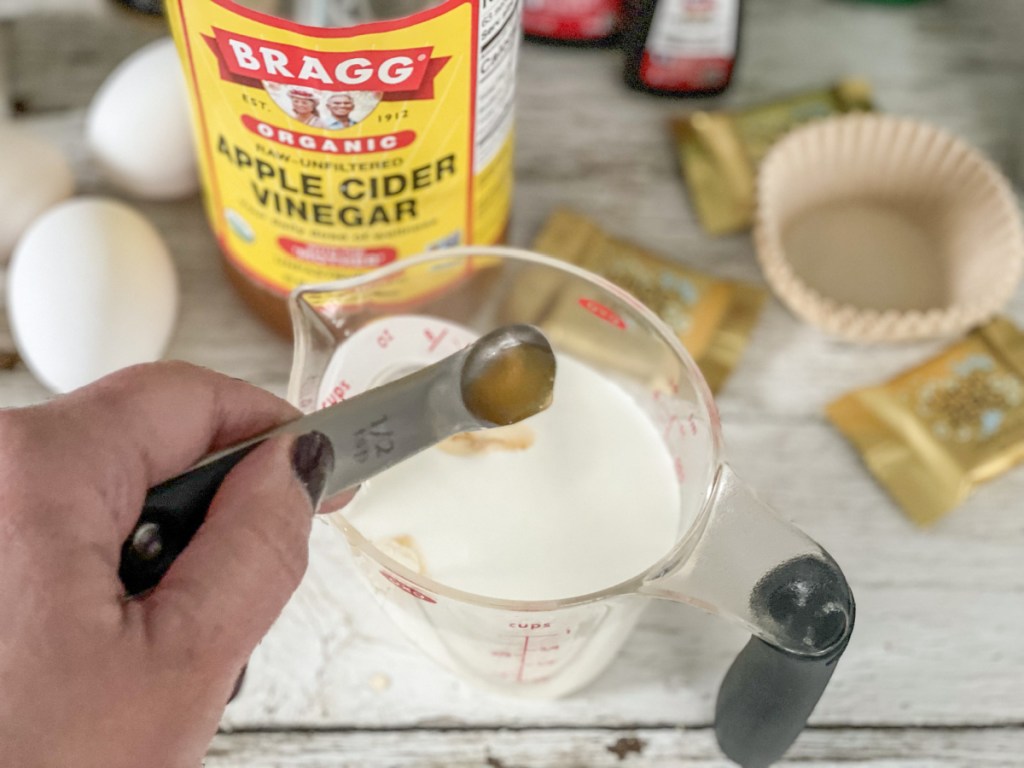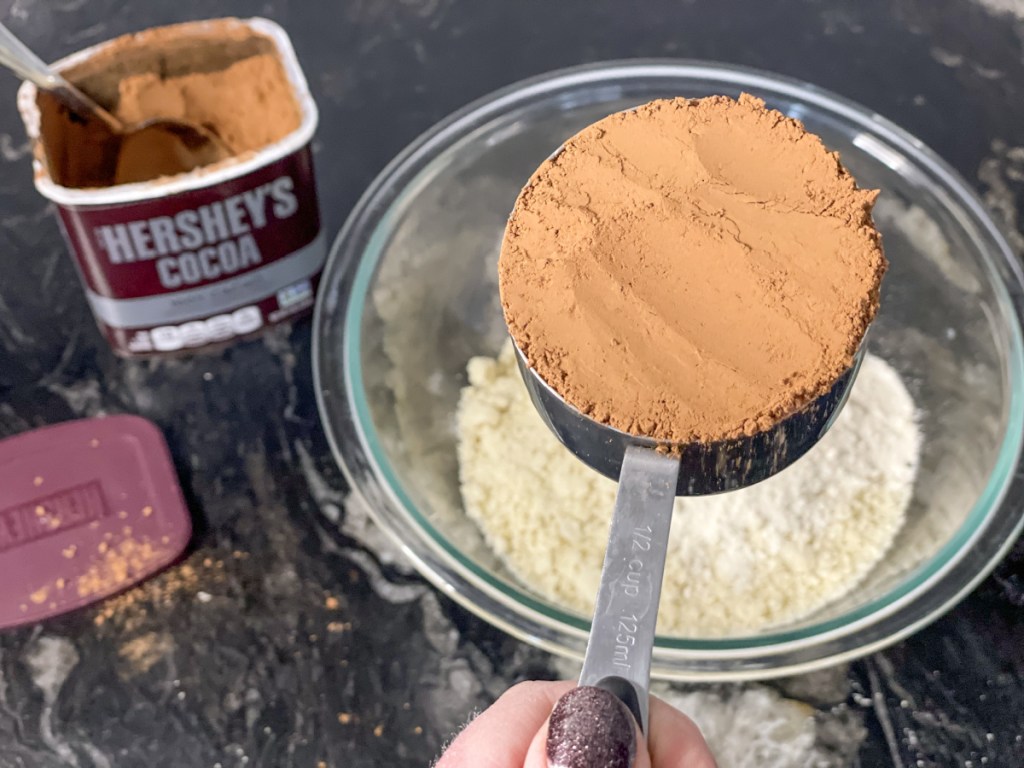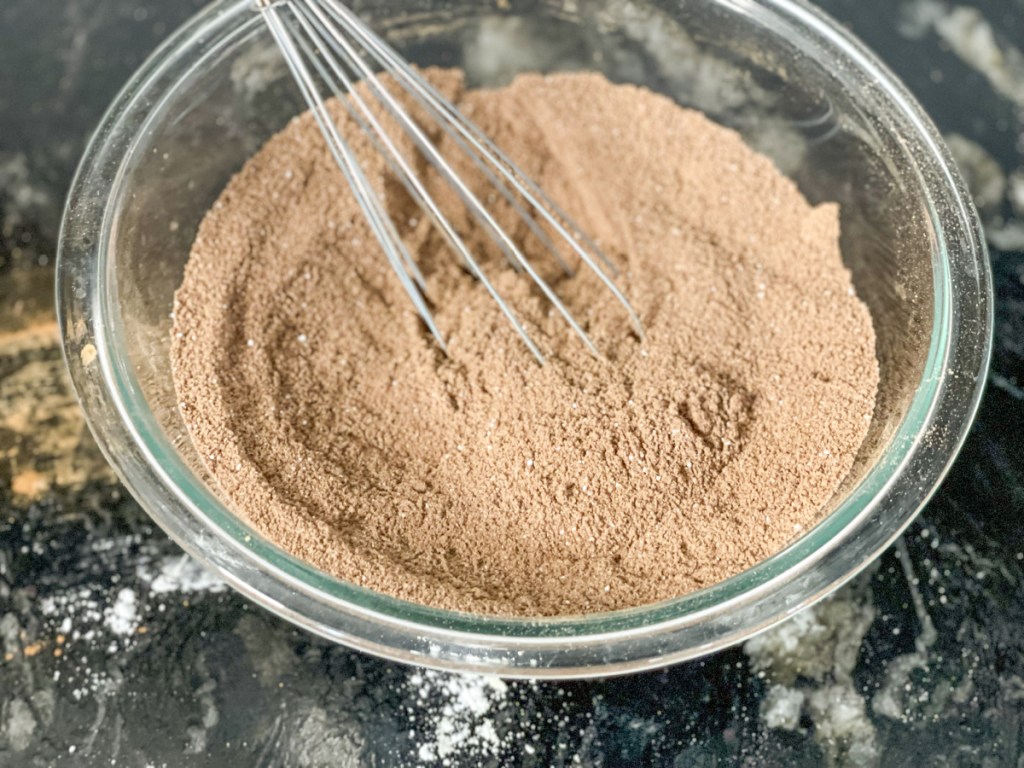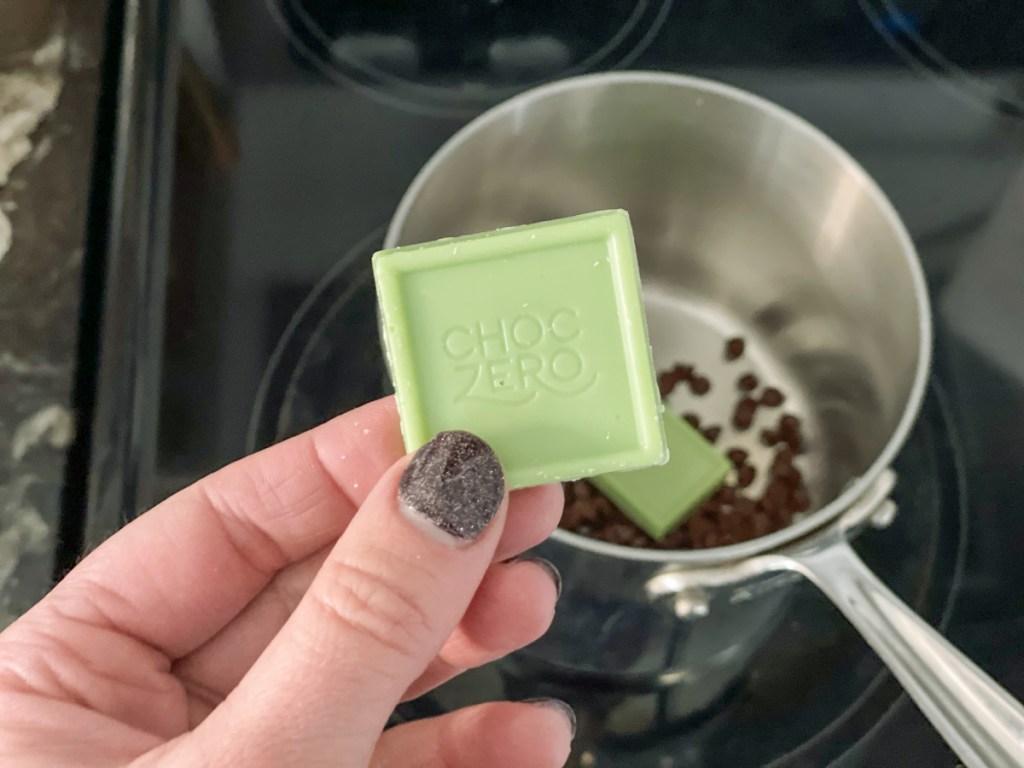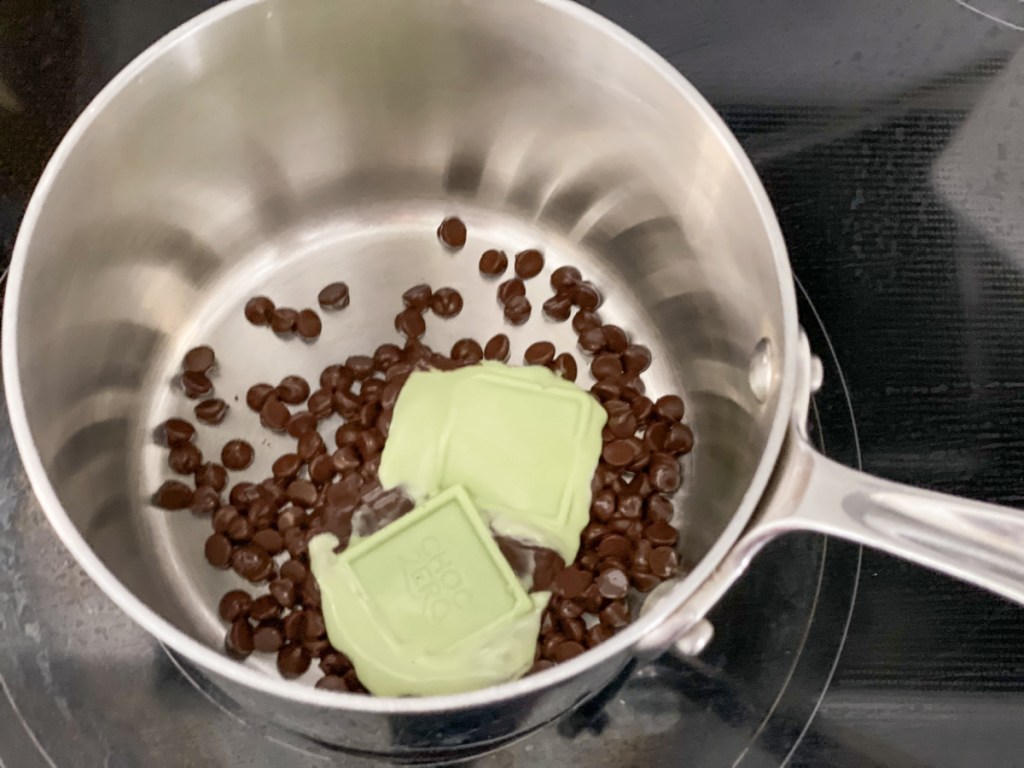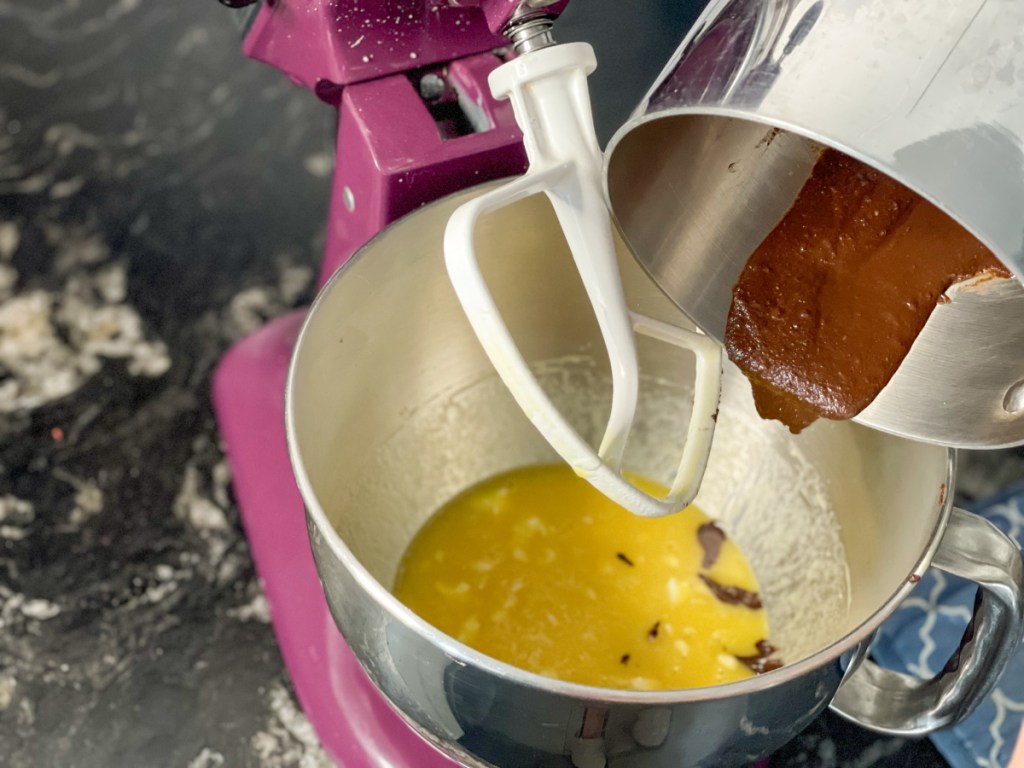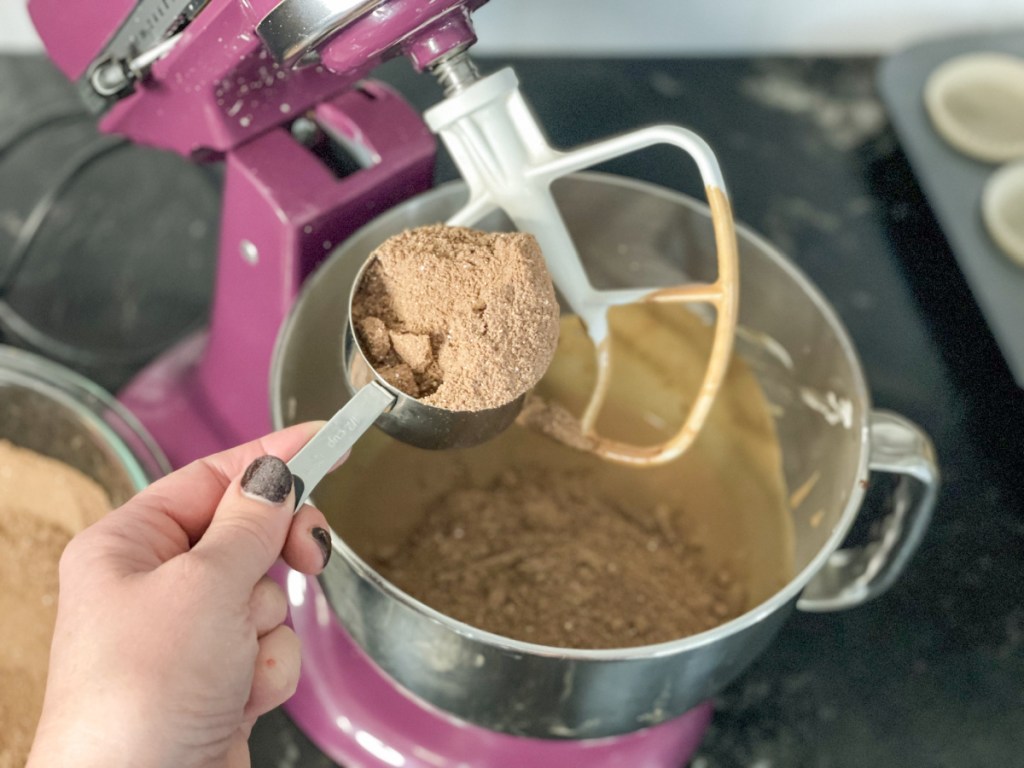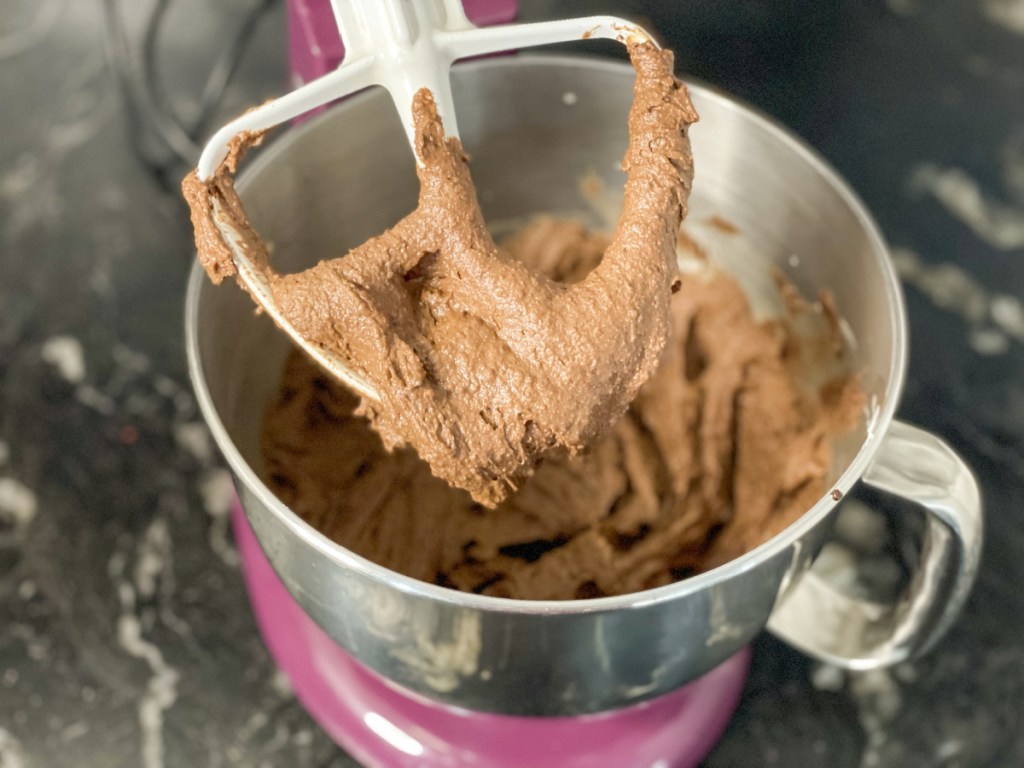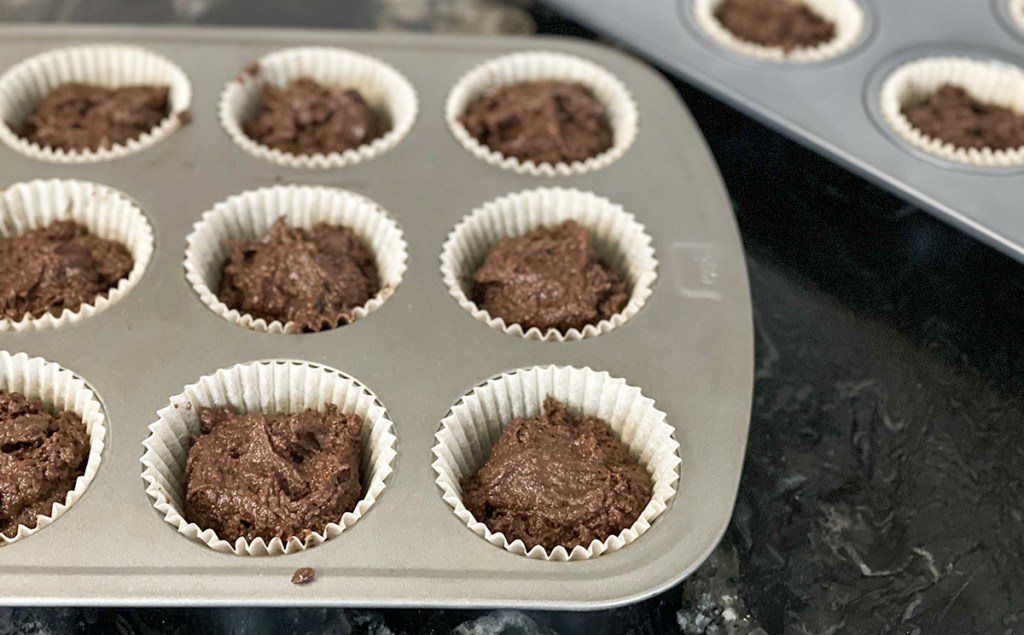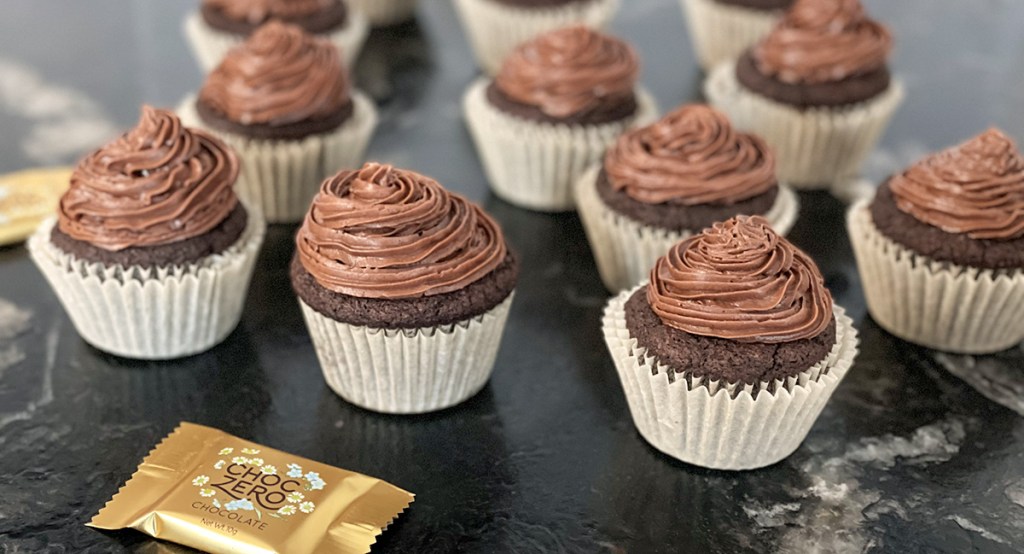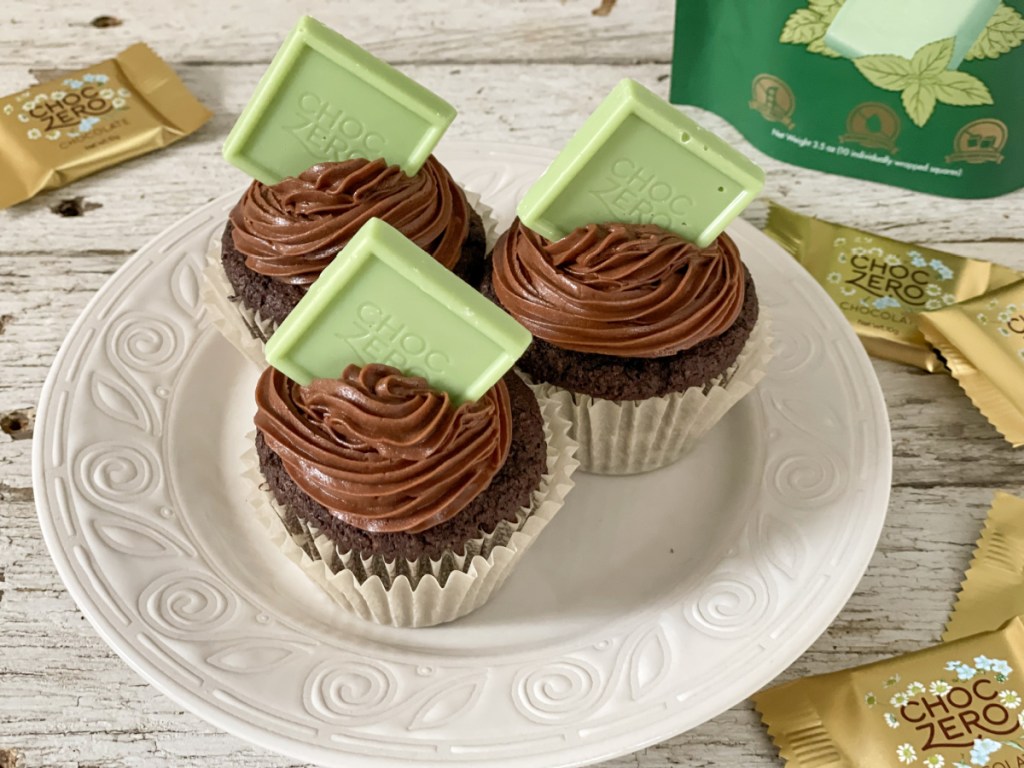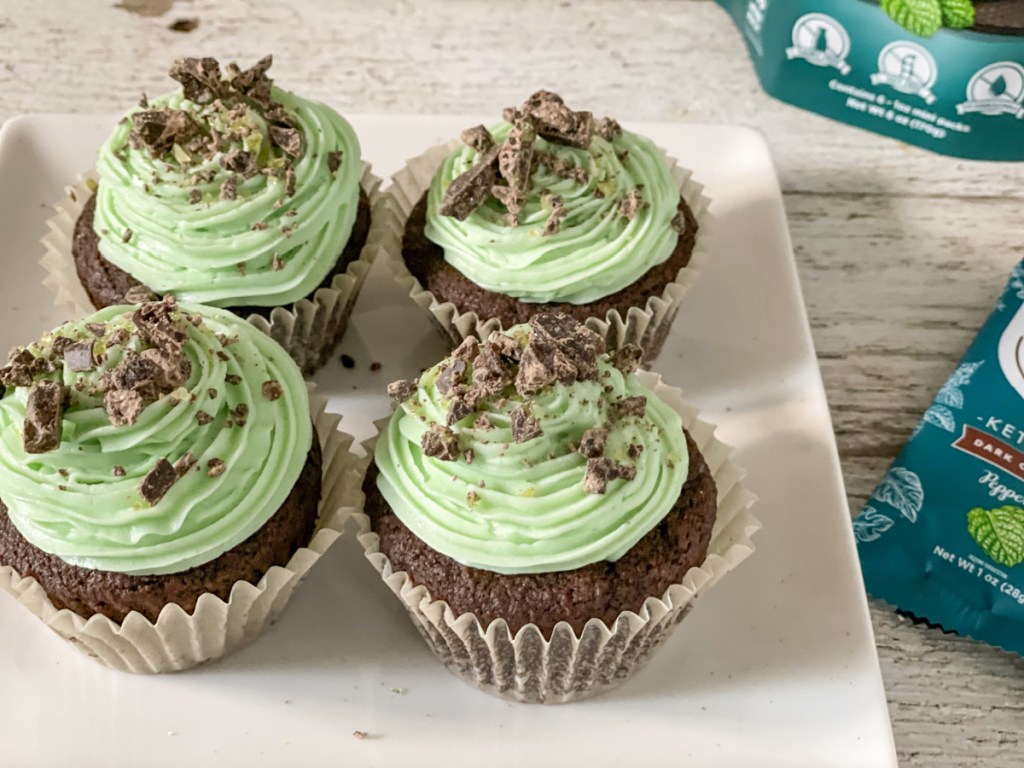 ---
Print
Keto Mint Chocolate Cupcakes
yield: 20 SERVINGS
prep time: 30 MINUTES
cook time: 17 MINUTES
total time: 47 MINUTES
Rich mint chocolate cupcakes made with ChocZero chocolate peppermint squares and luscious buttercream frosting!
Ingredients
Cupcakes:
3/4 cup heavy whipping cream
1/2 teaspoon apple cider vinegar
2 teaspoons baking powder
1/2 teaspoon baking soda
1 teaspoon salt
1 to 3 teaspoons coconut oil, optional, as needed
4 eggs, room temperature
1/2 cup melted butter
2 teaspoons vanilla
Keto Mint Chocolate Buttercream Frosting:
Directions
1
To make the cupcakes:
Preheat oven to 350 degrees. Line cupcake pan with cupcake liners or grease cupcake pan. Take eggs out of the fridge. Set butter out for buttercream frosting.
2
Mix together the heavy whipping cream and apple cider vinegar to let it sour. Set aside.
3
In a medium bowl, mix together almond flour, coconut flour, cocoa powder, keto confectioners sweetener, baking powder, baking soda, and salt. You can sift the dry ingredients together if you notice a lot of clumps. Set aside.
4
Melt together keto chocolate chips and 2 ChocZero White Chocolate Peppermint Squares in a microwave-safe bowl in 10-second increments, stirring each time. Or melt them together in a small saucepan over low heat, stirring consistently. You could also melt using a double boiler. Add coconut oil to the chocolate one teaspoon at a time as needed if the chocolate starts to clump together.
*You could also melt in a ChocZero Dark Chocolate Peppermint Bark bar instead if preferred.
5
Melt butter. Using an electric mixer, beat together eggs, melted butter, melted chocolate mixture, vanilla, and peppermint extract. Add in the soured milk and mix until well combined.
6
Add the dry ingredients to the wet ingredients and mix until just combined. Do not overmix!
7
Fill cupcake liners about 3/4 of the way full. The batter will be fairly thick so you'll likely have to spoon it into the cupcake liners.
8
Bake cupcakes for 15 to 17 minutes, until a toothpick inserted into the center of a cupcake comes out clean. Rotate the cupcakes halfway through baking. Let cool completely before removing them from the pan. Make the frosting while the cupcakes cool.
9
To make the buttercream frosting:
Using an electric mixer, beat together softened butter and keto confectioners sweetener until fluffy.
10
Add in vanilla, peppermint extract, and heavy whipping cream and mix to combine.
11
Mix in cocoa powder and salt. Continue to beat until the cocoa powder is fully incorporated, scraping down the sides of the bowl as needed.
*If making mint frosting, omit the cocoa powder and add in 3 to 4 drops of green food coloring.
Nutrition Information
Yield: 20 frosted cupcakes, Serving Size: 1 frosted cupcake
Amount Per Serving: 428 Calories | 40.2g Fat | 22.8g Total Carbs | 8.8g Fiber | 2g Sugar | 10.8g Sugar Alcohol | 6.2g Protein | 3.2g Net Carbs
---
The ultimate cupcake does exist!
Hurry and make these keto mint chocolate cupcakes before the holiday season is over. And even if you don't get a chance to make them for the holidays, this recipe is still good any time you need a sweet pick-me-up.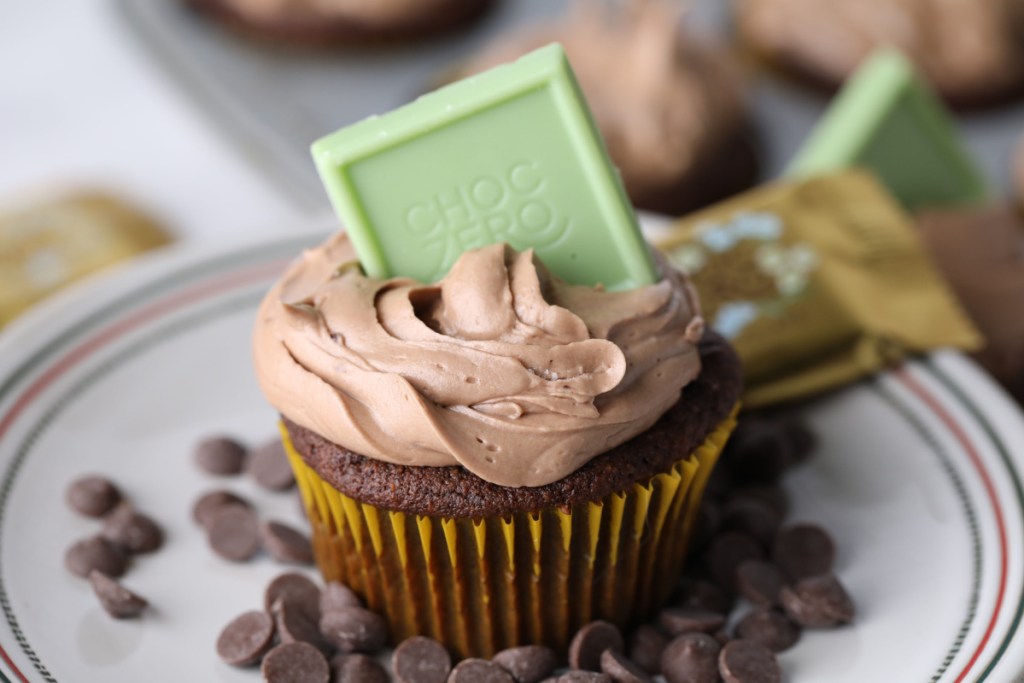 Here's what my Hip sidekick Jenna had to say about these keto mint chocolate cupcakes:
"These are so impressive! I was so excited to share them with everyone because they are as delicious as they are beautiful! They were easy to throw together and they are so decadent. I love using ChocZero in my treats, I also love that this has the mint square on the top, so fun and festive! I will definitely make these again."
---
Check out our full review of ChocZero's Keto Bark!