This Best-Selling Veggie Chopper & Spiralizer is a Meal Prep Hero!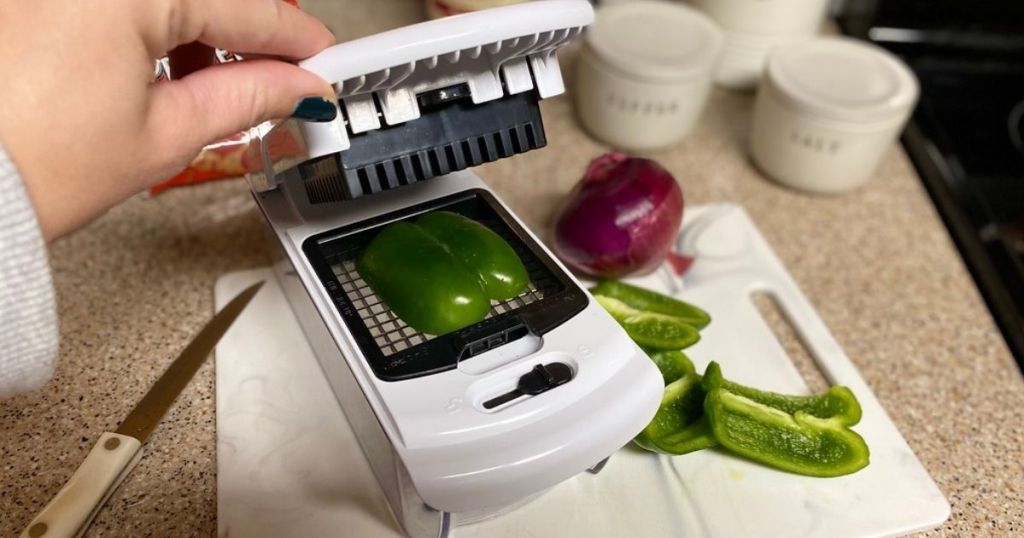 This keto cooking tool is the best!
Looking for a quick way to chop vegetables when making your favorite keto-friendly dishes? Well friends, today I'm sharing one of my favorite kitchen gadgets with you that is certain to make meal prep much faster and way easier.
I couldn't function in my kitchen without my Fullstar vegetable chopper — It's truly the best! I use it every day for my own meal prep and when creating delicious recipes for Hip2Keto. In fact, you've probably seen it pop up in pictures on some of my recipes.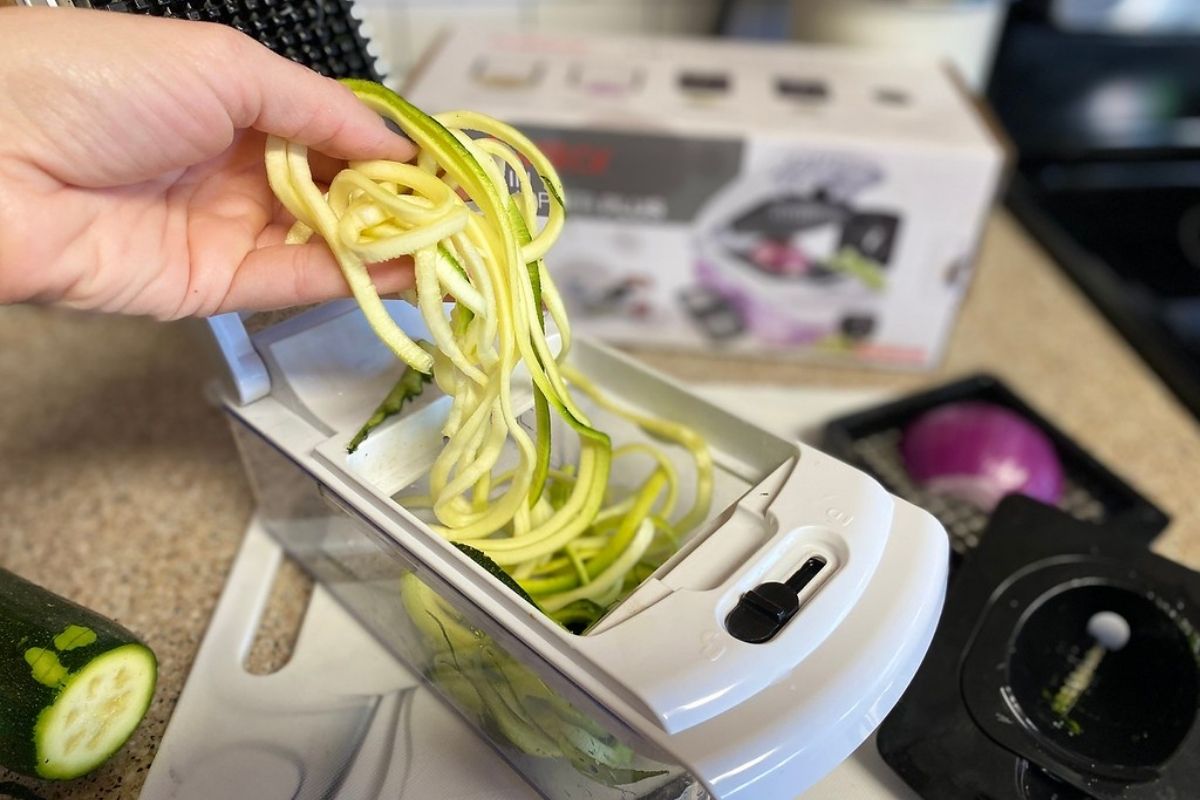 This gadget isn't your typical veggie chopper though. It also comes equipped with spiralizer blades so you can easily whip up some yummy zoodles without getting out yet another kitchen tool. How convenient, right?!
Quick heads up: This is not a sponsored post. I just had to share this product I love with all of you!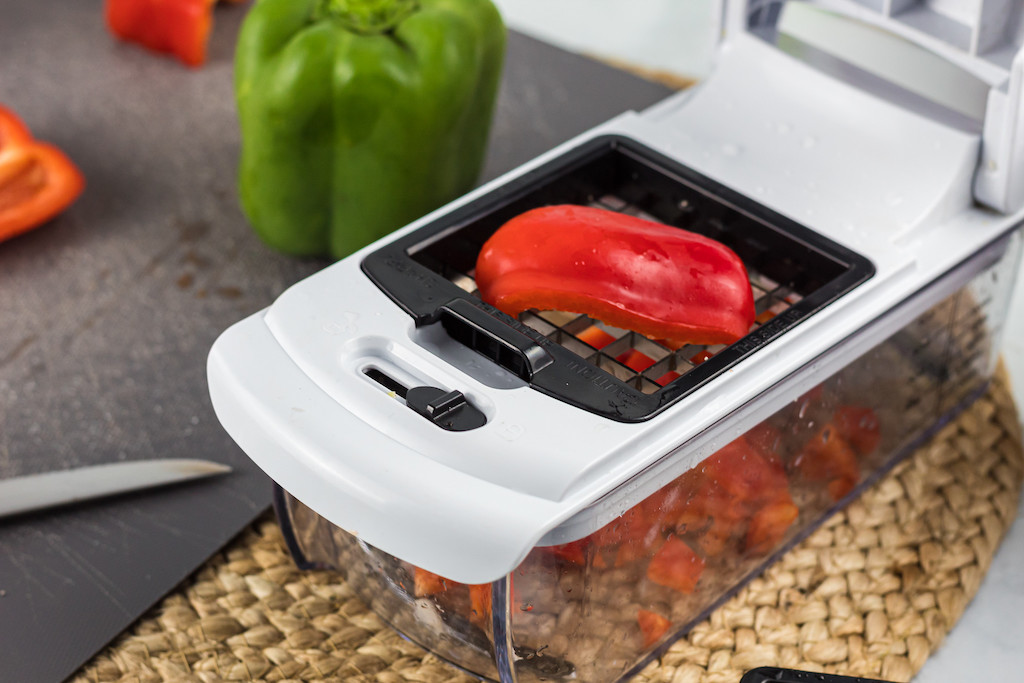 This veggie chopper and spiralizer is my most used kitchen gadget and has been such a time-saver when I make recipes like this keto stuffed pepper casserole, avocado feta salsa, or even to chop onions for our yummy keto taco soup recipe.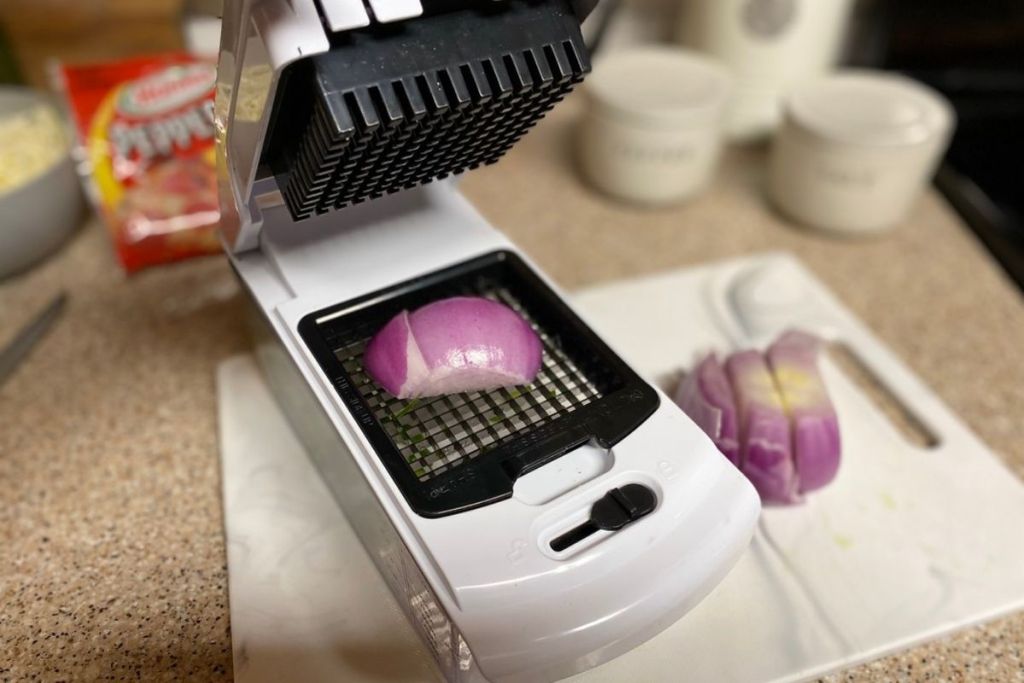 This vegetable chopper is amazing since I don't have to spend hours slicing and dicing. You can literally dice an onion in under 30 seconds without the tears. Seriously!
Even better, it's dishwasher safe so when I'm done I can just throw it in the top rack to wash!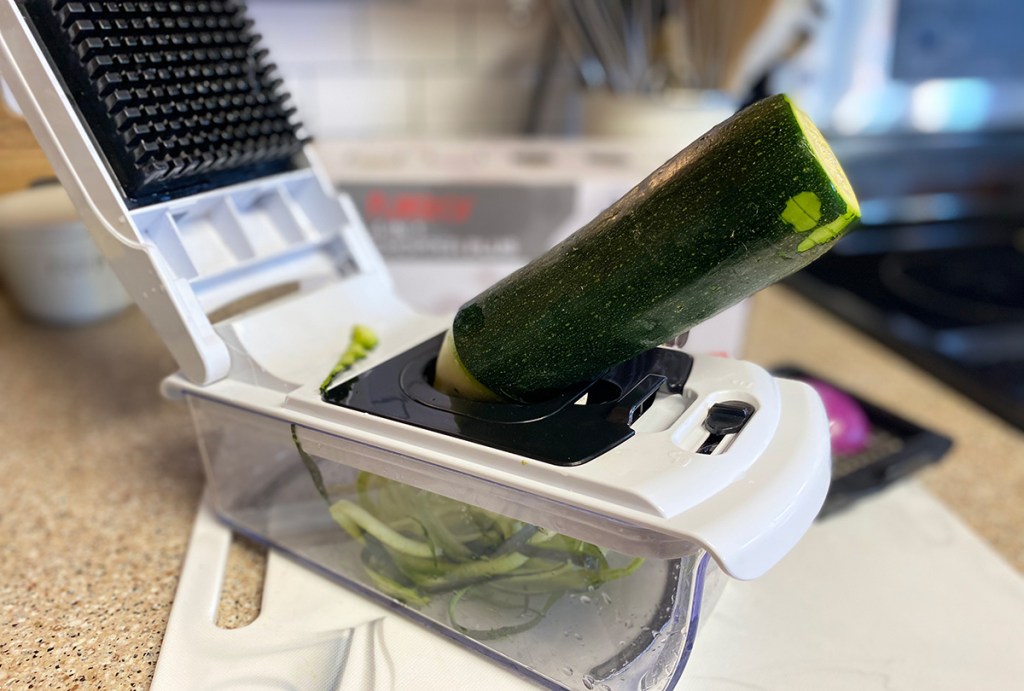 It's more than just a vegetable chopper, it's also a spiralizer!
I swear this nifty gadget was made for us keto eaters! The interchangeable spiral and ribbon blades cut the most perfect zucchini noodles and I just love the convenience of this multi-purpose tool.
Plus, it's under $25 on Amazon!
---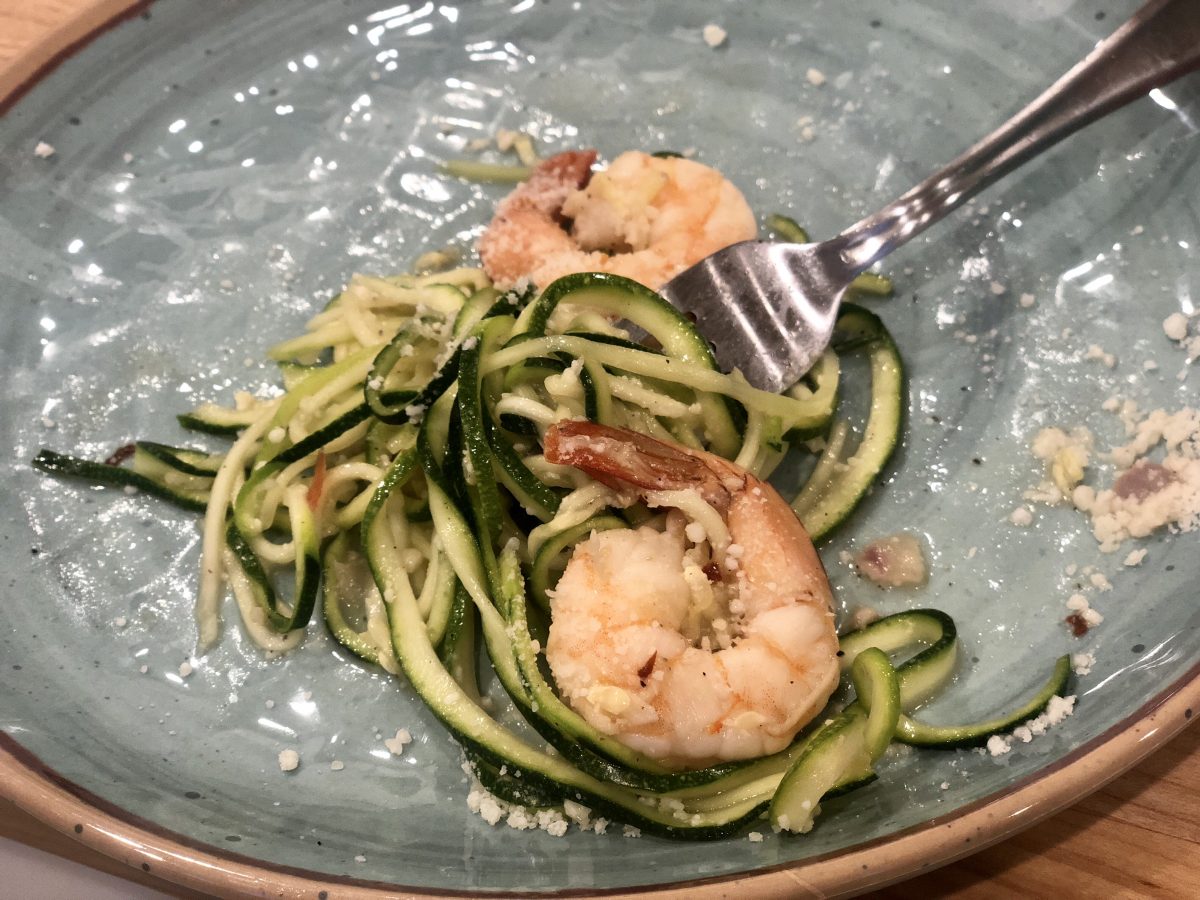 My kitchen is forever grateful to the Fullstar vegetable chopper. 🙌
This vegetable chopper is so durable, fast, and efficiently cuts through all of my vegetables with ease. I honestly have not found a vegetable that it won't cut through. I really give it a workout on Sundays when I'm doing my weekly meal prep and have a lot of veggies to chop.
---
⭐️On the fence? This chopper has over 12,000 5-star reviews on Amazon!⭐️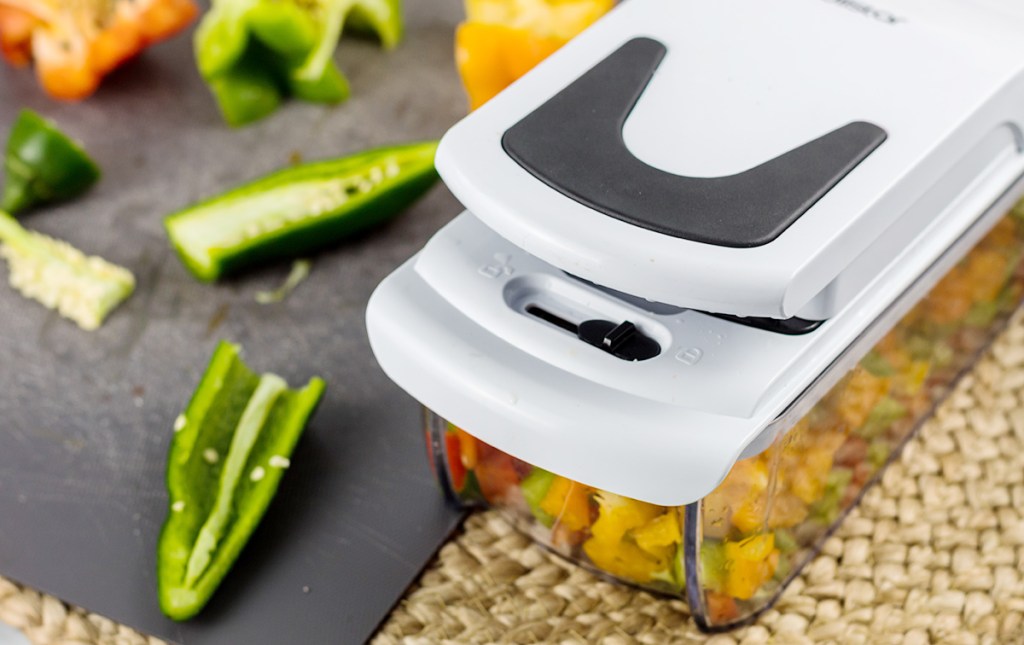 Check out what Amazon shoppers are saying…
"This chopper makes life so much easier! I can't imagine chopping onions or bell peppers by hand anymore, and it does so much more. We used to have a different chopper in the past, but you had to press so hard to chop, and it broke after not too long. This one requires very little effort to cut through the food and it has a generous container."
---
"BUY THIS NOW! I cannot say enough good things about this. My potatoes and bell peppers are washed, diced, and in the oven within 10 minutes. BUY. IT. NOW. Buy it for your friends. Buy it for your boss. It's the best."
---
"I have a food processor, but it's a hassle to get out, and doesn't really cube stuff, more like shred, slice, or total mush. This rapidly cubes all sorts of things! You do still have to prep the veggies, ie cut them into pieces that will fit, but once you've gotten to that stage it's super fast.
I chopped massive quantities of apples, celery, peppers, and onions in a fraction of the time it would have taken otherwise! We've also chopped very 'tough' stuff, to the point that it's very difficult to push the lever down, but it hasn't broken, it has successfully chopped everything we've tried!"
---
Eating on the go? Our dining guides make eating out a breeze!