This Keto Stuffed Pepper Casserole is Prepared in ONE Pan & So Good!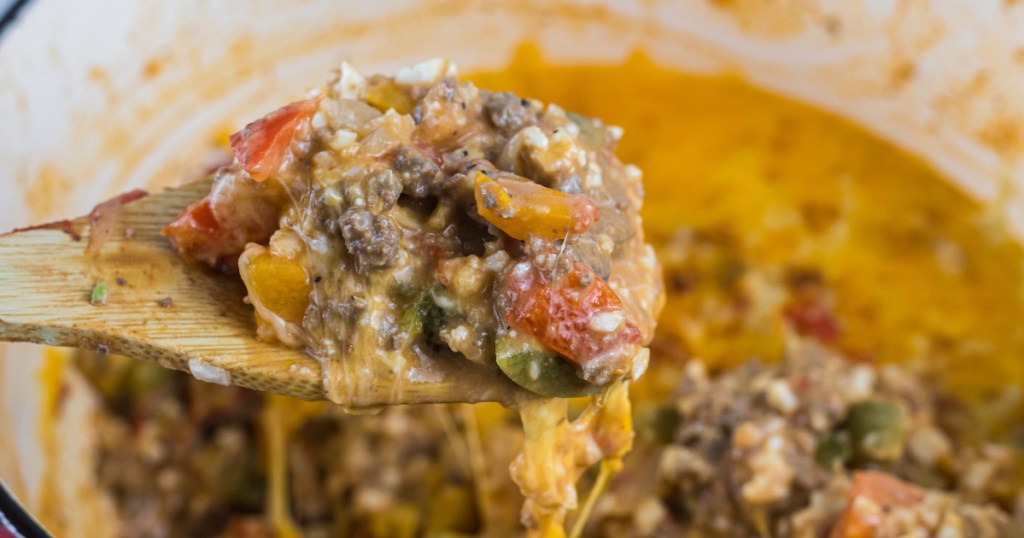 Looking for the perfect keto casserole recipe?
Oh, how I love stuffed bell peppers (like these keto lasagna bell pepper boats 😋), but I often dread doing all of the steps, especially when I need a quick and easy dinner for my family.
Friends, I'm here with a solution!
This keto stuffed pepper casserole recipe is everything you love about stuffed peppers – but is prepared all in ONE pan! Easy to make and easy to clean up. YES! 🙌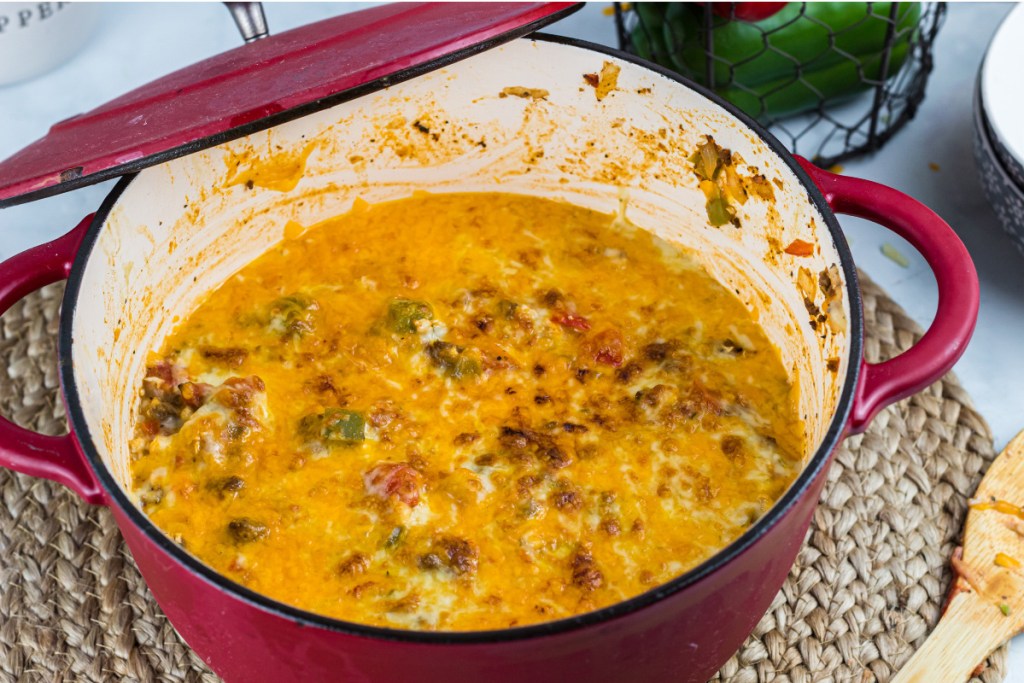 If you're a cheese lover like me, then you're going to be in heaven because our keto stuffed pepper casserole has plenty of it. This is the perfect low-carb casserole the whole family will love (even your picky kiddos!).
Tips for making the best keto stuffed pepper casserole:
I love spicy food, so I added shredded pepper jack cheese and jalapeños to my casserole. If you prefer a milder dish, then Monterey jack cheese would be delicious and not spicy at all.
I suggest using fresh cauliflower rice, not frozen. Frozen cauliflower tends to be a little liquidy when cooked, which isn't so great for a casserole like this. To keep things easy, we used a bag of fresh chopped cauliflower from Walmart.
You can also make your own cauliflower rice at home pretty easily by chopping a cauliflower head into florets and pulsing them in a food processor until you reach the desired cauliflower rice granule size.
Needing to find a faster way to chop those vegetables? This little machine veggie chopper is a lifesaver – I recommend everyone having one in their kitchen, even if you just cook occasionally!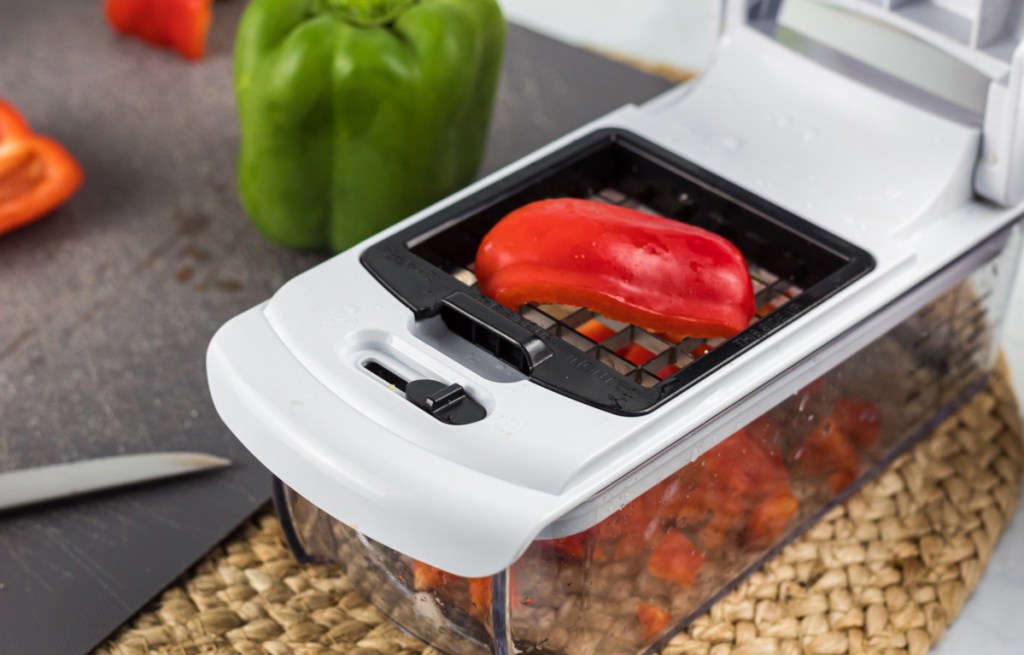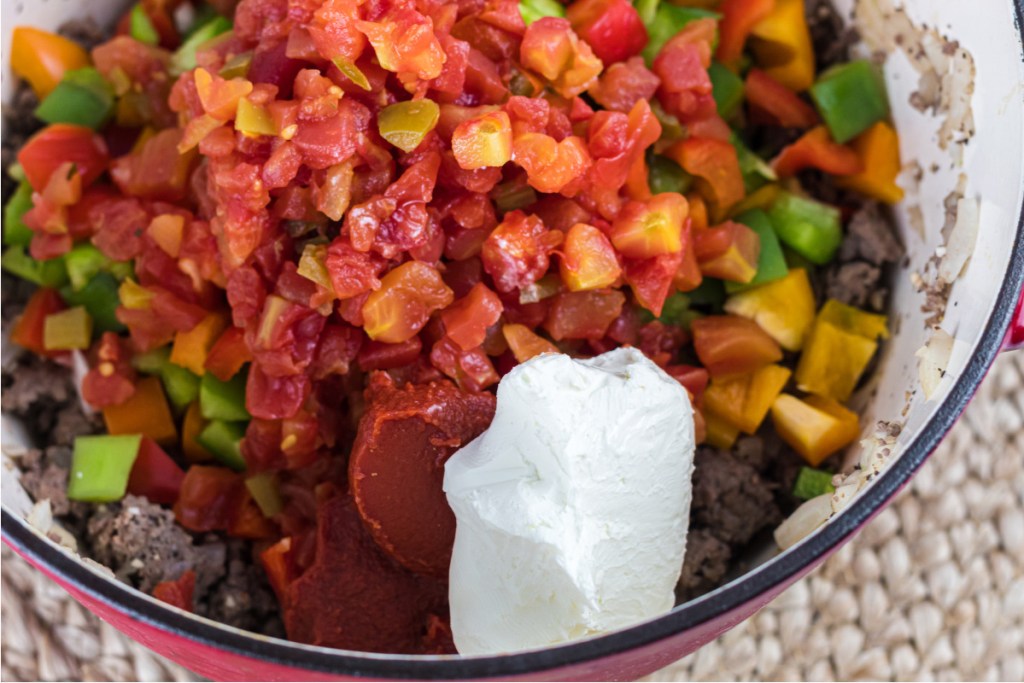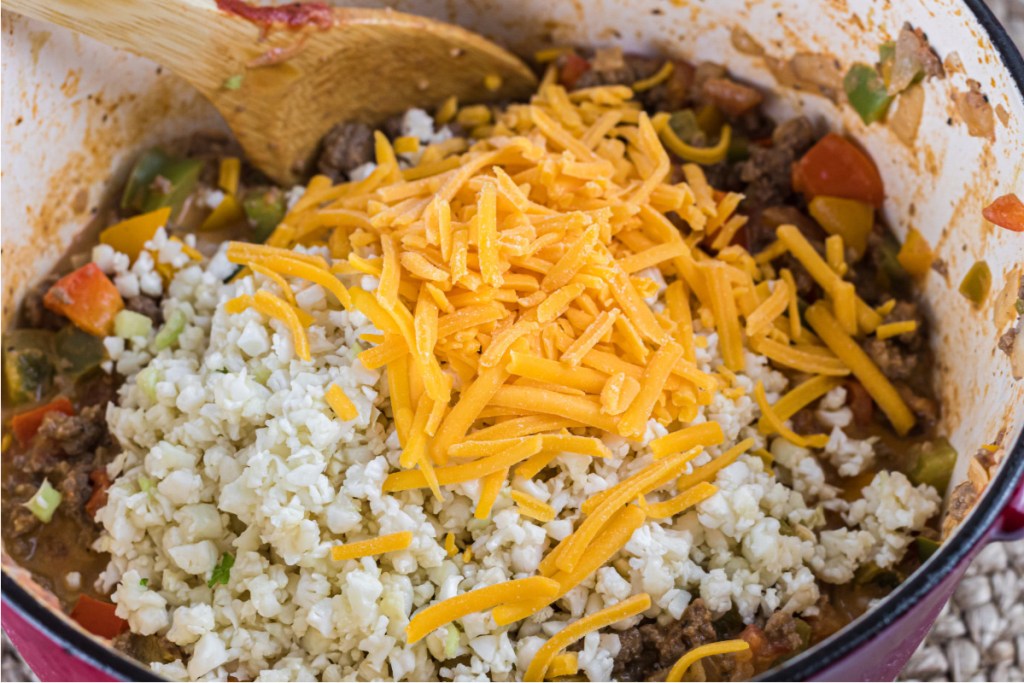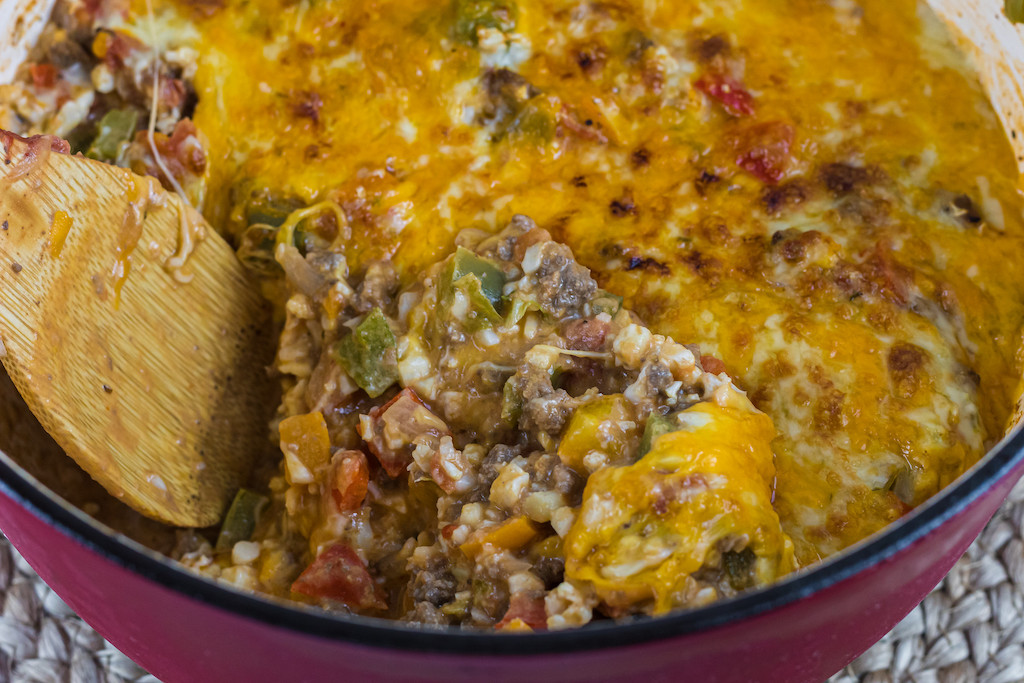 ---
Print
Keto Stuffed Pepper Casserole
yield: 7 SERVINGS
prep time: 15 MINUTES
cook time: 35 MINUTES
total time: 50 MINUTES
All of the rich flavors of stuffed bell peppers, but in an easy to make one-pot casserole.
Ingredients
1 lb. ground beef
1 small onion, chopped
2 cloves garlic, minced
2 teaspoon salt
2 teaspoon pepper
1 green pepper, chopped
1 red pepper, chopped
1 yellow pepper, chopped
1 10 oz. can rotel diced tomato
1/2-1 jalapeño, diced (optional)
2 tablespoons tomato paste
1/2 cup beef broth
3 tablespoons cream cheese
2 cups cauliflower rice
1/2 cup pepper jack cheese, shredded
1/2 cup cheddar cheese, shredded
Directions
1
In a large dutch oven on the stove, cook the ground beef with chopped onions, garlic, salt, and pepper until brown. Drain grease once the beef is cooked completely.
2
Add in the chopped peppers, diced tomatoes, jalapeño, tomato paste, cream cheese, and beef broth. Simmer on low for 30 minutes.
3
Add in cauliflower rice and 1/2 of shredded cheeses and stir. Add remaining cheese on top and place the pot (uncovered) in the oven to broil for 3 minutes until cheese on top is bubbling.
4
Scoop onto a plate and serve warm. Enjoy!
Nutrition Information
Yield: 7, Serving Size: 1
Amount Per Serving: 218 Calories | 13g Fat | 8g Total Carbs | 3g Fiber | 17g Protein | 5g Net Carbs
---
All the stuffed pepper taste without the hassle!
This keto stuffed pepper casserole is the perfect one-dish dinner for busy weekdays, even though it will taste like you put loads of effort into it. Enjoy!
---
Try out more of our favorite keto casseroles!