This Keto Stuffed Pepper Casserole is Prepared in ONE Pan & So Good!
These keto stuffed pepper casserole has all the rich flavors of stuffed bell peppers in an easy one-pot casserole!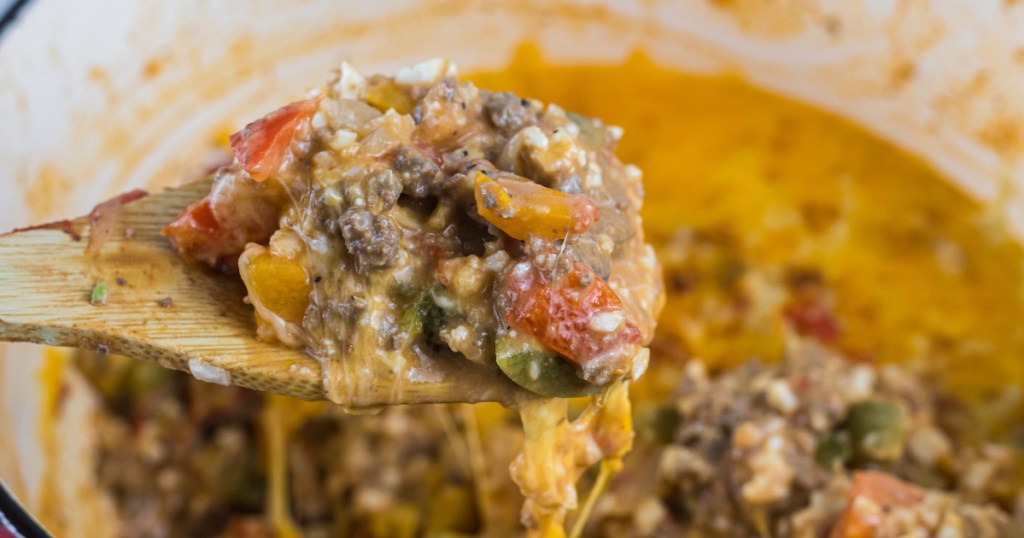 Looking for the perfect keto casserole recipe?
Oh, how I love stuffed bell peppers (like these keto lasagna bell pepper boats 😋), but I often dread doing all of the steps, especially when I need a quick and easy dinner for my family.
Friends, I'm here with a solution!
This keto stuffed pepper casserole recipe is everything you love about stuffed peppers – but is prepared all in ONE pan! Easy to make and easy to clean up. YES! 🙌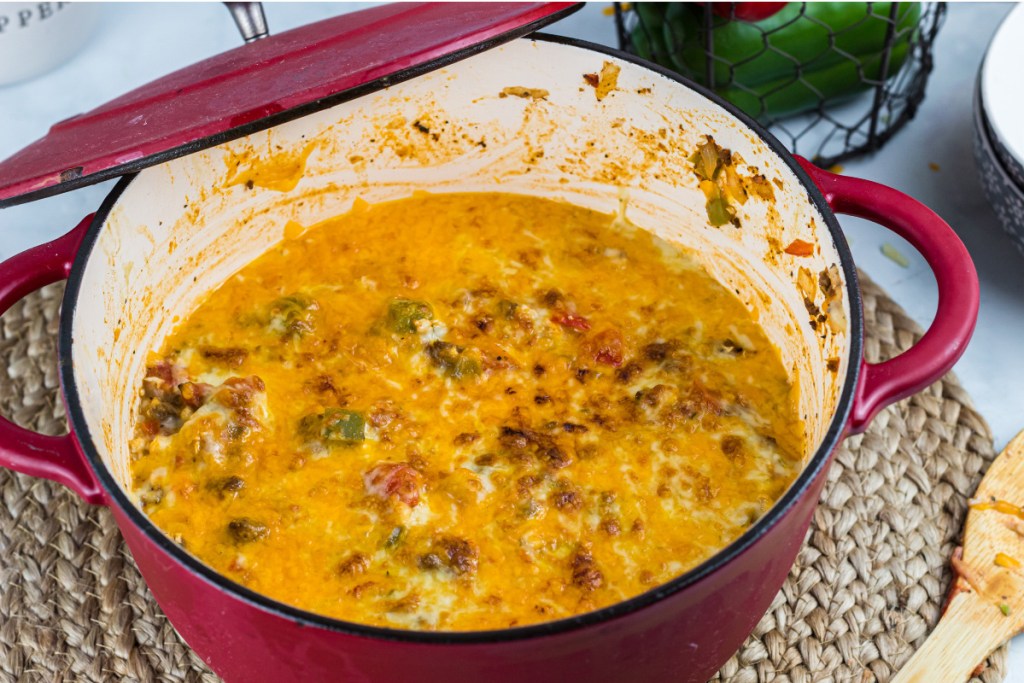 If you're a cheese lover like me, then you're going to be in heaven because our keto stuffed pepper casserole has plenty of it. This is the perfect low-carb casserole the whole family will love (even your picky kiddos!).
Tips for making the best keto stuffed pepper casserole:
I love spicy food, so I added shredded pepper jack cheese and jalapeños to my casserole. If you prefer a milder dish, then Monterey jack cheese would be delicious and not spicy at all.
I suggest using fresh cauliflower rice, not frozen. Frozen cauliflower tends to be a little liquidy when cooked, which isn't so great for a casserole like this. To keep things easy, we used a bag of fresh chopped cauliflower from Walmart.
You can also make your own cauliflower rice at home pretty easily by chopping a cauliflower head into florets and pulsing them in a food processor until you reach the desired cauliflower rice granule size.
Needing to find a faster way to chop those vegetables? This little machine veggie chopper is a lifesaver – I recommend everyone having one in their kitchen, even if you just cook occasionally!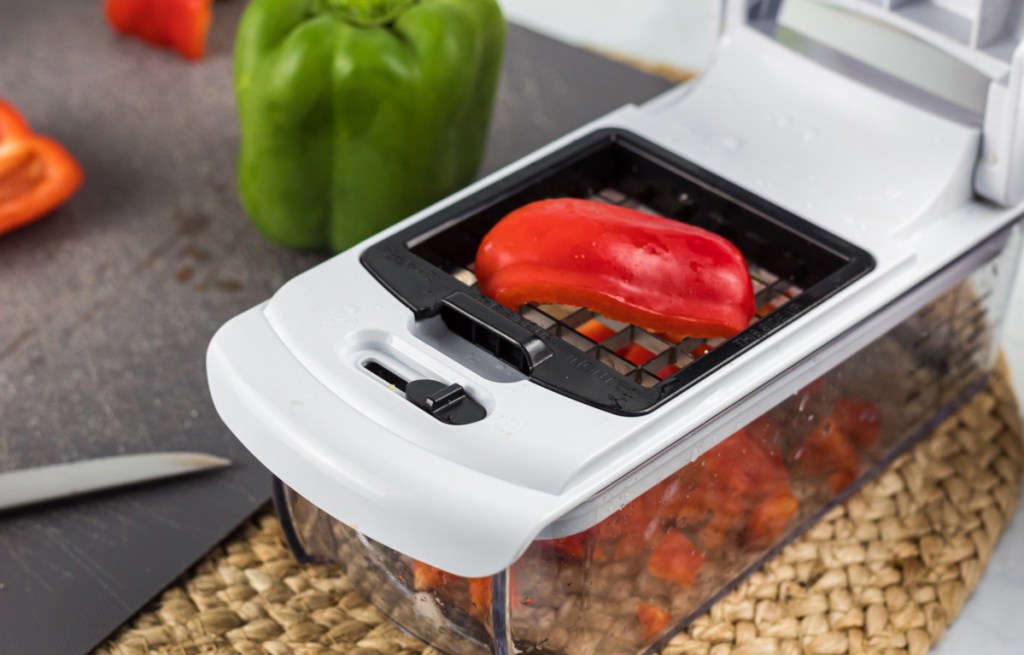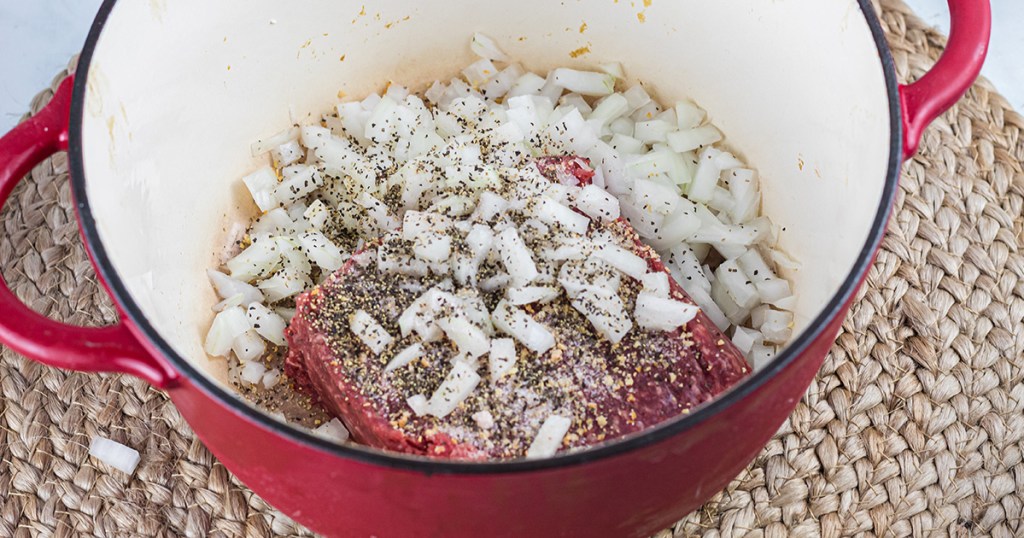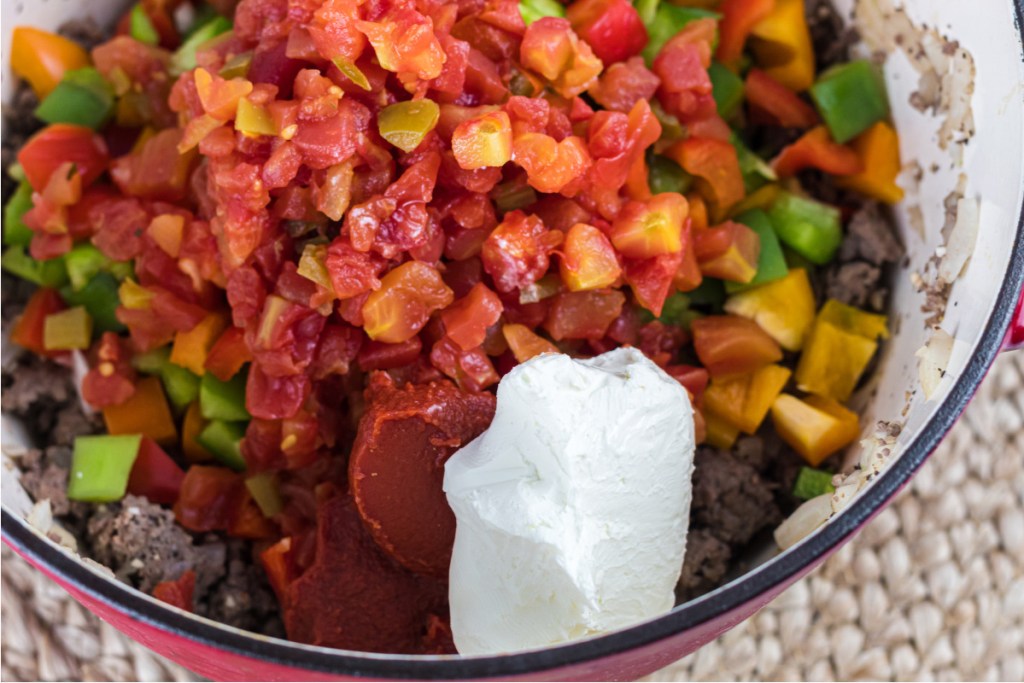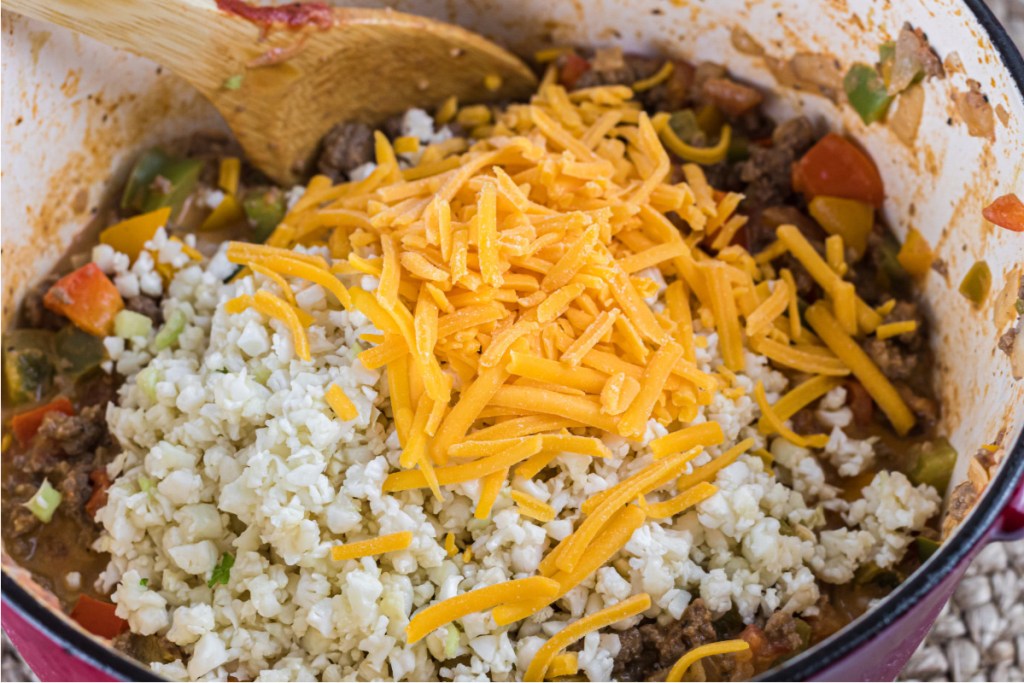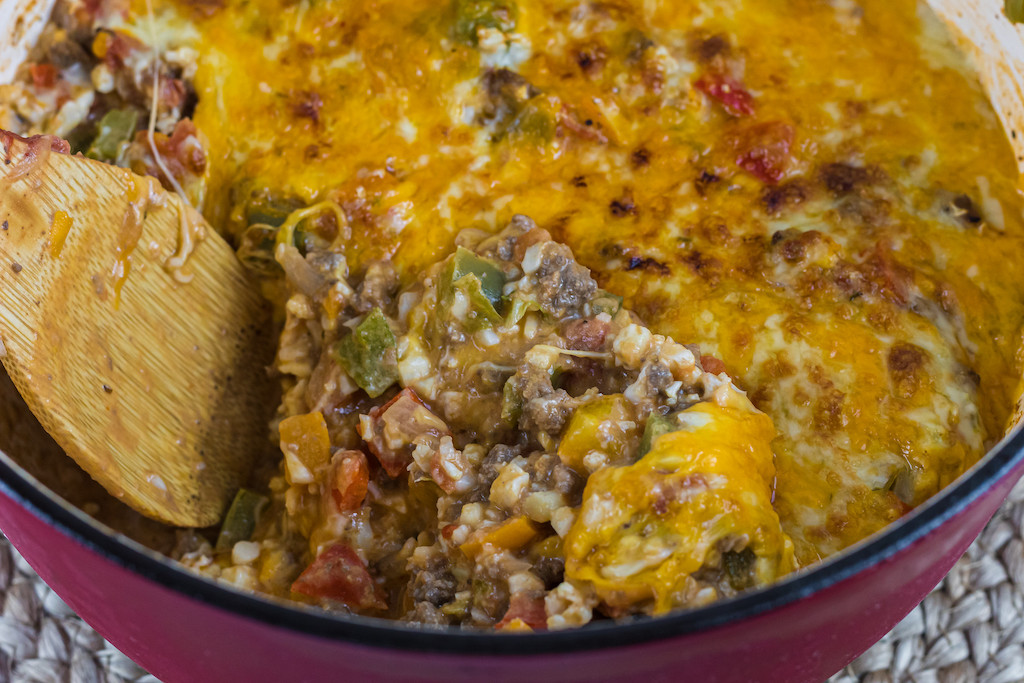 ---
Print
Keto Stuffed Pepper Casserole
yield: 8 SERVINGS
prep time: 15 MINUTES
cook time: 35 MINUTES
total time: 50 MINUTES
All of the rich flavors of stuffed bell peppers, but in an easy-to-make one-pot casserole.
Ingredients
1 lb. ground beef
1 small onion, chopped
2 cloves garlic, minced
2 teaspoon salt
2 teaspoon pepper
1 green pepper, chopped
1 red pepper, chopped
1 yellow pepper, chopped
1 10 oz. can rotel diced tomato
1/2-1 jalapeño, diced (optional)
2 tablespoons tomato paste
1/2 cup beef broth
3 tablespoons cream cheese
2 cups cauliflower rice
1/2 cup pepper jack cheese, shredded
1/2 cup cheddar cheese, shredded
chopped green onion, for garnish
Directions
1
In a large dutch oven on the stove, cook the ground beef with chopped onions, garlic, salt, and pepper until brown. Drain grease once the beef is cooked completely.
2
Add in the chopped peppers, diced tomatoes, jalapeño, tomato paste, cream cheese, and beef broth. Simmer on low for 30 minutes.
3
Add in cauliflower rice and 1/2 of shredded cheeses and stir. Add remaining cheese on top and place the pot (uncovered) in the oven to broil for 3 minutes until cheese on top is bubbling.
4
Scoop onto a plate and serve warm. Enjoy!
Nutrition Information
Yield: 8, Serving Size: 1
Amount Per Serving: 254 Calories | 18g Fat | 8.3g Total Carbs | 2.4g Fiber | 4.2g Sugar | 15.5g Protein | 5.8g Net Carbs
---
All the stuffed pepper tastes without the hassle!
This keto stuffed pepper casserole is the perfect one-dish dinner for busy weekdays, even though it will taste like you put loads of effort into it. Enjoy!
Don't believe how good this stuffed peppper casserole is? Checkout this reader's feedback:
"I was pleasantly surprised at how flavorful this dish was. So many of the keto recipes are a bit boring due to using the same ingredients ALL. THE. TIME. OVER. AND. OVER. AGAIN. This would've made a great Sloppy Joe by spicing it up a bit. Or using some low-carb bread to soak up all that tasty gravy. I didn't chop the onions. I sliced them so I could see them and taste them more prominently in the meal.
I added some sour cream, not much, along with some button mushrooms, cut into fourths, and then dumped the whole thing into a casserole dish and then broiled for 3 minutes. All in all, this is a keeper. Better than the usual keto casseroles out there on the internet." – Kazy
---
Try out more of our favorite keto casseroles!