We Tasted The Best Fast Food Burgers – Find Out Which Keto Burger Is Our #1 Pick!
Trying to find the best fast food burgers? We ranked 5 of the most popular keto burger options!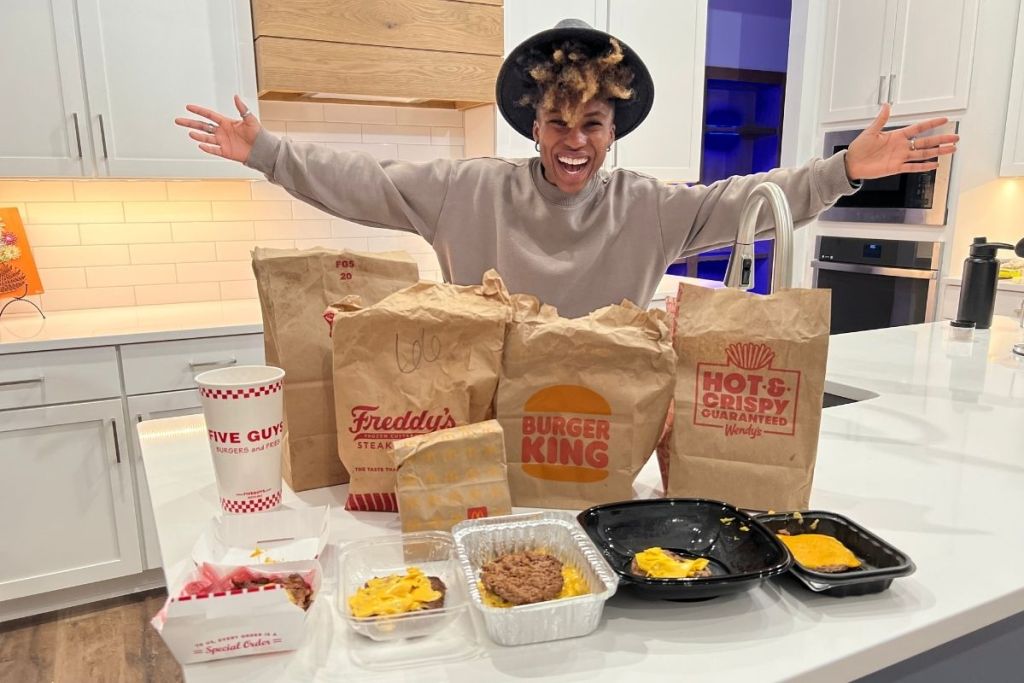 Where's the [best] beef?!
Sometimes you just want a juicy hamburger when you're out and about, and having fast food on the go makes it easy. We decided to conduct our own official taste test to find out which fast food burgers are a hit and which ones aren't making the cut.
For this taste test, we tried a keto burger from five of the best burger chains – Five Guys, McDonald's, Burger King, Wendy's, and Freddy's Steakburgers. We went with the true basics by ordering a single hamburger patty with American cheese — that's it. No condiments or veggies so we could get an idea which of these popular chains truly has the best-tasting fast food burgers.
From best to worst, here's our ranking of the best fast food burgers:
---
1. McDonald's Quarter Pounder was, surprisingly, a favorite.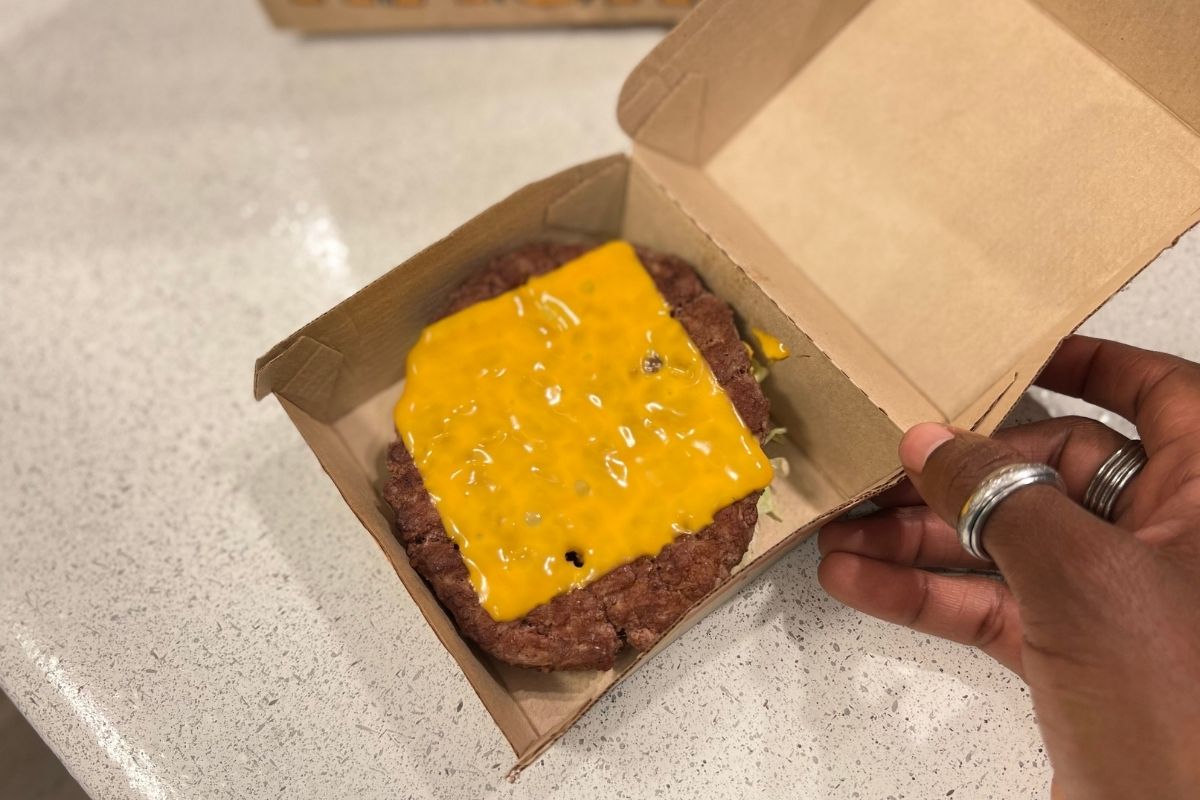 Quarter Pounder – $4.89 (price may vary by location)
Nutrition Info: 320 Calories | 24g Fat | 3g Total Carbs | 0g Fiber | 1g Sugar | 24g Protein | 3g Net Carbs
Wondering, "What's the best fast food near me?" Chances are that you have a McDonald's nearby. Several of my Hip teammates tried McDonald's Quarter Pounder and were surprised by how good it actually was! That might be because this menu option has been made with 100% fresh beef since 2018.
It is worth noting that another Hip taste tester, Cam, tried an original (and very inexpensive) McDonald's cheeseburger and was not a fan, but said the Quarter Pounder was delicious. It's worth it to pay a couple of extra bucks for the juicier patty!
Collin also loves the McDonald's Quarter Pounders and thinks they make a pretty great keto burger! Check out her Instagram post –
---
2. While the most expensive, Five Guys has one of the BEST fast food burgers around!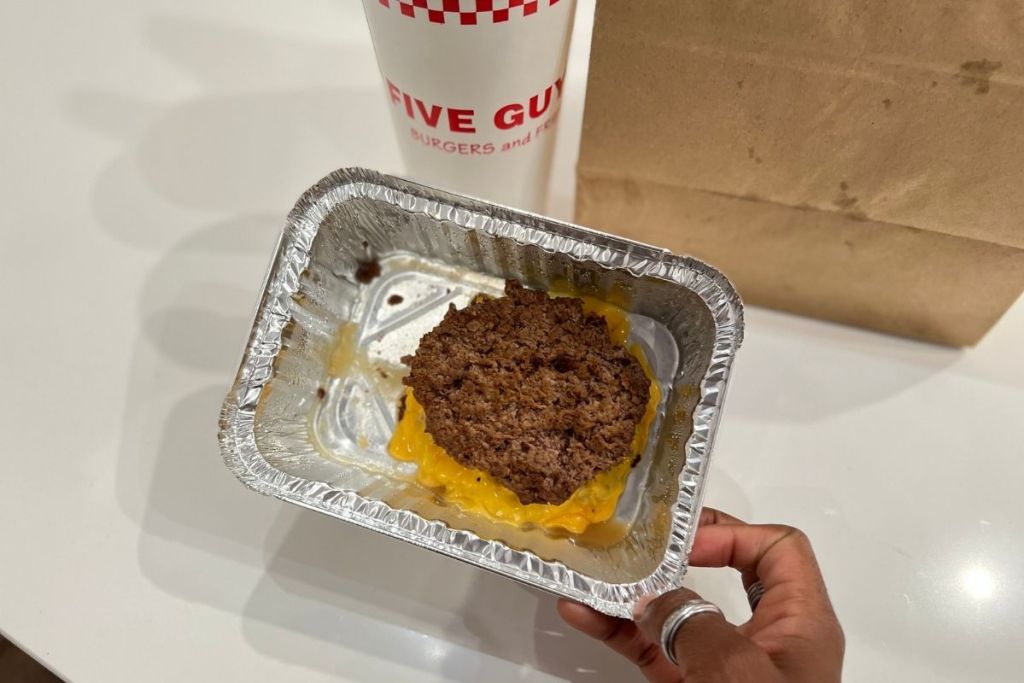 Cheeseburger – $10.29 (price may vary by location)
Nutrition Info: 372 Calories | 23g Fat | <1g Total Carbs | 0g Fiber | <1g Sugar | 20g Protein | <1g Net Carbs
If you're lucky enough to have a Five Guys location near you, you've got to stop in and get a keto burger! It's one of the best fast food burgers available! Five Guys has a ton of different toppings to choose from & the restaurant make it so easy to customize them to your liking. They also have a handy nutrition guide that you can reference.
Five Guys is one of the best burger chains around. The downside is that they are also the priciest option on the list at $10.29 for a cheeseburger. Still, that's not gonna stop it from being a solid choice when we want a juicy, cheesy, top-tier keto lunch. 🤤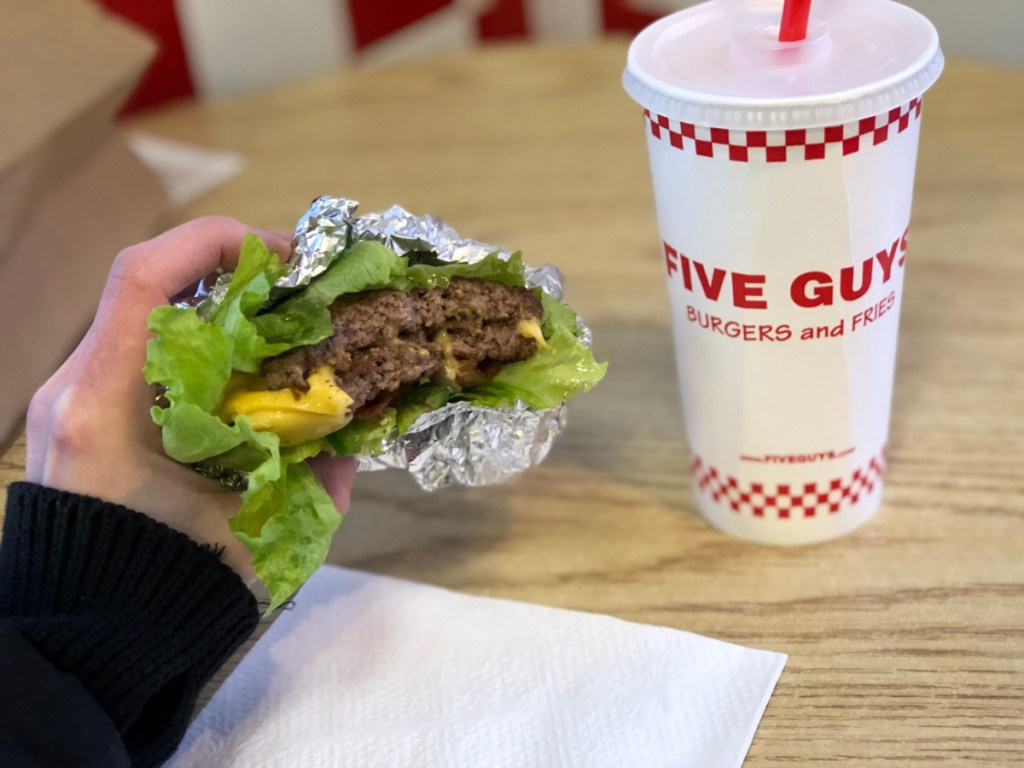 It is worth noting, however, that while Cam said Five Guys' burger is her favorite, another team member found it to be pretty disappointing as her patty came out a little burnt and dry. It's possible they were having an off day as a few other Hip2Keto members are big fans of their burgers, but it shows that it's good to shop around and find the keto burger that tastes best to you!
---
3. Freddy's Steakburgers & Frozen Custard has tons of tasty keto burger options.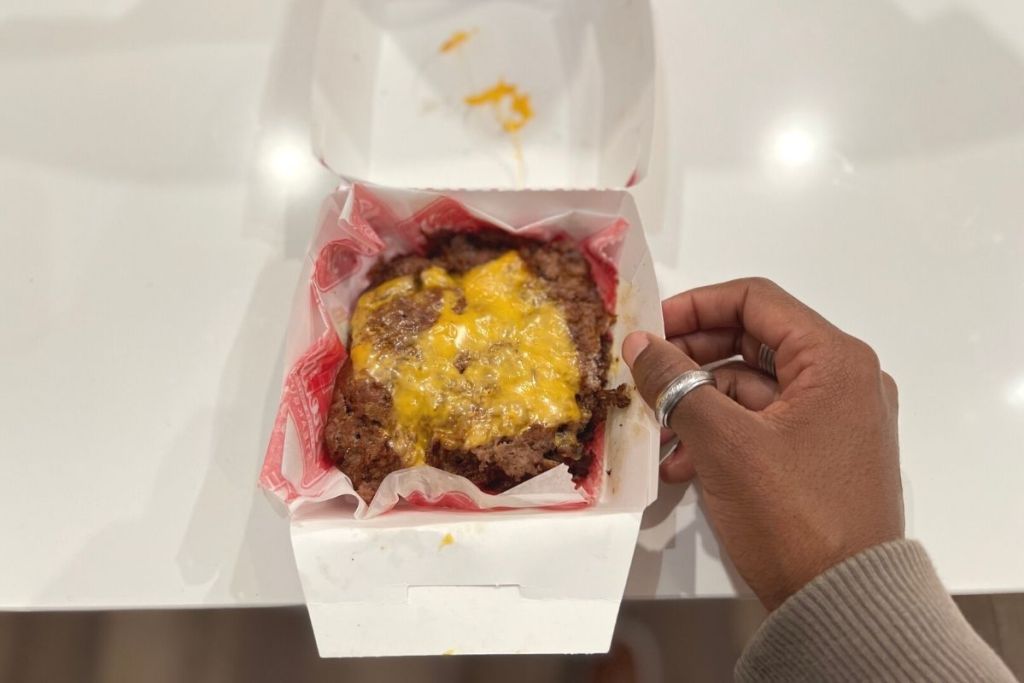 Single Steakburger with Cheese – $6.39 (price may vary by location)
Nutrition Info: 265 Calories | 19g Fat | 2g Total Carbs | 0g Fiber | 0g Sugar | 24g Protein | 3g Net Carbs
If you've always wanted to try In-N-Out's famous burgers but don't live on the west coast, we think Freddy's tastes pretty similar–if not even better, in our opinion. It has some of the best keto fast food! 😍
While they weren't necessarily the beefiest on the list, they were perfectly seasoned and still pretty filling. We also love Freddy's because they have bunless burger options and even have lettuce-wrapped nutrition info that's so easy to calculate for keto folks! Their buns are 180 calories, so just remove that amount from any sandwich's nutritional information. As we were ranking this list solely based on the quality of the burger, we didn't opt for the lettuce this time, but it's such a tasty & easy-to-order option if you have Freddy's locations nearby!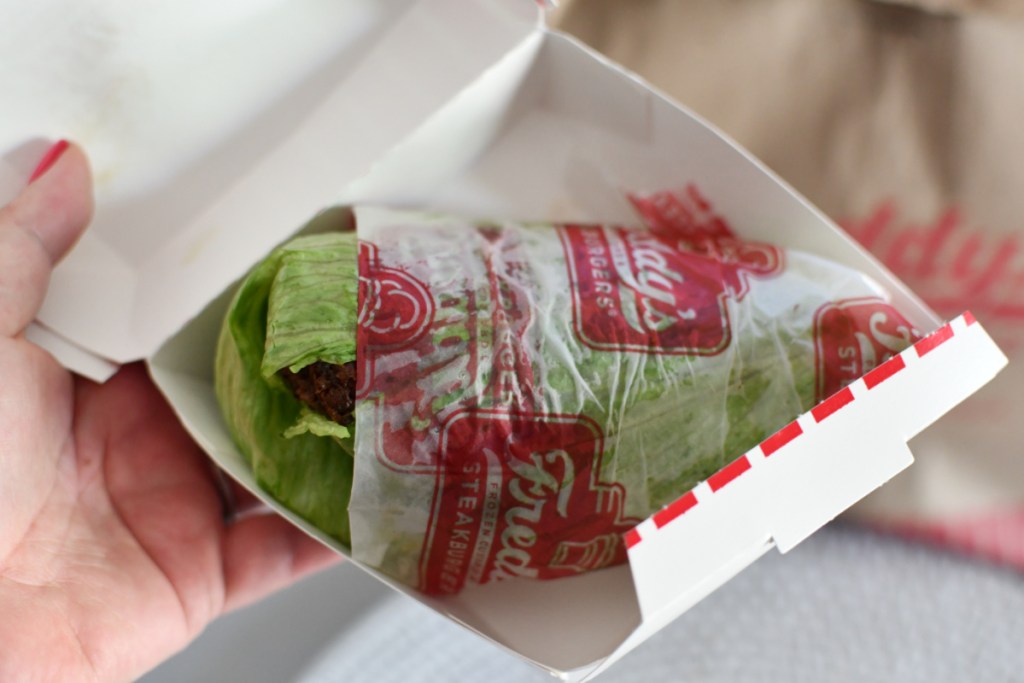 If you don't have a Freddy's, try Whataburger. This keto burger was recommended by a Hip2Save reader. She said the restaurant had no problem serving her the burger without the bun. She said her burger was pretty tasty and easy to customize in the Whataburger app.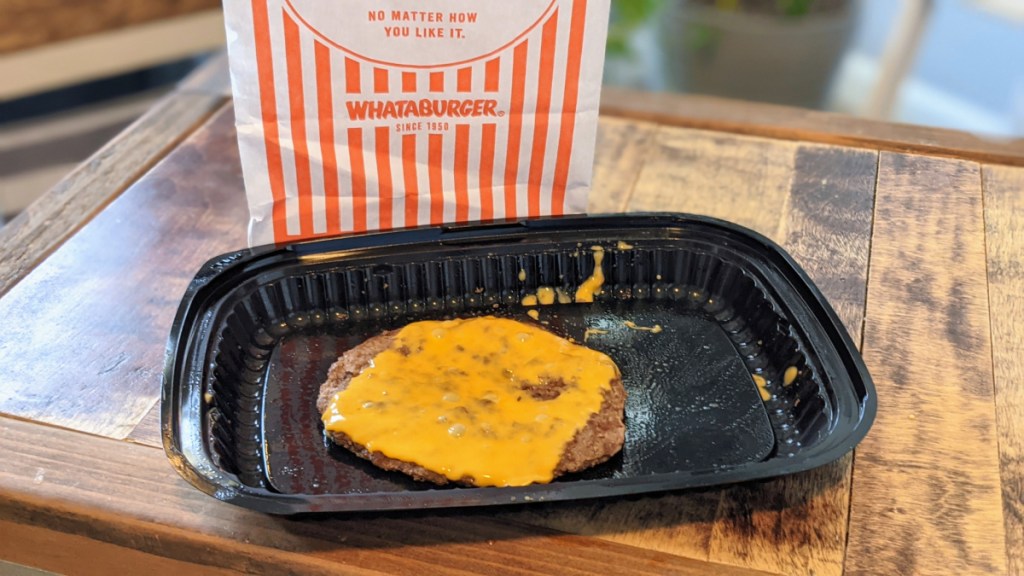 ---
4. Despite this keto burger being in 4th place, we'd definitely stop by Burger King again!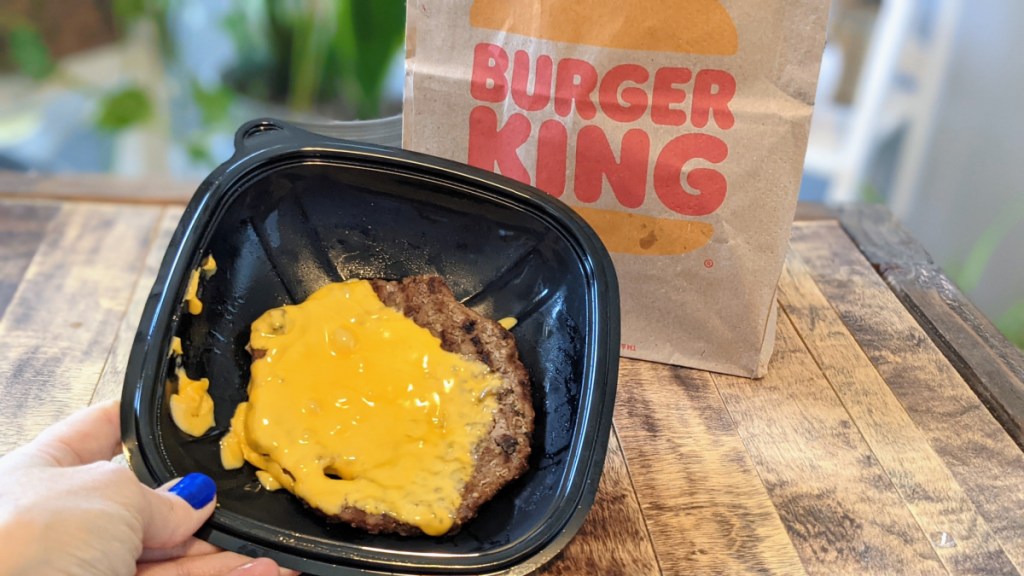 Whopper with Cheese – $5.49 (price may vary by location)
Nutrition Info: 320 calories | 24g Fat | 2g Total Carbs | 0g Fiber | 1g Sugar | 24g Protein | 2g Net Carbs
While Burger King's keto burger wasn't quite tasty enough to earn the top spot, it certainly deserves a mention! The burger is thick, juicy, and perfectly filling by itself. Burger King doesn't have a ton of options in the sides department, but their garden salad (minus the croutons) is a safe and tasty bet if you want something a little extra.
And at less than $5 for a single cheeseburger, Burger King is pretty cheap for being such a tasty choice while on the go. 😋
---
5. Wendy's keto burger wasn't bad, but it also wasn't as tasty as the others.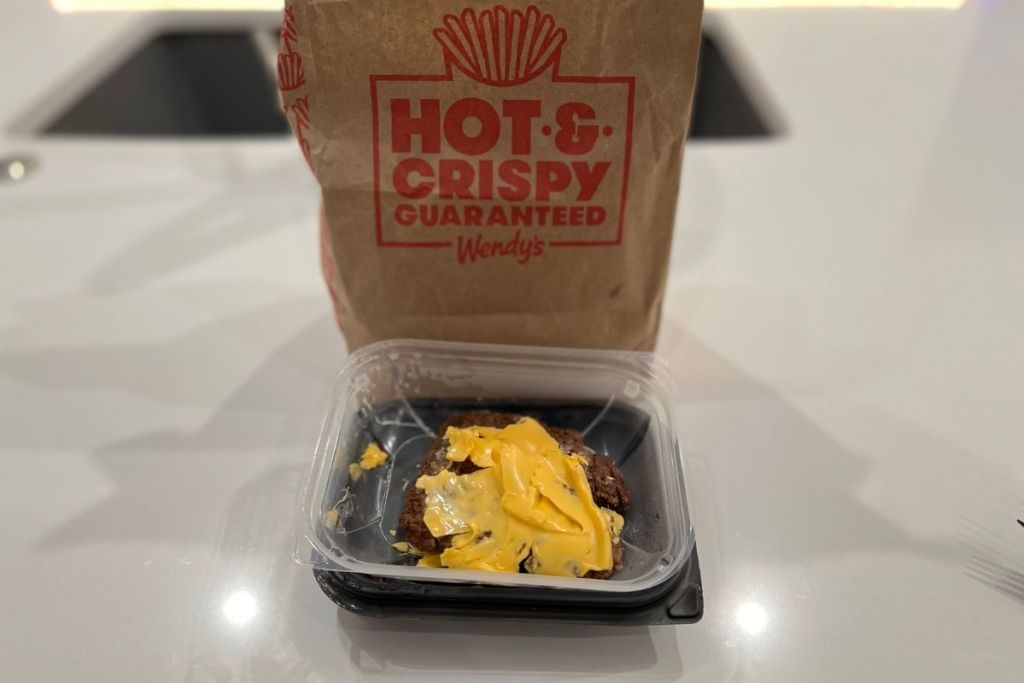 Dave's Single – $5.39 (price may vary by location)
Nutrition Info: 350 calories | 28g Fat | 2g Total Carbs | 0g Fiber | 1g Sugar | 23g Protein | 2g Net Carbs
Wendy's cheeseburger isn't the worst burger we've had by a long shot, but it doesn't hold a candle to the scrumptiousness of the other ones on the list. The burger patty was too dry without enough cheese to offset it. The seasoning was also pretty "meh" & the thickness of the burger leaves a little to be desired.
If you were looking for the quickest burger option and had to choose between Wendy's and Burger King, we'd recommend BK all the way. 🙌
However, the one perk about Wendy's is that you can customize your sandwich on the app and the nutritional information adjusts as you add or remove items. It's nice to have that accuracy when keeping track of your nutrition!
---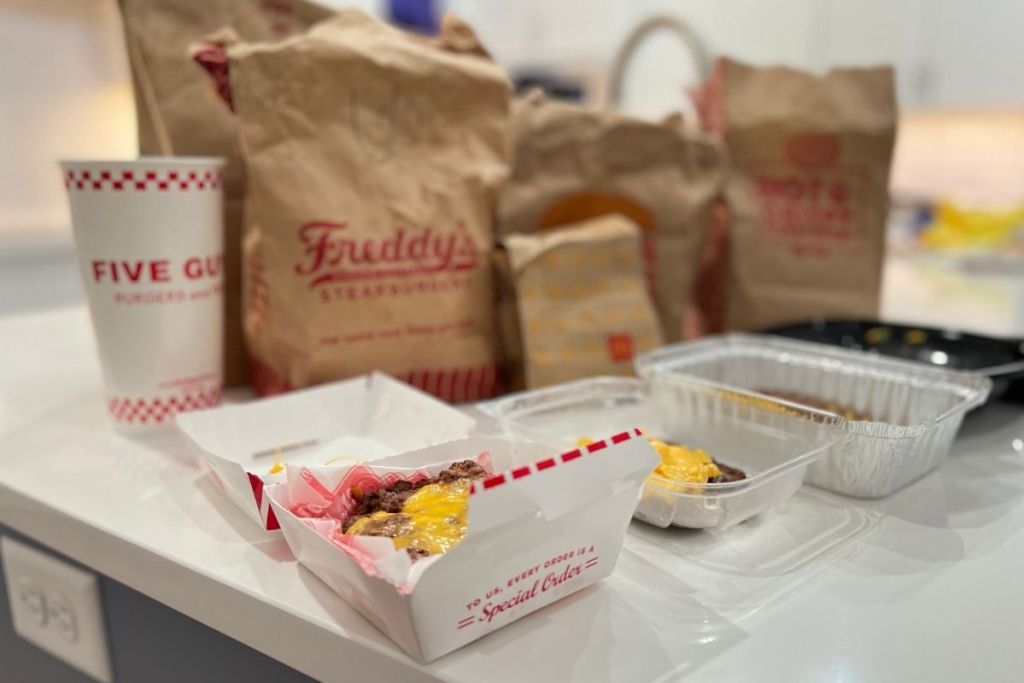 While we chose this list for our best fast food burgers taste test, we get it's not a comprehensive ranking of all the beef-fueled deliciousness out there. It's always a good idea to call local restaurants & explore your options when trying to find your personal fave keto burger to eat on the go!
---
Do you have a favorite from the list or perhaps from a place not mentioned? Let us know in the comments!
---
Love easy ordering? Check out the rest of our keto dining guides!