5 Days of Easy Keto School Lunch Ideas for Kids (and Adults!)
Here are 5 easy and packable keto friendly lunch ideas for kids at school and adults at work!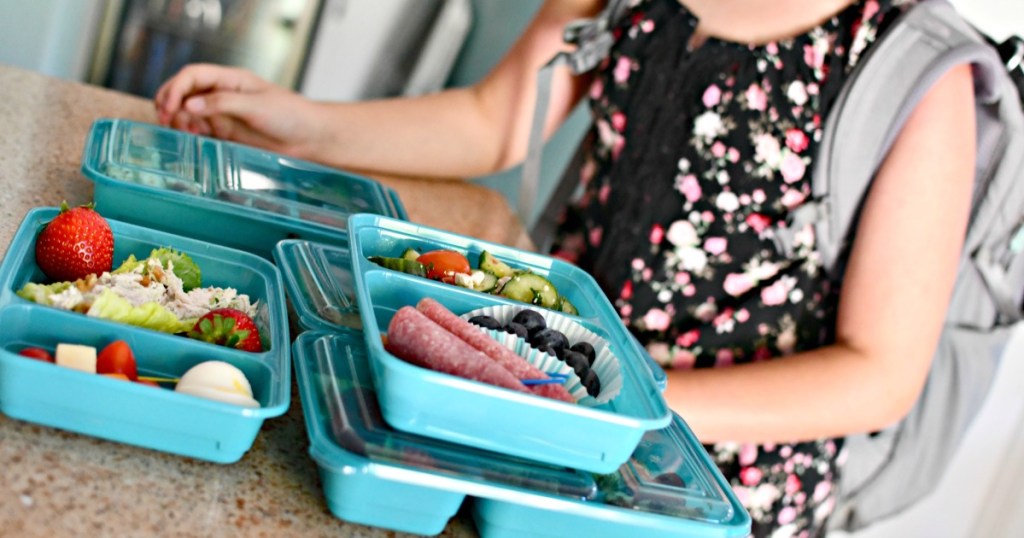 Low carb made easy. 🙌🏼
Here are 5 easy keto lunches for kids at school, work, or on the go! Ketosis has never been so easy with these keto friendly lunch ideas!
If you're struggling with the idea of packing keto lunches for your kids, it's probably easier than you think! To make your keto life simple, we came up with a week's worth of easy portable keto lunch ideas that are yummy and simple to pack for school or to have prepared for the days at home ahead.
My biggest tip is to make school lunches with smaller bites of foods your kids love. Make it bright and visually appealing, too!
Bento-style low carb lunch ideas for kids are fun to make with a few different grab-and-go snacks, meats, and cheeses.
You can even use leftovers from a previous dinner, like using leftover chicken for ideas #1 and #2, and cater everything to your child's tastes and nutritional needs. I'm a fan of using up odds and ends from the fridge/pantry, and this is a great way to do that.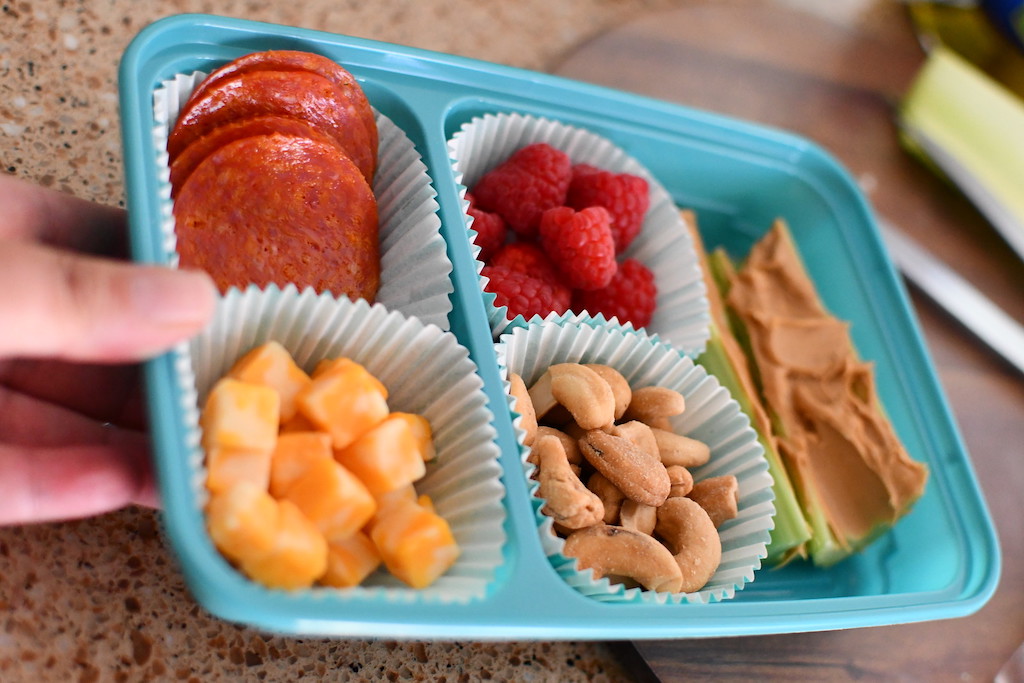 Tips for making amazing and easy low carb lunches:
---
Get your kids involved by giving them meal options for the week. Then have them pick yummy items they'll enjoy eating.
Use up odds and ends in the fridge/pantry. Having lunch with small amounts of food (bento box style) allows you to use up miscellaneous items in the fridge, like a few remaining fresh veggies and strawberries.
Customize these lunches with the appropriate portions as older kids will likely eat more than younger kiddos.
Stash some cold packs in their lunch box or bag to keep these pre-packed lunches fresh until lunchtime.
---
Check out these 5 easy keto lunches!
---
1. Chicken salad lettuce cup is fun to eat and perfectly complements many other snack foods.
Whip up a batch of your favorite chicken salad and serve on a piece of romaine lettuce. On the side, I've included strawberries, a hard-boiled egg, and cheese on tomato skewers.
---
2. Cold chicken pesto with mozzarella cheese is a great keto packed lunch that uses up leftover chicken from dinner.
Turn last night's leftover grilled chicken into a delicious and easy cold lunch! I tossed in a tablespoon of pesto sauce with chopped-up chicken breast, a mozzarella cheese stick, and cherry tomatoes. On the side, add strawberries and a hard-boiled egg.
---
3. A homemade Lunchable with Pepperoni and cheese is a great snack lunch and the keto lunch ideas are endless.
Keep things simple with a yummy snack lunch! Here I've featured pepperoni slices, cheese cubes, nuts, and raspberries. Spread nut butter or cream cheese on celery for a fun addition.
---
4. Meat and cheese roll-ups are quick and easy to pack in your lunch.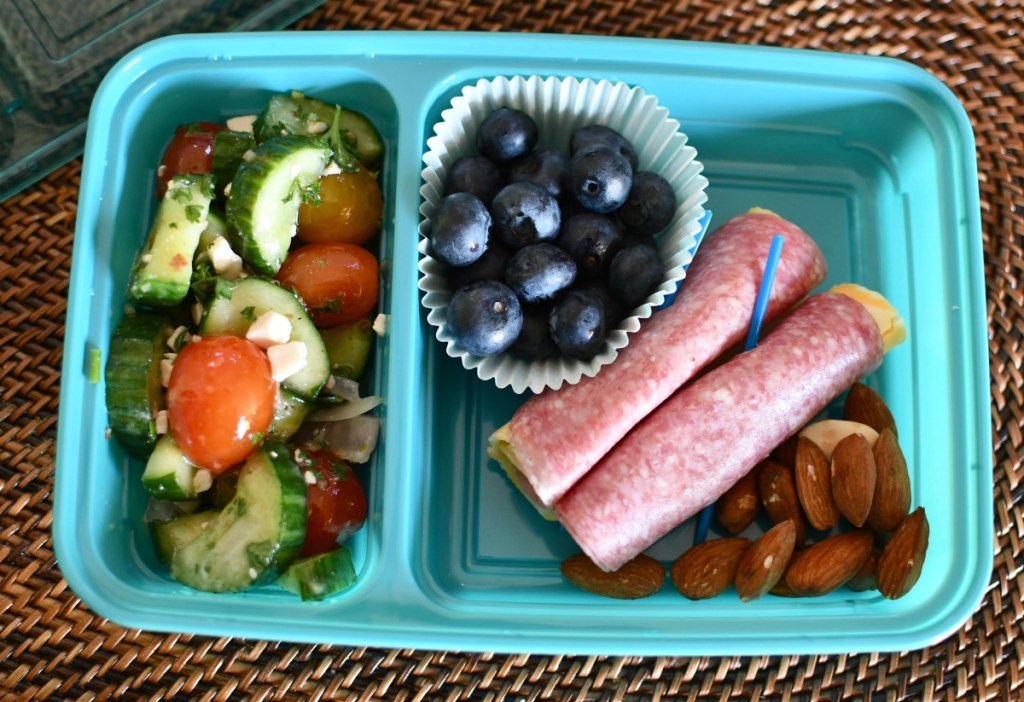 Roll up sliced salami and Colby cheese, and secure with a toothpick for a quick lunch. On the side, I added cucumber, feta, and tomato salad. Blueberries and almonds are also great additions to consider.
---
5. Pickle ham and cheese rolls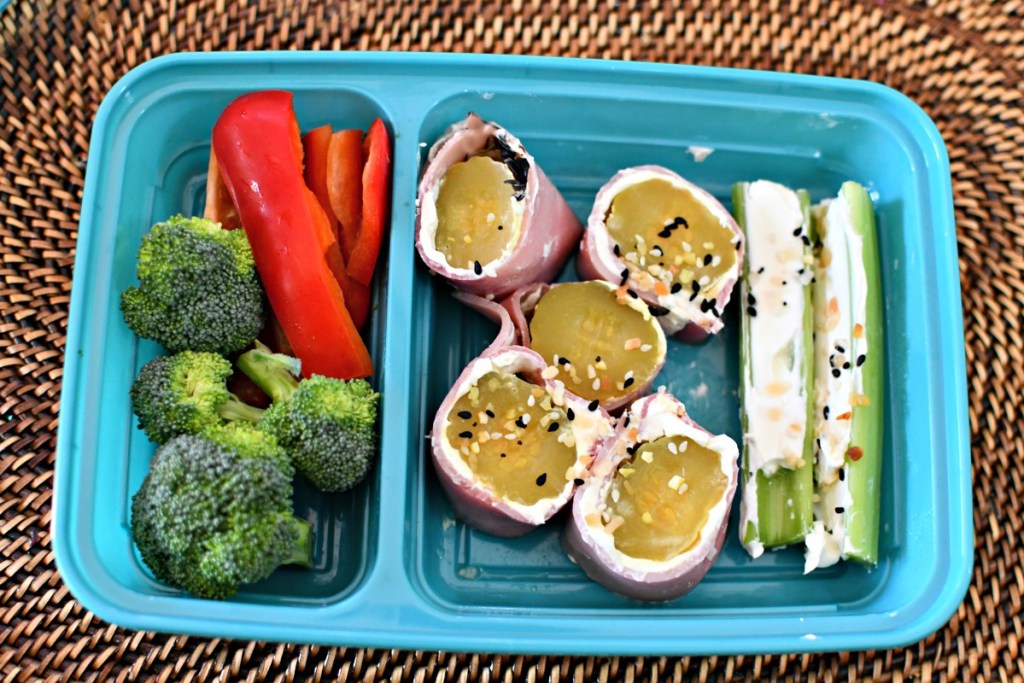 These ham, cream cheese, and pickle roll-ups are so YUMMY and easy to make for a quick lunch too! I've added some fresh broccoli and bell pepper dippers. As an idea, you can throw in a little separate ranch container along with your lunch (we love Primal Kitchen Ranch). Celery with cream cheese and Everything But the Bagel seasoning is a delicious add-on, too!
---
Want more ideas? Check out all of our other low-carb lunch ideas!