Cheese Stuffed Italian Sausage | Quick & Easy Keto Dinner Idea
Our keto-friendly stuffed Italian sausage recipe is the easiest 3-ingredient meal you'll make this week!
Need a quick keto dinner recipe for a busy weeknight?
Well, we're taking already delicious Italian sausage and stuffing it with cheese (because cheese makes everything better, right?!). This 3-ingredient stuffed Italian sausage recipe is so easy to make that anyone in the family can whip this up, and it'll be ready in under an hour. Yes, please! 😋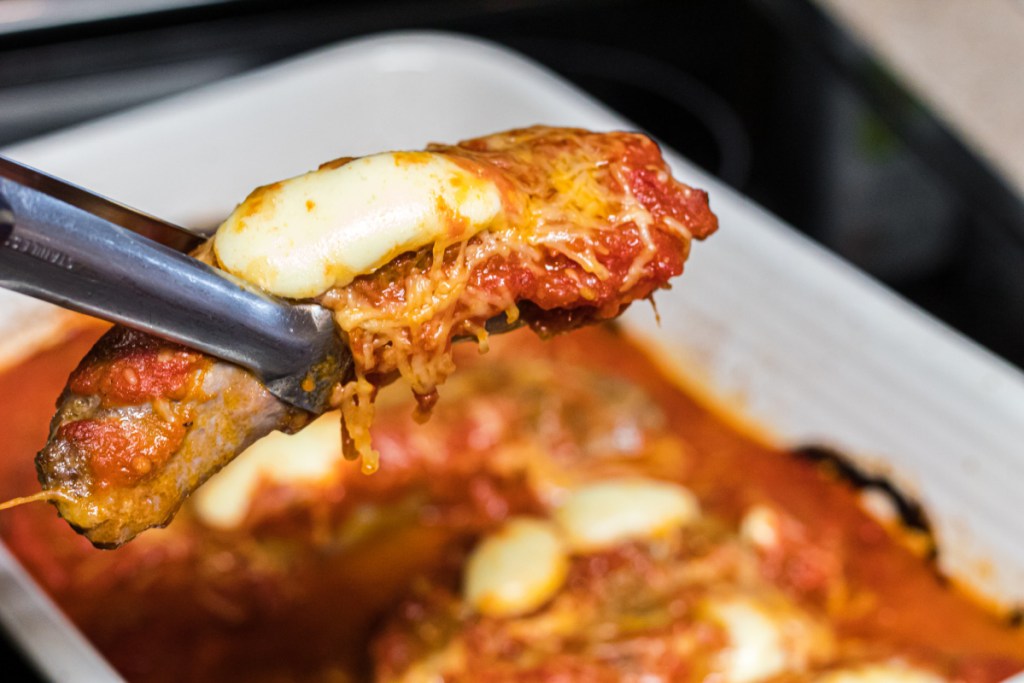 Save your time, money, and sanity with this easy keto dinner recipe!
I love budget-friendly, low-carb dinners and this keto cheese stuffed Italian sausage inspired by the yumminess over on Joy Filled Eats is not only affordable, but it's also super easy peasy to make! Just grab three ingredients (four, if you want to add in some extra shredded cheese) and you've got yourself a hearty and flavorful dinner.
Check out Collin on Instagram showing how easy this is to make –
It can be served for the whole family, even those that aren't living the keto life. I love to serve it with fresh zucchini and squash since the flavors from the sausage itself are bold enough to carry the dish.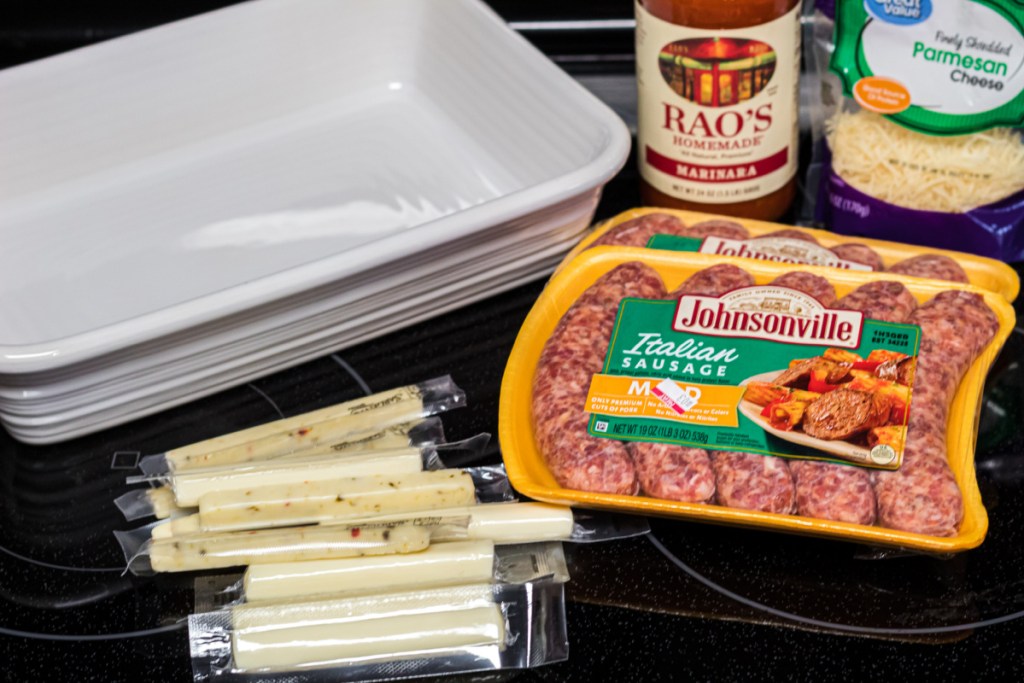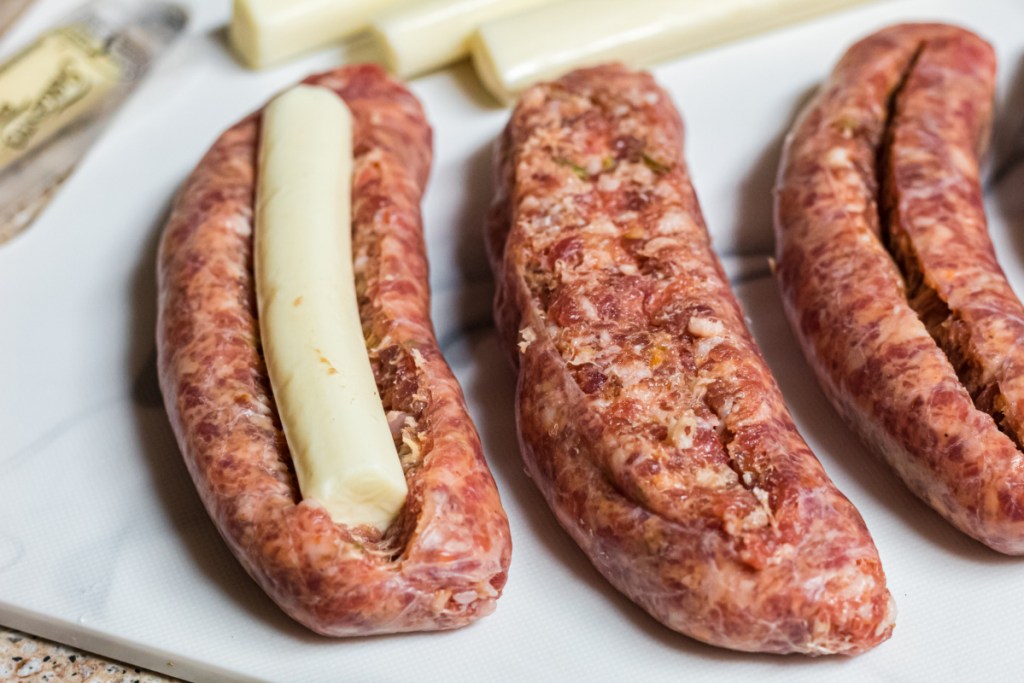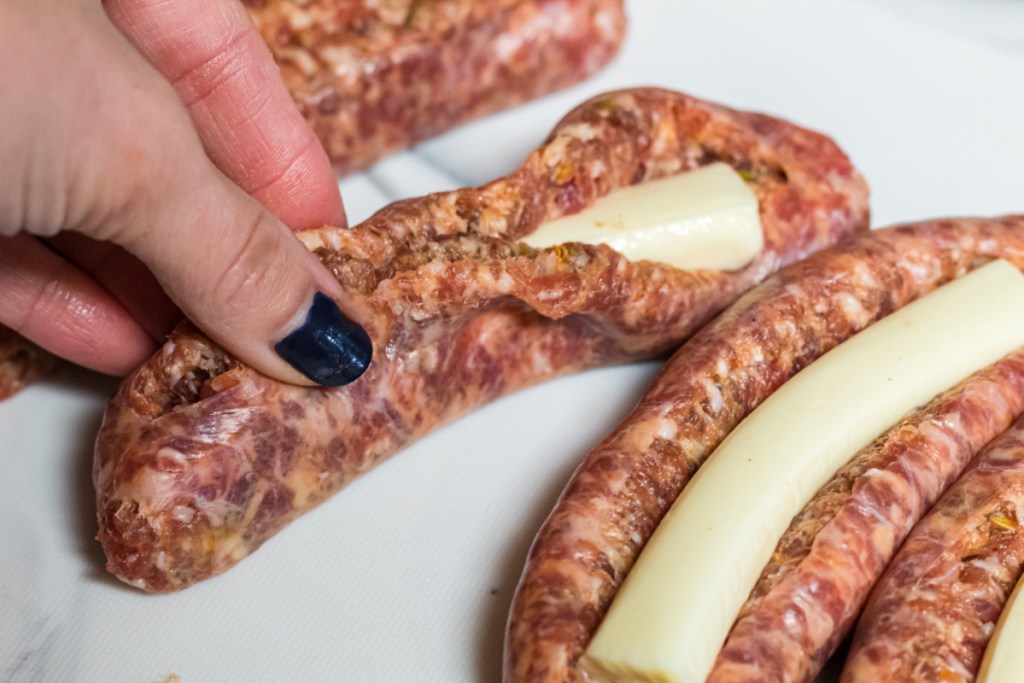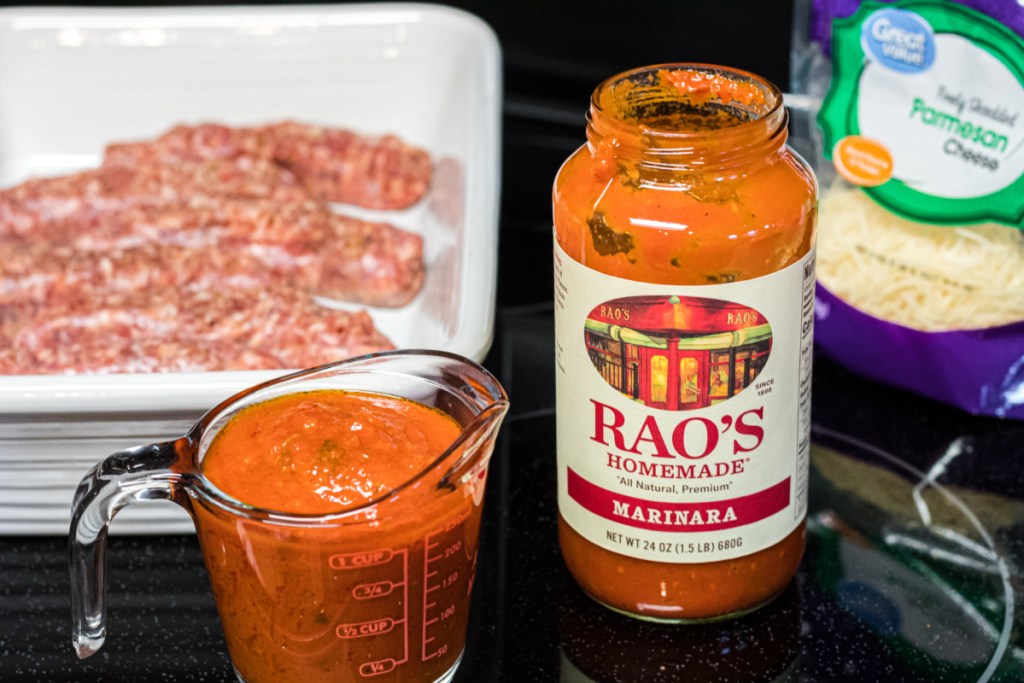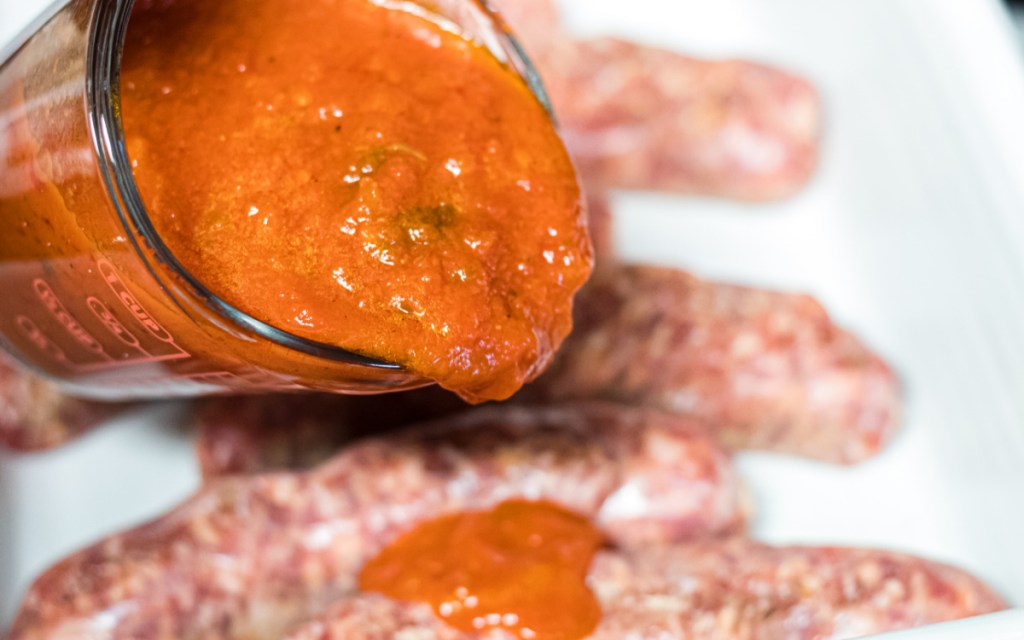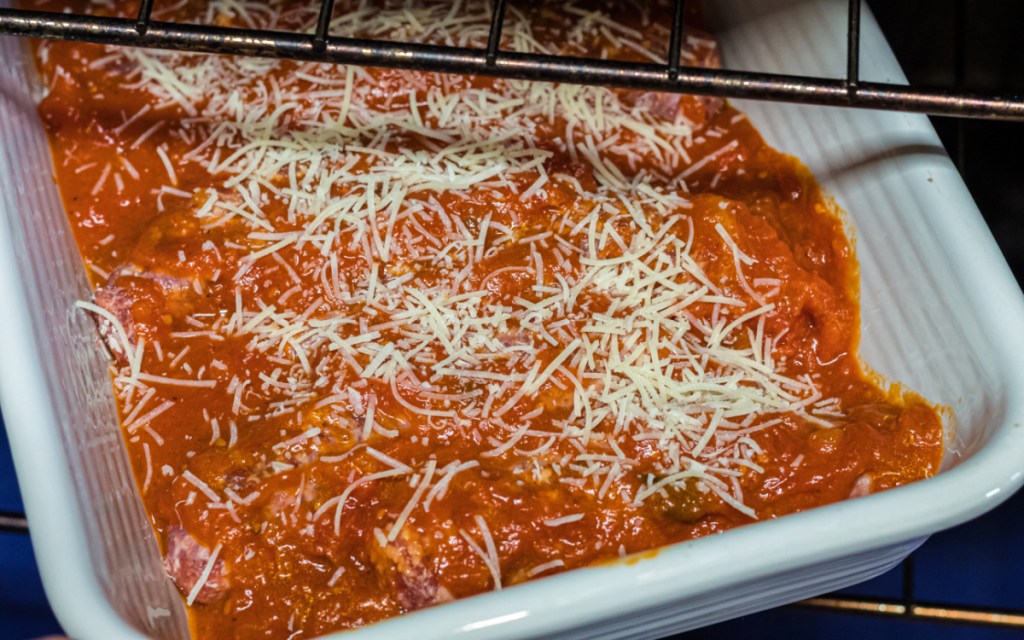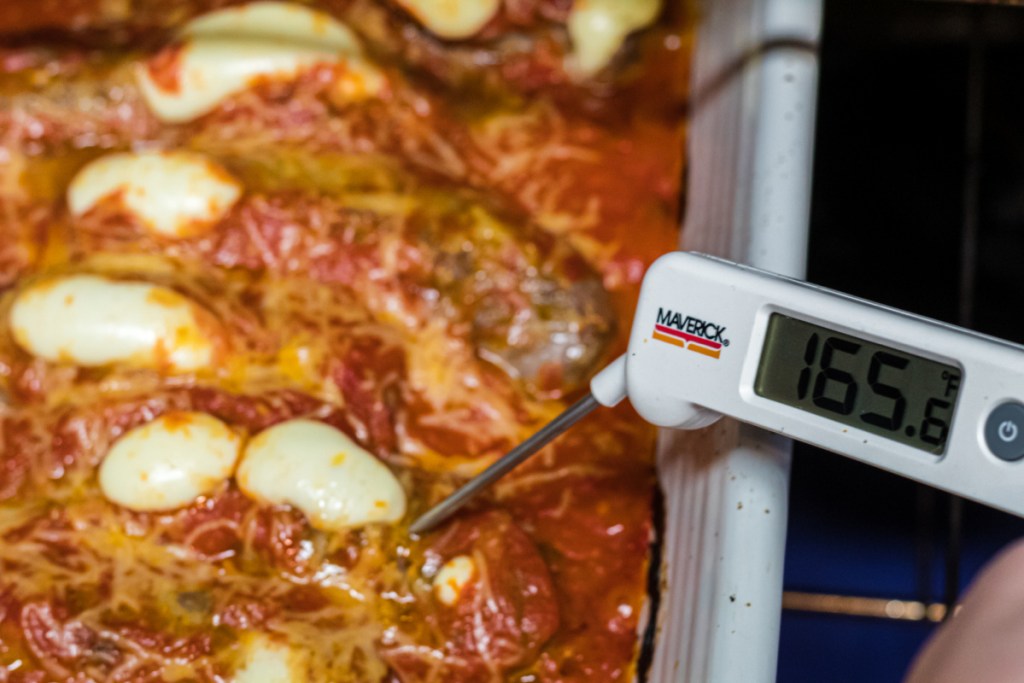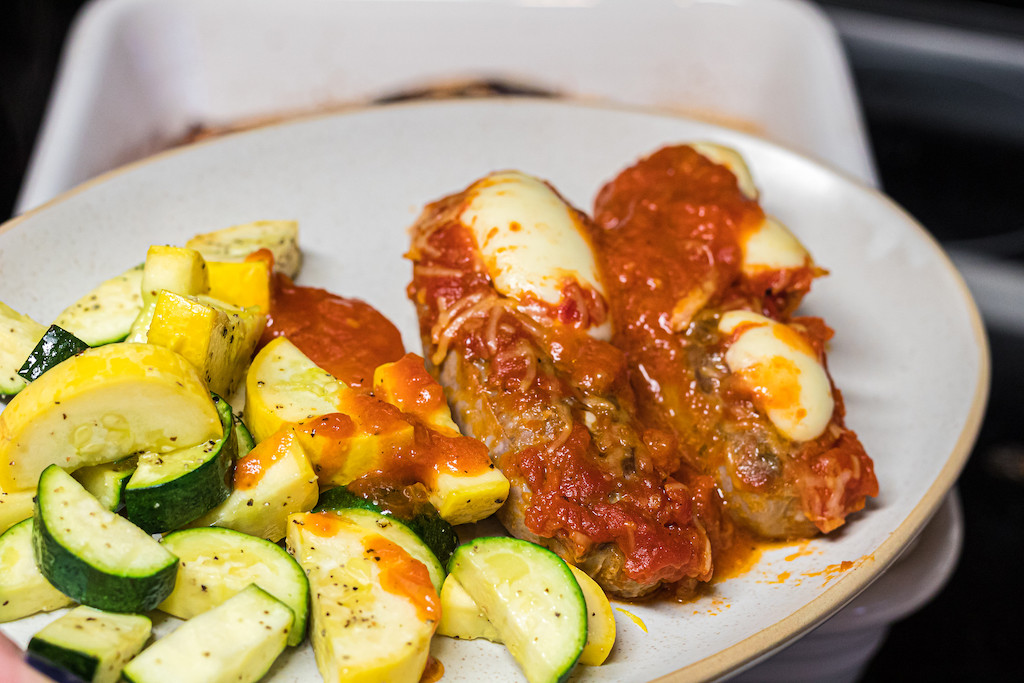 ---
Print
Cheese Stuffed Italian Sausage
yield: 7 SERVINGS
prep time: 10 MINUTES
cook time: 40 MINUTES
total time: 50 MINUTES
Italian sausage links are stuffed with cheese sticks for a flavorful and easy weeknight meal idea!
Ingredients
7 Italian sausage links
7 string cheese sticks (I used a mix of mozzarella and pepper jack cheese)
1 cup parmesan cheese, shredded (optional, but delicious)
Directions
1
Preheat your oven to 400 degrees.
2
Remove sausages from the package and place them on a cutting board. With a knife, make a slice in the center of each sausage. Place a string cheese stick in the slice and pinch the sausage together, sealing it closed. Do this for all of the remaining sausages.
3
Place stuffed sausages in a baking dish. Pour marinara sauce over the sausages, and sprinkle shredded parmesan cheese on top, if desired.
4
Cook them in the oven for 40 minutes. Sausages should reach 160 degrees to be done.
5
Serve with zoodles or a side of your favorite keto vegetables. Enjoy!
Nutrition Information
Yield: 7, Serving Size: 1
Amount Per Serving: 214 Calories | 15.2g Fat | 5.2g Total Carbs | 1.1g Fiber | 2.6g Sugar | 0 Sugar Alcohol | 15g Protein | 4.1g Net Carbs
---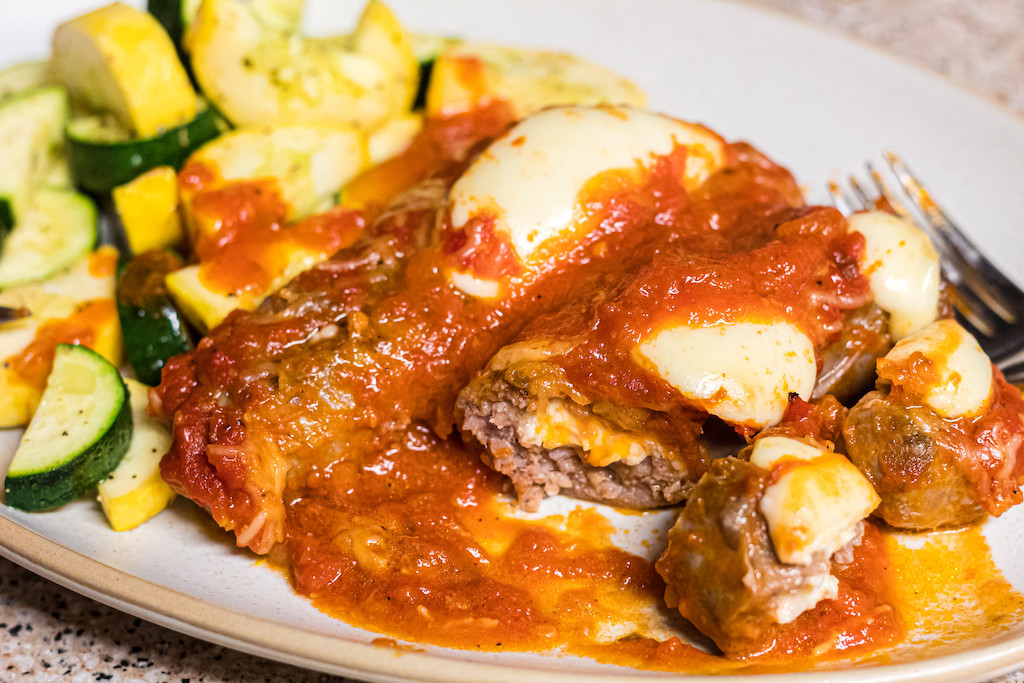 A few tips when making keto cheese stuffed sausage:
I love mild Italian sausage but feel free to use hot sausage if you like a little extra spice, or even a brat if you don't like any spice.
These cheese-stuffed Italian sausages really can be served with any side you please. You can go with fresh veggies as I did, or even a salad would be good. Also, these roasted Brussels sprouts in creamy alfredo sauce would be yummy to serve alongside these sausages, too. 😋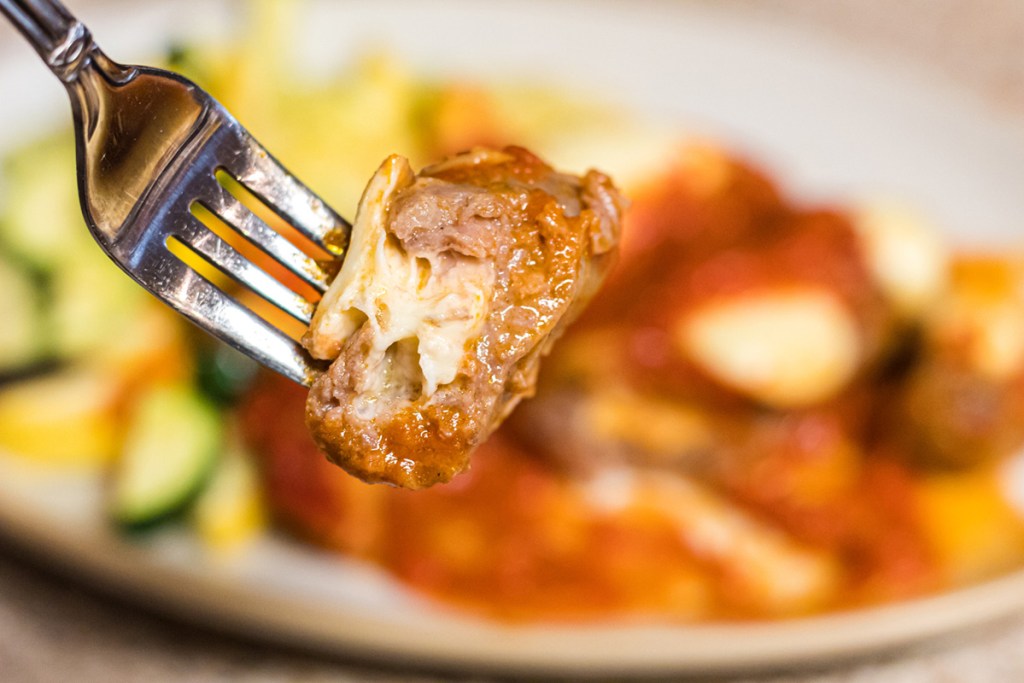 Stuffed Italian sausage makes coming up with a last-minute weeknight meal easy peasy.
Just one bite of this savory and over-the-top cheese-filled sausage will have you thinking, "why haven't I tried this sooner!?" I've added this recipe to my regular dinner rotation – it's perfect for busy nights when I'm short on time!

Check out what my teammate Jenna had to say about this stuffed sausage:
"This is such a brilliant meal! It's so tasty and easy to throw together and doesn't break the bank. The kids were all over this one and ate theirs over rotini while I ate mine over some zucchini zoodles – yum!!"
---
Make some zoodles to pair with your stuffed sausage!