Low-Carb Roasted Brussels Sprouts in Creamy Alfredo Sauce

If you're searching for a rich, decadent side dish, look no further.
Who doesn't love a buttery, cheesy mouthful of luscious Alfredo?! Couple that with Brussels sprouts, and you're in for a treat with this low-carb roasted Brussels sprout with Alfredo sauce recipe!
Undoubtedly, Alfredo's absolutely delicious, but I always expected Alfredo sauce to be a chore to make. Boy, was I wrong! It's surprisingly basic with steps that even a beginner can easily follow. Furthermore, the roasted Brussels sprouts look all dressed up in the creamy sauce. You may even be mistaken as a pro chef when serving this mouthwatering dish!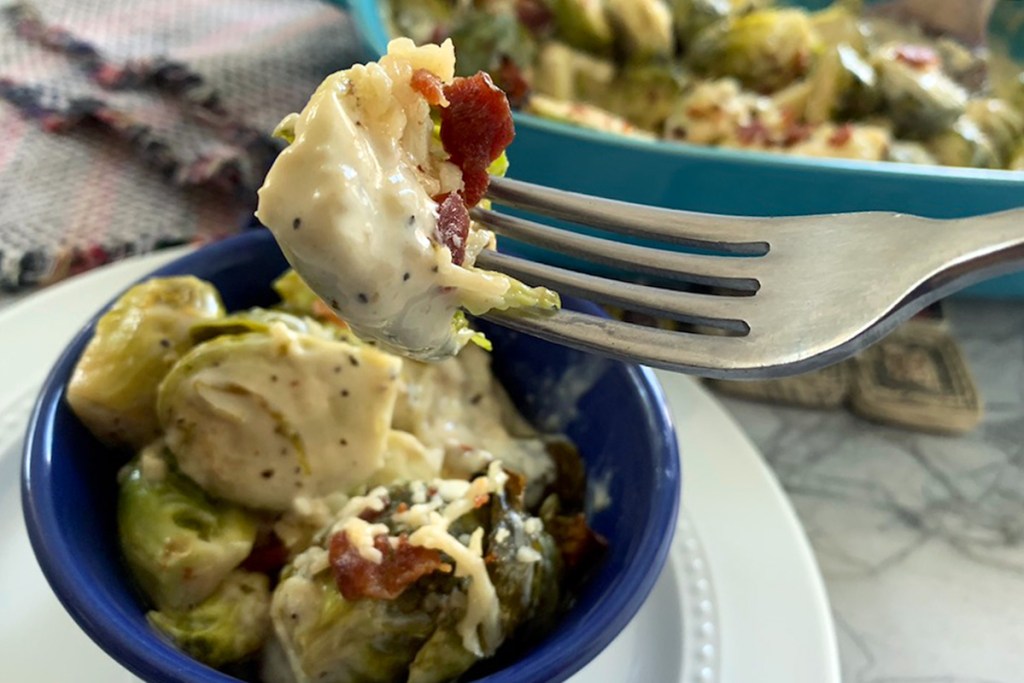 This dish is so delish—It's a worthy main course!
Whether you're a meat fanatic or a low-carb vegetarian, this keto Alfredo Brussels Sprouts recipe is filling enough to serve as the main entree. For you meat-lovers, add bacon to dress it up and cure your protein cravings. Veggie lovers, pair this with a green salad tossed in a light vinaigrette… Trust me, you'll be full and satisfied.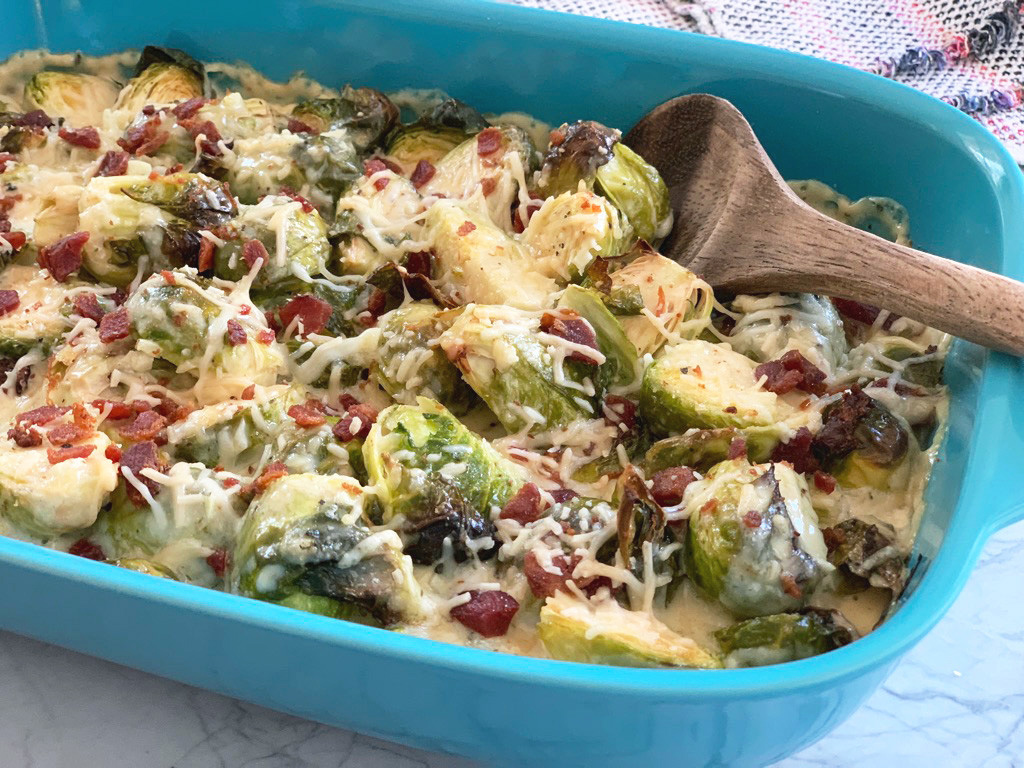 ---
Print
Roasted Brussels Sprouts in Creamy Alfredo Sauce
yield: 12 SERVINGS
prep time: 15 MINUTES
cook time: 40 MINUTES
total time: 55 MINUTES
If you're searching for a rich, decadent side dish, look no further. This creamy, cheesy keto recipe is a sure win!
Ingredients
2 1/2 - 3 pounds Brussels sprouts, halved (extra large sprouts can be quartered)
1 tablespoon olive oil
1/4 teaspoon sea salt
5 tablespoons butter
1 cup heavy whipping cream
2 cloves garlic, minced
1/2 teaspoon Italian seasoning
1 1/2 cups fine-grated Parmesan cheese (about 6 oz)
salt & pepper to taste (I add a pinch of salt and 5-6 turns of the pepper grinder)
plus 1/4 cup grated or shredded Parmesan cheese, for topping
1/4 cup crumbled bacon or pre-packaged real bacon bits, *optional for topping (vegetarians omit)
Directions
1
Preheat oven to 400 degrees. To a large bowl, add halved Brussels sprouts, olive oil, and 1/4 teaspoon sea salt. Toss well to combine. Transfer the seasoned Brussels sprouts to a baking/roasting dish (I use a 12x9x2 casserole dish). Place in the preheated oven for 30 minutes or until tops begin to brown.
2
While the sprouts are roasting, in a medium saucepan melt butter over medium/low heat. Add garlic and gently simmer for about 2 minutes. Then add cream and Italian seasoning. Cook for another few minutes, stirring often. Whisk in 1 1/2 cups freshly grated Parmesan cheese. Whisk for 5-10 minutes or until cheese has thoroughly melted and sauce has thickened. Add salt & pepper to taste. Remove from heat. Sauce will continue to thicken as it sits.
3
When sprouts are done roasting, pour warm alfredo sauce evenly over Brussels sprouts. Sprinkle with bacon (optional). Top with 1/4 grated or shredded Parmesan cheese. Place back in the oven for an additional 10 minutes until hot and bubbly.
4
Let rest for at least 10 minutes before serving. This allows the sauce to thicken and flavors to deepen. Enjoy!
Additional Notes
*Nutritional information does not include the optional 1/4 cup bacon.
Nutrition Information
Yield: 12 servings, Serving Size: about 1/2 cup
Amount Per Serving: 218 Calories | 17g Fat | 9g Total Carbs | 4g Fiber | 9g Protein | 5g Net Carbs
---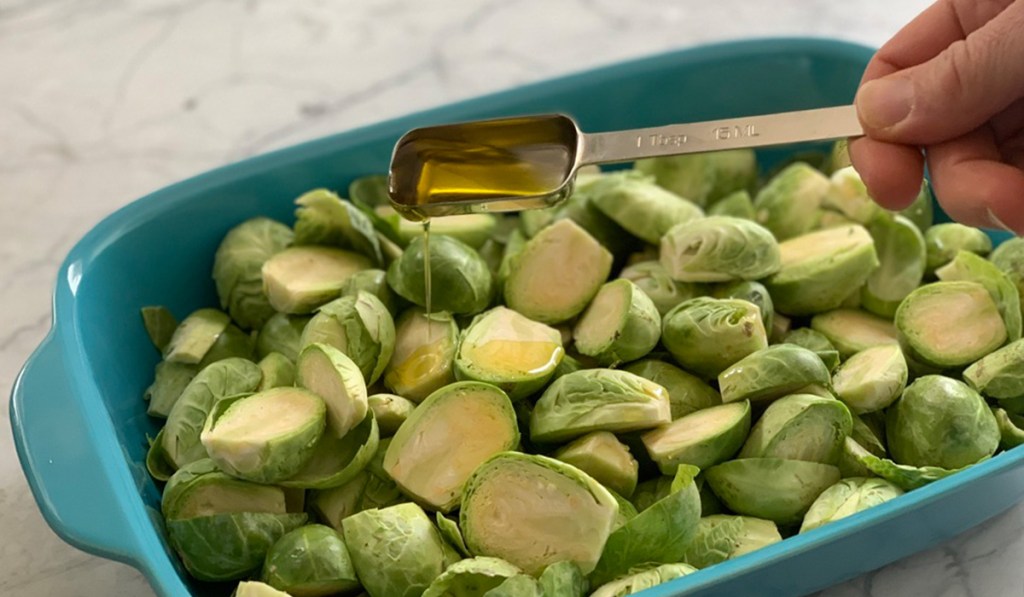 Hip Tips:
Use fine grated Parmesan for the Alfredo sauce, not shredded.
For best results, grate your own Parmesan right off the block. Why? Well first off, it tastes better. But most importantly, freshly grated cheese melts easily into the warm cream. Prepackaged Parmesan has added anticaking agents which can affect how the cheese behaves. I promise you, fresh is best!
How do I grate my Parmesan? My three fave methods:

I cube it into 1″ squares and let my personal blender do the hard work. It turns the cubes into fine grated Parmesan in about 30 seconds. Woo!
Microplane graters are one of my fave kitchen tools. They work great for Parmesan!
Manual rotary graters work excellent as well. They're extra awesome because they come with blades for slicing and shredding in addition to grating.

My skeptical husband was converted at first bite!
When I told my typically enthusiastic husband what I was cooking for dinner, he made a scrunched up face that read, "Weird idea—bad combo—not excited about supper tonight." Luckily, his weariness didn't steer me off course. And wouldn't you know it… He went back for seconds and exclaimed that Alfredo sauce and Brussels sprouts are surprisingly delicious together! He informed me that I'm allowed to serve this anytime… Preferably next week. 😉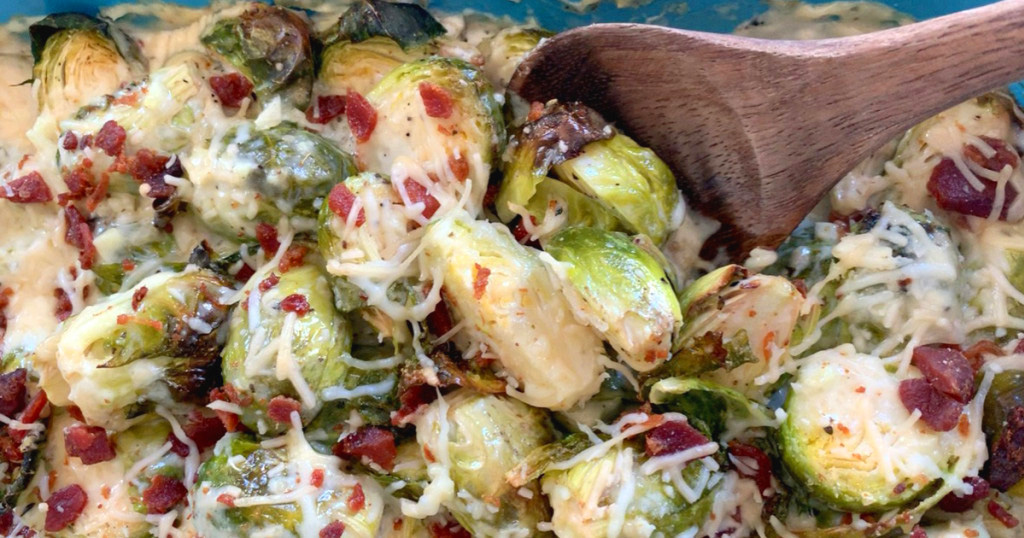 ---