Spaghetti Squash in the Air Fryer (I Added Pesto, Ricotta, and Italian Sausage to Mine!)
Spaghetti squash in the air fryer is a game changer!
Did you know that you can cook spaghetti squash in your air fryer?
One of our Instagram followers, Kimberly, gave us the suggestion to try cooking spaghetti squash in the air fryer. She said, "you'll never go back to cooking spaghetti squash any other way…" and I think she's right!
It's super easy and the bonus is that it frees up your oven!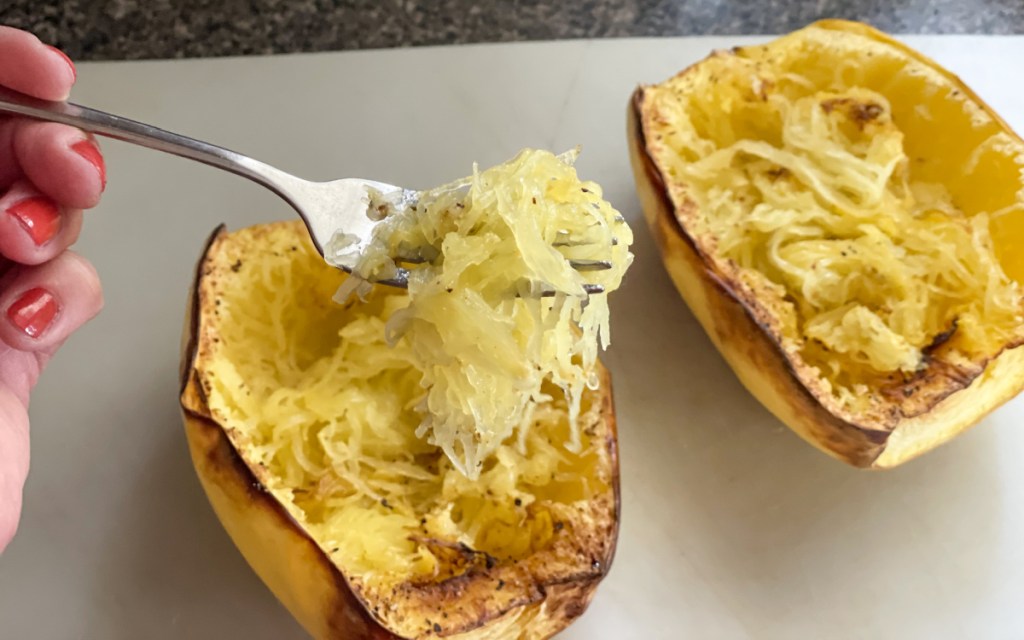 I love learning new cooking hacks!
It's always fun to try something new when it comes to cooking, and I'll admit I'm a beginner when it comes to the air fryer world. I finally bought one a few months ago and ever since, it's been making a regular appearance in my everyday cooking!
For this recipe, I figured out a few tricks. Cook time depends on your air fryer and the size of the spaghetti squash. The smallest one I could find at my grocery store was three pounds. It also depends on how well-done you want your spaghetti squash. Sometimes you want it more "al dente" and other times you want it to basically fall out of the skin.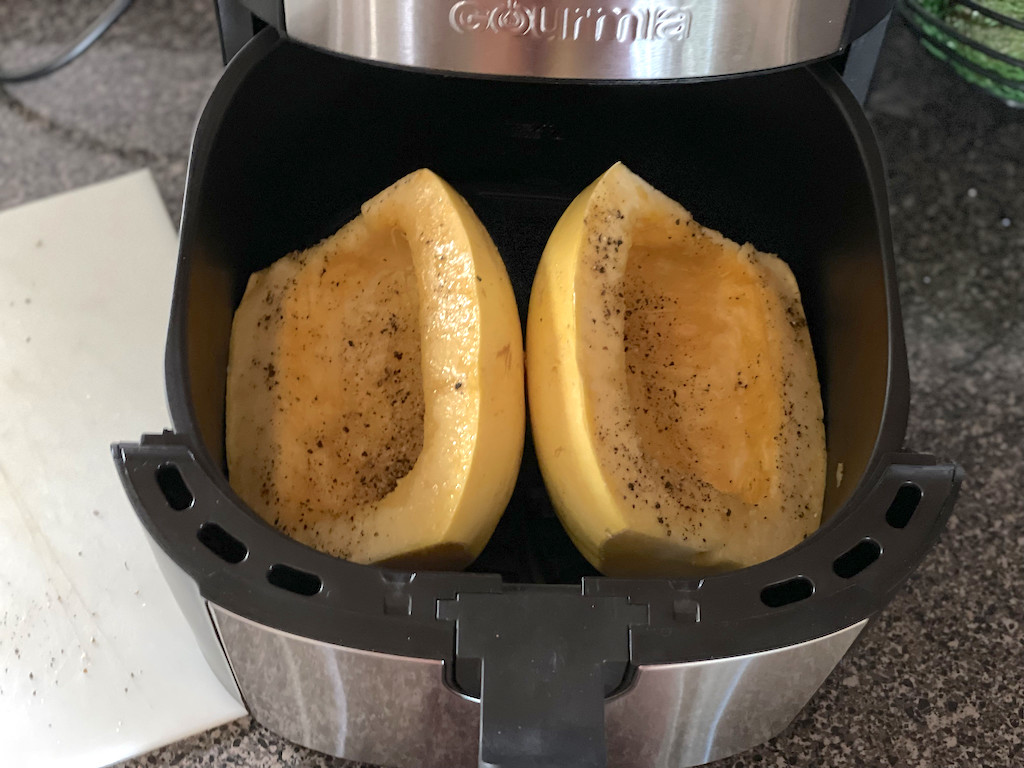 My air fryer is a Gourmia 7-quart from Costco, but any air fryer works! I had to angle the spaghetti squash halves on their sides to get them to fit, but they still cooked perfectly.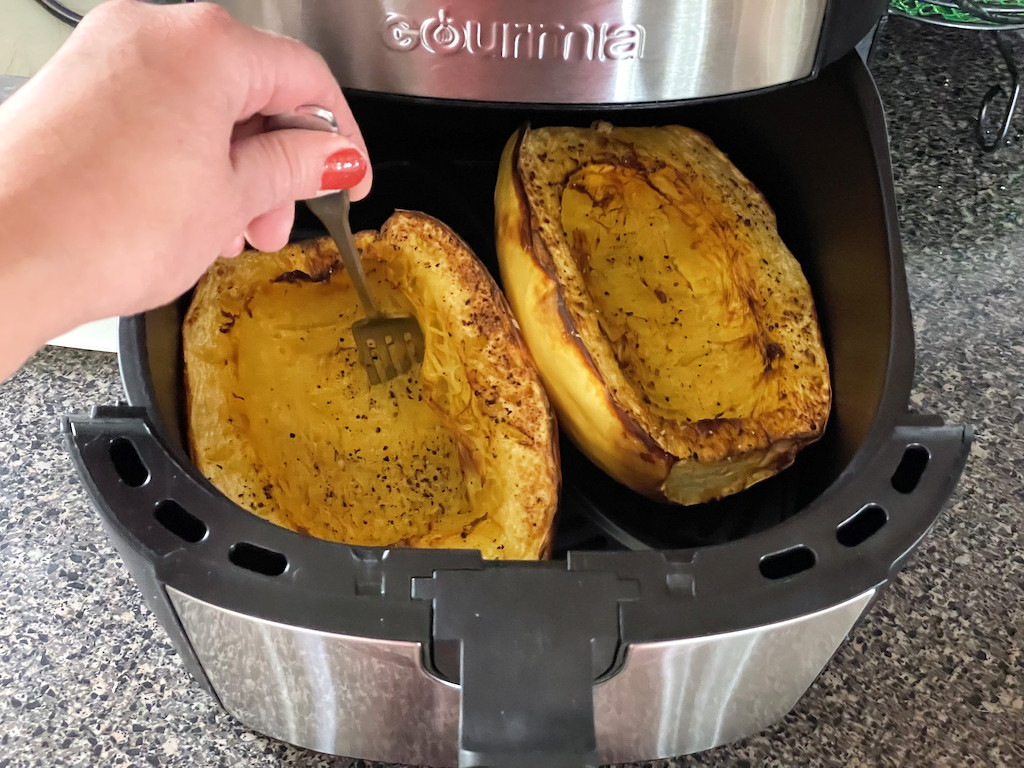 Tips for making the best air fryer spaghetti squash:
To make it easier to cut in half lengthwise, first cut off the ends.
You can only cook one spaghetti squash (two halves) at a time, so if you're making a meal for more than a few people you'll either have to cook the spaghetti squash in batches, or baking it in the oven might be the better option.
Add any desired toppings to your spaghetti squash. I went with ricotta cheese, pesto, and chicken Italian sausage, and included more on that in the recipe below! Check out our other recipes for spaghetti squash!
Start checking your spaghetti squash around 25 minutes as cook time depends on the size of the squash and your air fryer. I cooked mine for 35 minutes.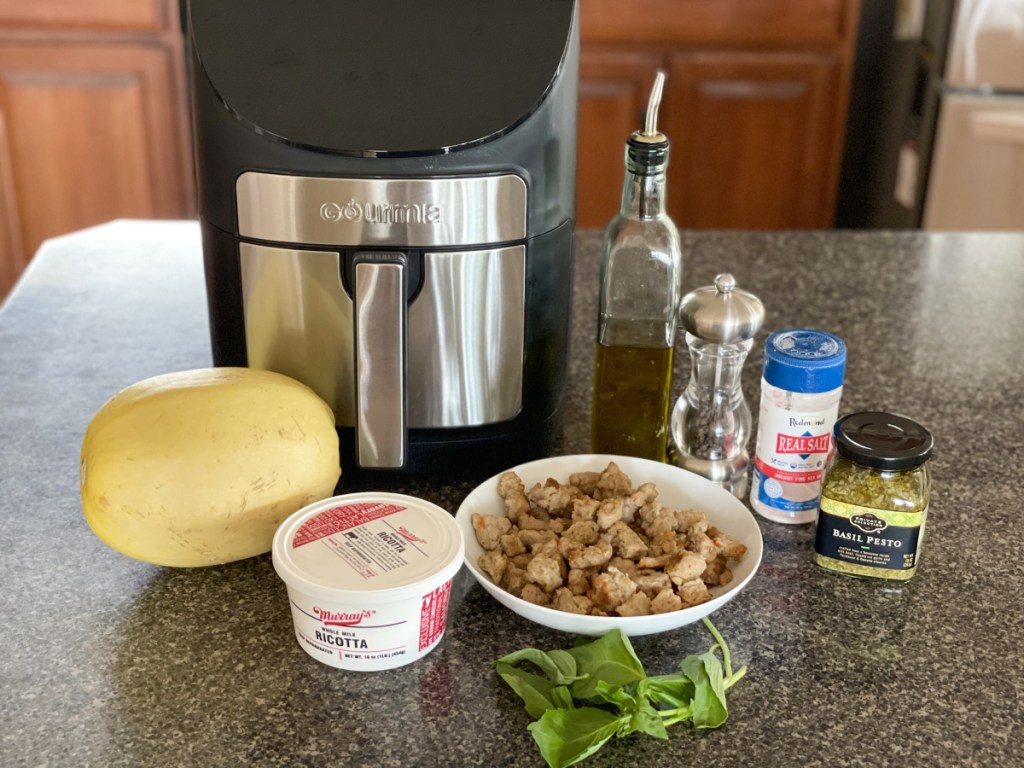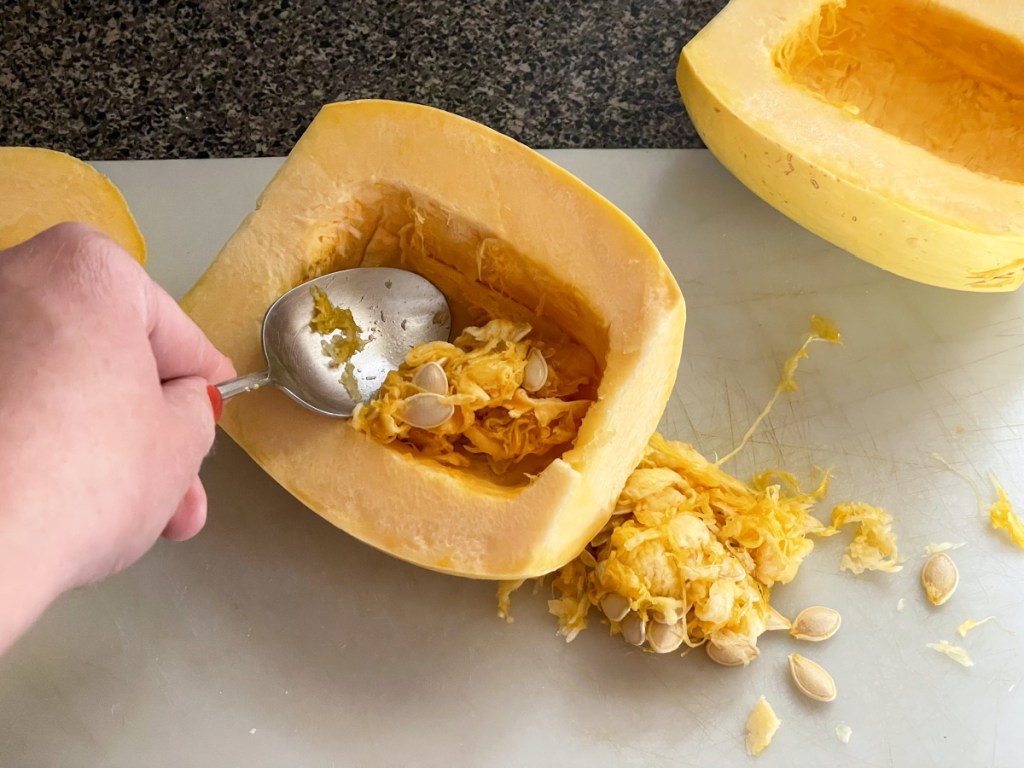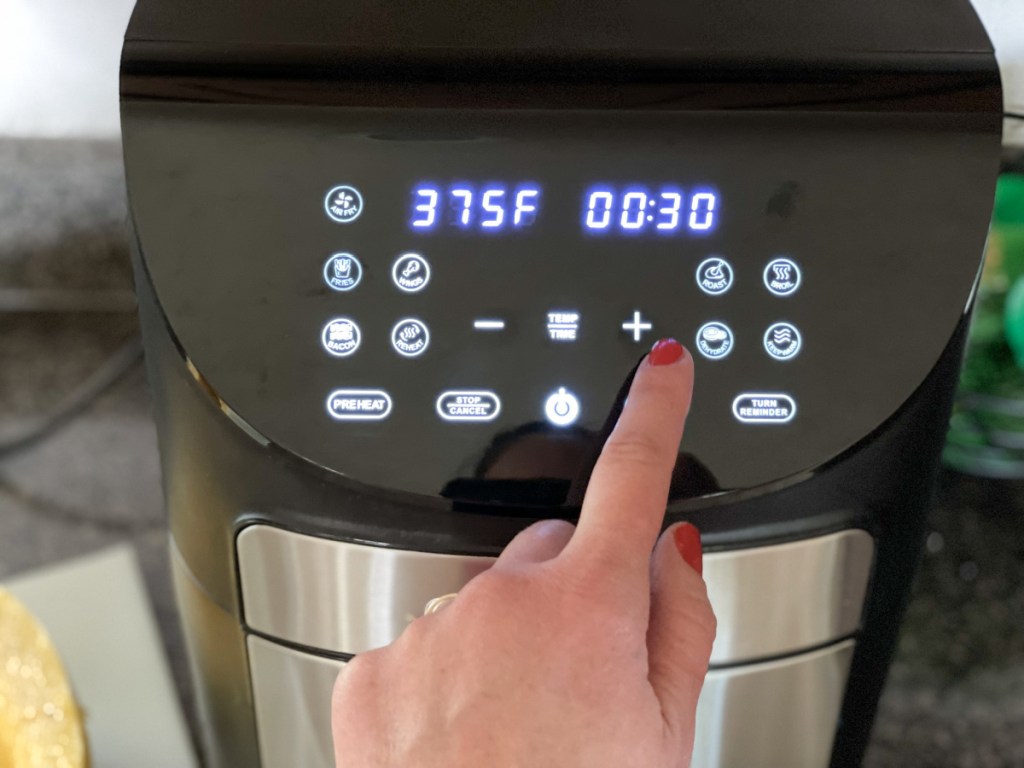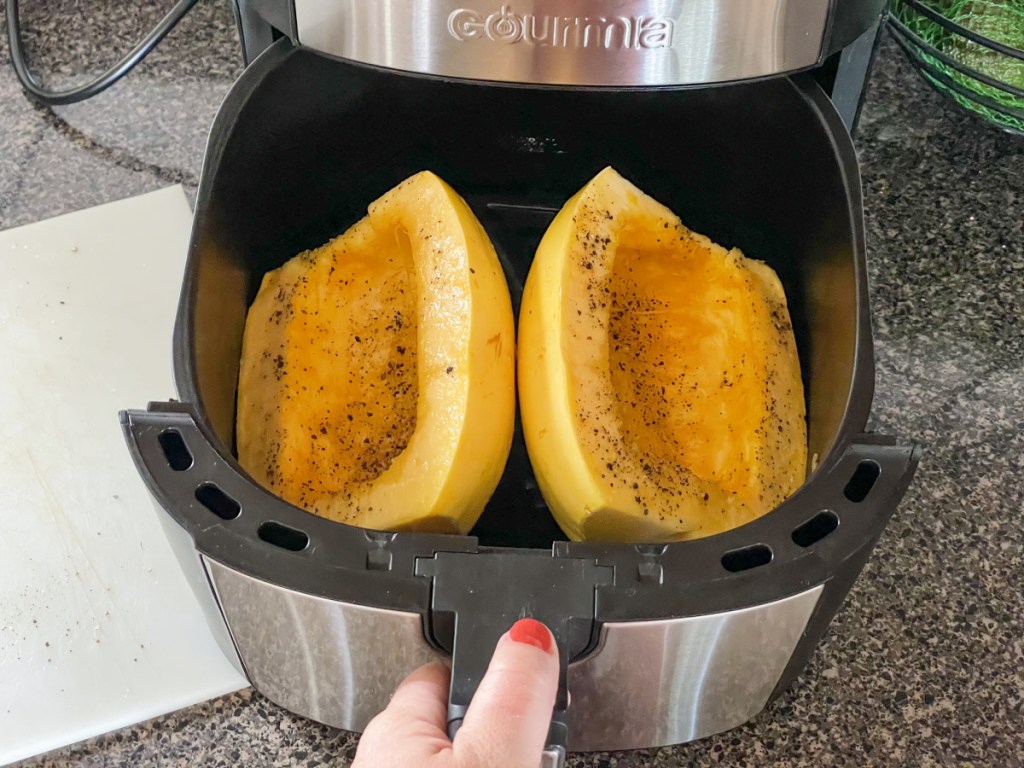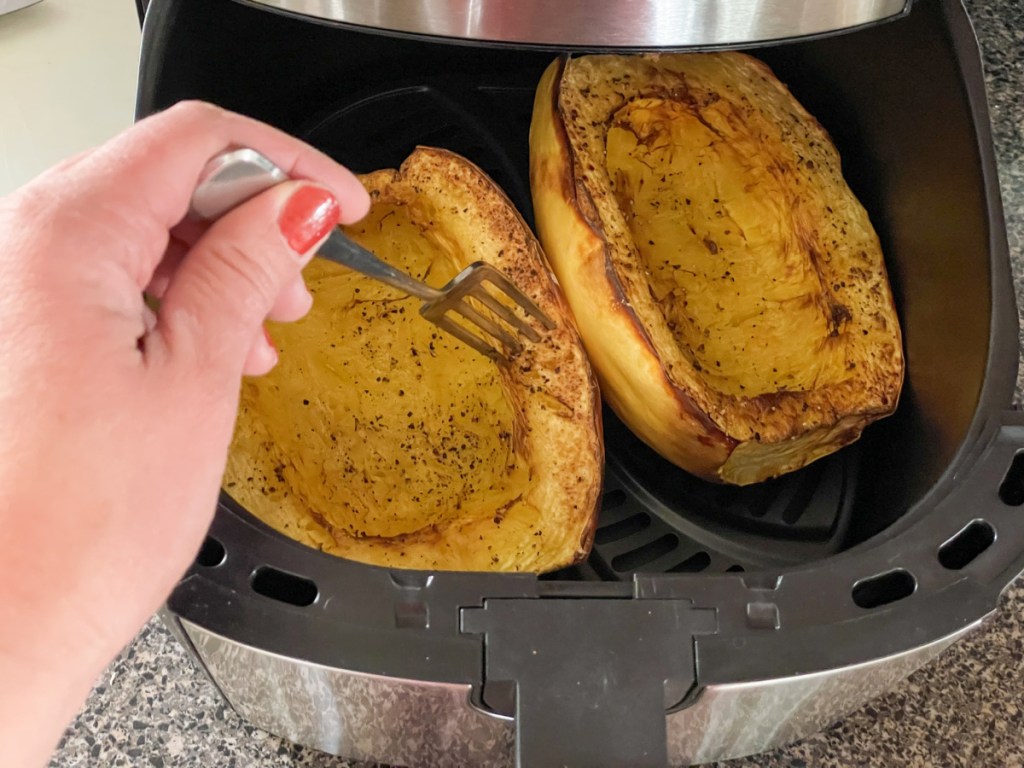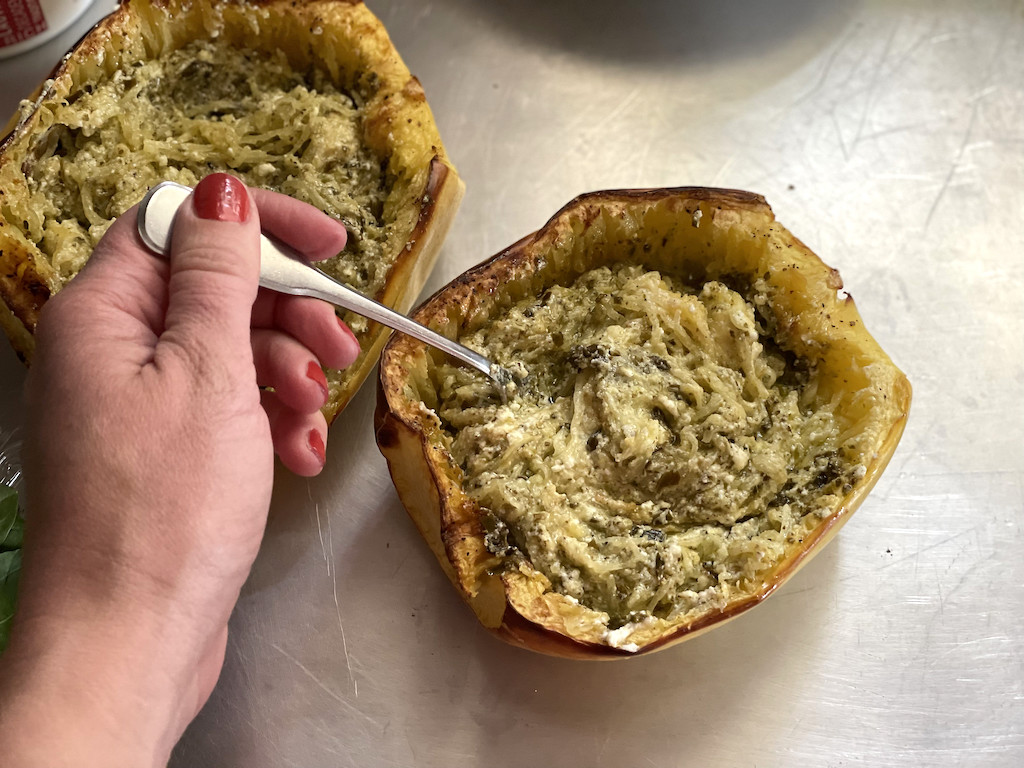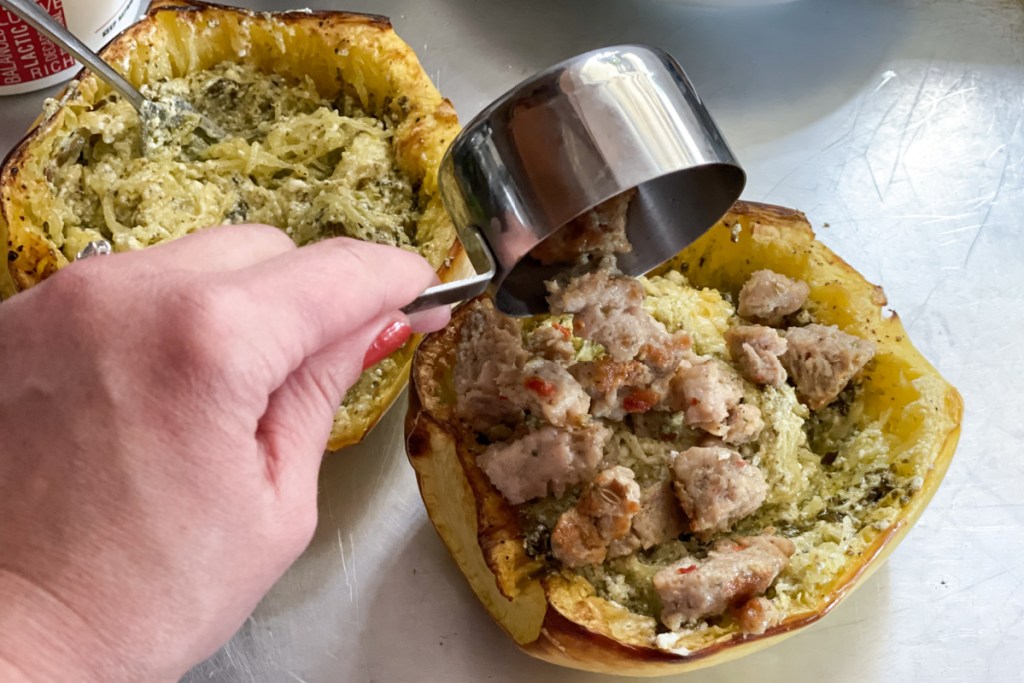 ---
Print
Air Fryer Spaghetti Squash - with Pesto & Italian Sausage
yield: 2 SERVINGS
prep time: 5 MINUTES
cook time: 30 MINUTES
total time: 35 MINUTES
Spaghetti squash cooked to perfection in the air fryer and then mixed with creamy whole milk ricotta, pesto, and Italian sausage.
Ingredients
1 small spaghetti squash (about 3 pounds)
2 tablespoons olive oil
1 teaspoon salt
1/2 teaspoon pepper
1 cup whole milk ricotta cheese, divided
1/2 pound ground Italian sausage, cooked, divided
2 tablespoons fresh basil, sliced
Directions
1
Cut spaghetti squash in half lengthwise. I cut the ends off first and then cut it in half. Scoop out the seeds.
2
Drizzle with olive oil and sprinkle with salt and pepper.
3
Turn the air fryer to the bake setting and preheat to 375 degrees (if applicable as some air fryers don't require preheating).
4
When the air fryer is preheated, place the spaghetti squash halves in the basket. You may have to angle them slightly. Bake for 30 minutes or until soft enough to easily pierce with a fork. Check at 25 minutes to see if they're done. I cooked mine for 35 minutes.
5
When spaghetti squash is finished cooking, shred with a fork.
6
Leave spaghetti squash in the skin and while still hot, mix into each half a 1/2 cup of ricotta, 1/4 cup of pesto, and half the cooked Italian sausage (about 1/2 cup each). Top with fresh basil, and enjoy!
Nutrition Information
Yield: 2 servings, Serving Size: 1 half spaghetti squash with ricotta, pesto, sausage filling
Amount Per Serving: 592 Calories | 37.5g Fat | 17g Total Carbs | 4.3g Fiber | 11.9g Sugar | 35.6g Protein | 12.8g Net Carbs
---
The latest and greatest recipe to come out of my air fryer is definitely this spaghetti squash!
I'm hooked on this new way to cook squash in the air fryer! 🙌 It was such a success, I don't think I'll go back to using the oven since I'm usually just cooking for two. Also, mixing in ricotta, pesto, and sausage is so yummy to turn this simple cooking hack into a one pot meal!
---
Here's what my Hip sidekick Jenna had to say about this recipe:
"Oh my goodness, this is the perfect meal in every way! First of all, it's super simple to throw together and secondly, it's beyond delicious. The whole family will love it! Who knew there was a quicker way to bake a spaghetti squash using the air fryer! Dinner was ready in no time! P.S. — this reheats beautifully!"
---
Check out this recipe for air fryer Scotch eggs next!