Try Our Keto Omelet Sheet Pan Meal For a Quick Breakfast Idea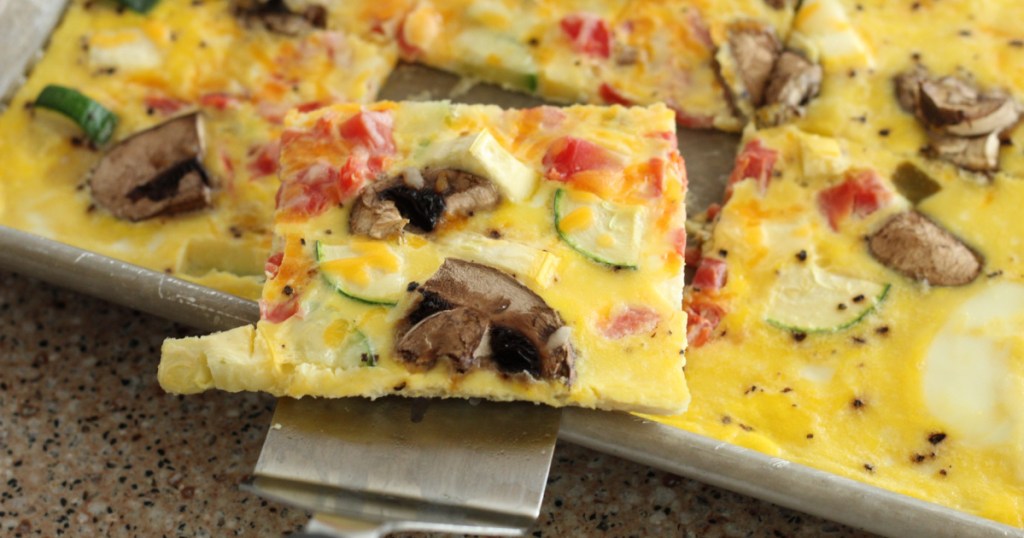 This keto breakfast is perfect for everyone!
I don't know about your but when it's finally the weekend I love to sleep in, then serve a yummy brunch that is easy to throw together. Even better, when I can make it all in one pan it's sure to be a home run!
Introducing our keto omelet sheet pan meal recipe!
Save yourself time by making this hearty meal for breakfast!
How many times have you started making breakfast omelets for the family only to realize you've spent over an hour cooking because someone wants veggies, another just wants sausage, one only wants cheese, and before you know it you're exhausted so you get the leftovers?
Friends, I've been in this situation so many times. My keto sheet pan omelet recipe ends the battle for good! This keto breakfast is perfect for the family and perfect for keto meal prepping. You can please everyone with one sheet pan, which means less time cooking and less time cleaning up after. Win!
Hip tips for making the best keto omelet sheet pan meal:
This meal stays fresh in a sealed container in the fridge for up to a week, and you could also freeze this as well – it will stay good for up to two months.
Want to prep keto breakfast sandwiches? Use this biscuit cutter for the perfect size to cut out eggs.
Add all your favorite keto ingredients such as bacon, sausage, zucchini, mushrooms, peppers, onions, and cheese. I like to add hot sauce to mine for an added kick of flavor!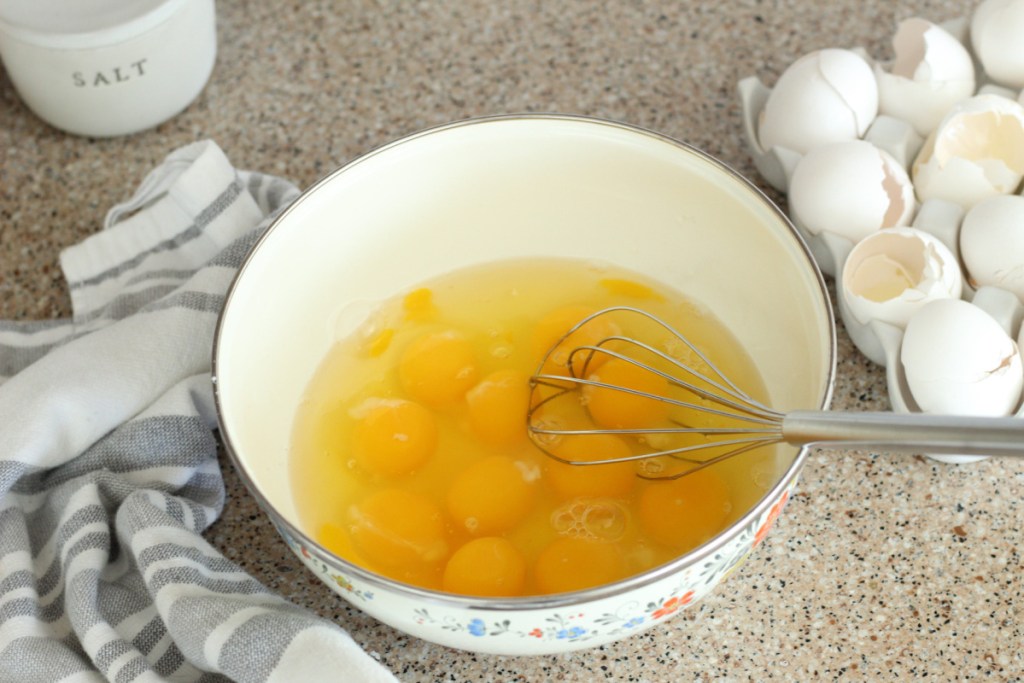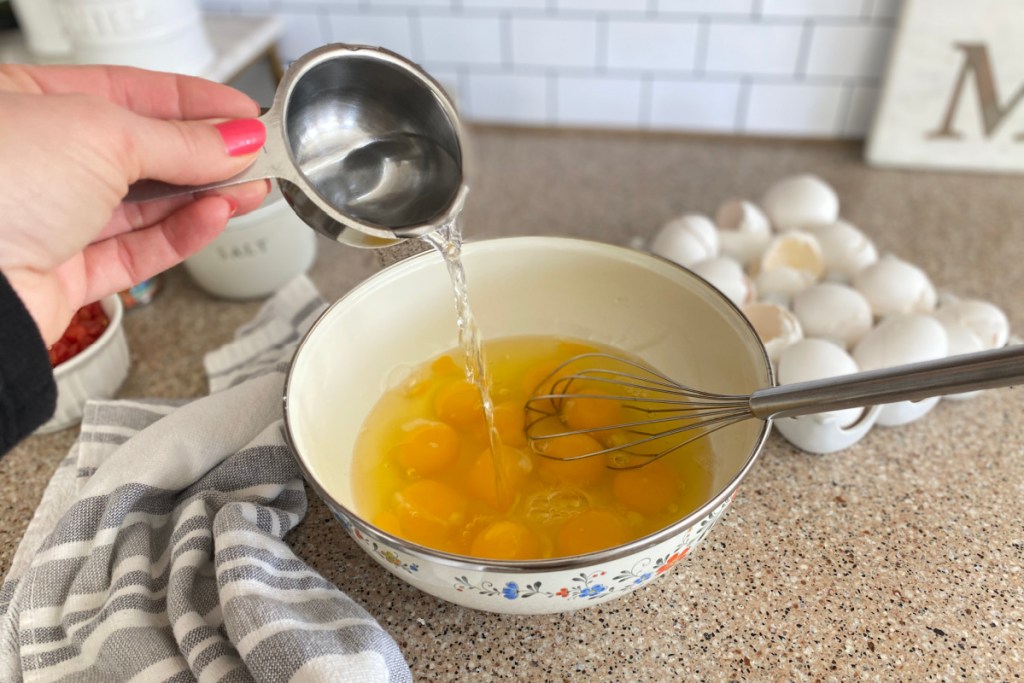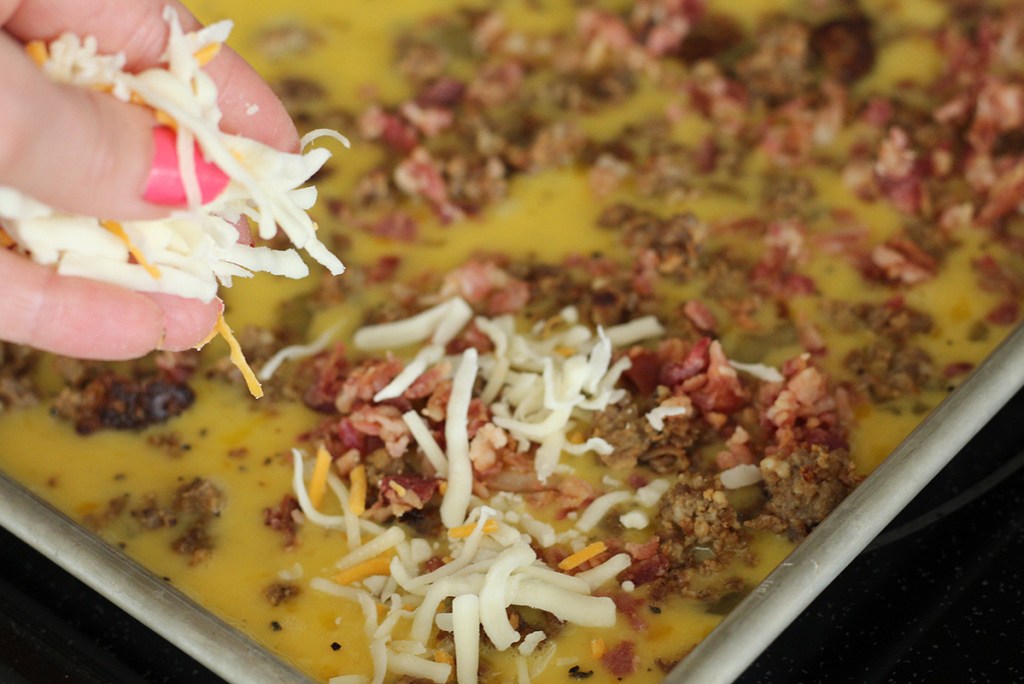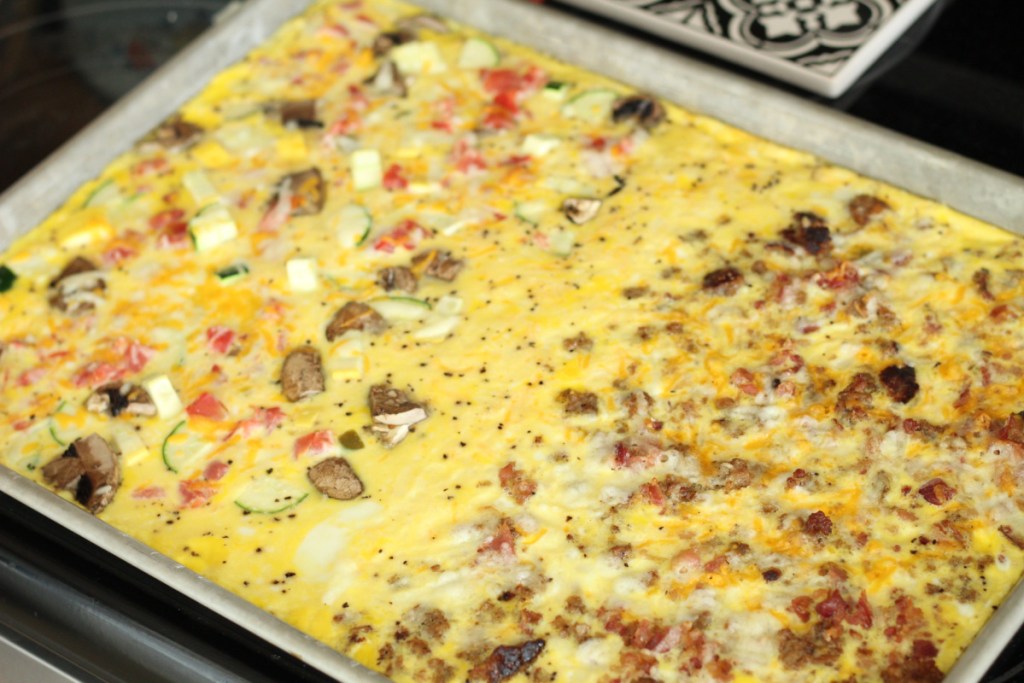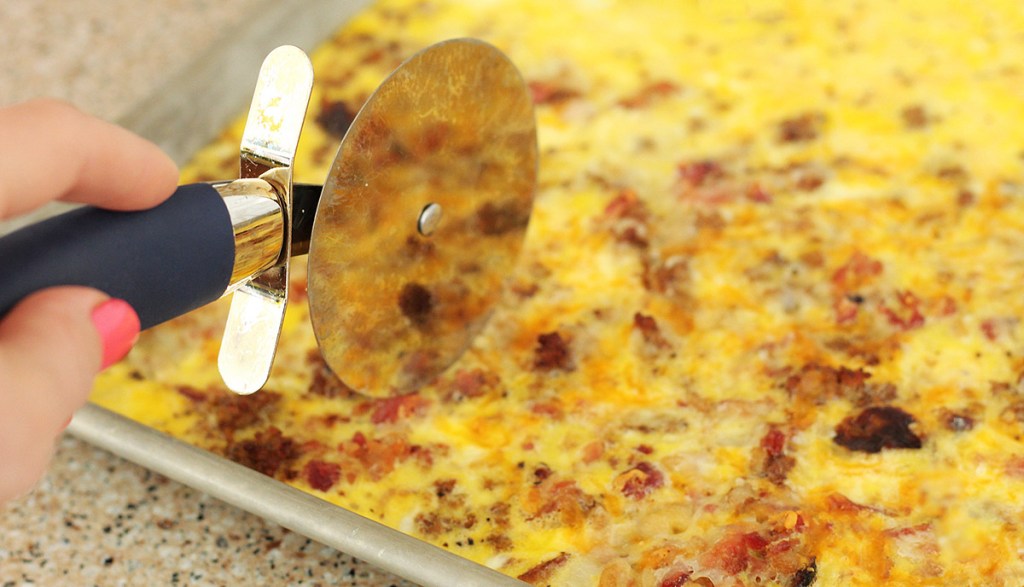 ---
Print
Keto Omelet Sheet Pan Meal
yield: 10 SERVINGS
prep time: 10 MINUTES
cook time: 15 MINUTES
total time: 25 MINUTES
Simplify breakfast by baking everyone's preferred omelet on one sheet pan with this easy egg-based recipe.
Ingredients
12 eggs
1/4 cup water
1 teaspoon salt
1 teaspoon pepper
1/2 cup bacon crumbles
1/2 cup cooked crumbled sausage
1 small yellow squash, diced
1 small zucchini, diced
1/2 cup mushrooms, sliced
1 (8oz.) bag shredded cheddar cheese
Directions
1
Preheat oven to 350 degrees. Grease a half sheet pan (12"x18") and set it aside.
2
In a large mixing bowl, whisk together 12 eggs, water, salt, and pepper.
3
Pour egg mix in the sheet pan and spread out evenly with a spatula.
4
Add any keto-friendly vegetables, meat, shredded cheese, and spices to create your own perfect omelet slice. I made a meat section on one half and a vegetable section on the other half of the sheet pan.
5
Bake in the preheated oven for 15 minutes. To check for doneness, you will insert a toothpick in the center of the sheet pan. If it comes out clean, it is done.
6
Cut omelets with a pizza cutter, or if you are prepping for sandwiches on a keto roll, you can cut omelets with a biscuit cutter.
Nutrition Information
Yield: 20 squares, Serving Size: 2 squares, 3"x3"
Amount Per Serving: 234.8 Calories | 17.2g Fat | 3.2g Total Carbs | 0.5g Fiber | 0.9g Sugar | 16.8g Protein | 2.7g Net Carbs
---
Easy, peasy keto breakfast!
This sheet pan omelet is the perfect breakfast dish for anyone. I love how you can customize it to fit what is best for your family and their food preferences. And don't limit yourself to just whipping this up for breakfast… it makes for an easy lunch or dinner, too!
Here's what my teammate Jenna had to say after making this keto sheet pan omelet for breakfast:
"This is such a fun and easy breakfast idea, especially in a house with multiple kids that like their eggs/omelets prepared differently! I prepared mine with half bacon and sausage, and half of that with mozzarella cheese! Then the other half, I added mushrooms, zucchini, Rotel, and summer squash, with pepper jack cheese on the top. This is truly amazing!"
---
Love sheet pan dishes? Try out our yummy keto pancake sheet pan idea!