Keto Steak and Veggies Sheet Pan Dinner with Garlic Caper Butter
This easy keto weeknight meal idea is my new go-to!
Sheet pan meals are my favorite new way to serve up dinner on busy evenings – and this keto steak and veggies version turns out DELICIOUS every time in my own sheet pan!
I made mine extra special by mixing up a seasoned butter with chopped capers, fresh rosemary, and garlic. This extra step is completely worth it and highly recommended!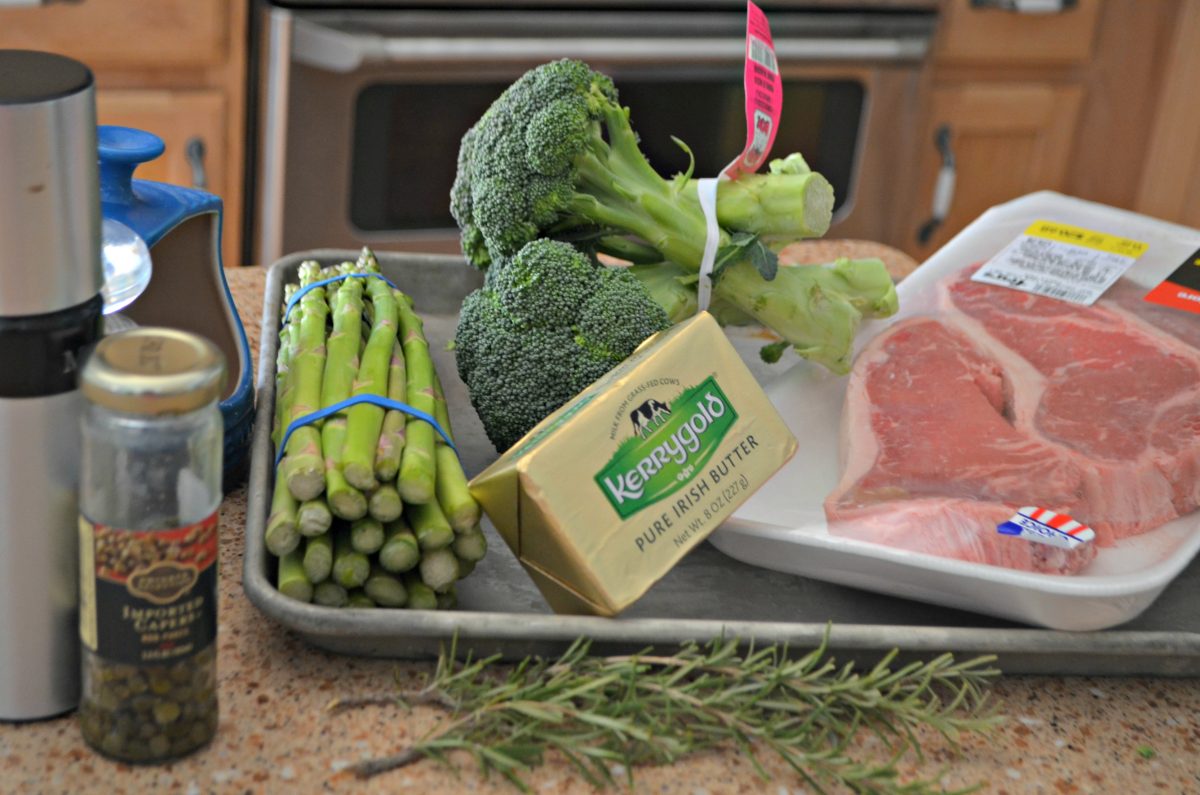 ---
Print
Keto Steak and Veggies Sheet Pan Dinner with Garlic Caper Butter
yield: 6 SERVINGS
prep time: 15 MINUTES
cook time: 10 MINUTES
total time: 25 MINUTES
This easy and satisfying sheet pan meal is my busy weeknight go-to!
Ingredients
For Rosemary Caper Butter::
1/4 cup butter, softened
1 tablespoon chopped fresh rosemary
1 tablespoons capers, chopped
1 garlic clove, minced into a paste
For Sheet Pan Meal:
2 pounds sirloin steak (about 1 inch thick)
salt & pepper to taste
1 tablespoon or so olive oil
1 large head fresh broccoli, cut into florets
1 pound asparagus spears
Directions
2
Mash together herb butter ingredients in a small bowl.
3
Form butter into a tube shape using plastic wrap, and place in fridge or freezer to harden.
4
Pat steaks dry and season both sides of steak with salt and pepper.
5
Coat veggies with olive oil and season with salt & pepper.
6
Place a large rimmed sheet pan in the oven.
7
Carefully remove HOT sheet pan from the oven.
8
Coat the pan with olive oil where steaks are going to go, and lay them on towards the center. Arrange veggies around the edges.
9
Place under broiler for 5 minutes.
10
Remove pan, turn steaks, and place back under broiler for about 5 minutes are until desired doneness.
11
Top steaks with rosemary caper butter to serve.
Nutrition Information
Yield: 6 servings, Serving Size: 1 serving
Amount Per Serving: 321 Calories | 16g Fat | 11g Total Carbs | 5g Fiber | 35g Protein | 6g Net Carbs
---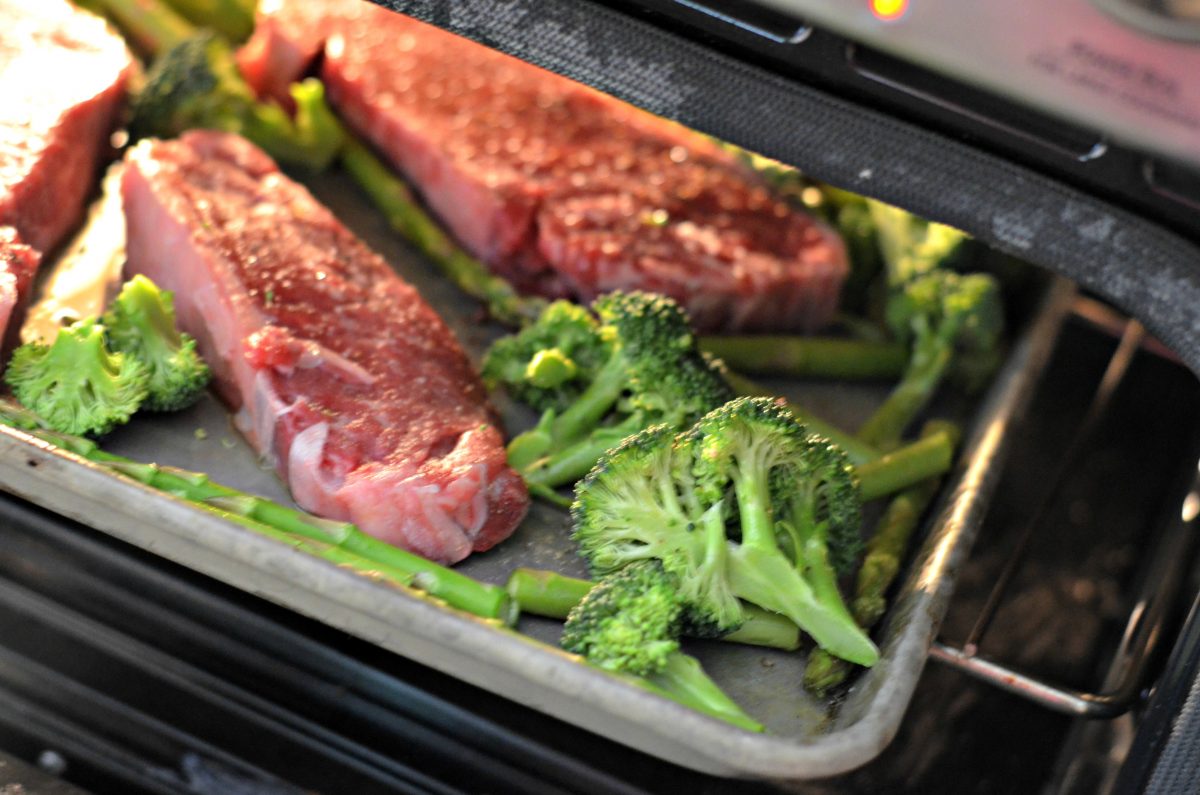 Hip Tip: Heating up your pan first in the oven will give steaks a nice sear around the outside. You can also give them a quick sear on the stove first, instead.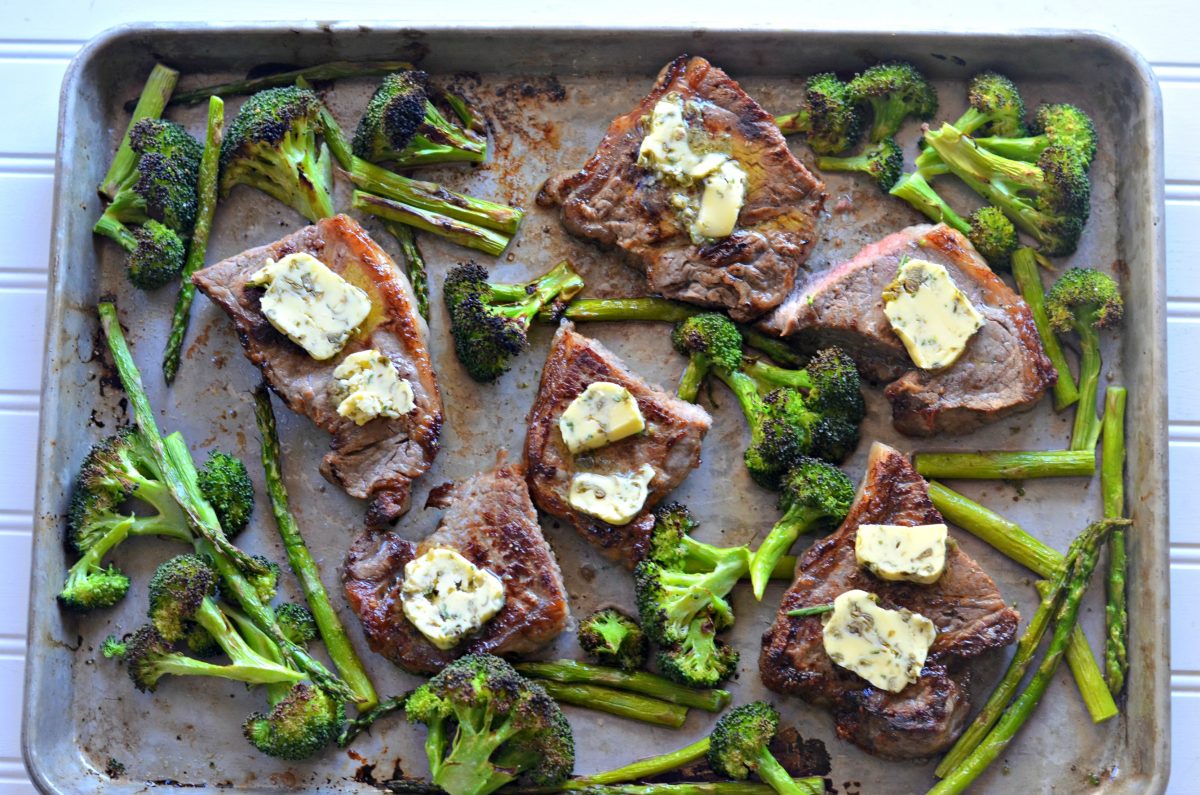 ---
This was one of the BEST sheet pan meals we've made!
There are seriously only a few steps to it, and the entire family loved it. Feel free to season the butter with any fresh herbs desired to fit your taste, as well as the veggies and steak.
This is such a versatile and easy meal idea for any busy family that's also a delicious low-carb option!
---
Up Next: Try this simple and yum taco soup!