Easy Keto Sheet Pan Pancakes to Feed a Whole Family
Feed a hungry crowd or prep breakfast for the week with these keto sheet pan pancakes!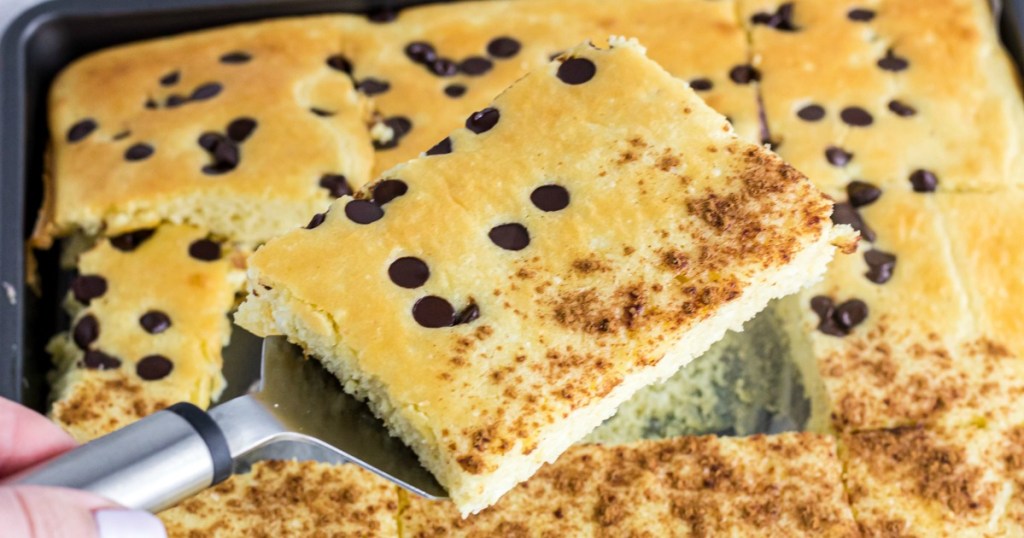 Making a yummy keto breakfast has never been easier!
Keto pancakes are a highly requested breakfast on the weekends in my house. As simple as pancakes are, they can still be a time-consuming cooking process.
When you're making pancakes on a griddle, you can never be too far away from them. You have to keep a close eye on things, waiting for just the right moment to give your pancakes a flip.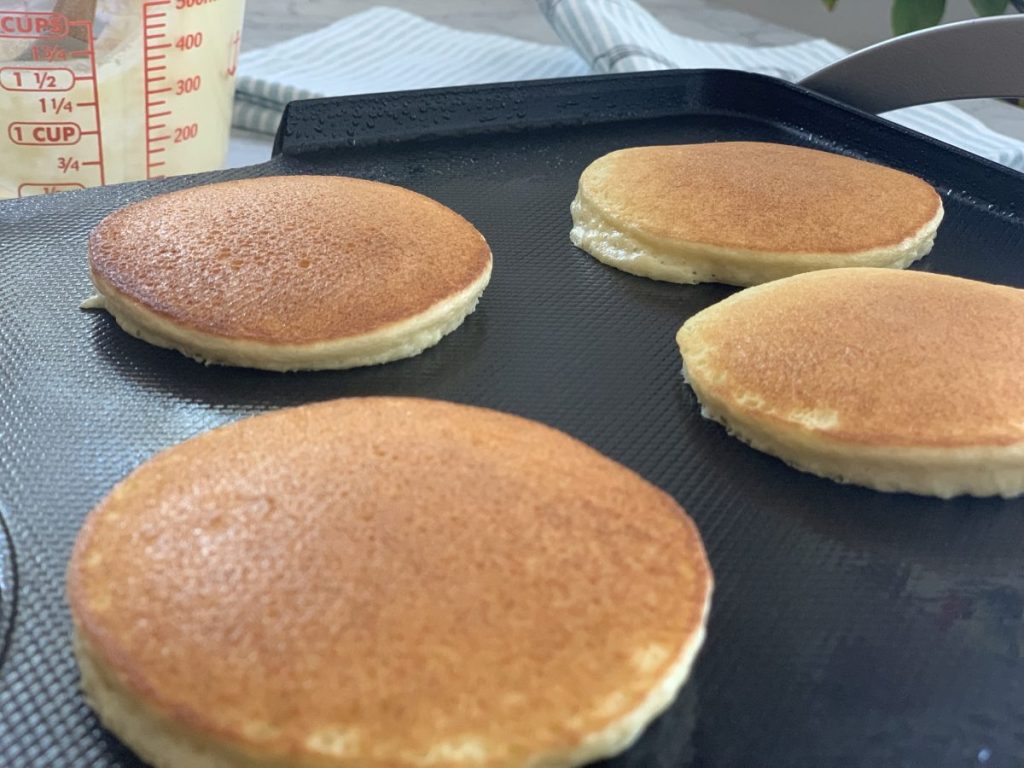 To complicate matters, you can usually only make a few pancakes at a time using this method. By the time you've used up all your batter, you've made several small batches of pancakes, and your original batch is probably cold by now. This makes it nearly impossible to get a hot breakfast on the table for everyone at the same time.
Sheet pan pancakes to the rescue!
Our keto recipe uses a single sheet pan to cook a large batch of low-carb pancakes all at once. Better yet, this method allows for multiple toppings to suit every family member's tastes!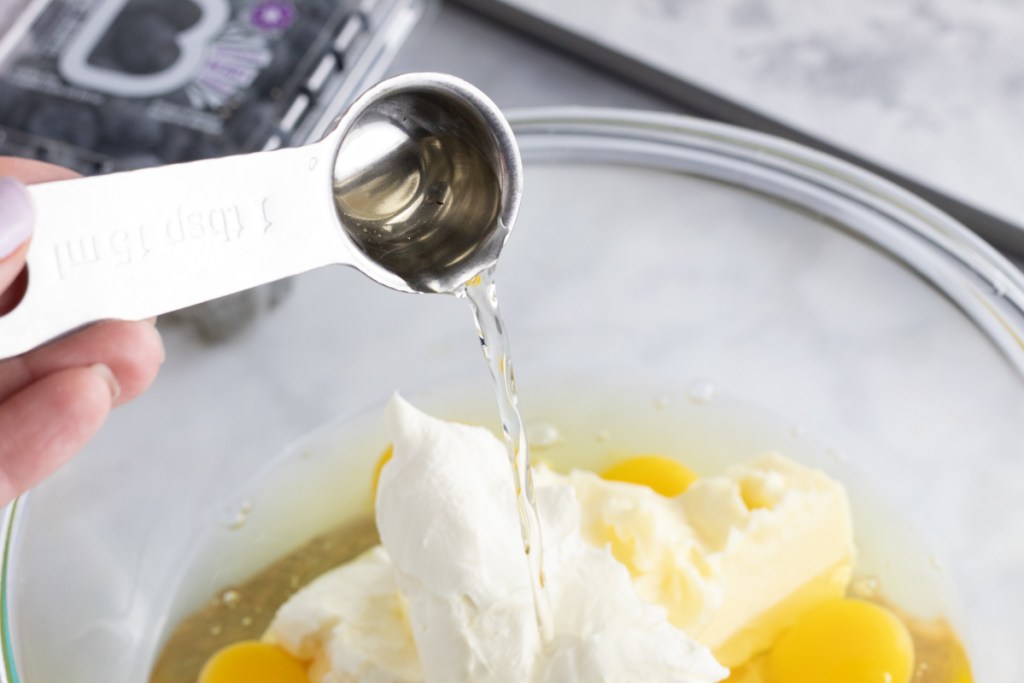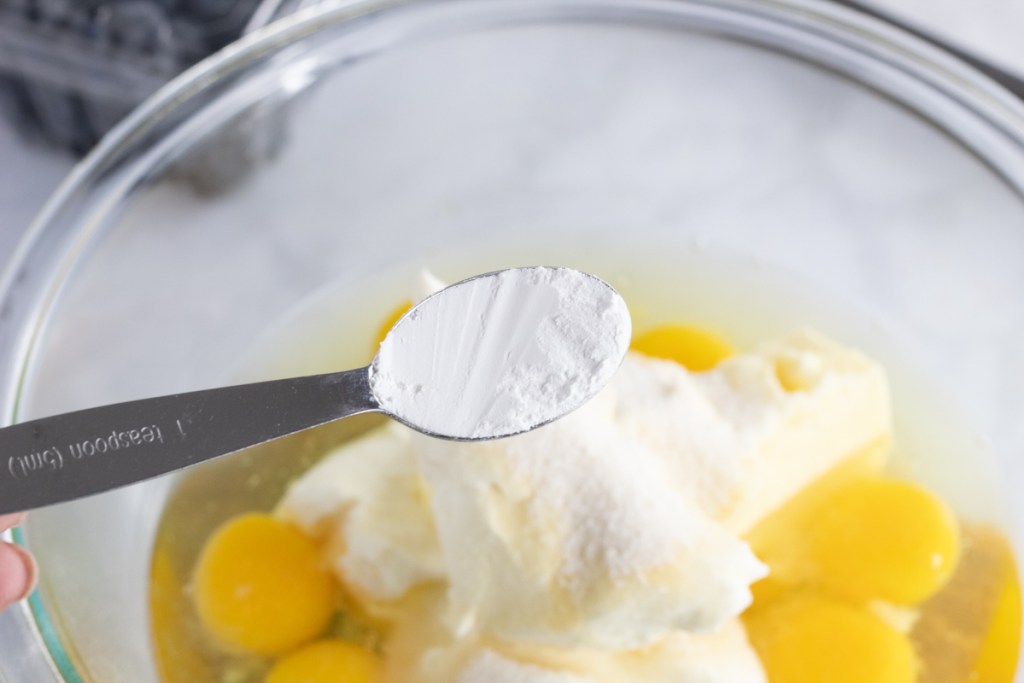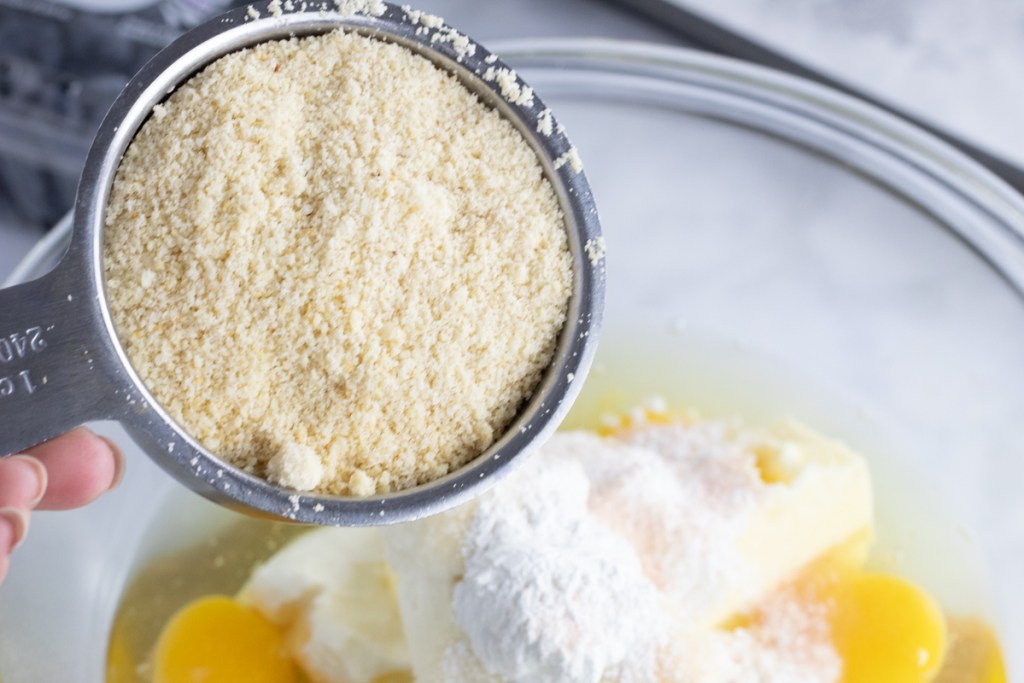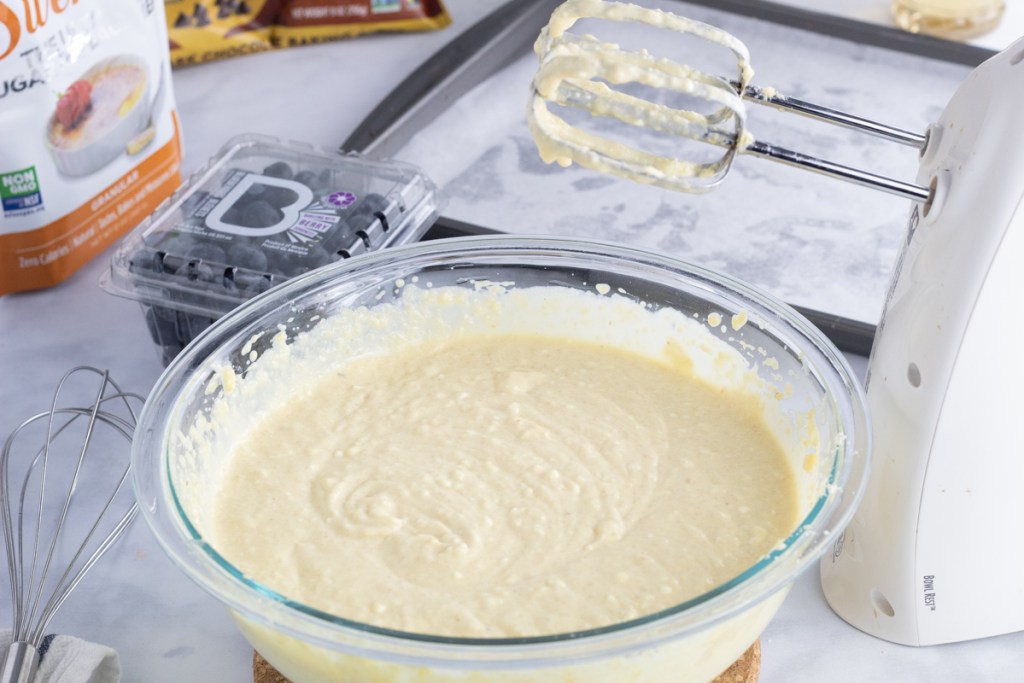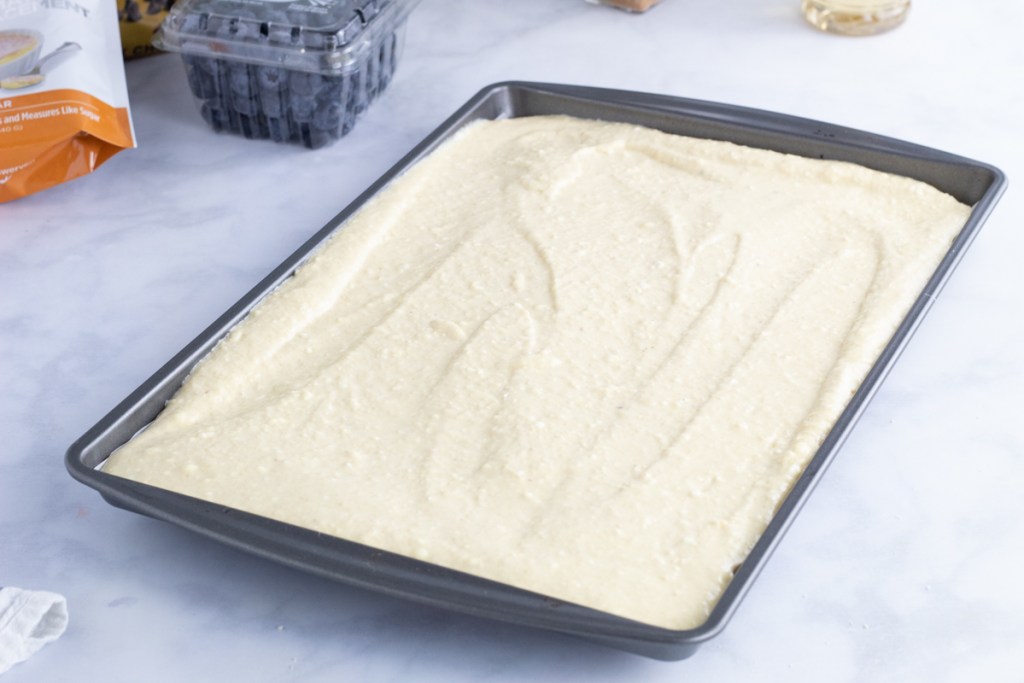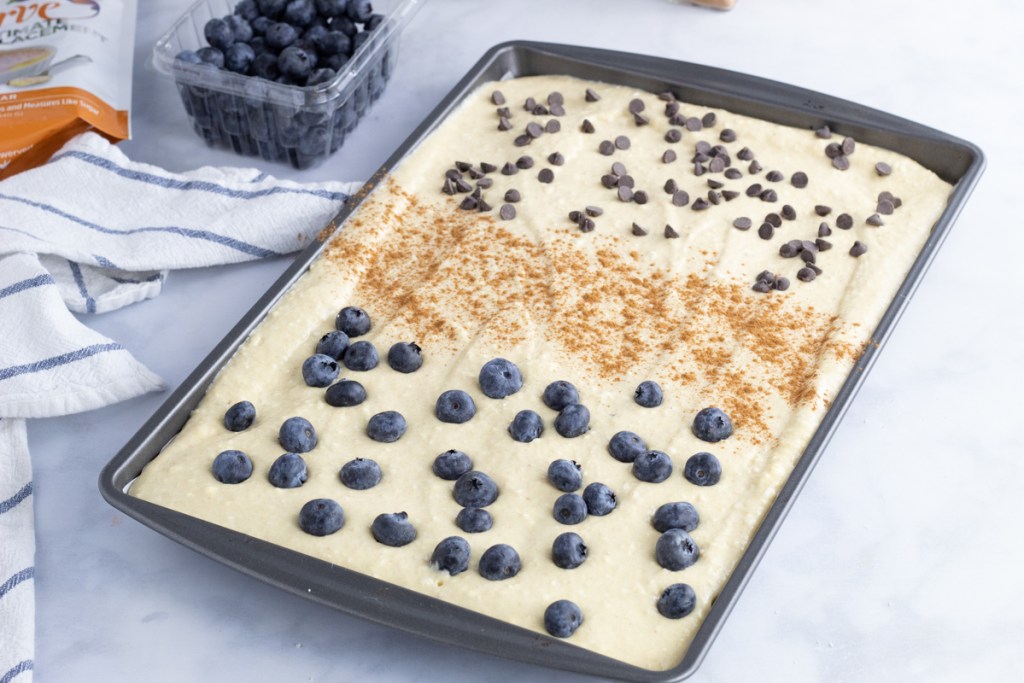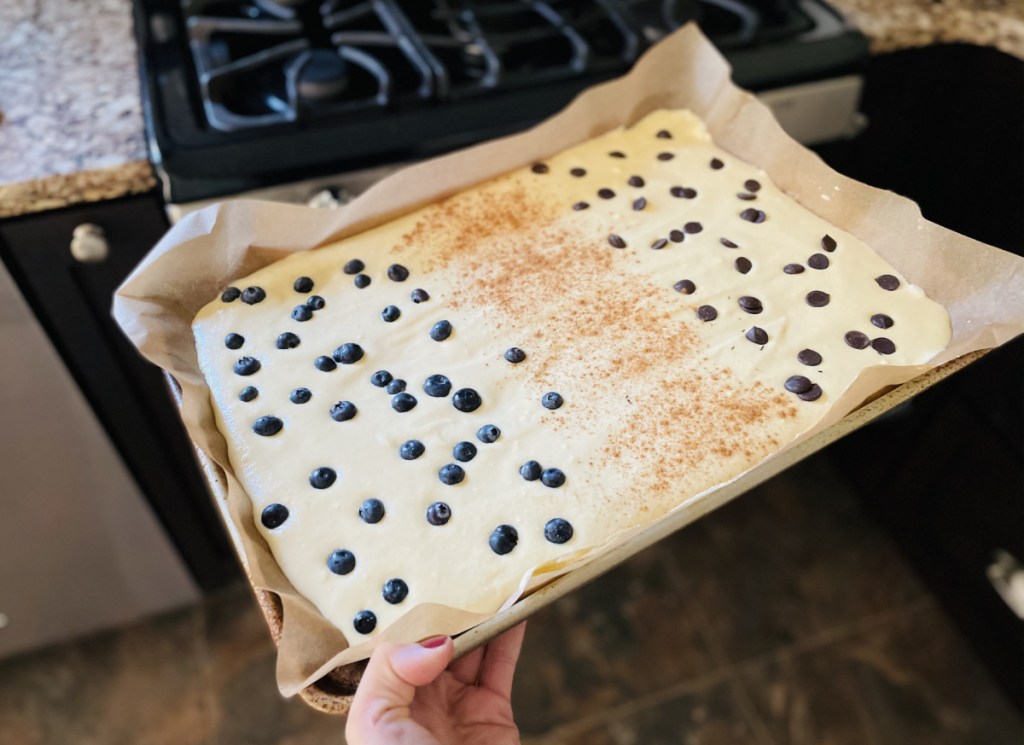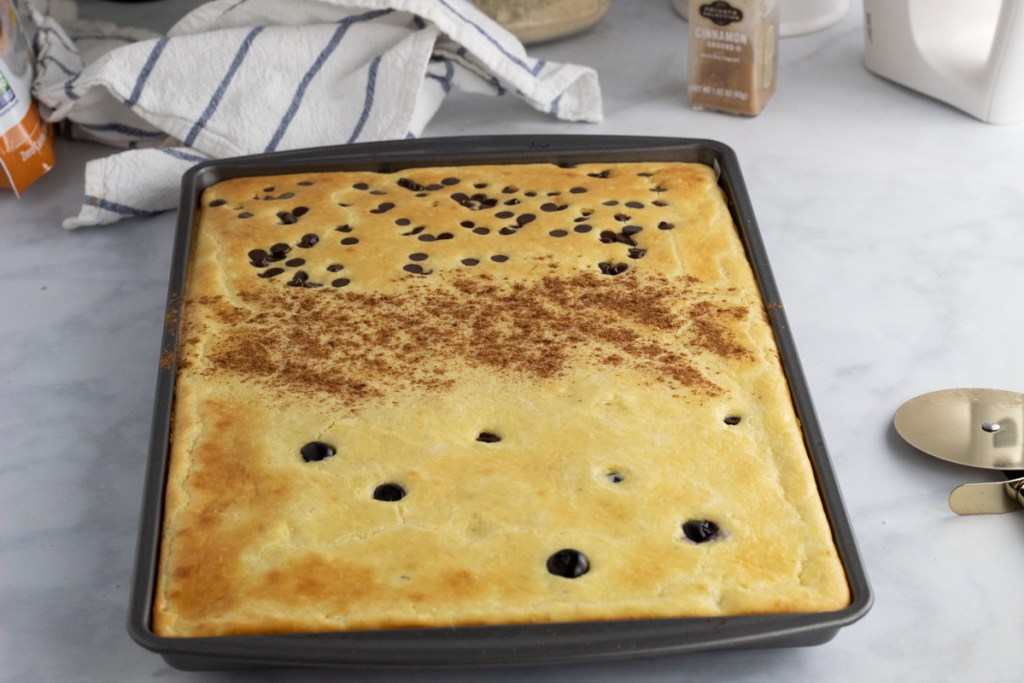 ---
Print
Keto Sheet Pan Pancakes
yield: 12 SERVINGS
prep time: 10 MINUTES
cook time: 25 MINUTES
total time: 35 MINUTES
This easy cooking method creates an entire batch of keto pancakes to serve up all at once!
Ingredients
Pancake Batter:
8 large eggs, room temperature
10 oz cream cheese, softened
6 tablespoons salted butter, softened
2 1/2 teaspoons baking powder
3/4 teaspoon salt
3 teaspoons vanilla extract
Topping ideas:
Blueberries
Cinnamon
No sugar added chocolate chips
Directions
1
Preheat the oven to 350 degrees.  Line a 12"x16" sheet pan with parchment paper and set it aside.
2
Add all pancake batter ingredients to a large bowl and mix with a hand mixer for 2 minutes.
*If you have a large blender, you can add all ingredients and mix for 1 minute in the blender.
3
Pour batter onto the prepared sheet pan and spread out evenly with a spatula.
4
Add any keto-friendly fruits, spices, or other add-ins to your pancake batter to create your own perfect slices. We love the idea of using blueberries, raspberries, pumpkin spice, and/or no-sugar-added chocolate chips. YUM!
5
Bake in the oven for 25 minutes or until the center is done and the edges are golden brown.
Nutrition Information
Yield: 12 squares, Serving Size: 1 square
Amount Per Serving: 324 Calories | 28.6g Fat | 11.8g Total Carbs | 2.9g Fiber | 3.2g Sugar | 3.3g Sugar Alcohol | 10.8g Protein | 5.6g Net Carbs
---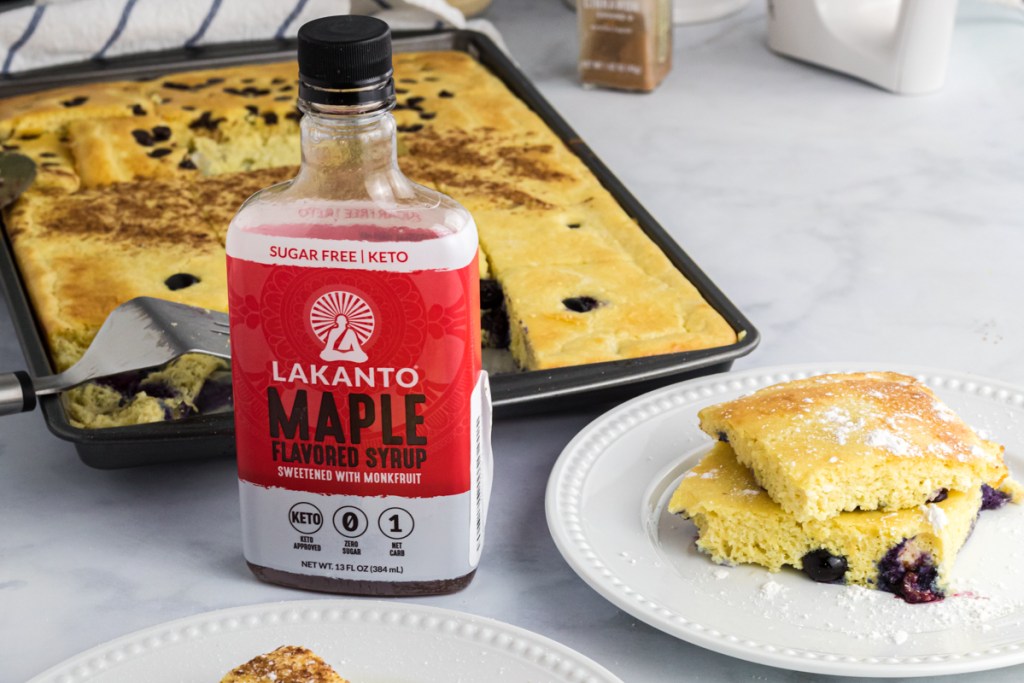 Hip tips for making keto sheet pan pancakes:
If you have a large blender, you can toss all your ingredients in and let the blender do the mixing for you. Easy peasy!
Go crazy with your favorite low-carb toppings such as blueberries, cinnamon, no-sugar-added chocolate chips, or even bacon. 😋 I made my sheet pan pancakes using my family's favorite add-ins.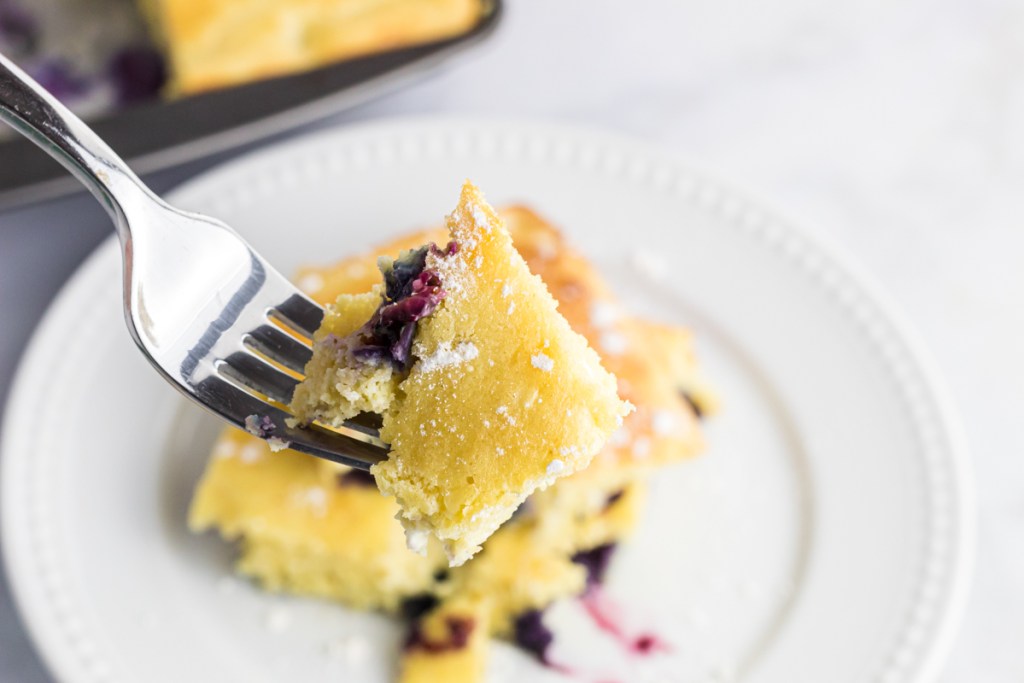 Breakfast is served… no flipping required!
I'm telling you, this is the easiest way to prep a batch of keto pancakes for the whole family! And everyone gets the exact flavors they want. Try this out for a simple way to get breakfast on the table and happily feed a bunch of people all at once.
My Hip teammate Sara tried out this keto sheet pan recipe, and here's what she thought:
"These pancakes really impressed me and are so easy to make! They were so fluffy and delicious. The blueberries are my favorite addition since they add the perfect amount of sweetest and add a little extra moisture to the pancakes. They also reheat well! I cut up the leftovers into squares, put them in the fridge and when I wanted some as a snack, they heated up perfectly in the microwave and tasted just as good as when they came out of the oven."
---