BEST Keto Veggie Burger—Low in Carbs, But Not in Flavor!
Our low carb veggie burger is easy to make and oh so tasty!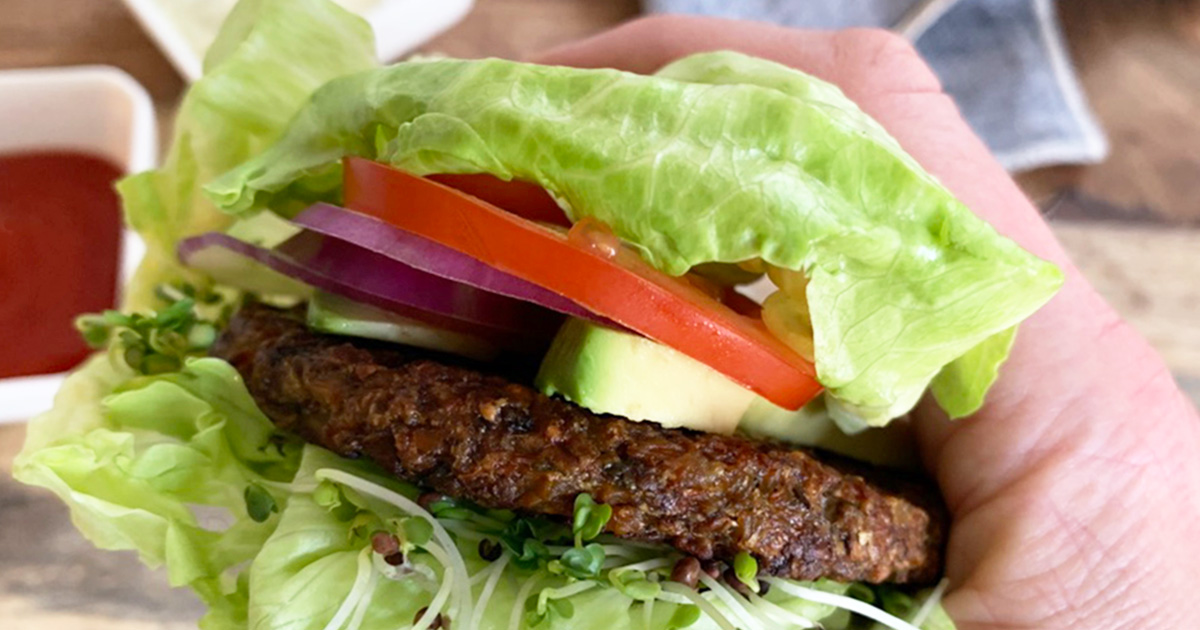 Calling all keto-lovin' vegetarians!
This low-carb veggie burger recipe has your name on it! I can only imagine how hard following a keto lifestyle must be for all you non-meat eaters out there. Some readers are vegetarian keto-ers and have been inquiring about a good veggie burger recipe.
Readers, ask and you shall receive! 🙌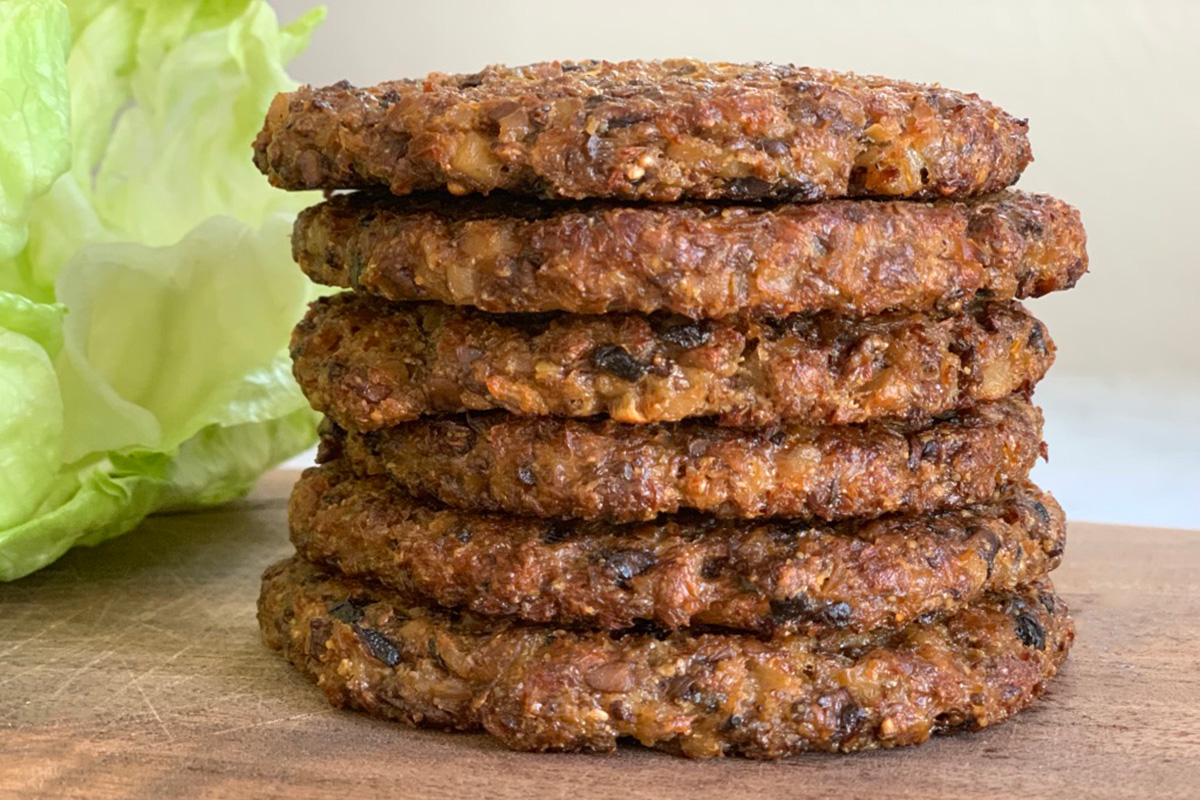 You don't have to be a vegetarian to happily nosh these low carb veggie burgers.
Yep! Although these vegetable-based burgers are meatless, they're super tasty. The mushrooms add a rich flavor and meaty texture. And I promise they don't taste "mushroomy". So for any of you who typically avoid this friendly fungus—try these! You'll be pleasantly surprised.
What's more, for anyone who must have meat as their main course, these veggie burgers make a banging side dish! Or, if you're going the finger food route—I highly suggest dividing the mix into 24 portions to make mini veggie burger bites! Serve with ranch dressing or sweet mustard dipping sauce. YUMMO!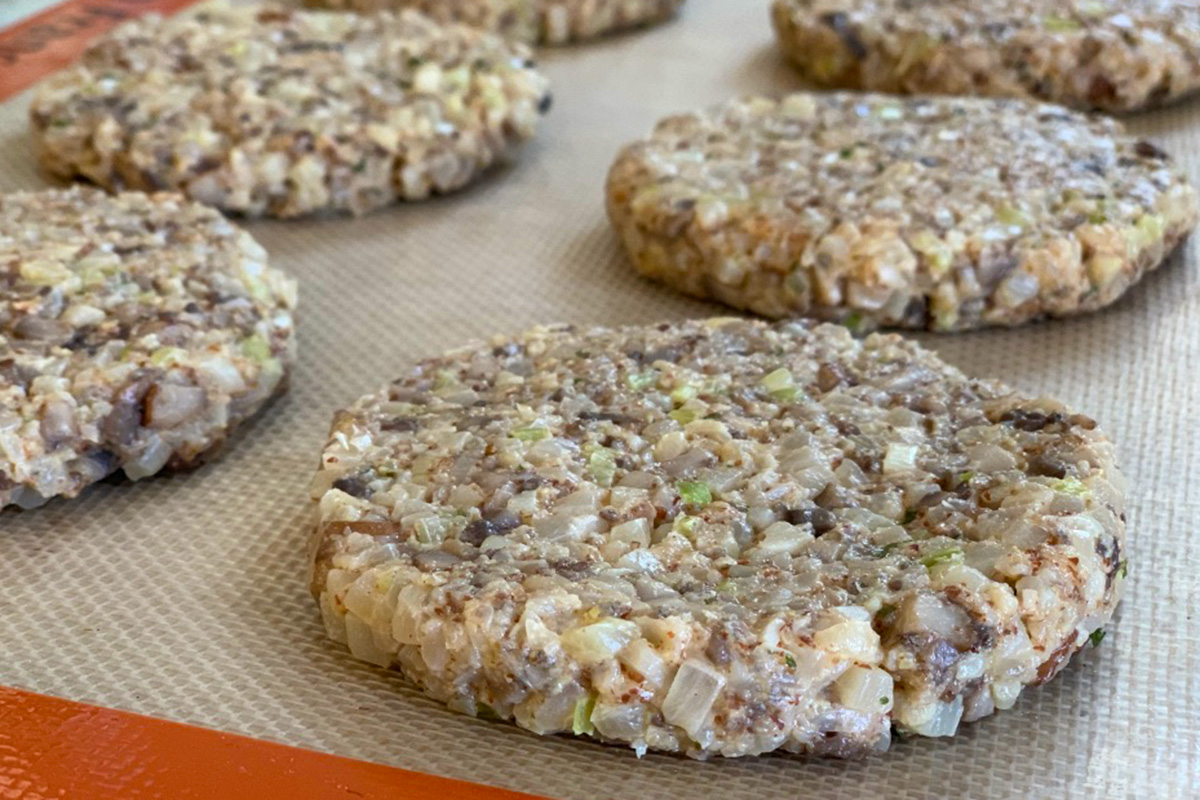 Keep these recipe tips in mind when making low carb veggie burgers:
Be sure to cook your vegetables long enough. If the excess moisture isn't cooked out, you may end up with mushy veggie burgers. Bleck!
If making mini burger bites, be sure to adjust the cooking time because appetizer-sized bites will cook faster.
I do not recommend using a silicone mat when baking the burgers. It creates excess moisture and the patties don't crisp up as well. (And yes, a silicone slip mat is shown in the photo above—So trust me, I'm speaking from personal experience. 😭)
If your burgers don't seem firm enough, pop em' back in the oven for another 5-10 minutes. The veggie burgers are done once the patties are well-browned with crispy edges.
If using an 8-ounce block of cheese and you don't have a scale, I recommend cutting the block of cheese in half before shredding. Freshly shredded cheese is hard to measure so this helps to ensure that you are using 4 oz. of cheese. (And BTW, you really should get a kitchen scale.)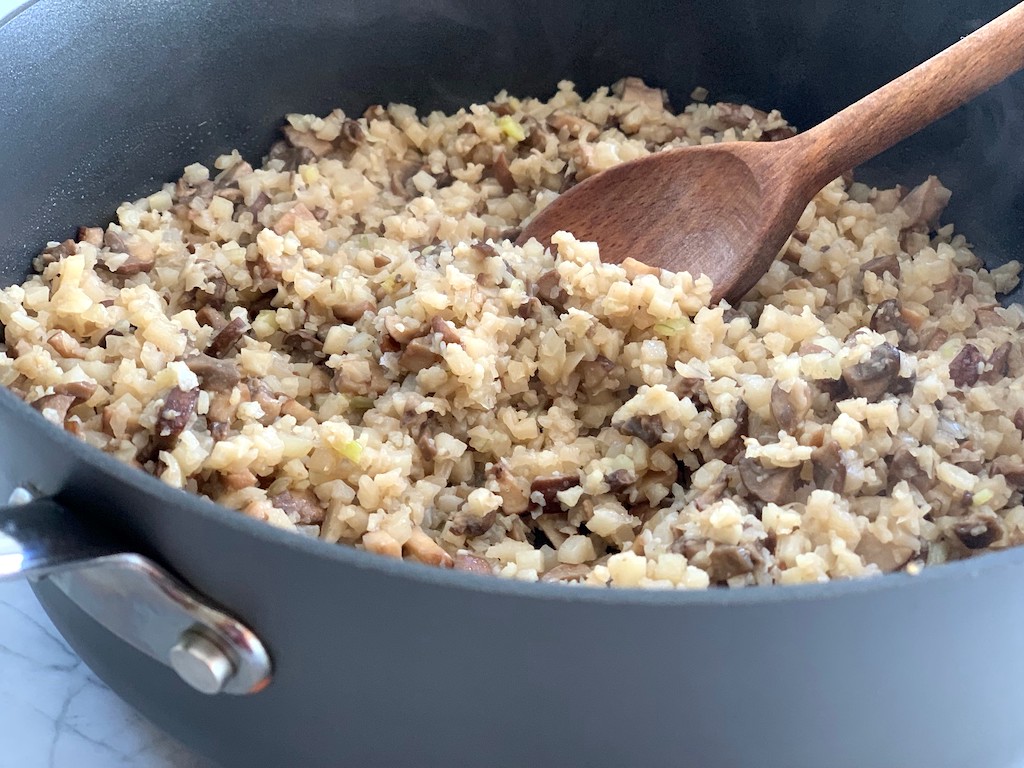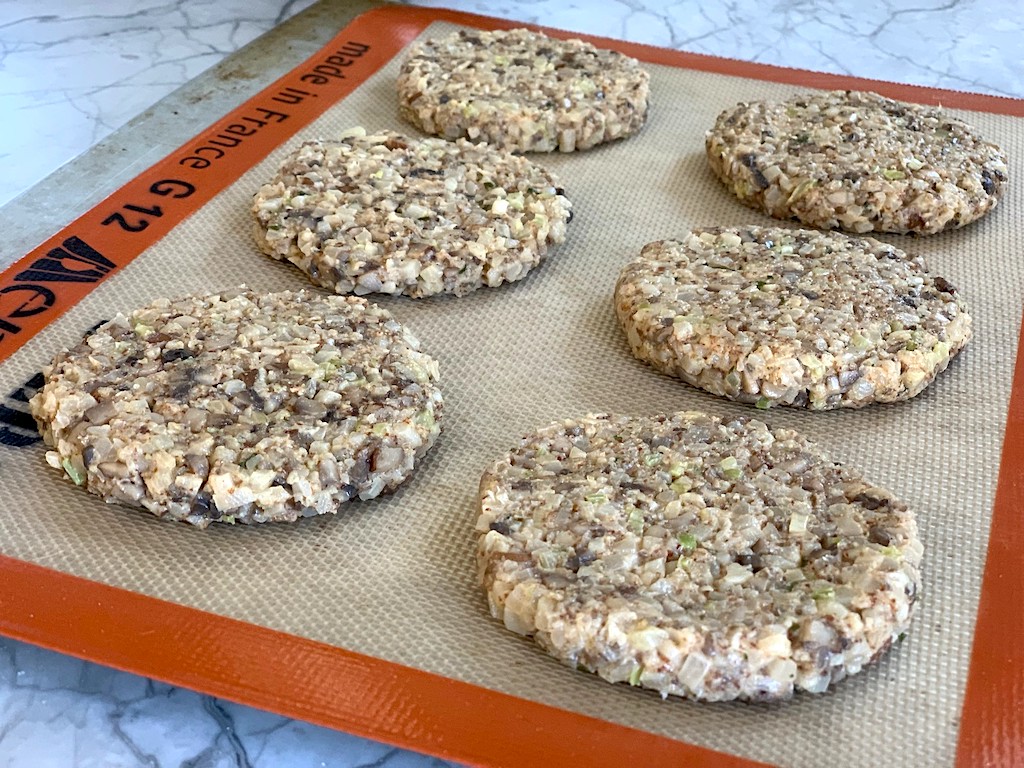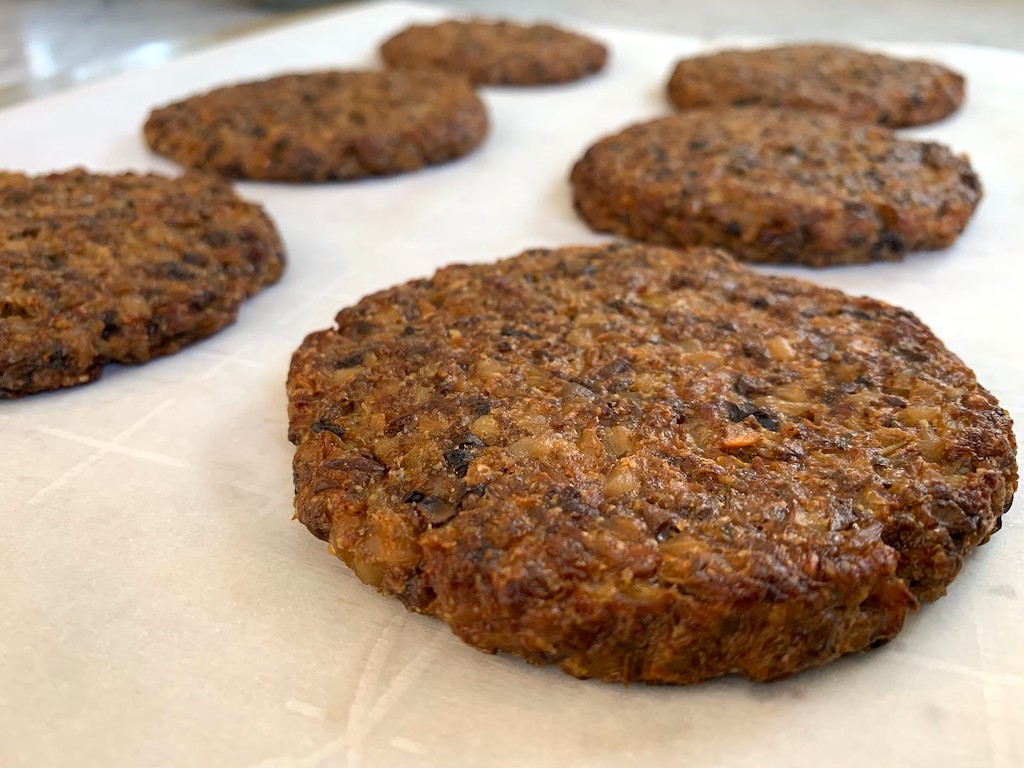 ---
Print
Keto Veggie Burgers
yield: 6 SERVINGS
prep time: 25 MINUTES
cook time: 30 MINUTES
total time: 55 MINUTES
These meatless burgers are super tasty AND they're super low-carb & low-cal, too!
Ingredients
1 tablespoon olive oil
1/2 cup onion, very finely diced (I use sweet yellow onion)
2 cloves garlic, minced
1/2 cup celery, very finely chopped
8 oz. mushrooms, stemmed and very finely chopped (I use baby bellas)
10 oz. bag frozen riced cauliflower
1 teaspoon dried parsley
1/2 teaspoon sea salt
1/2 teaspoon smoked paprika
1/2 teaspoon cumin
1/2 teaspoon garlic powder
1 cup freshly grated sharp white cheddar cheese (must be equal to 4 oz.)
Directions
1
In a large non-stick skillet, warm olive oil over medium heat. Add onions, garlic, and celery. Sauté for 2 minutes, or until onions begin to soften.
2
Add mushrooms and riced cauliflower. Stirring as needed, cook for an additional 10-12 minutes to remove unwanted moisture from the veggies. If the veggies begin to brown, the excess moisture has likely been cooked out. Remove the pan from heat.
3
To the warm veggie mixture, add tamari, salt, parsley, paprika, cumin, and garlic powder. Stir to combine. Add the shredded cheese and mix until the cheese has melted and is fully incorporated. Next, add the flax meal and chia seeds. Stir until thoroughly combined. Set aside to cool and thicken.
4
Preheat the oven to 400 degrees. Prepare a baking sheet by either greasing it very well or using my preferred method and line it with parchment paper. As noted in the tips, silicone mats are not recommended.
5
Once the mixture has cooled enough to easily touch (about 5-10 minutes) form the dough into 6 patties and place on the baking sheet. The mixture will be sticky and should come together easily. I recommend oiling your hands to help with sticking. If your dough wants to fall apart, you may need to add another tablespoon (or more) of flax meal and leave it to thicken a bit longer before forming patties.
6
Bake veggie burgers for 30 minutes or longer (oven temps may vary). Patties are done when they are nicely browned with a crispy exterior. Allow cooling for a minimum of 5 minutes before serving. Patties will harden/thicken as they cool. Enjoy!
7
Storage and reheating:
Store in the refrigerator in an airtight container for up to 3 days or freeze for up to 2 months. Reheat frozen veggie burgers in an air fryer at 350 degrees for 5-7 minutes (preferred method) or in a 375-degree oven for about 10 minutes. I also enjoy them cold.
Nutrition Information
Yield: 6 veggie burgers, Serving Size: 1 veggie burger
Amount Per Serving: 173 Calories | 12.5g Fat | 9g Total Carbs | 4.3g Fiber | 2.5g Sugar | 8.5g Protein | 4.7g Net Carbs
---

Now it's time to top that veggie burger!
These keto veggie burgers are fab on their own. However, they are also AMAZING loaded with my fave toppings! What's on the list? I love tangy sprouts, avocado slices, garlic aioli, melted cheese, and for you meat-heads—bacon. Yep, I said bacon on a veggie burger! How truly unorthodox. 😉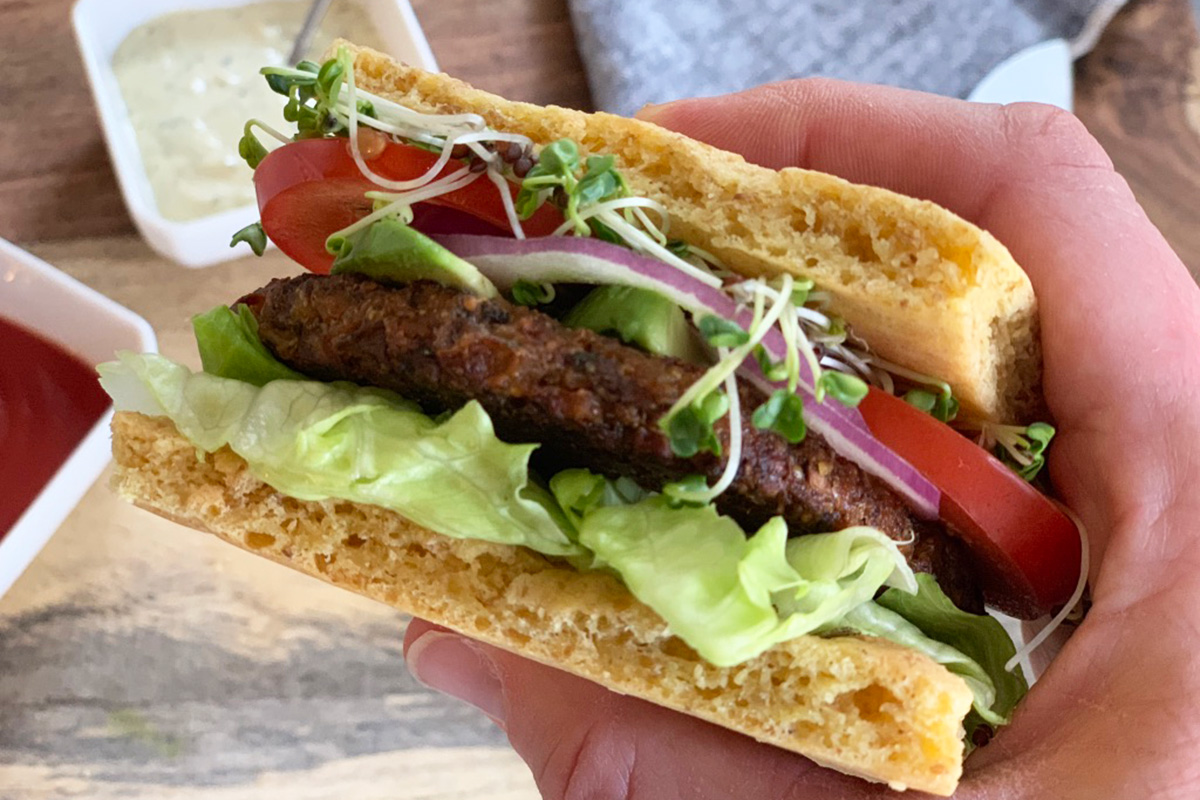 Serve these veggie burgers wrapped in lettuce to keep it light and low-cal. Or, try it on this Italian focaccia bread—So good! Another fun idea that I've personally never tried but will soon—avocado "buns"! Probably messy and probably worth it!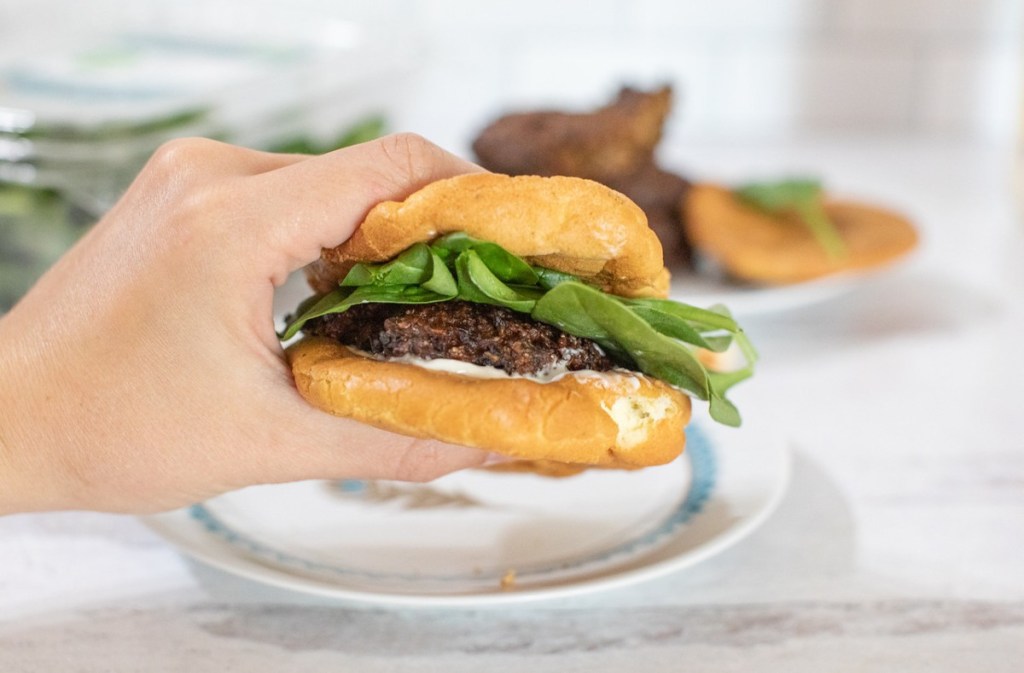 My hip sidekick Jenna tried this recipe too, and here's what she had to say:
"Wow this was such a fun recipe! The steps are super helpful and full of informative tips. That's appreciated because this is a more intimidating recipe. One of my favorite things in the world is portabella burgers so having another keto vegetarian burger option is seriously so good! I love the use of the mushrooms, white cheddar, and riced cauliflower as the base. What a delicious creation!
The tip for oiling your hands worked out perfectly for me and the cooking time was spot on. They turned out crispy on the outside, juicy in the middle, and they held up perfectly! I used our delicious keto cloud bread as the bun." – Jenna
---
For another yummy vegetarian meal, try a Mexican Ketodilla (it's our keto take on a quesadilla)!