Keto Rosemary & Sea Salt Italian Focaccia Bread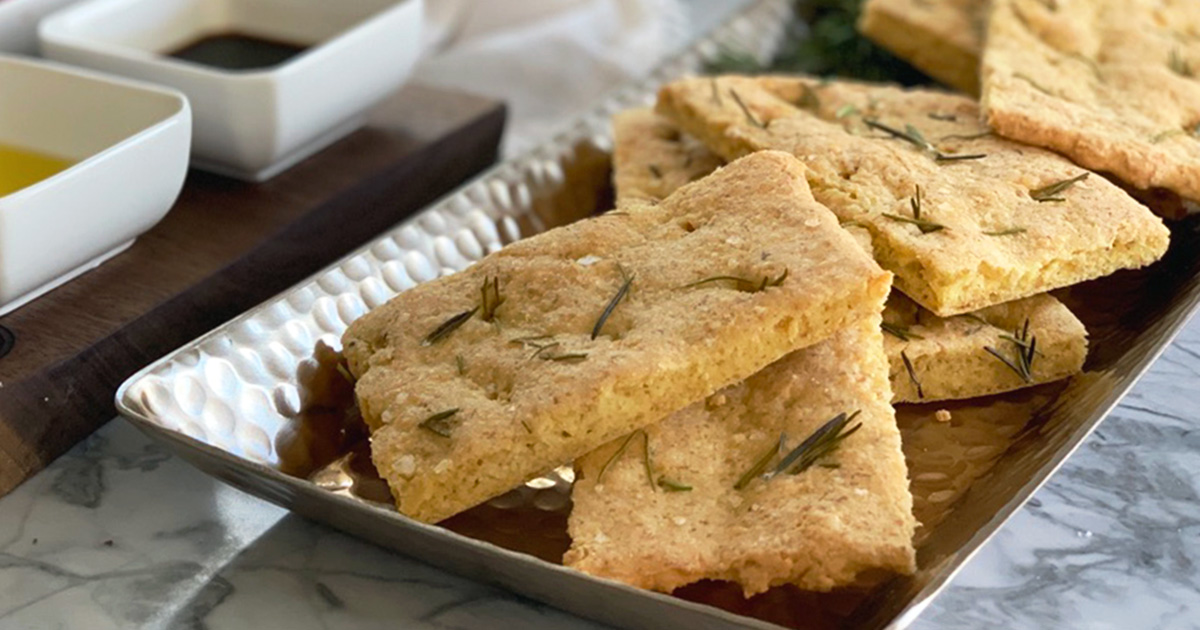 This tasty bread is made with a secret ingredient…
Parmesan cheese definitely adds a delicious flavor to this low-carb rosemary & sea salt focaccia bread – but, furthermore, it helps bind all the ingredients into bready goodness. This is a very simple keto bread recipe—It uses basic ingredients and the method is quite easy.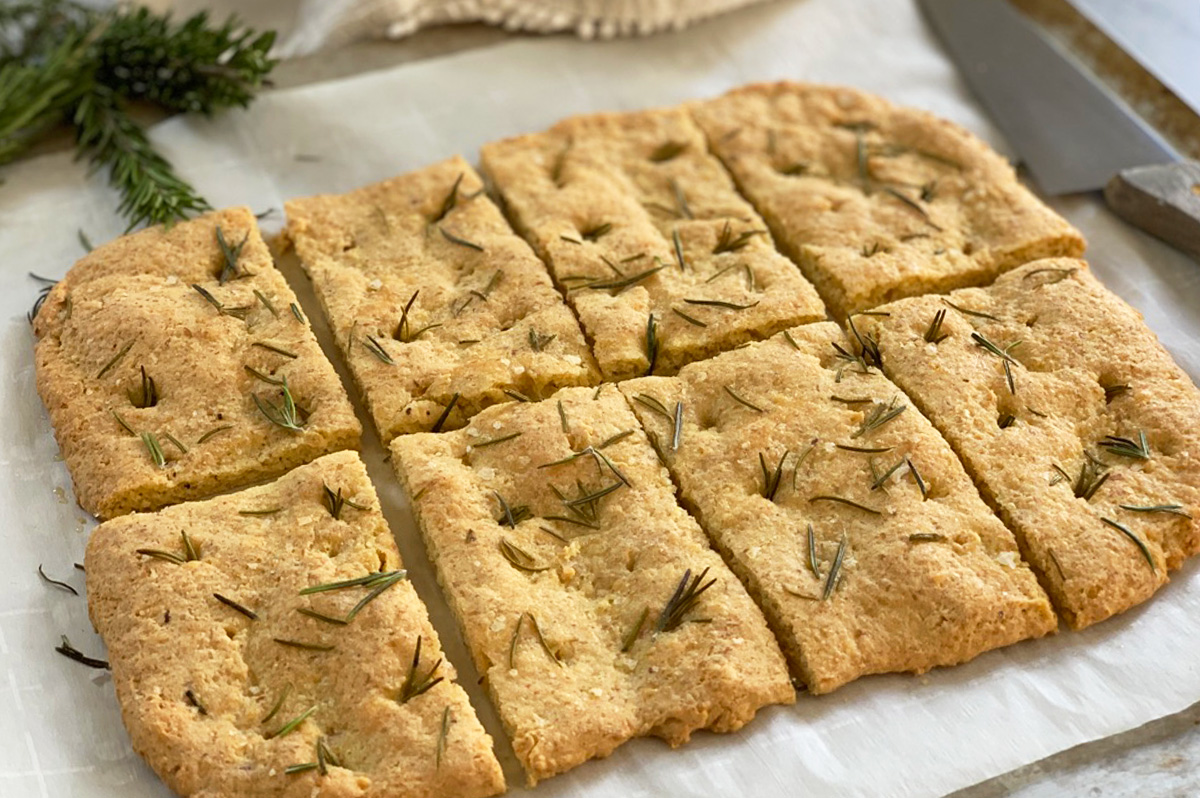 You can get creative and add extra spices and flavors to personalize your keto focaccia bread. Some fun ideas are adding kalamata olives, garlic butter (instead of olive oil), or for an all-American spin, skip the rosemary & sea salt and add jalapenos & shredded cheddar cheese!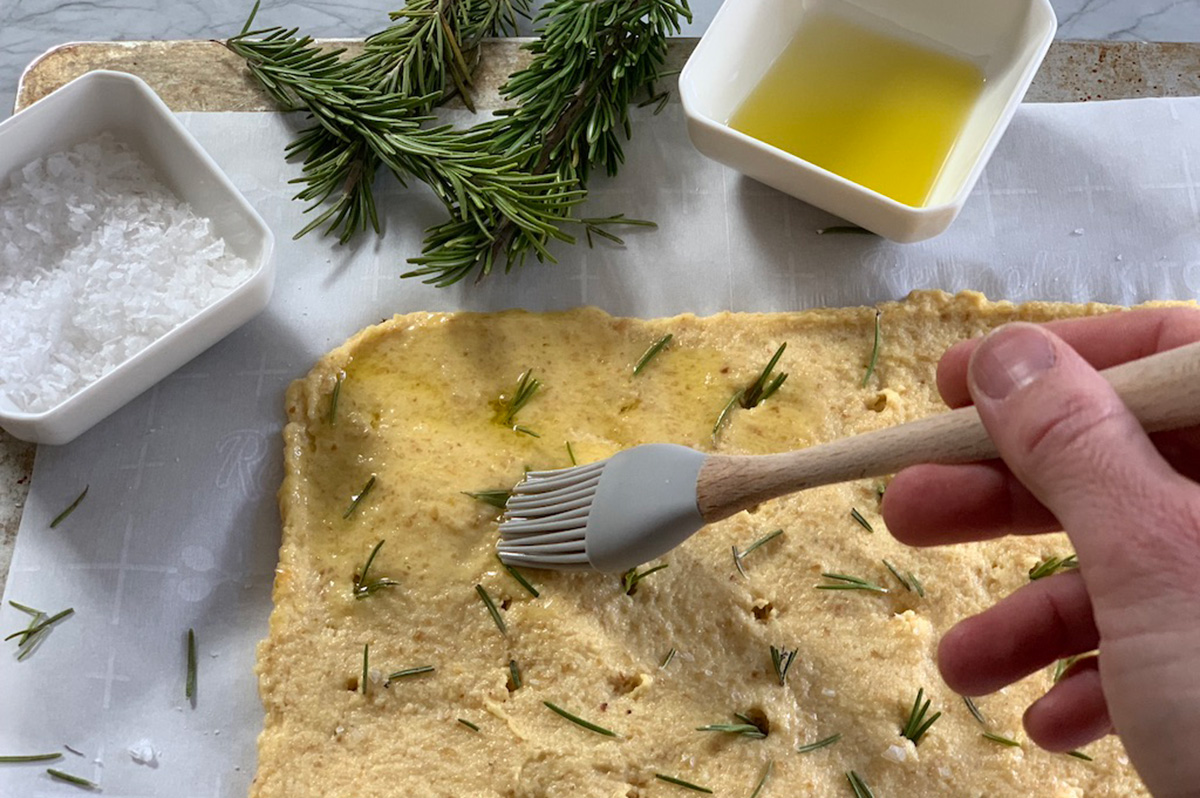 Hip Tips:
Use golden flax meal instead of standard flax meal to achieve the best color and appearance.
Be sure that you use fine-grated Parmesan cheese, not shredded. I do not recommend using the powder kind that's often located in the pasta aisle but rather the tubs found in the refrigerated specialty cheese section. (Or, heya—grate your own!)
I recommend using a food processor for this recipe because it helps to break all the ingredients down into a fine meal. That said, I've used a hand mixer as well, and it still turns out great!
I highly encourage you to use room temperature eggs. Easily bring your eggs to room temperature by placing cold eggs in a bowl of very warm water for about 5 minutes.
While I typically warn you not to cut into keto bread until it's fully cooled, I love eating this keto focaccia bread when it's still toasty and warm from the oven… So yum!
Serve with olive oil and your favorite vinegar or try this Fat & Happy Balsamic Vinaigrette that's made with MCT oil.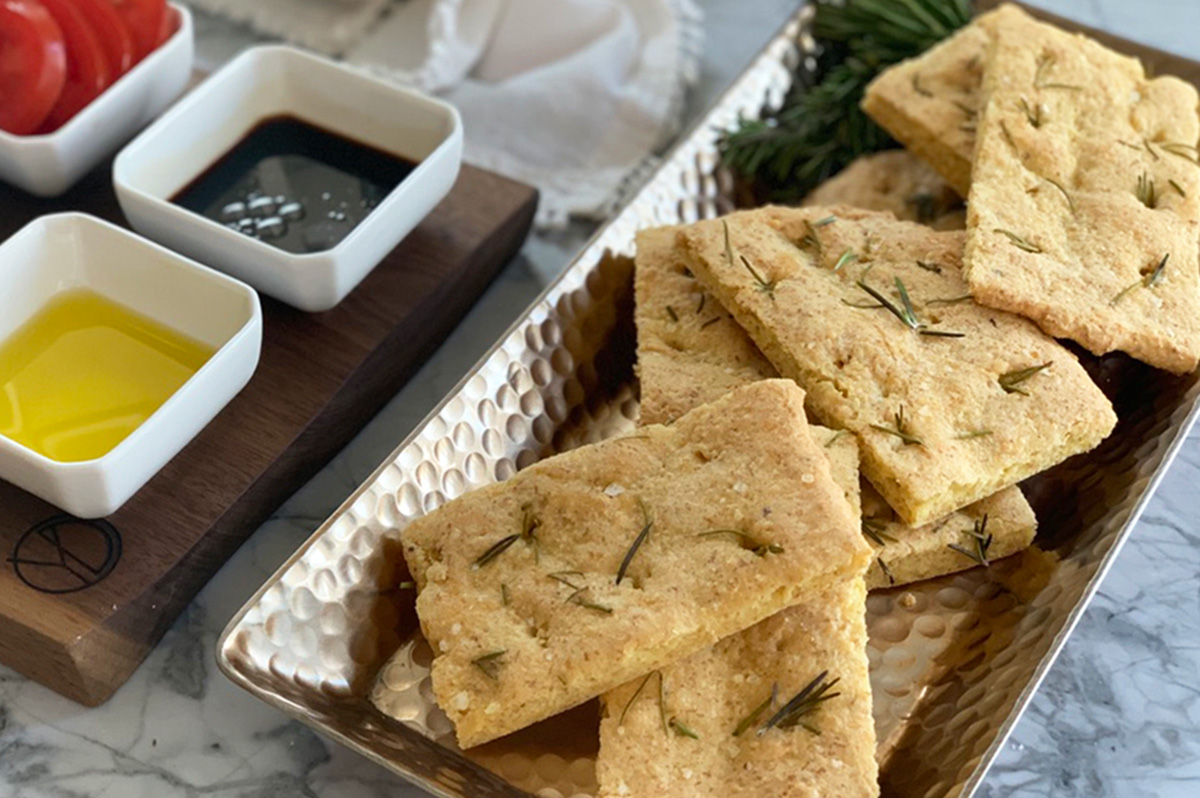 ---
Print
Keto Rosemary & Sea Salt Italian Focaccia Bread
yield: 8 SERVINGS
prep time: 15 MINUTES
cook time: 25 MINUTES
total time: 40 MINUTES
This easy focaccia recipe is a perfect snack, sandwich bread and dinner party appetizer!
Ingredients
2/3 cup blanched almond flour
2/3 cup fine-grated Parmesan cheese
1/4 cup golden flax meal
1 1/2 teaspoons baking powder
1/2 teaspoon garlic powder
2 teaspoons apple cider vinegar
2 large eggs, best at room temperature
1/4 cup warm water
1 tablespoon olive oil
1 to 2 sprigs fresh rosemary
flaked sea salt
Directions
1
Preheat oven to 400-degrees. Using a food processor (preferred method) or electric mixer, combine almond flour, Parmesan cheese, flax meal, baking powder, and garlic powder. Mix well. (If using a food processor, pulse until mixture becomes an even meal.) Then add vinegar, eggs, and water. Blend for 30-60 seconds until mixture is thoroughly combined. If mixture sticks to the sides, scrape down and blend a bit more. Leave the mixture to sit for about 5 minutes, which will allow the flax to thicken the batter a bit more.
2
While the batter thickens, prepare a baking sheet with parchment paper. Next, strip the rosemary needles from the woody stem, leaving some of the needle clusters intact. Set aside.
3
Scrape the batter onto the prepared baking sheet. With a rubber spatula, spread the batter into a rectangle that's roughly 8"x11" and approximately 1/2" thick (the batter will be very sticky; if desired, oil the spatula to make spreading easier). Using a toothpick or other pointy object (I actually use the leftover rosemary stem), create little holes about every inch or so. I do this in an even pattern. (I poke the stem down and jiggle it a bit to create the indentation.) Fill some of the holes with rosemary sprigs (for this, I use clusters with 3 to 4 needles). Sprinkle with additional rosemary needles, brush the top and sides with olive oil, and sprinkle with sea salt flakes.
4
Bake in preheated oven for about 25 minutes or until top and edges begin to turn golden brown. Let cool for 5 to 10 minutes before cutting into 8 pieces. Enjoy!
Additional Notes
Once fully cooled, store in an airtight container at room temperature for at least a few days. If desired, lightly toast to re-crisp the exterior. Enjoy with olive oil & vinegar or use as sandwich bread. YUM!
Nutrition Information
Yield: 8 servings, Serving Size: 1 peice
Amount Per Serving: 138 Calories | 11g Fat | 4g Total Carbs | 2g Fiber | 7g Protein | 2g Net Carbs
---

This keto bread won't be a punch in the gut!
I have a very sensitive stomach, and I LOVE this focaccia bread! I experience zero bloating, gas, or other related tummy issues. This recipe doesn't contain xanthan gum or psyllium husk, both common keto bread ingredients which can also cause tummy discomfort. To sum it up, this focaccia bread recipe is not only easy and extremely tasty but (for me) it's super tummy-friendly. Heck, YES!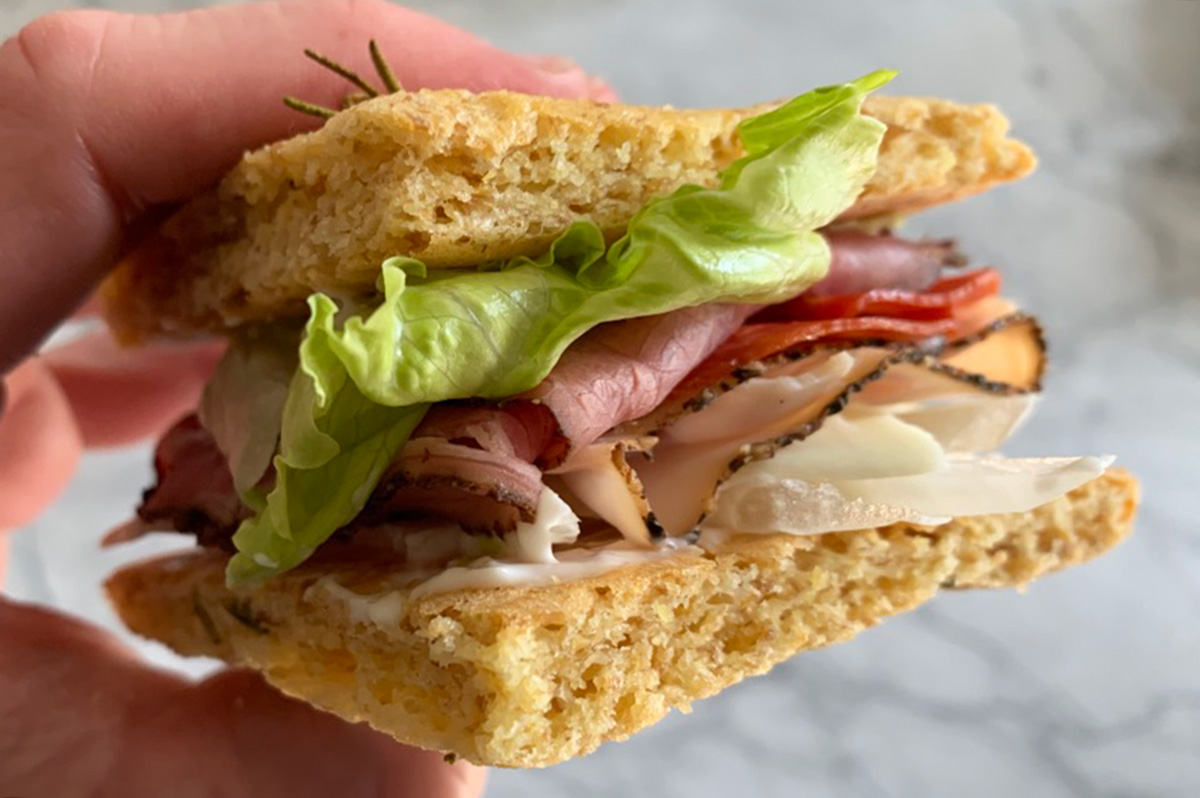 ---
Bread lover? Try this super easy keto quick bread recipe!