Low-Carb Buffalo Chicken & Cauliflower Casserole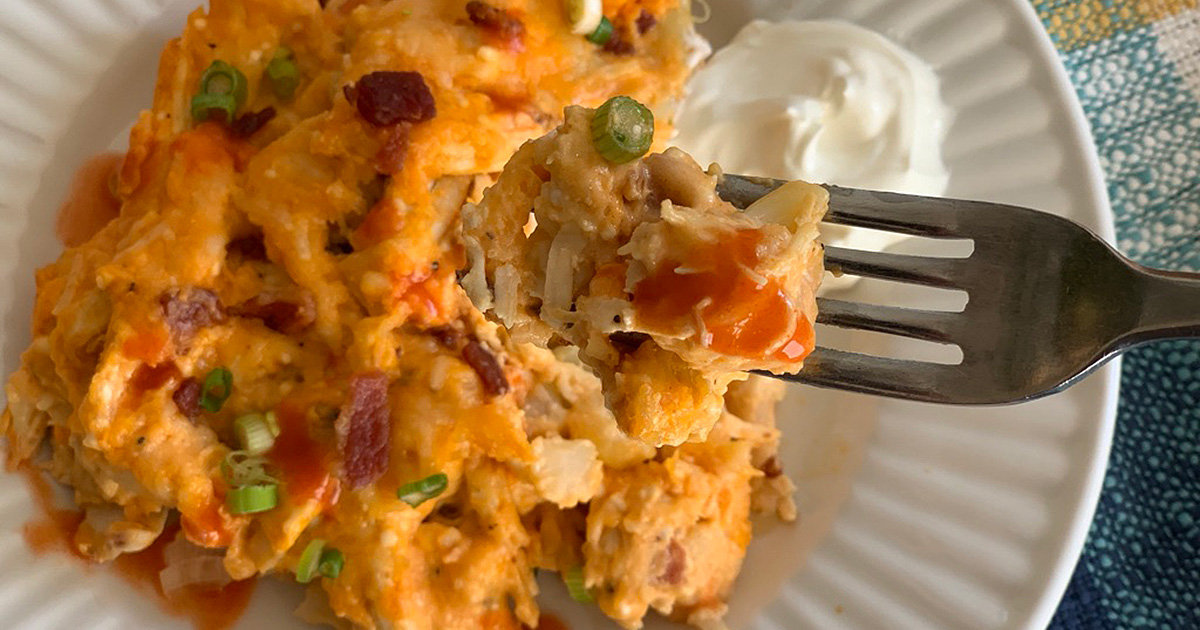 Heat up your dinner plans with this hot and tangy chicken casserole!
This keto Buffalo chicken & cauliflower casserole recipe is the ultimate low-carb comfort food for anyone who likes a little spice in their life. The cheesy, cream-based sauce is the perfect balance to the zesty flavor of Frank's hot sauce. And for any of you who might shy away from the pungent and peppery punch of one of America's favorite hot sauces, no sweat (pun intended)! This recipe isn't over the top spicy. However, if you're a heat lover, then I highly recommend an extra dose of Frank's on your individual serving! 🌶️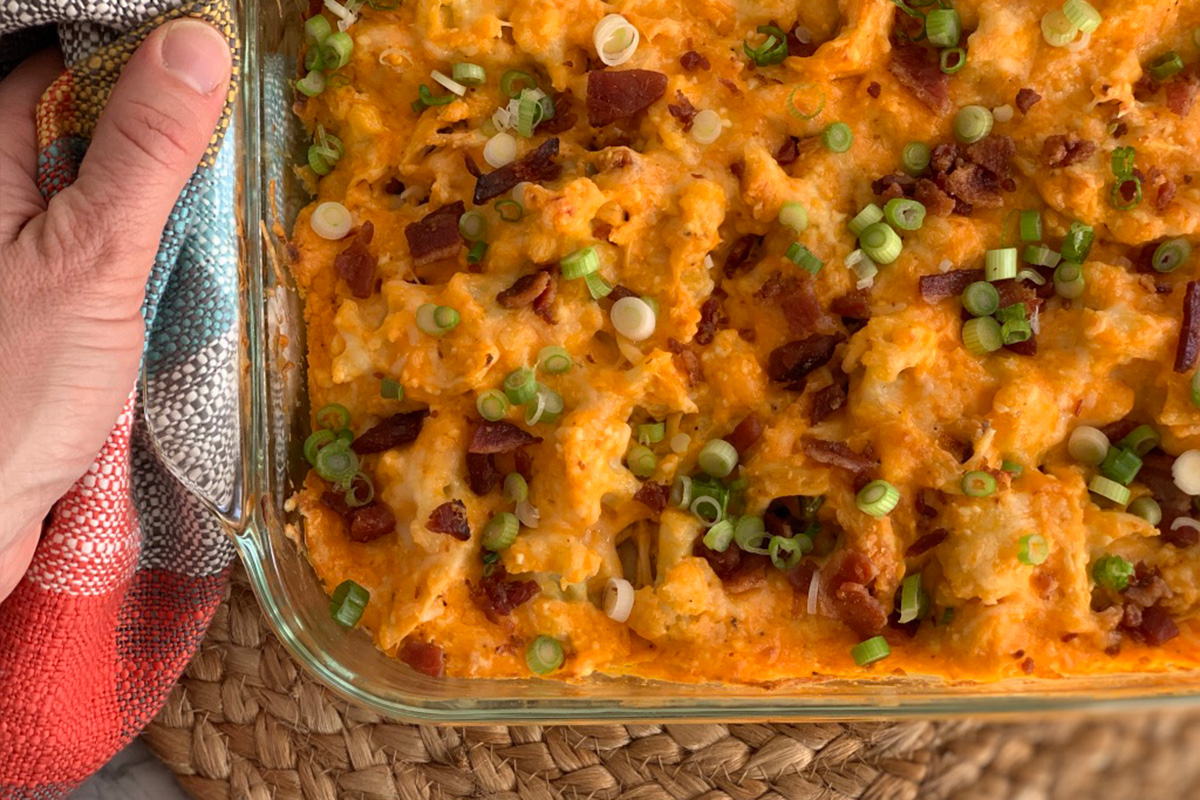 Hip Tips:
Cut your cauliflower into bite-size pieces no larger than 1 inch and shred your chicken well. This helps the buffalo cream sauce work its way into each tasty bite.
Don't overcook your cauliflower. I literally steam it for 5 minutes, then immediately drain and cool.
Be sure to really work the cream sauce in and around the cauliflower/chicken layer.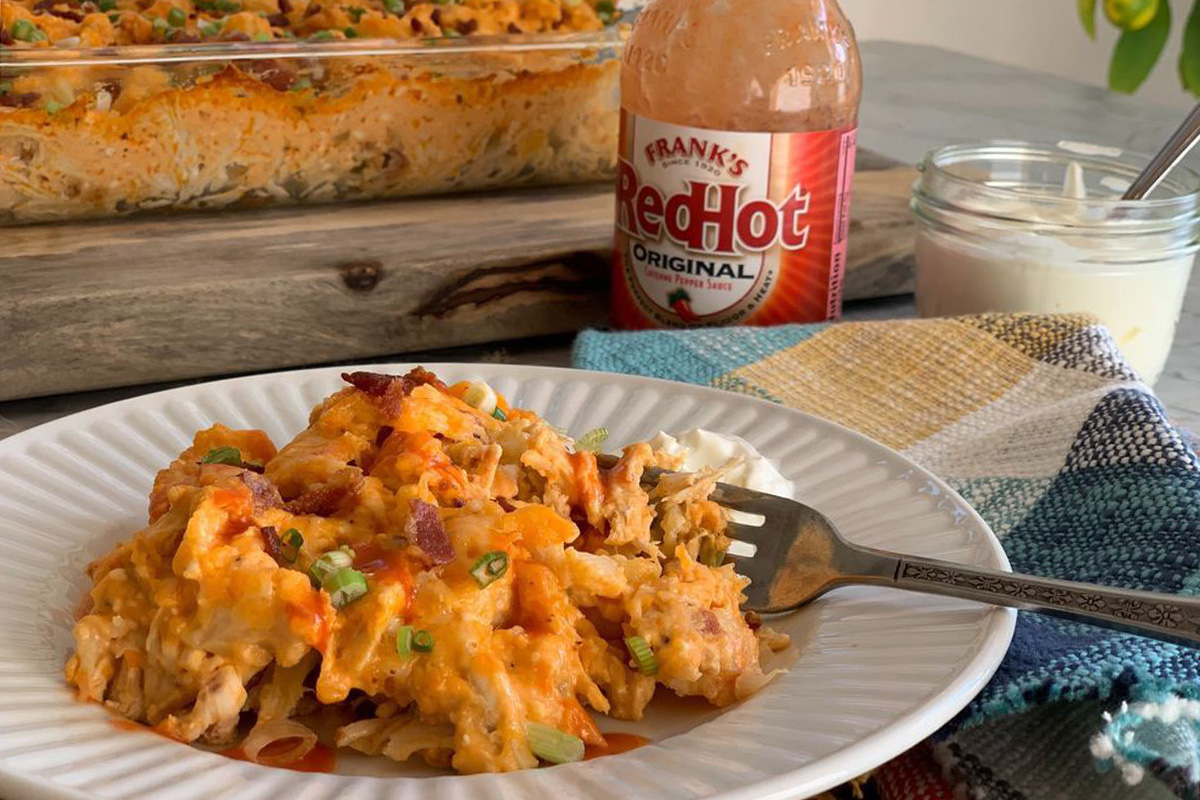 ---
Print
Low-Carb Buffalo Chicken & Cauliflower Casserole
yield: 9 SERVINGS
prep time: 25 MINUTES
cook time: 20 MINUTES
total time: 45 MINUTES
Add a little spice to your life with this hot and tangy chicken and cauliflower casserole!
Ingredients
1 rotisserie chicken, finely shredded (about 6 cups)
1 large head cauliflower, broken into small bite-size florets
1/2 cup chopped green onions, divided (white and light green parts only)
2/3 cup cooked & chopped bacon, divided (about 6 thick slices or use pre-packaged real bacon pieces for convenience)
1 cup heavy whipping cream
1/2 cup Frank's hot sauce
4 ounces block-style cream cheese, softened & cubed
1/2 teaspoon sea salt
1/2 teaspoon garlic powder
1/4 teaspoon black pepper
3 cups shredded cheddar jack cheese, divided (2 cups, plus 1 cup for topping)
Directions
1
Preheat oven to 375-degrees. Prepare a casserole dish with cooking spray.
2
Steam cauliflower for about 5 minutes, until crisp-tender. Move to a colander, drain well. Set aside to continue drying.
3
Warm cream and Frank's hot sauce over medium heat for about 2 minutes. Whisk in the cream cheese, salt, pepper, & garlic powder. Cook until well combined. Next, add 2 cups of shredded cheese, and whisk until the cheese melts, about 2-3 minutes. Remove from heat. Set aside.
4
To the greased casserole dish, add cauliflower, shredded chicken, half the green onions and half the bacon. Gently toss until evenly combined (I use my hands). Pour the cream sauce equally over the chicken/cauliflower mixture. If needed, spread the sauce into an even layer with a spatula. Then, using a fork or spoon, work the cream sauce down into the bottom layer to mingle it with the chicken and cauliflower pieces. Top with remaining 1 cup shredded cheese.
5
Bake for 20 minutes until hot and bubbly. Sprinkle casserole with remaining onions and bacon. Allow to cool for 10 minutes before serving. Enjoy!
Additional Notes
Serve with sour cream, blue cheese or ranch dressing, and extra hot sauce.
Nutrition Information
Yield: 9 servings, Serving Size: approx. 1 cup
Amount Per Serving: 453 Calories | 32g Fat | 7g Total Carbs | 3g Fiber | 32g Protein | 4g Net Carbs
---

Rock this keto Buffalo Chicken Casserole with some killer toppings!
Yes, this low-carb casserole shines on its own, but it's even better with some all-star toppings. Add a refreshing dollop of sour cream to cool things off. Drizzle a little blue cheese dressing over top for an authentic Buffalo chicken experience. Rain on some ranch for an all-American spin. And of course, add some extra Frank's or your fave hot sauce and kick the heat factor up a few notches!

---
Love casseroles? Try my broccoli chicken casserole!