Keto Kung Pao Chicken (P.F. Chang's Copycat Recipe)
Love spicy kung pao chicken?
If you miss eating this delicious Chinese dish at P.F Chang's, listen up! It's actually super easy to make a low-carb, keto version at home, and it's bursting with the same garlic, ginger, and chile flavors we all love. This chicken skillet meal is a cinch to make, and will take care of your Chinese food craving.
The result is a hearty meal with caramelized stir-fried pieces of chicken, peppers, and peanuts. So good.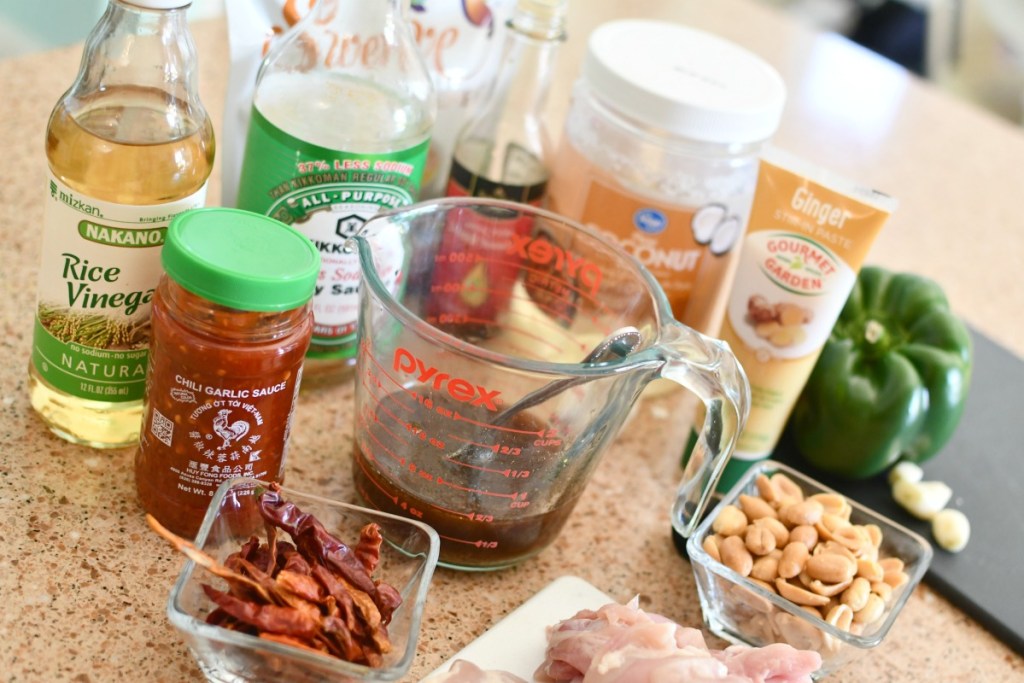 Hip Tips:
Use chicken thigh meat for best results. You could always use chicken breasts, but tender thighs have so much more flavor and won't dry out like breast meat can.
Dried red chiles are so yummy in kung pao chicken! You can find them at the grocery store in the ethnic foods section. Be warned though, these are powerful, so start with just a few.
Balance this spicy dish with a bit of sweetness. I used a little Swerve in the sauce (or you could use your favorite sugar alternative to keep things keto).
Serve your kung pao chicken on top of cauliflower rice if desired. I think it'd be yummy with zucchini noodles, too!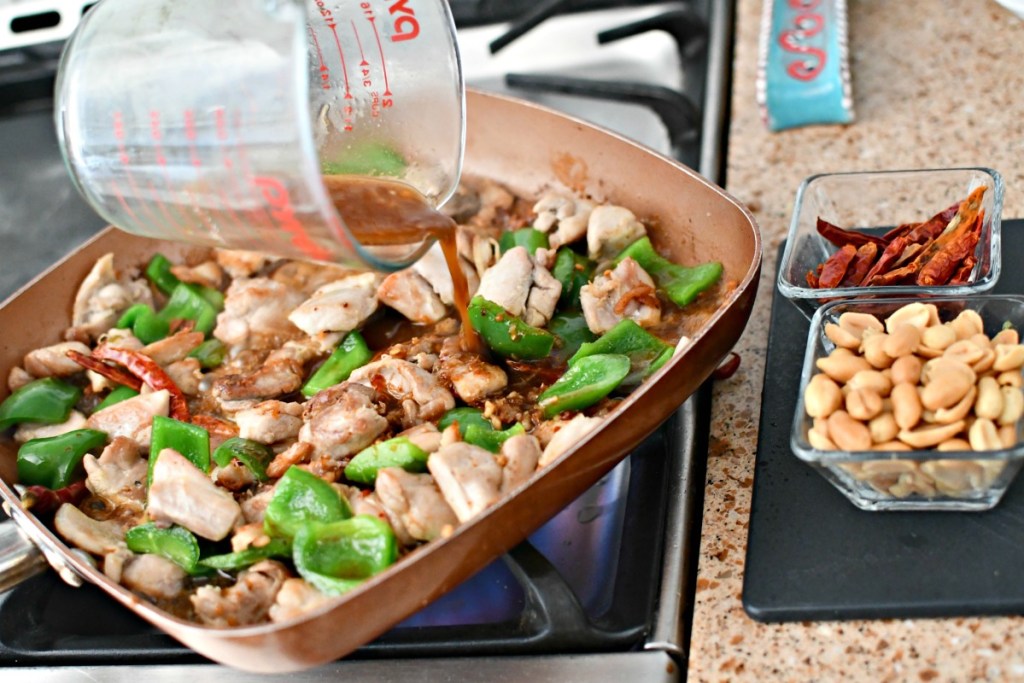 ---
Print
Keto Kung Pao Chicken
yield: 4 SERVINGS
prep time: 10 MINUTES
cook time: 20 MINUTES
total time: 30 MINUTES
Chicken, bell peppers, and peanuts get stir-fried in a spicy garlic chile soy sauce for an easy skillet dinner bursting with flavor.
Ingredients
For the sauce:
1/2 cup chicken broth
1/4 cup soy sauce or tamari gluten-free soy sauce
2 cloves garlic, minced
1 teaspoon sesame oil
1 teaspoon rice vinegar
1 teaspoon chili garlic sauce
1/2 teaspoon ginger paste
1 tablespoon Swerve sweetener
for the stir fry:
2 tablespoons coconut oil
1 1/2 pounds raw chicken thigh meat, cut into 1 inch pieces
1 bell pepper, sliced
3 dried red chiles
1/4 cup peanuts
Directions
1
In a small bowl whisk together sauce ingredients, and set it aside.
2
Heat coconut oil in a large skillet to medium/high heat. Season chicken with a little salt & pepper. Once hot, add the chicken, and let cook for about 3 minutes on each side until browned.
3
Toss the bell pepper and dried chiles in with the chicken and cook for a few more minutes until the chicken is cooked through and the bell peppers are slightly tender. Pour in the sauce, add the peanuts, and stir all together. Turn up the heat until simmering, and let the sauce caramelize and thicken for a few minutes.
4
Remove from heat and serve on top of cauliflower rice if desired.
Nutrition Information
Yield: 6 cups kung pao chicken, Serving Size: 1 1/2 cups
Amount Per Serving: 546 Calories | 26g Fat | 6g Total Carbs | 2g Fiber | 44g Protein | 4g Net Carbs
---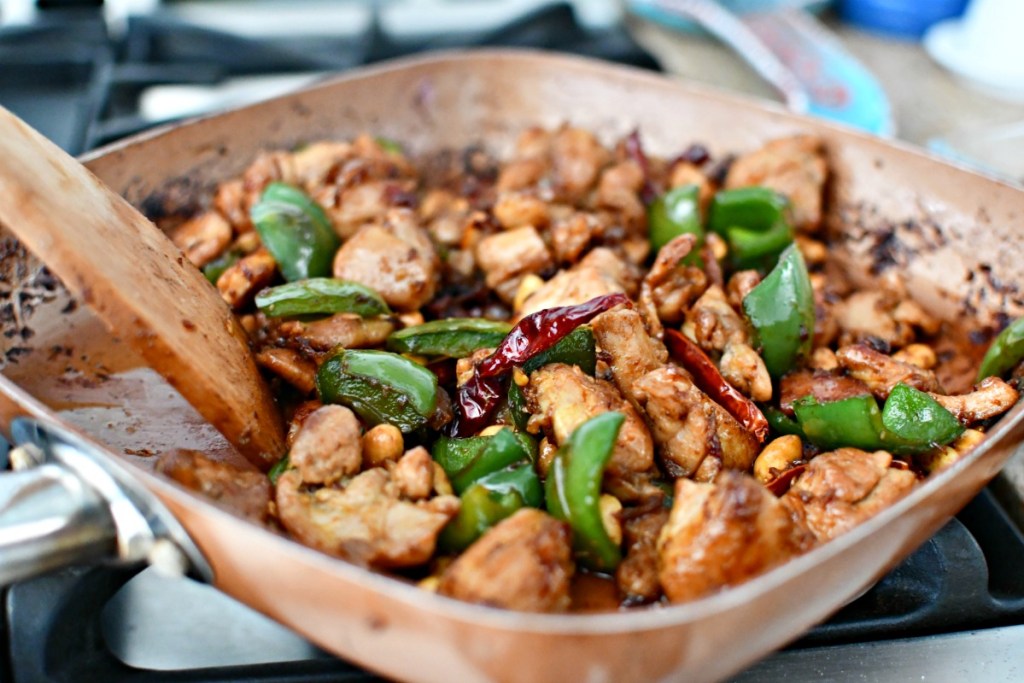 Welcome to kung pao heaven!
My husband's favorite chinese food is kung pao, and we both really enjoyed this easy recipe, and can't even believe it's keto! The texture on the chicken is so delicious, and it hits all the right bold and spicy flavors like the P.F. Chang's version. I love that's it's easy to throw together any night of the week! The leftovers were also yummy the next day, too!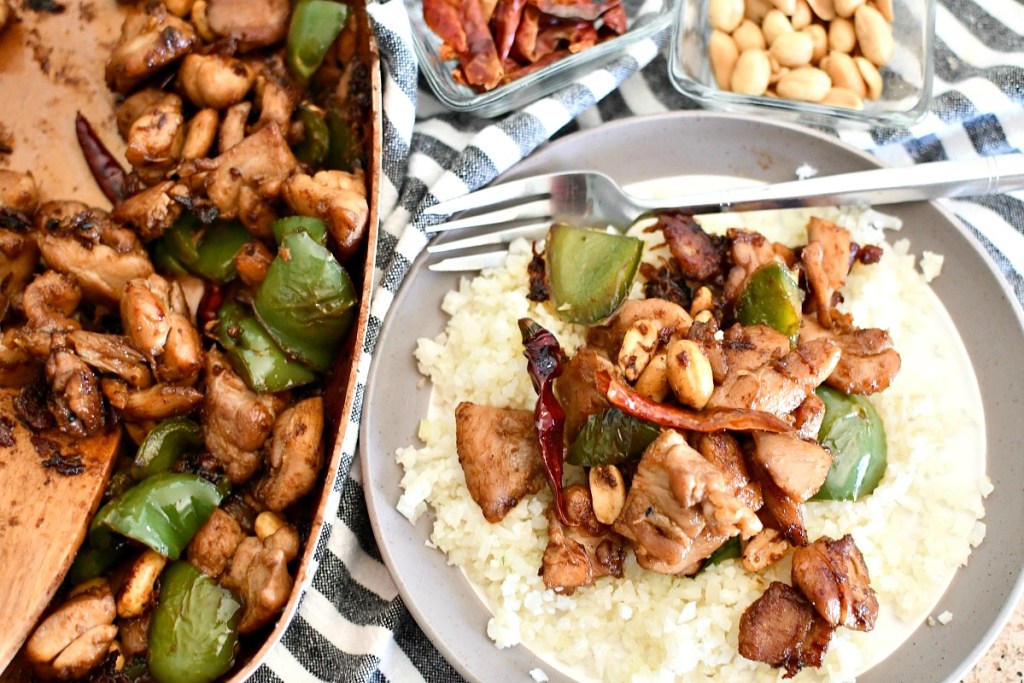 ---