These Watermelon Caprese Skewers are the Perfect Keto Snack for Summer
Is watermelon keto? It can be! These watermelon Caprese skewers are a perfect way to enjoy it in moderation! 🍉
These beautiful watermelon Caprese skewers make a fantastic keto appetizer!
Instead of using tomato, try shaking things up this summer (and beyond) by using fresh watermelon balls for a fantastic sweet and savory combination. The result is a satisfying snack with watermelon, fresh mozzarella, basil leaves, and an easy homemade keto blackberry vinaigrette you're gonna LOVE.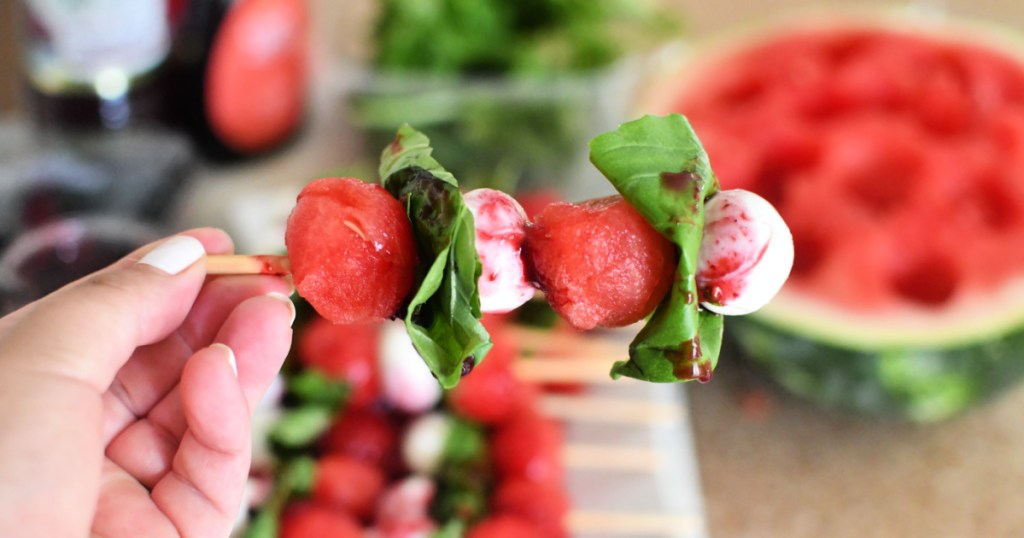 I know what you're thinking, "Aren't there too many carbs in watermelon?"
So, is watermelon keto friendly? It can be if you do it right! According to Carb Manager, one ball of watermelon is around 1g net carb. One of these skewers has 2 balls of watermelon and clocks in at just 2.4g total for the skewer. It's totally possible to enjoy watermelon in strict moderation with it not being terribly high in carbs. Eat 1 or 2 of these Caprese skewers as a snack, and you're golden!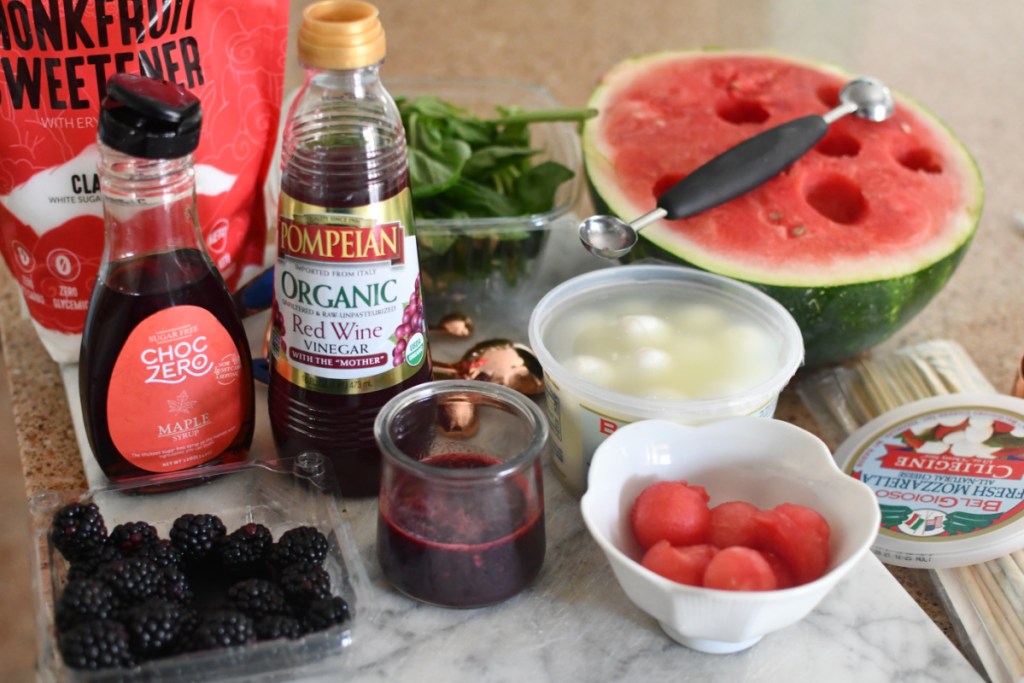 Tips for making keto watermelon Caprese skewers:
You'll need a handy melon baller or cookie scoop to make the fresh watermelon balls, or just cut the pieces into 1.25-inch sized chunks.
Because store-bought balsamic vinaigrette has quite a bit of sugar, I made my own using red wine vinegar and fresh blackberries using a blender, just like this dressing in our keto Caprese salad.
You can compile these a little bit in advance, but then only add the dressing and olive oil when ready to serve.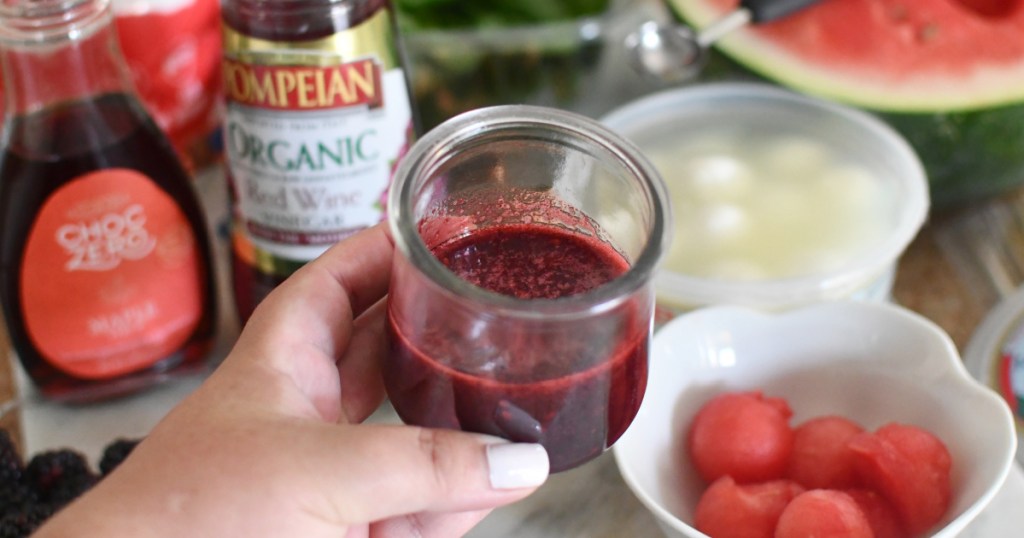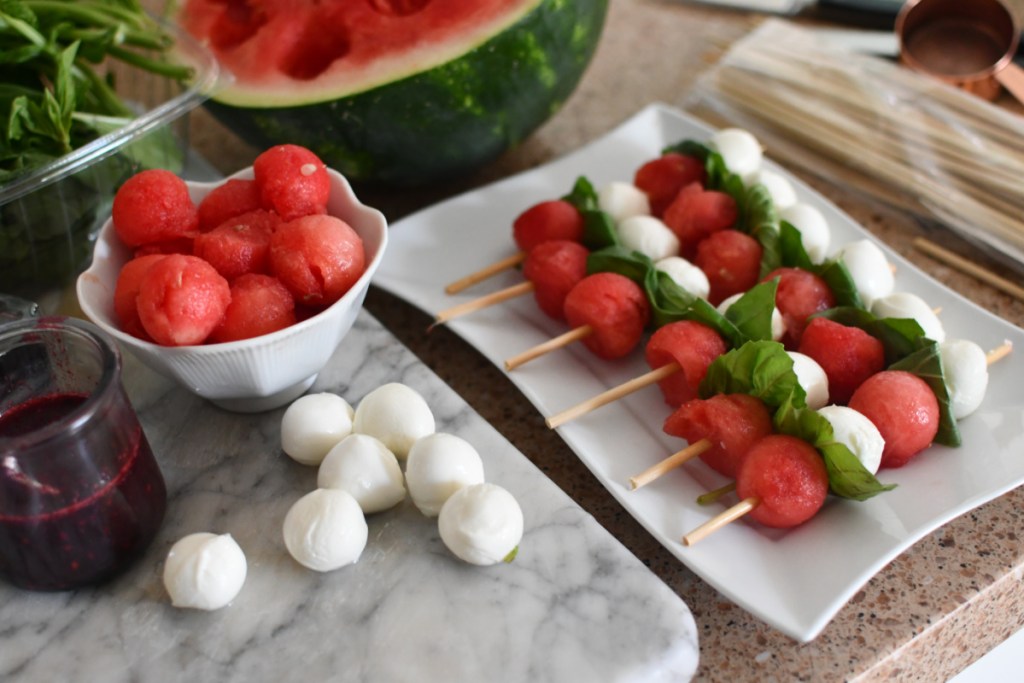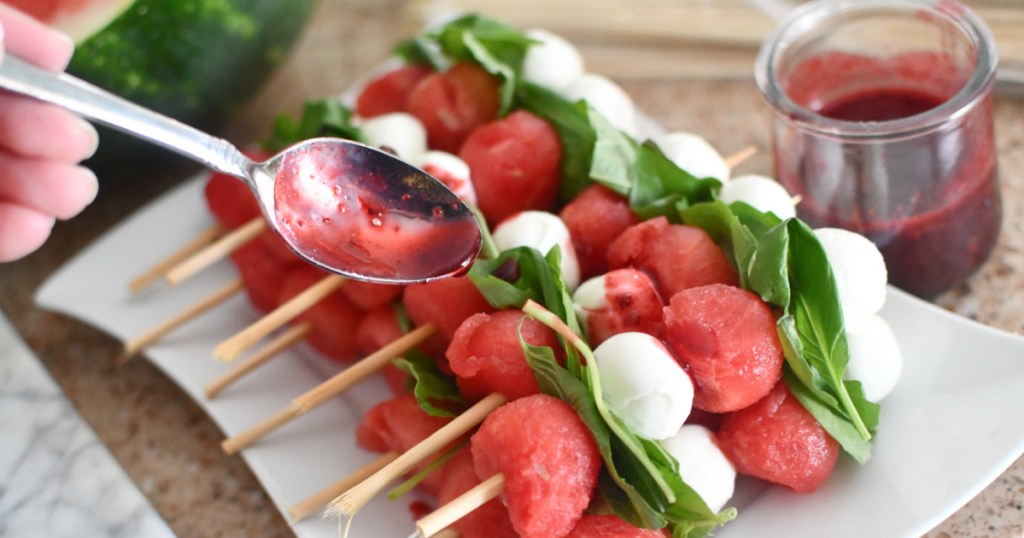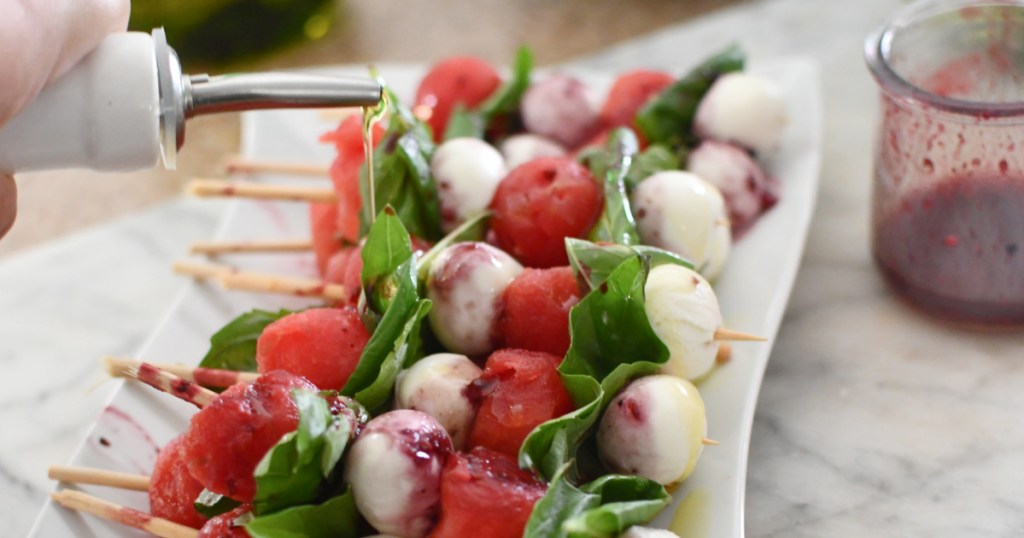 ---
Print
Keto Watermelon Caprese Skewers with Blackberry Drizzle
yield: 12 SERVINGS
prep time: 25 MINUTES
total time: 25 MINUTES
Watermelon with fresh mozzarella, basil, and a homemade keto blackberry vinaigrette drizzle.
Ingredients
For the blackberry drizzle:
For the caprese skewers:
Directions
1
To make the blackberry balsamic drizzle:
Add the ingredients for the blackberry drizzle to the blender. Blend until smooth and place into a small jar.
2
To make the skewers:
Compile the skewers with a watermelon ball, basil leaf, and ball of mozzarella. Repeat that combination on the same stick. Make 12 skewers in total on a plate or platter.
3
Drizzle the blackberry vinaigrette over the top, then drizzle the olive oil and top with a few pinches of salt and black pepper. Enjoy!
Nutrition Information
Yield: 12 skewers, Serving Size: 2 skewers
Amount Per Serving: 141 Calories | 10.6g Fat | 8.5g Total Carbs | 0.7g Fiber | 3.4g Sugar | 3.0g Sugar Alcohol | 6.5g Protein | 4.8g Net Carbs
---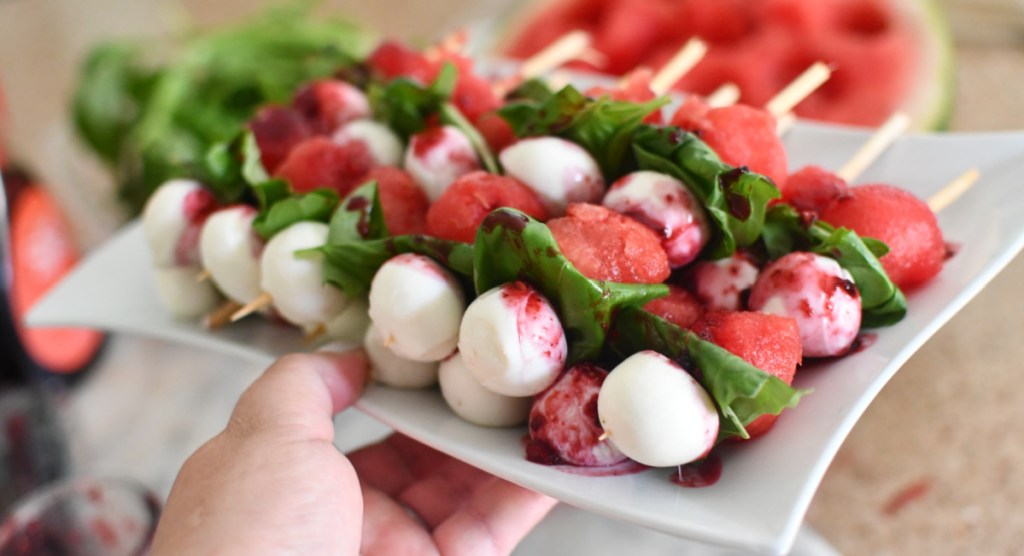 Make a plate of watermelon Caprese skewers for your next dinner party and watch them disappear!
These are so delicious and taste like summer on a stick with the melon and tart blackberry drizzle.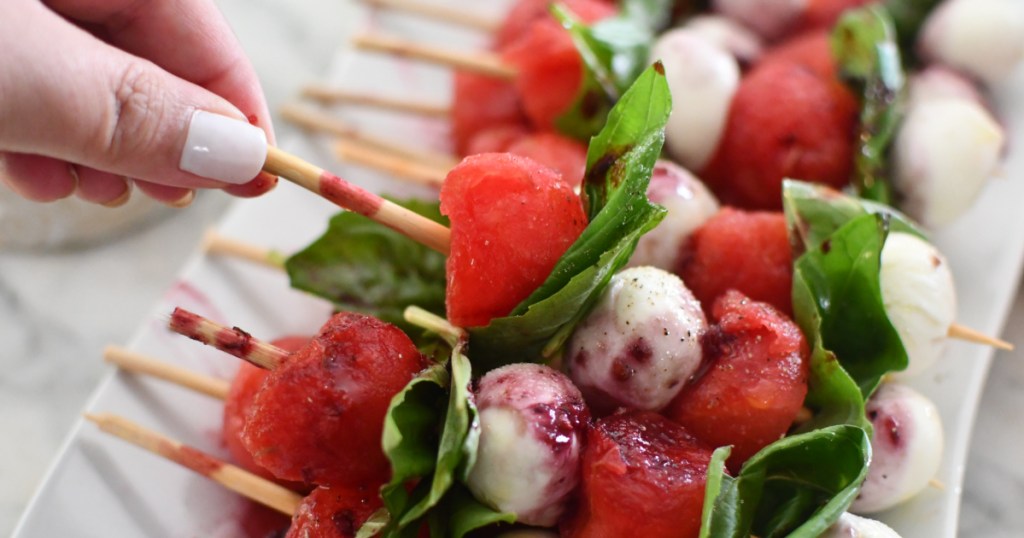 Here's what my teammate Jenna had to say about these watermelon Caprese skewers:
"These are the most perfect summer snack! So fresh and tasty, I want to make these more often! I didn't have mozzarella balls at my grocery store but doubling up on mozzarella pearls instead worked perfectly.
Speaking of, the subtle mozzarella and the juicy watermelon with the fresh basil is just the perfect flavor combination. The blackberry drizzle makes it even better! I am a big fan of this recipe and it is my new favorite this summer!"
---