Easy Caprese Salad with Keto Blackberry Balsamic Drizzle
This classic Caprese salad recipe is kicked up with a delicious keto blackberry balsamic drizzle!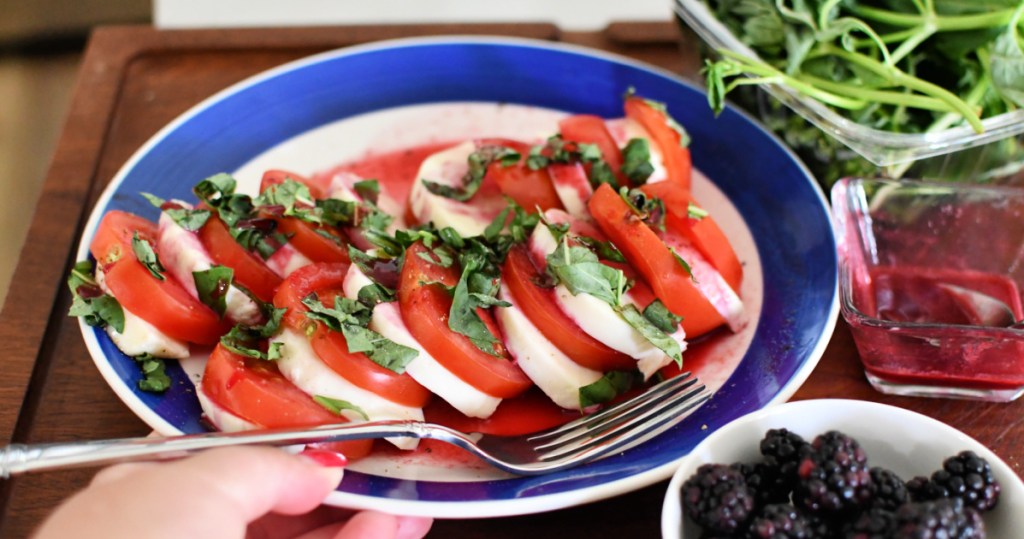 This quick and fresh Caprese salad recipe has summer written all over it!
I love summertime food! Why? Because fresh and bright ingredients often take center stage. Plus, many sunny-season recipes are fast and easy to prepare.
Can't get enough salads in the summertime? There are plenty more keto salad recipes right here!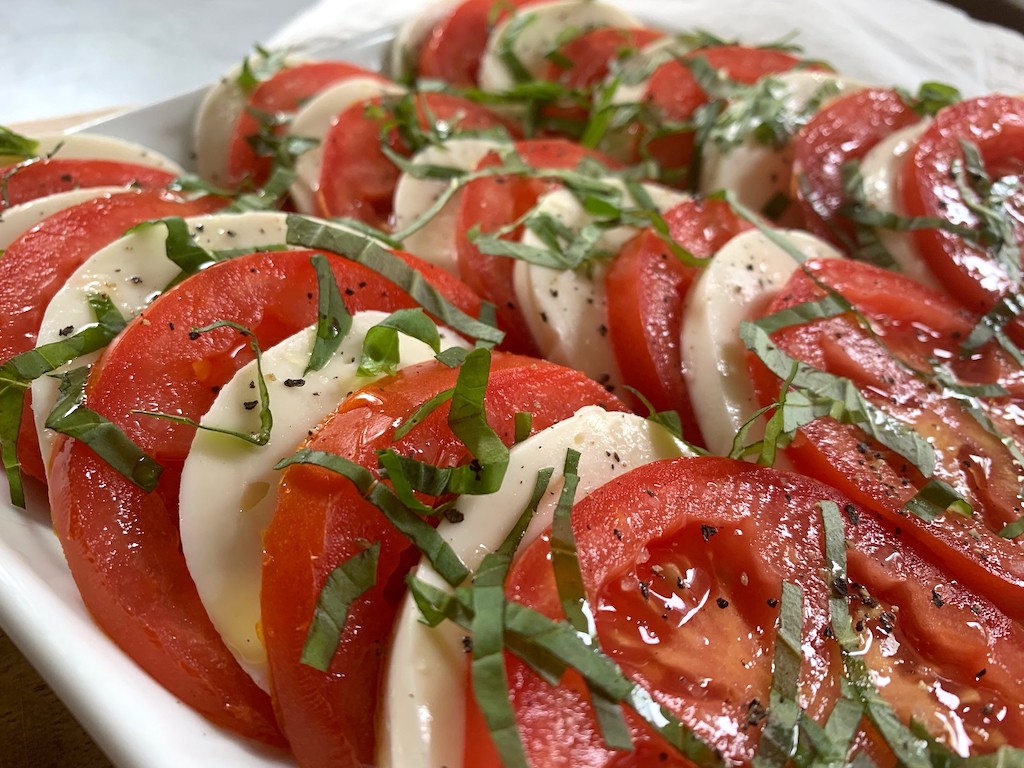 This simple keto Caprese salad recipe with blackberry balsamic drizzle is no exception. It's gorgeous with vibrant red tomatoes paired with soft mozzarella cheese and julienned basil leaves. And not only is the Caprese salad presentation beautiful, it sure is tasty, too!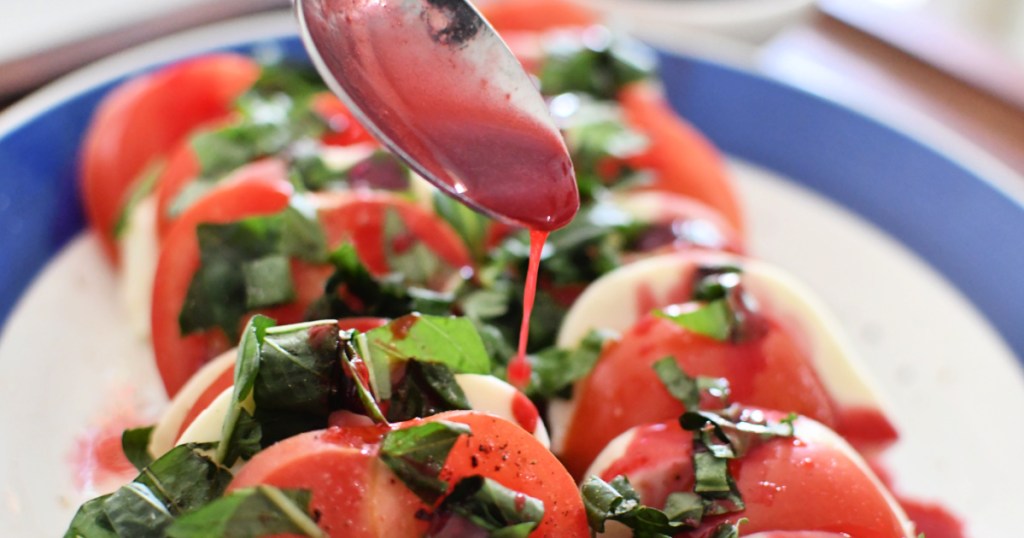 This easy-to-make blackberry balsamic has no added sugar!
Traditional balsamic glaze is loaded with sugar. In fact, many brands have up to 10g of carbs per tablespoon… Yikes! Because a balsamic drizzle is a welcome addition to a Caprese salad, I set out to make a keto-friendly version.
This simple blackberry glaze is sweetened with just a little monk fruit, and really steps things up from a traditional glaze!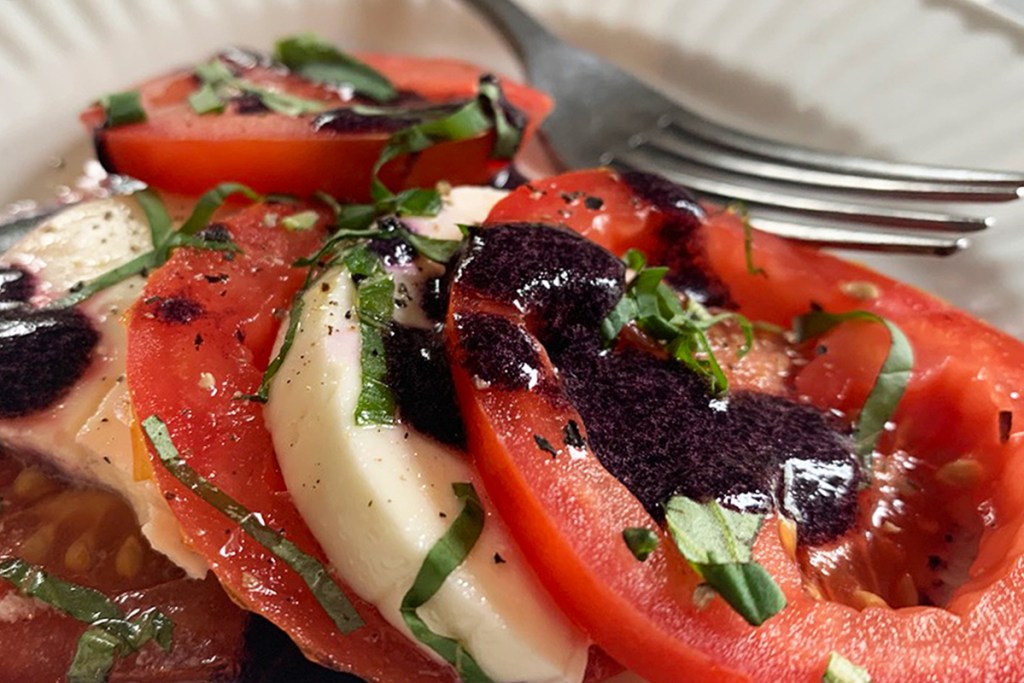 Hip tips for making this keto blackberry balsamic Caprese salad recipe:
If you don't have a fine mesh strainer or cheesecloth, you can try a creative household substitute. In fact, pantyhose and coffee filters have worked well for many peeps in a pinch!
To julienne fresh basil, simply stack the leaves together like sheets of paper. Then gently roll up the stack into a loose cigar shape. Using a very sharp knife, slice across the roll to make thin strips.
Choosing perfectly ripe tomatoes can be tricky. Juicier tomatoes are denser, while unripe tomatoes feel a bit light. You can also test a tomato by smelling near the stem. Ripe tomatoes should have a strong and slightly sweet, earthy odor.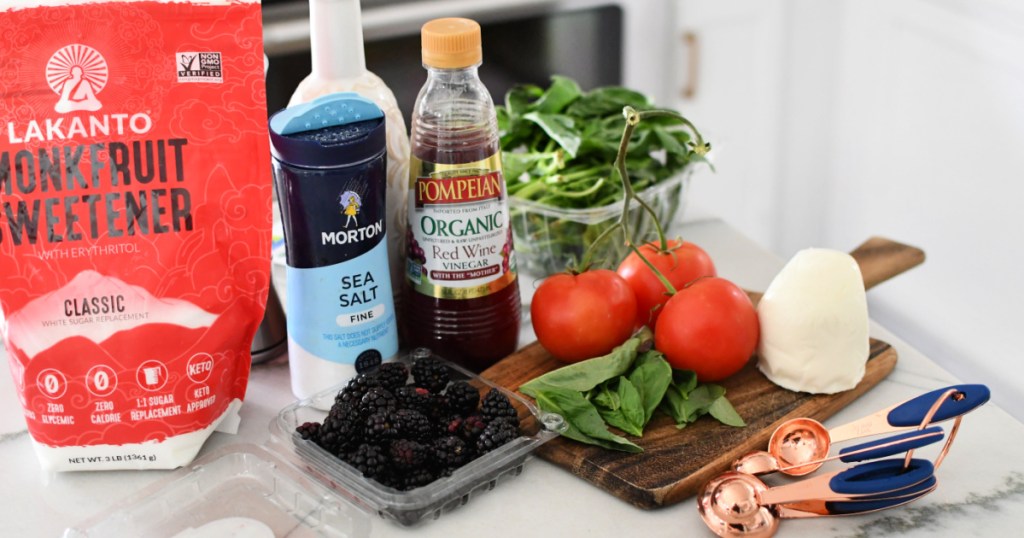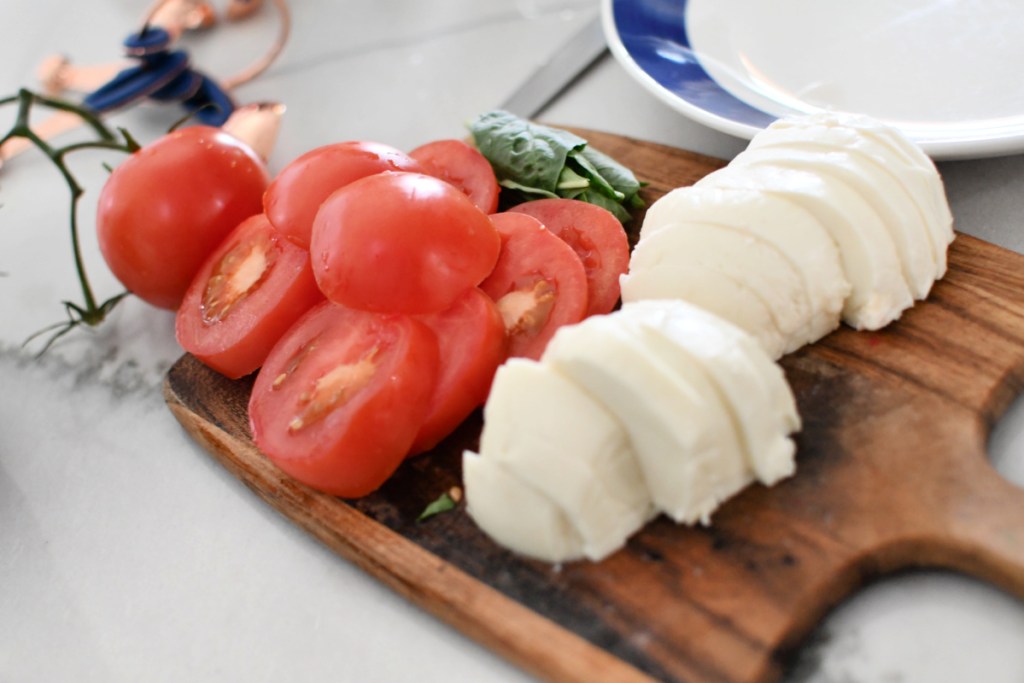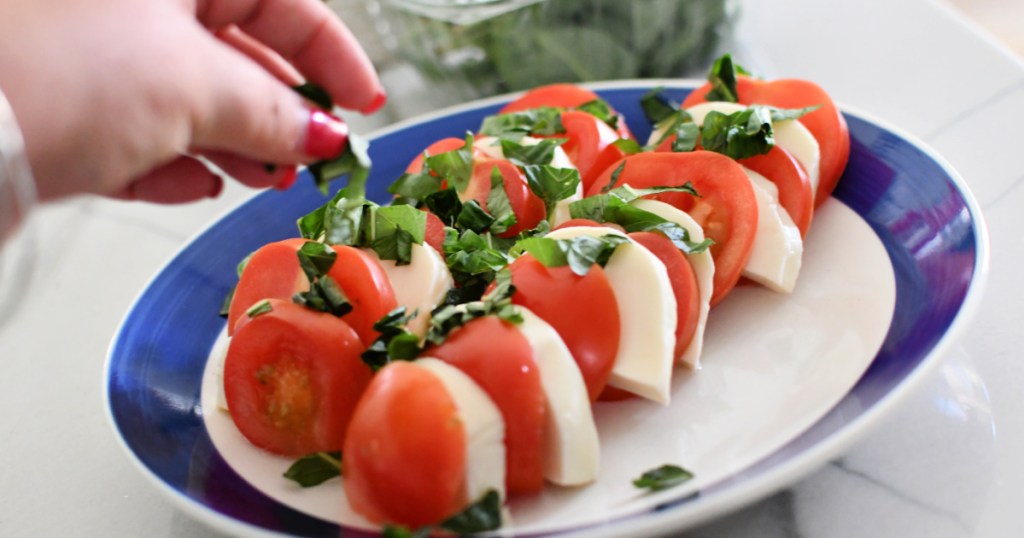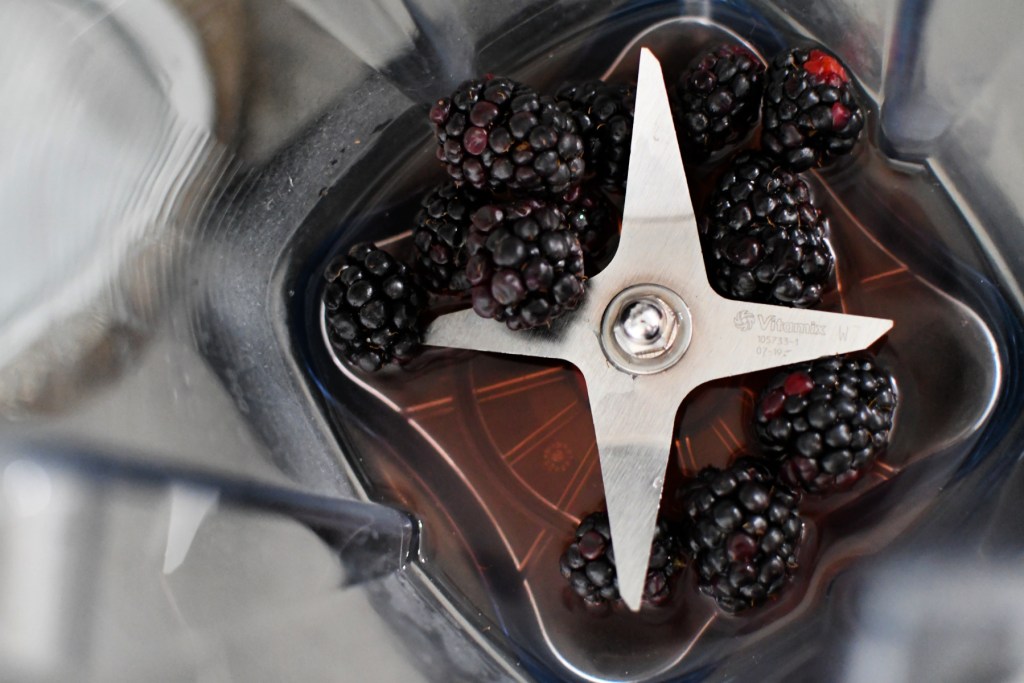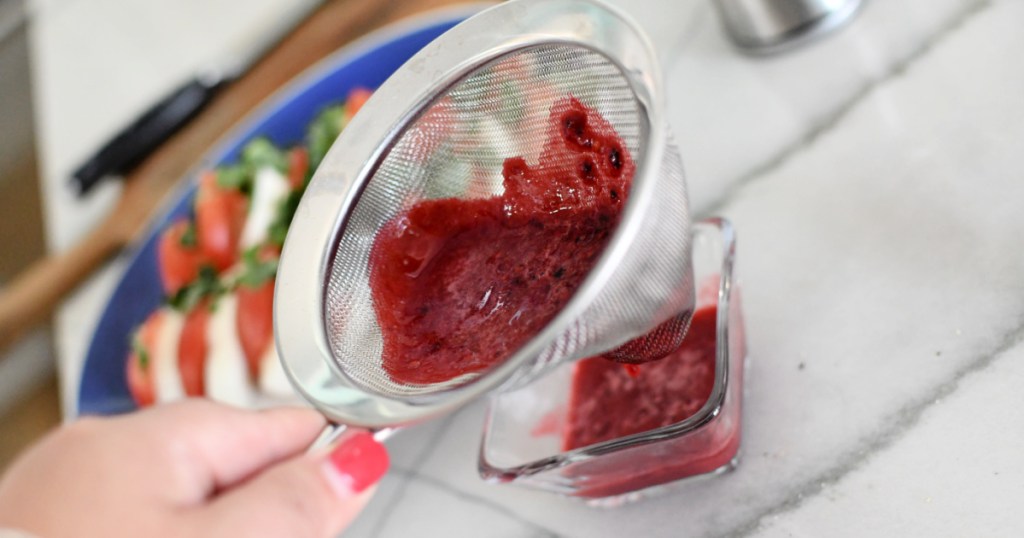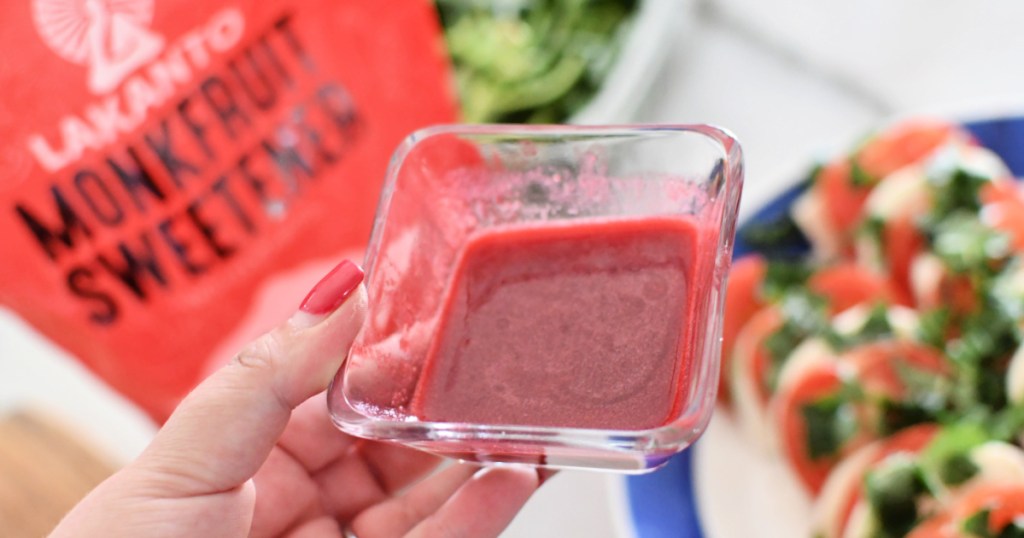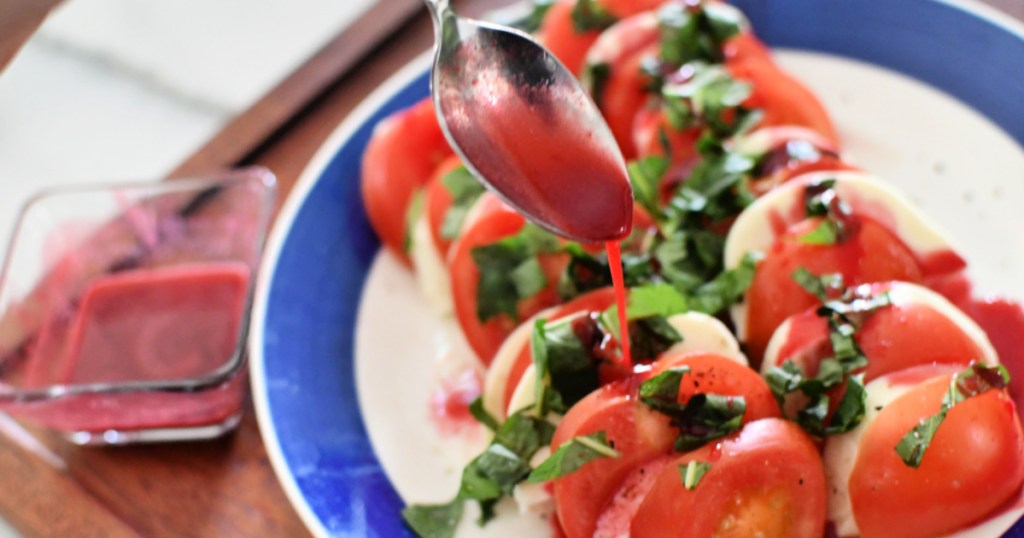 ---
Print
Caprese Salad with Keto Blackberry Balsamic Drizzle
yield: 4 SERVINGS
prep time: 15 MINUTES
total time: 15 MINUTES
This classic Caprese salad is kicked up a keto-notch with a delicious blackberry balsamic drizzle!
Ingredients
Caprese Salad:
3 medium vine-ripened tomatoes (or 3 large Roma tomatoes)
8 oz. ball fresh mozzarella cheese
10-12 fresh basil leaves, julienned into thin strips
1 tablespoon high-quality extra virgin olive oil (more if desired)
sea salt flakes to taste
freshly ground pepper to taste
Blackberry Balsamic Drizzle:
1/3 cup blackberries (about 10 berries)
Directions
1
For the Caprese Salad:
Cut the tomatoes and fresh mozzarella into approximately 1/4-inch slices (I cut my mozzarella ball in half first). Arrange on a plate, alternating tomato and mozzarella slices. Scatter with basil on top. Sprinkle lightly with sea salt and freshly ground pepper. Drizzle with olive oil.
Serve at room temperature. If desired, drizzle with keto blackberry balsamic sauce.
2
For the Blackberry Balsamic Drizzle:
Place blackberries and red wine vinegar in a blender. Blend until blackberries have broken down and thoroughly combined with vinegar. Pour mixture through a sieve (or cheesecloth) to remove seeds, skin, etc. Sweeten the vinegar mixture with monkfruit, using more or less to taste.
Nutrition Information
Yield: 4 servings, Serving Size: approximately 4 tomato & mozzarella slices each, and 1 tablespoon dressing
Amount Per Serving: 226 Calories | 16.4g Fat | 6.1g Total Carbs | 1.8g Fiber | 3.6g Sugar | 13.6g Protein | 4.3g Net Carbs
---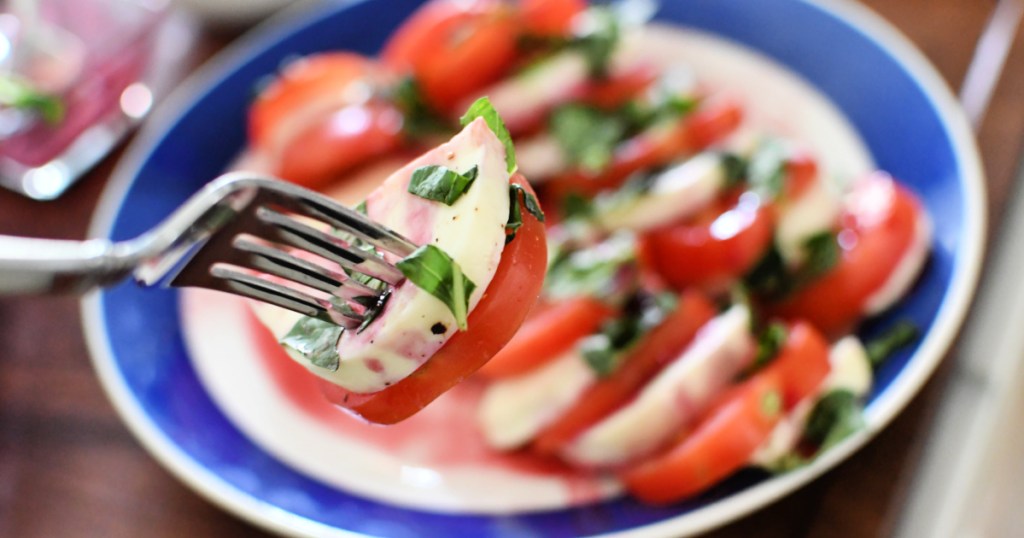 This fruity Caprese salad recipe is a summertime favorite!
Shaking up the traditional Caprese salad with fresh and fruity blackberries in the glaze gives this easy side dish a sweet twist. Blackberries, and berries in general, are low in sugar and keto-friendly so you won't need to worry about a significant sugar spike after enjoying this refreshing salad. Enjoy!
---
For another bright & sunny dish, try this yummy kale salad recipe!