Get Ready to Drool Over Our Keto Lemon Pound Cake Recipe
If keto dessert heaven is what you're seeking, look no further than our keto lemon pound cake recipe.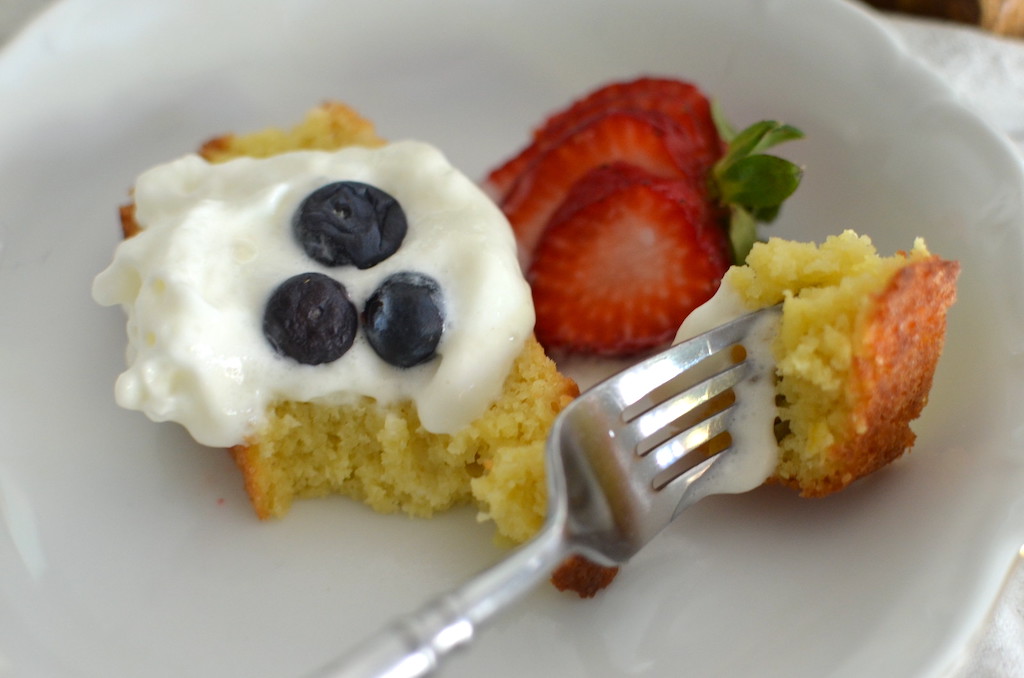 My mouth is watering just thinking about this cake.
Sometimes the simplest desserts can be the most scrumptious. Pound cake is a classic dessert that has held the test of time. Traditionally it's made with a lot of butter, a lot of flour, a lot of sugar, and a lot of eggs. For example, this Martha Stewart recipe has a pound of flour, two cups of butter, two cups of sugar, and nine eggs! 🤯
How to make keto pound cake:
This keto lemon pound cake recipe doesn't carry that kind of weight, while still being dense, delicious, and holding its own as a crave-worthy and mouth-watering dessert. Instead, our keto recipe primarily uses almond flour, cream cheese, sour cream, keto-friendly sweetener, and yes, there's still a bit of butter involved. 😄 It's indulgent in its own right, though much, much lower in carbs.
Speaking of cake, check out all of our keto cake recipes on Hip2Keto.
Cream cheese in a pound cake?
This recipe is a nice keto twist on the traditional pound cake. And honestly, it does not taste anything like a keto-friendly cake. Adding cream cheese to the mix creates a moister cake and adds a bit of tang to the flavor which is just so good! The end result is a rich, dreamy cake that will have you turning to this recipe every time you're dreaming of diving a fork into something scrumptious!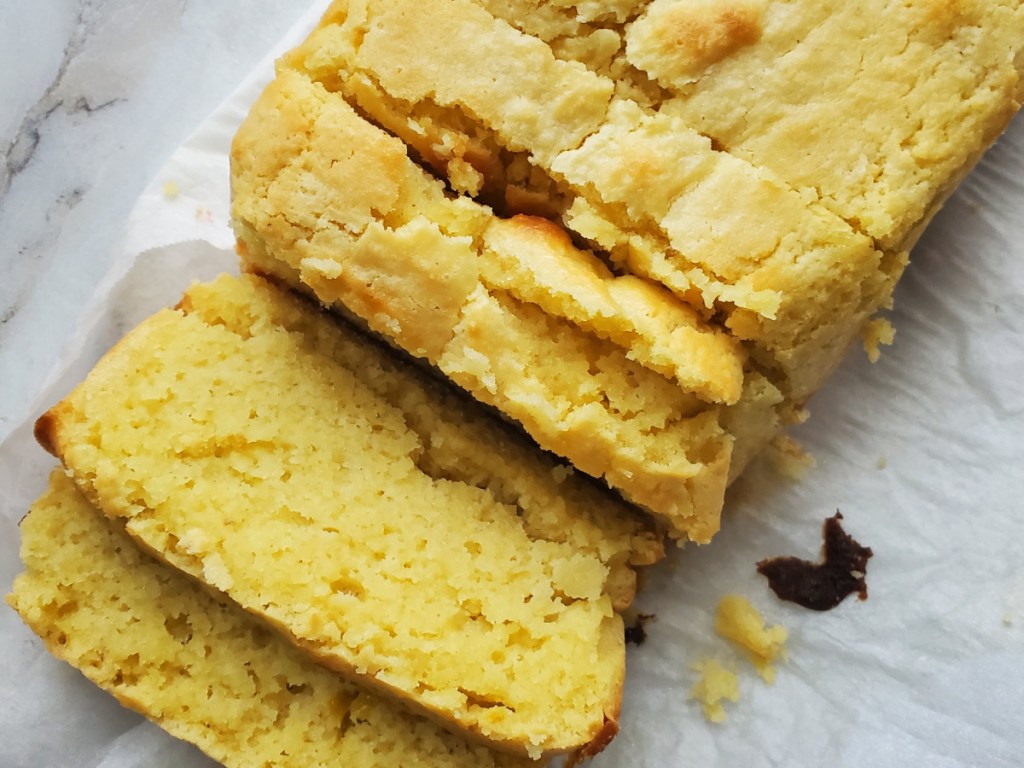 Wondering how many carbs are in keto pound cake?
We've done the math for you! You can enjoy this keto treat guilt-free as it contains 13g of total carbs and just 2.4g of net carbs – now that's my kind of dessert! 🤩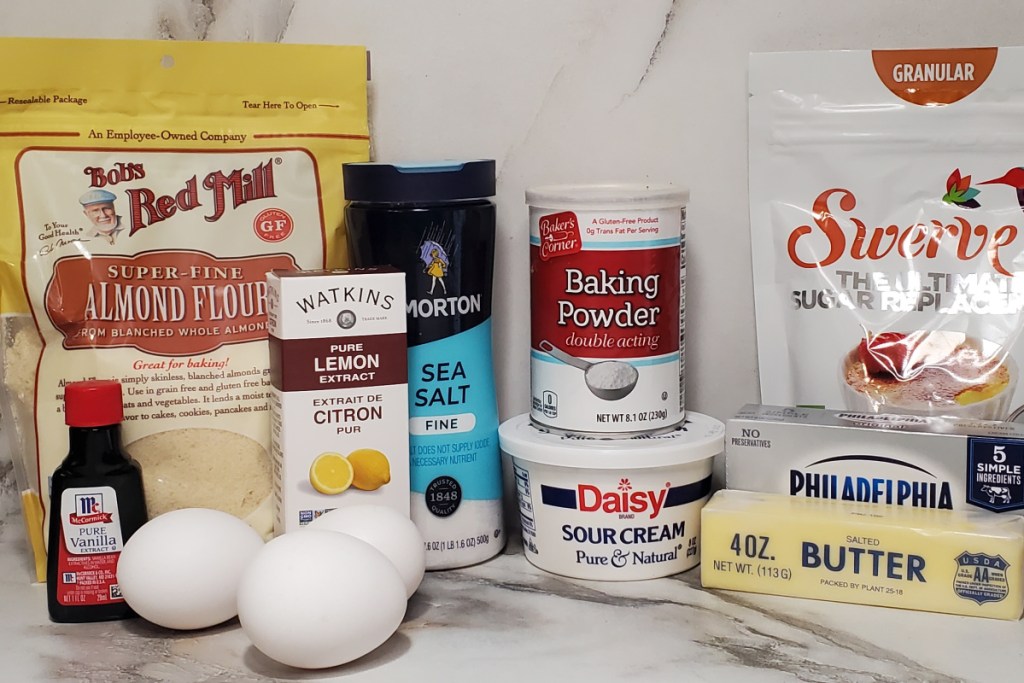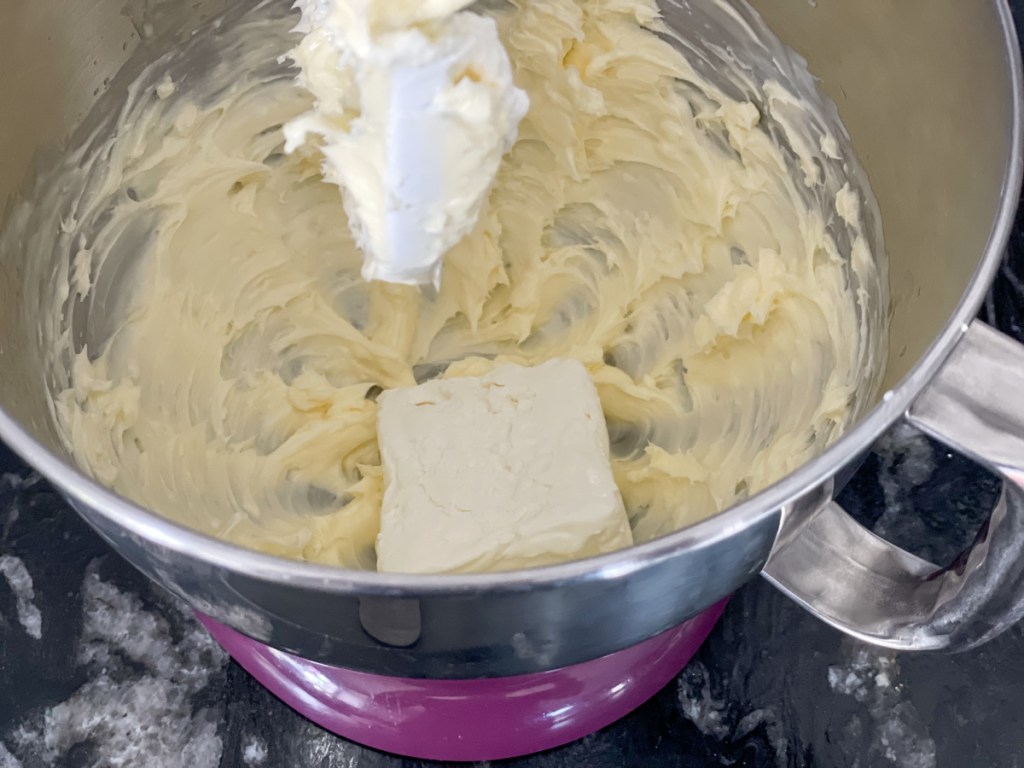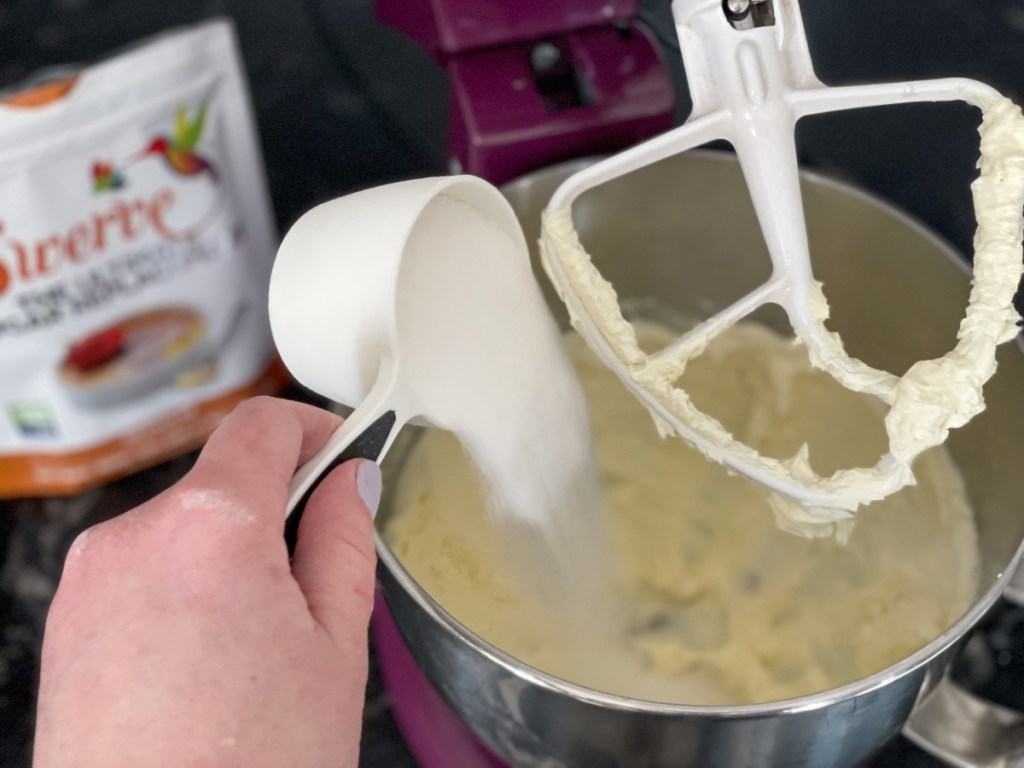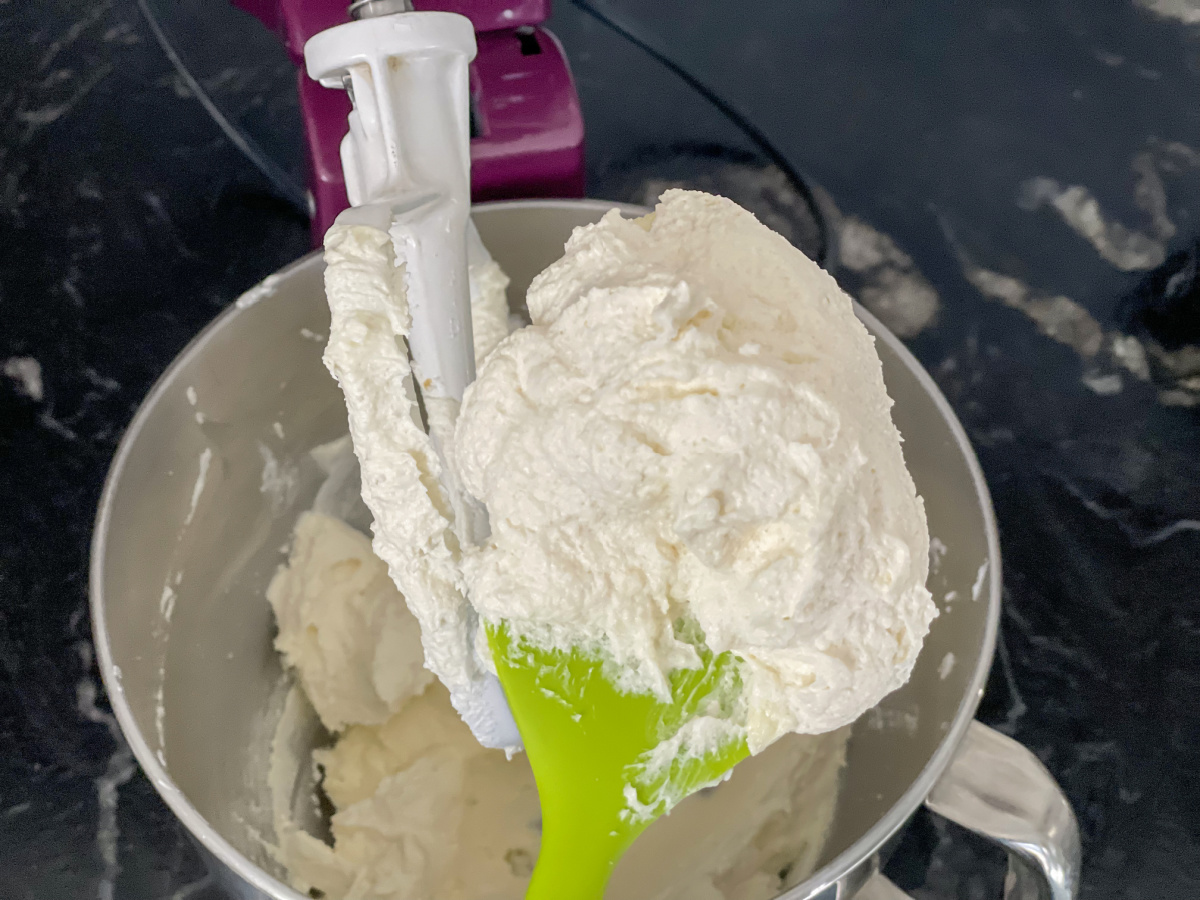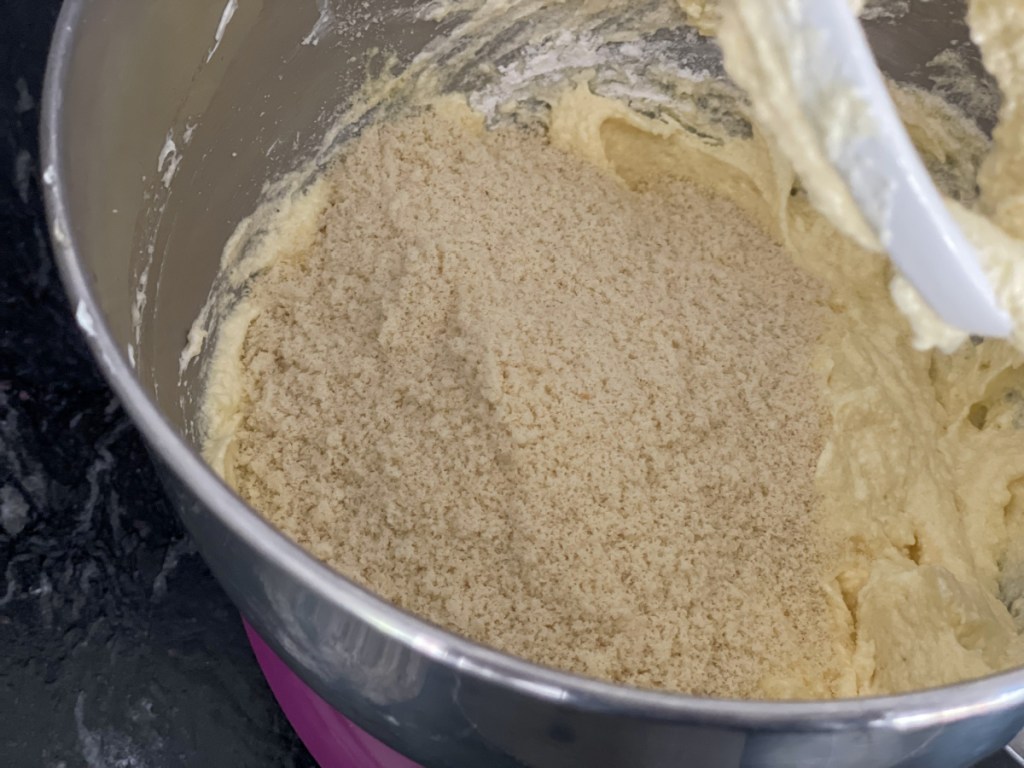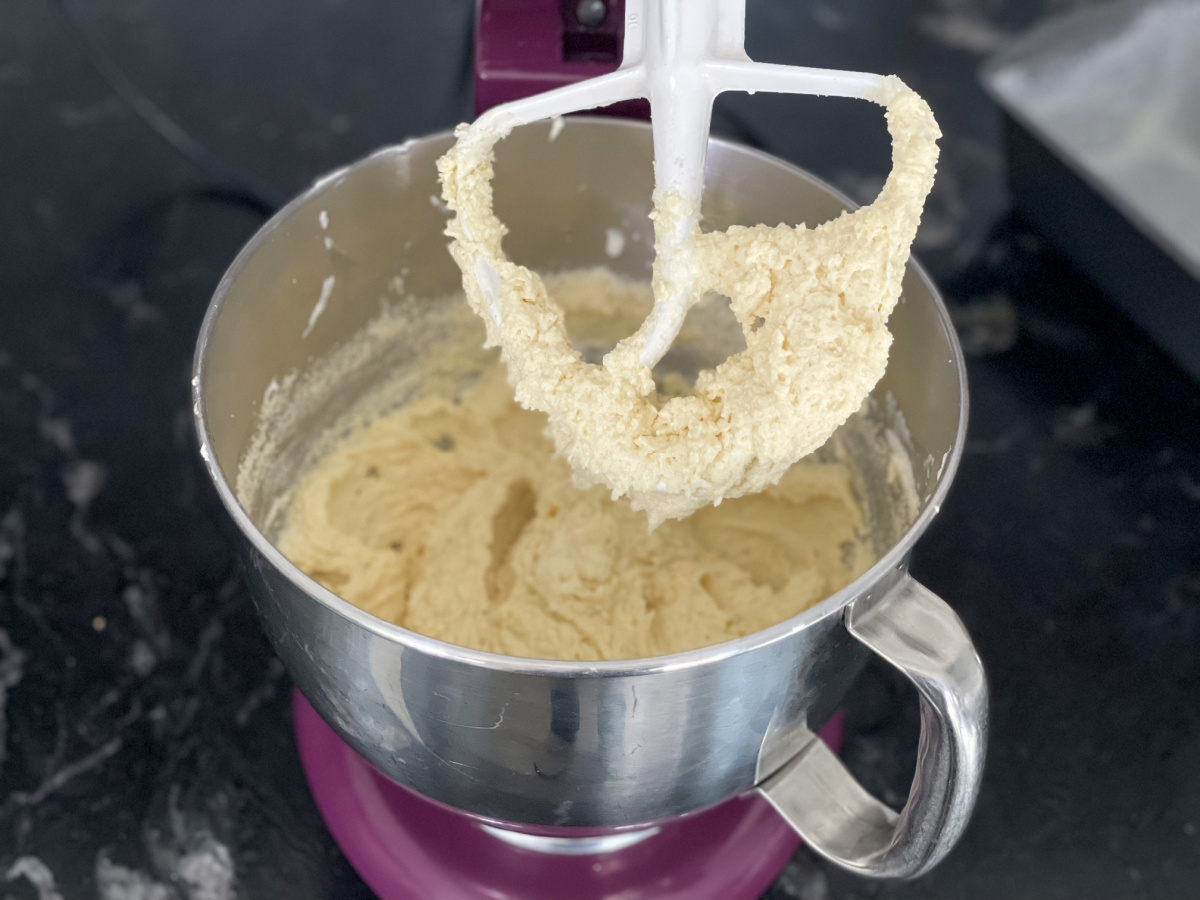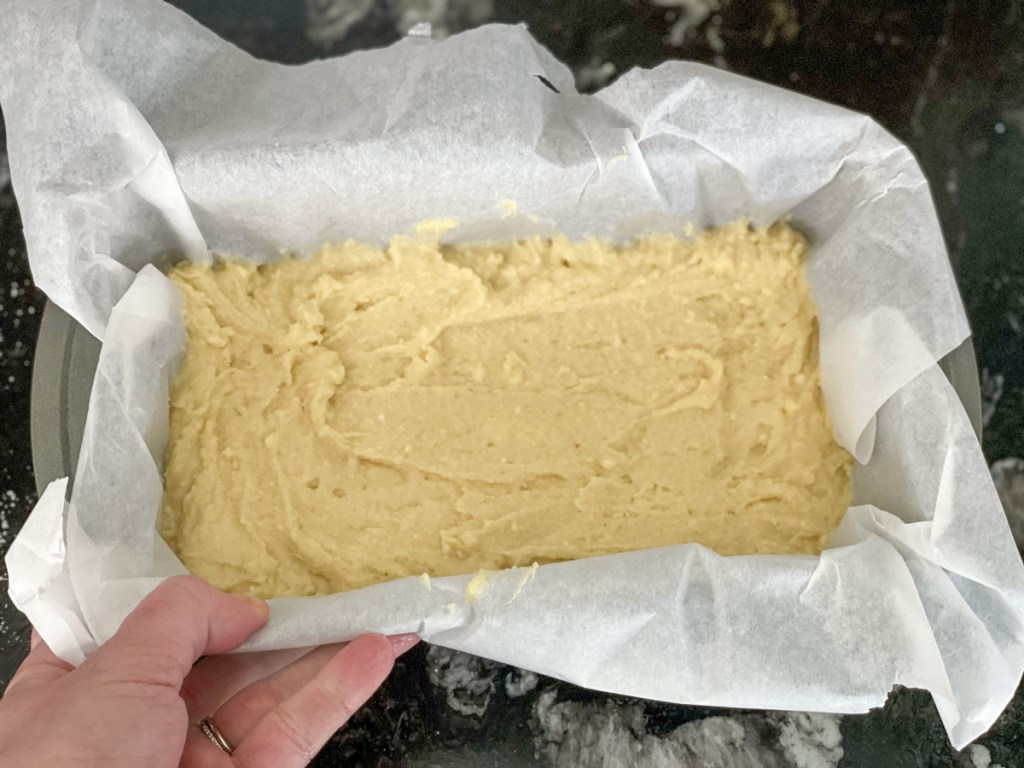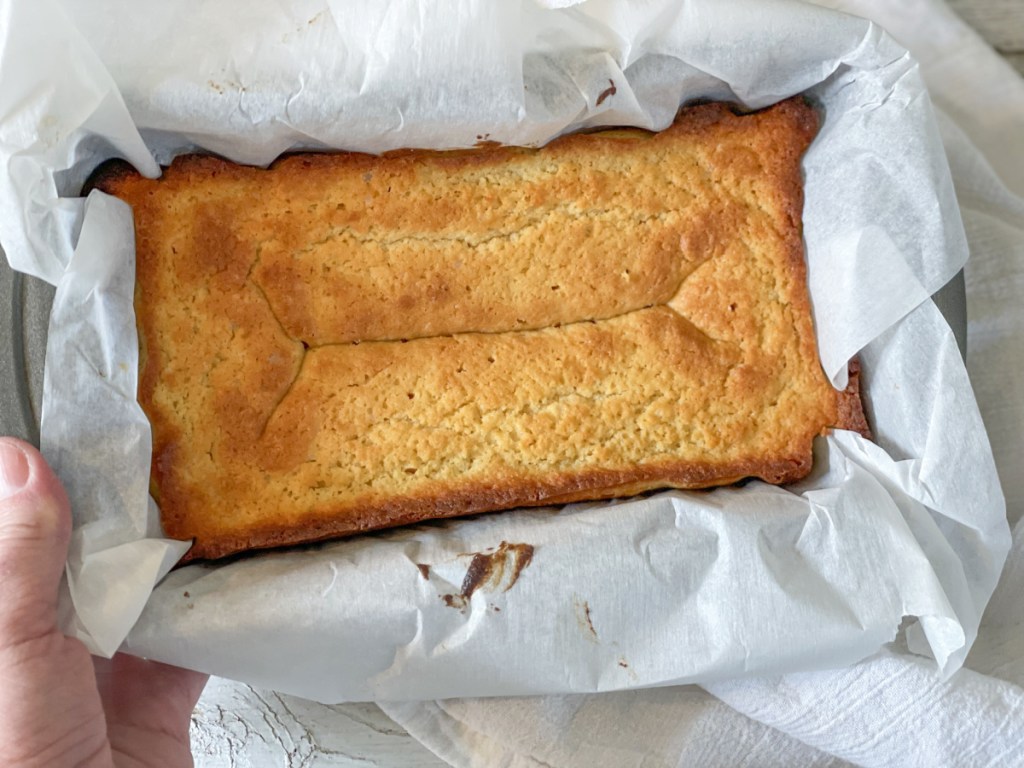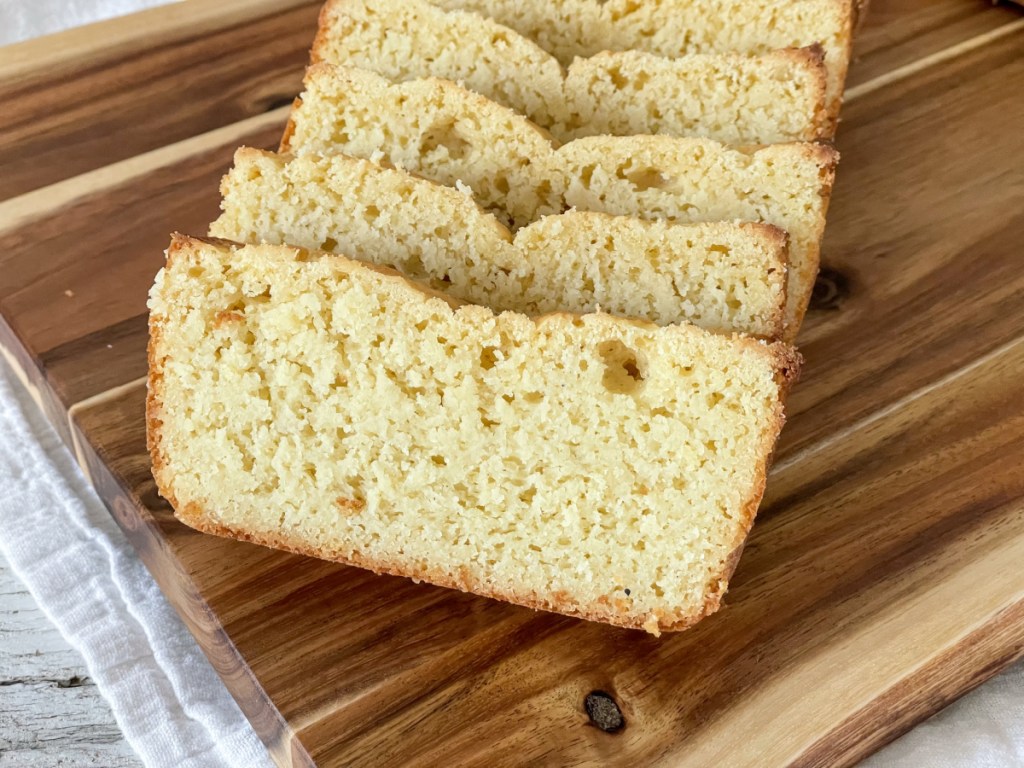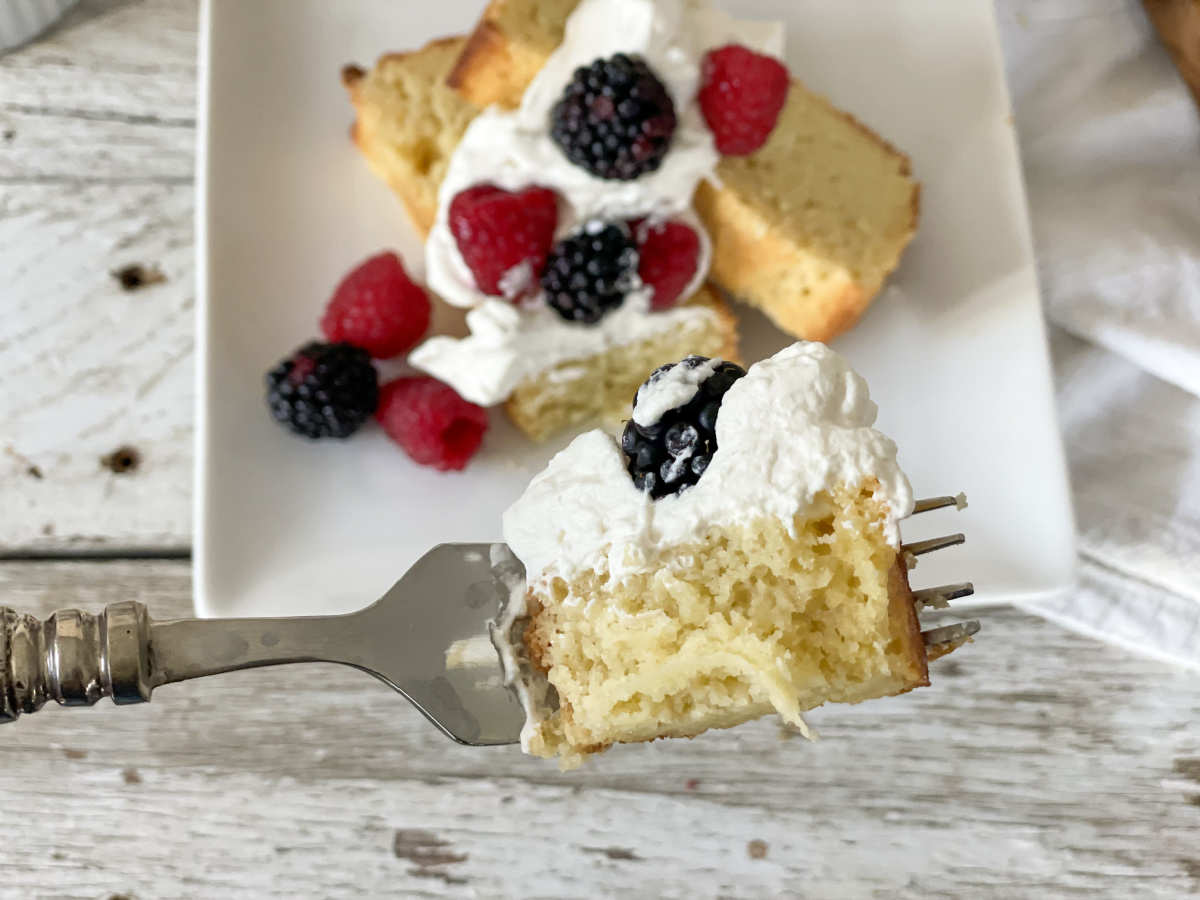 ---
Print
Keto Lemon Pound Cake
yield: 10 SERVINGS
prep time: 15 MINUTES
cook time: 60 MINUTES
total time: 1 HOUR 15 MINUTES
Crave-worthy pound cake made with almond flour, butter, and cream cheese, flavored with the perfect hint of lemon and vanilla.
Ingredients
1/2 cup salted butter (1 stick), room temperature
4 oz. full-fat cream cheese, room temperature
3 tablespoons sour cream, room temperature
1 teaspoon lemon zest
3 eggs, room temperature
1/8 teaspoon salt
2 teaspoon baking powder
Directions
1
Set out butter, cream cheese, sour cream, and eggs to let them come to room temperature. It'll take about an hour.
2
Preheat oven to 325 degrees. Place the oven rack in the middle of the oven. Line an 8x4-inch loaf pan with parchment paper. This is a MUST!!
3
Using an electric mixer, beat butter on high for 1 minute. Add cream cheese to the mixer with the butter and beat on high for another 1 to 2 minutes, until well combined. Scrape down the edges as needed.
4
Add the keto granular sweetener to the mixer and beat on high until light and fluffy, about 2 to 3 minutes. Then add the sour cream, vanilla extract, lemon extract, and lemon zest; mix to combine. Scrape down the edges as needed.
5
Add the eggs one at a time. Mix each egg until just incorporated, about 5 to 8 seconds on low after each egg. You don't want to over-mix the batter. Scrape down the edges of the bowl after adding the eggs.
6
Next, add the salt and baking powder. Mix on low until just combined. Then finally add the almond flour. You can sift the almond flour prior to adding it (it does make for a finer crumb). Mix in the almond flour until just combined. Again, you don't want to over-mix the batter.
7
Pour the batter into the prepared loaf pan. Tap the pan on the counter several times to remove any air bubbles. Bake for 60-70 minutes, until lightly browned and a toothpick inserted in the center comes out clean. Check the cake at 30 minutes and every 10 to 15 minutes after that to prevent it from over-browning. If it starts to look like the edges are going to burn, tent the cake with aluminum foil.
8
Let the cake cool for about 2 hours before removing it from the pan. Cut into 10 slices. Serve with keto whipped cream and berries if desired.
9
To make keto whipped cream for topping: 
Using an electric mixer, beat 1 cup heavy whipping cream, 1 tablespoon keto confectioners sweetener, and 1 teaspoon vanilla extract on high until peaks form. Top the cake with whipped cream. Enjoy!
Nutrition Information
Yield: 12 slices, Serving Size: 1 slice
Amount Per Serving: 208 Calories | 18.1g Fat | 13g Total Carbs | 2.7g Fiber | 0.5g Sugar | 8g Sugar Alcohol | 4.7g Protein | 2.4g Net Carbs
---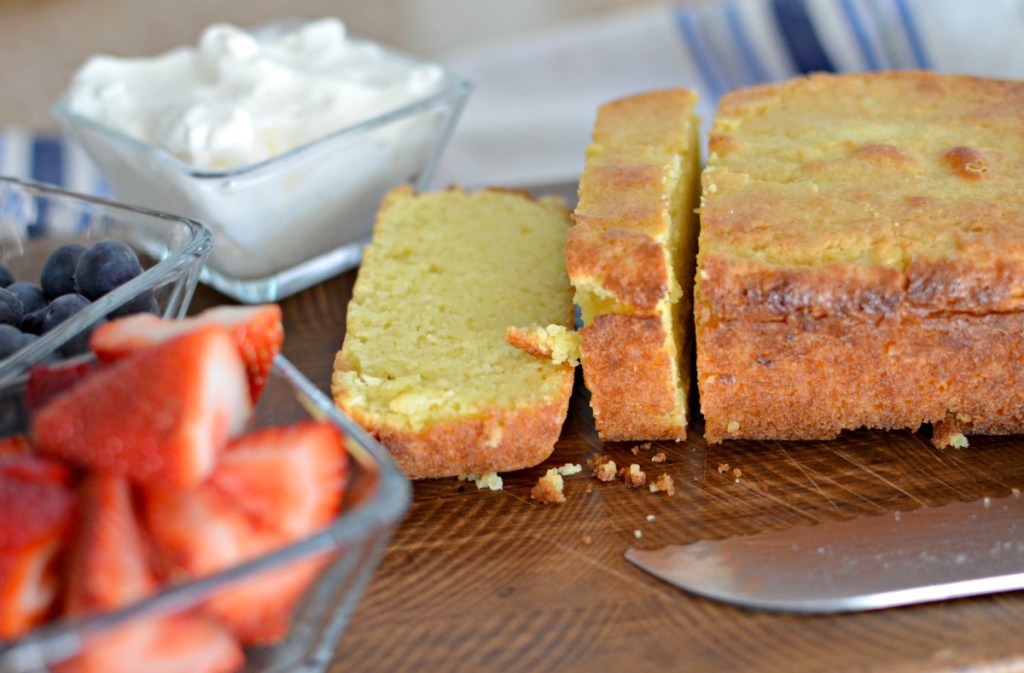 Tips for making the BEST keto lemon pound cake:
Make sure the butter, cream cheese, sour cream, and eggs are at room temperature. This is one of those recipes where it actually matters! Set those items out on the counter at least an hour before you start baking. Room-temperature items mix together better to create a perfectly emulsified batter. If your eggs are still chilled, they'll cool down the butter and create a curdled-looking batter which can make your cake too dense.
Parchment paper is the key! The first time I made this recipe, I generously buttered the pan, and it still stuck terribly. Then I buttered and floured, and even with that it still stuck. So parchment paper is the only thing that worked for me!
Depending on your oven, it might take longer than 60 to 70 minutes to bake this cake. Bake it until a toothpick comes out of the center completely clean.
If your keto lemon pound cake starts to get too brown, tent it with aluminum foil to cook through the center but not burn the top.
Don't skip the lemon extract, as it brightens the cake so much! To make it even more lemony, you could add lemon zest in addition to the lemon extract!
Feel free to slice your cake and then freeze it for a later date! The cake should last in the freezer for a couple of months if stored covered.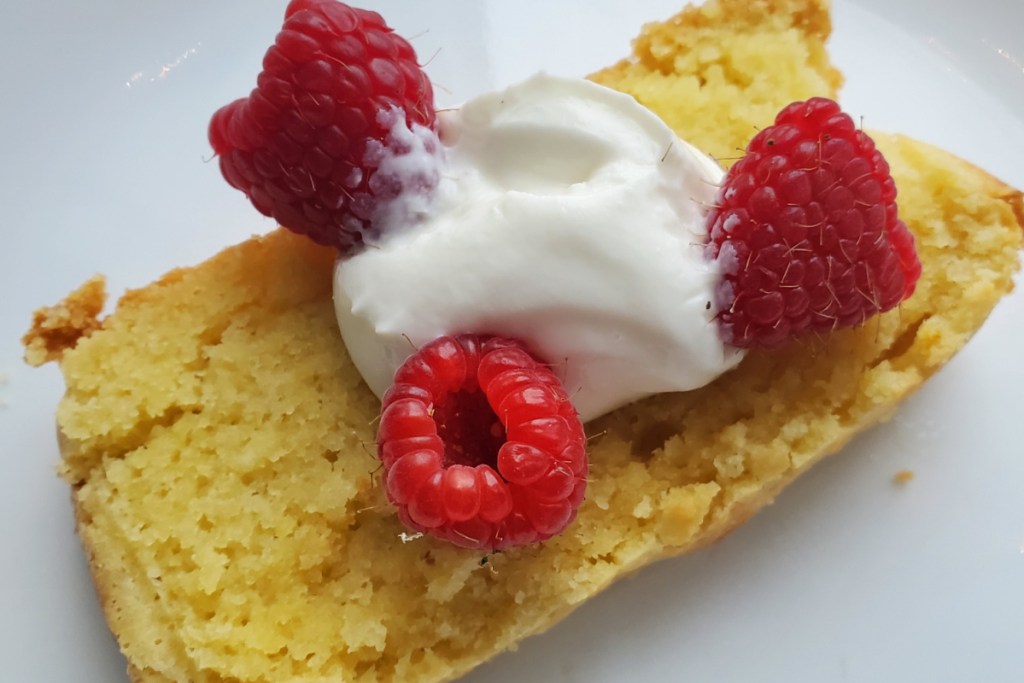 "I'll have another keto pound cake slice, please!"
My first two keto cream cheese pound cake attempts stuck in the pan and basically fell apart. But that didn't stop my family from devouring those sad-looking cakes. 😂 In fact, the first cake barely lasted a day! I hope you love this recipe as much as my family and I do.
Oh and don't forget to top it with delicious homemade keto whipped cream and berries for a gorgeous presentation!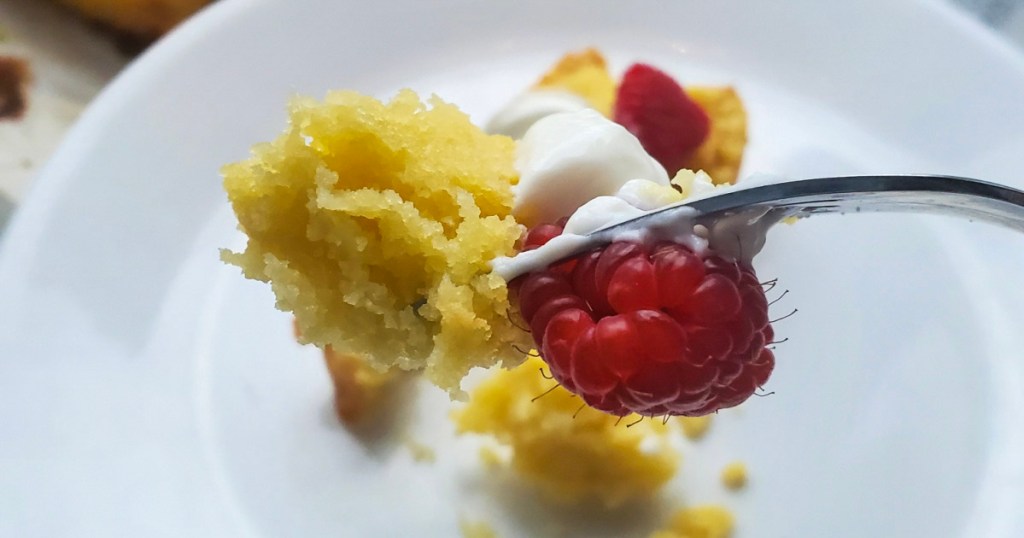 Check out what my sidekick Rachel had to say about this keto lemon pound cake:
"'Hands off my pound cake!' That's what I had to tell my husband when I found him in the kitchen snacking on a 3rd slice! To say this recipe is delicious would be an understatement. This lemon loaf is one for the books! The hint of lemon zest and moist center make this perfect for any time of the day!"
---