Keto Sheet Pan Meal with Italian Sausage and Peppers
This keto sheet pan meal with Italian sausage and peppers comes together in no time!
Looking for an easy weeknight meal?
Sheet pan dinners are hands down the best. It doesn't get any easier than throwing all your ingredients on a baking sheet and basically forgetting about it for 30 minutes while it bakes. And using parchment paper to line your sheet pan makes cleaning up such a breeze.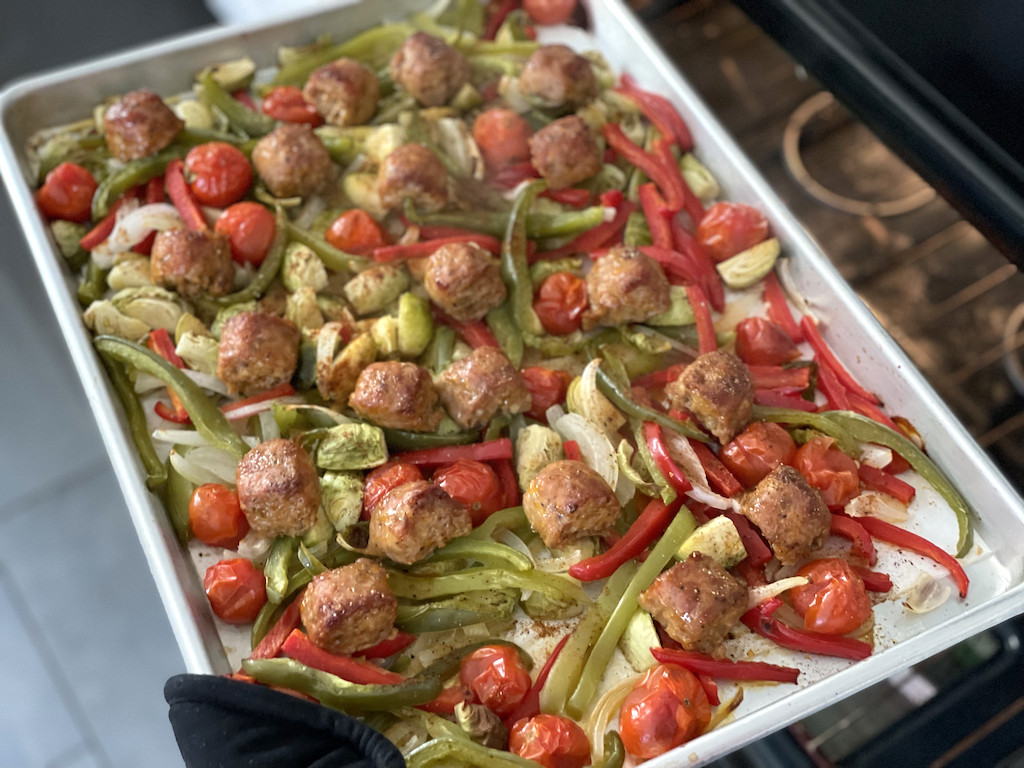 I also love that sheet pan meals make low-carb eating so easy, especially when doing a keto sausage and peppers sheet pan meal. The flavors of the sausage infuse the veggies with a savory richness as it bakes, making everything taste like Italian spices!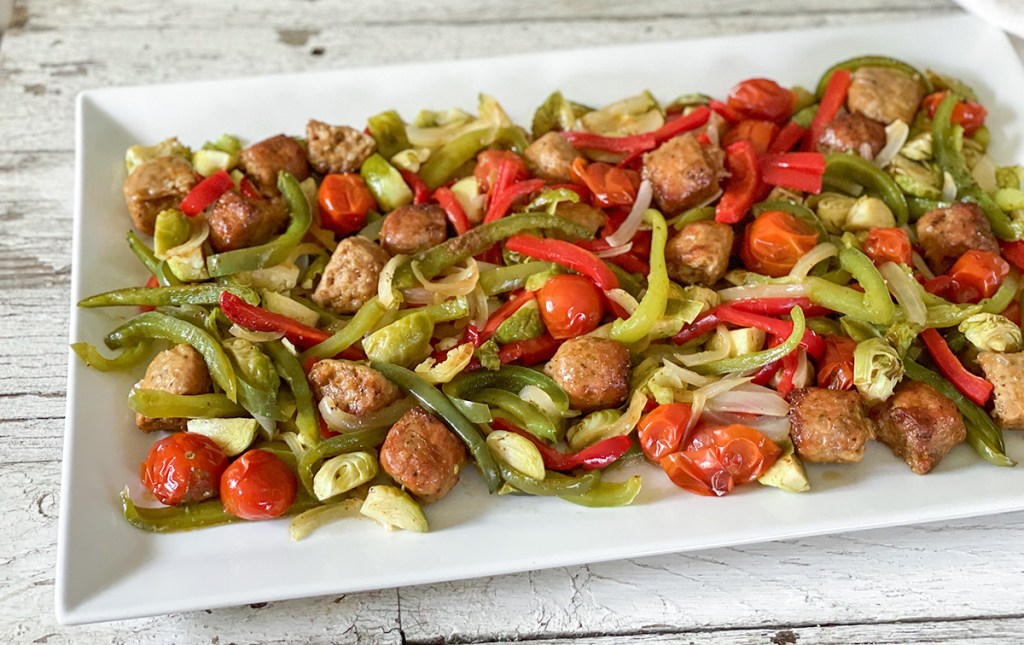 What's in this keto sheet pan meal?
This particular sheet pan meal is made with Italian sausage — I went with spicy but mild is totally fine, and feel free to use your favorite brand of sausage. I typically try to look for a local-ish brand for the freshest flavor.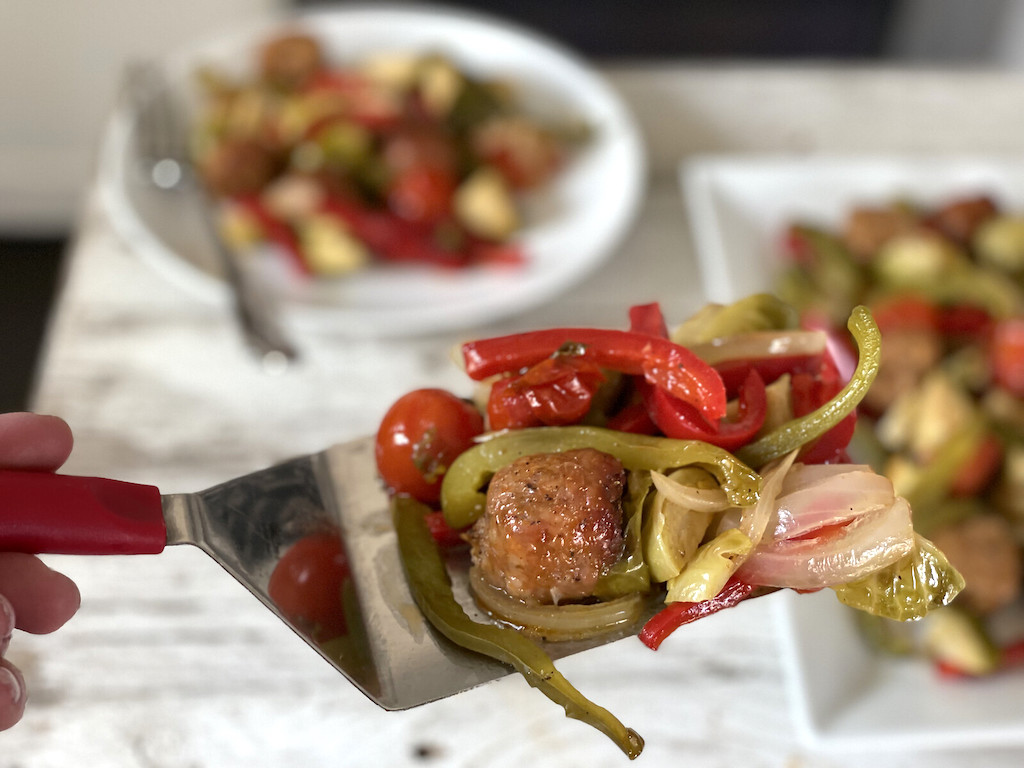 As for the veggies, I added bell peppers, onion, Brussels sprouts, and cherry tomatoes. Make sure you slice the bell peppers and onion pretty thin to keep the baking time around 30 minutes. If you have thicker slices, it may take longer to bake. You also want to quarter the Brussels sprouts to help them cook faster.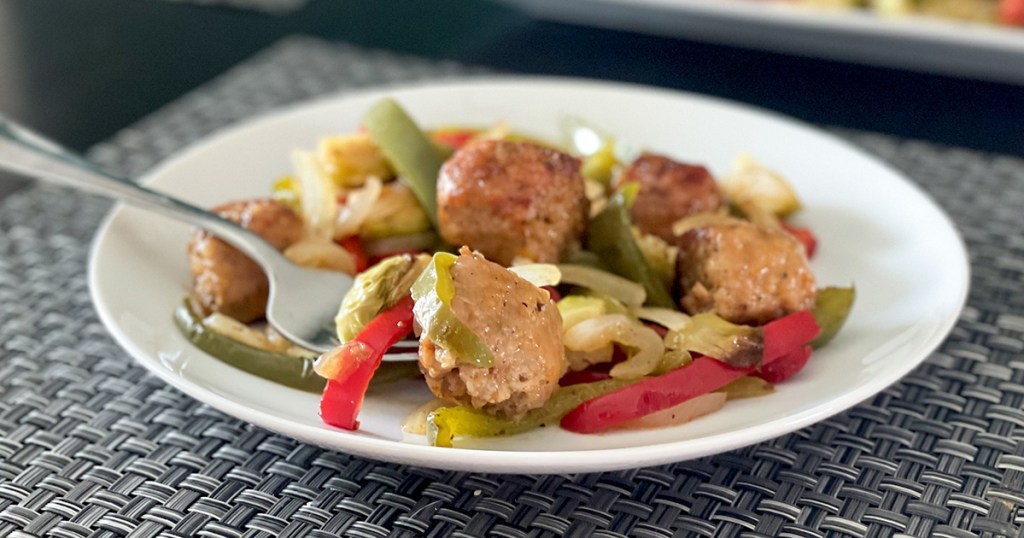 Tips for making the best keto sheet pan meal with Italian sausage and peppers:
Line the baking sheet with parchment paper, and be sure not to skip this step. It saves you from having to scrub the pan.
You can use pre-cooked sausage for this meal. You'll just need to reduce the cooking time so that you don't overcook the sausage by baking the veggies for about 15 minutes and then adding the sausage to the baking sheet.
If you don't have any cajun seasoning, you can make your own with paprika, garlic powder, onion powder, oregano, cayenne, thyme, pepper, and salt.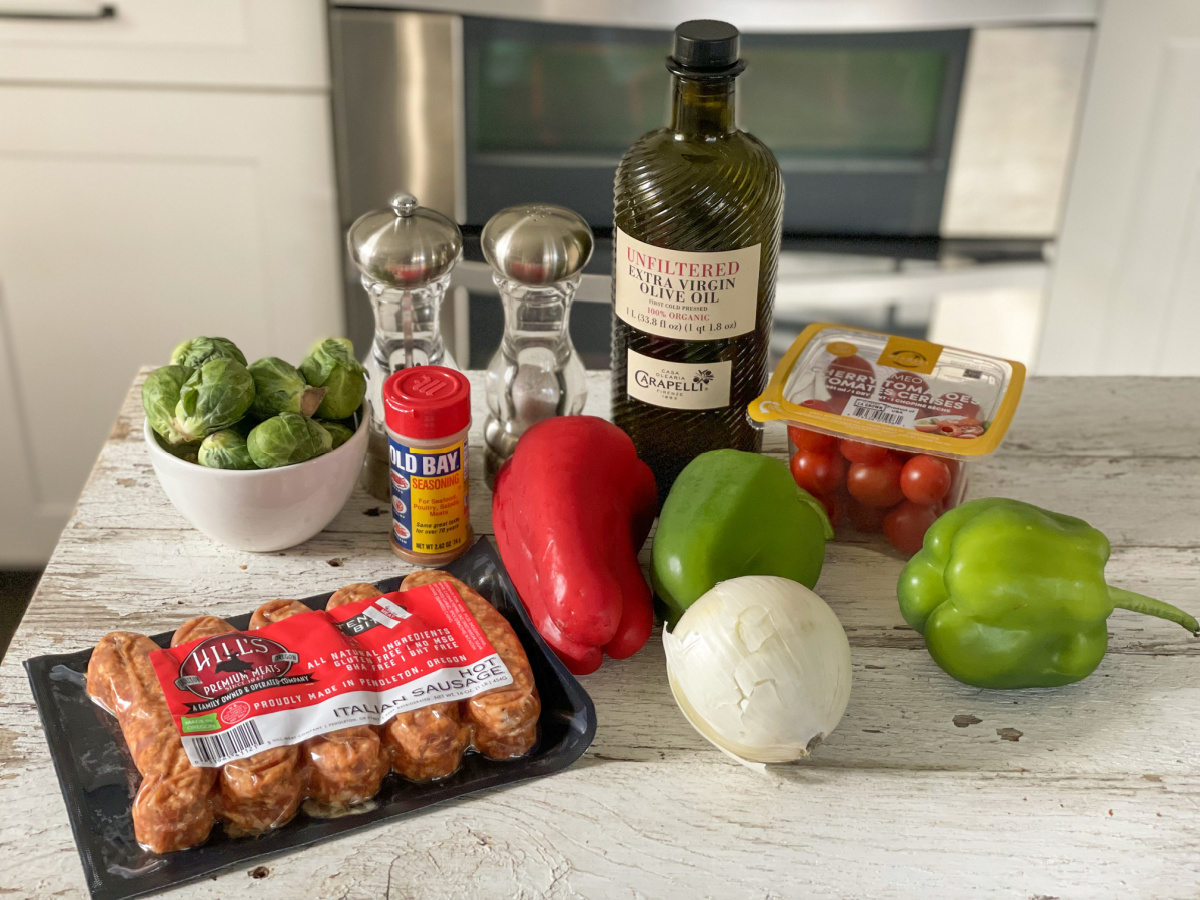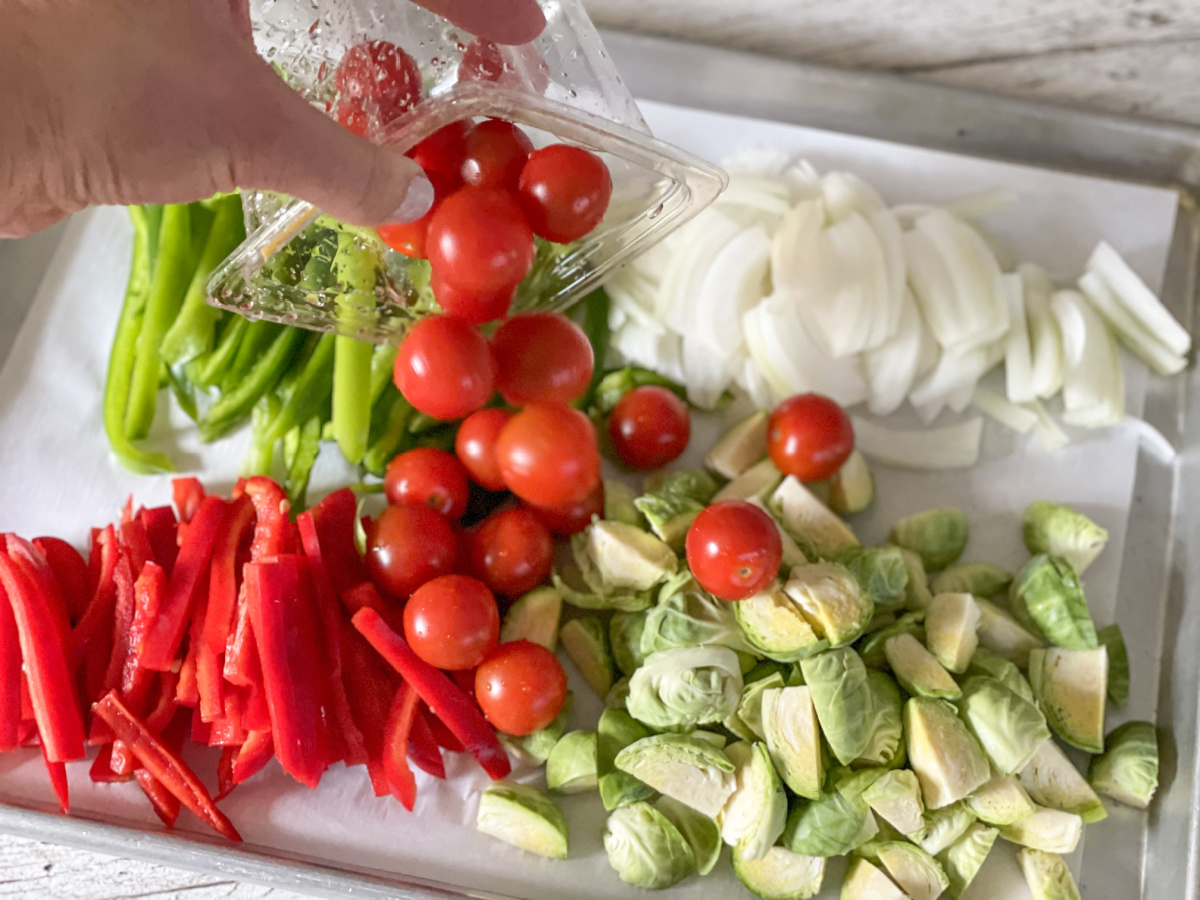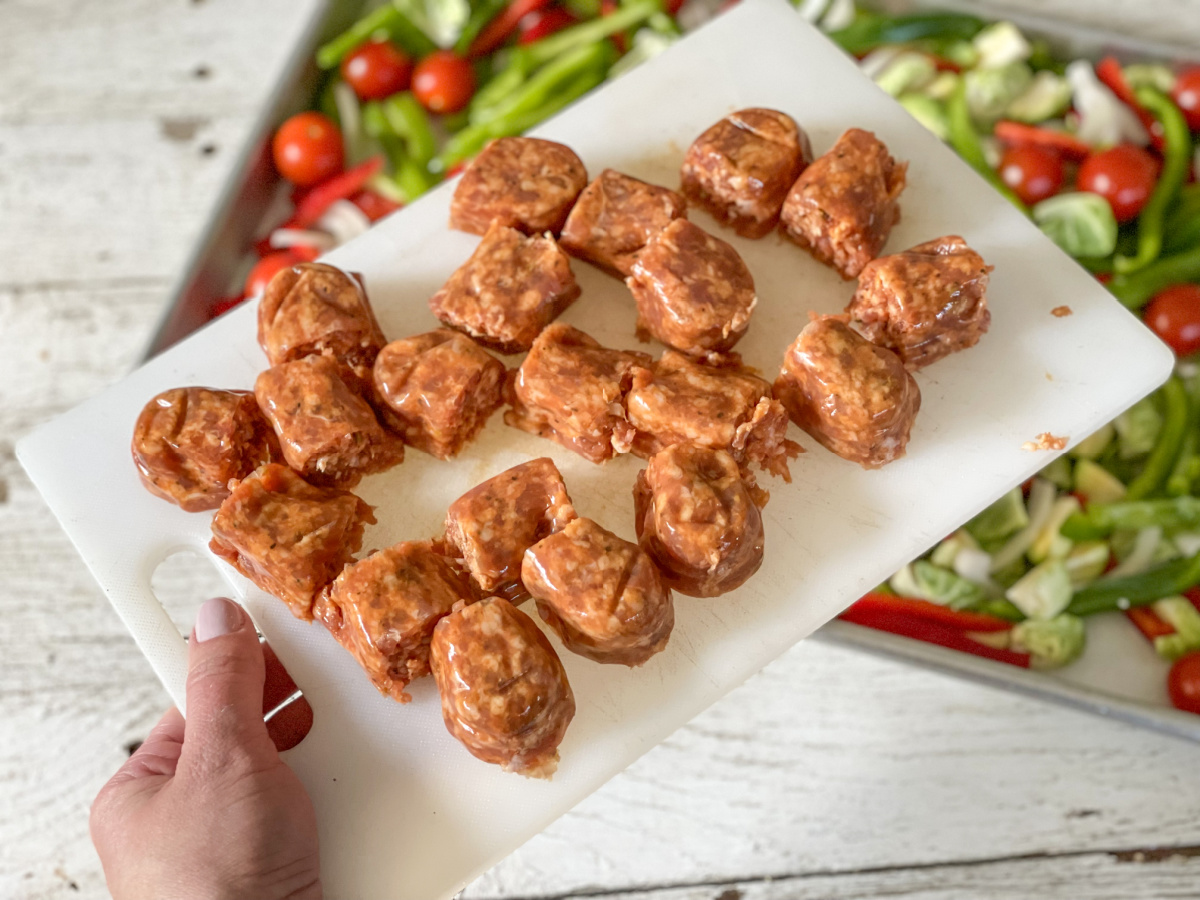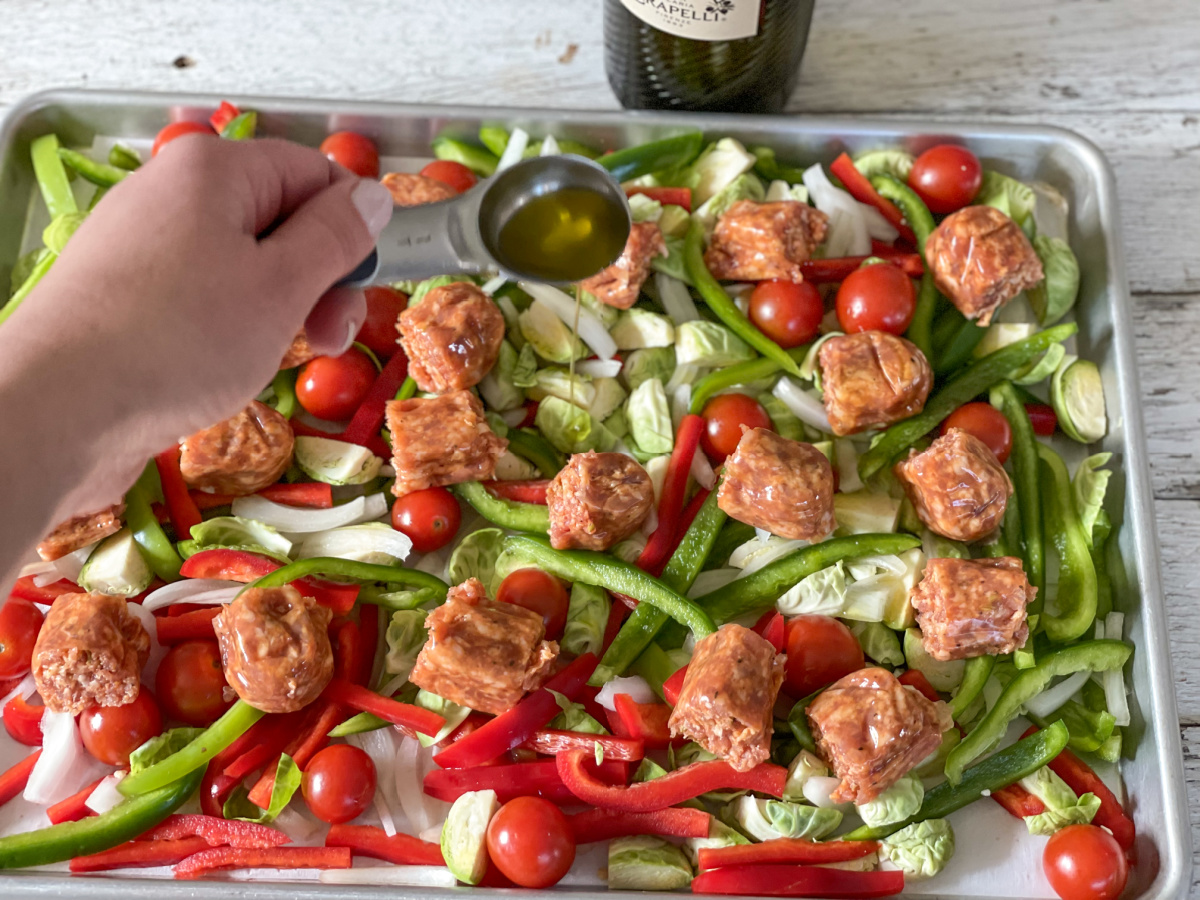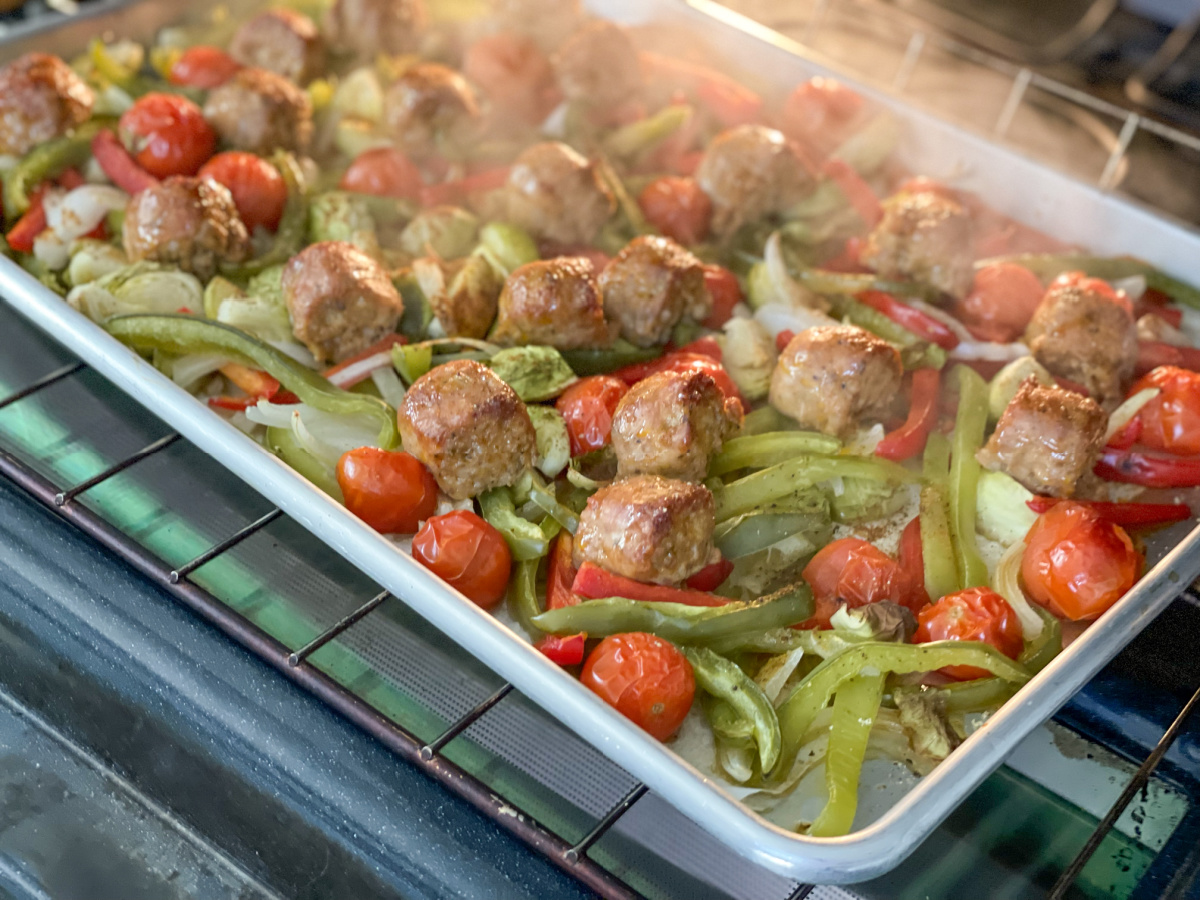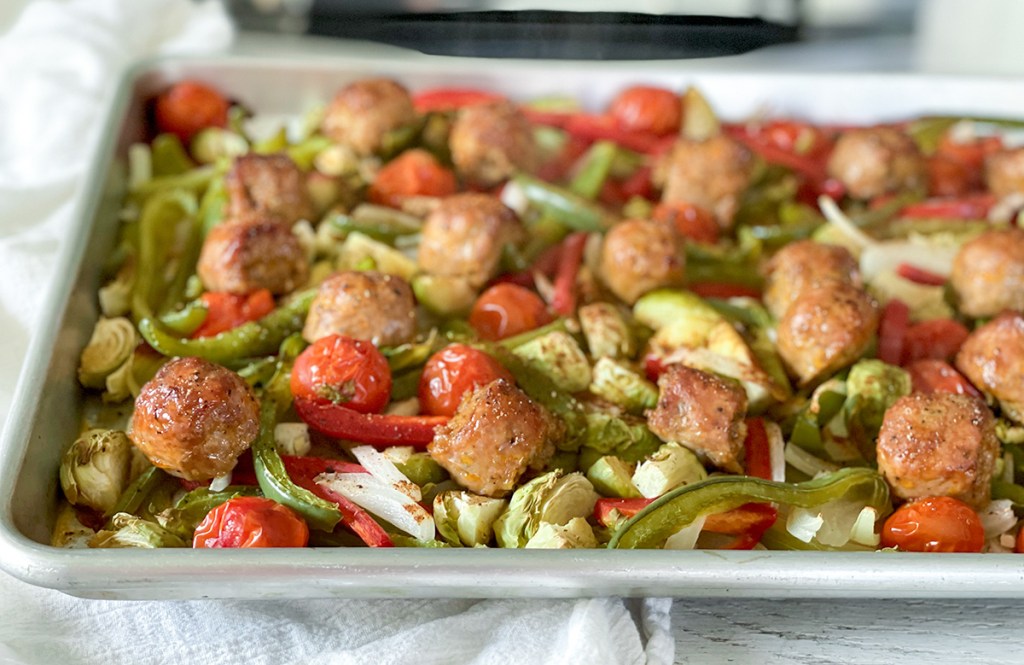 ---
Print
Italian Sausage & Veggie Keto Sheet Pan Meal
yield: 5 SERVINGS
prep time: 10 MINUTES
cook time: 30 MINUTES
total time: 40 MINUTES
Easy and flavorful sheet pan dinner with onions, peppers, tomatoes, Brussels sprouts, and Italian sausage.
Ingredients
1 tablespoon olive oil
1/2 teaspoon salt
1/4 teaspoon pepper
Directions
1
Preheat oven to 425 degrees. Line a large baking sheet with parchment paper.
2
Slice the bell peppers, onions, and Brussels sprouts. Toss the sliced veggies with the cherry tomatoes on the baking sheet.
3
Cut the Italian sausages into fourths. Place the cut sausage pieces on top of the veggies.
4
Drizzle the veggies and sausage with olive oil and sprinkle the cajun seasoning, salt, and pepper on top. Gently toss.
5
Bake for 30 to 35 minutes, until the sausage is fully cooked. Enjoy!
Additional Notes
Recipe by Lina Darnell. Photos and post by Emily Spurlock.
Nutrition Information
Yield: 5 servings, Serving Size: 4 sausage pieces with 1 1/2 cups veggies
Amount Per Serving: 312 Calories | 21.8g Fat | 13.1g Total Carbs | 4g Fiber | 5.9g Sugar | 16.7g Protein | 8.9g Net Carbs
---
Get ready for the most mouthwatering scents to start pouring out of your oven!
If I could, all my meals would be keto sheet pan meals. They're just so easy to make and roasting vegetables is my absolute favorite way to eat them. When people tell me they don't like veggies, I reply that they just haven't tried them roasted!
And with our keto sausage and pepper sheet pan meal, you're cooking the meat with the veggies, so it doesn't get any easier than this!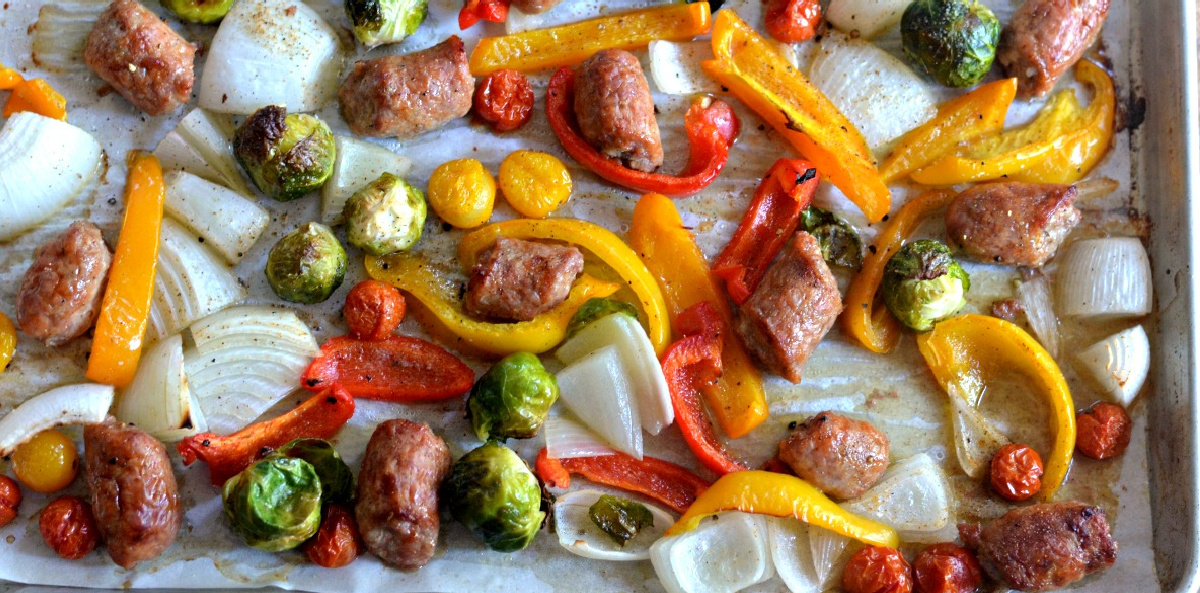 My Hip sidekick Emily had this to say about this keto sausage and peppers sheet pan meal:
"Talk about an easy sheet pan meal that turns out delicious! I love how the veggies and sausage caramelize together and get tender. The flavor from the sausage helps season the veggies and it's an overall yummy dish with easy clean-up. If you're looking for an easy keto meal that's satisfying and simple to make, this is a WINNER, and it's a foolproof recipe I plan to fall back on whenever I'm out of dinner ideas!"
---
Sheet pan meals aren't just for dinner — try our keto sheet pan breakfast next!