Keto Reuben Pizza is the New Brilliant Way to Use Corned Beef
Unique pizzas are the best and this keto Reuben pizza is sure to impress!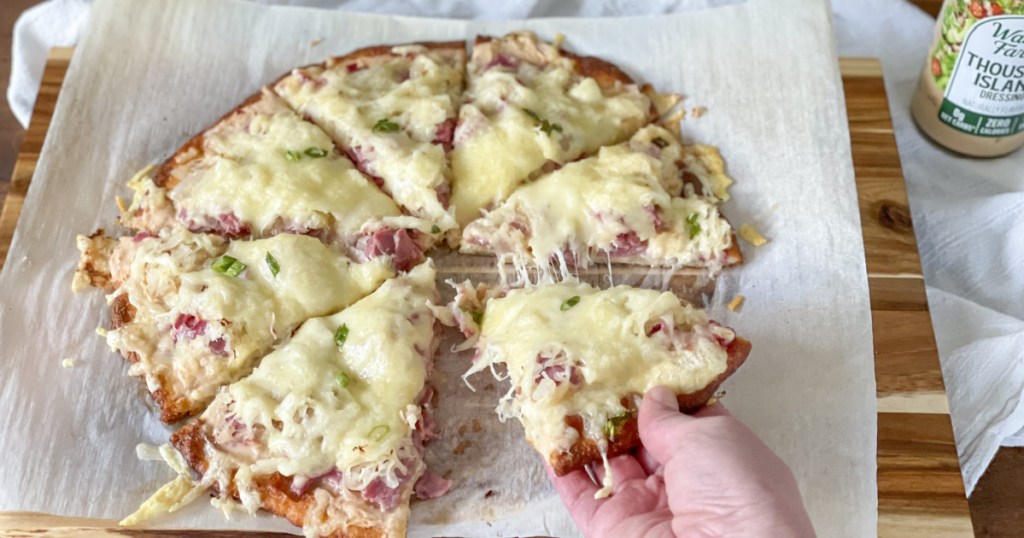 Raise your hand if you're a pizza fan! Both hands if you're a Reuben fan! 🙌
This pizza combines the best of both worlds! If you get excited over a hot, grilled Reuben sandwich and also love pizza, this is for you! It's the perfect flavor combination, especially with Walden Farms Thousand Island Dressing!
If you've been looking for a way to incorporate corned beef in a new recipe or catch it on sale, this pizza is the perfect way to make good use of it!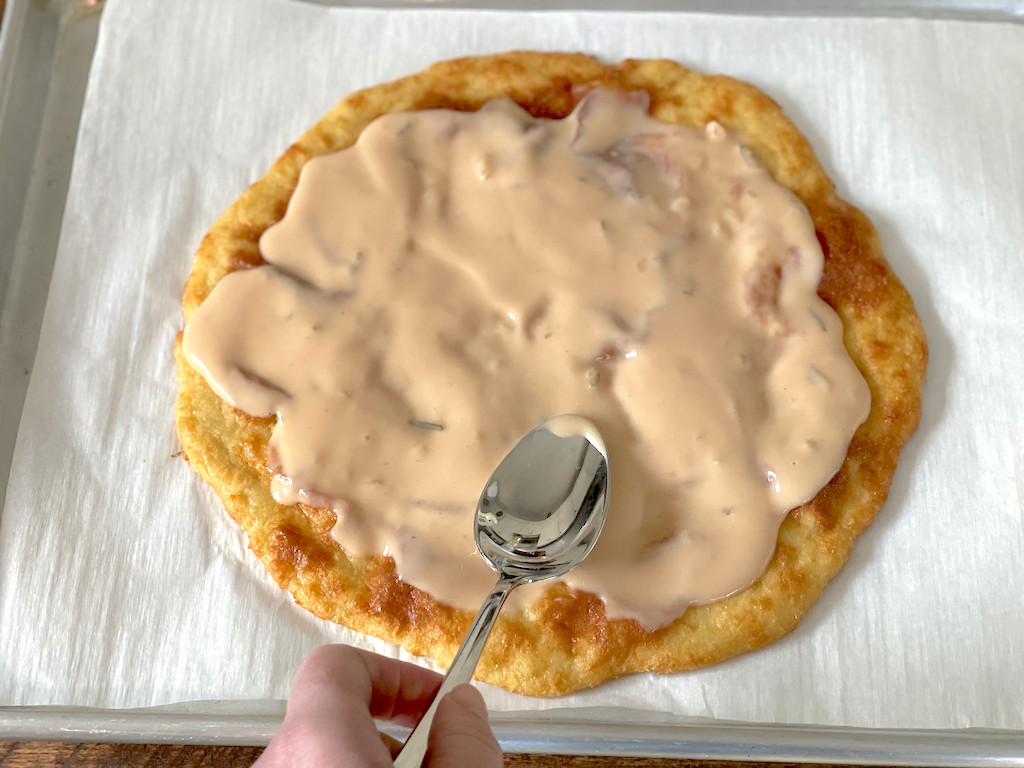 To make this keto Reuben pizza extra tasty, I made it with Walden Farms keto-friendly Thousand Island Dressing. They sent me their whole lineup of keto-friendly dressings to try. They have a new look for their bottles and their dressings are made with natural flavors. What better way to use the Thousand Island Dressing than to make a Reuben pizza. 🤤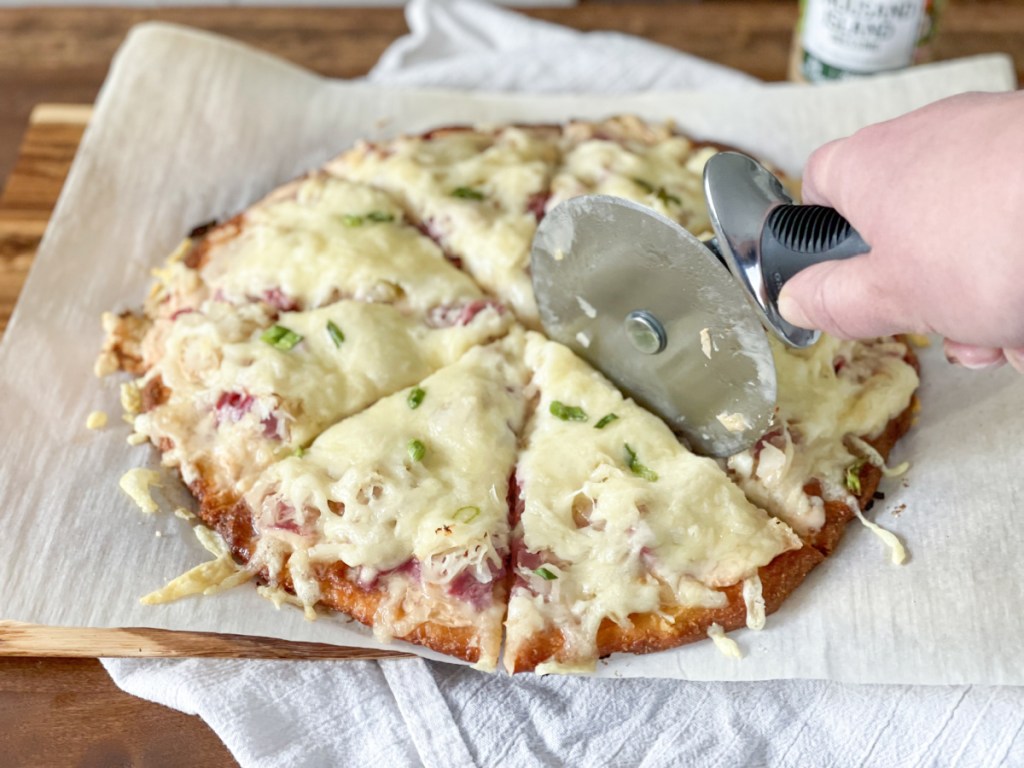 You wouldn't think that sauerkraut is good on pizza, but trust me it's delicious! This keto Reuben pizza is made exactly like a Reuben sandwich but just trades out the bread for fathead dough. I have to say that I might like this version better than the traditional sammie! 🤩
In addition to sauerkraut and fathead dough crust, this amazing pizza is loaded with corned beef and Swiss cheese. You can't go wrong with those toppings! 😋
Don't forget the sauce! The Walden Farms Thousand Island Dressing is the key ingredient for helping achieve this perfect keto Reuben pizza.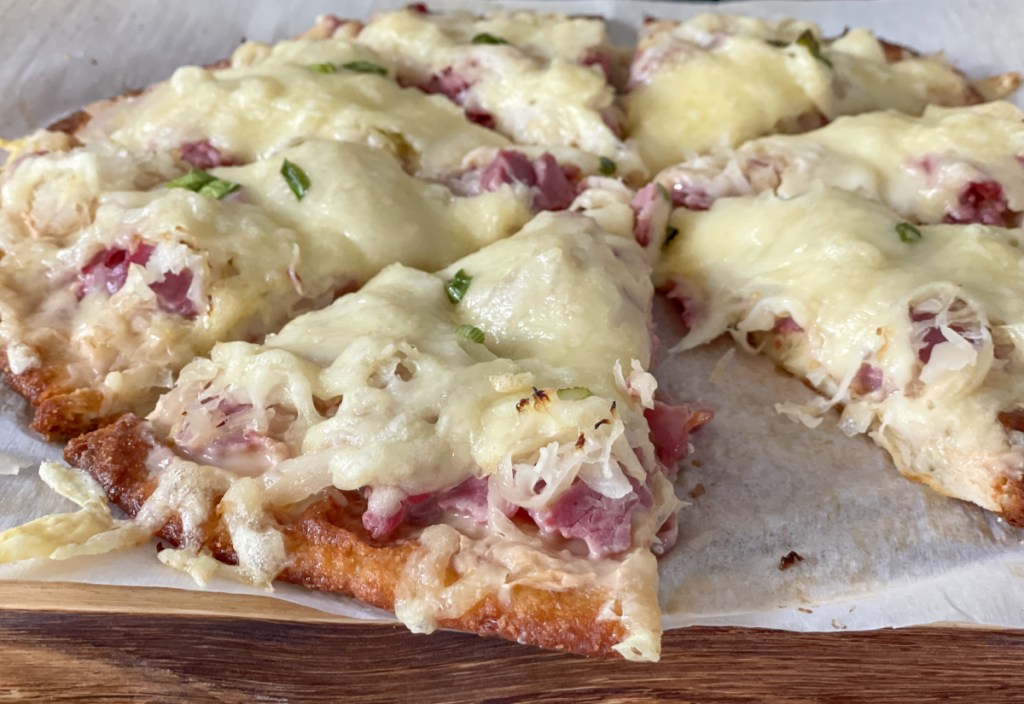 Tips for making the best keto Reuben pizza:
To make the flavors shine, we used a keto-friendly Walden Farms Thousand Island Dressing. But you can use any brand of Thousand Island Dressing as long as it's a keto-approved dressing. Make sure it has no more than 2 grams of carbs per serving.
You should be able to find pre-cooked corned beef in the deli section of your grocery store or use about 1 1/2 cups of chopped, leftover corned beef!
Look for fresh, refrigerated sauerkraut as it will still have live probiotic cultures. My grocery store usually has it in the meat section by the bratwurst.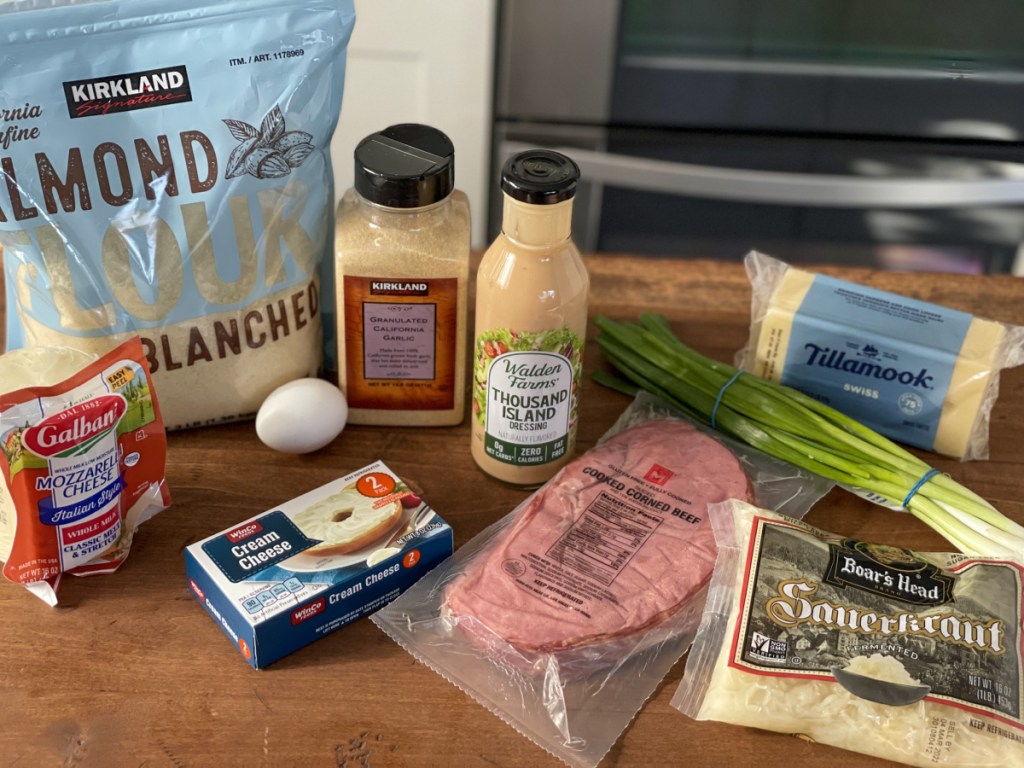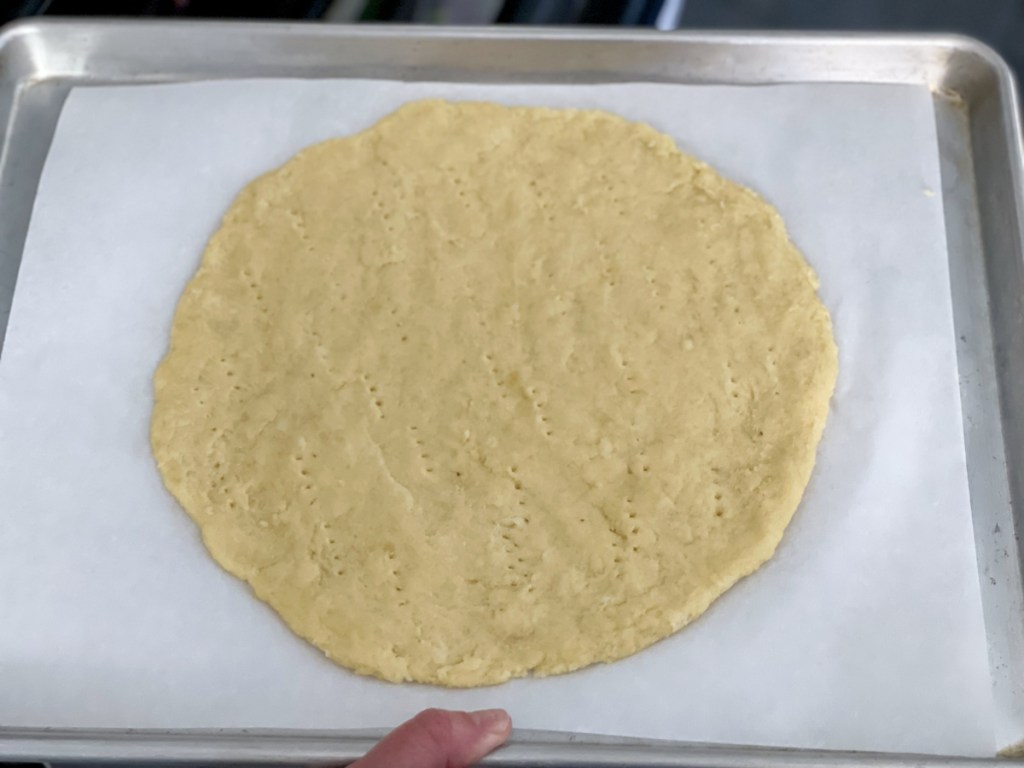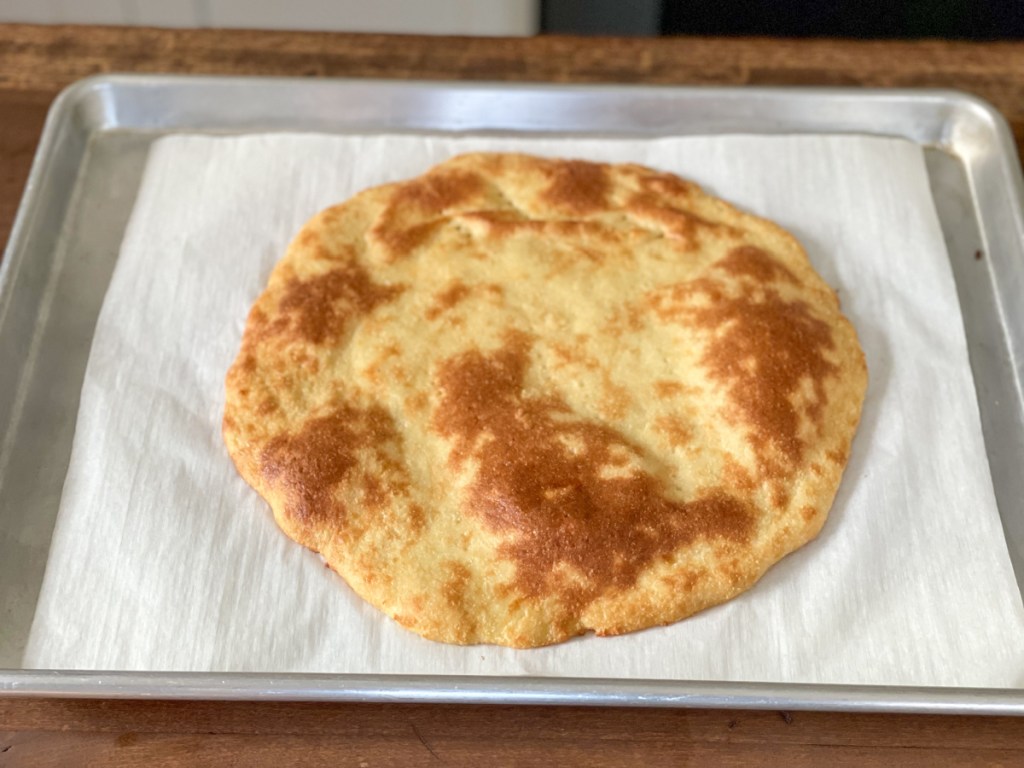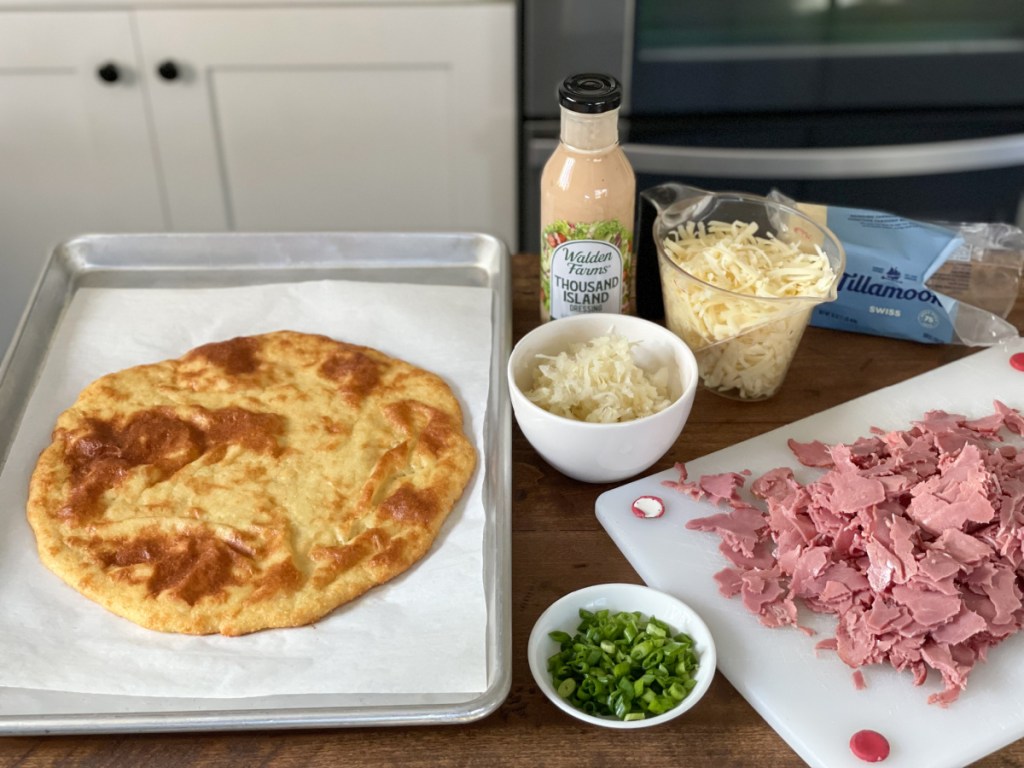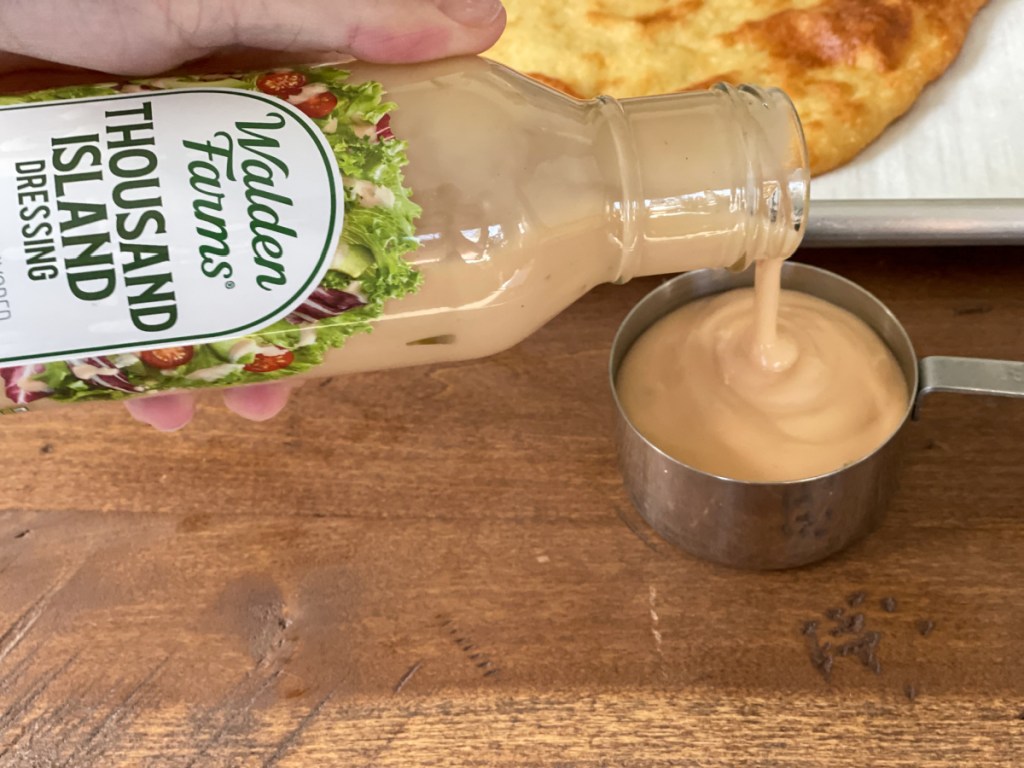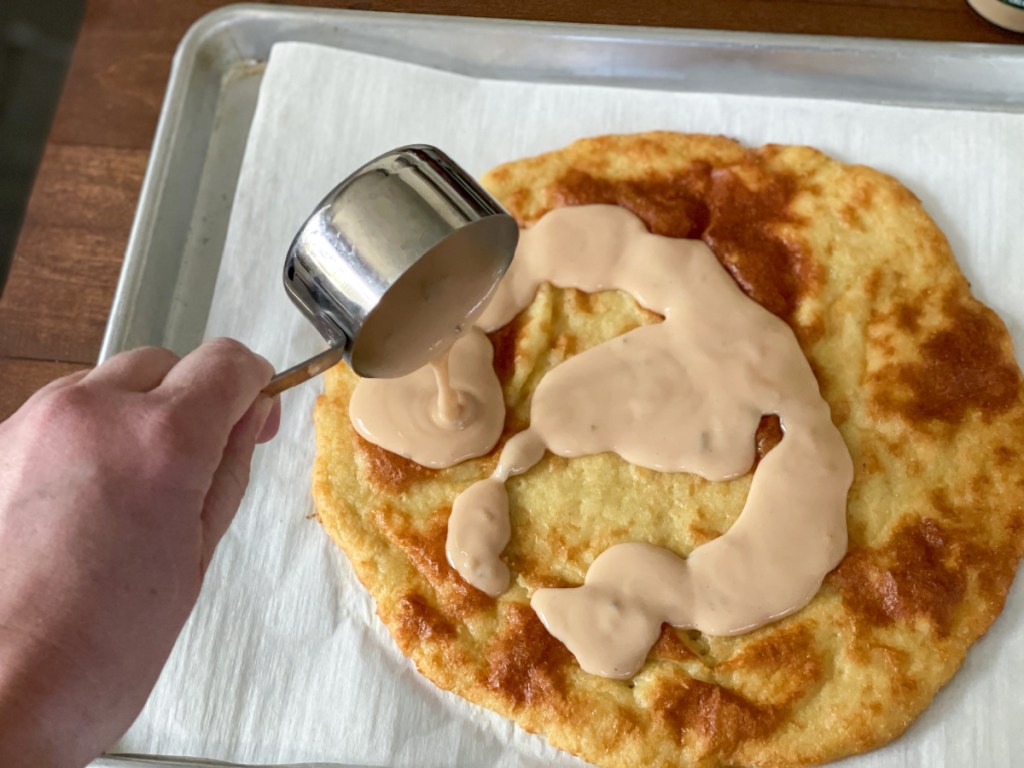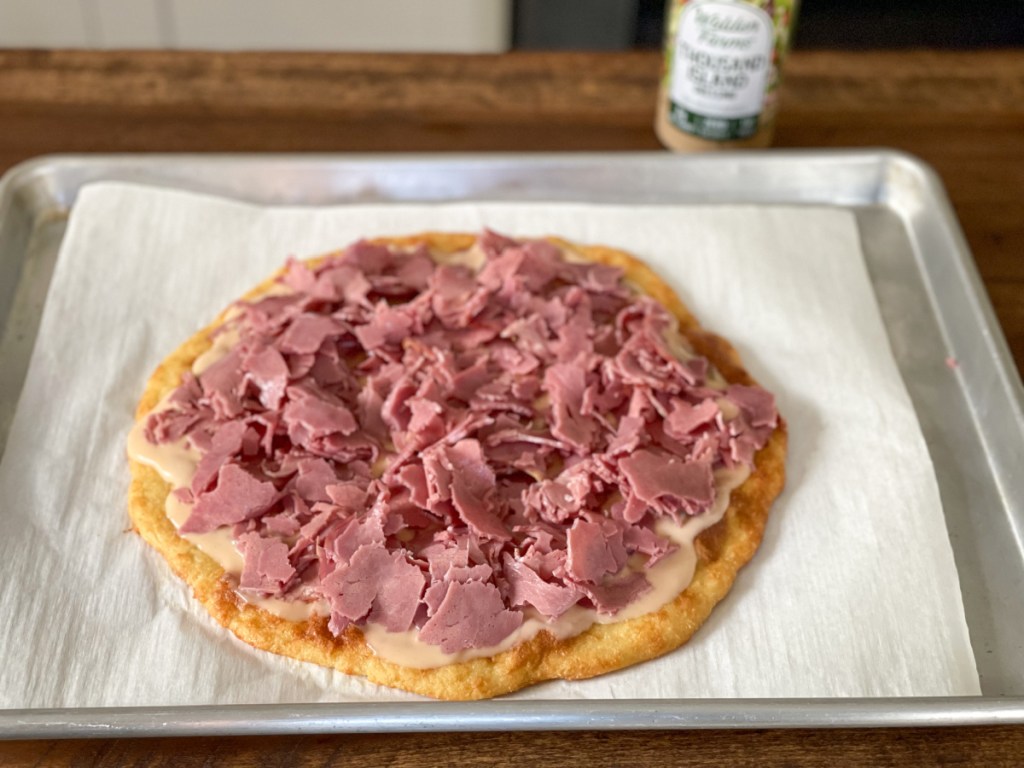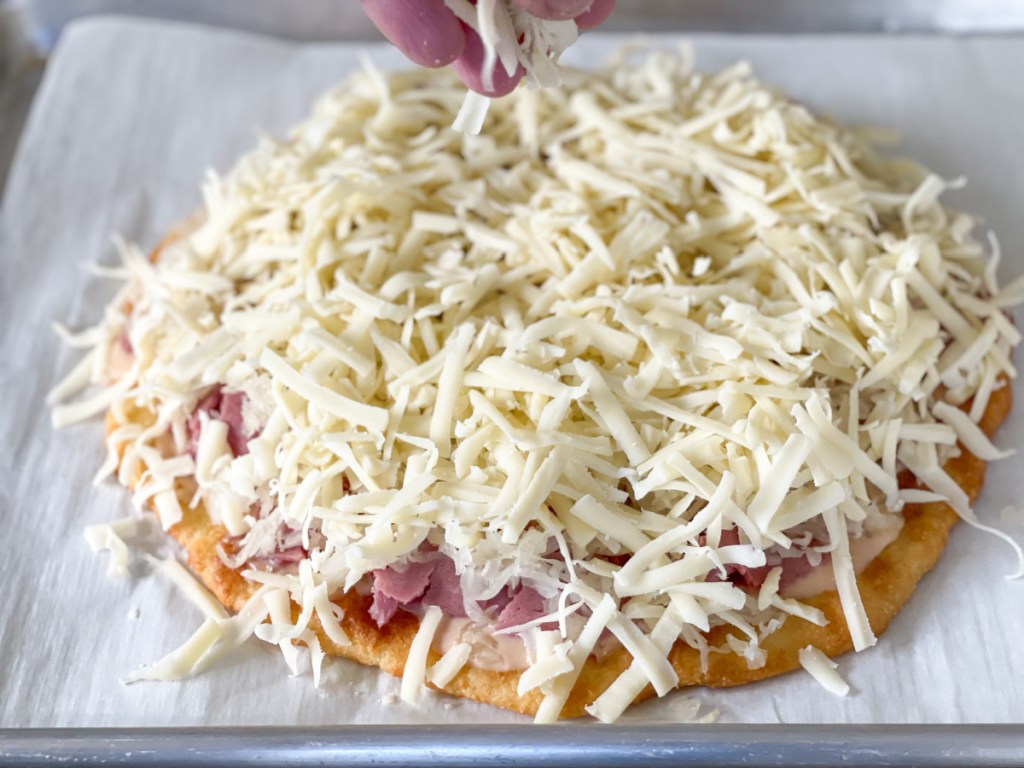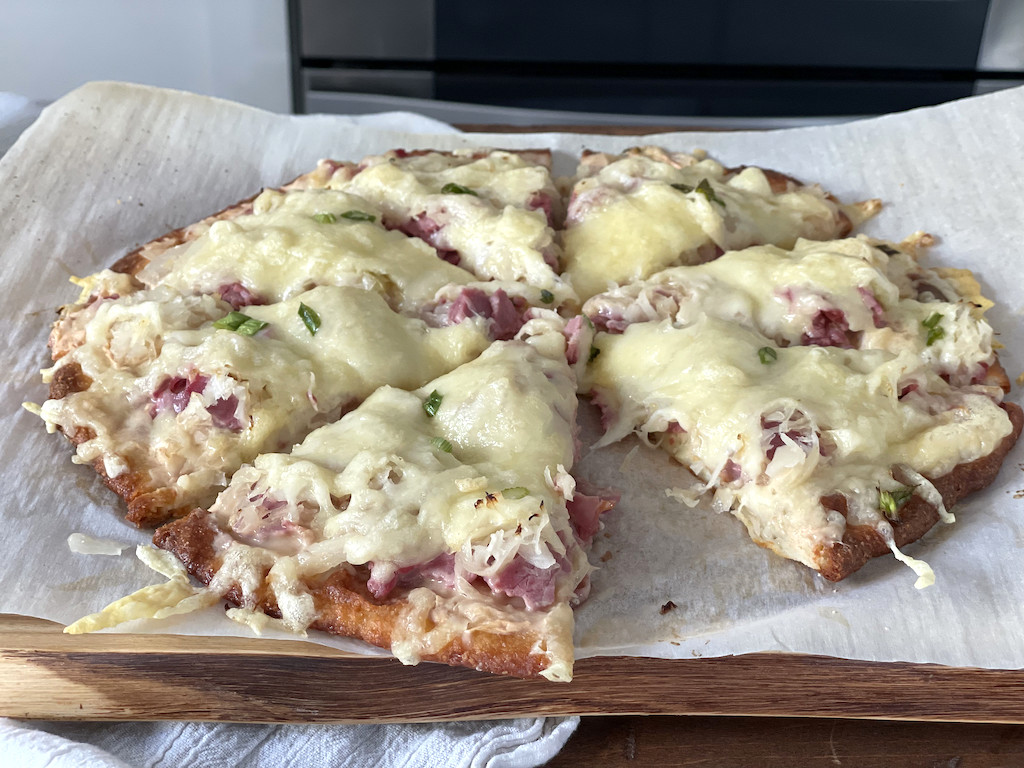 ---
yield: 8 SERVINGS
prep time: 25 MINUTES
cook time: 10 MINUTES
total time: 35 MINUTES
Mouth-watering Reuben pizza made with fathead dough, Walden Farms thousand island dressing, sauerkraut, and Swiss cheese.
Ingredients
1 3/4 cup full-fat mozzarella cheese, shredded
2 tablespoons cream cheese
1 egg
3/4 cup almond flour
1 teaspoon garlic powder
3/4 pound of precooked corned beef
3/4 cup sauerkraut
2 cups Swiss cheese, shredded
1 tablespoon green onions, chopped
Directions
1
Start by making the fathead dough.
Preheat oven to 425 degrees. Prepare a piece of parchment paper the size of a large baking sheet.
2
Place shredded mozzarella and cream cheese in a medium microwave-safe bowl. Microwave in 30-second increments until the mozzarella and cream cheese are melted enough that you can stir them together, about 1 1/2 to 2 minutes. You can also melt the cheeses in a small saucepan over low heat.
3
Mix in the egg. Add in the almond flour and garlic powder. Stir well to combine to form a dough ball. You might find it's easier to use your hands.
4
Place the dough ball on the parchment paper. You can use your fingers to spread the dough out into a circle the size of the baking sheet, or get a second piece of parchment paper and roll out the dough (or use your hands) between the two pieces of parchment.
5
Prick the dough with a fork a few times and then bake for 12 to 14 minutes, until lightly browned.
6
While the fathead dough is baking, prep the pizza toppings. Tear or chop the corned beef into small pieces. Measure out 3/4 cup of sauerkraut, draining off as much liquid as possible. Prep the remaining ingredients by shredding the Swiss cheese and chopping the green onions.
7
After the fathead dough is baked, top with 1/2 cup Waldren Farms Thousand Island Dressing. Spread the dressing out to evenly coat the dough. Then top with the corned beef, sauerkraut, and Swiss cheese. Lightly sprinkle with green onions.
8
Bake the pizza for 6 to 8 minutes or until the cheese has melted. Remove from the oven and slice into 8 pieces. Serve immediately. Enjoy!
Nutrition Information
Yield: 8 slices, Serving Size: 1 slice
Amount Per Serving: 342 Calories | 22.8g Fat | 5.8g Total Carbs | 2.4g Fiber | 0.8g Sugar | 0.5g Sugar Alcohol | 23.1g Protein | 2.9g Net Carbs
---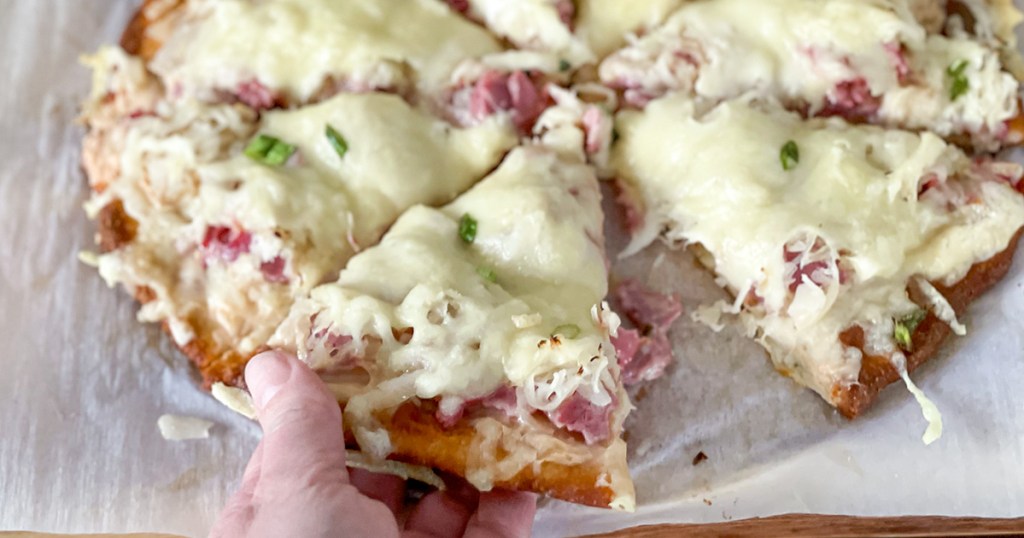 Try this fun twist for pizza night this week!
I wasn't sure if my husband would like this pizza or not, but he thought it was great and it was nice to mix up our typical pizza routine with something different and delicious. Not to mention, the leftovers also reheated wonderfully for lunch the next day!
If you're a Reuben lover and have been wanting to enjoy the flavors while staying keto, this recipe is definitely one for the books. 🙌
---
Here's what my Hip sidekick Jenna had to say about this keto Reuben pizza: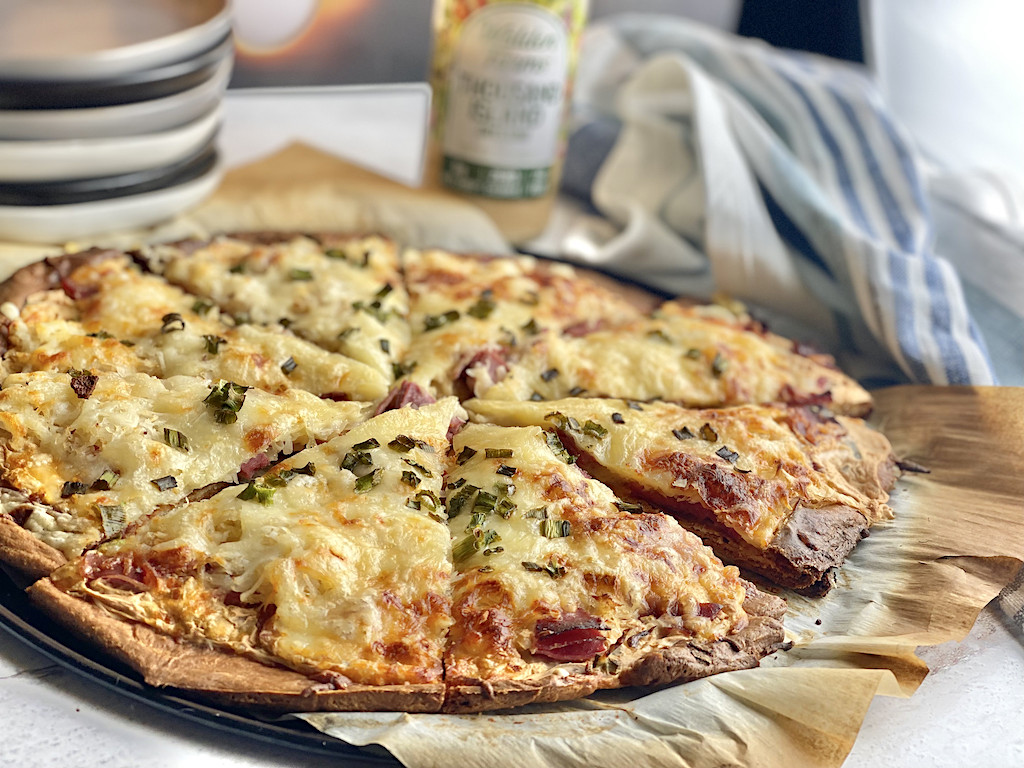 "We just love Reubens around here, and in pizza form?! WOW! I would have never thought of that! Each layer is awesome and works out beautifully on the fathead dough!
I'm also surprised to say I am officially in love with this Walden Farms Thousand Island dressing. Growing up, my dad always made his own salad dressings, so I'm super picky when it comes to dressings. This one is off the charts good and makes for the perfect pizza sauce!
I'll definitely make this again, and as Emily mentioned, it reheats perfectly the next day, so you might as well make 2 pizzas while you're at it. 😉"
---
There's more where that came from — check out all of our pizza recipes!