Keto Corned Beef and Cabbage with Radish "Potatoes"
Make St. Patrick's Day (or any day!) all about this keto corned beef and cabbage with radish "potatoes".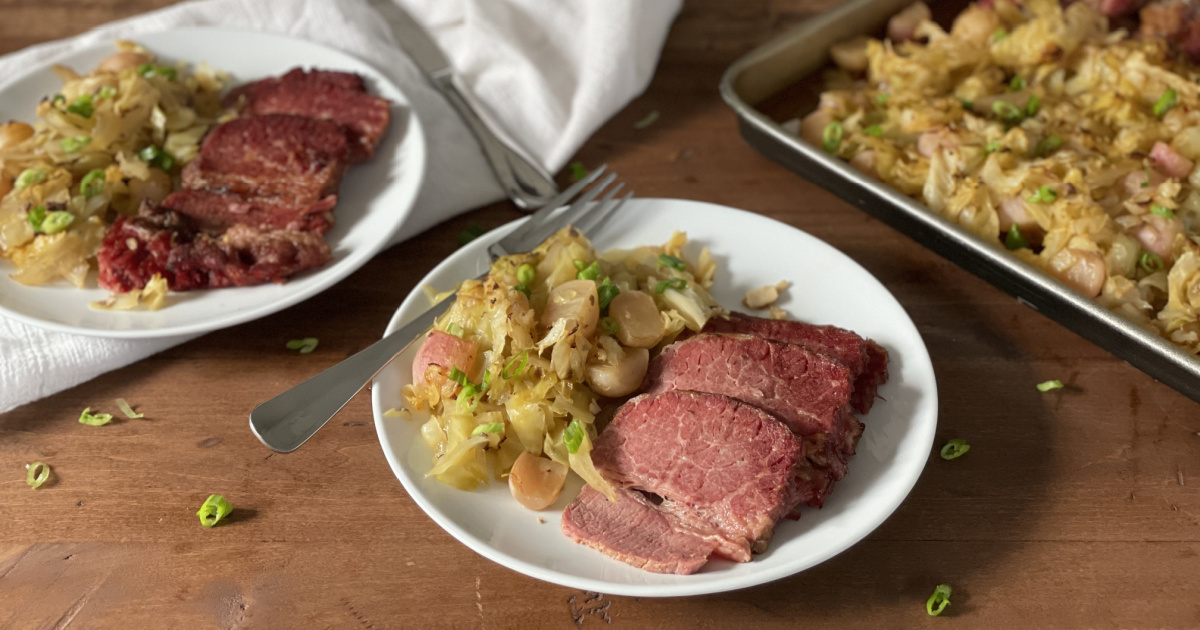 This meal is as good as a pot of gold at the end of a rainbow! 🍀🌈
This keto corned beef and cabbage with radish "potatoes" is my favorite way to make corned beef. Corned beef and cabbage is a naturally keto-friendly meal but it also just isn't the same without potatoes.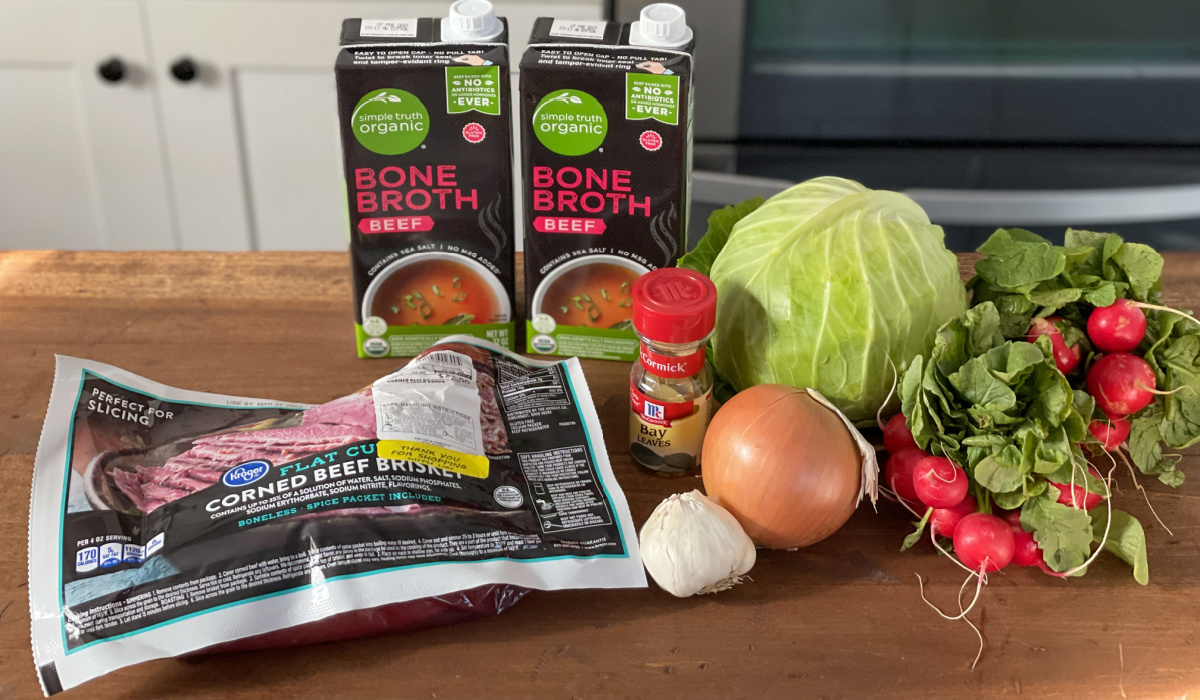 How many carbs are in corned beef?
Three ounces of corned beef contain just 0.4g of carbs! The potatoes would be the biggest carb hurdle, so to make the sides for our corned beef keto friendly, I cooked radishes right along with the cabbage to get that potato fix; it turned out amazing. Thank you to Love Carb Love for the inspiration!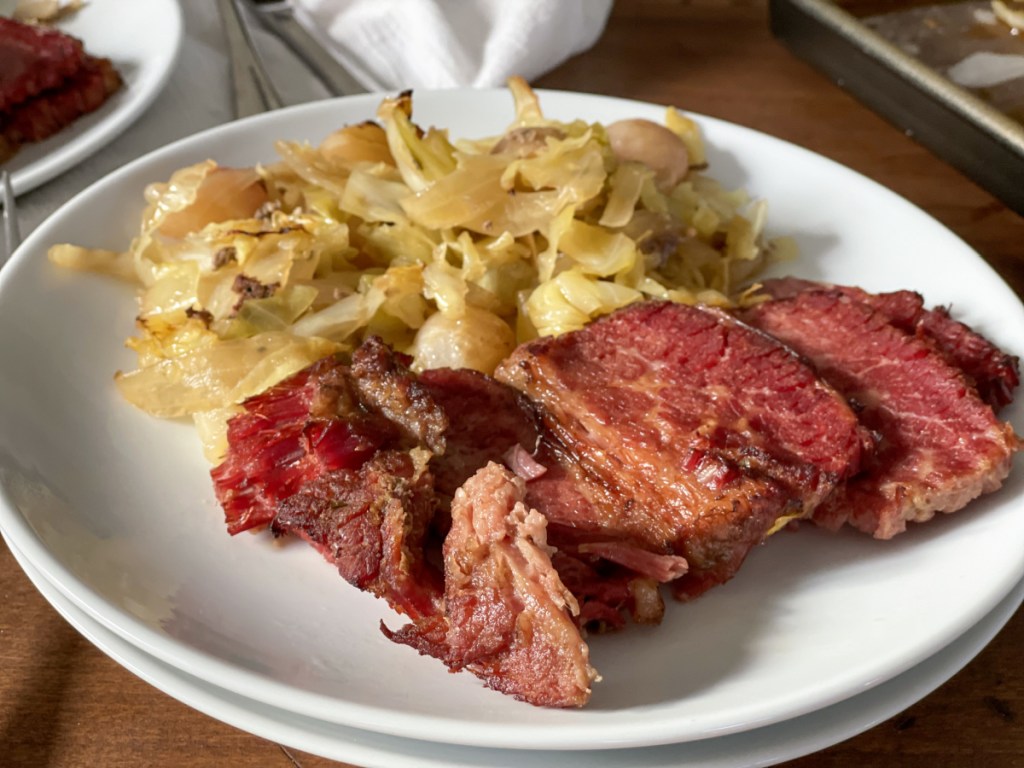 Low and slow is the key for our keto corned beef and cabbage.
I simmered the corned beef in bone broth and seasonings for about three hours. I then sliced it and broiled it for a few minutes to crisp up the edges and add another level of flavor.
The cabbage, radishes, and onion are added during the last hour of simmering and also broiled to give them some delicious texture. It turned out so tasty!
I could eat keto corned beef and cabbage with radish "potatoes" every week!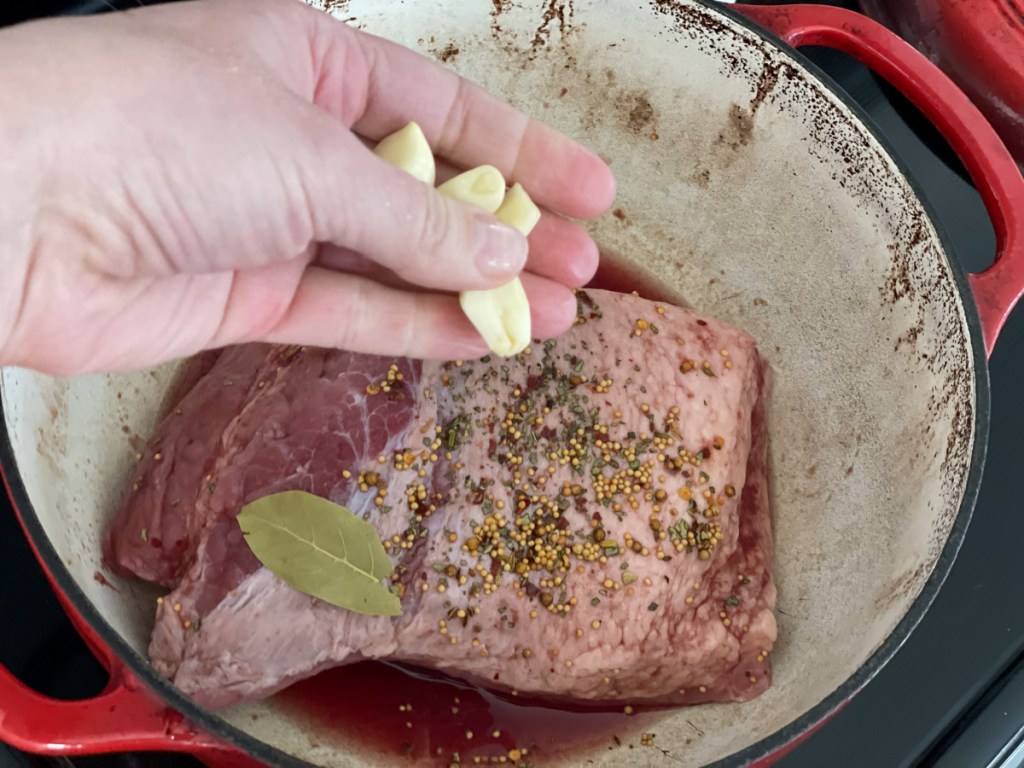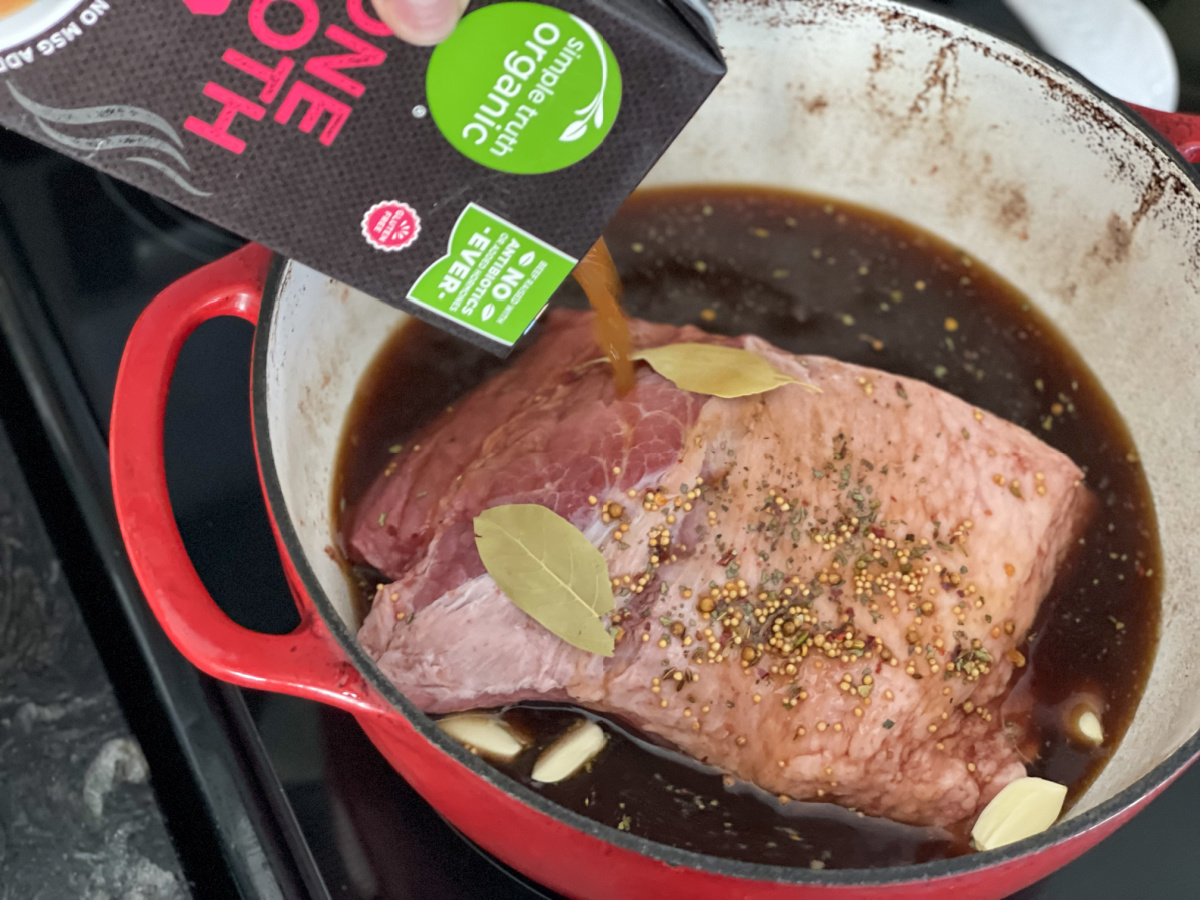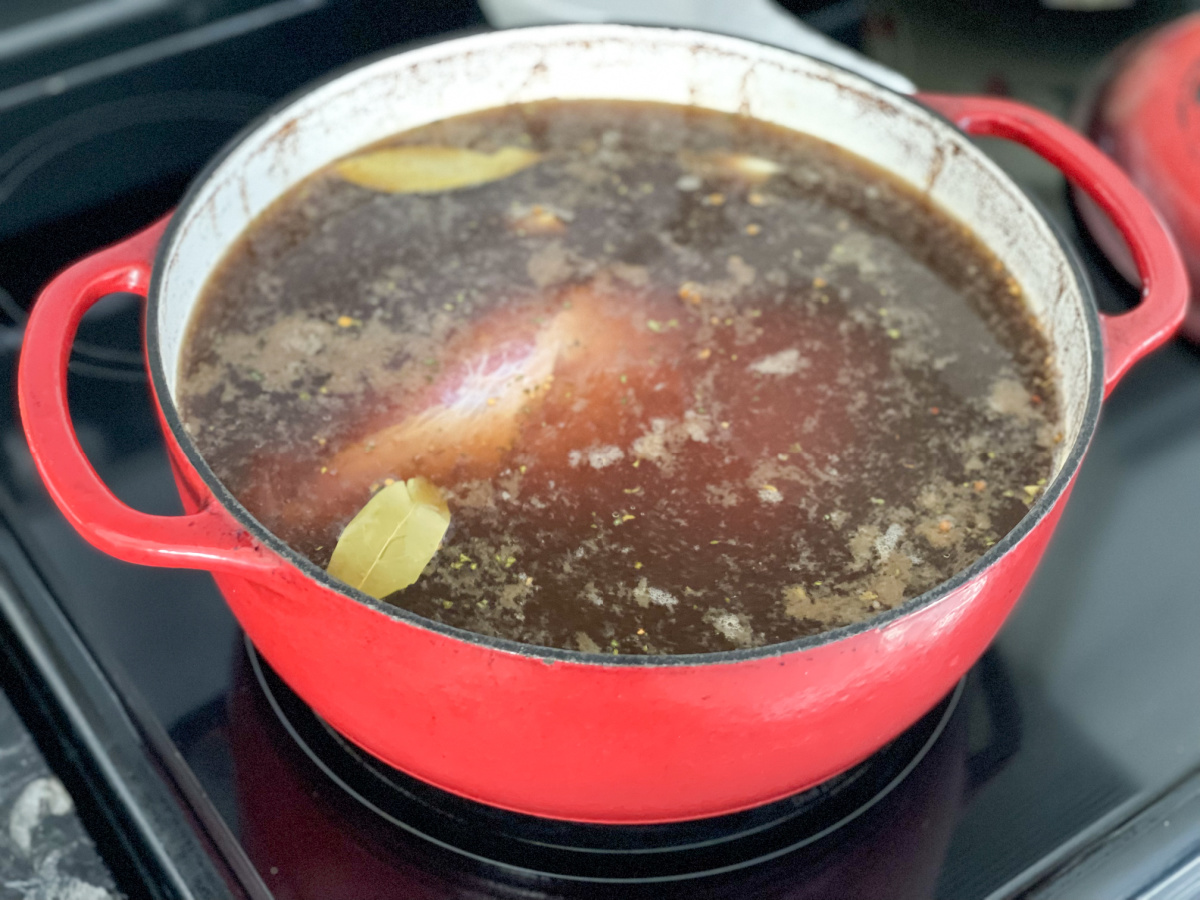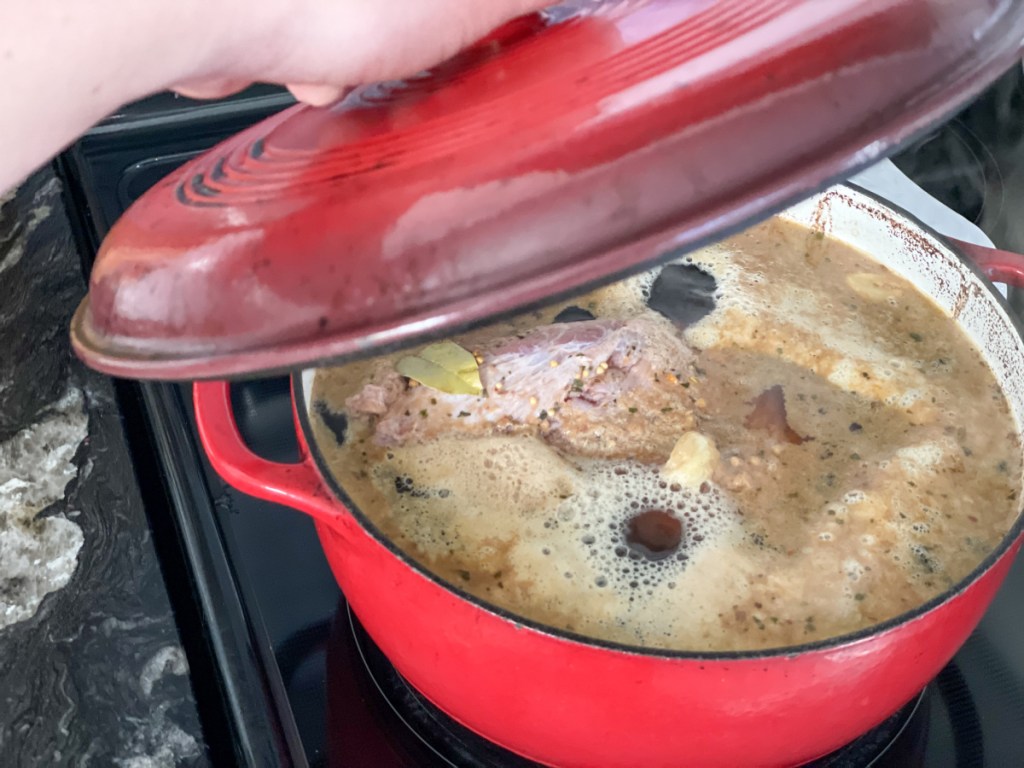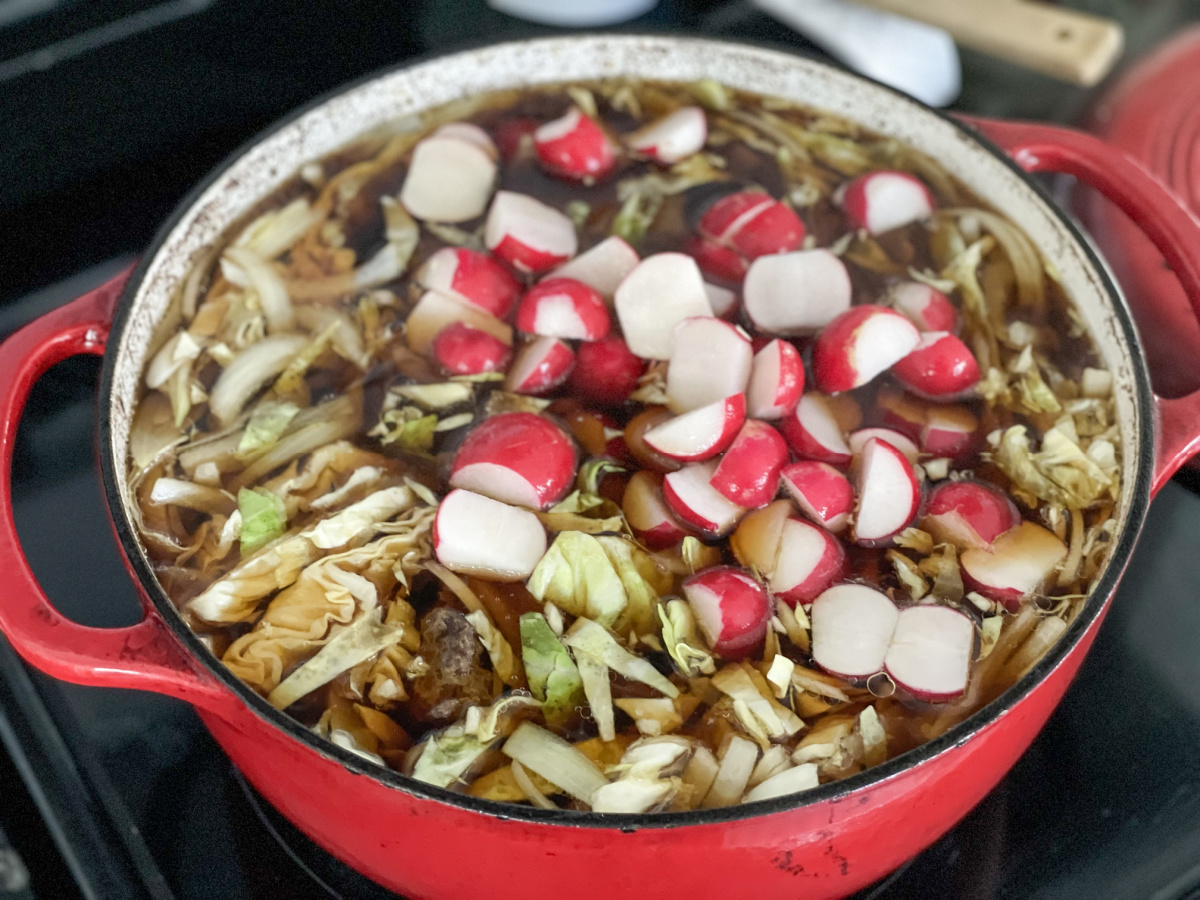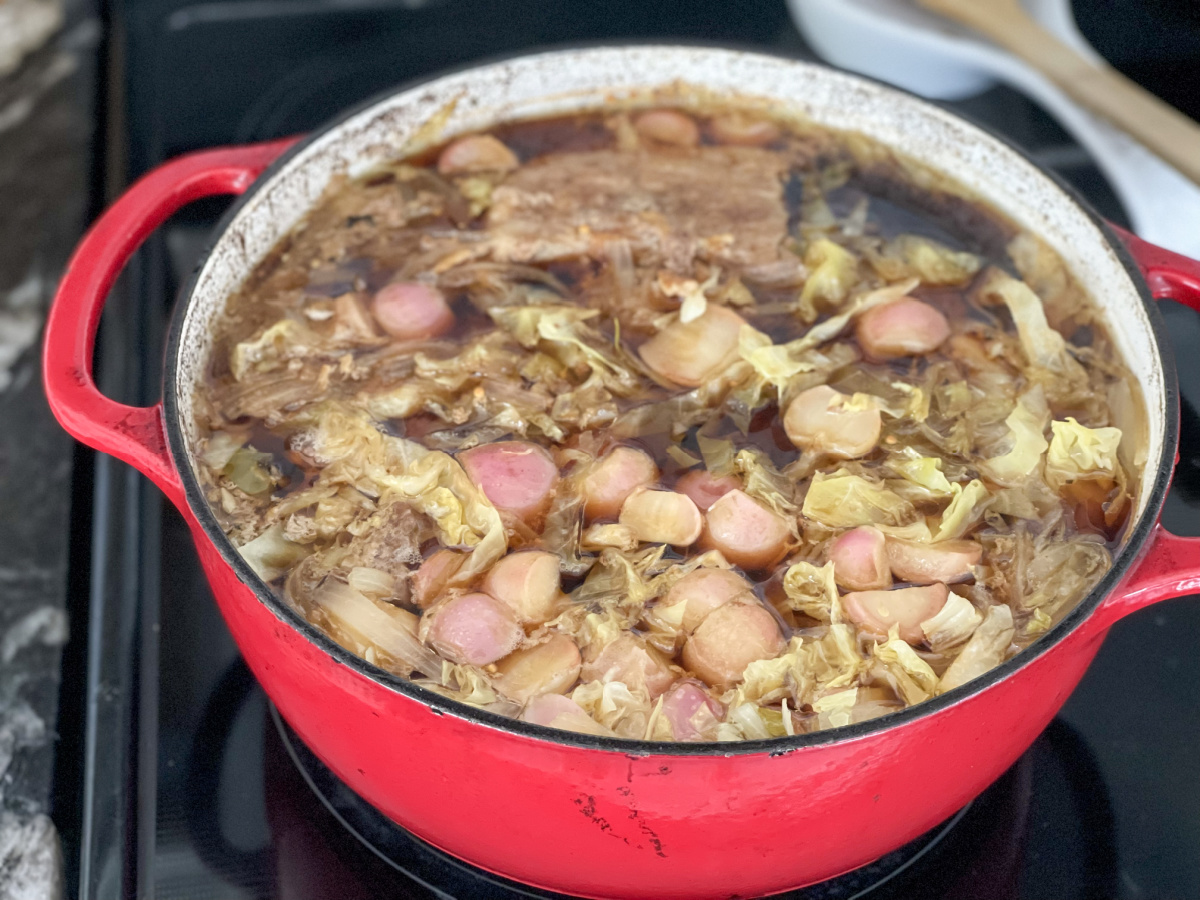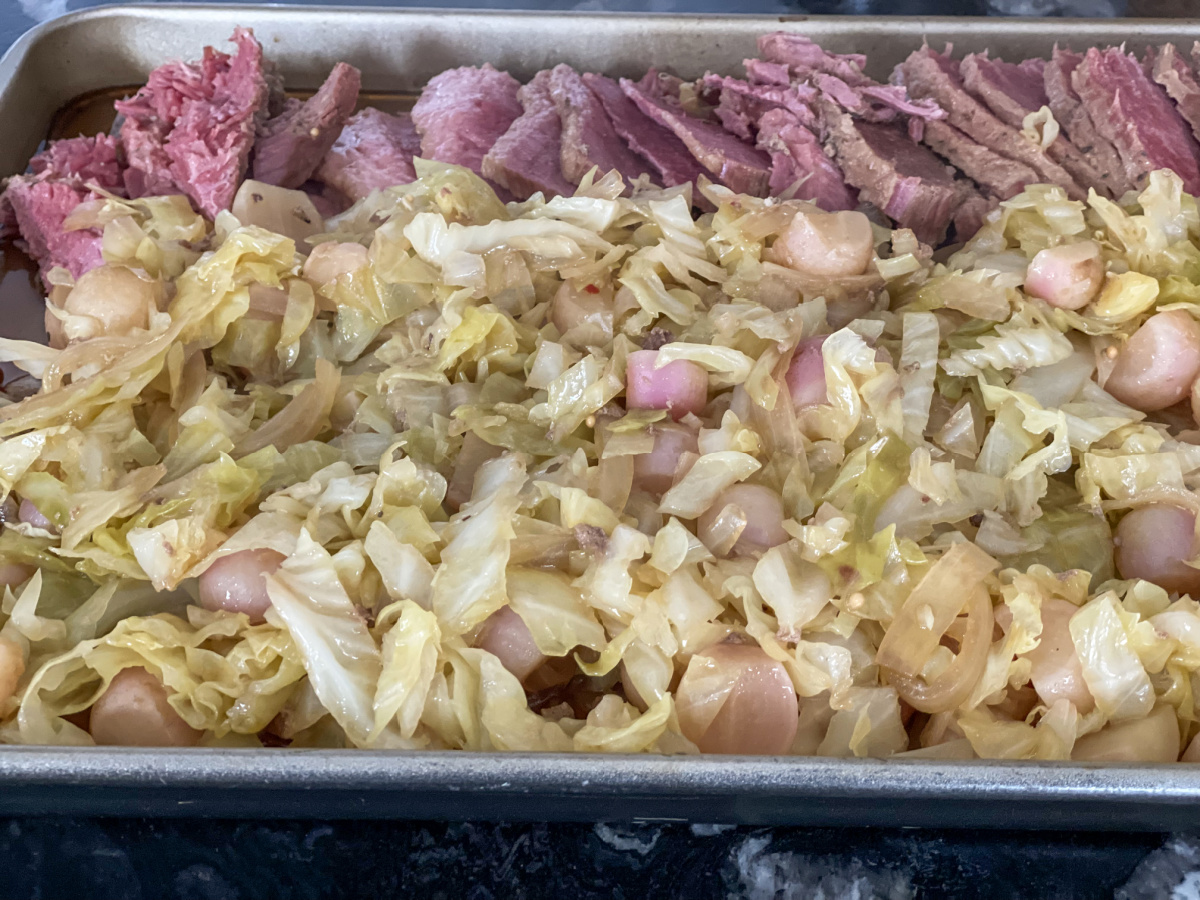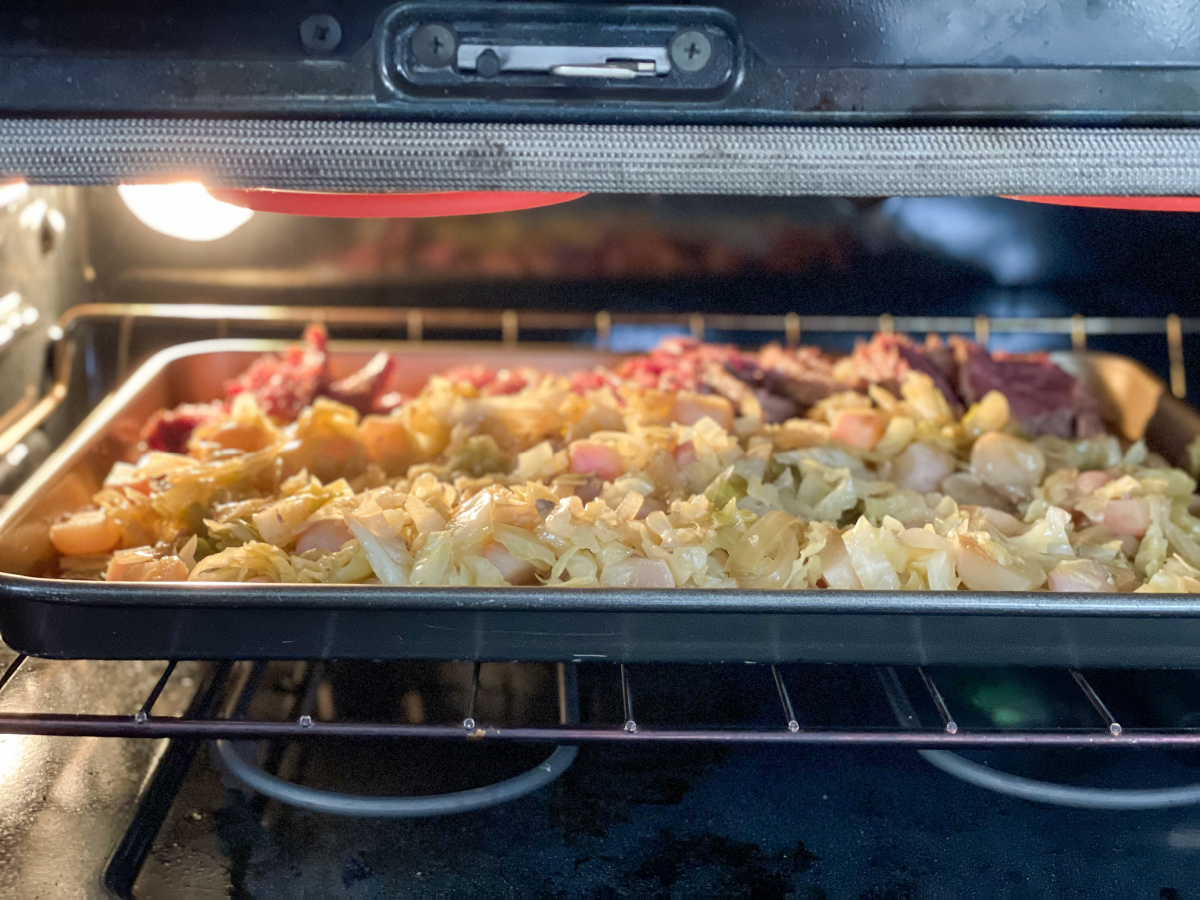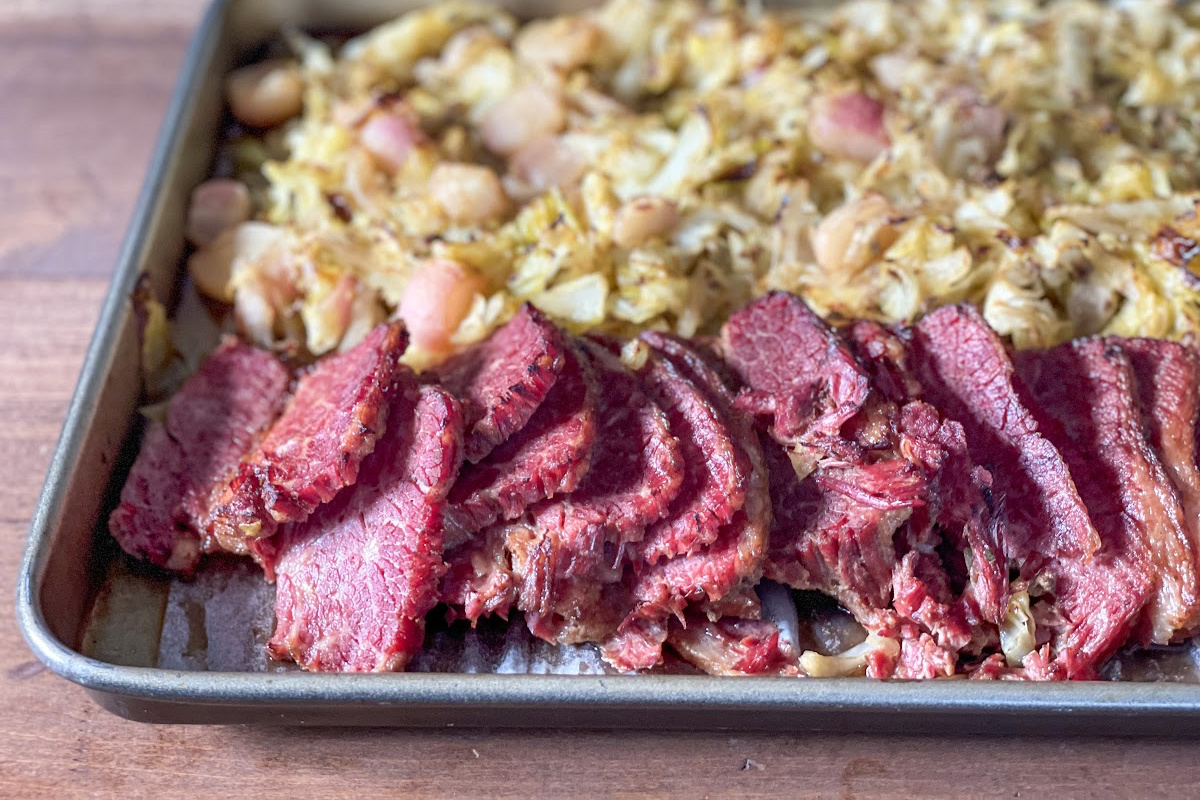 ---
Print
Keto Corned Beef and Cabbage with Radish "Potatoes"
yield: 6 SERVINGS
prep time: 10 MINUTES
cook time: 3 HOURS
total time: 3 HOURS 10 MINUTES
Slow simmered corned beef with cabbage, radishes, garlic, and onions, then sliced and broiled to achieve a beautiful crisp texture and depth of flavor.
Ingredients
8 cups beef bone broth or stock (2- 32 oz. containers)
5 cloves garlic, peeled
2 bay leaves
1 medium onion, sliced thin
1 small cabbage, core and stems removed, cut into slices
2 bunches of radishes, tops and bottoms removed, cut in half
Directions
1
Heat a Dutch oven or stockpot over medium to medium-high heat. Place the corned beef fat side up, along with juices and spice pack in the Dutch oven or stockpot. If your corned beef doesn't have a spice packet, see our tips below the recipe.
2
Add in the garlic cloves and bay leaves. Pour in the bone broth to cover the corned beef. If it's not completely covered, add additional broth or water to cover it.
3
Bring to just a boil and then reduce heat to low and let simmer for about 3 hours. Add in the onion and radishes after 2 hours so that they cook with the corned beef for about an hour. If you want your cabbage to be crispier, wait and add it at the 2 hours and 30-minute mark.
4
Once the corned beef is done, line a baking sheet with parchment paper and turn your oven to broil. Remove the corned beef from the Dutch oven and let it rest for about 10 minutes. Cut the corned beef against the grain into 1/4-inch slices.
5
Place the sliced corned beef and onion, cabbage, and radish mixture on the baking sheet. Use a slotted spoon to remove the vegetables from the broth. Drizzle a little of the broth over the corned beef, about a 1/4 cup or so.
6
Broil on HIGH for 5 minutes, checking every minute or two, until the edges of the meat are just starting to get crispy and the cabbage just slightly browns. Remove from oven and enjoy!
Nutrition Information
Yield: 6 servings, Serving Size: 2-3 slices of corned beef with 1 cup of vegetables
Amount Per Serving: 662 Calories | 40.6g Fat | 8.9g Total Carbs | 3.4g Fiber | 4.2g Sugar | 55.8g Protein | 5.5g Net Carbs
---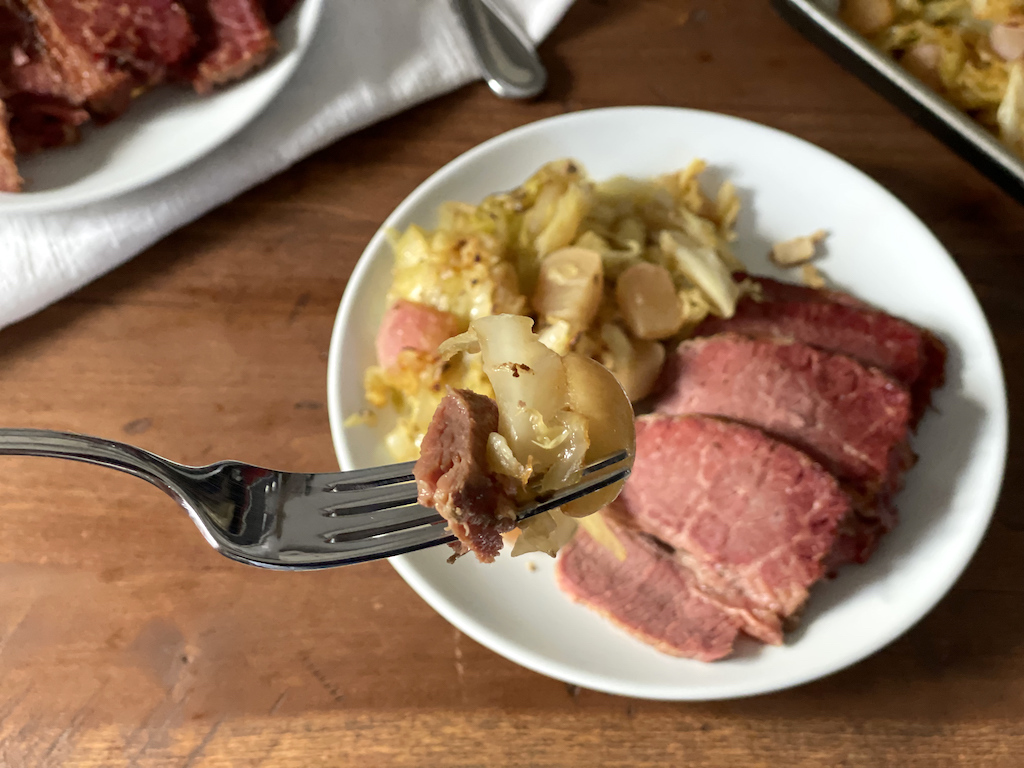 Tips for making the best keto corned beef and cabbage with radish "potatoes":
Buy the corned beef brisket from the store that has already been brined. If you're really adventurous, you can brine the brisket yourself, but it takes about a week. Just use a brown sugar keto sweetener in place of the regular sugar.
If you buy a pre-brined corned beef from the store and it does not come with a spice packet, you can use a tablespoon of premade pickling spice or make your own blend with about a 1/4 teaspoon of each of the following spices: coriander, peppercorns, mustard seeds, crushed bay leaves, crushed red pepper flakes, and anise seeds. Some people also add in whole cloves, allspice berries, cardamom, or cinnamon.
Use a large stockpot or Dutch oven to simmer the corned beef. It needs to be big enough that you can cover the entire corned beef with the liquid.
I do recommend using beef bone broth as part of your cooking liquid but you can use stock or broth. The instructions on the corned beef package actually say to just use water but broth adds a lot more flavor.
You can save the leftover broth and even freeze it for use at a later time. It'd be perfect in our keto beef stew recipe!
This meal reheats great! I honestly ate this three days in a row and it was just as delicious every day. 😋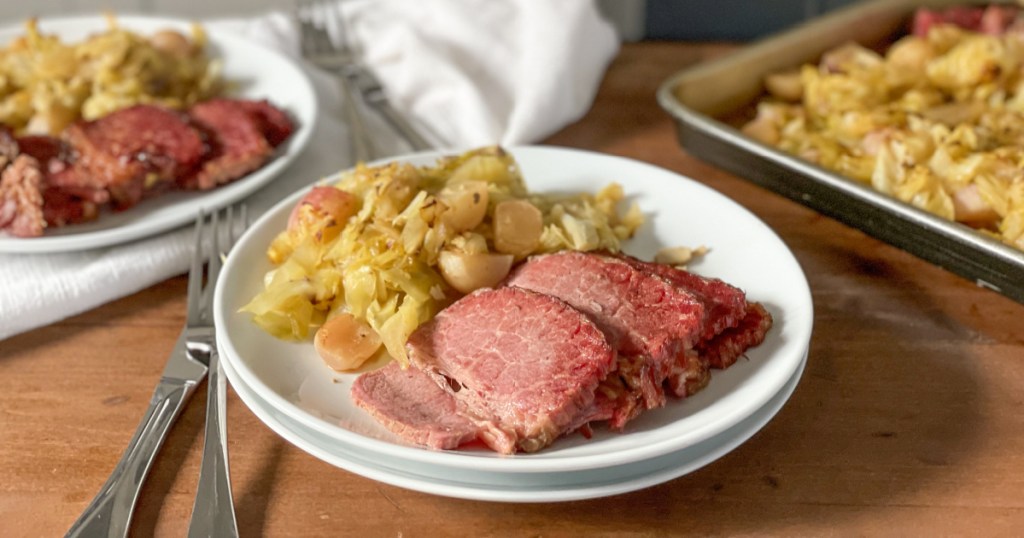 Just in time for St. Patrick's Day… or any day!
This recipe could easily claim a regular appearance at my house. It's wonderful to let it simmer on a lazy weekend. Your kitchen will smell amazing!
Here's what my Hip sidekick Jen had to say about this keto corned beef and cabbage recipe:
"My entire family agreed that this was the best corned beef we have ever eaten! It's fall-apart tender in your mouth! Who needs potatoes when you have radishes? The broth gives the full meal excellent flavor and it's simple to make. Be warned the whole house will smell delicious while this is cooking. This is a keeper!"
---
Need an idea for the leftovers? Try our keto Reuben in a mug!