This Easy and Yum Keto Reuben in a Mug is a Team Fave!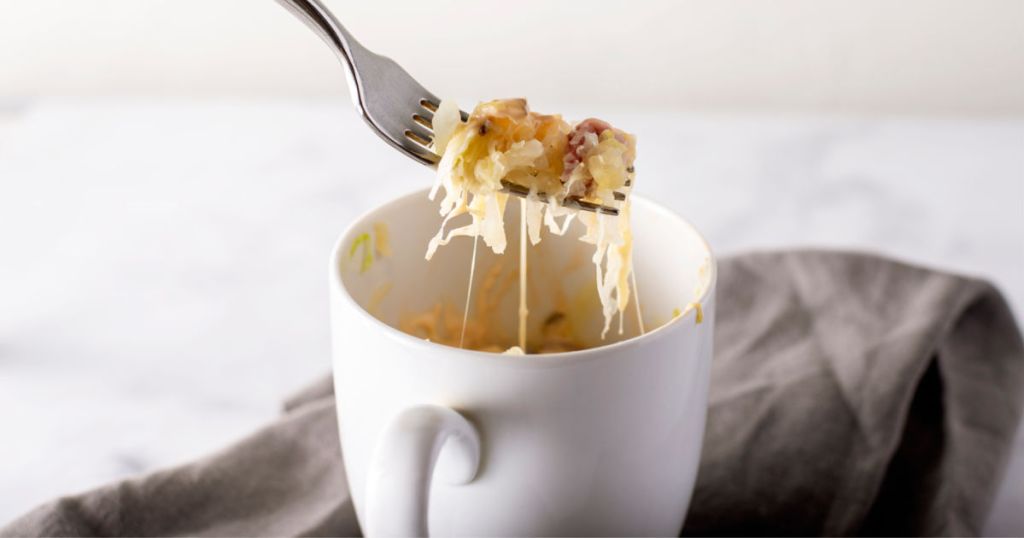 Reuben sandwiches are satisfying comfort food.
They're packed full of mouthwatering flavors: sweet, salty, and tangy. That said, one of the key components of a Reuben is the rye bread, which is a no-go for keto. No worries – we've got an easy keto Reuben in a mug to get you that rye bread flavor without kicking your body out of ketosis!
---
What's a Reuben?
A traditional Reuben sandwich is made of corned beef, Swiss cheese, sauerkraut, and Russian or Thousand Island dressing. These are then grilled between slices of rye bread.
Our keto-friendly version skips the bread and is cooked in a mug in the microwave. The secret for getting that authentic Reuben flavor without the bread? Caraway seeds! It's what gives rye bread its distinct flavor.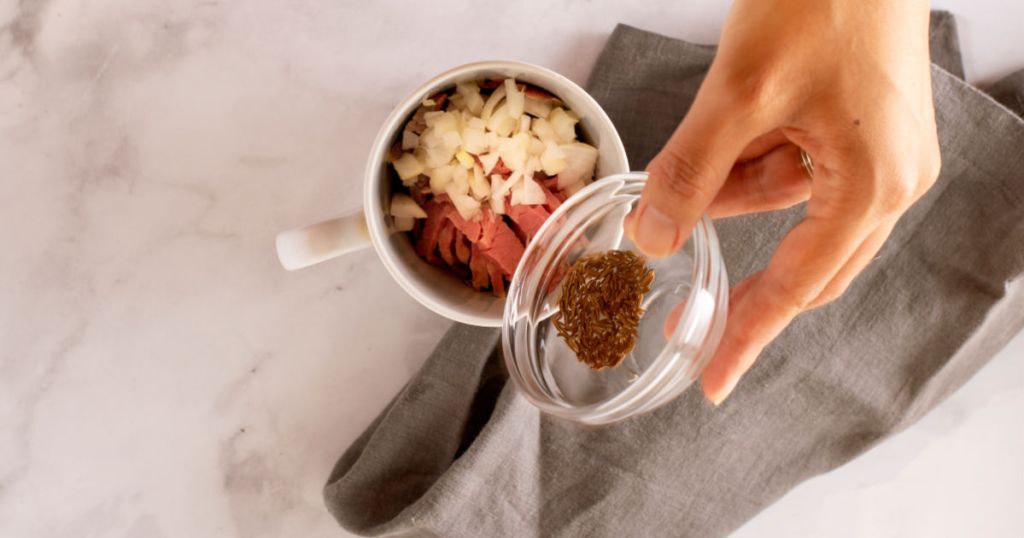 Hip Tips:
Skip the canned corned beef and use the real thing.

To save cook time during the week, make a corned beef brisket in the slow cooker or Instant pot on the weekend.

Then, thinly slice the corned beef into strips to keep on hand for a quick Reuben in a Mug during the busy week.
---
Print
Keto Reuben in a Mug
Our keto friendly, yummy Reuben in a mug recipe skips the bread and uses the microwave instead!
Ingredients
1 teaspoon caraway seeds
1 teaspoon avocado oil
2 tablespoons chopped yellow onion
½ cup shredded cabbage
¼ cup sauerkraut, drained
¼ shredded Swiss cheese
3.5 oz prepared corned beef, chopped
Directions
1
Place the corned beef in the bottom of a large mug. Add the onions, caraway seeds, and avocado oil. Mix. Add in the shredded cabbage and sauerkraut.
2
Microwave on high for one and a half minutes.
3
Remove from microwave and mix with a fork. Top with Swiss cheese and pop it back in the microwave for 30 seconds or until cheese is melted.
4
Top with a tablespoon or two of Keto Thousand Island Dressing.
Additional Notes
Macros per serving is calculated without the Keto Thousand Island dressing.
Nutritional Information
Yield: 1, Serving Size: 1
Amount Per Serving: Calories: 340, Total Carbohydrates: 5, Fiber: 5, Net Carbohydrates: 0, Total Fat: 24, Protein: 20
---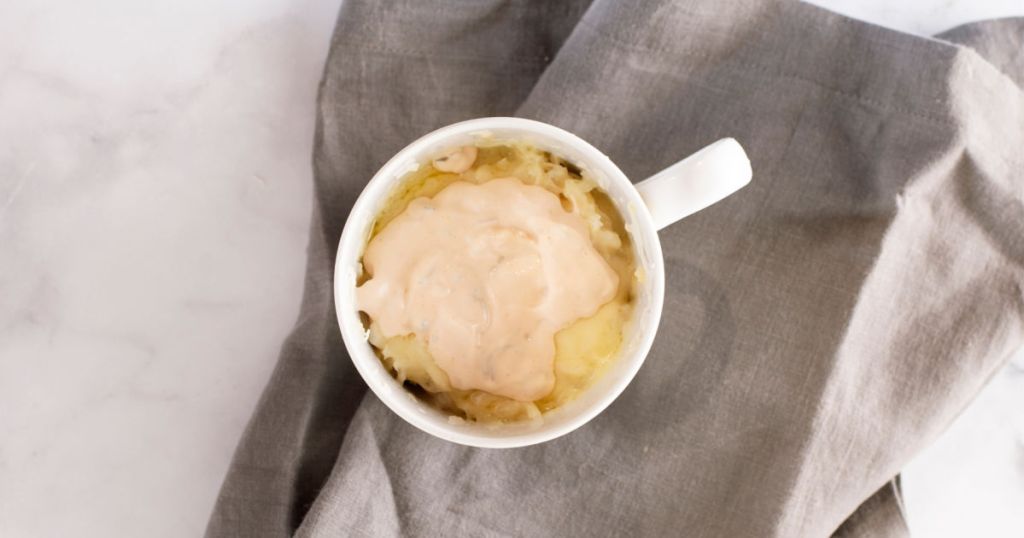 KETO THOUSAND ISLAND DRESSING RECIPE
Makes a ½ cup of dressing, or 4 servings. Serving size: 2 tablespoons.
½ cup mayonnaise
1 ½ tablespoon sugar-free ketchup
1 ½ tablespoon dill pickle relish
½ tablespoon white vinegar
A dash of sweetener (swerve)
Add all the ingredients to a small bowl and whisk to combine. Store in a small glass jar in the refrigerator for up to two weeks.
Yield 4, Serving Size 2 Tbsp
Amount Per Serving: Calories: 187, Carbs: 0, Fiber: 0, Net Carbs: 0, Total Fat 21 g, Protein: 0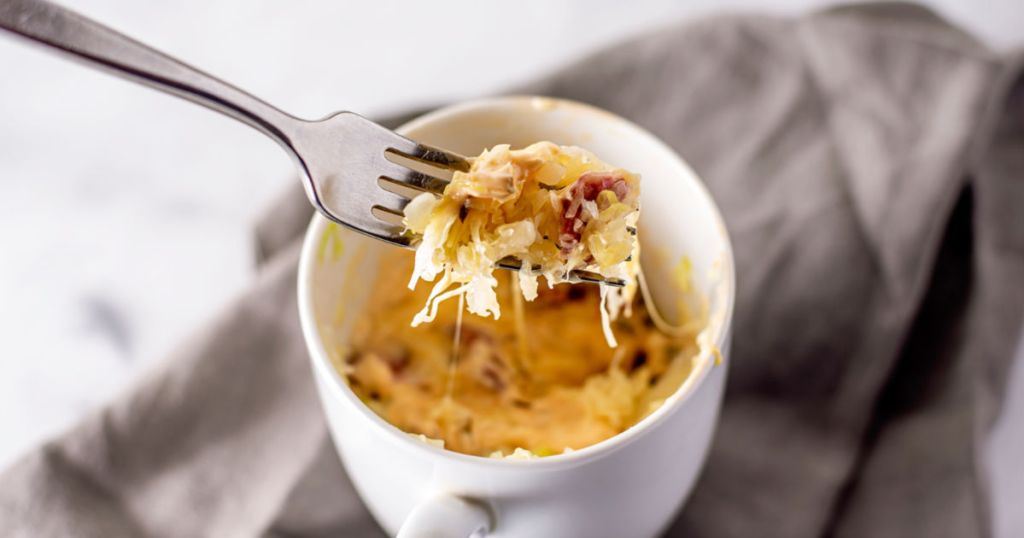 This recipe is so easy and fun!
I love recipes that are flexible, whether you're making a small meal for one or you're living in a dorm with only a microwave to cook your favorite keto creations! Enjoy!
---