Make This Easy Keto Reuben in a Mug in Just 2 Minutes!
Instead of a carby sandwich for lunch, create a super quick keto Reuben in a mug using the microwave!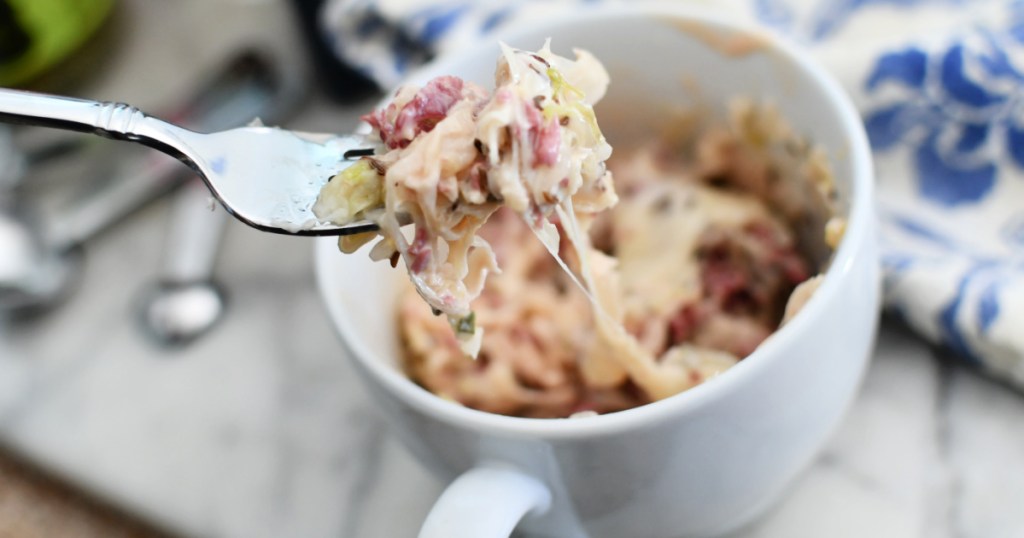 Reuben sandwiches are undeniably satisfying comfort food.
They're packed full of mouthwatering flavors: sweet, salty, tangy… what more could you want?! That said, one of the key components of a Reuben is the rye bread, which is a no-go for keto. No worries – we've got an easy keto Reuben in a mug to get your fix (including components to mimic the rye bread flavor) without kicking your body out of ketosis!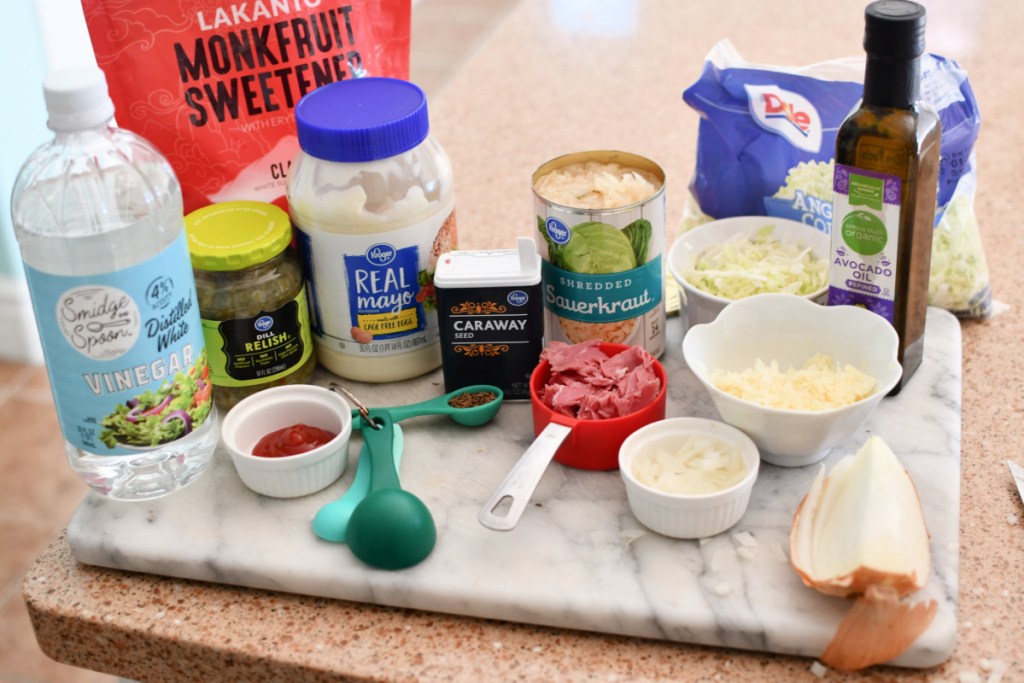 For starters, what's in a Reuben?
A traditional Reuben sandwich is made of corned beef, Swiss cheese, sauerkraut, and Russian or Thousand Island dressing, all grilled between slices of rye bread.
Our keto-friendly version skips the bread and is cooked in a mug in the microwave instead! And the secret for getting that authentic Reuben flavor without the bread? Caraway seeds! It's what gives rye bread its distinct flavor.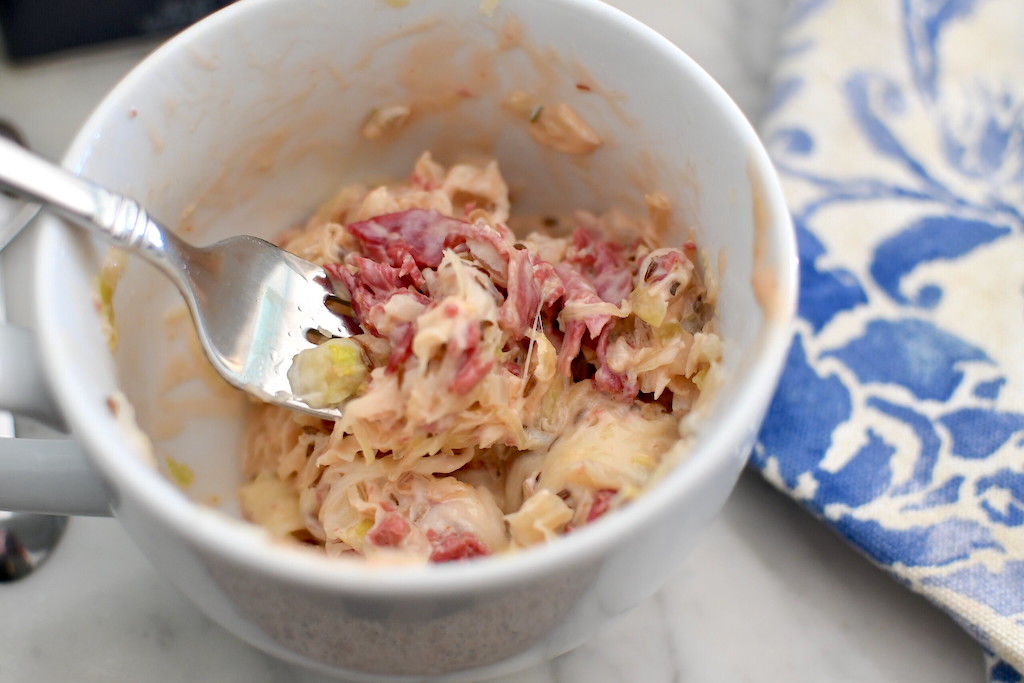 Tips for making the best Reuben in a mug:
Skip the canned corned beef and use the real thing. I picked up some prepared corned beef at the store in the deli department.
You'll either need a large coffee mug for this idea or a small microwave-safe bowl.
If you have a leftover corned beef brisket from the slow cooker or Instant pot, this would be a fantastic way to use up any leftovers! Just thinly slice the corned beef into strips to keep on hand for a quick Reuben in a mug during the busy week.
If you are planning on making this more than once in a week, go ahead and make a couple of batches of the dressing to have on hand so that it will go even faster the 2nd time around!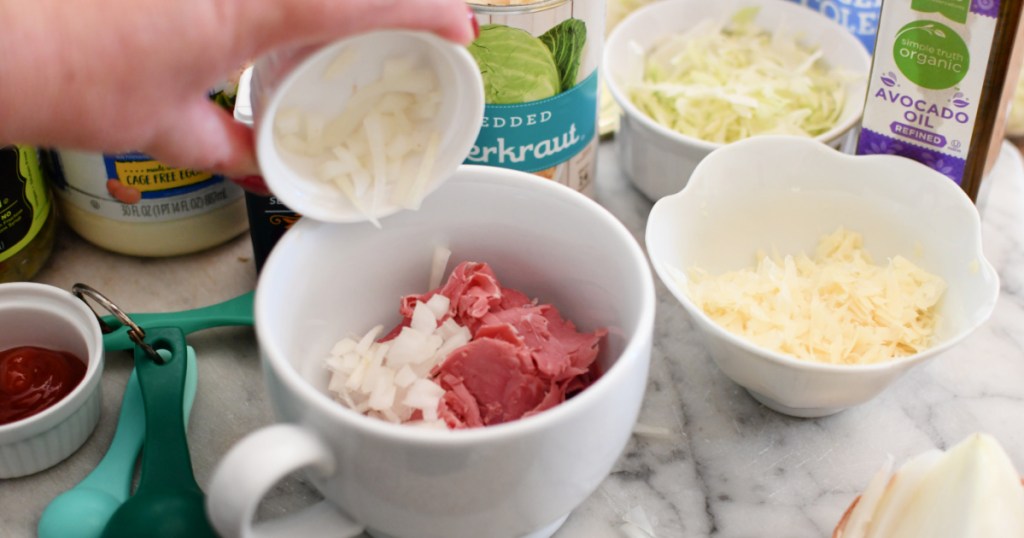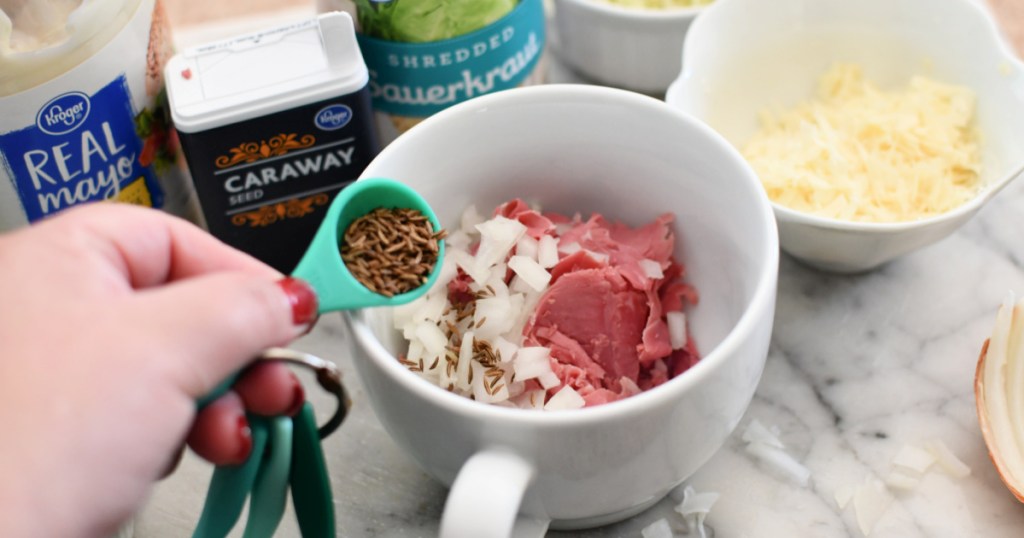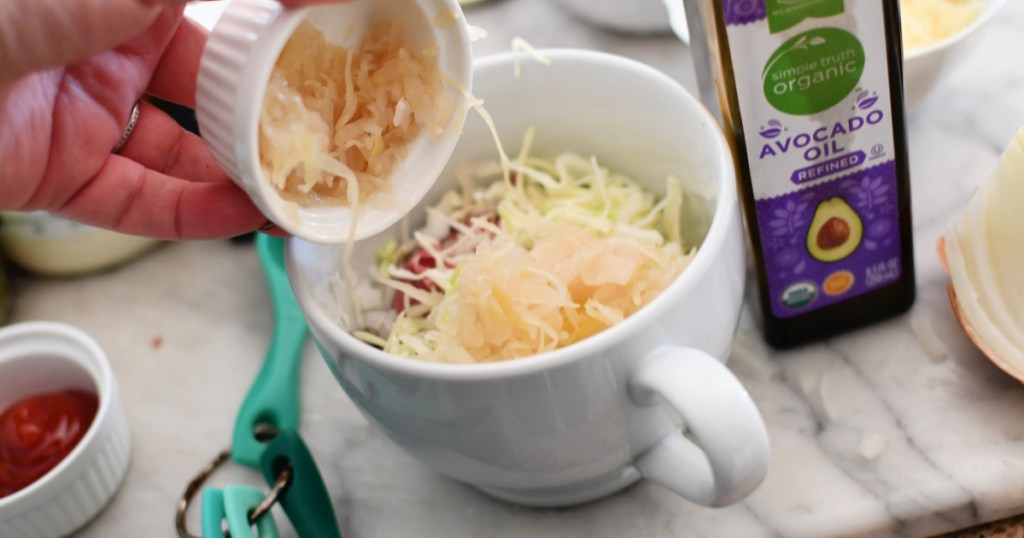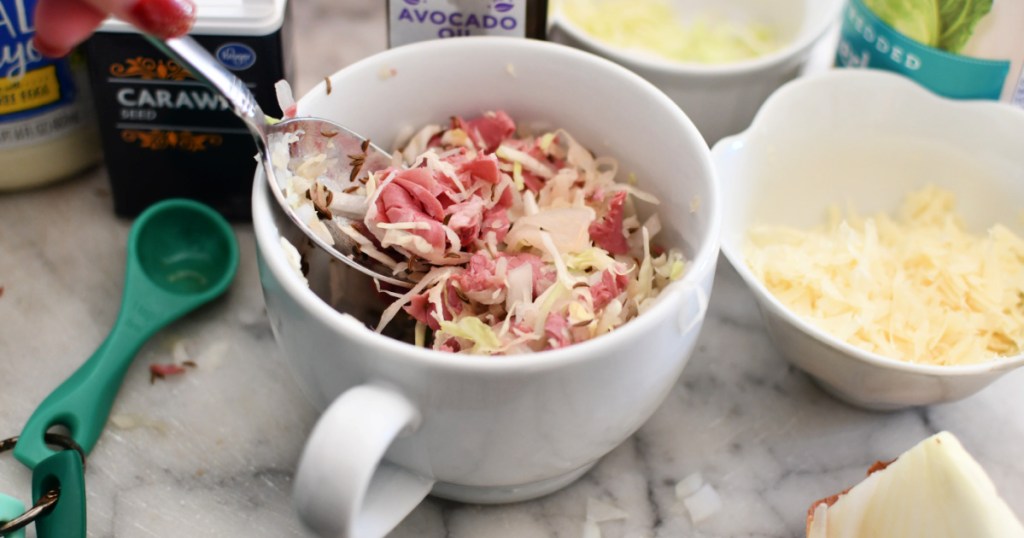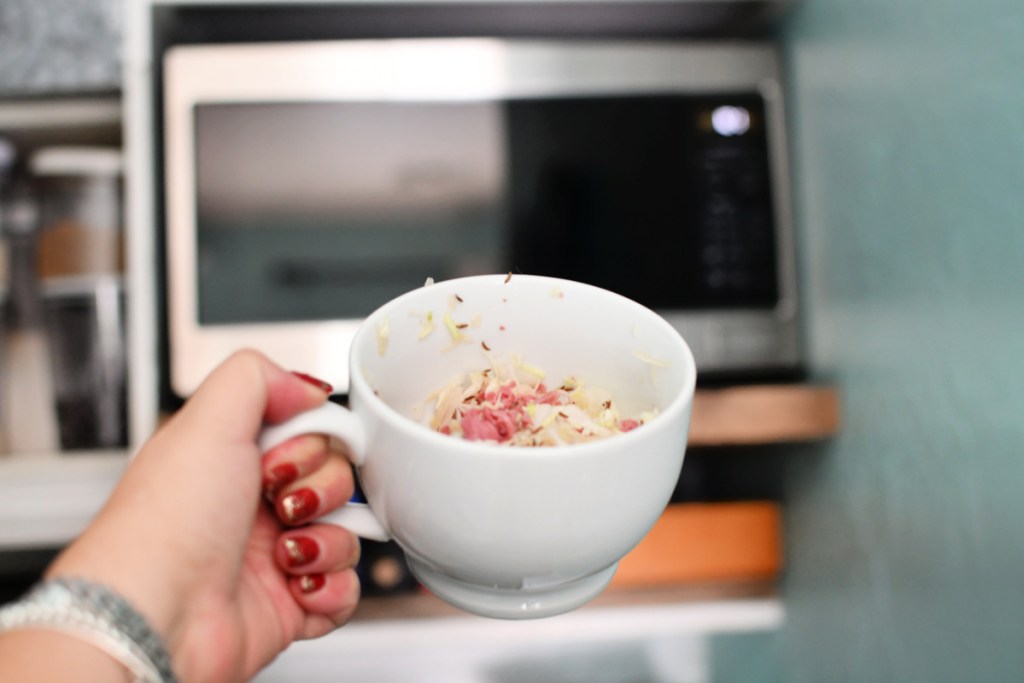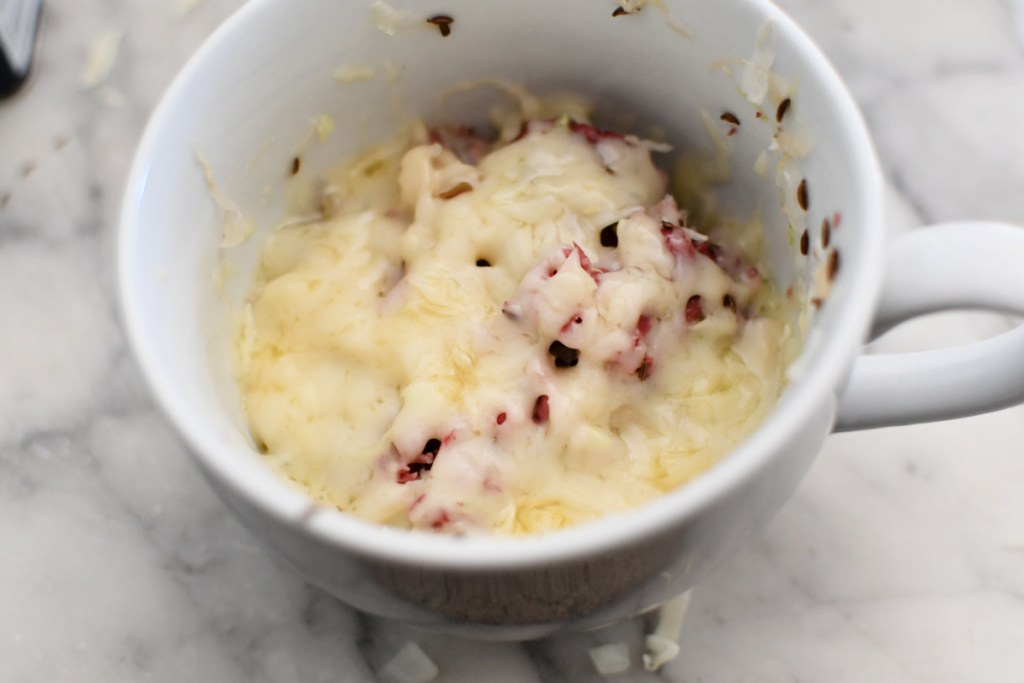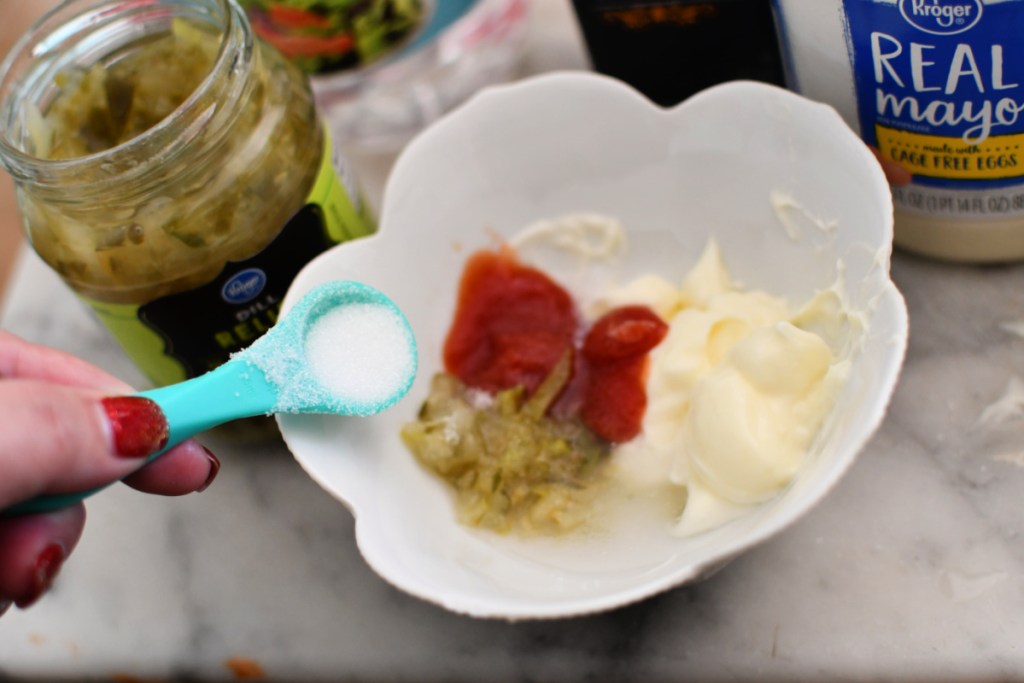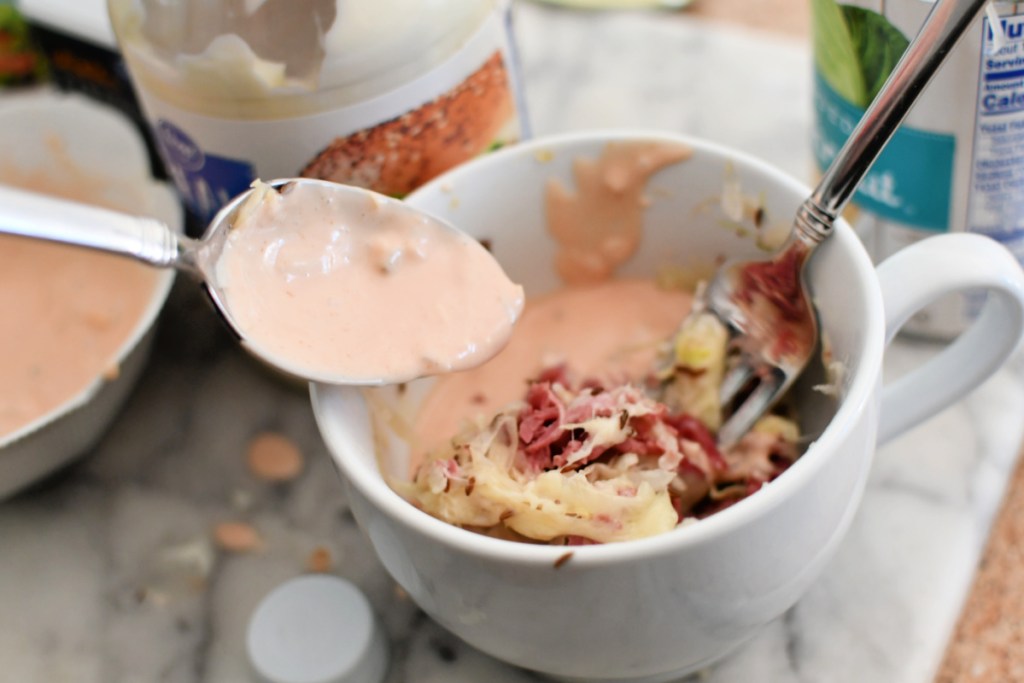 ---
Print
Keto Reuben in a Mug
yield: 1 SERVINGS
prep time: 10 MINUTES
cook time: 2 MINUTES
total time: 12 MINUTES
Our keto-friendly Reuben in a mug recipe skips the bread and still achieves all the same flavors as the traditional sandwich.
Ingredients
For the Reuben:
3.5 oz prepared corned beef, thinly sliced
2 tablespoons chopped yellow onion
½ cup shredded cabbage
¼ cup shredded Swiss cheese
For the Keto Thousand Island Dressing:
Directions
1
Assemble the Reuben in a mug:
Place the corned beef in the bottom of a large mug. Add the onions, caraway seeds, and avocado oil. Mix. Add in the shredded cabbage and sauerkraut.
2
Microwave on high for one and a half minutes.
3
Remove from microwave and mix with a fork. Top with Swiss cheese and pop it back in the microwave for 30 seconds or until cheese is melted.
4
Make the dressing:
Add all the dressing ingredients to a small bowl and whisk to combine. Use a spoon to drizzle dressing over your Reuben in a mug.
Nutrition Information
Yield: 1, Serving Size: 1
Amount Per Serving: 340 Calories | 48.2g Fat | 13.4g Total Carbs | 3.1g Fiber | 2.9g Sugar Alcohol | 23.6g Protein | 8.3g Net Carbs
---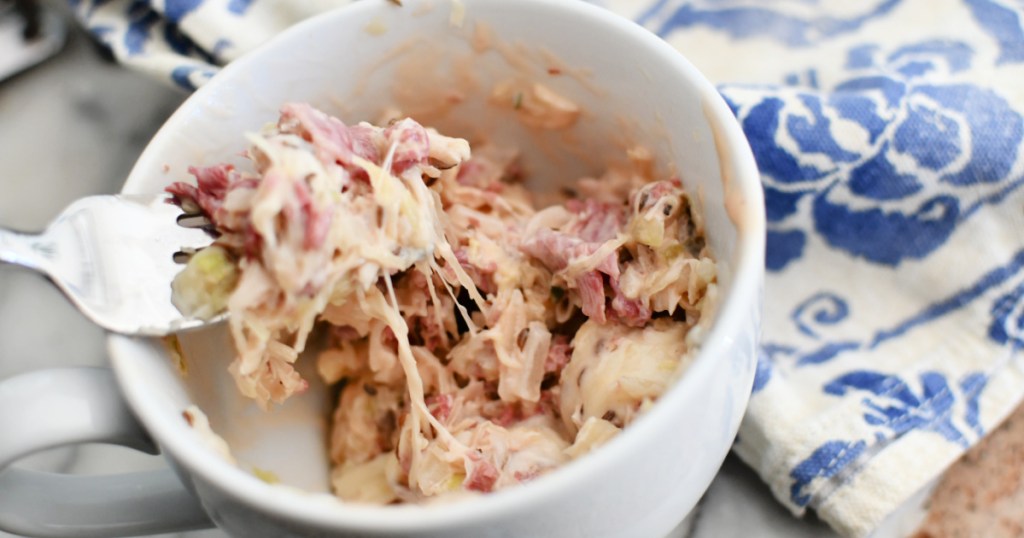 This quick 2-minute recipe is so easy and fun!
I don't know if it's the ooey gooey melted cheese, the salty corned beef, the cabbage texture, or the sweet and savory sauce that stands out the most to me. There really isn't a single component of this Reuben in a mug that isn't ultra-delicious and exceptionally satisfying!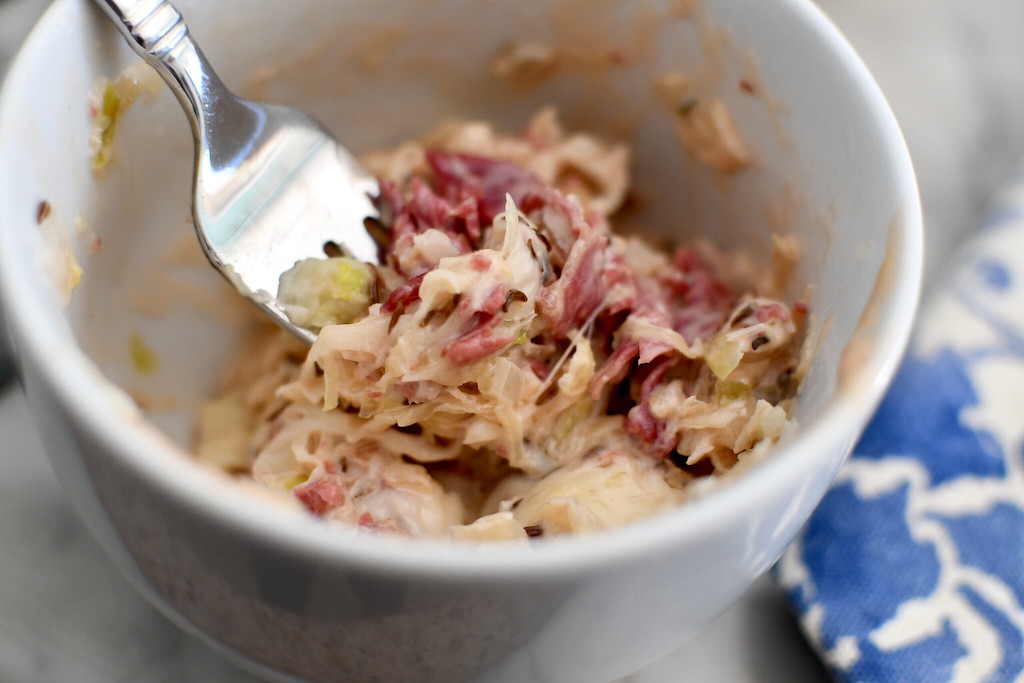 I love recipes like this that are flexible for however you cook, whether you're at home making a small meal for one or you're in a dorm with only a microwave to cook your favorite keto creations. I hope you all get a chance to try this and enjoy!
---
Finishing off your meal with dessert? Try this keto chocolate mug cake next!