Keto Pumpkin Chocolate Chip Granola Bars
Make portable and snackable keto pumpkin granola bars!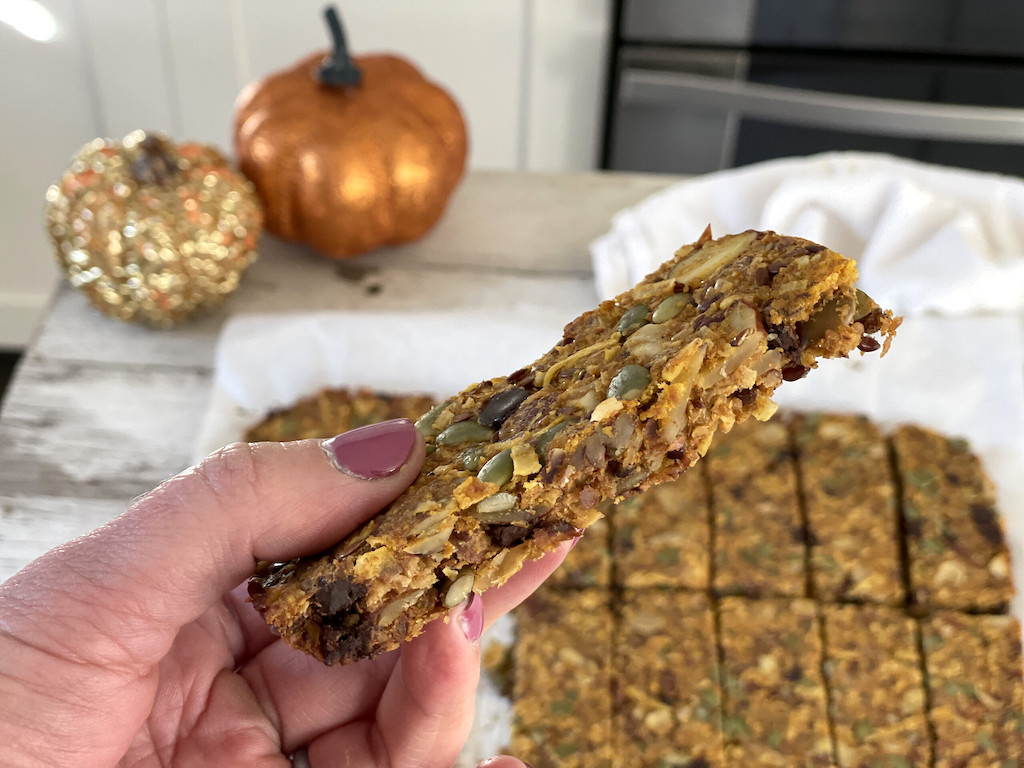 The perfect seasonal mid-day snack recipe is here!
The search is over for the best homemade keto granola bar recipe, and this one ties in seasonal pumpkin flavors! Keto pumpkin chocolate chip granola bars are perfect to make a whole batch over the weekend to have ready for quick grab-and-go snacks during the week.
The flavor combination of pumpkin seeds, sliced almonds, chopped pecans, flaxseeds, flaxseed meal, shredded coconut, and pumpkin is incredible. Not to mention all the added health benefits from the nuts and seeds! Throw in the keto chocolate chips (because why not 😉) and these granola-style bars are complete.
Absolutely A-M-A-Z-I-N-G!
This recipe took some serious creative effort on my part. I searched everywhere for ideas and inspiration on how to come up with a keto pumpkin chocolate chip bar. A lot of recipes use eggs, and I didn't want overly eggy granola bars and the texture isn't ideal. This is why I chose to only use egg whites, which turned out great!
Most granola bars are overly sweet to me as well. I wanted to come up with a true granola bar-style recipe, but find a way to make it keto and still be delicious.
The hard part about granola bars is getting them to stick together. Traditional granola bars use syrups, honey, or lots of sugar to hold everything together. So for this recipe, the "glue" is melted coconut oil, pumpkin puree, egg whites, and keto confectioners sweetener.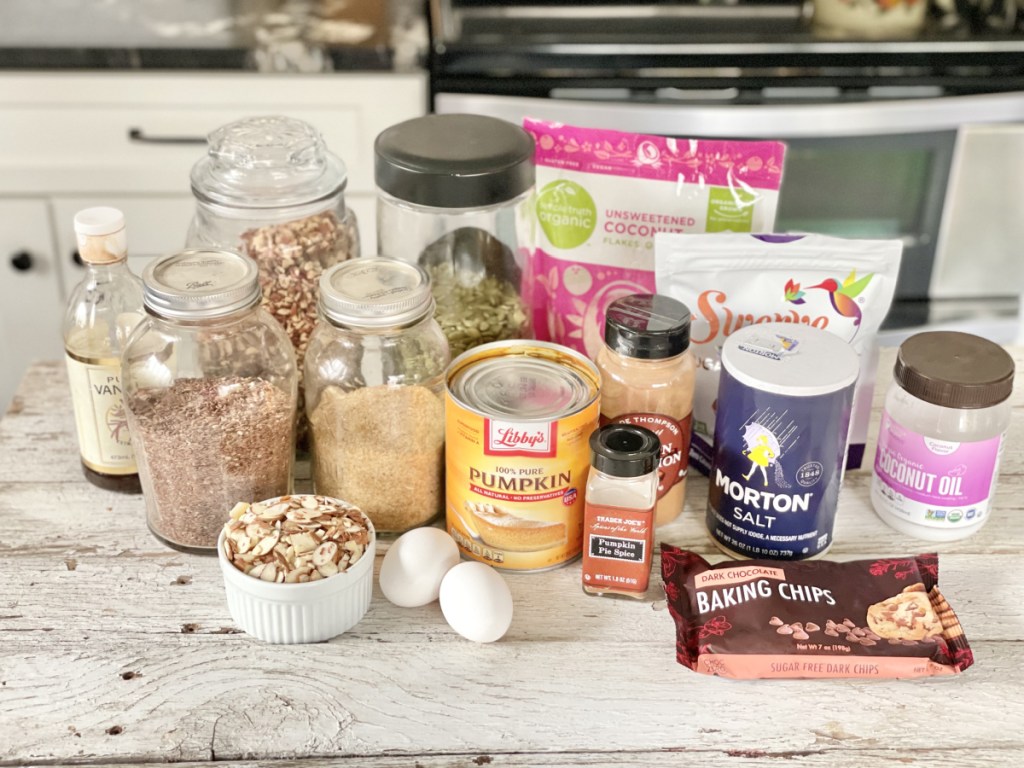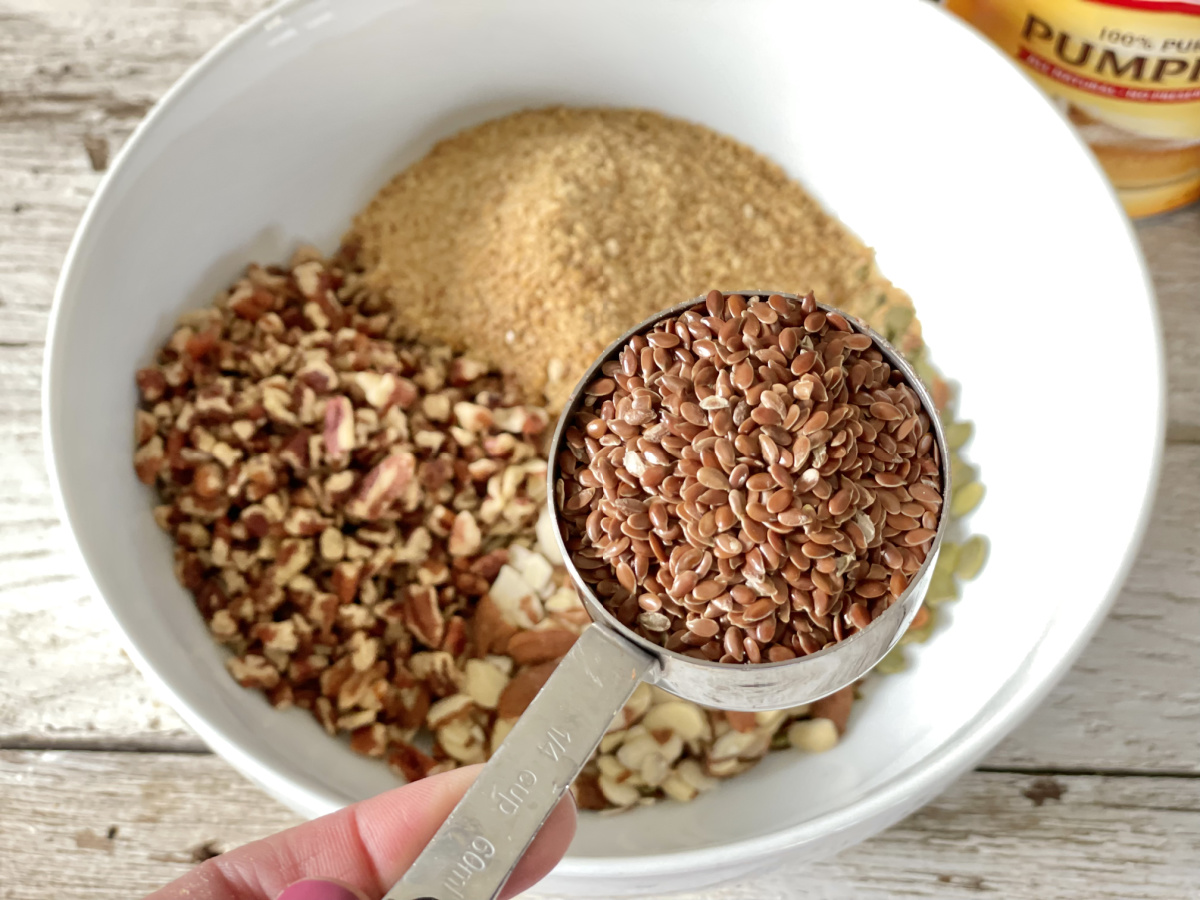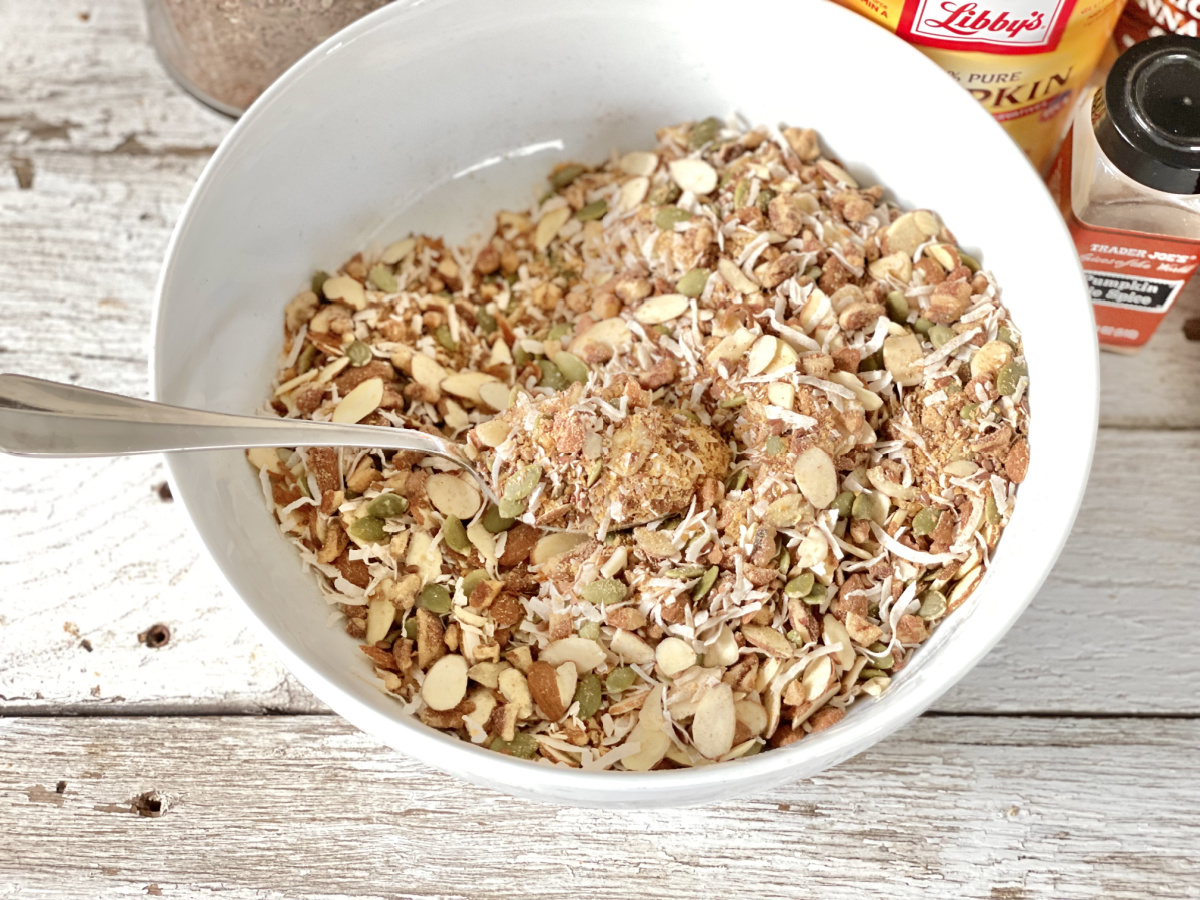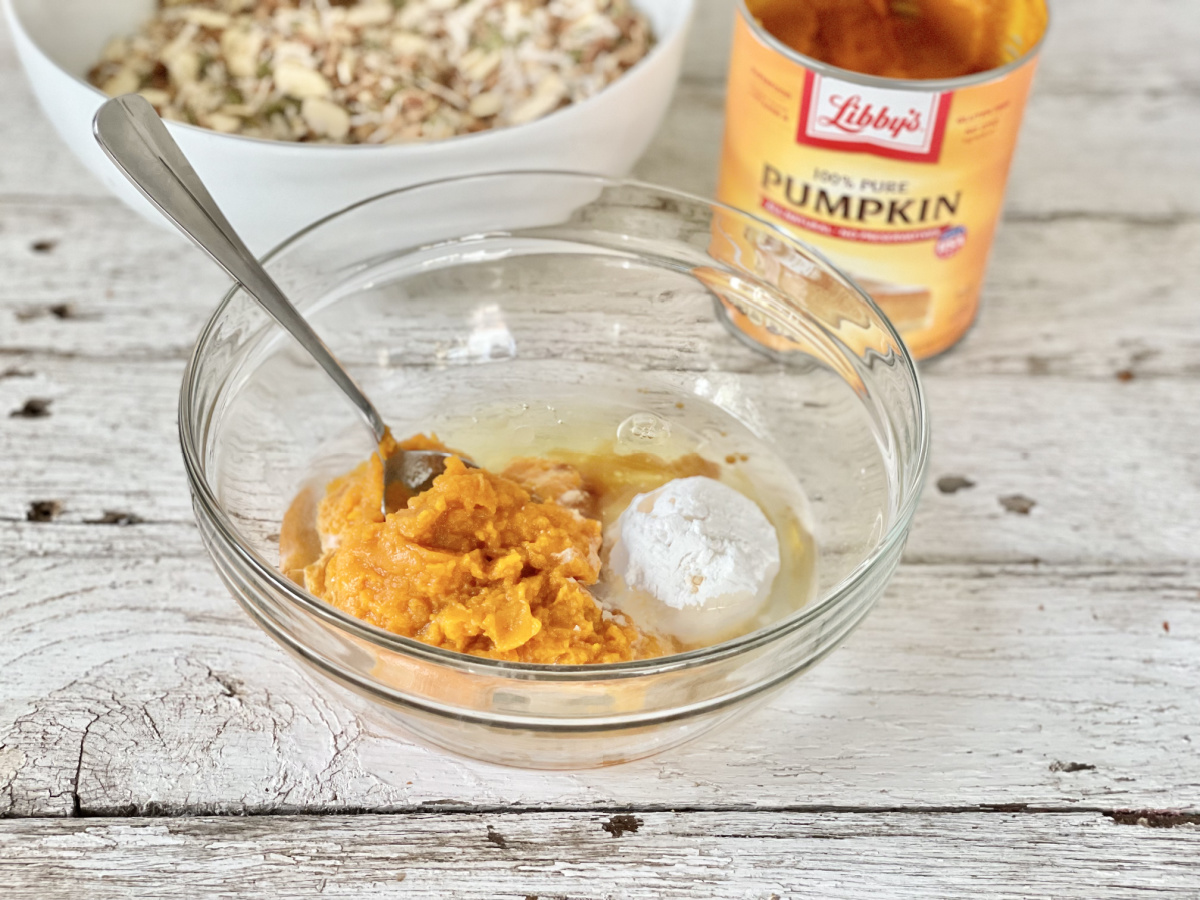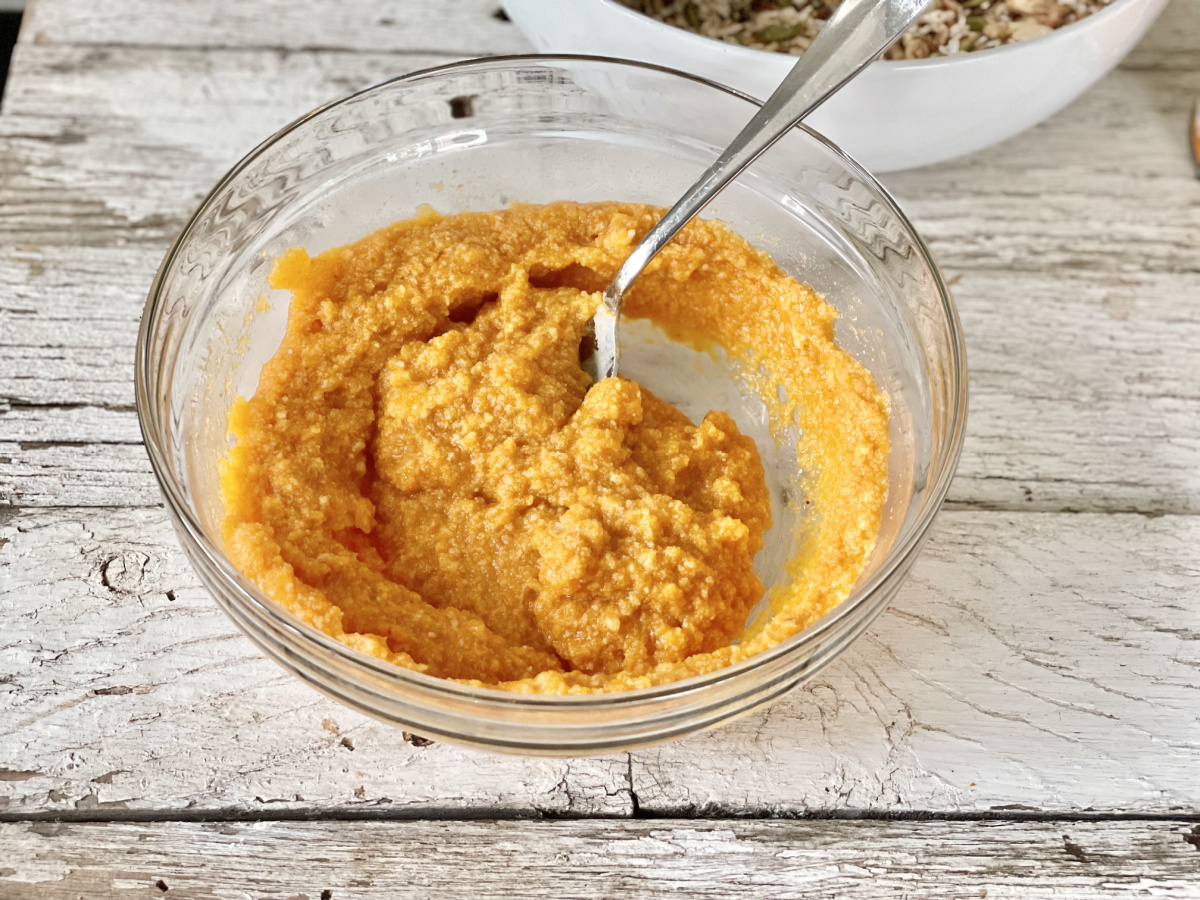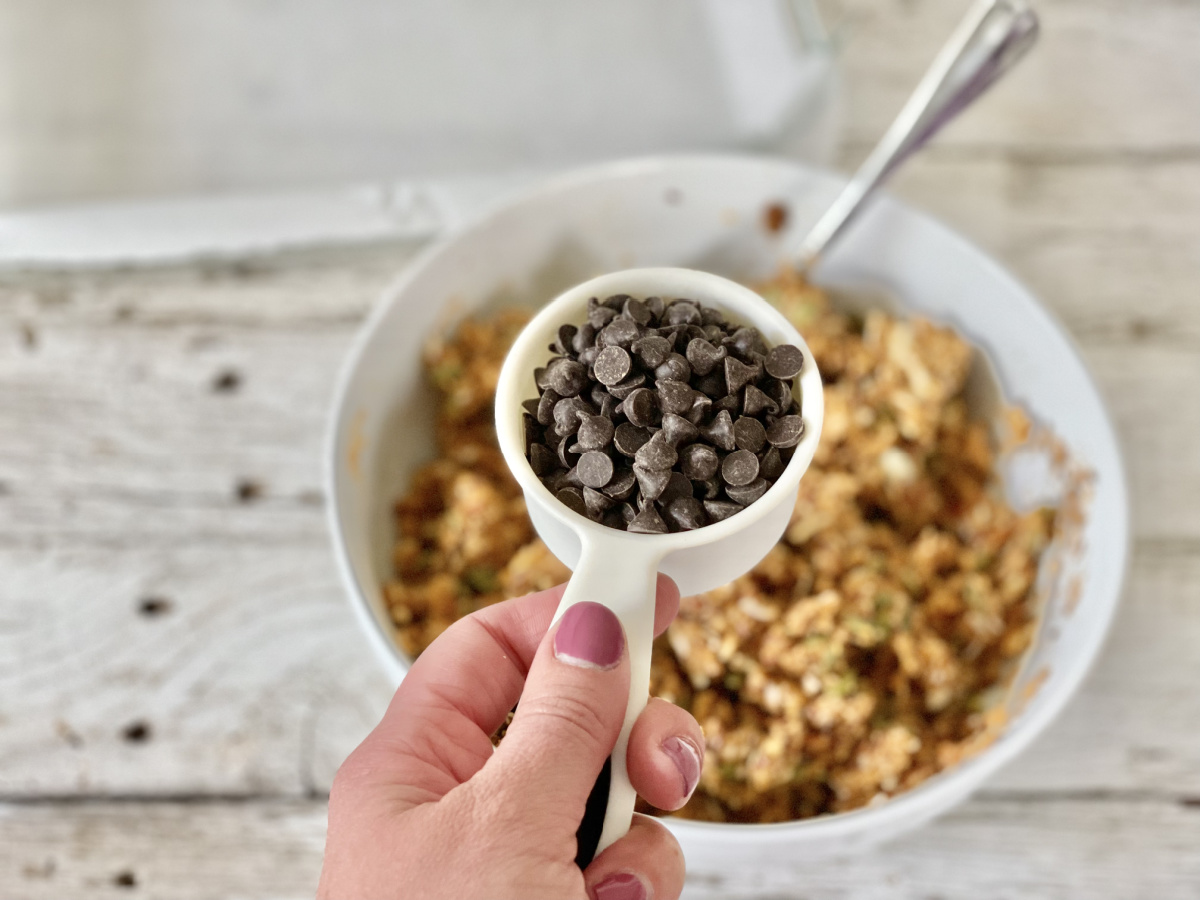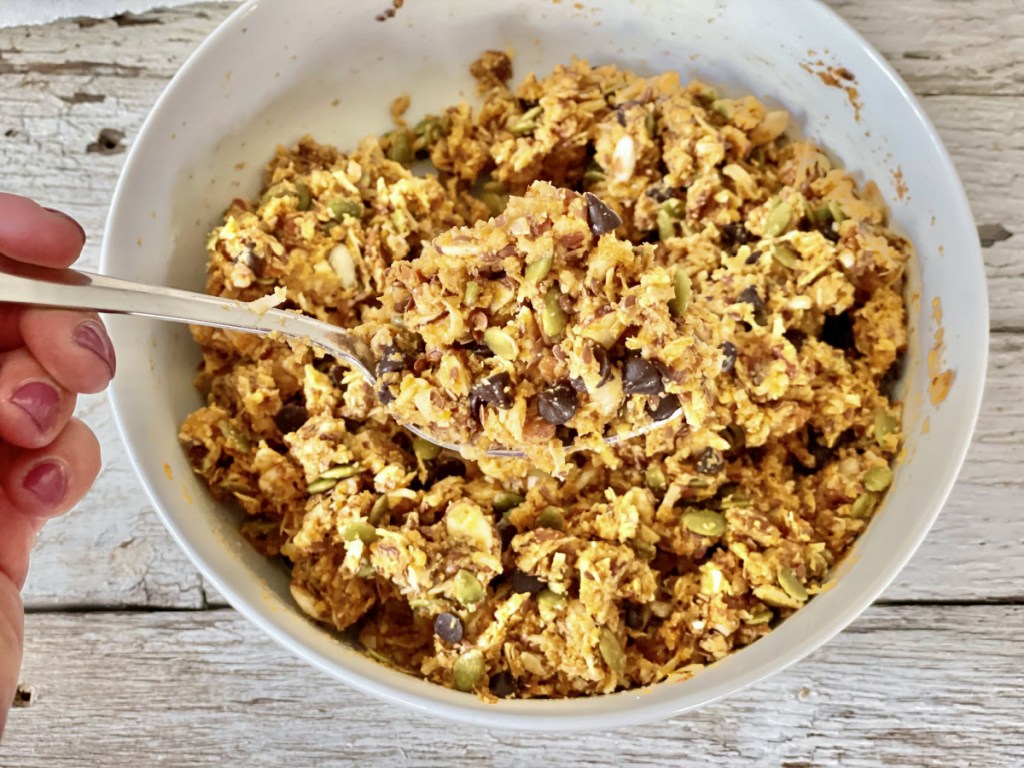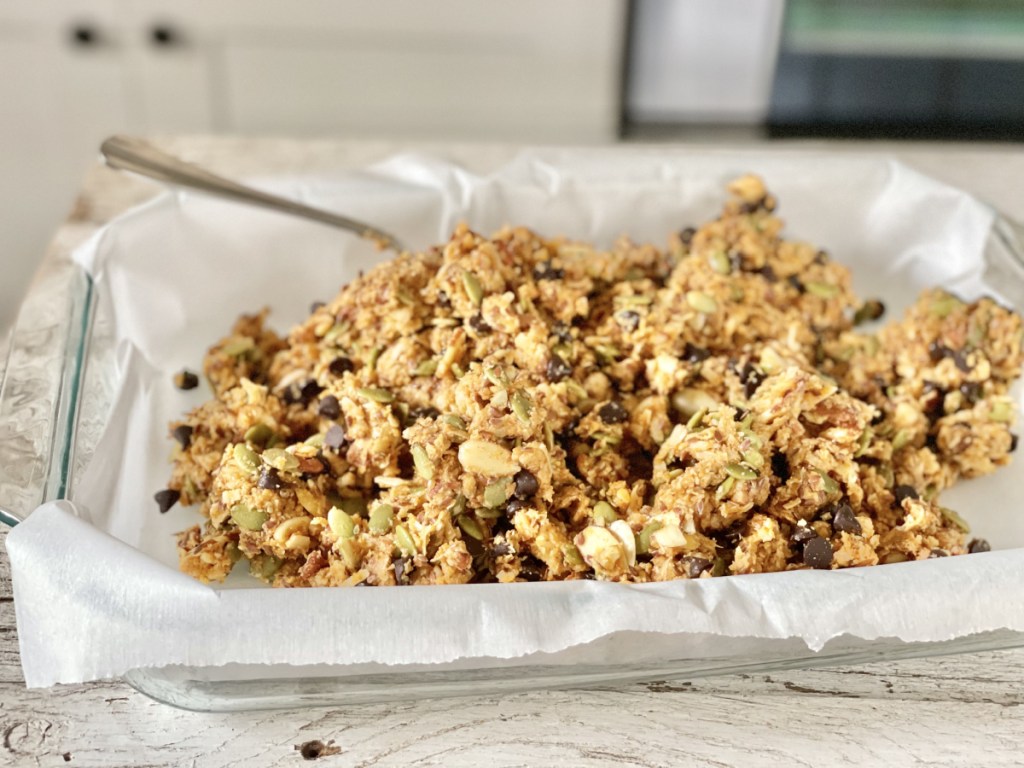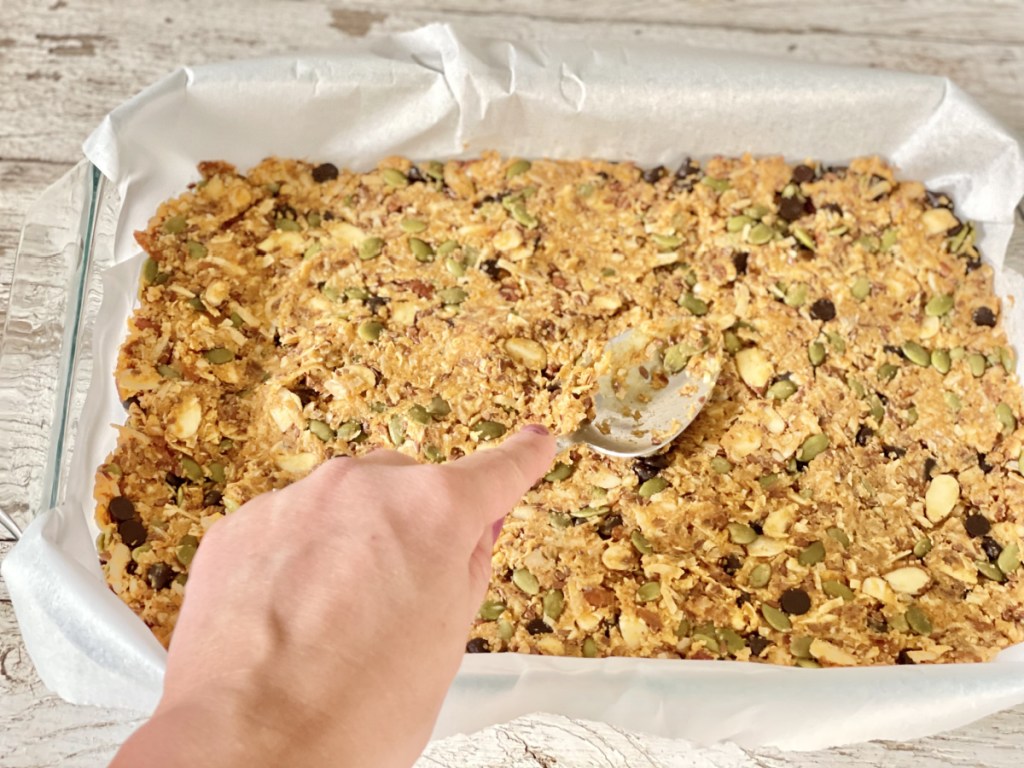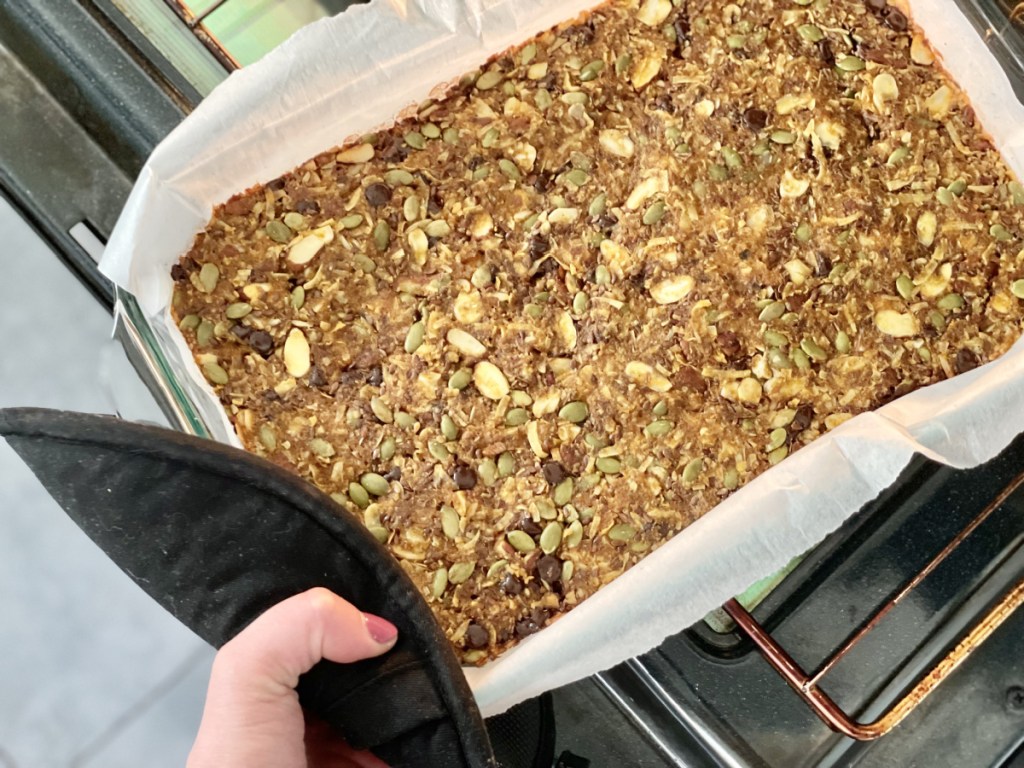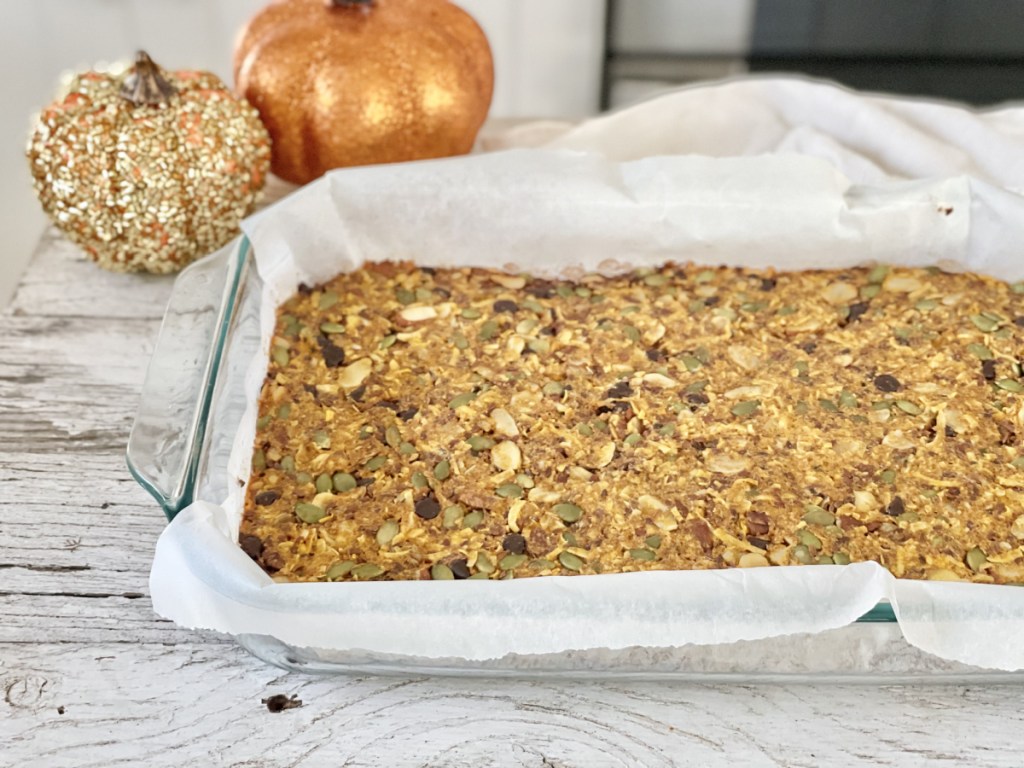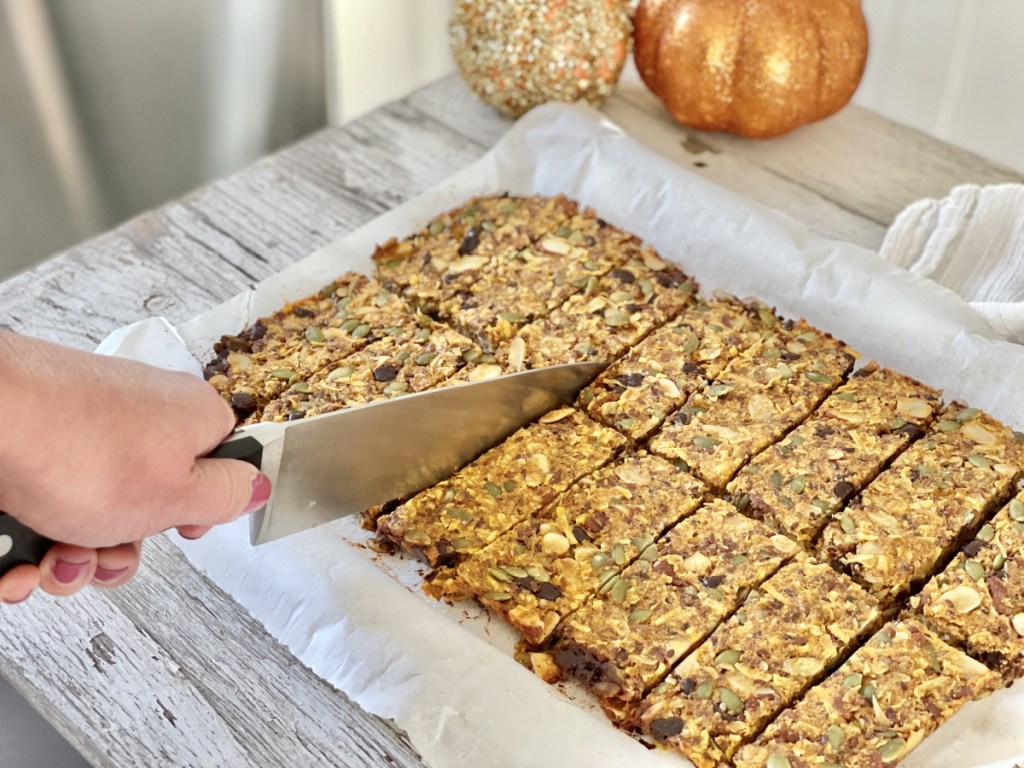 ---
Print
Keto Pumpkin Chocolate Chip Granola Bars
yield: 16 SERVINGS
prep time: 10 MINUTES
cook time: 30 MINUTES
total time: 40 MINUTES
Made with the perfect ratio of nuts, seeds, pumpkin flavor, and sugar-free chocolate chips.
Ingredients
1 teaspoon cinnamon
2 teaspoon pumpkin pie spice
1 teaspoon salt
1/2 cup coconut oil, melted
2 egg whites
1 teaspoon vanilla
Directions
1
Preheat oven to 325 degrees. Line a 9-inch by 13-inch baking pan with parchment paper and set aside.
2
In a large bowl, mix together pumpkin seeds, almond slices, pecans, flaxseed meal, flaxseeds, shredded coconut, cinnamon, pumpkin spice, and salt. Stir well to combine. Set aside.
3
In a separate bowl mix together melted coconut oil, pumpkin puree, keto confectioners sweetener, egg whites, and vanilla.
4
Pour the pumpkin mixture in with the nut and seed mixture. Stir well to combine.
5
Stir in the keto chocolate chips.
6
Pour the mixture into the prepared baking dish. Firmly press down with the back of a spoon or your hands to remove any gaps.
7
Bake the granola bars for 30 minutes.
8
Remove from the oven and let cool for 1 to 2 hours before slicing into bars. Enjoy!
Nutrition Information
Yield: 16 granola bars, Serving Size: 1 granola bar
Amount Per Serving: 254 Calories | 23.5g Fat | 12g Total Carbs | 7.3g Fiber | 1.4g Sugar | 2.3g Sugar Alcohol | 5g Protein | 2.4g Net Carbs
---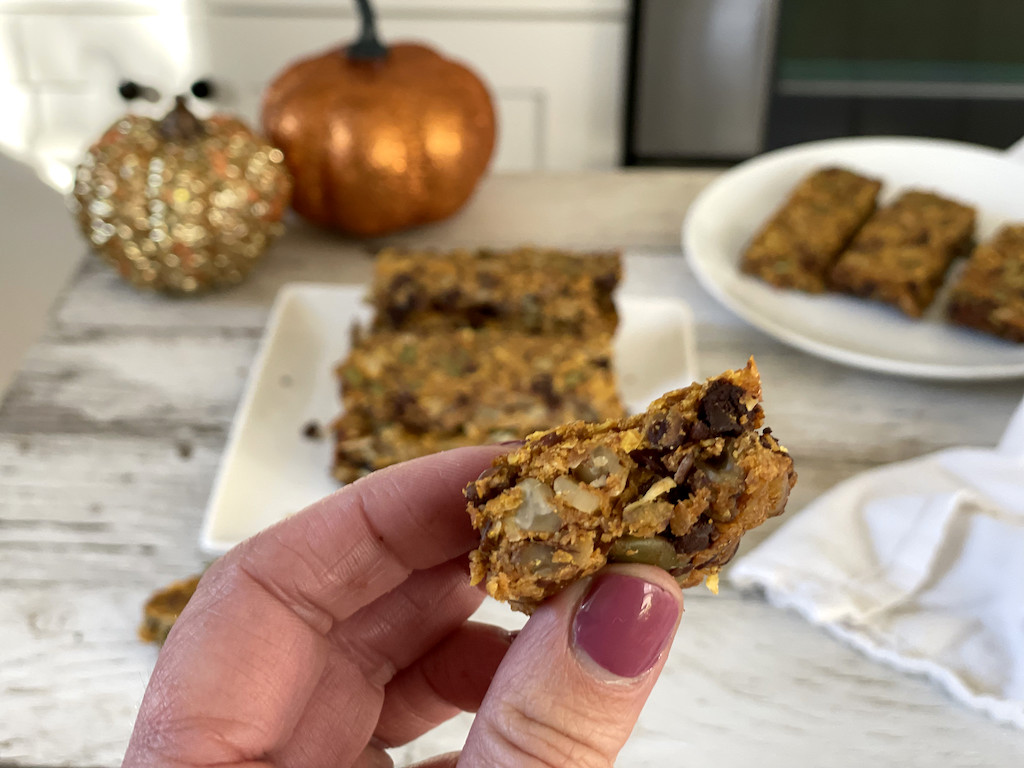 Tips for making the best keto pumpkin chocolate chip granola bars:
Make sure you line the baking dish with parchment paper or grease well with butter or coconut oil to prevent the granola bars from sticking.
Let the bars cool all the way before slicing them, otherwise, they might crumble or fall apart.
Firmly press the bars into the pan before baking, this will help them keep their form.
Store these granola bars in the fridge. They'll keep for a week in the fridge or you can freeze them for up to three months.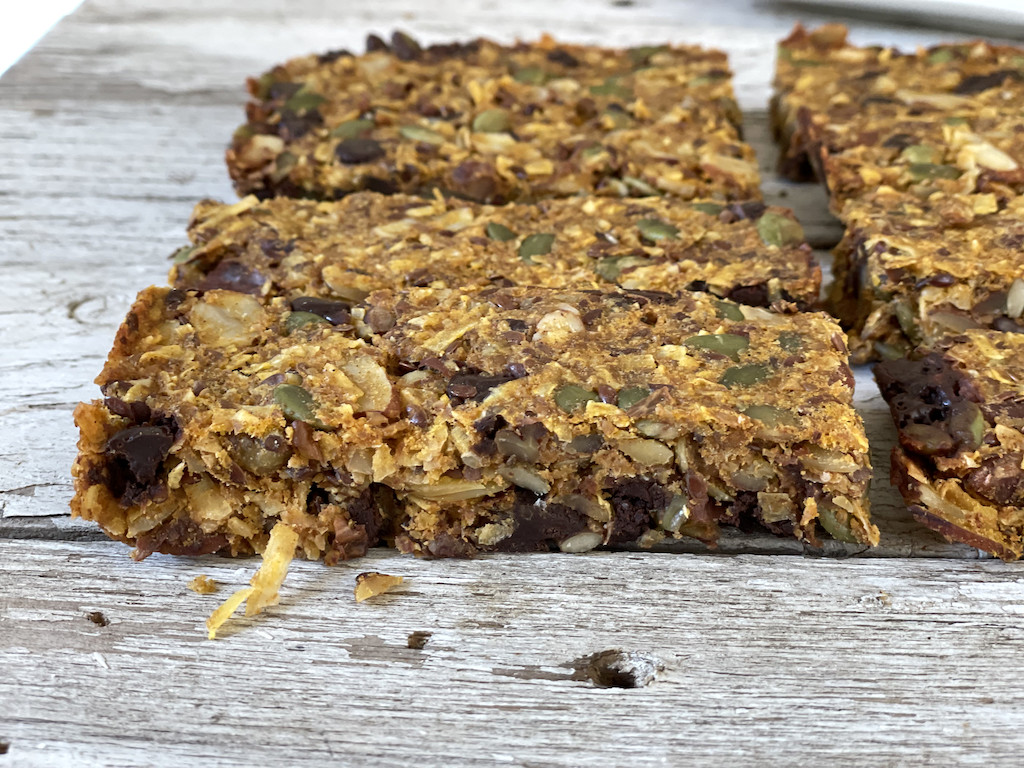 Eat these for breakfast, lunch, a snack, or even dessert!
I couldn't stop myself from wanting to snack on these keto pumpkin chocolate chip granola bars. Bet you can't eat just one! I love pumpkin and this is a great fall treat.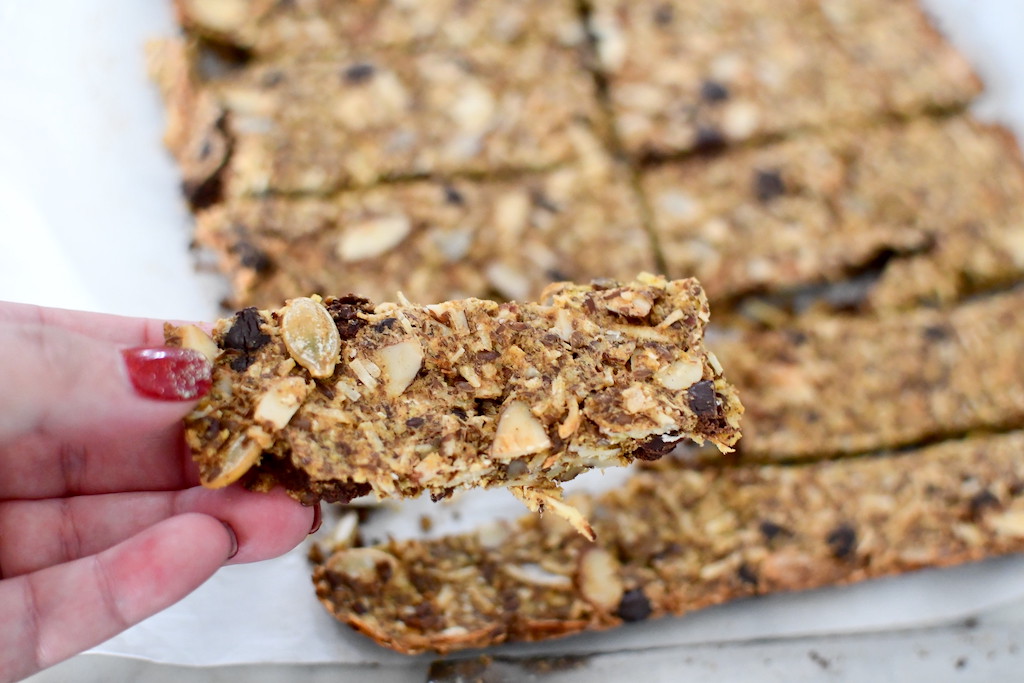 My Hip sidekick Lina made these keto pumpkin chocolate chip granola bars and here's what she had to say:
"If you love coconut and nuts this is the keto granola bar to make! Loved the addition of chocolate and pumpkin. Great texture and flavor. Overall a perfect keto treat that's great to take on the go!"
---
Want more pumpkin recipes? Check out our recipe for Keto Pumpkin Donuts!