Keto Portobello Mushroom Pizzas (Easy Sheet Pan Meal)

Love creative ways to serve low-carb pizza?
Consider using portobello mushrooms as a simple, genius, and tasty way to prepare keto individual pizzas for the family! This is a very easy and unique meal idea I think you'll really enjoy, especially if you're ready to try something in addition to yummy cauliflower pizza or fathead dough.
If you're a fan of roasted mushrooms, this should be appealing, as the result is a juicy seasoned mushroom with melted cheese and pepperoni – so yum!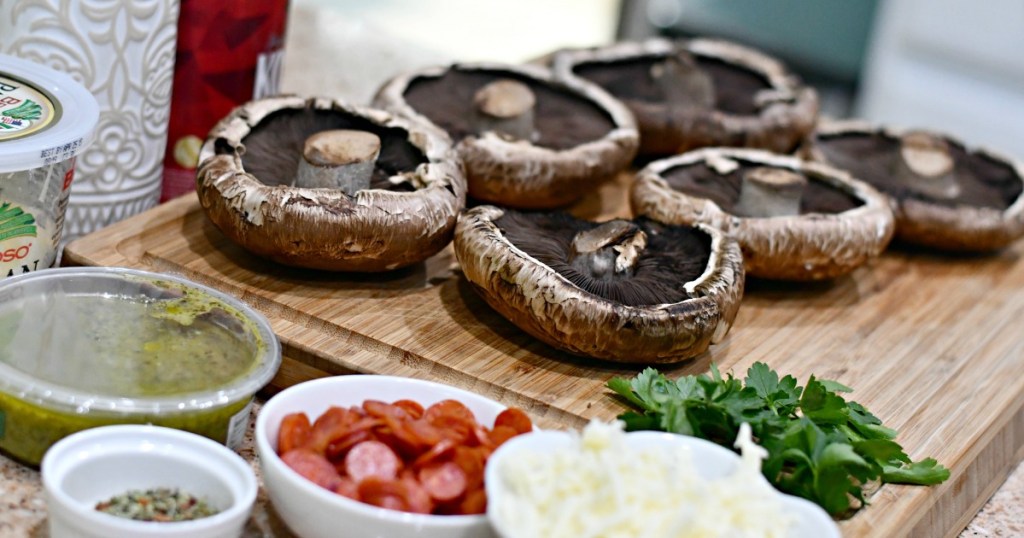 Grab some mushrooms and let's make some pizzas!
You can most definitely choose any keto friendly toppings desired. Today I'm using pesto as a sauce, mozzarella cheese, and mini pepperonis as they are so cute and work perfectly for this idea. Tomato sauce would definitely work, too, but the pesto has so much delicious flavor!
The prep work is easy for the mushrooms! Simply wipe them with a paper towel first, since rinsing in water may make them watery. Then gently scrape away the gills inside and the stem. I used a grapefruit spoon, and it was simple to do.
You'll appreciate this simple process!
After the mushrooms are prepped, place them on a large sheet pan and oil and season them. Bake the portobellos first by themselves, add the toppings, then return them to the oven to melt, and that's it. I love easy dinner solutions, and this one won't disappoint!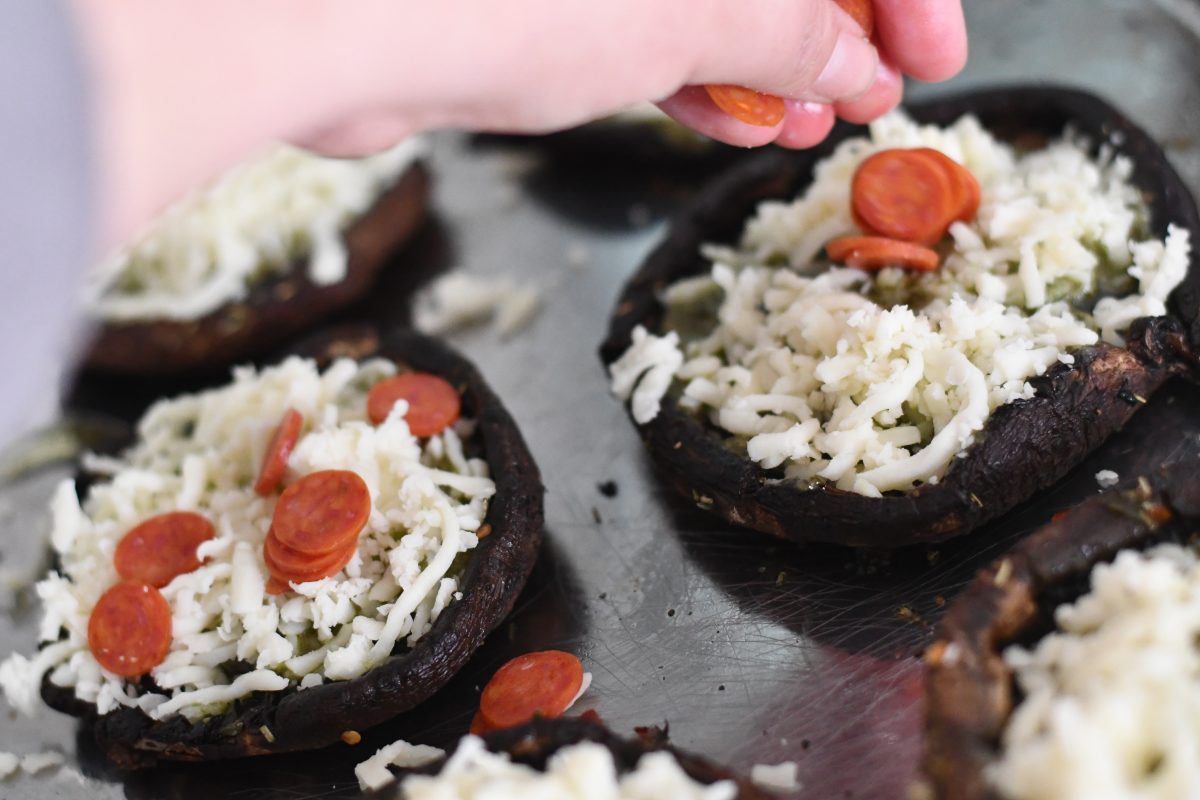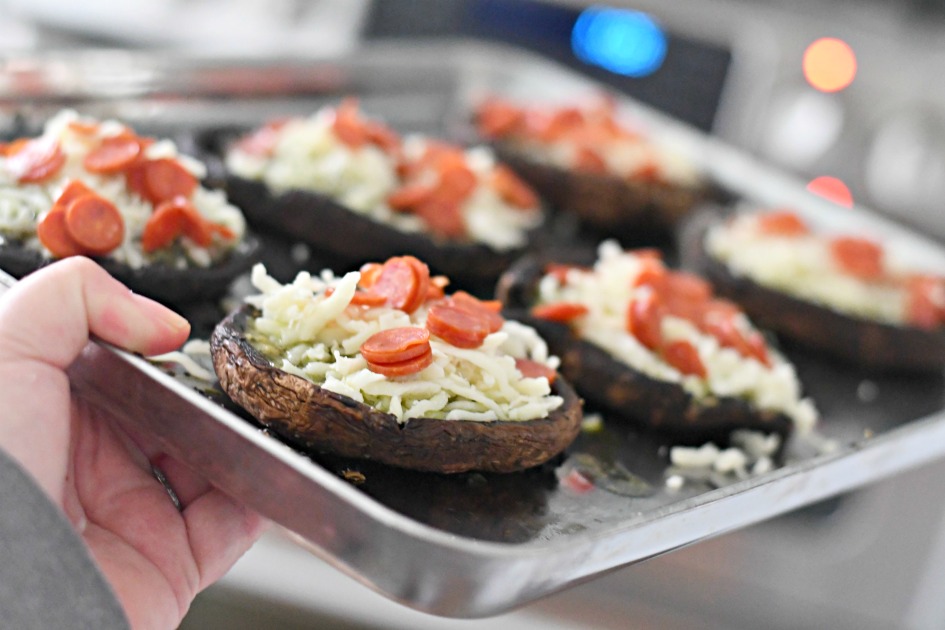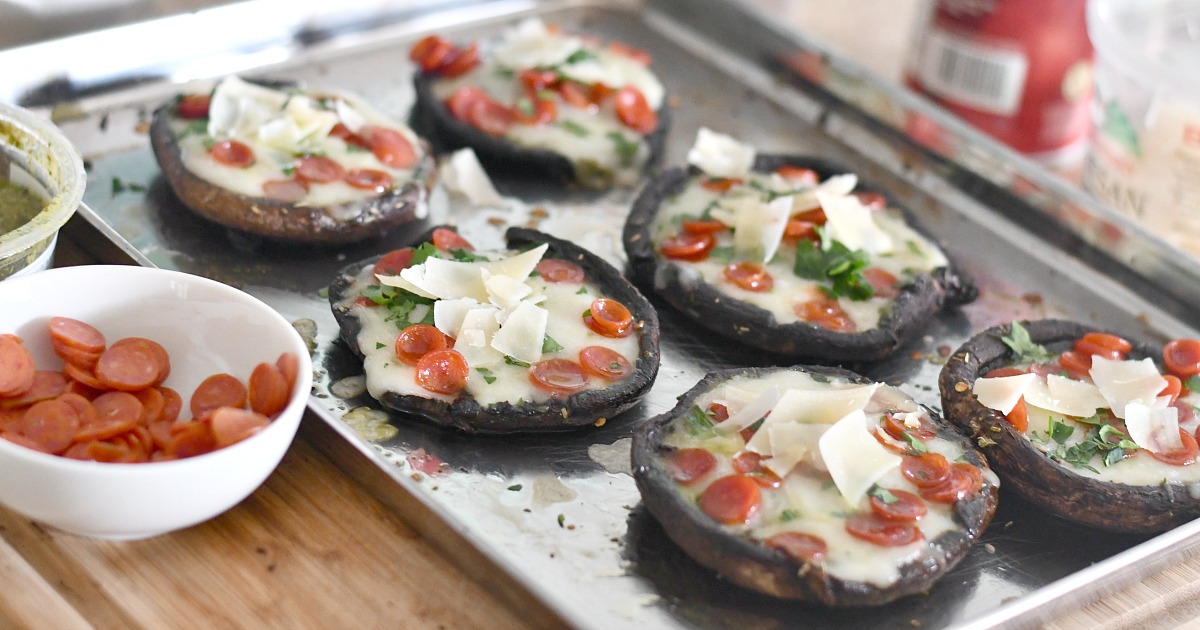 ---
Print
Portobello Mushroom Pizzas
yield: 6 SERVINGS
prep time: 15 MINUTES
cook time: 15 MINUTES
total time: 30 MINUTES
Mushrooms are roasted and then topped with pesto, cheese, and mini pepperonis, for delicious low carb pizzas!
Ingredients
6 portobello mushroom caps
1 tablespoon olive oil
1 tablespoon Italian seasoning
1 teaspoon garlic powder
1/4 teaspoon salt
1/8 teaspoon black pepper
1/4 cup store bought pesto
1 cup shredded mozzarella cheese
1/2 cup mini pepperonis
optional garnish: shaved parmesan & fresh chopped parsley
Directions
1
Preheat oven to 425 degrees.
2
Wipe mushrooms with a paper towel. Carefully scoop the gills and stem from the inside of mushroom using a grapefruit spoon.
3
Transfer to a baking sheet pan, and brush with olive oil on both sides. Season with salt, pepper, garlic powder, and Italian seasoning on both sides of mushroom.
4
Place in the oven for 10 minutes. Halfway through, turn mushrooms so both sides get roasted.
5
Remove from oven and spoon 2 teaspoons of pesto on the tops of each mushroom cap.
6
Divide cheese among each mushroom, and sprinkle mini pepperonis on each as well. Place back in the oven to bake for another 5 minutes to melt the cheese.
Nutrition Information
Yield: 6 pizzas, Serving Size: 1 pizza
Amount Per Serving: 172 Calories | 15g Fat | 6g Total Carbs | 1g Fiber | 10g Protein | 5g Net Carbs
---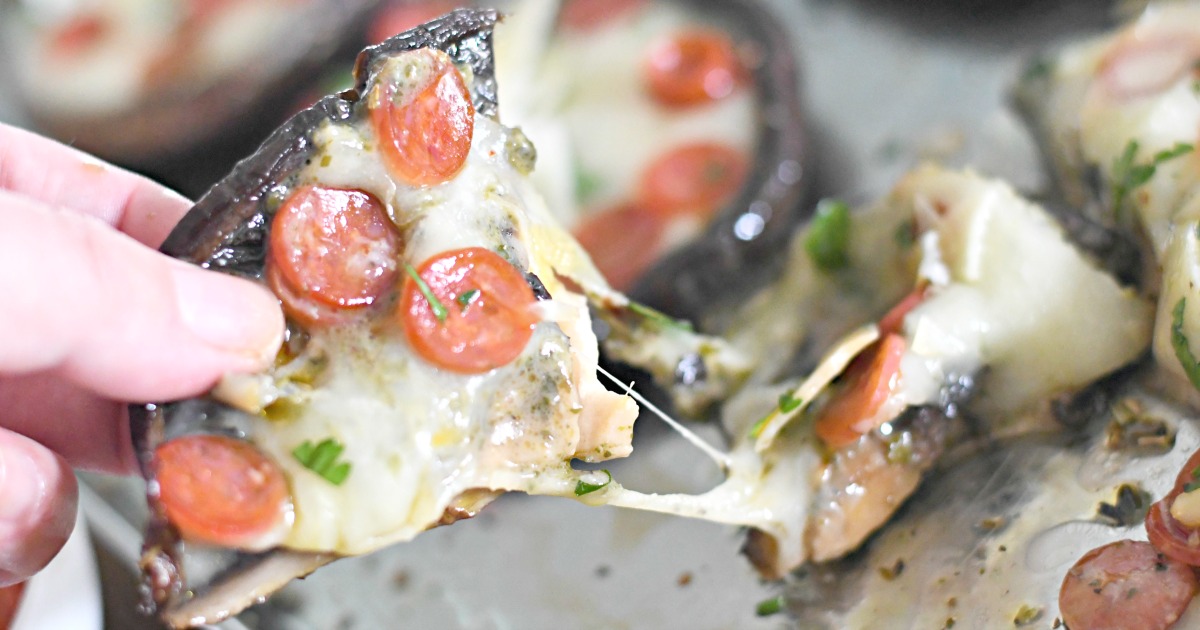 Melted pizza goodness on a roasted mushroom? Yes, please!
There's a lot of deep flavors going on here with the mushroom, the pesto, and the cheese. YUM! This was a great sheet pan meal idea because pizza is life! 🍕
---