These Keto Pecan Cheesecake Bars Are Almost Too Yummy to Be Low-Carb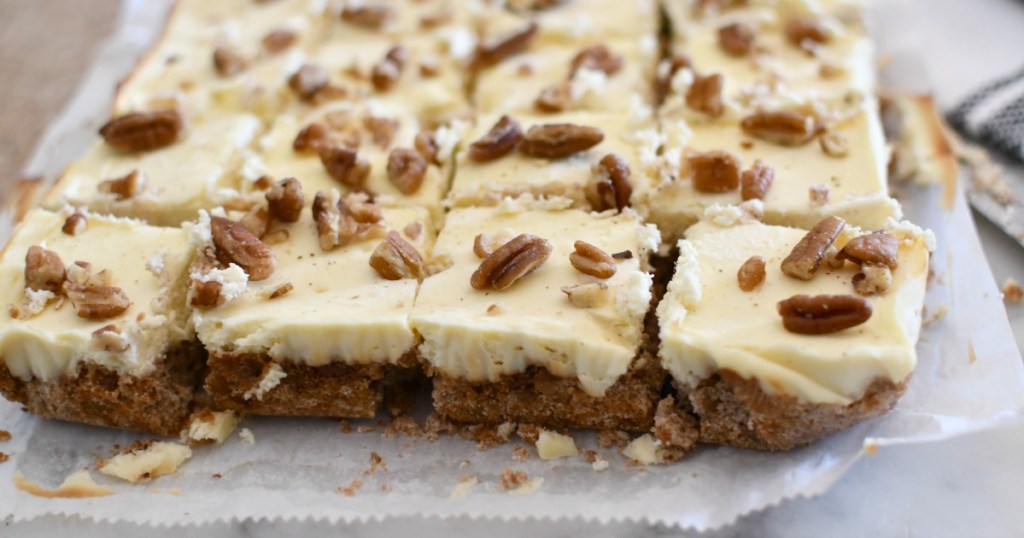 Love cheesecake and want to make a fabulous keto dessert?!
One of the myths surrounding the Keto lifestyle is that desserts are off-limits. These keto pecan cheesecake bars are the perfect low-carb dessert – a combination of richness with a touch of sweet. I pretty much guarantee they'll be your go-to dessert for your next dinner party!
Just because sugar is a no-no on keto doesn't mean you can't still satisfy your sweet tooth on occasion. A delicious way to curb your sugar cravings is to balance the sweet with the fullness of fat and rich flavors, like with these pecan cheesecake bars!
I love that they will solve all the cheesecake cravings, and yet don't require a lot of fuss. Using easy to find keto ingredients is the key to keeping them low carb and delicious!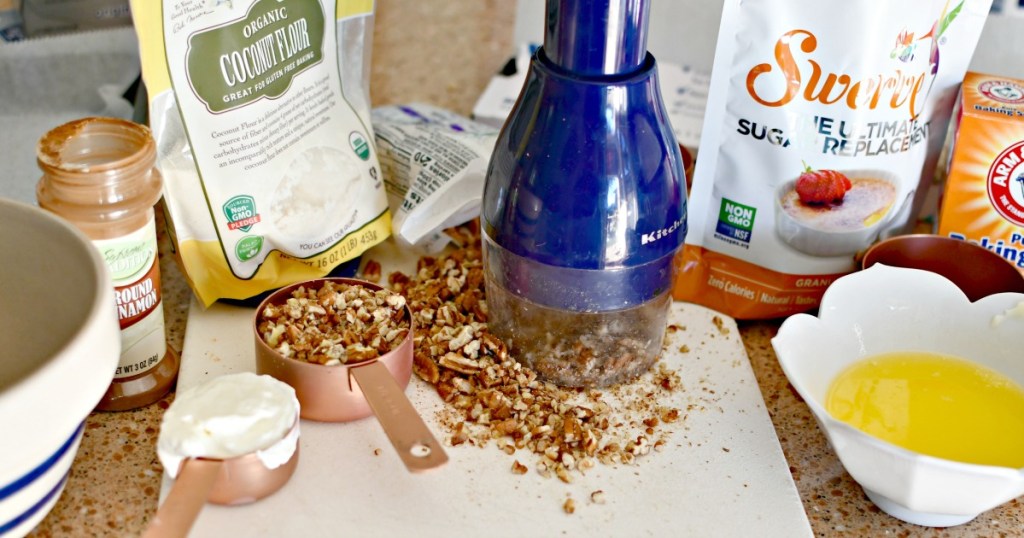 Hip Tips for the yummiest keto pecan cheesecake bars:
Chop the pecans and then measure them for this recipe. You can run them through your food processor, or I simply use a handy food chopper for small jobs like this.
I'm using Swerve granular as a sweetener in both the pecan crust and cheesecake filling. I think it turned out wonderful, but feel free to visit our keto sweetener guide for other alternatives, or use your favorite granular sweetener.
Line your 8×8 square pan with parchment paper before pressing the crust into the pan, to ensure your bars won't stick. In fact, my whole pan popped out pretty easily after fridge time so I could cut them on my cutting board.
These pecan cheesecake bars freeze well if you have leftovers or would like to make this ahead of time. Cover bars and place in the freezer for up to 6 weeks. Defrost in the fridge or on the counter when ready to eat. They can also be kept in the fridge, covered, for up to one week after baking.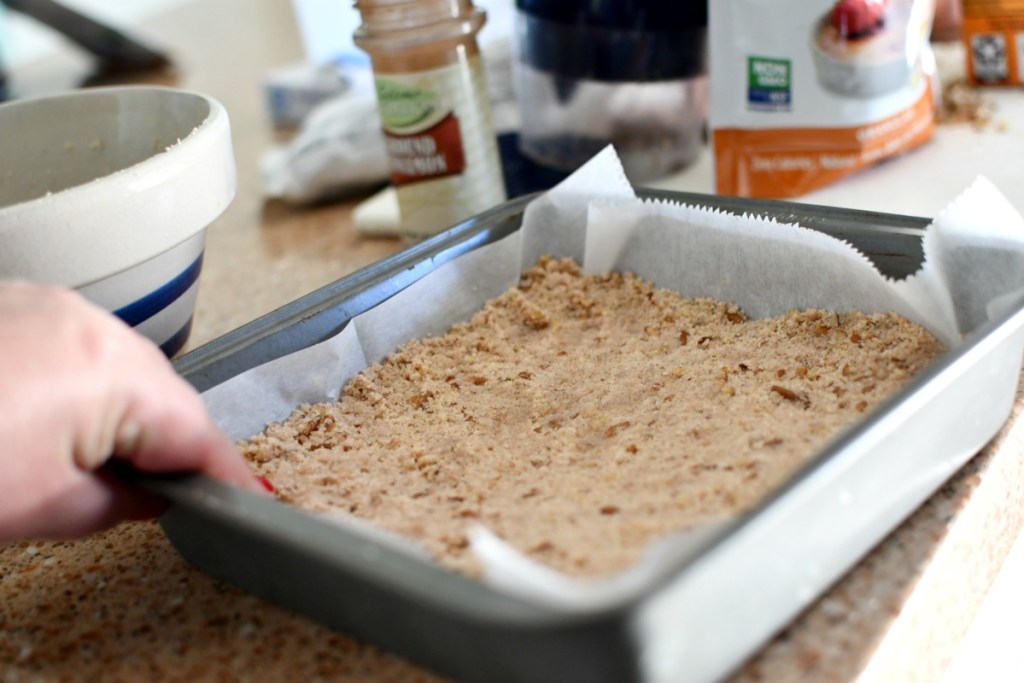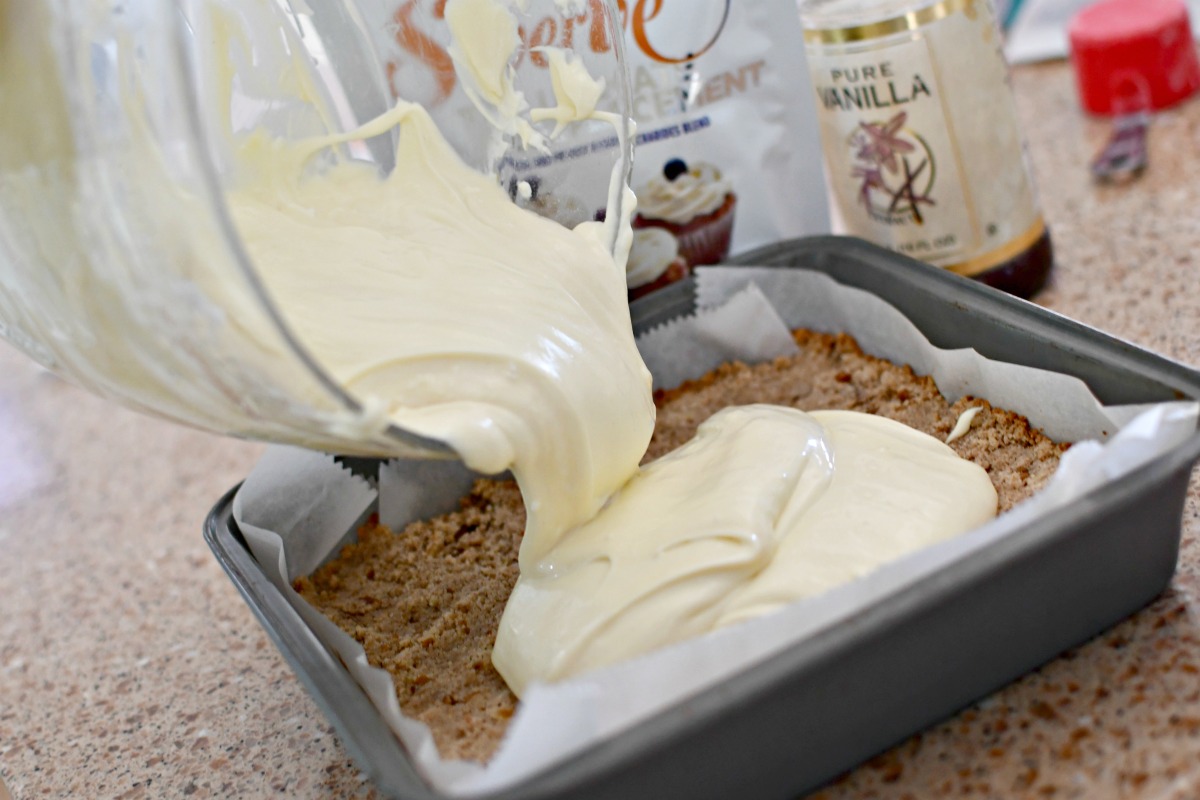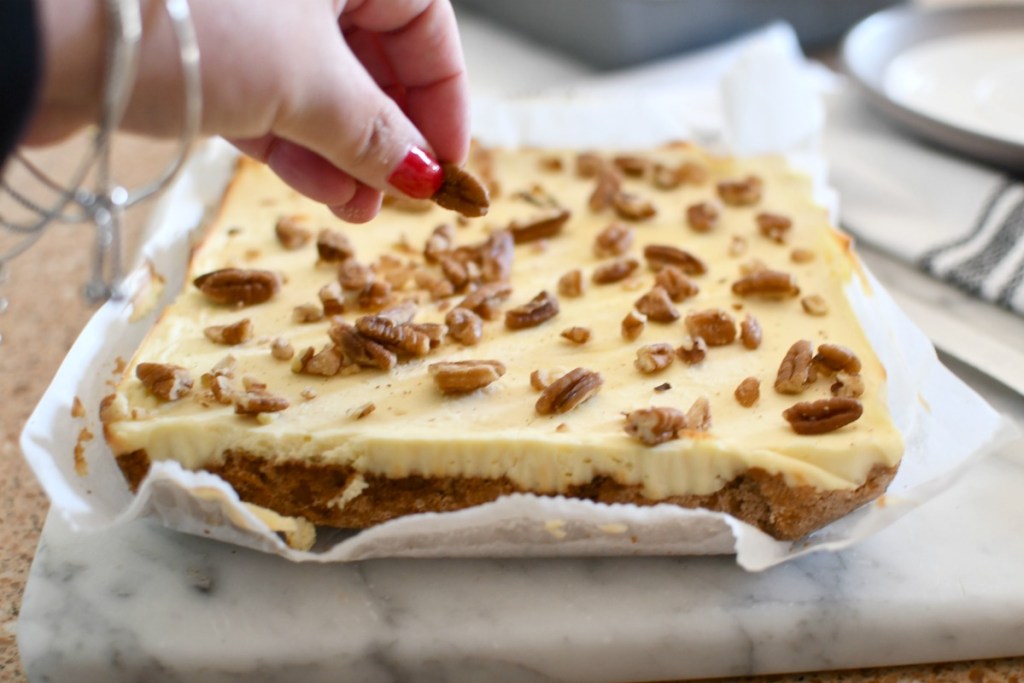 ---
Print
Keto Pecan Cheesecake Bars
yield: 16 SERVINGS
prep time: 30 MINUTES
cook time: 50 MINUTES
total time: 1 HOUR 20 MINUTES
Rich and creamy cheesecake bars with a sweet pecan crust, topped with extra pecans.
Ingredients
For the Crust:
3/4 cups coconut flour
3/4 cup roasted, unsalted pecans, chopped
1 tsp ground cinnamon
½ tsp baking soda
1/4 teaspoon salt
1/4 cup sour cream
1/2 cup unsalted butter, melted
For the Cheesecake Filling:
16 oz cream cheese, softened
1/2 cup granular Swerve
1 tsp vanilla extract
1 large egg, room temperature
Optional Topping:
extra 1/4 cup chopped pecans
Directions
1
For the Crust: 
Preheat the oven to 350 degrees F. Line an 8x8 inch baking pan with parchment paper. In a large bowl, combine the coconut flour, chopped pecans, granulated Swerve, cinnamon, baking soda, and salt. Add in the melted butter and sour cream. Mix until completely incorporated (it will resemble wet sand).
2
Pour the coconut flour mixture in the lined baking pan and press into an even layer. Bake the crust for 8-10 minutes. Remove from the oven and let it cool completely. While the crust is cooling, prepare the filling.
3
For the Filling: 
In a clean bowl, add in the softened cream cheese and Swerve granular. Use hand beaters to cream together mixture until smooth. Add in the vanilla and beat in the egg.
4
Pour the cheesecake batter on to the crust in an even layer. Bake at 350 degrees F for 35-40 minutes. When the outside of the cake is set and the inside is slightly jiggly, the cheesecake is done. Chill cheesecake in the fridge (at least two hours or overnight). Once the cheesecake has set, top with additional pecans, and cut into 16 squares.
Nutrition Information
Yield: 16 bars, Serving Size: 2"x2"-sized bar
Amount Per Serving: 139 Calories | 12g Fat | 12g Total Carbs | 2g Fiber | 7g Sugar Alcohol | 2g Protein | 3g Net Carbs
---
Don't be alarmed by the high total carb count!
Fiber and erythritol (the main ingredient in Swerve) do not affect blood sugar in the same way that regular carbs do, so we subtracted them from the total carb count. You'll see that the net carbs are much lower once you remove the sugar alcohols and fiber, which makes these just 3g net carbs per bar.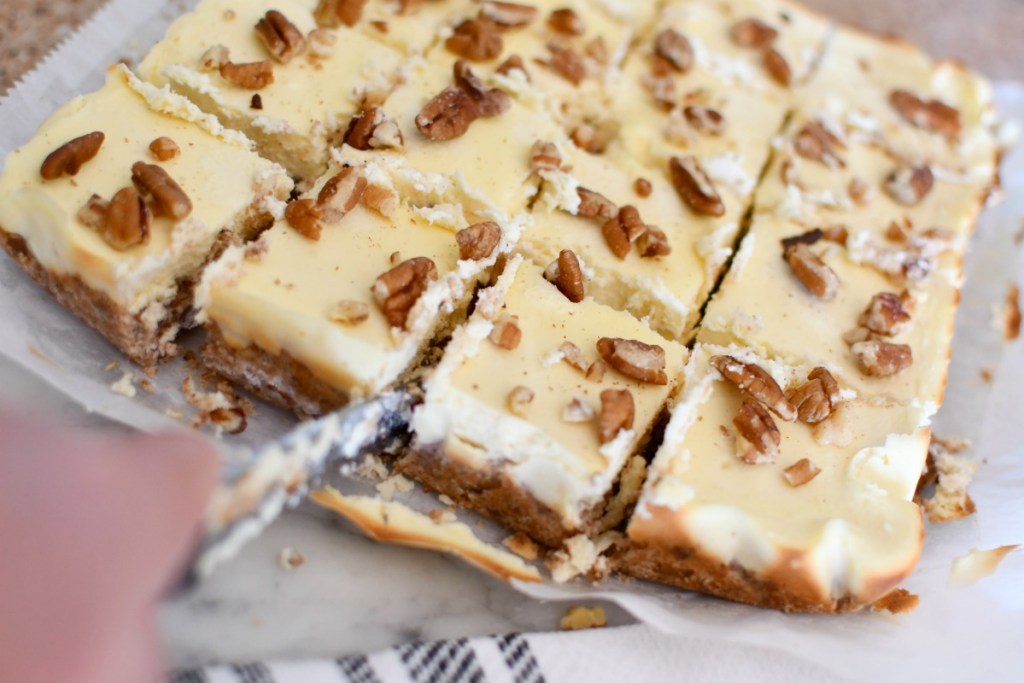 Just one bite, and you'll see why these cheesecake squares are so drool-worthy!
The sweet buttery pecan crust with creamy cheesecake is such a delicious combination! The taste and texture are perfect. If you're a cheesecake lover like me, try these!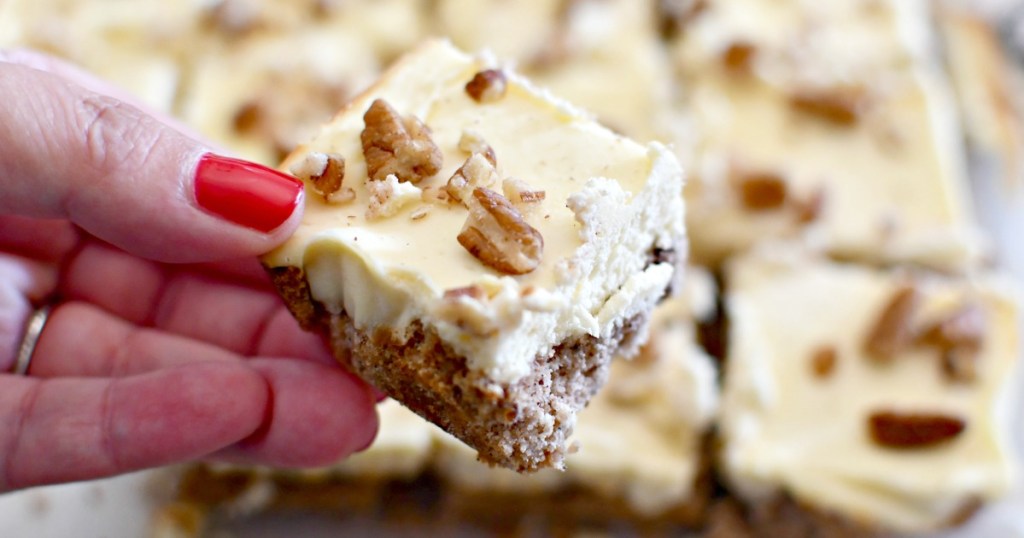 ---
See why readers love this Keto Wendy's Inspired Chocolate Frosty!