Crockpot Keto Pizza Casserole (Easy Dinner Idea)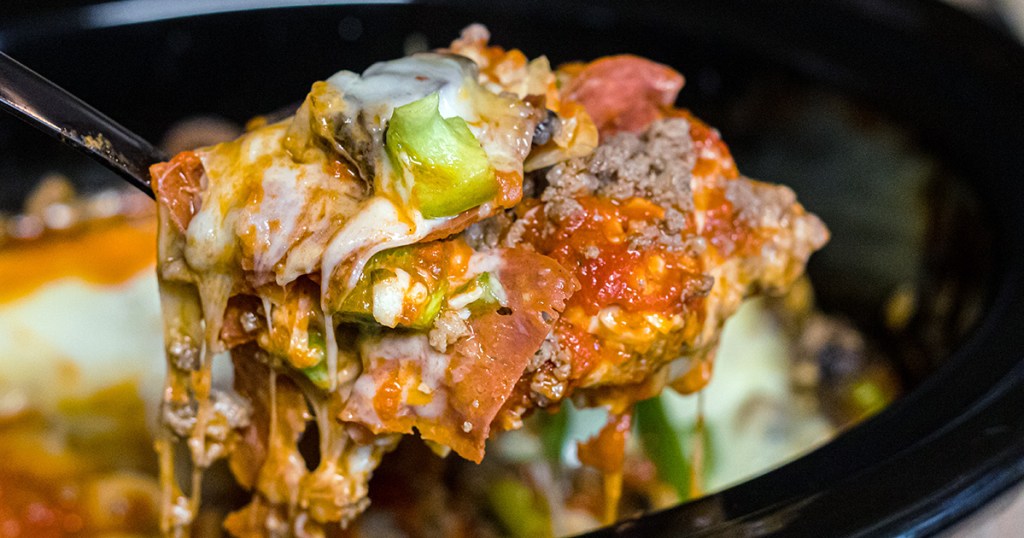 Need a quick and easy keto dinner idea?
With school back in full swing, I find myself in need of simple, yet filling dinner ideas the entire family will love. Today I'm sharing with you this delicious Crockpot pizza casserole recipe. This is the number one requested keto dinner that my boys have been requesting here lately.
---
Check out how easy this Crockpot keto pizza casserole is to put together by watching the YouTube video below or clicking here!
---
This keto Crock-Pot pizza casserole recipe is a home run, and I promise you won't even miss the crust! It's so hearty and filling and even your picky kiddos will love it.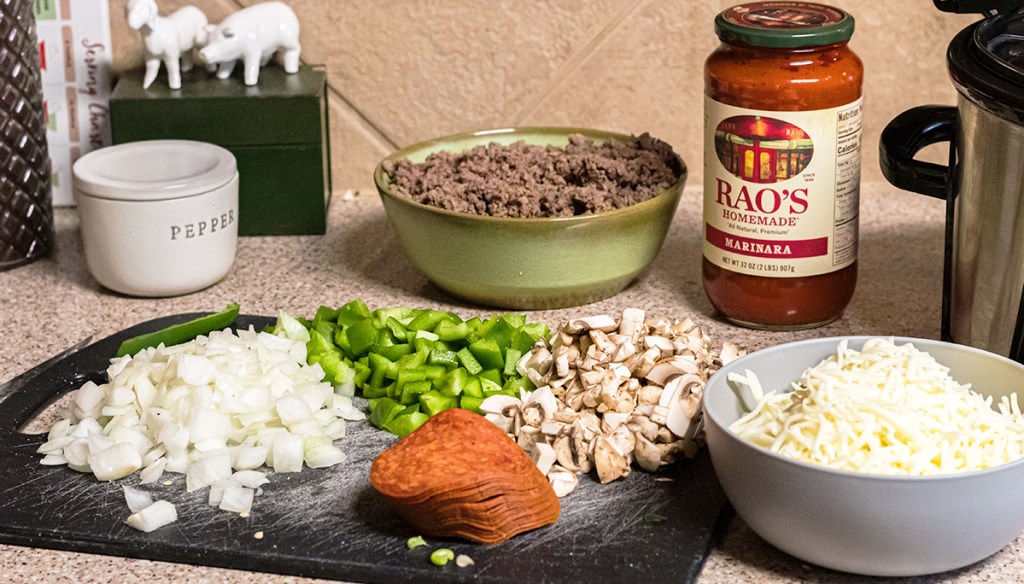 Here are a couple of recipe tips to keep in mind when making keto crockpot pizza casserole:
Add all your favorite toppings just as you would on your pizza. I love adding peppers, sausage, pepperoni, olives, and mushrooms! I do have a few picky eaters in my house that do NOT like vegetables on their pizza so when making this I put my veggie toppings on only one half of the crockpot so everyone has their favorites in one dish.
This recipe would freeze beautifully so you can have extra on hand for those really busy nights. If you are making it to freeze, let it cool completely before adding it to a freezer-friendly container. Just pop it in the microwave, reheat, and enjoy!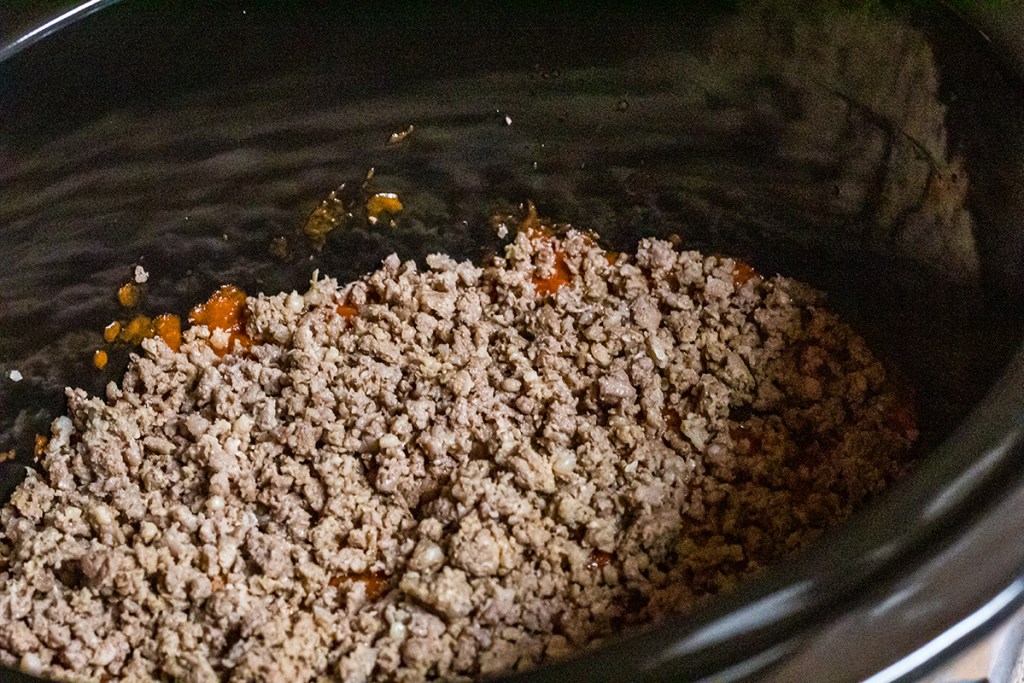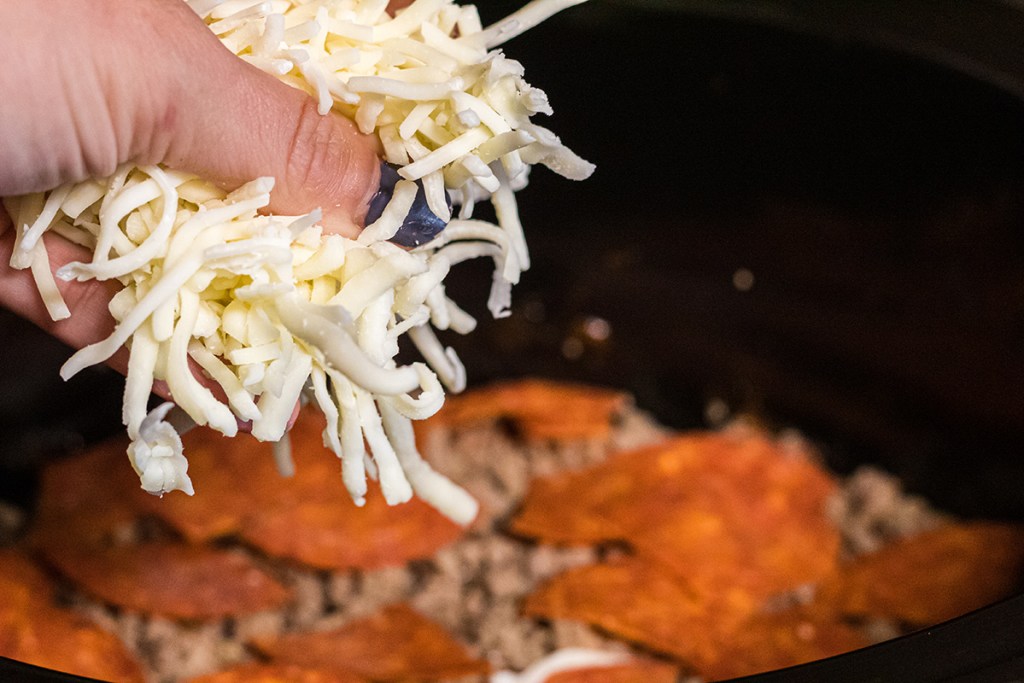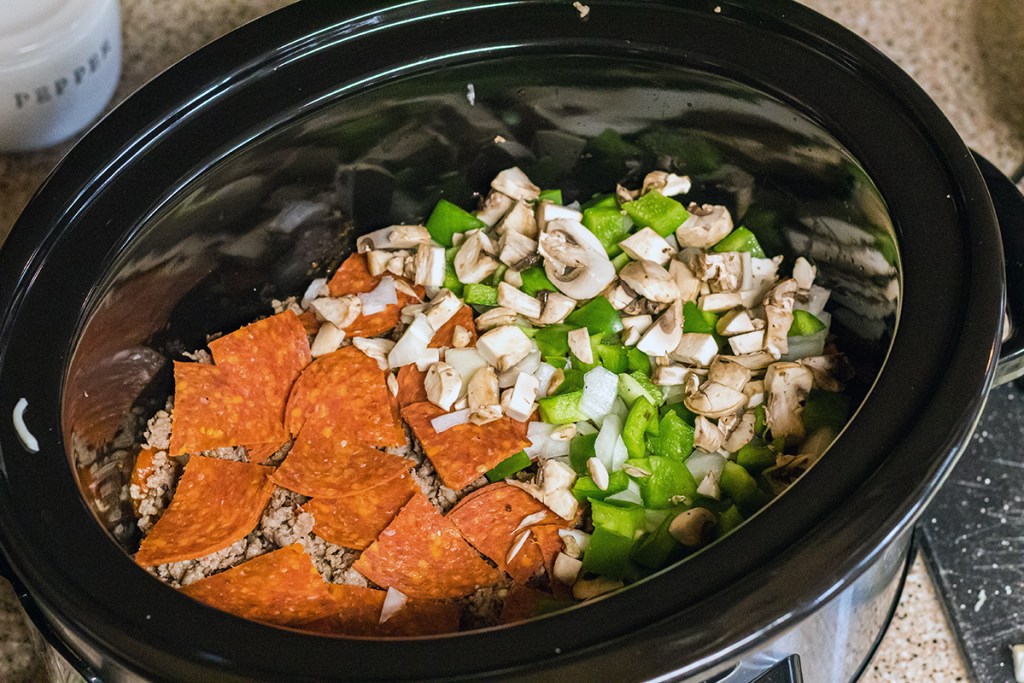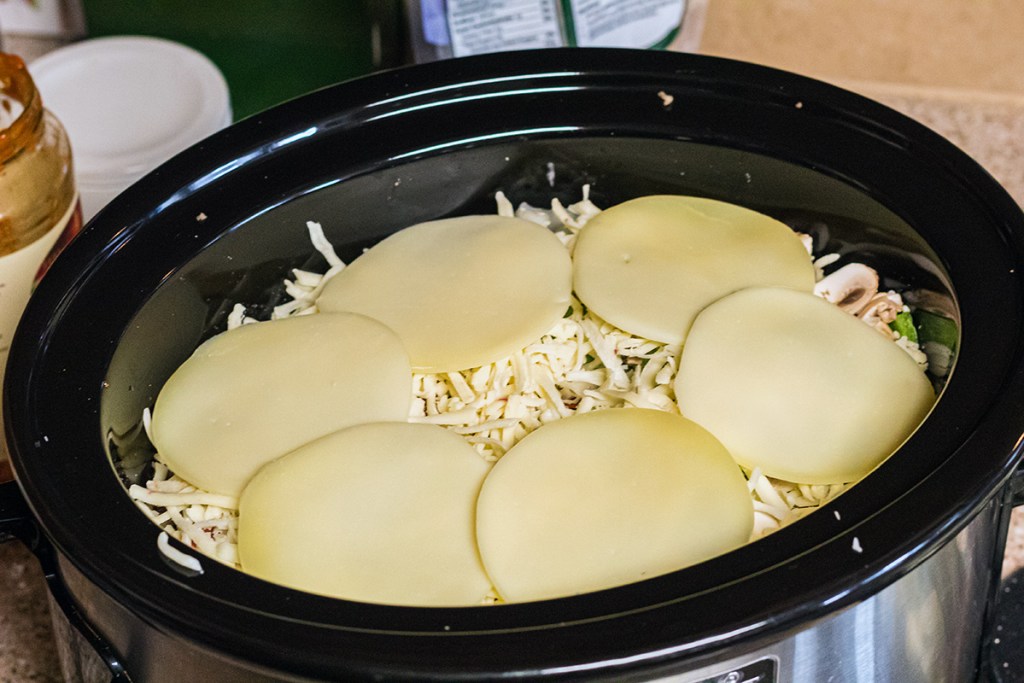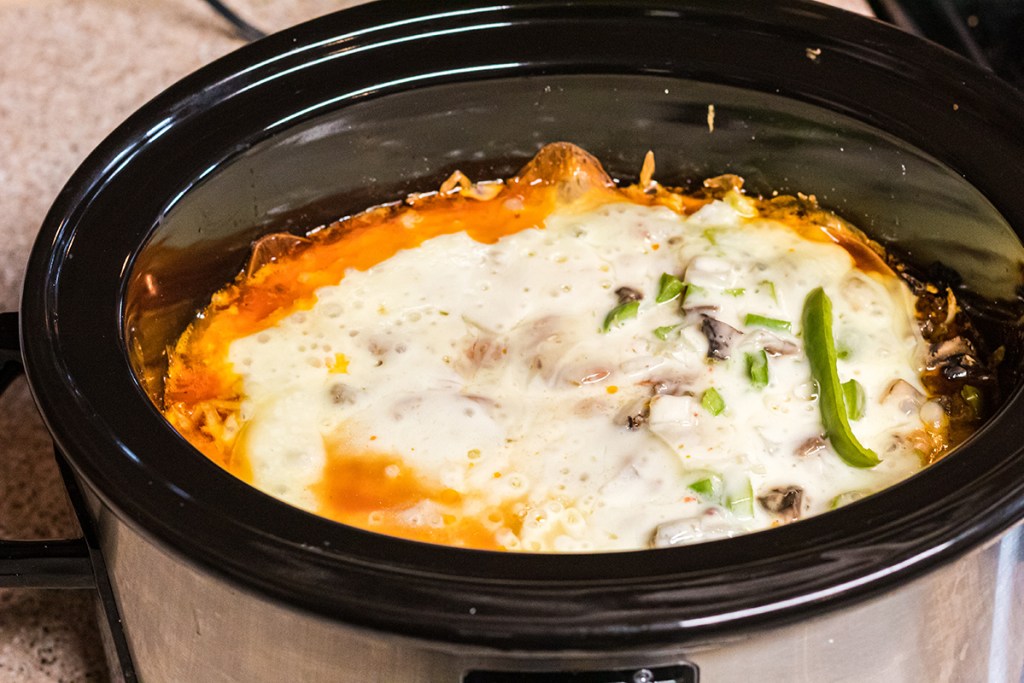 ---
Print
Keto Crockpot Pizza Casserole
yield: 8 SERVINGS
prep time: 15 MINUTES
cook time: 4 HOURS
total time: 4 HOURS 15 MINUTES
All the flavors of pizza (but without the carby crust) cook together in the slow cooker for an easy family-friendly meal idea!
Ingredients
1 lb. ground sausage
1 lb. ground beef
6 oz. bag pepperoni slices
4 cups mozzarella cheese
8-10 slices provolone cheese
1/2 cup mushroom, sliced
1/2 cup green peppers, chopped
1/2 cup onions, diced
Directions
1
In a large skillet, brown sausage and ground beef. Once browned, drain and set aside.
3
Start with about a cup of the beef/sausage meat as the first layer. Then add a layer of pepperoni, a layer of vegetables (if you're using any), and finish with a layer of mozzarella cheese.
4
Repeat these layers by starting off with pizza sauce, then meat, veggies (optional), and cheese. Continue layering until you have used all toppings, ending with the shredded mozzarella.
5
Add sliced provolone cheese to the top. Cook on low for 4 hours.
6
Serve and enjoy! As an option, you can sprinkle with parmesan cheese and/or red pepper flakes for a spicy kick!
Nutrition Information
Yield: 8, Serving Size: 1
Amount Per Serving: 614 Calories | 45g Fat | 9g Total Carbs | 1g Fiber | 0g Sugar Alcohol | 43g Protein | 8g Net Carbs
---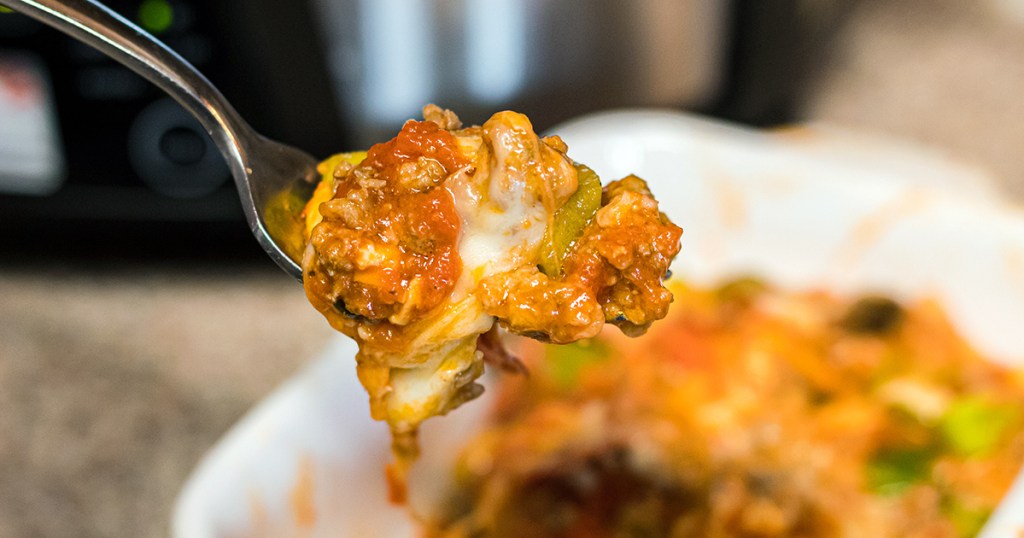 This easy pizza casserole is a weeknight winner!
This Crockpot slow cooker recipe has been a crowd-pleaser in my home and I love how simple it is to throw together. Outside of enjoying it as a meal, you could even use this casserole as a dip for celery and serve as a keto appetizer. YUMMO! 😋
My team member, Jenna, gave this recipe a test for me, and here's what she had to say:
"This Crock-Pot pizza casserole is so tasty and filling! I had so much fun customizing the toppings. It's funny because my boys ONLY eat the toppings off of a pizza and this is literally what this was. All the pizza flavor goodness without the carb-heavy crust!" – Jenna
---
If you love the crust, you've got to try our pork rind pizza crust recipe!