Crockpot Keto Chicken Enchilada Soup – Easy Comfort Food Recipe!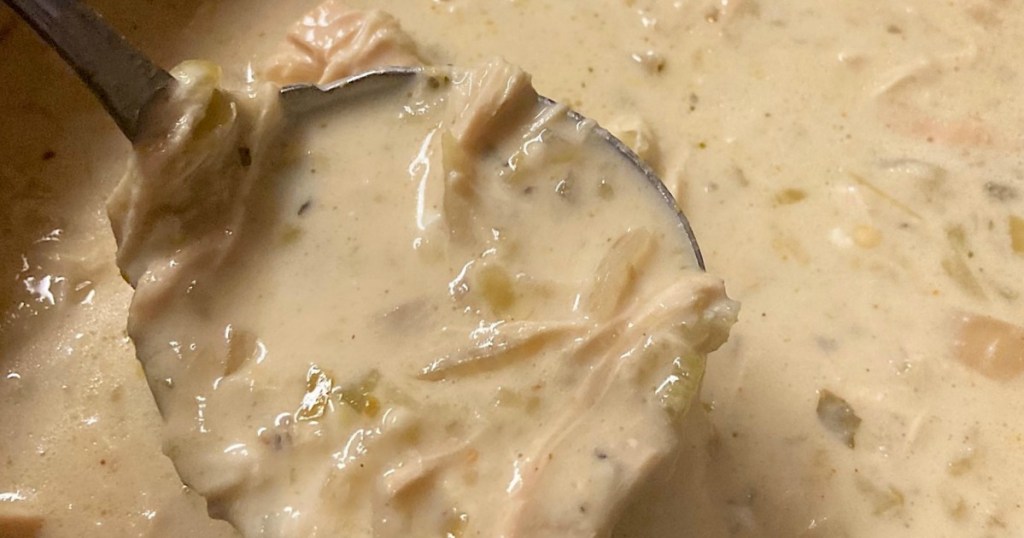 With chillier months sneaking in on us, it's officially time to break out the Crockpot!
Yes, that's right. It's time to put your Crock-Pot on low and slow for the coziest, creamiest, and cheesiest keto chicken enchilada soup recipe. Did I mention cheesy? That's right! SO cheesy and satisfying, and I'm still enjoying the leftovers! This recipe boasts all the classic Mexican flavors, minus the carbs, in one super convenient pot.
The best part? This recipe cooks up in the Crockpot making it the perfect family-style meal with minimal time and effort.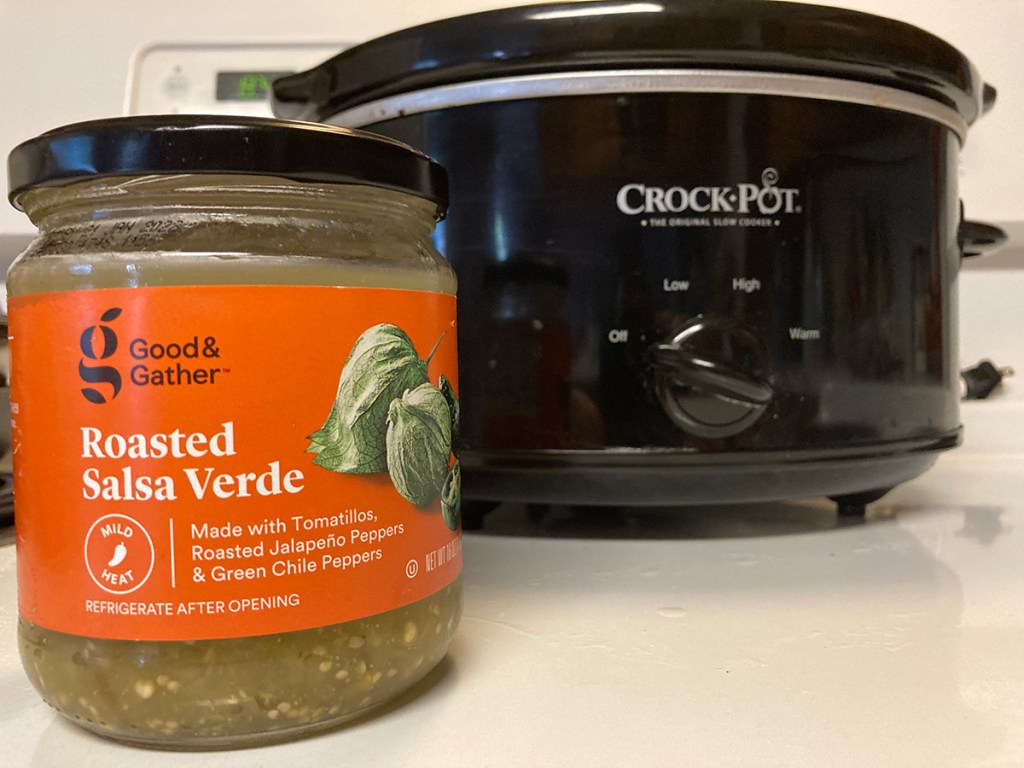 Let's hear it for easy slow cooker meals!
Every household MUST have a Crockpot slow cooker in their arsenal. Believe me, the possibilities are endless with this kitchen appliance! Who wouldn't like having the work done for you after a busy week? I was even able to bring this enchilada soup over to a neighbor for football night with its convenient cook-and-carry handles!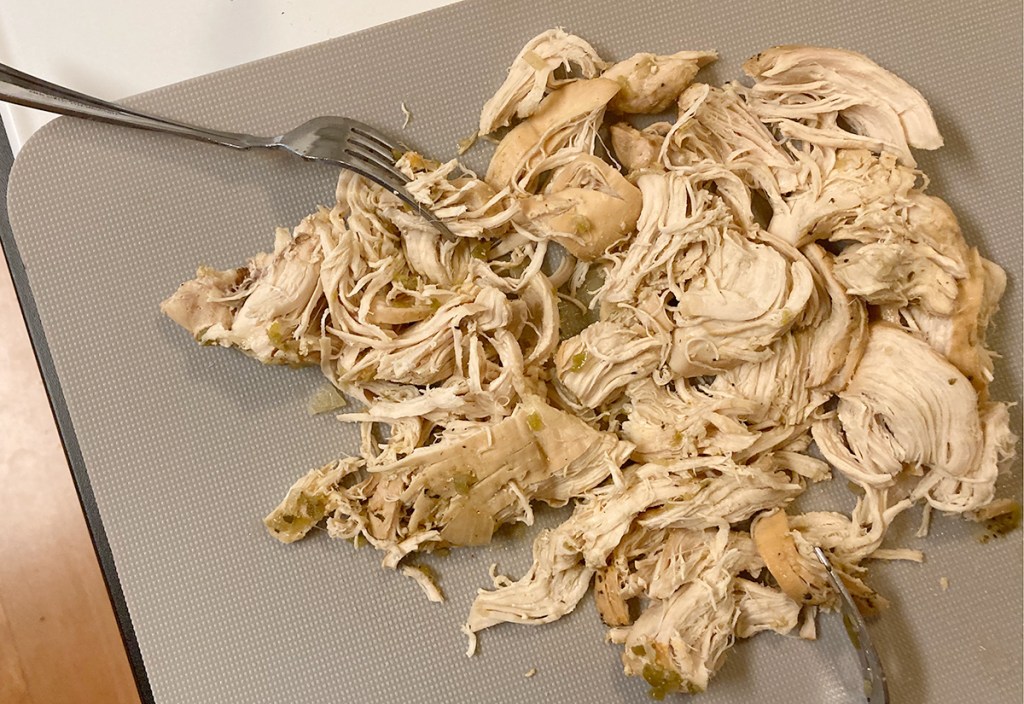 I like to use the high-temperature settings when slow cooking proteins such as chicken or pork, and a low setting for soups, sauces, and dips. It works perfectly for this enchilada soup and really renders the moistest chicken! (Apologies if anyone here doesn't like the word moist! 😂)
When shredding chicken or any slow-cooked meat, I think it's best to simply use two forks. I found that it keeps the pieces intact without getting mushy, perfect for our keto chicken enchilada soup recipe.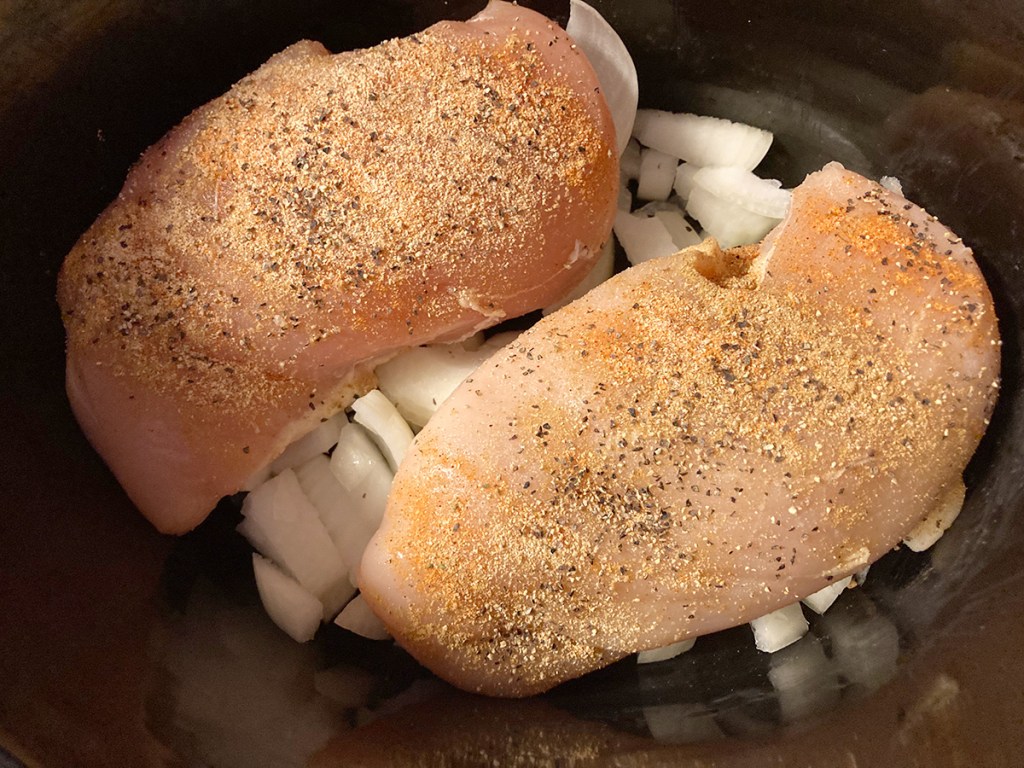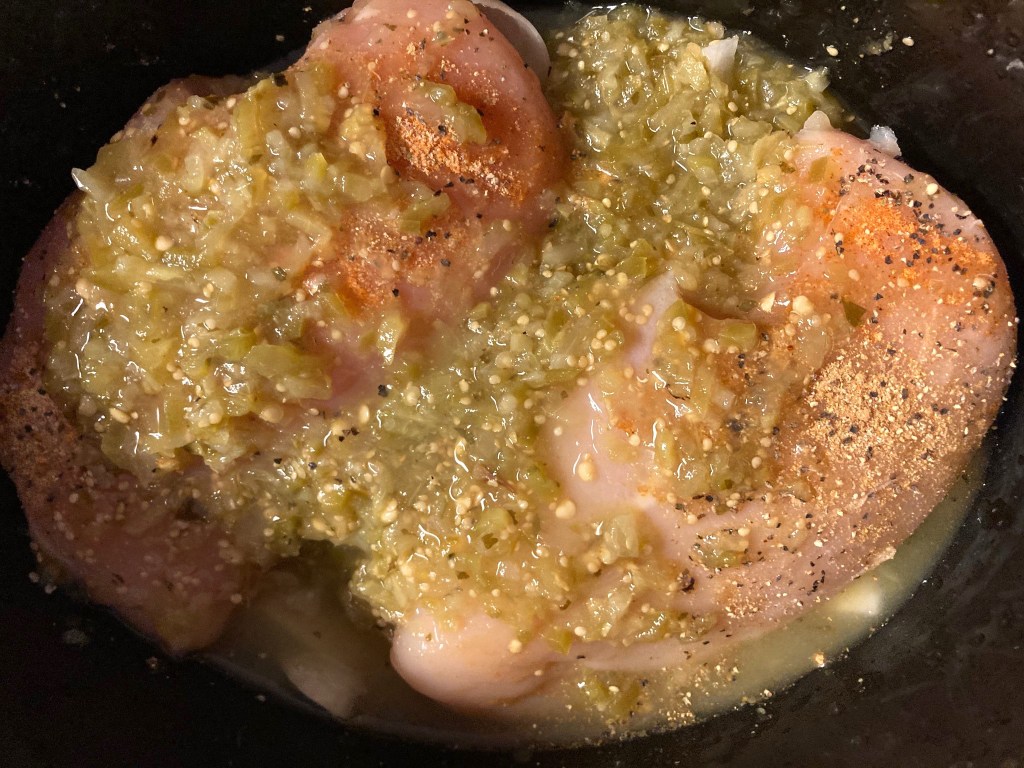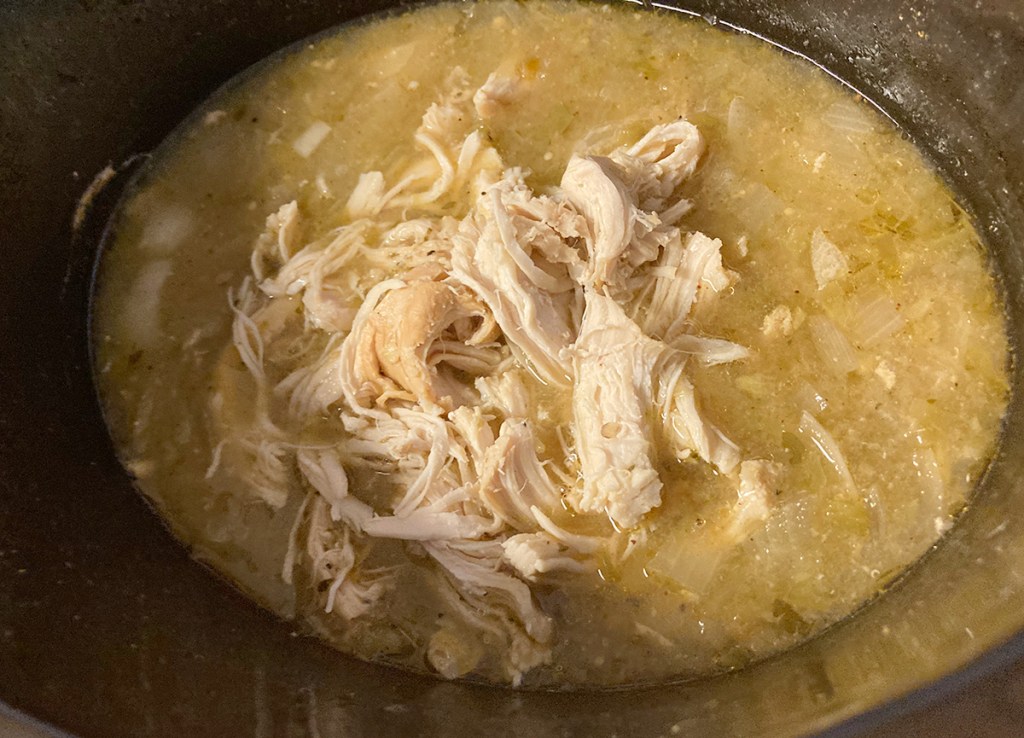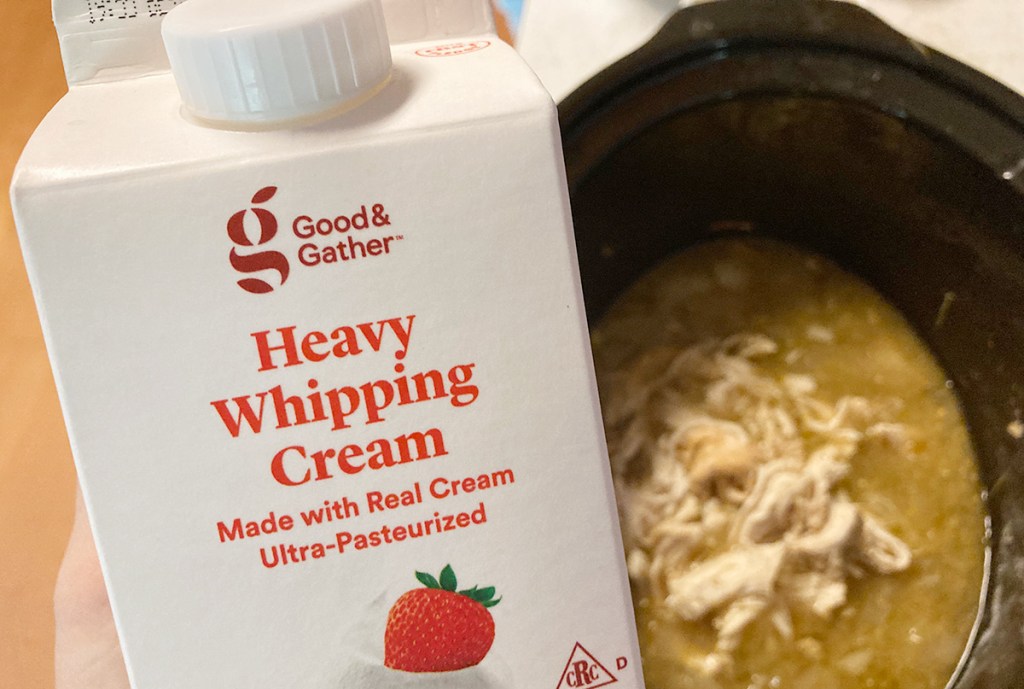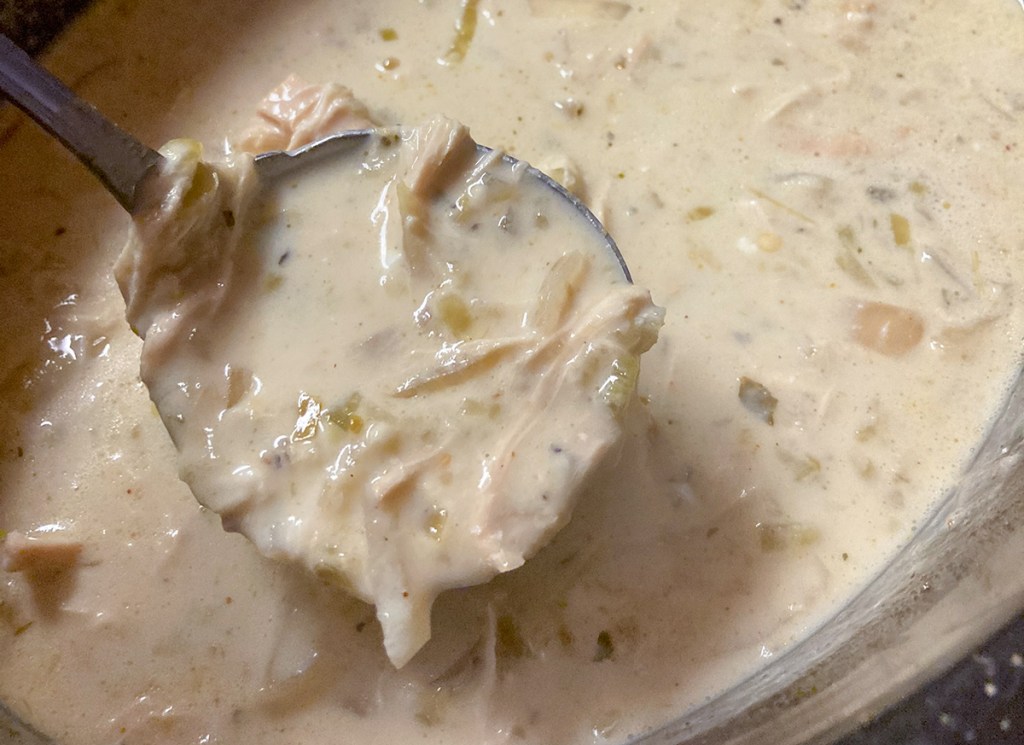 ---
Print
Keto Crock-Pot Chicken Enchilada Soup
yield: 6 SERVINGS
prep time: 10 MINUTES
cook time: 4 HOURS
total time: 4 HOURS 10 MINUTES
A fun spin on a traditional Mexican enchilada dish with savory slow-cooked chicken and salsa verde.
Ingredients
1 pound chicken breasts (I ended up with 2 medium-sized breasts)
1/4 teaspoon pepper
1/4 teaspoon salt
16 oz jar salsa verde
1 small onion, chopped
16 oz chicken stock
4 oz cream cheese, or 1/2 brick
1 cup heavy cream
8 oz Monterey Jack cheese, shredded
1 teaspoon cumin
1 teaspoon chili powder
1 teaspoon garlic powder
2-3 dashes hot sauce (or more if you like the spice)
1 lime
1/4 cup green onions, sliced
Directions
1
Turn a 6-quart slow cooker to low and begin by seasoning the chicken breasts with salt and pepper.
2
Add the chicken, chopped onion, and salsa verde to your slow-cooker and let cook on low for 3 hours.
3
After 3 hours, remove the chicken from the slow cooker, then shred the chicken breasts using two forks. Return the chicken to the slow cooker pot.
4
With your slow cooker still on low temperature, add the chicken stock, cream cheese, heavy cream, cheese, spices, and hot sauce to the pot. Squeeze juice of 1/2 lime over top, mix all ingredients together, and replace the lid to cook for another hour.
5
Once finished cooking, give the soup a final stir and salt and pepper to taste. Ladle into soup bowls, garnishing the soup with sliced green onion, pickled jalapeños, and remaining lime juice. Enjoy!
Nutrition Information
Yield: 6, Serving Size: 1
Amount Per Serving: 500.9g Calories | 35.9g Fat | 9.3g Total Carbs | 1.3g Fiber | .1g Sugar Alcohol | 36.9g Protein | 7.9g Net Carbs
---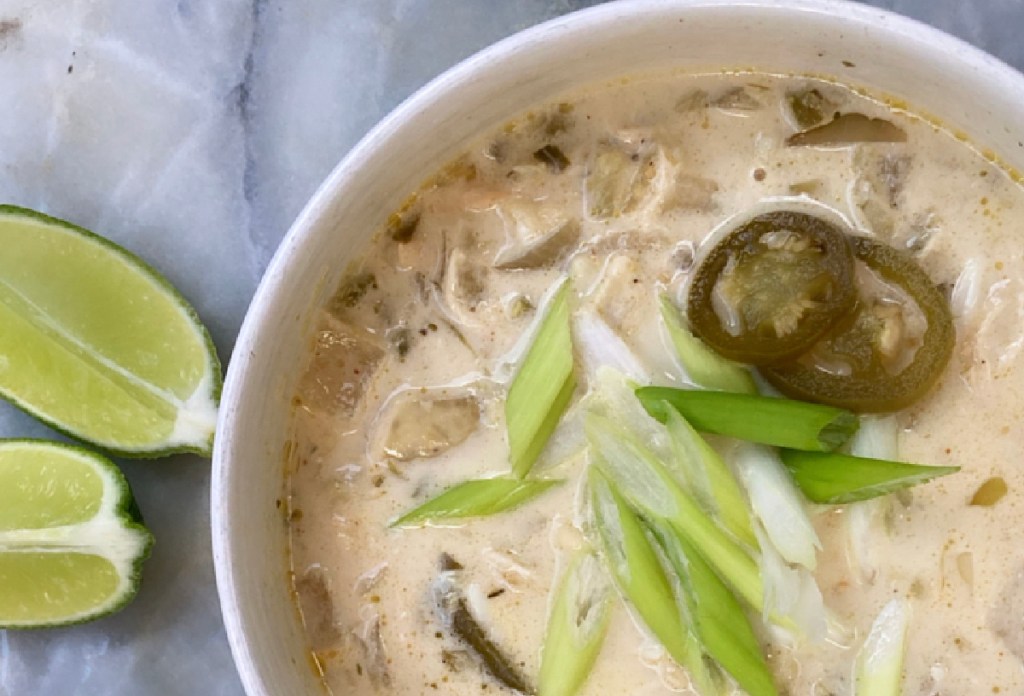 You will absolutely love this Crock-Pot keto chicken enchilada soup. It's creamy, dreamy, and garnished with your favorite enchilada toppings. I love adding green onions for a pop of color, texture, and crunch as well as a squeeze of a zippy lime for the perfect citrusy addition of flavor to balance that cream cheese and cream base. YUM!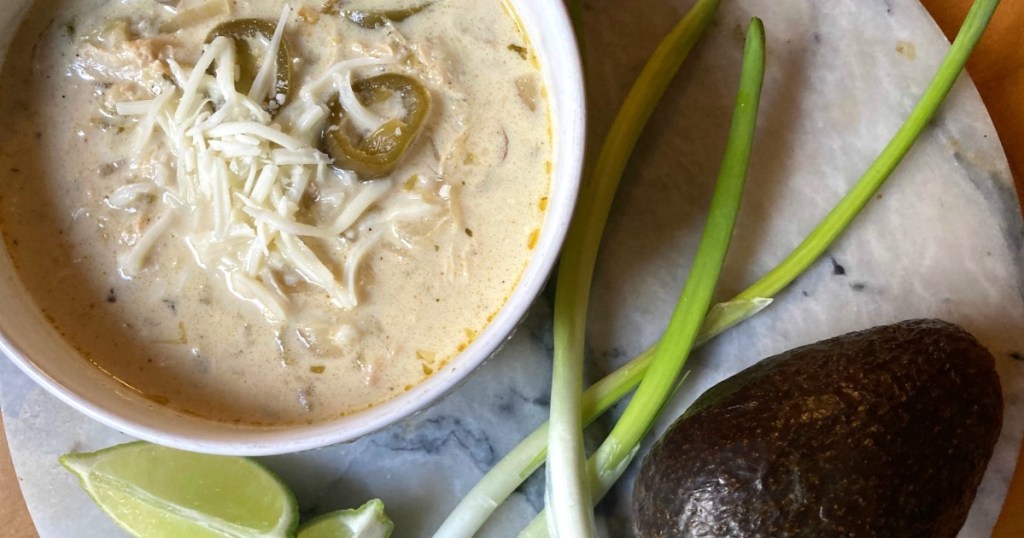 My Hip sidekick Jenna gave this recipe a try and here's what she thought:
"These flavors of this keto enchilada soup are so good. I love the use of the cheese and chicken with the green salsa (my favorite kind!). And then the addition of jalapeño slices and lime juice are such fantastic flavors! The whole process was easy and I love making the chicken right there then shredding and adding in soup ingredients. Definitely a meal I will make again!"
---
If you liked this slow cooker recipe, try our Crockpot lemon pesto chicken with zucchini noodles!