Easy Keto Chicken Pesto Broccoli Casserole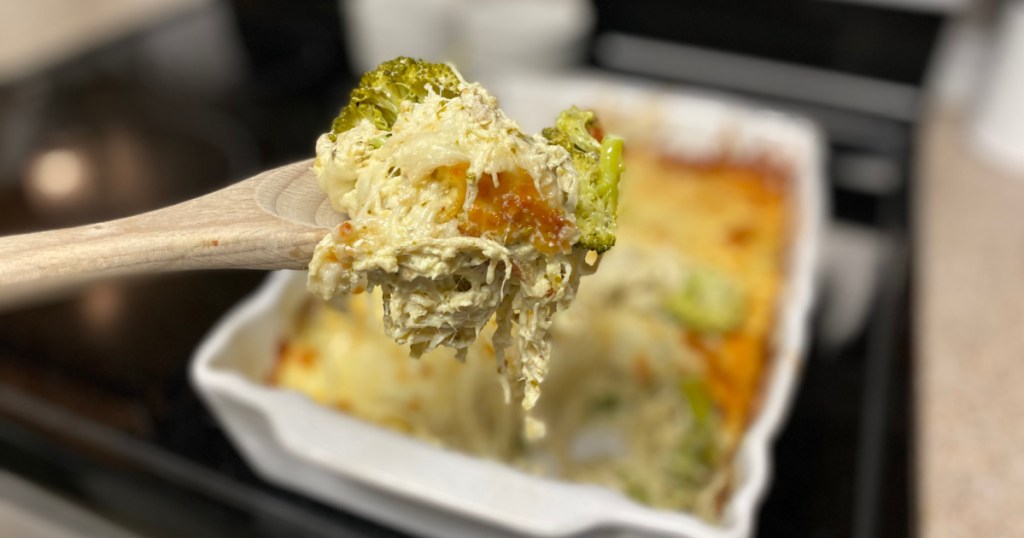 Need an easy dinner idea?
I'm a huge fan of quick and easy low carb dinners that I can whip up for my family on busy weeknights. Recently I made this keto chicken broccoli pesto casserole and it has officially moved to the top of the meal rotation as my new favorite keto casserole recipe!
I know they say don't mess with a good thing, but this recipe is based on our super popular keto chicken broccoli and cheese casserole recipe, but with a pesto twist! It adds such a herby kick on an already comforting dish, so if you've had this classic, I hope you give this new version a shot as well!
It's kid-approved, too!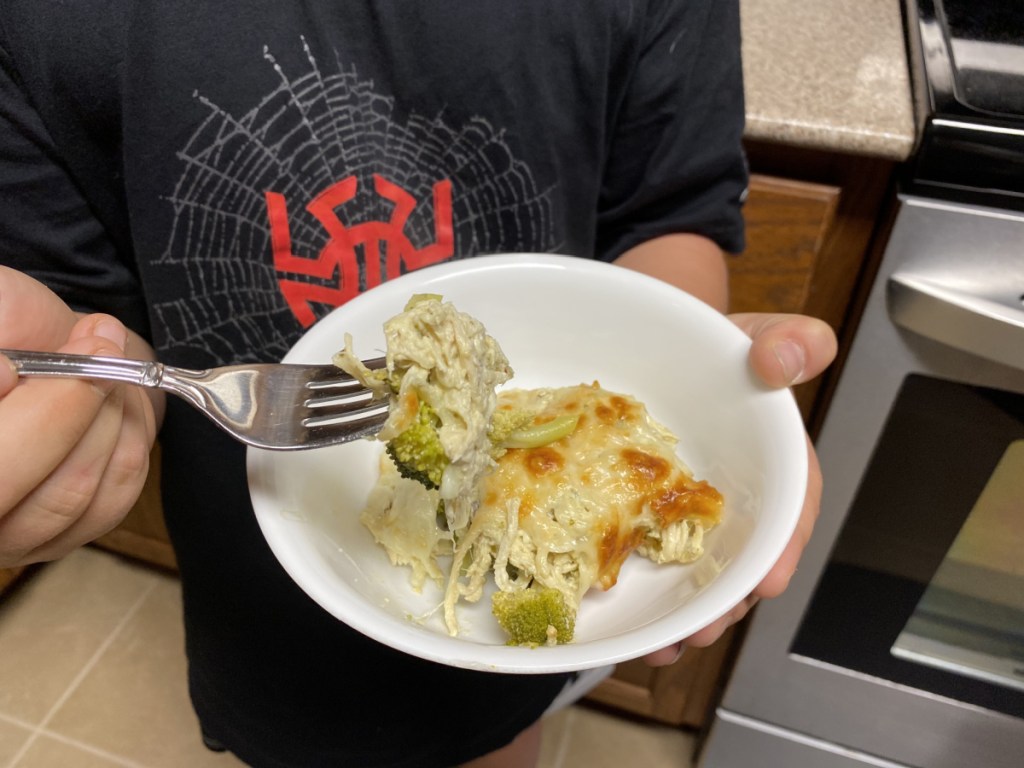 Winner, winner, chicken dinner!
Casseroles are such a fun and easy way to combine your favorites into a one-pan dish that not only saves time, but they make great leftovers too. The creamy pesto sauce in this keto chicken broccoli casserole really gives it a zing of flavor that your entire family will hopefully love!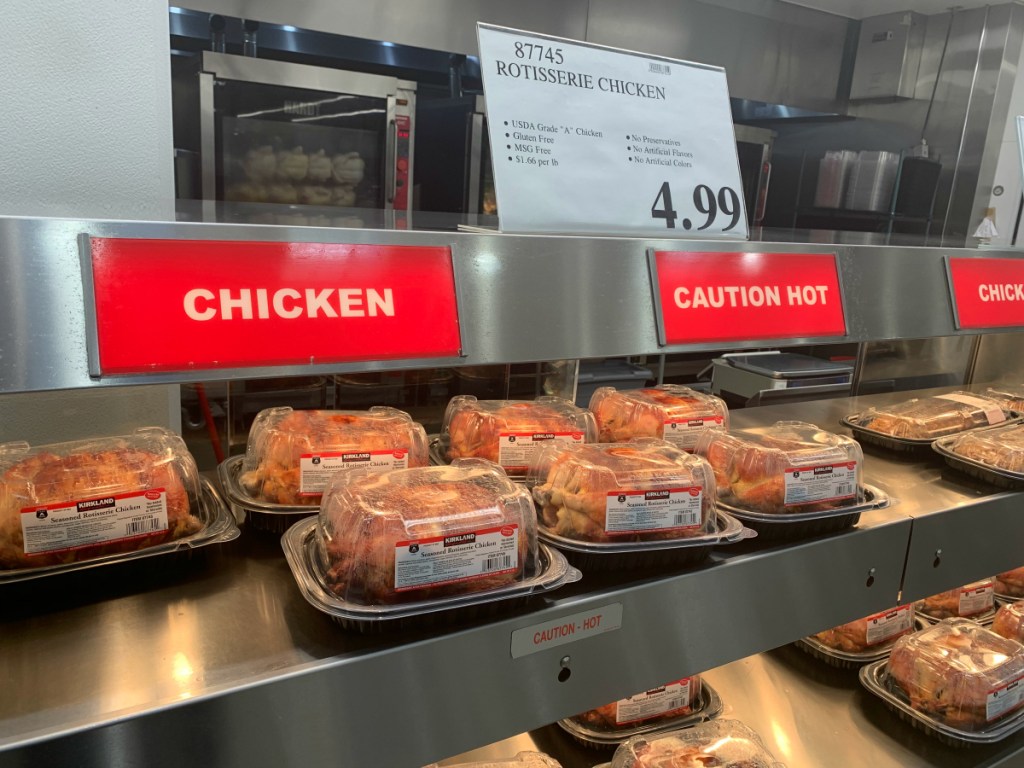 Really running short on time?
Grab a pre-cooked rotisserie chicken! I love to grab one when I'm at Sam's or Costco and they're always so tender and juicy, providing the perfect shreds of chicken for this recipe. Not only are they a great time saver for this casserole, but you can't beat the price as they are typically under $5 or $6.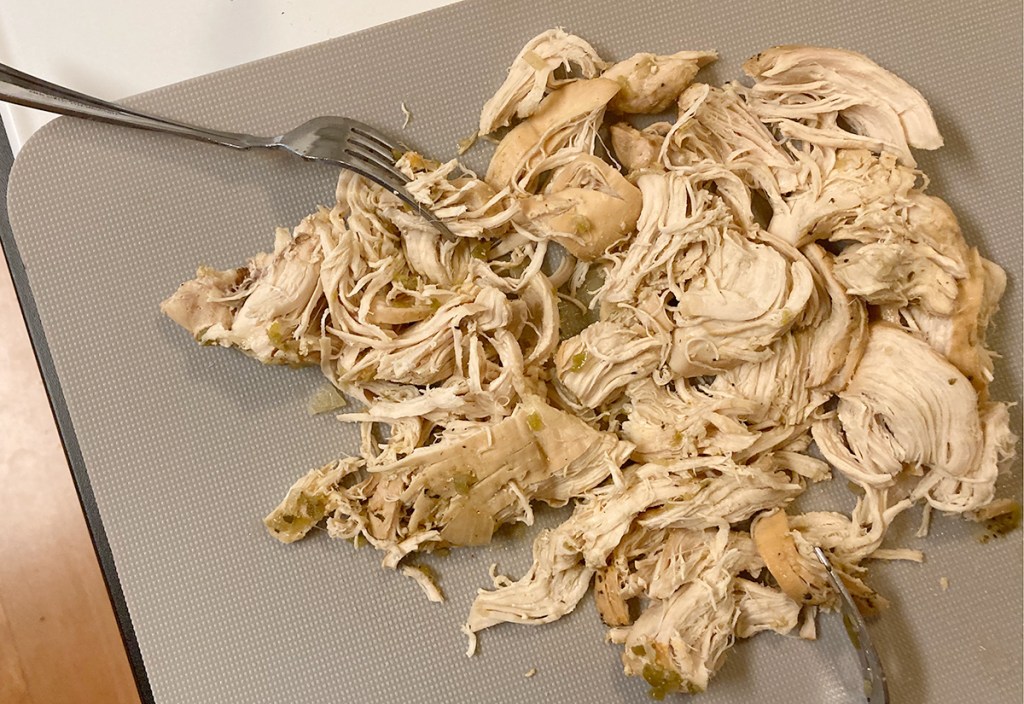 Another idea is to boil the chicken on your stovetop, it's easier than you'd think and super cost effective!
It's surprisingly easy and is just as frugal (if not even a touch cheaper) than our rotisserie chicken hack. You place chicken breasts in a large pot and pour in enough water to cover the breasts. Then salt the water, turn on the stove to medium/high heat, bring to a boil, then reduce heat to low and simmer until no longer pink, about 40 minutes. Allow chicken to cool, then shred it into small pieces.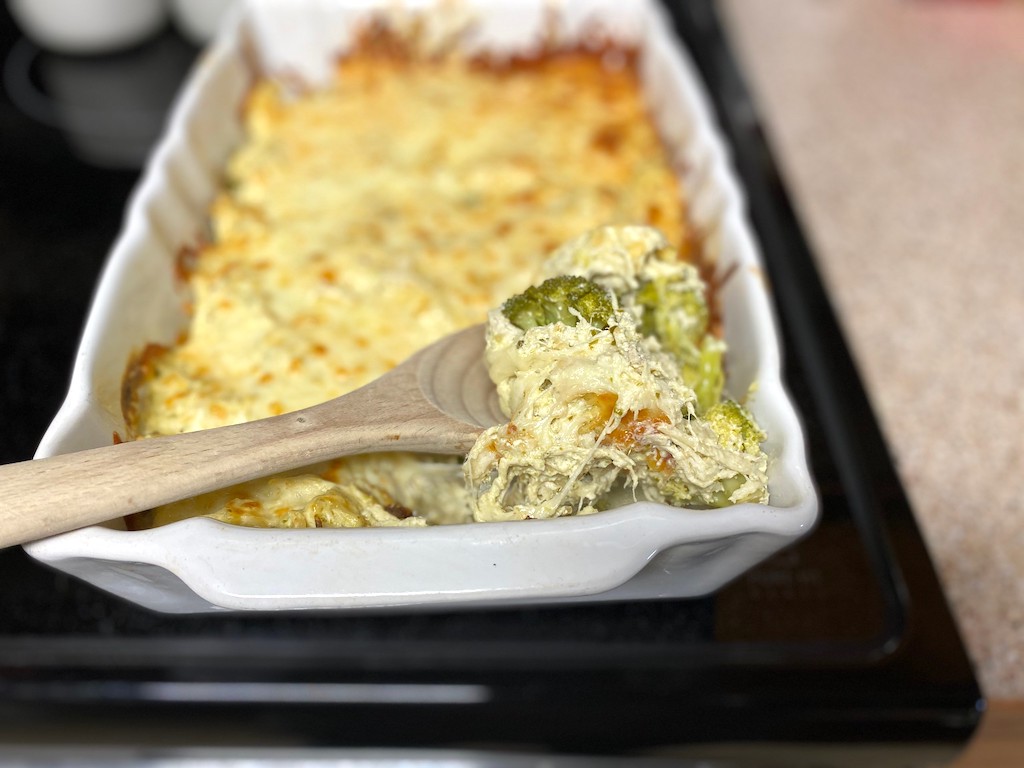 Here are a few recipe tips to keep in mind when making this keto chicken broccoli pesto casserole:
I like to save as much time as possible in the kitchen and I typically make a couple of different chicken casseroles each week. On Sundays, I usually make a big batch of shredded chicken in my Instant Pot to have on hand to make meal prep faster during the week.
I used Mezzetta Basil Pesto that is not only flavorful, but it is also 0 net carbs! Feel free to use any brand you prefer (just watch out for the carb count as many brands have added sugars) or make your own pesto.
Make sure your broccoli florets are similar in size so your casserole will cook evenly. If I get a few bigger pieces, I just cut them down to match the size.
I personally like to add the broccoli first into the casserole dish to layer the components, but if you want to toss it in with the chicken you can do that as well.
You can even get in more veggies by serving this casserole with yummy zoodles! My kiddos even love it this way too. Grab your spiralizer and some zucchini to make your own. I like to cook mine for about 5-10 minutes in a pan with a little bit of pepper and olive oil. YUM!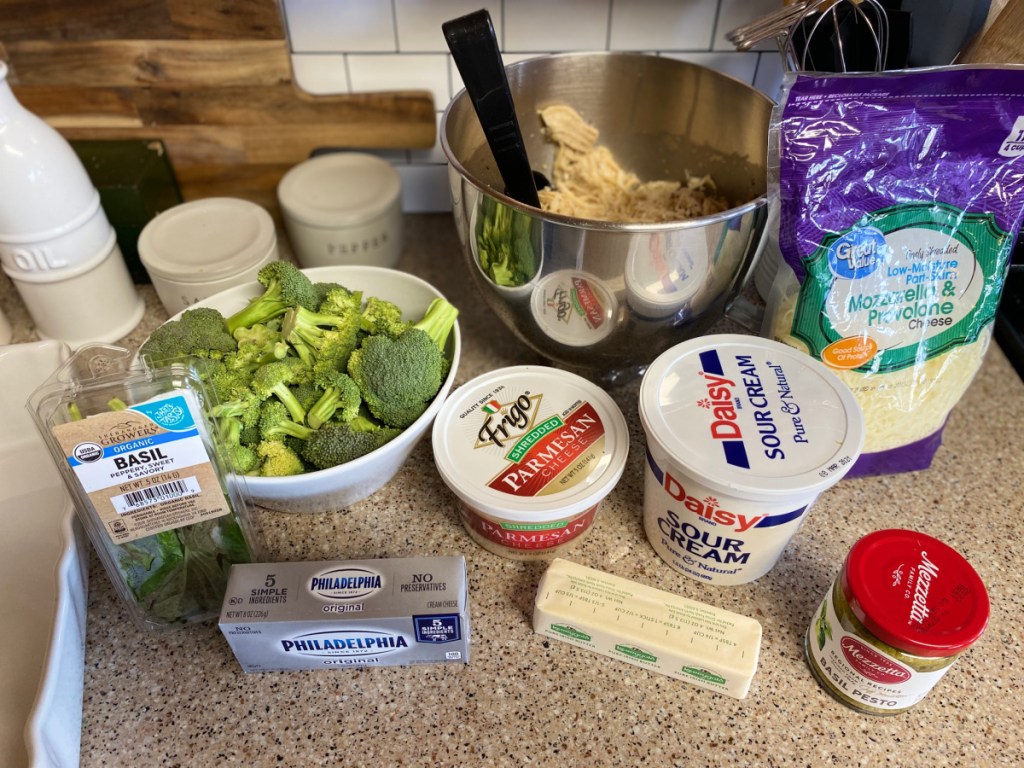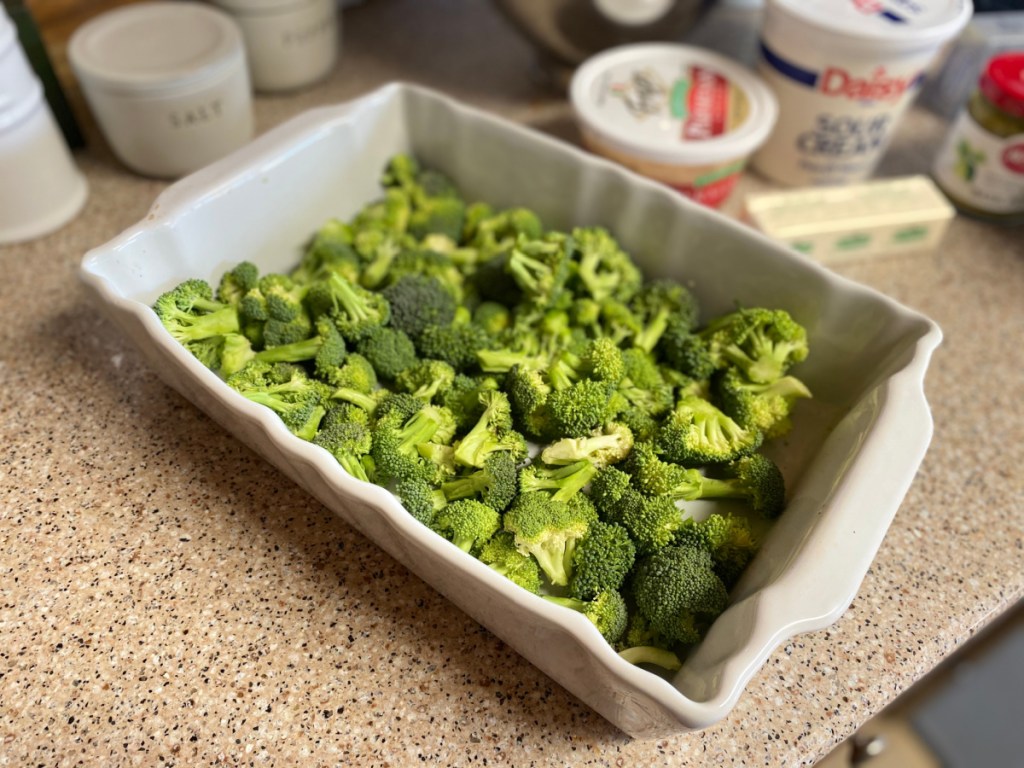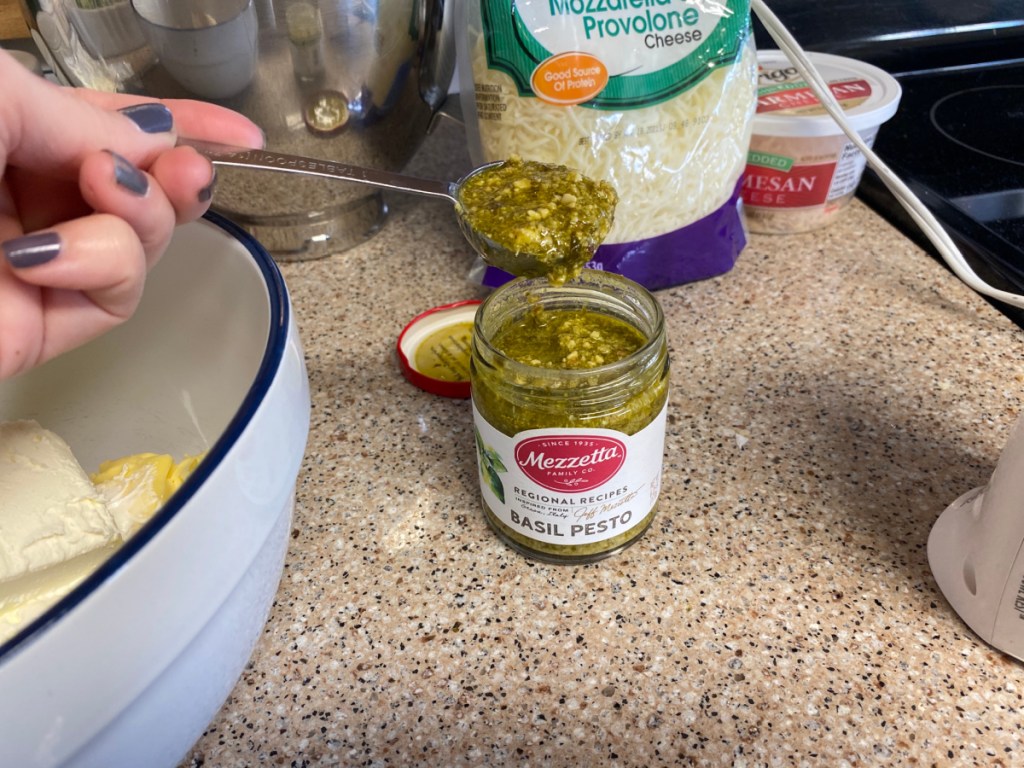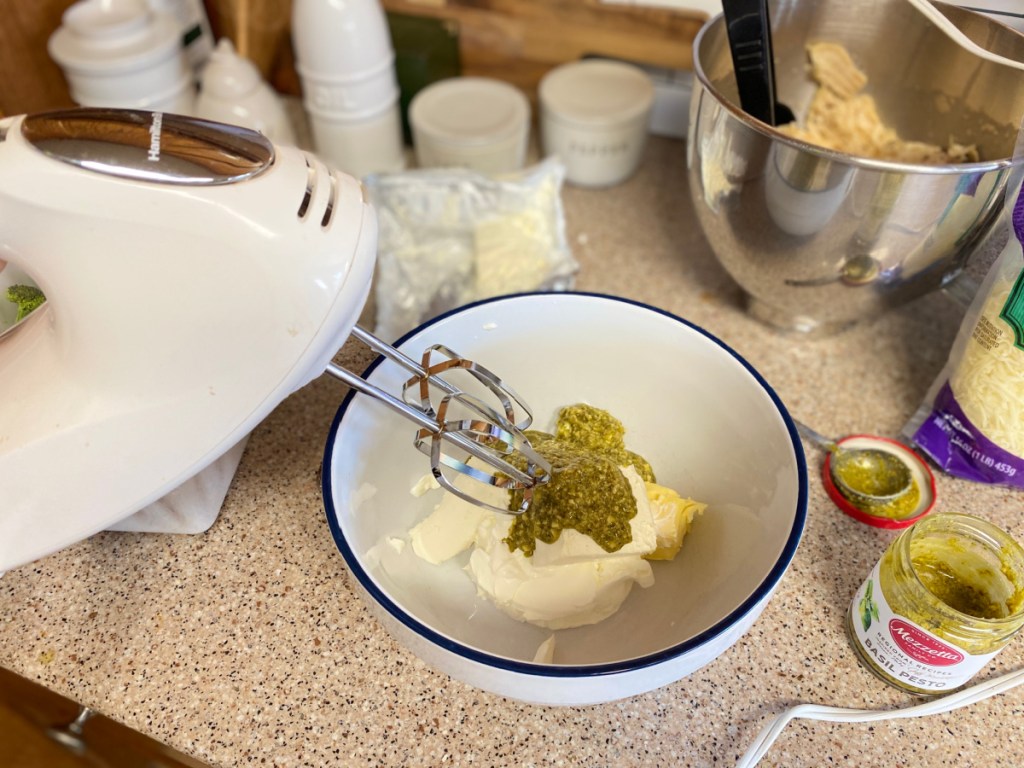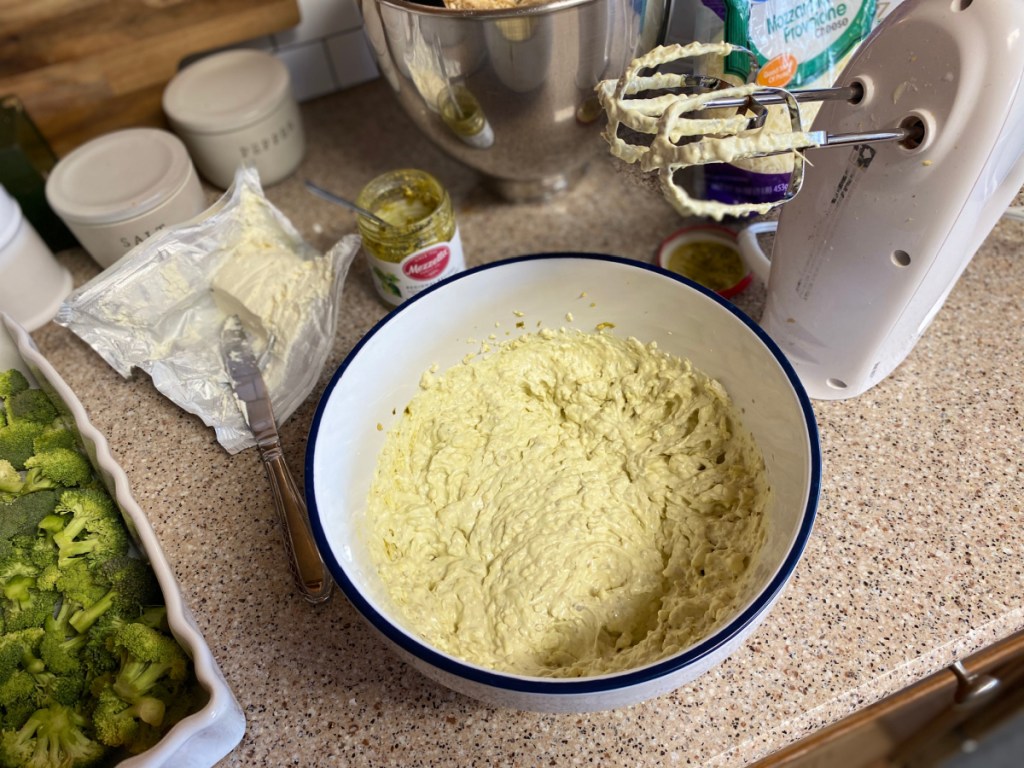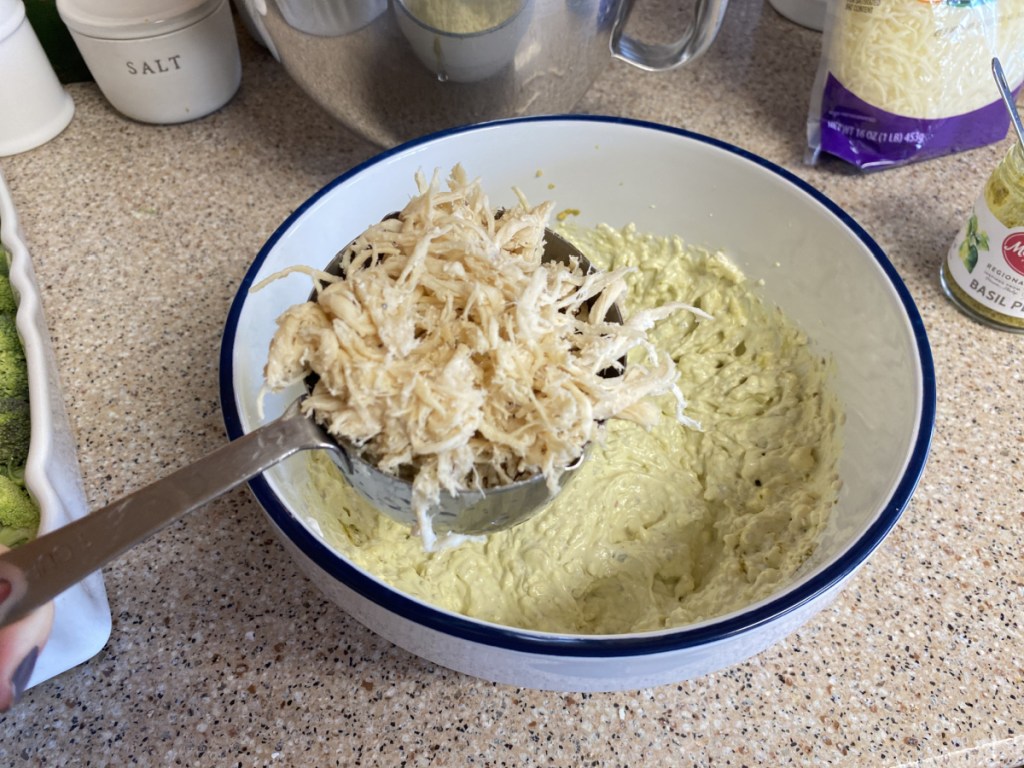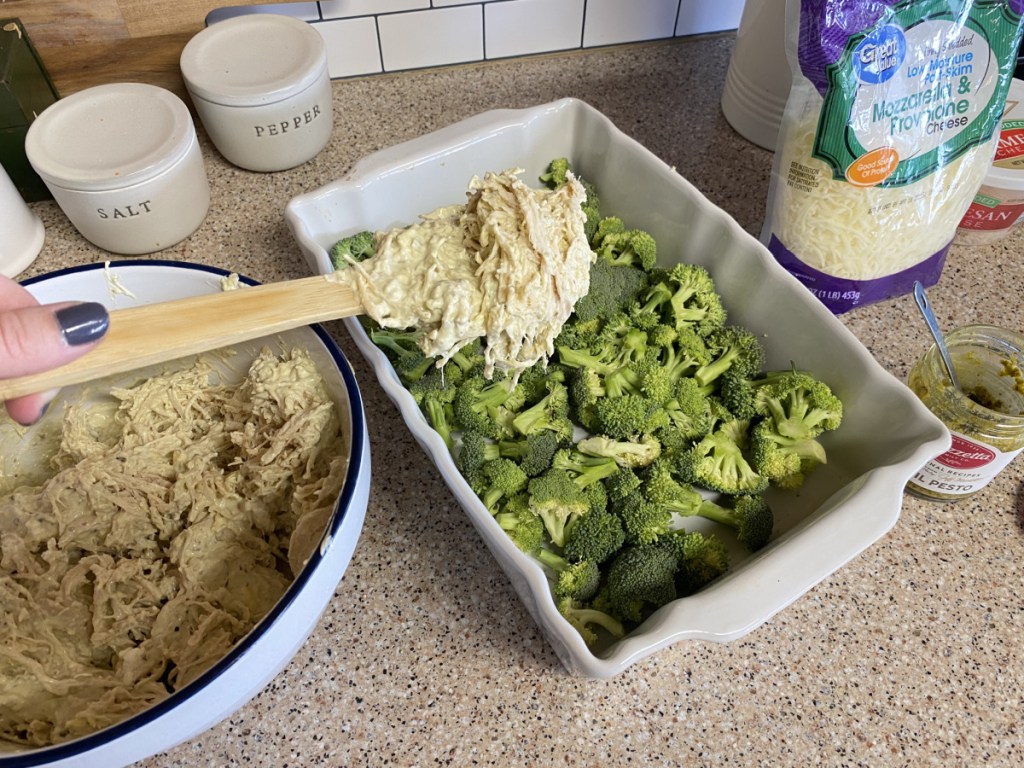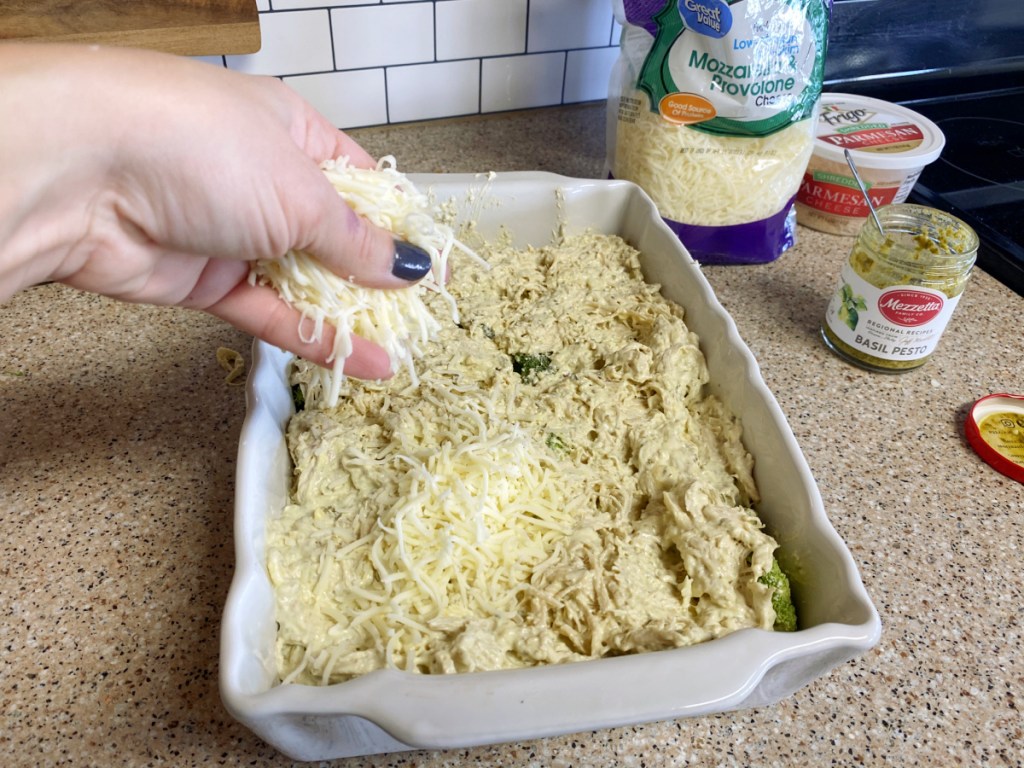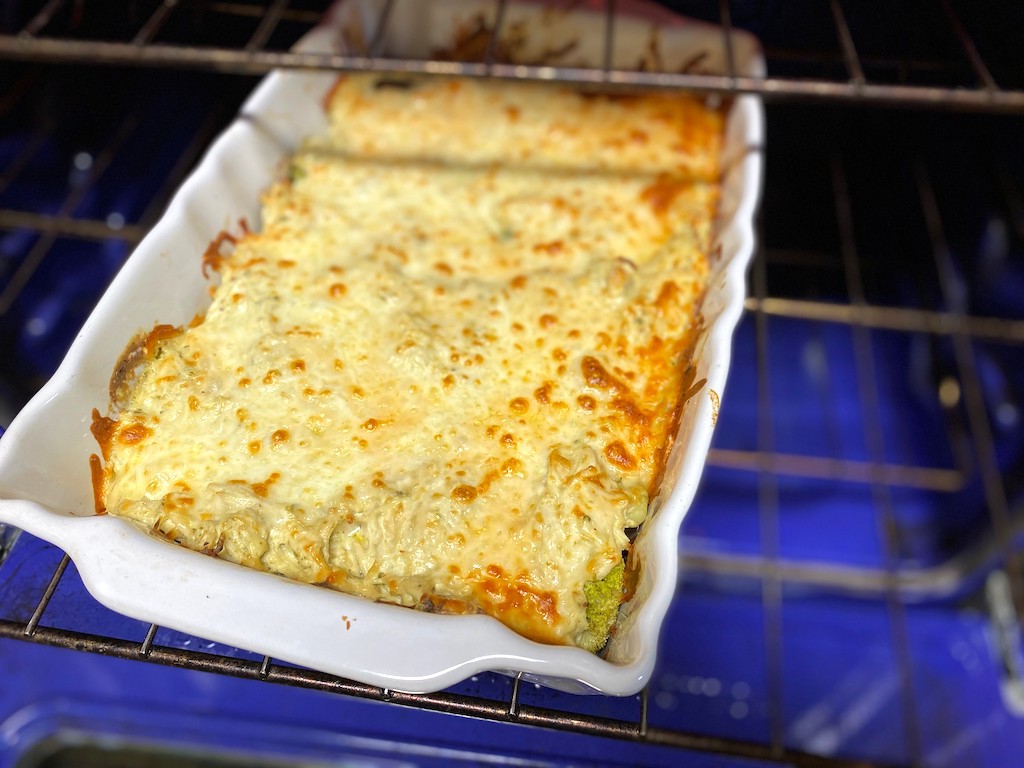 ---
Print
Keto Chicken Pesto Broccoli Casserole
yield: 5 SERVINGS
prep time: 15 MINUTES
cook time: 30 MINUTES
total time: 45 MINUTES
A delicious low carb one-pan casserole made with chicken, broccoli, and flavorful pesto sauce.
Ingredients
3 cups of broccoli florets, cut into similar-sized pieces
4 cups cooked chicken, shredded
1 cup sour cream
4 oz. cream cheese, softened
3 tablespoons butter, softened
1 teaspoon salt
1 teaspoon black pepper
1 teaspoon garlic powder
2 cups mozzarella + provolone cheese, shredded
1/2 cup parmesan cheese, shredded
Directions
1
Preheat oven to 375 degrees. Place broccoli florets in a 9x13 casserole dish and set aside.
2
Place the sour cream, cream cheese, butter, pesto, salt, pepper, and garlic powder into a large bowl and mix together with a handheld electric mixer. Add in shredded chicken and stir.
3
Spread chicken mixture over broccoli and top with shredded cheese. You could also toss the broccoli in the chicken mixture if desired to incorporate throughout.
4
Bake in the oven for 30 minutes or until cheese is melted.
Nutrition Information
Yield: 5, Serving Size: 1
Amount Per Serving: 502.9 Calories | 44.1g Fat | 8.1g Total Carbs | 1.2g Fiber | 21.2g Protein | 6.8g Net Carbs
---
This casserole was such a hit with my family! There's really nothing better than warm comfort food on a cold winter day, especially when it's low carb.
I think the next time I'm going to make a double batch so I'll have one that I can freeze and have on hand to pop in the oven. Try it and let me know what you think!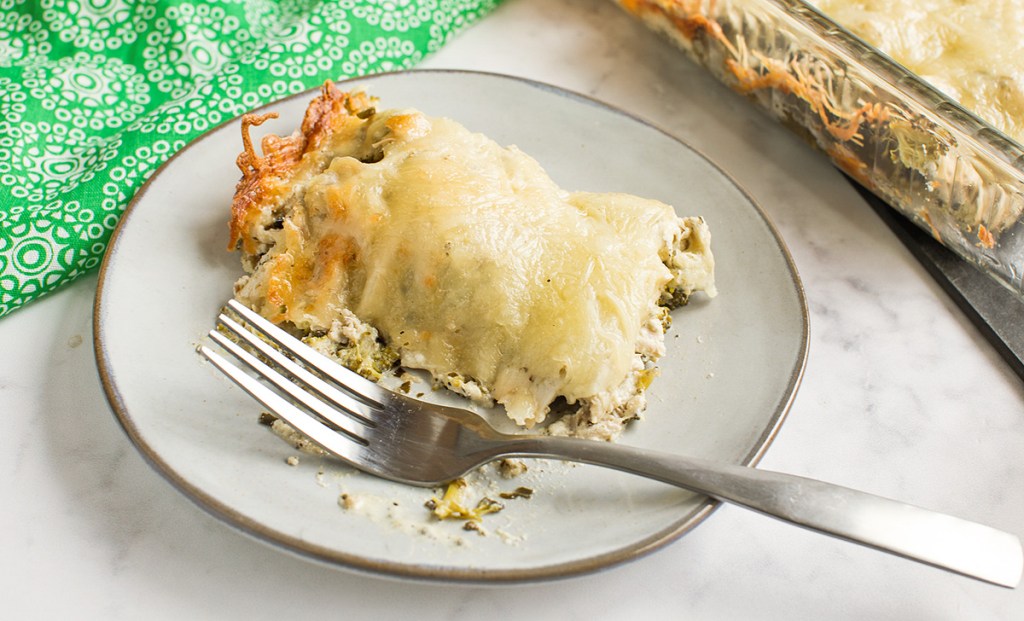 My Hip sidekick Jenna tried out this recipe and here's what she thought!
"This keto chicken pesto broccoli casserole turned out so great! I can't decide which is my favorite part, the pesto flavor, or the melty cheese on top, it was all so delicious. It reheats beautifully, I popped it back in the oven the next day and it was just as fresh and delicious as the night before. Hooray for leftovers!"
---