We Tested 4 "Noodles" For Our Keto Chicken Noodle Soup Recipe
It's here! The keto chicken noodle soup recipe that you've been waiting for.
Warm your heart and soul with this keto chicken noodle soup recipe.
It's time to take on this classic soup and keto-fy it! During the cold weather season, there's nothing better than sitting down to a warm bowl of soup, especially chicken noodle soup! It's nostalgic for many and sure to bring back some childhood memories.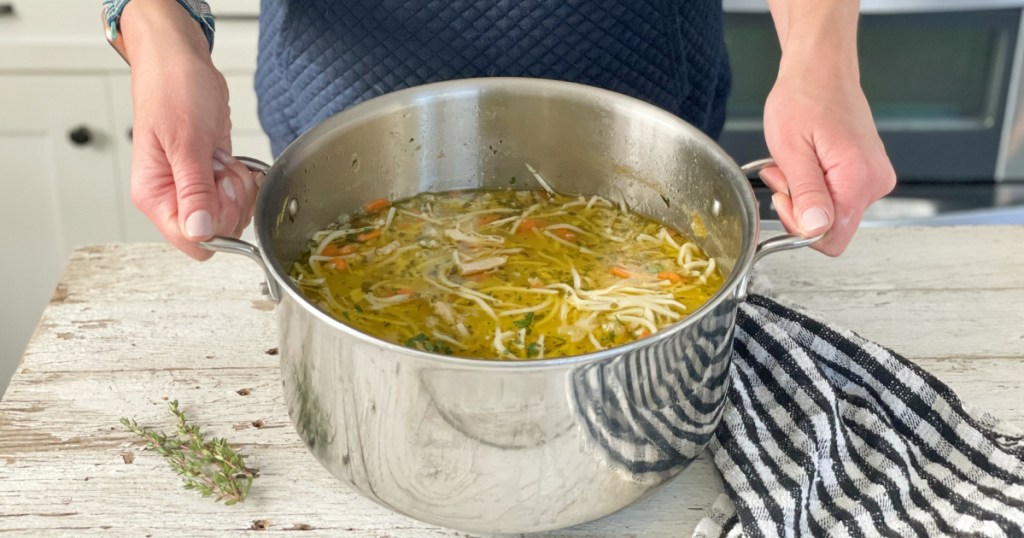 To get this recipe perfect, I tested out four different types of keto noodles – spaghetti squash, zoodles, shirataki, and Palmini. As you can see from the pictures and recipe, I went with the Palmini noodles. Keep reading and I'll tell you why…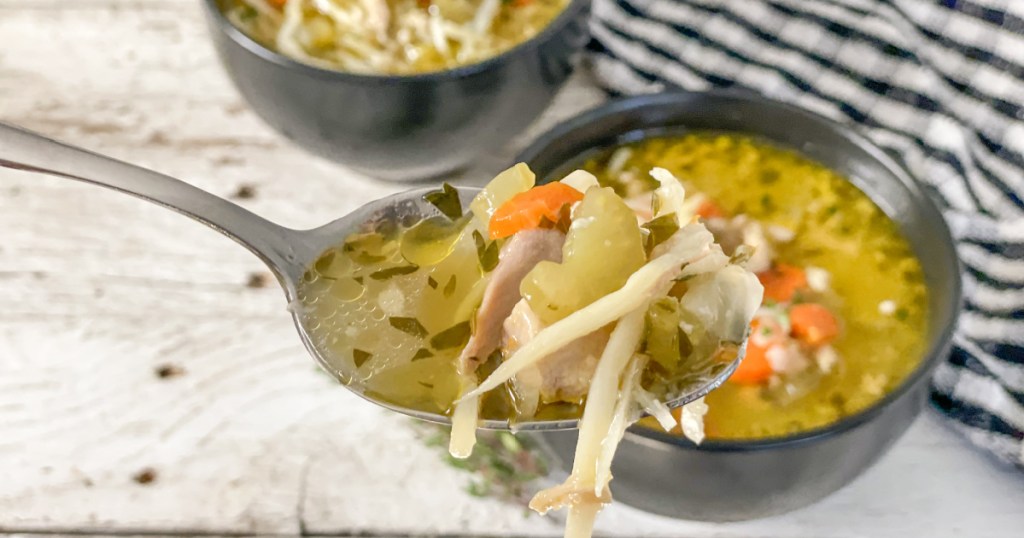 Palmini noodles for the win!
As I mentioned above, I tested out several keto noodle options to make sure I'm giving you the absolute best keto chicken noodle soup recipe. I even had my husband and teenager give me their honest opinions. I also tested reheating the soups with the various noodles to see how they held up when eaten for leftovers.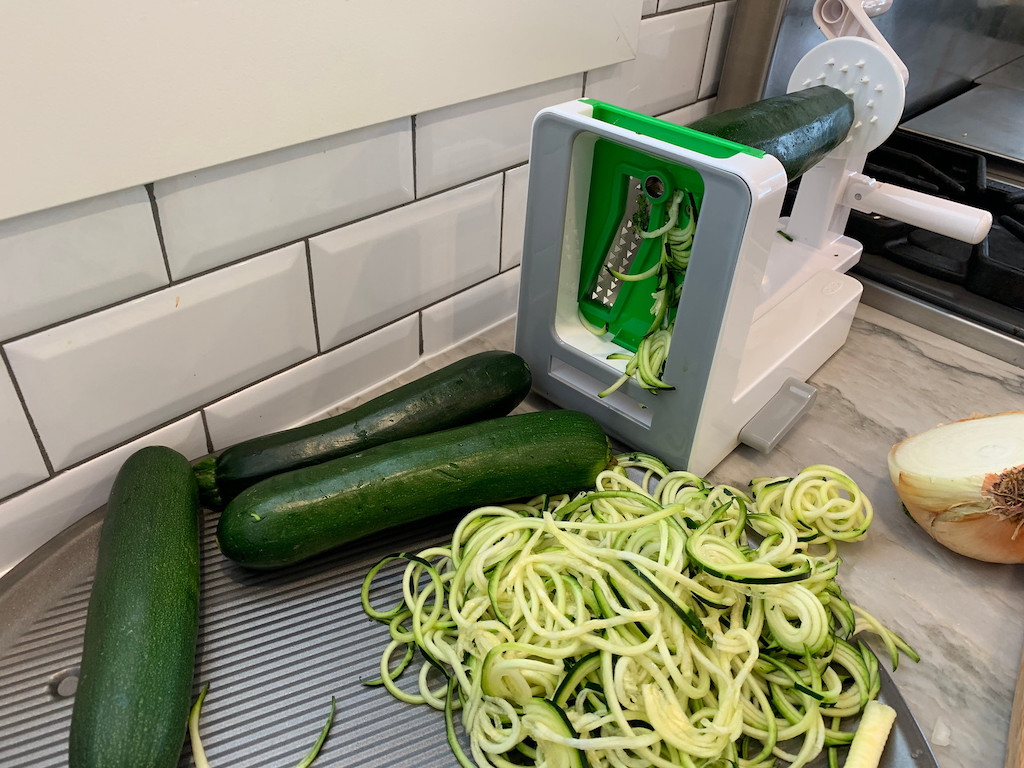 The shirataki noodles were a little too chewy and had a bit of a "slimy" texture to me, even after rinsing them, so those were out. I liked the zoodles, but they don't hold up very well to reheating, as they started to get too soft. And the spaghetti squash totally turned to mush when I added it to the soup and did not reheat well at all.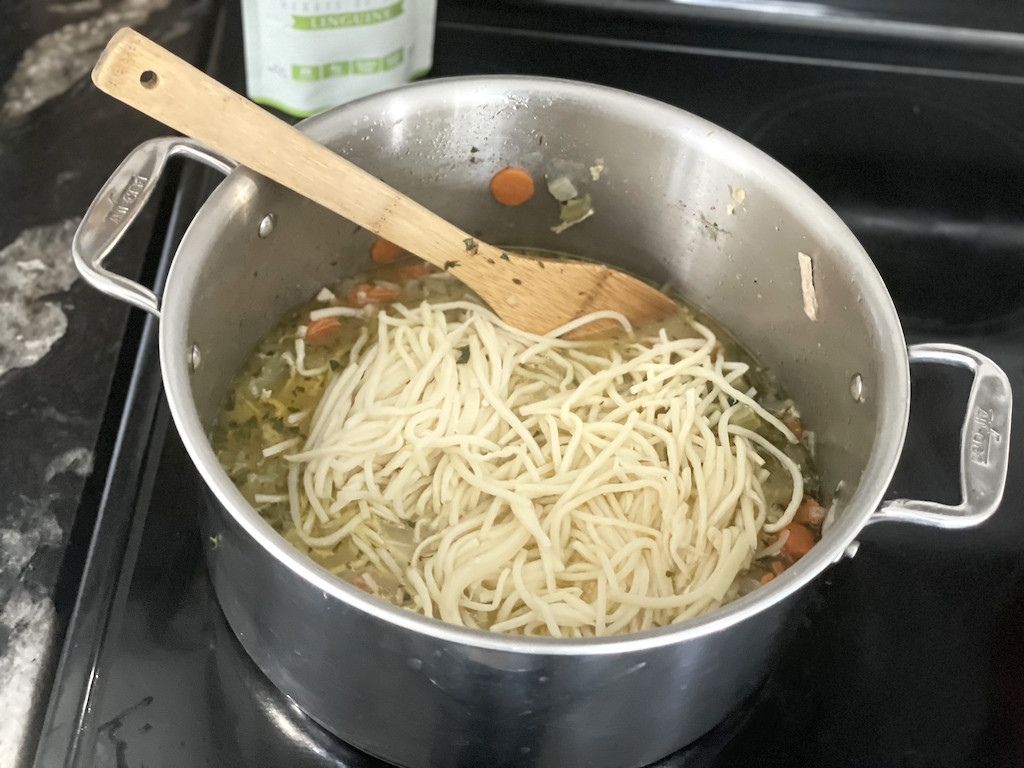 The Palmini Linguine noodles turned out the best! They reminded me the most of the noodles used in Campbell's Chicken Noodle Soup and held up well to reheating. My husband and teenager liked them the best as well!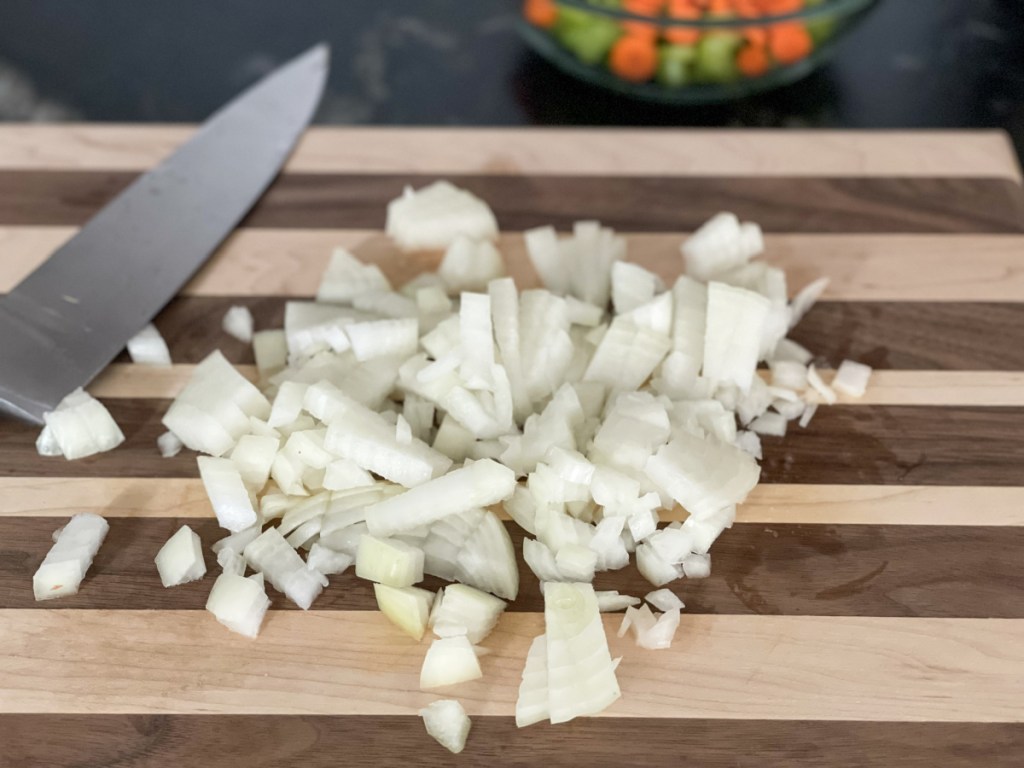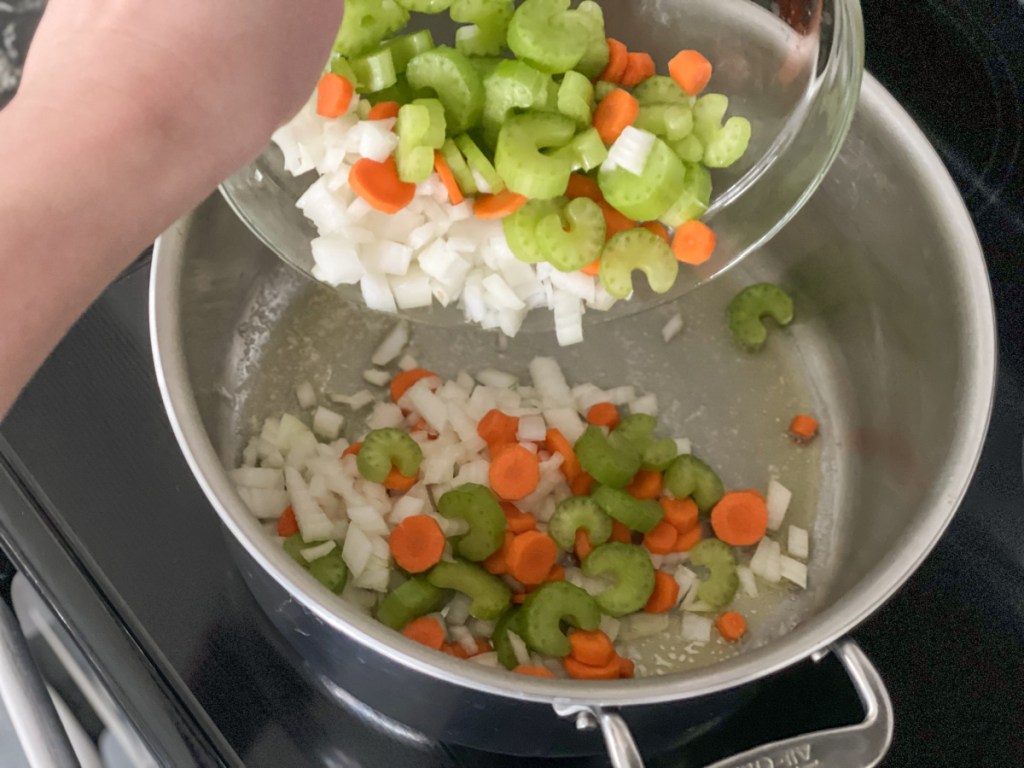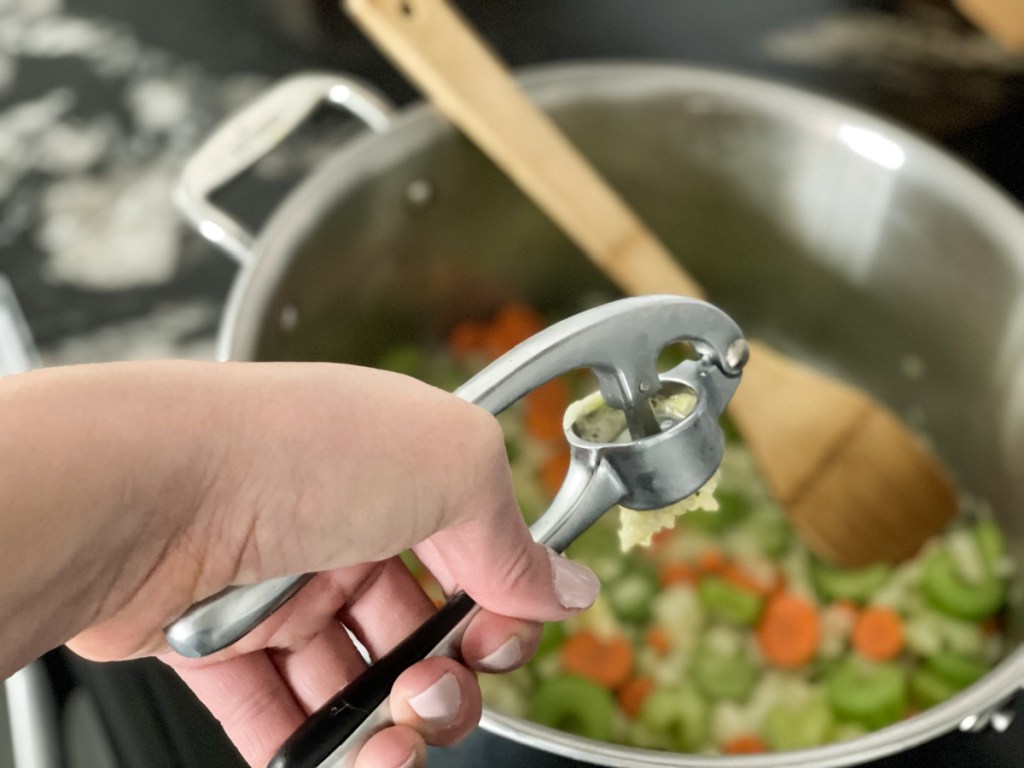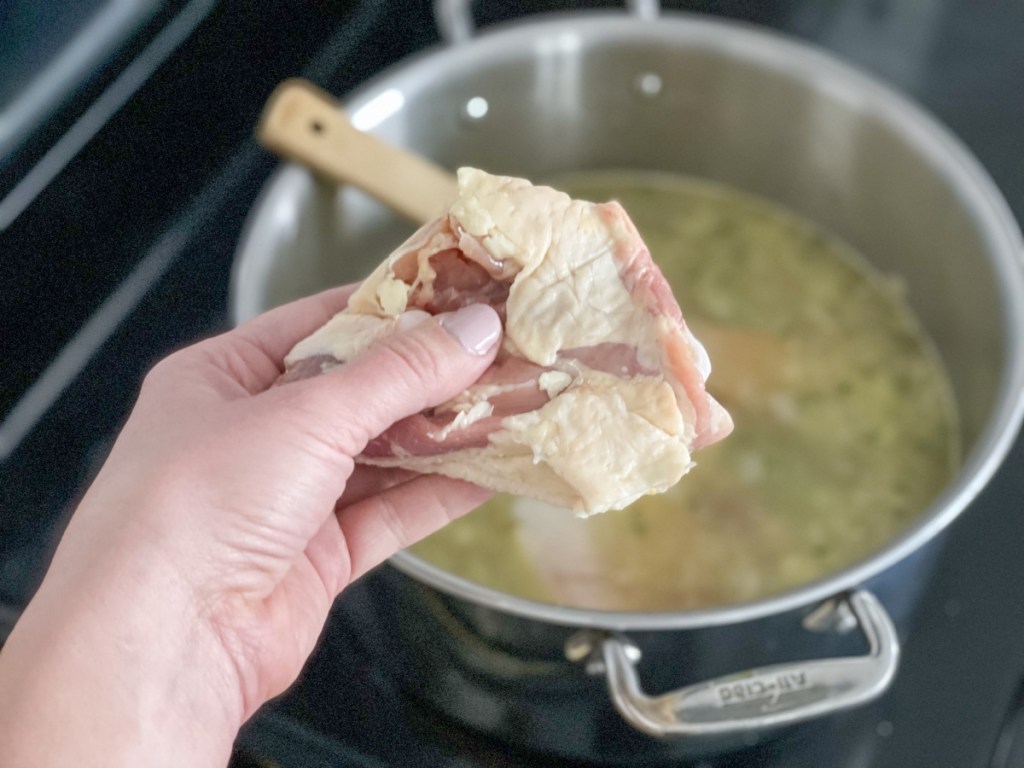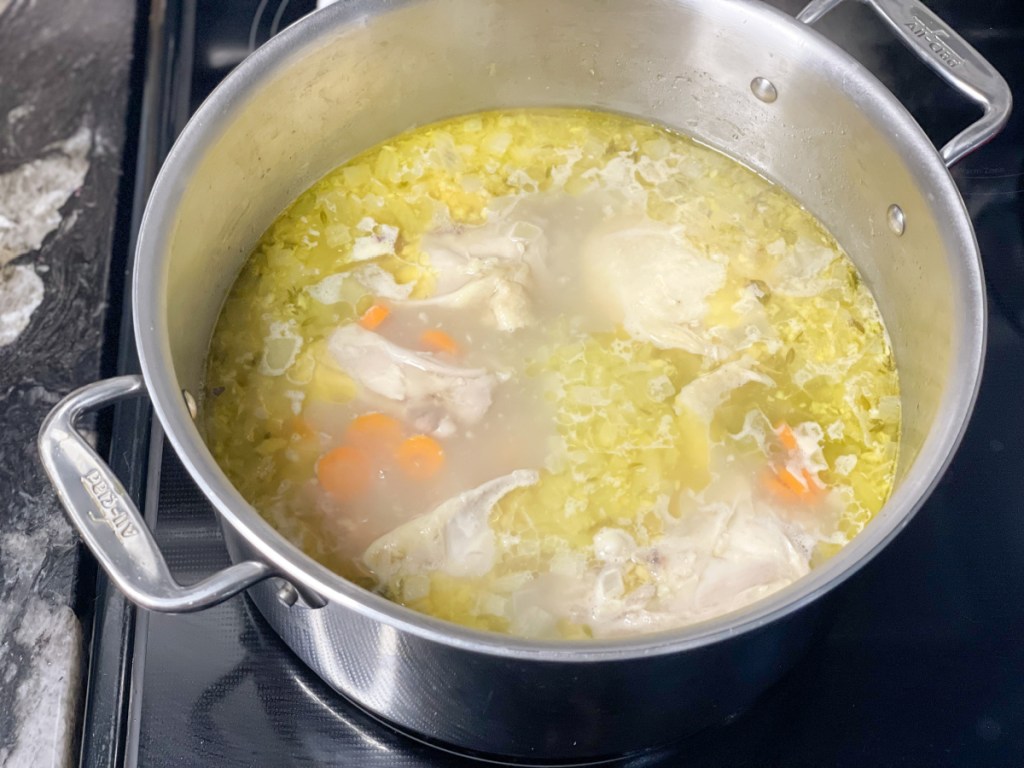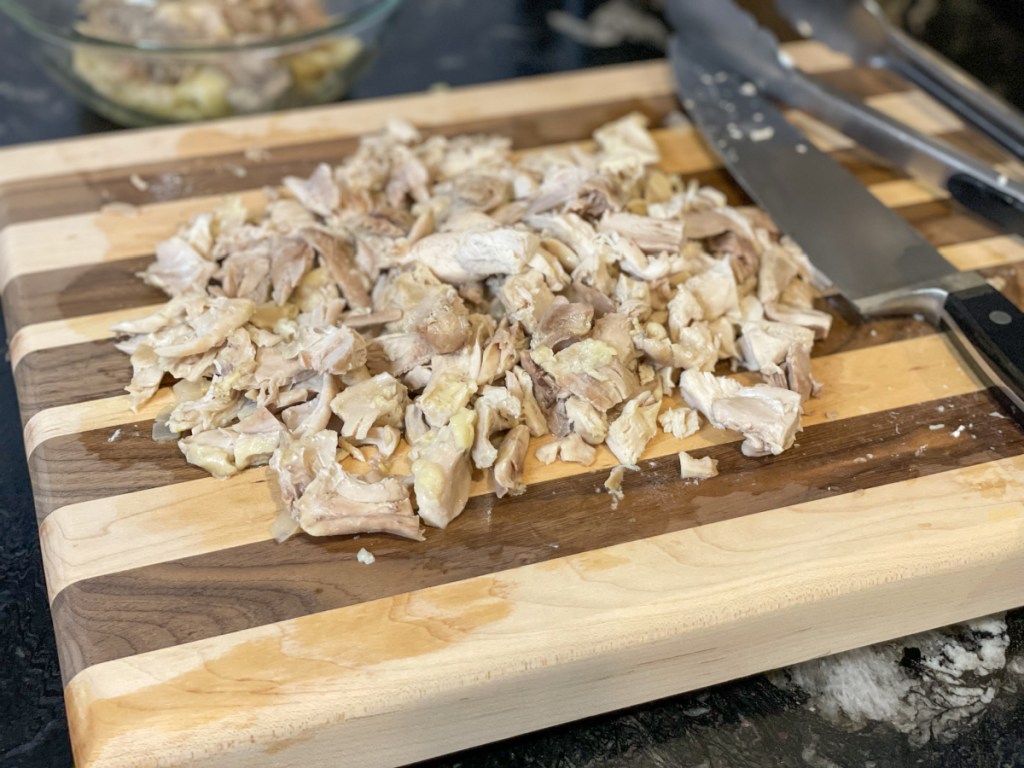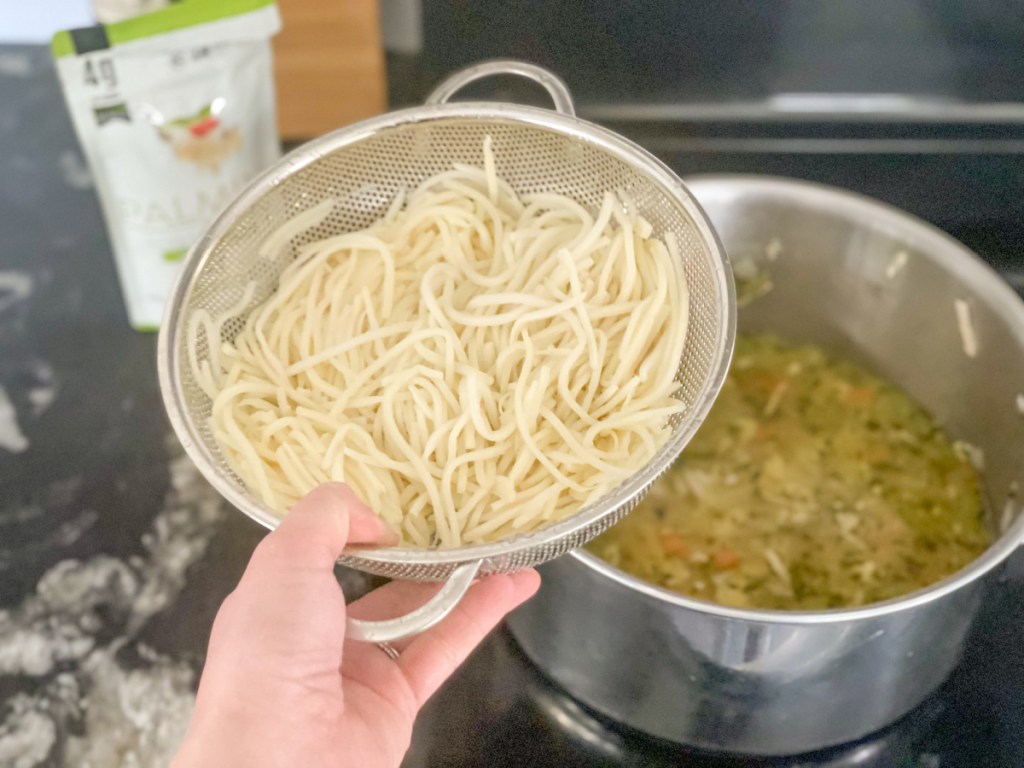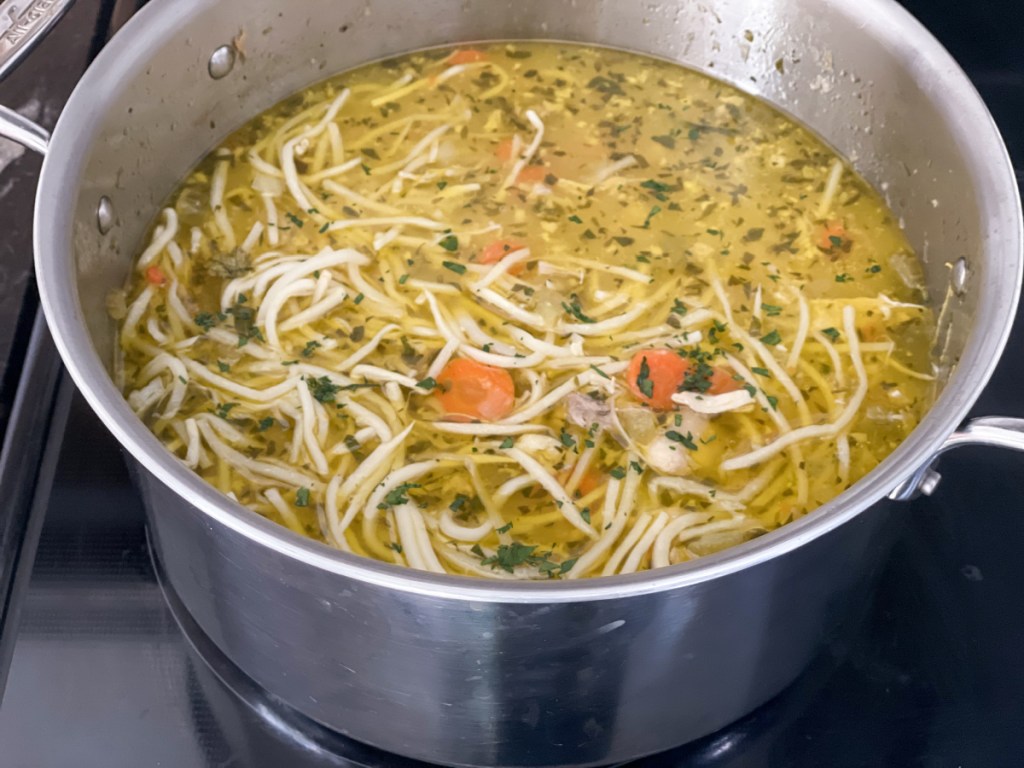 ---
Print
Keto Chicken Noodle Soup
yield: 8 SERVINGS
prep time: 10 MINUTES
cook time: 45 MINUTES
total time: 55 MINUTES
Classic chicken noodle soup made with onions, carrots, celery, garlic, chicken, and keto-approved noodles.
Ingredients
2 tablespoons salted butter
2 celery stalks, chopped
2 whole carrots, peeled and diced
1 medium onion, finely chopped
5 garlic cloves, minced
8 cups chicken broth
2 1/2 pounds chicken thighs, bone-in (skinless or skin on is okay)
3 thyme sprigs, stems removed
1/2 teaspoon salt
1/4 teaspoon pepper
Juice from 1 large lemon
2 tablespoons fresh parsley, finely chopped
Directions
1
Melt butter in a large stockpot over medium to medium-high heat. While butter is melting, chop vegetables.
2
Add celery, carrots, and onion to the stockpot and sauté until the onion starts to get soft, about 4 to 5 minutes. Then add in the garlic and sauté for another 2 to 3 minutes.
3
Add the chicken broth to the stockpot. Make sure to scrape up any vegetables that might have stuck to the bottom of the pan.
4
Add the chicken thighs to the stockpot. Remove thyme leaves from the stems and add to the stockpot. Add salt, pepper, lemon juice, and parsley to the stockpot.
5
Bring the soup to a boil (you may need to increase the heat to medium-high to high) and then reduce heat to medium-low and let simmer for 30 minutes.
6
After 30 minutes, remove the chicken from the pan and let cool a bit. If applicable, remove the skin from the chicken and then remove the bones. Chop the chicken into small pieces and then return it to the stockpot. Discard skin and bones or save for making your own bone broth.
7
Add the Palmini Linguine to the pot and simmer for 8 to 10 minutes. Once the "noodles" have been cooked, dish them up into bowls and enjoy!
Nutrition Information
Yield: 8 servings, Serving Size: 1 serving
Amount Per Serving: 429 Calories | 29.4g Fat | 8.9g Total Carbs | 3.1g Fiber | 1.5g Sugar | 30.1g Protein | 5.7g Net Carbs
---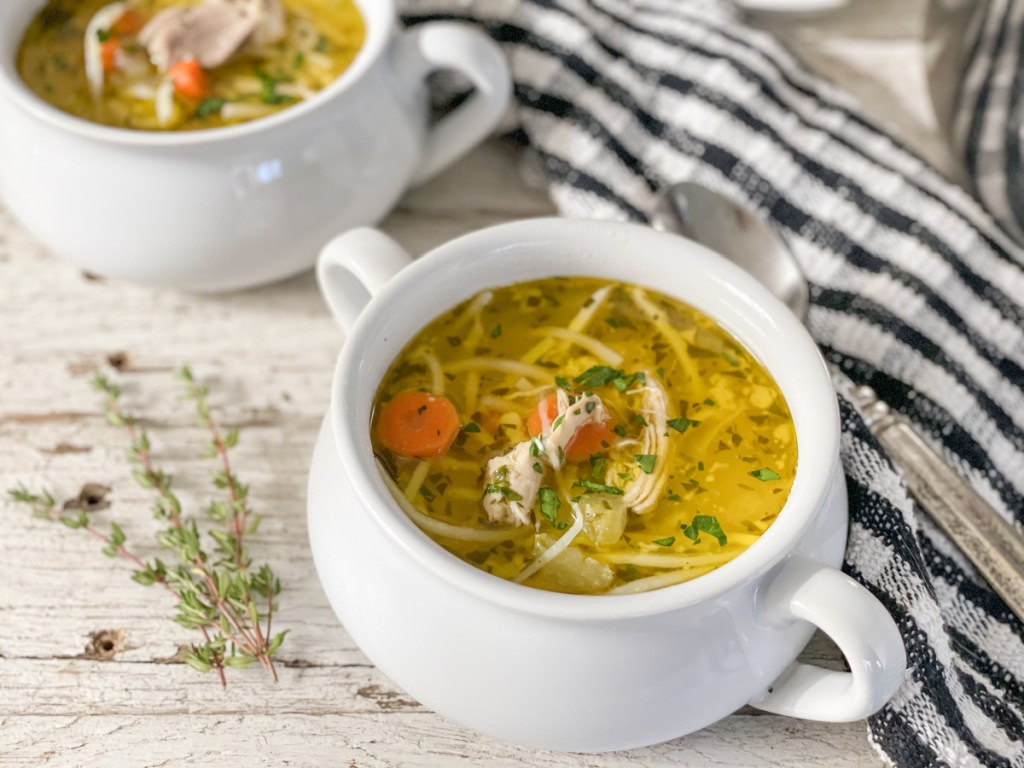 Tips for making the best keto chicken noodle soup:
My second choice for keto noodles was the zoodles. So if you can't find Palmini Noodles or don't want to pay for them, I recommend zoodles instead. Just be aware that they will start to get mushy if you reheat the soup. You could make the soup, split it in half, add zoodles from one zucchini, and then add fresh zoodles the next day when eating the leftovers. I tested fresh zoodles from two medium zucchinis.
I used bone-in, skin-on chicken thighs for this recipe. I found that buying chicken thighs in bulk this way is the most affordable option. If you're not a fan of chicken skin, know that it gets removed along with the bones after cooking, but the skin and bones add a lot of flavor to the broth. I actually saved the skin and meat scraps for my dog. 🐶
To keep this as traditional as possible, I opted to include some carrots in the recipe. While carrots aren't the lowest in carbs, adding them in moderation can add a wealth of flavor and minimal carbs. That said, you can always omit if preferred.
You can make this soup in advance up until you add in the lemon juice, parsley, and Palmini noodles. I tested this out too and it worked great! Put the soup in the fridge overnight and then the next day, heat it up and add the lemon juice, parsley, and noodles when ready to serve.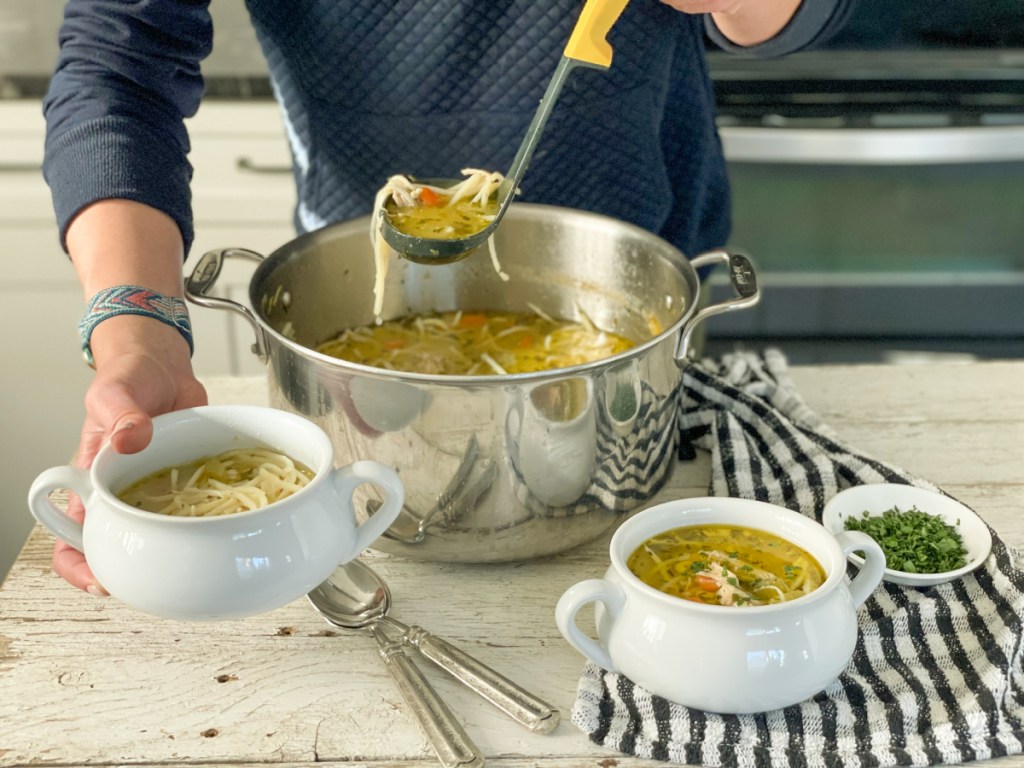 The healing power of soup.
I always remember having soup when I was sick as a kid. It was the only thing that sounded good and chicken noodle has forever been a go-to food for days you're feeling under the weather. I hope this keto chicken noodle soup brings you the same comforting feelings. Enjoy!
My Hip sidekick Jenna had this to say about this keto chicken noodle soup:
"Wow! This is so perfect and full of flavor. The kids got halfway through their bowls before they asked 'wait, are these even noodles?' The Palmini noodles are the perfect keto-friendly noodle replacement, and this soup is something the whole family will love! Plus, this soup reheats beautifully so you could even prepare this ahead of time. It's filling and hearty, and everything a chicken noodle soup should be!"
---
Looking for more soup inspiration? Check out our recipe for creamy keto cauliflower chowder!