This Easy Keto Burrito Recipe is Based on the Popular El Pollo Loco Order
It never hurts to have a great keto burrito recipe on hand.
Have you tried the Keto Burrito at El Pollo Loco?
This recipe is our take on El Pollo Loco's keto burrito and is filled with grilled chicken, lettuce, cabbage, sliced avocado, pico de Gallo, cotija, and a creamy cilantro sauce, all wrapped up in a keto tortilla.
It's always exciting to find keto menu items at restaurants. It makes living the keto lifestyle so much easier, especially if you're on the go all the time. El Pollo Loco says they have the world's first keto burrito and that it has 11 grams of net carbs, which isn't bad for a full meal.
Our easy keto burrito recipe is very similar to El Pollo Loco but with fewer carbs — only 7 grams of net carbs for this recipe!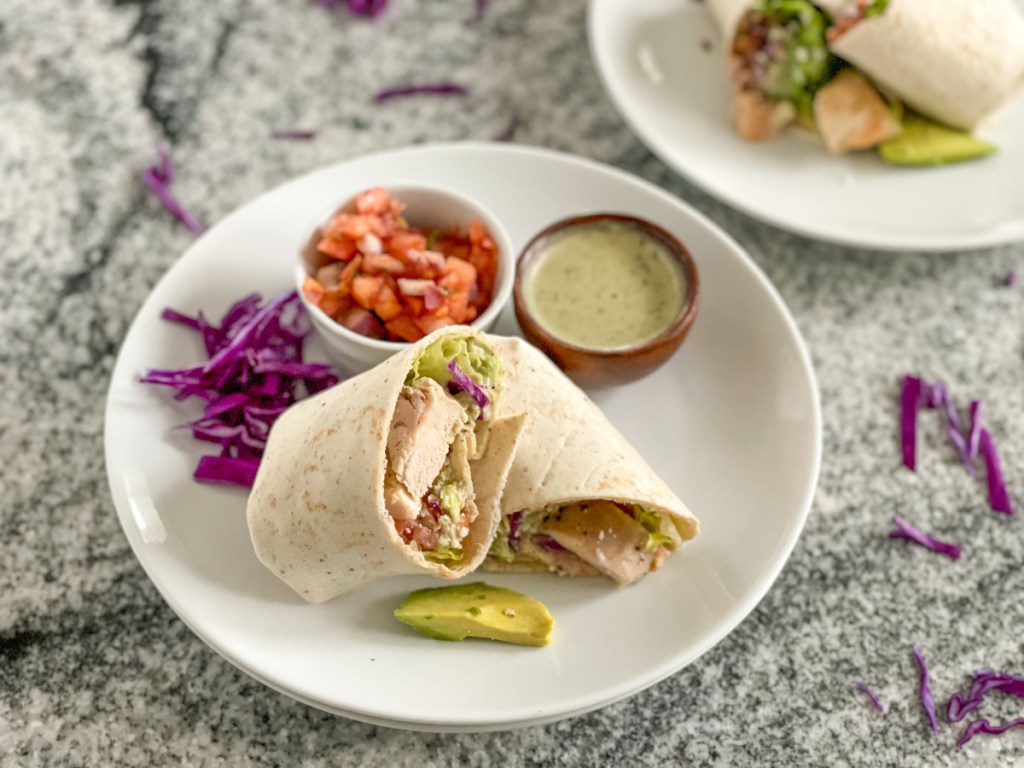 Are burritos keto?
Burritos typically are not keto. Most are made with regular flour tortillas and filled with beans and rice, all of which are high in carbs. For example, the regular burritos at El Pollo Loco have anywhere from 63 to 87 grams of carbs per burrito! 😱 That's crazy!
One of the main ways to make a burrito keto is to use a keto tortilla. And there are a lot of options when it comes to keto tortillas. I did a taste test of store-bought keto tortillas in this post. We're also big fans of Hero Tortillas as well and you can read that review here.
Don't forget about the fillings. You have to leave out the beans and rice to make a burrito keto. Fill it with meat, cheese, and veggies to keep the carbs as low as possible.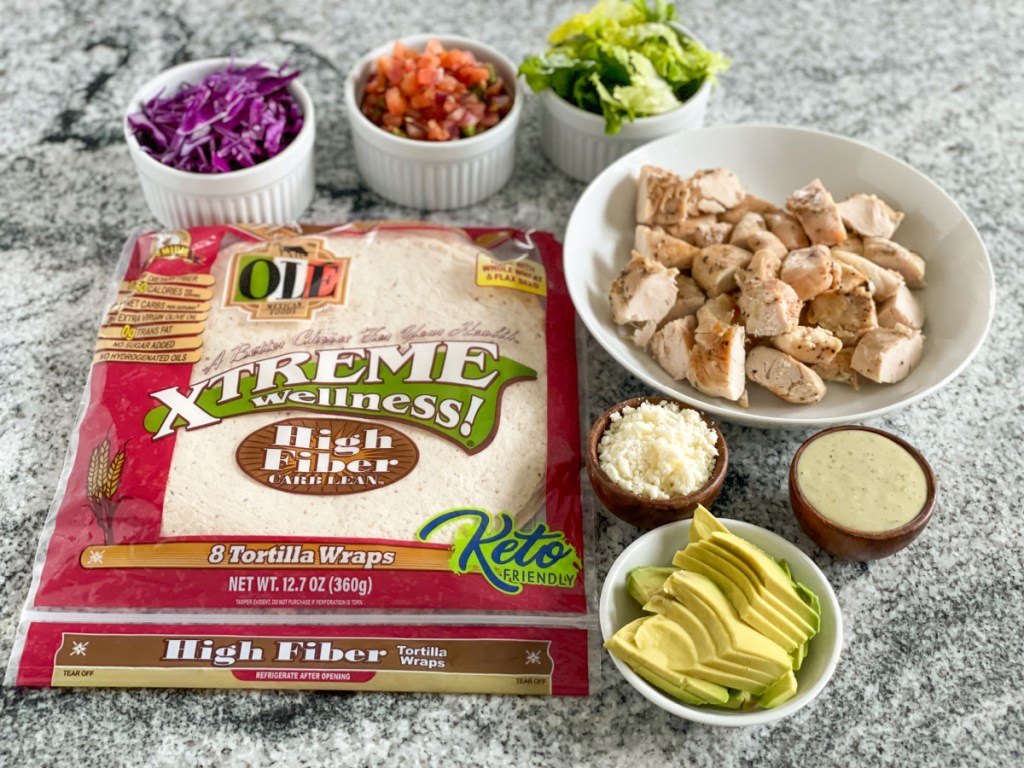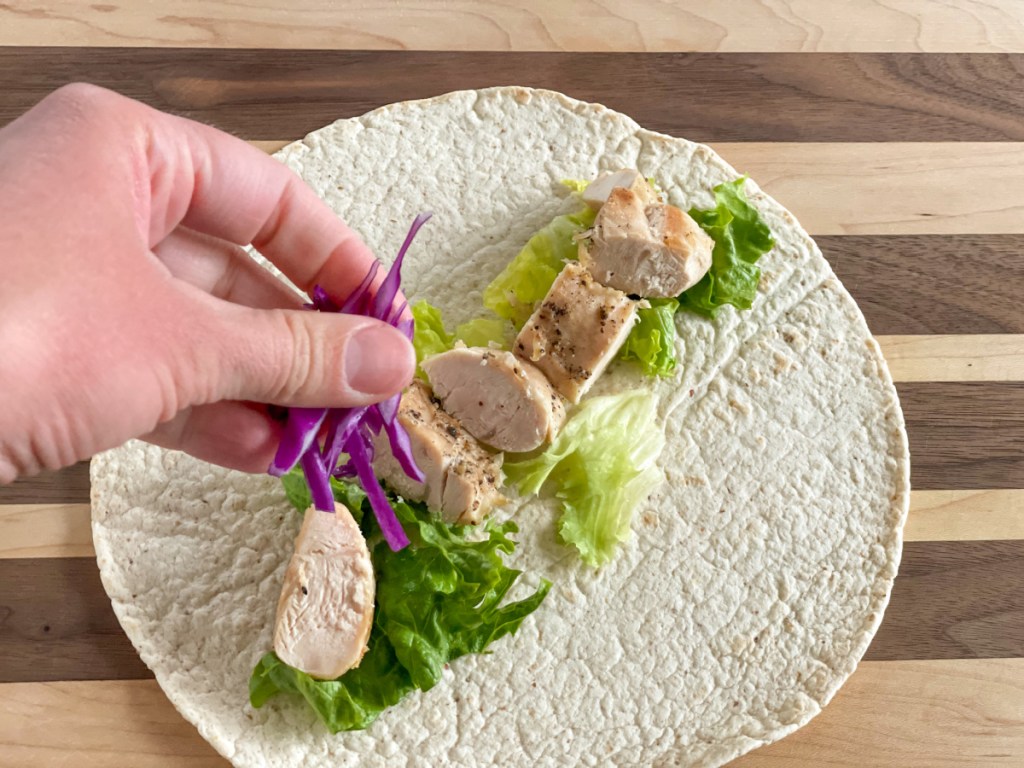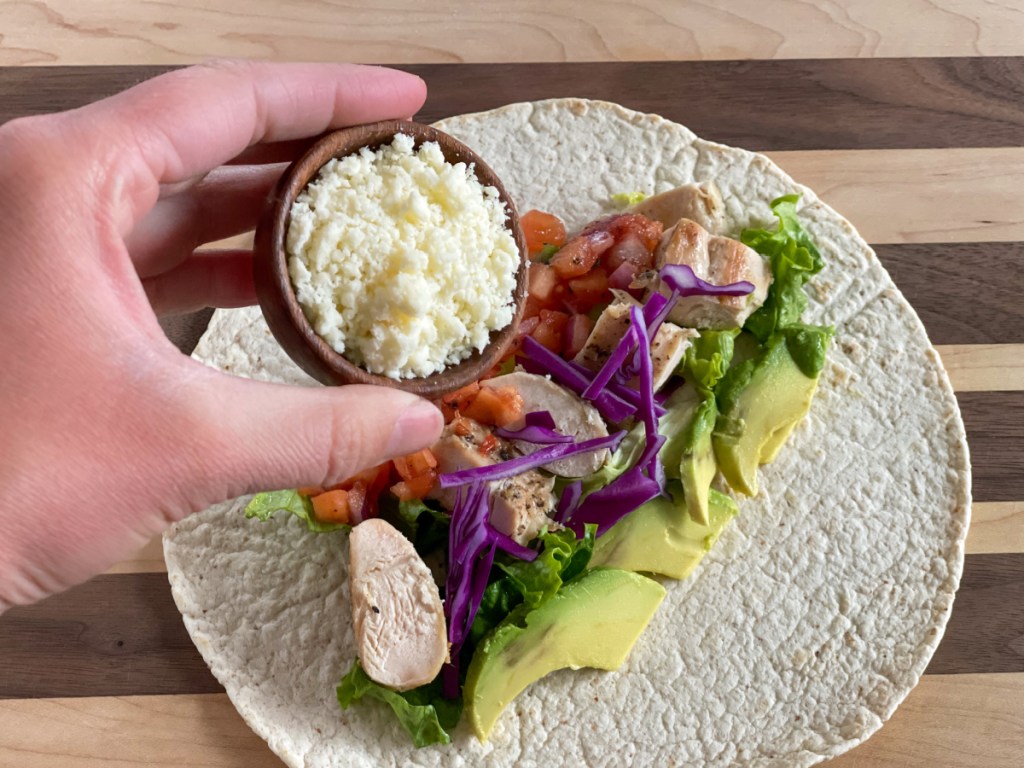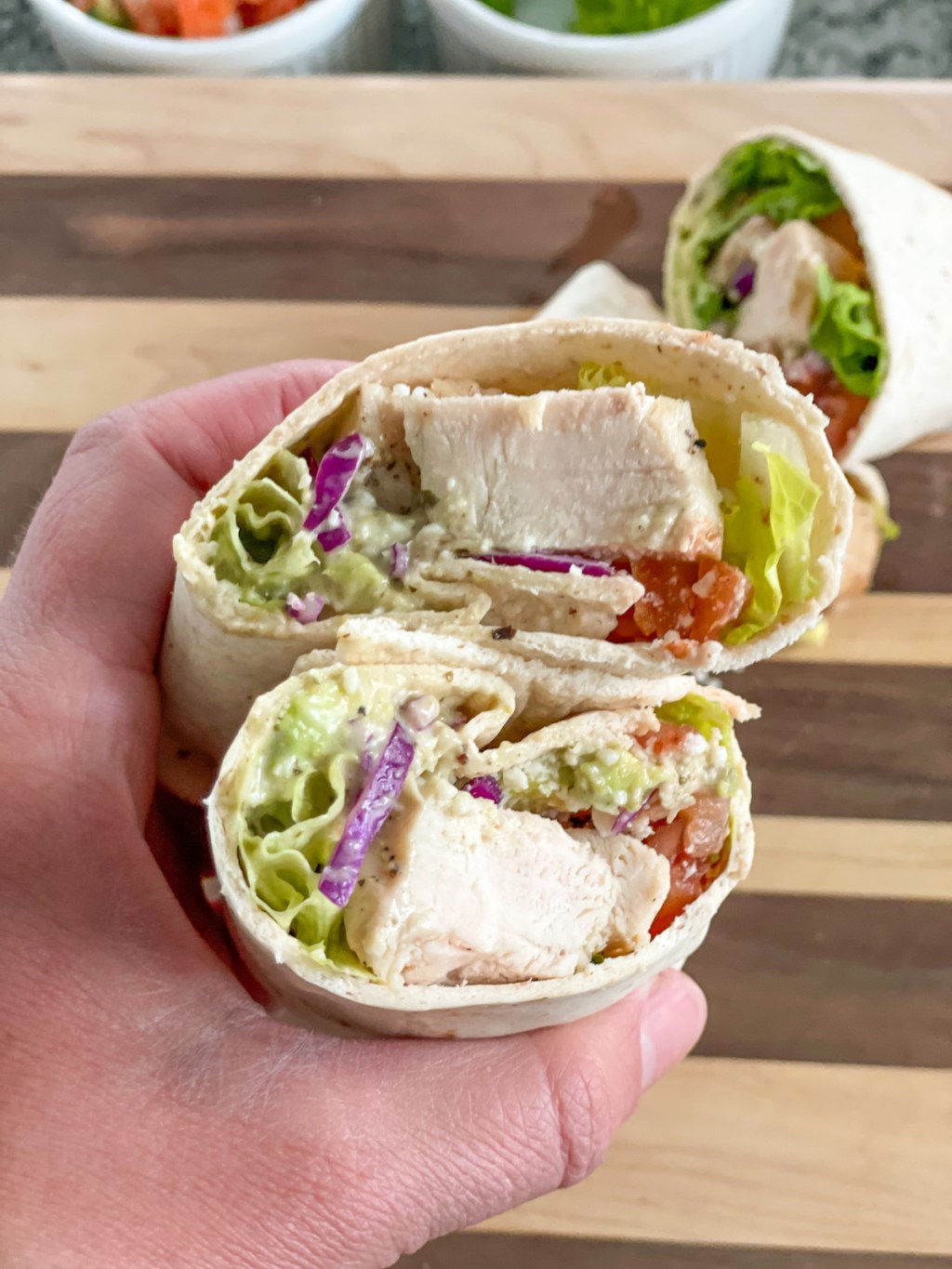 ---
Print
Easy Keto Burrito (El Pollo Loco Copycat Recipe)
yield: 4 SERVINGS
prep time: 15 MINUTES
total time: 15 MINUTES
Grilled chicken, lettuce, purple cabbage, avocado, pico de gallo, cotija cheese, and a creamy cilantro dressing wrapped in a keto burrito.
Ingredients
4 keto tortillas
1 cup chopped green leaf lettuce
1 pound of cooked chicken breast or strips, chopped into 1-inch pieces
1/2 cup shredded purple cabbage
1/2 cup pico de gallo
1 large avocado, sliced
1/2 cup cotija cheese, crumbled
1/2 cup creamy cilantro dressing
Directions
1
Place the keto tortillas on a counter or cutting board.
2
Top each tortilla with 1/4 cup green lettuce, 1/2 cup chopped chicken, 1/8 cup cabbage, 2 tablespoons pico de gallo, 1/4 of the avocado, 2 tablespoons of cotija, 2 tablespoons of creamy cilantro dressing.
3
To form into a burrito:
Fold the opposite ends of the tortilla over onto the filling ingredients and then fold up the bottom of the tortilla, rolling the tortilla as you go and tucking in the ends you've already folded in.
4
Cut in half before serving if desired. Enjoy!
Nutrition Information
Yield: 4 burritos, Serving Size: 1 burrito
Amount Per Serving: 509 Calories | 29.4g Fat | 20.5g Total Carbs | 13.6g Fiber | 1.4g Sugar | 47.8g Protein | 6.9g Net Carbs
---
Tips for making the best keto burrito:
If you can find a premade creamy cilantro dressing, go for it to save on time! Just check the carbs and ingredients to make sure it doesn't have a lot of sugar. If you want to make your own, this keto cilantro sauce recipe is one I would use or you could modify our homemade keto ranch and add in cilantro, avocado, jalapeño, and cumin.
These are best eaten fresh, right after you assemble them.
Pre-cook the chicken to save on time when you're ready to assemble and eat!
This easy keto burrito will make your day!
I was really impressed with how delicious this burrito turn out! I ate it for dinner two nights in a row and can definitely see it becoming a regular part of my meal rotation. Let us know what you think and if you've tried the El Pollo Loco Keto Burrito!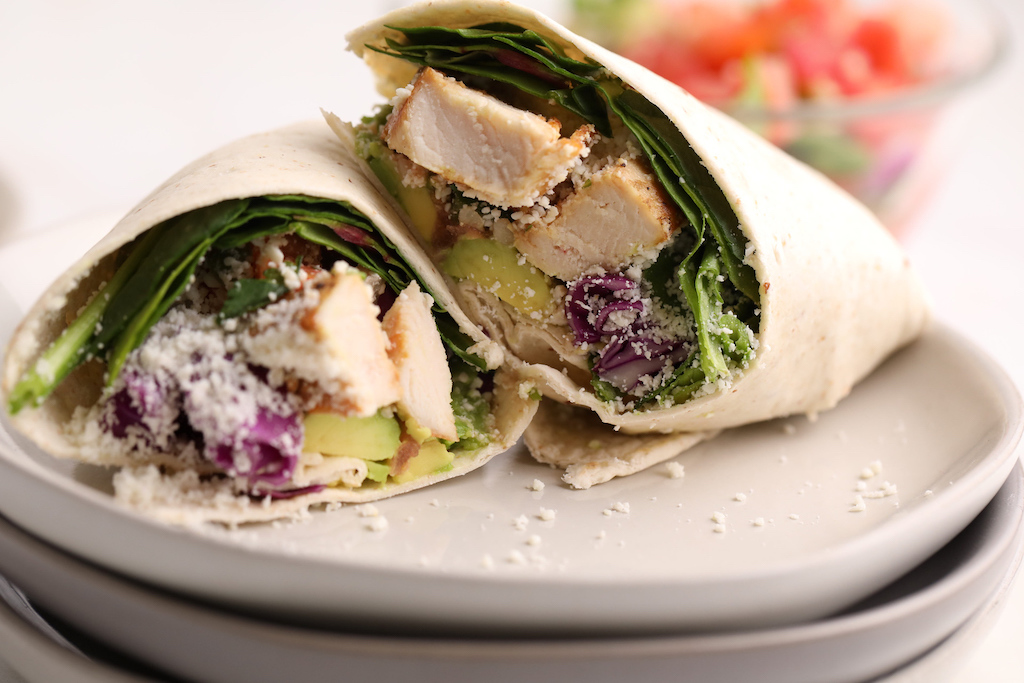 Here's what my Hip sidekick Jenna thought of this easy keto burrito:
"So flavorful and so unbelievably keto! I love that there was little prep thanks to using store boughten pico de gallo and using a flavorful cilantro sauce! I made these for lunch and we all enjoyed them a lot. They are so fresh and so easy to put together! You could even make these ahead of time (like I did for lunch tomorrow!). Two thumbs way up!"
---
Looking for more keto Mexican recipes? Check out our popular Keto Taco Soup recipe!