This Keto Bulletproof Chocolate Shake is Dairy Free & Has a Secret Ingredient
Have a chocolate craving?
What if I told ya that you can make an insanely rich and creamy thick keto bulletproof chocolate shake for breakfast (or any time of the day) that's both low carb and dairy-free?! Yep, this chocolate shake hits all those check marks, but, more importantly, it tastes sinfully delish. Plus, if you're trying to get in your healthy fat intake, this is a yummy way to accomplish that!
When you hear the secret ingredient that makes it so creamy, don't stop reading!
I blended this shake using half an avocado! Yep. The combination of avocado and full-fat canned coconut milk makes this milkshake creamy dreamy, filling, and energy-boosting to keep ya going throughout the day! Also, since we're such big fans of Dave Asprey, and his popular bulletproof coffee, I added some brain power boosting MCT oil to the shake as well.
MCT (Medium Chain Triglyceride) Oil and Coconut Oil are very similar, however, MCT oil is more concentrated. For instance, coconut oil is 55% MCTs, while MCT oil is 100% of MCTs. Just be careful with MCT oil and start with a teaspoon at a time, as some people find it upsets their stomach at first.
I'm using Swerve granular as a sweetener here, and it turned out yummy. I'd encourage you to use your favorite sweetener, and add more or less according to taste. Cocoa powder can be a tad bitter, so the best way is to taste a little after blending.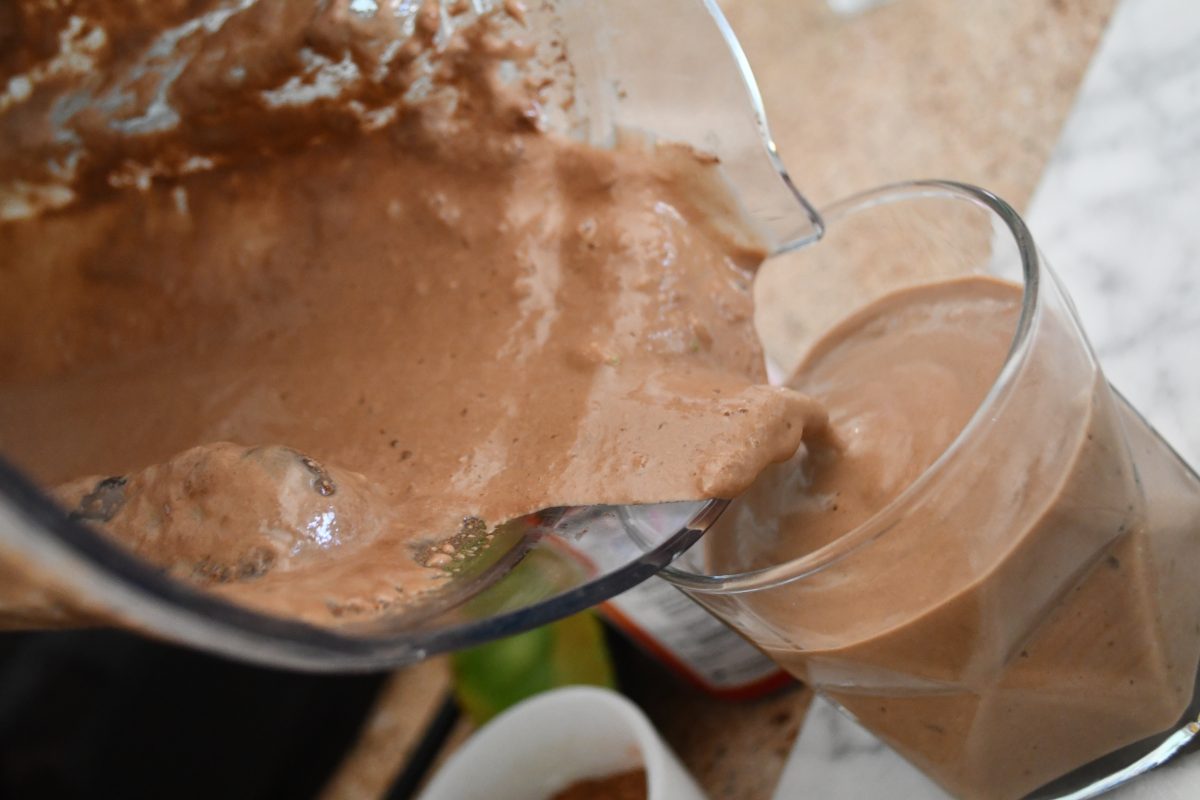 Whip it up and pour it in a glass to enjoy!
This idea could not be easier! It's simple throwing ingredients in a blender and blending them with ice cubes. In just a minute or so, you'll end up with a perfectly chilled chocolate shake to enjoy. I love that the texture is NOT oily at all with the MCT oil, but it's super fluffy and thick.
---
Print
BulletProof Keto Chocolate Milkshake
yield: 1 SERVINGS
prep time: 10 MINUTES
total time: 10 MINUTES
A non-dairy creamy chocolate shake that is over the top chocolatey delicious.
Ingredients
1/3 cup unsweetend coconut milk
1/2 a medium avocado
1 tablespoon unsweetened cocoa powder
1/2 teaspoon vanilla extract
1 teaspoon MCT oil
2 tablespoons Swerve granulated (or sweetened to taste)
8 ice cubes
1-2 tablespoons of water
Directions
1
Place all ingredients except ice and water in blender. Pulse until well combined, about 20 seconds.
2
Add ice, and blend for a minute or so until frothy and smooth. If it's too thick, add 1-2 tablespoons water until desired thickness, and blend. Serve right away.
Nutrition Information
Yield: 1 shake, Serving Size: 8 oz.
Amount Per Serving: 206 Calories | 19g Fat | 34g Total Carbs | 6g Fiber | 24g Sugar Alcohol | 2g Protein | 4g Net Carbs
---
Don't be alarmed by the high total carb count!
Fiber and erythritol (the main ingredient in Swerve) do not affect blood sugar in the same way that regular carbs do, so we've subtracted them from the total carb count. You'll see that the net carbs are 4g, which is much lower once you remove the sugar alcohols and fiber.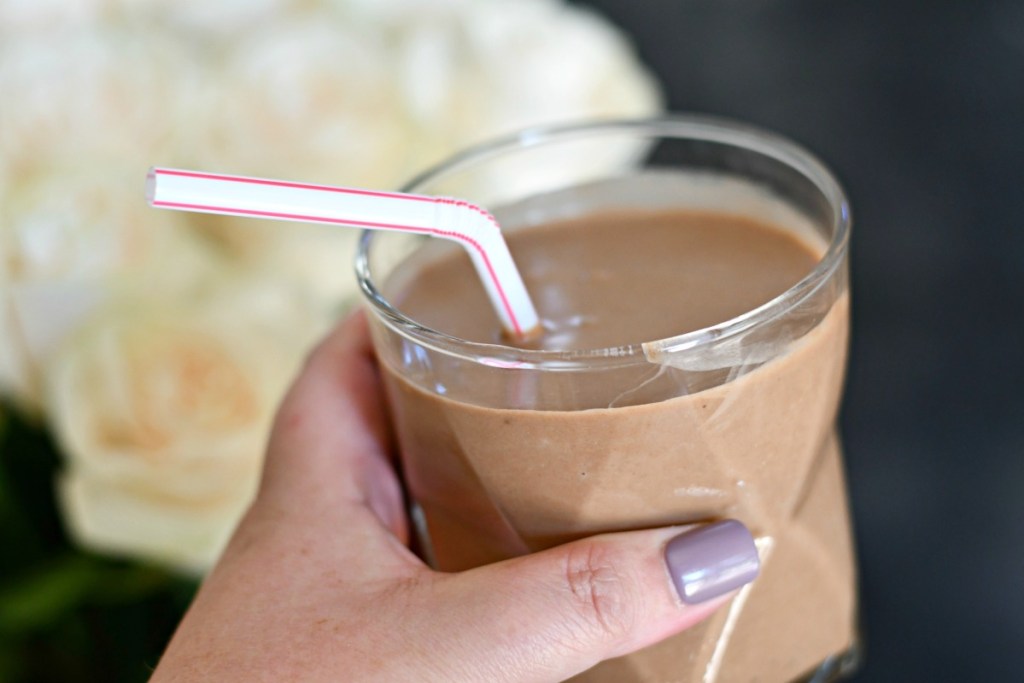 Um…hello…This is so good!
I have to say I was intrigued and skeptical of how great a bulletproof chocolate milkshake would taste. This actually goes above and beyond my expectations, and I know you'll love this, too! The taste and thick texture are super satisfying, especially if you love dark chocolate. Plus, coconut milk is so YUMMY in this shake. I can't wait to have some of the leftovers from the remaining milk in my coffee tomorrow!
---
Make this McDonald's Low-Carb Shamrock Shake Copycat Recipe!