Roasted Everything Bagel Pumpkin Seeds | Fall Keto Snack Recipe
Enjoy all the garlic, onion, and salty flavors of this savory seasoning in our roasted everything bagel pumpkin seeds recipe!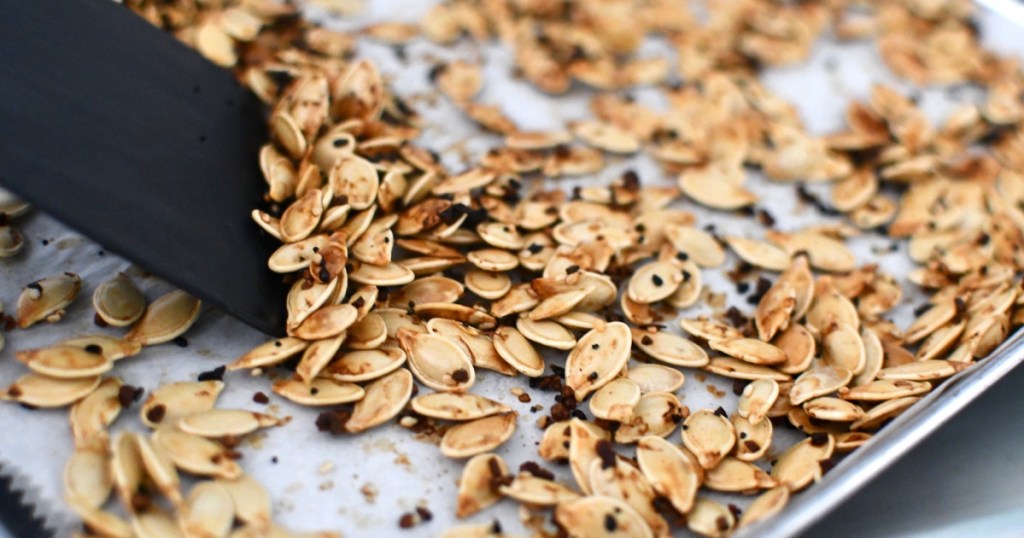 Love pumpkin seeds as a keto snack?
If you'll be carving pumpkins this year, make sure to save those pumpkin seeds so you can roast them later for a tasty low-carb snack! Pumpkin seed roasting is such a fun and easy tradition to do with the family and you'll love the result.
This version of roasted pumpkin seeds uses the popular Everything But the Bagel Seasoning which adds the perfect amount of salt, garlic, and onion flavor to the seeds. The nice thing about this seasoning is that you can now find it at most stores including Trader Joe's, Target, ALDI, Walmart, and more. Or make it yourself using our homemade recipe.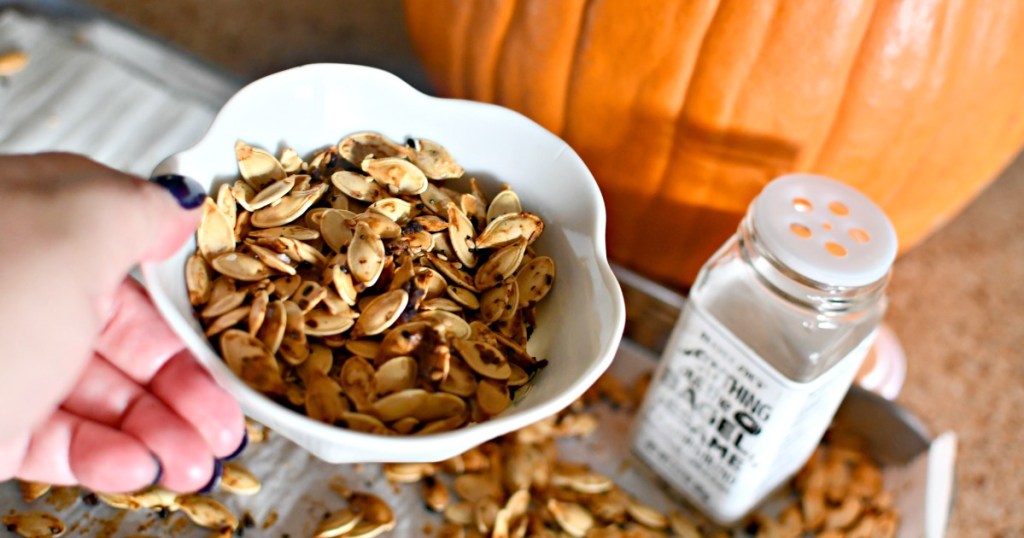 Everything bagel pumpkin seeds will be your new fall go-to snack.
Did you know that pumpkin seeds have some nice health benefits? They are high in magnesium, potassium, calcium, and other nutrients that can benefit heart health, bones, and more!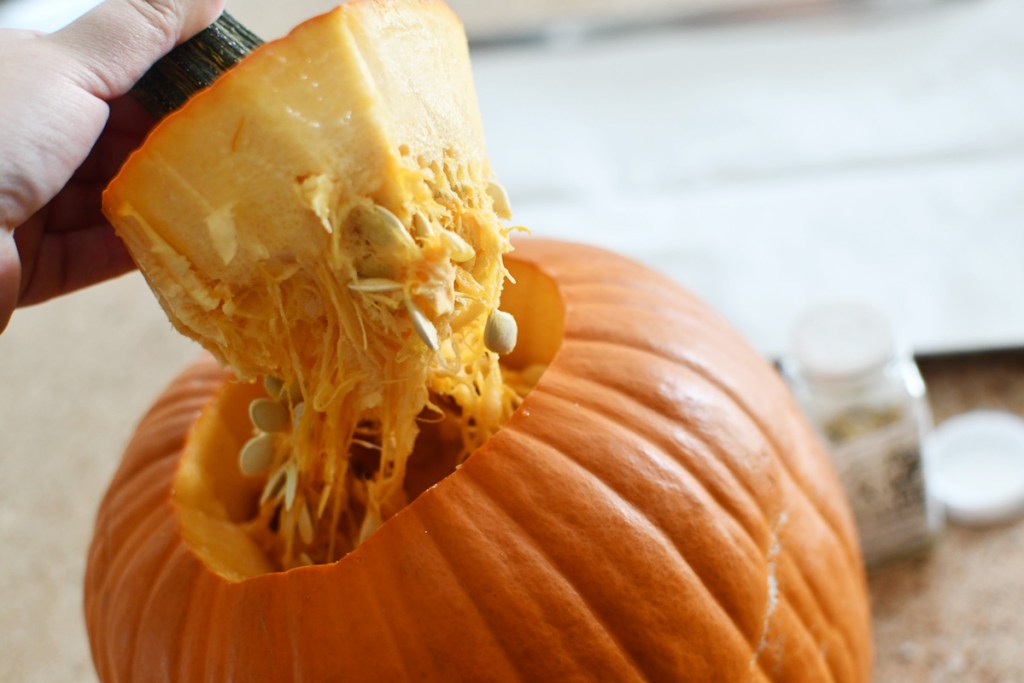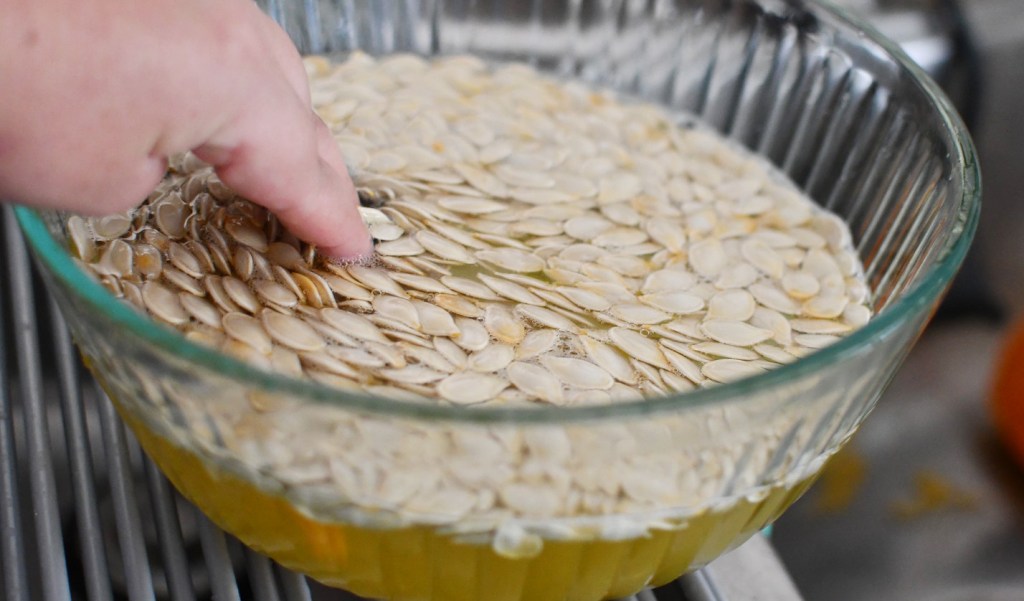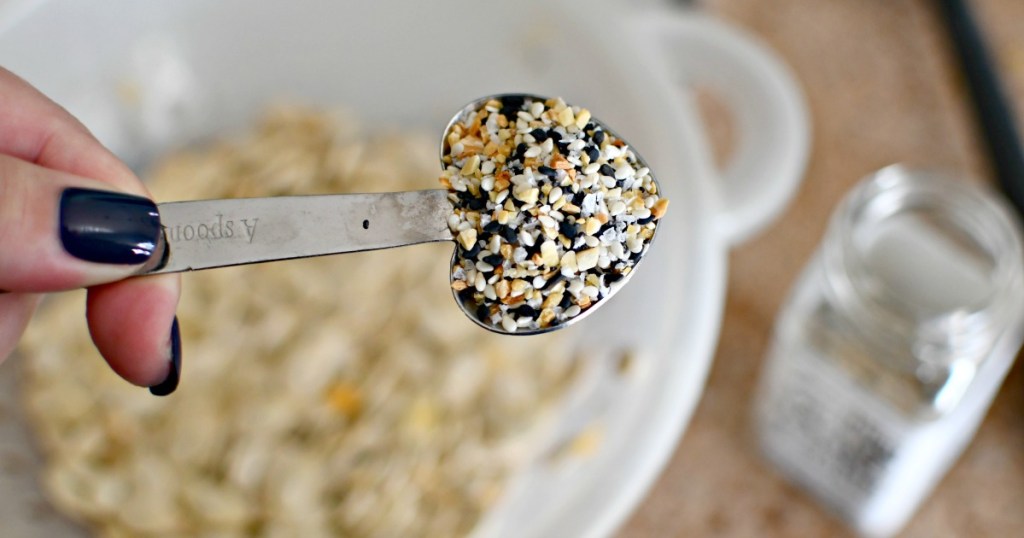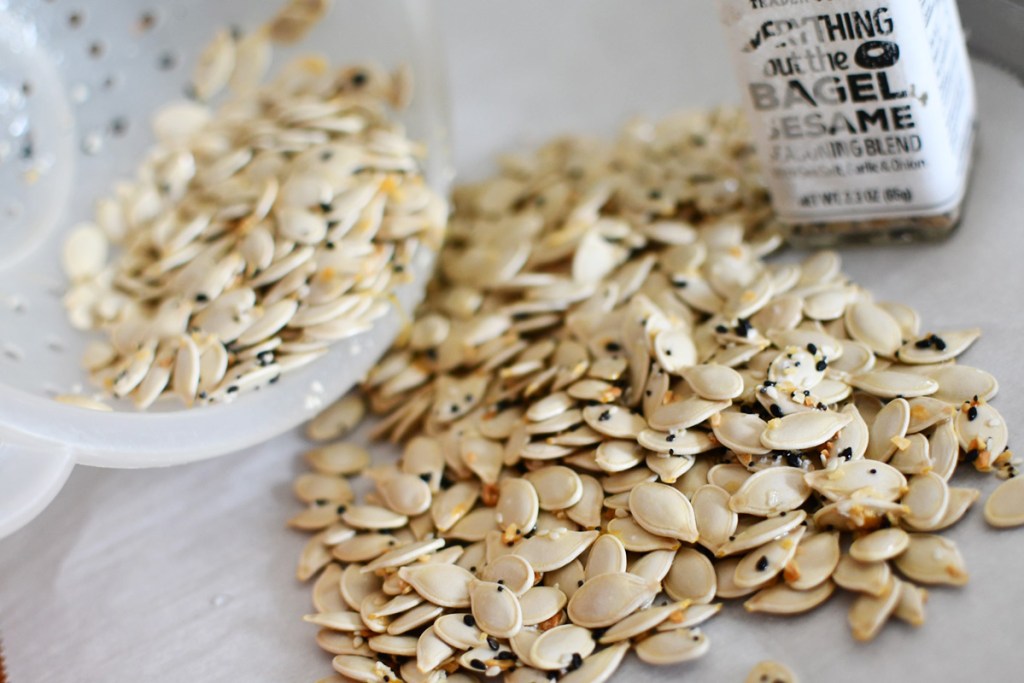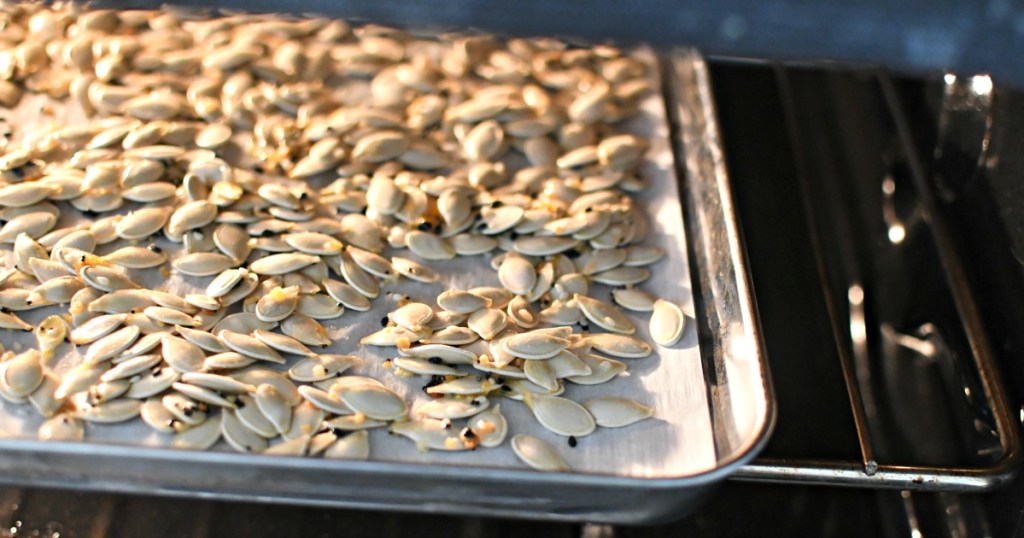 ---
Print
Roasted Everything Bagel Pumpkin Seeds
yield: 6 SERVINGS
prep time: 10 MINUTES
cook time: 35 MINUTES
total time: 45 MINUTES
Enjoy all the garlic, onion, and salty flavors of an everything bagel on roasted pumpkin seeds!
Ingredients
1 1/2 cups raw pumpkin seeds
1 teaspoon olive oil
Directions
1
Preheat the oven to 350 degrees. Prepare a baking sheet with parchment paper.
2
Remove the seeds from the inside of the pumpkin. Check out the tips above to learn an easy way to remove and clean pumpkin seeds.
3
Toss the seeds with olive oil and season them with Everything But the Bagel seasoning. Place all the seeds on a baking sheet pan in one layer.
4
Bake for 35-45 minutes until the seeds are cooked and browned. Halfway through baking, use a spatula to turn the seeds over so they'll roast evenly. Enjoy!
Nutrition Information
Yield: 1 1/2 cups, Serving Size: 1/4 cup
Amount Per Serving: 103 Calories | 8.6g Fat | 2.4g Total Carbs | 1g Fiber | 0.2g Sugar | 4.8g Protein | 1.4g Net Carbs
---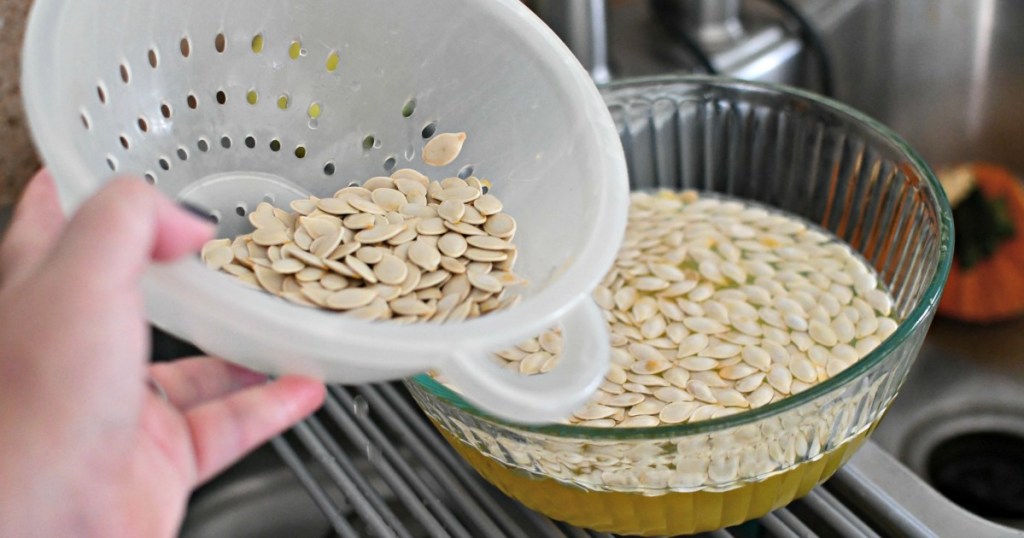 Hip Tips for making Everything Bagel keto pumpkin seeds:
Looking for a pumpkin with lots of seeds? Try tapping on the pumpkin to hear if it has a hollow sound. A larger empty space in the pumpkin could potentially have more seeds.
Separating the pulp from the seeds is easy using this strategy: Transfer the seeds from the inside of the pumpkin into a large bowl of water. Run your fingers through the water a few times, and the pulp will go to the bottom, while the seeds will float. Scoop out the seeds with a large spoon into a colander and continue with the recipe.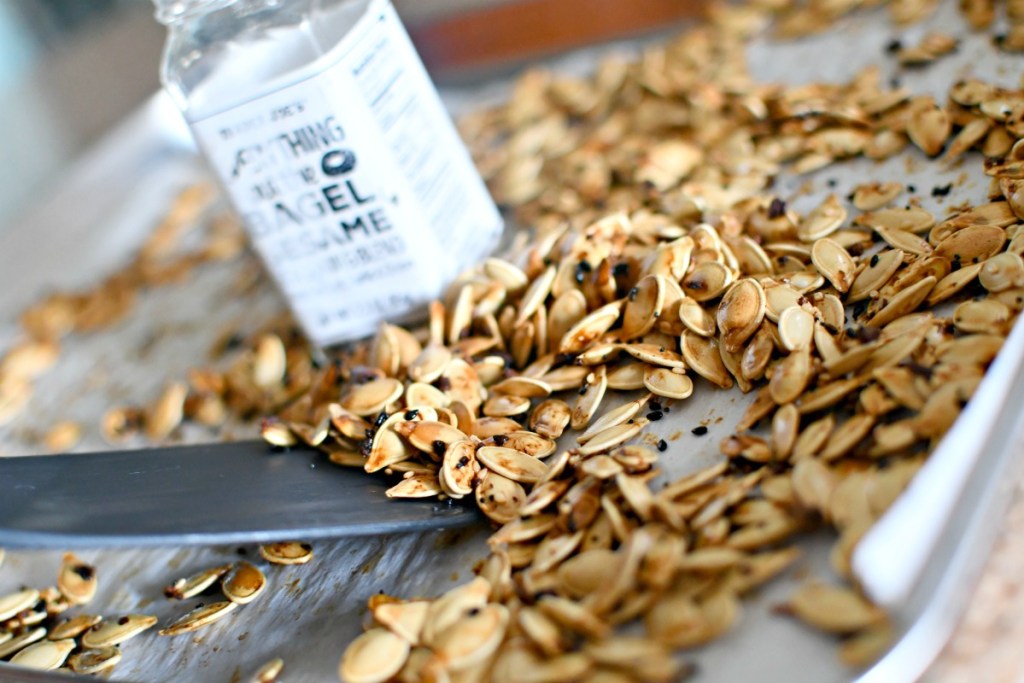 These pumpkin seeds are truly EVERYTHING and more!
They are the most flavorful seeds I've ever roasted, and definitely my favorite. Everything bagel pumpkin seeds are such a tasty homemade snack with the perfect amount of salty, garlic-y flavor that I am sure you'll love too.
Try it out and let us know what you think in the comments!
---
Try this Everything But The Bagel Seasoning Cheese ball appetizer next!