Cowboy Butter Will Be Your Steak's New Best Friend
This tasty cowboy butter flavored with garlic, shallots, lemon, and fresh herbs goes on everything.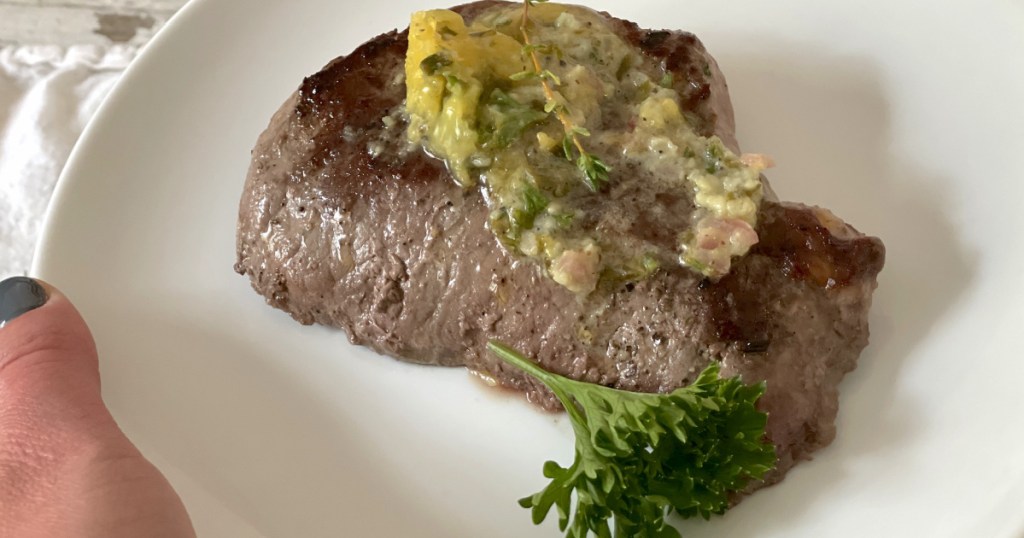 Say hello to steak's best friend – Cowboy Butter!
Have you ever had a fancy, flavored butter served on top of meat, veggies, or anything else that called for a little extra flavor love? It elevates the dish to the next level! Steak is already pretty amazing, but come on…butter on a beautifully marbled ribeye? Yes please!
There are a lot of options when it comes to flavored butter. I've seen everything from basil to oregano to blue cheese to garlic flavored butter. But cowboy butter takes flavored butter to another level. It's packed with a whole plethora of mouth-watering seasonings.
This stuff is amazing!
Our keto cowboy butter is seasoned with garlic, shallots, lemon zest, lemon juice, fresh thyme, fresh parsley, fresh chives, salt, and pepper. Personally, I love the tart, freshness from the lemon, and of course the garlic. Garlic makes everything better. 🧄
To make this, you simply melt butter, add all the seasonings, and let it simmer on low for about five minutes or so to really infuse the flavors together. Then you put the butter in the fridge to let it solidify so you can slather it on everything.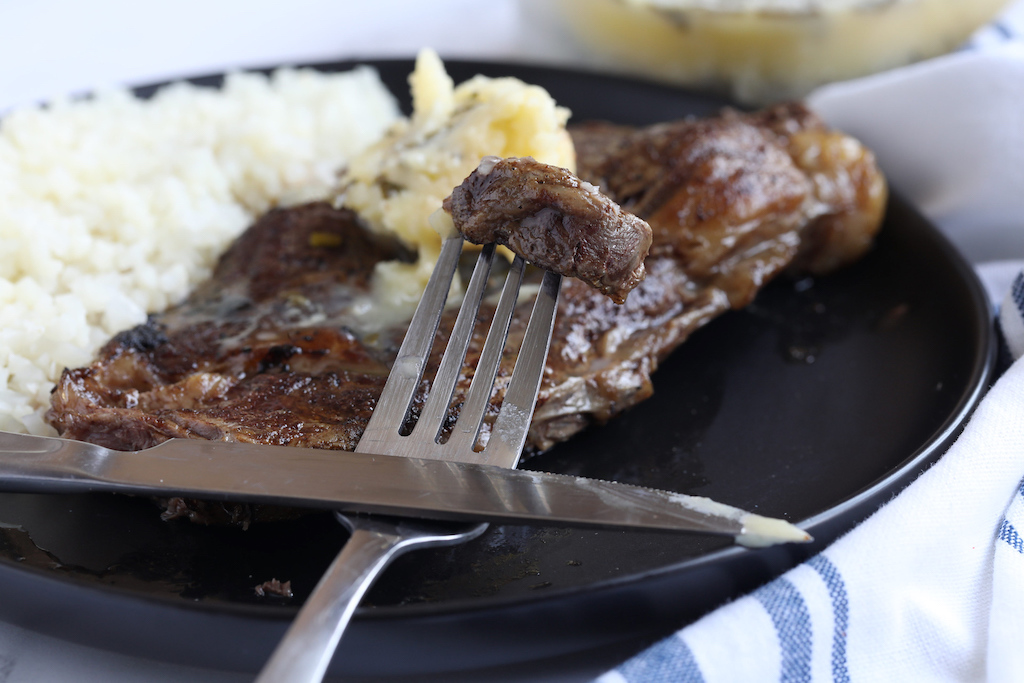 Tips for making the most amazing Cowboy Butter:
You can increase the garlic to 6 cloves if you can't find shallots or prefer to make this without.
Fresh herbs will taste better but you can use dried if that's what you have on hand. The ratio of fresh to dry herbs is 3:1, so 1 tablespoon of fresh thyme is equivalent to 1 teaspoon of dried thyme.
Don't skip the lemon zest and lemon juice! It's a key flavor component.
You can use the cowboy butter on steak, chicken, fish, pork, shrimp, or vegetables — it's so tasty and versatile!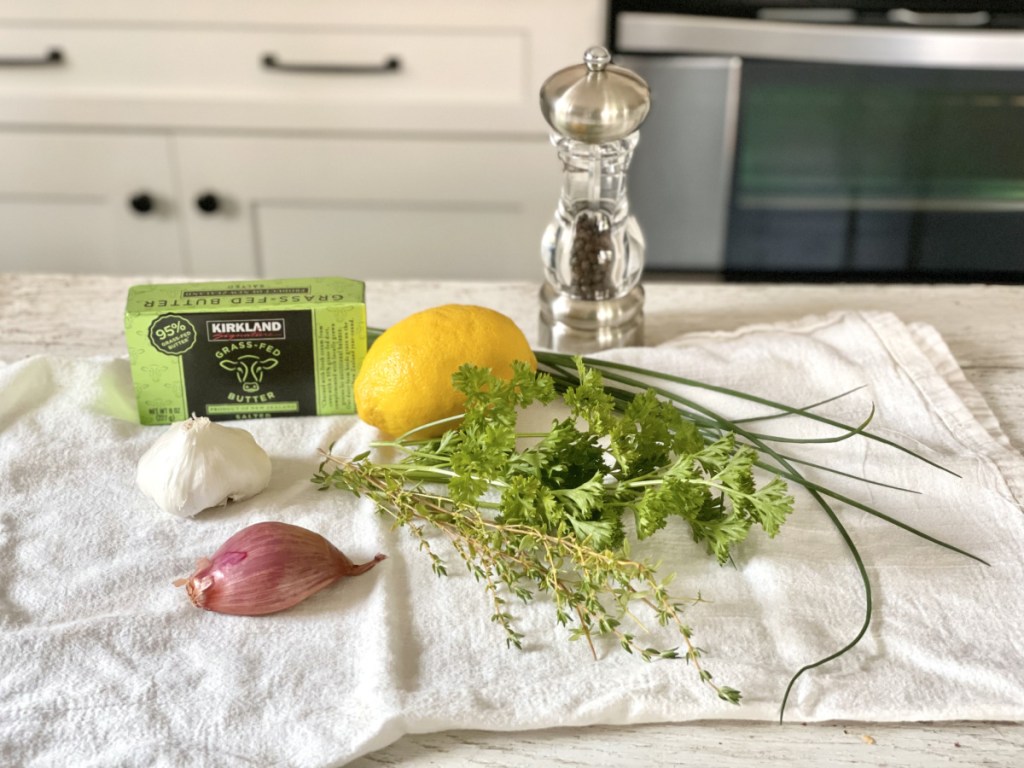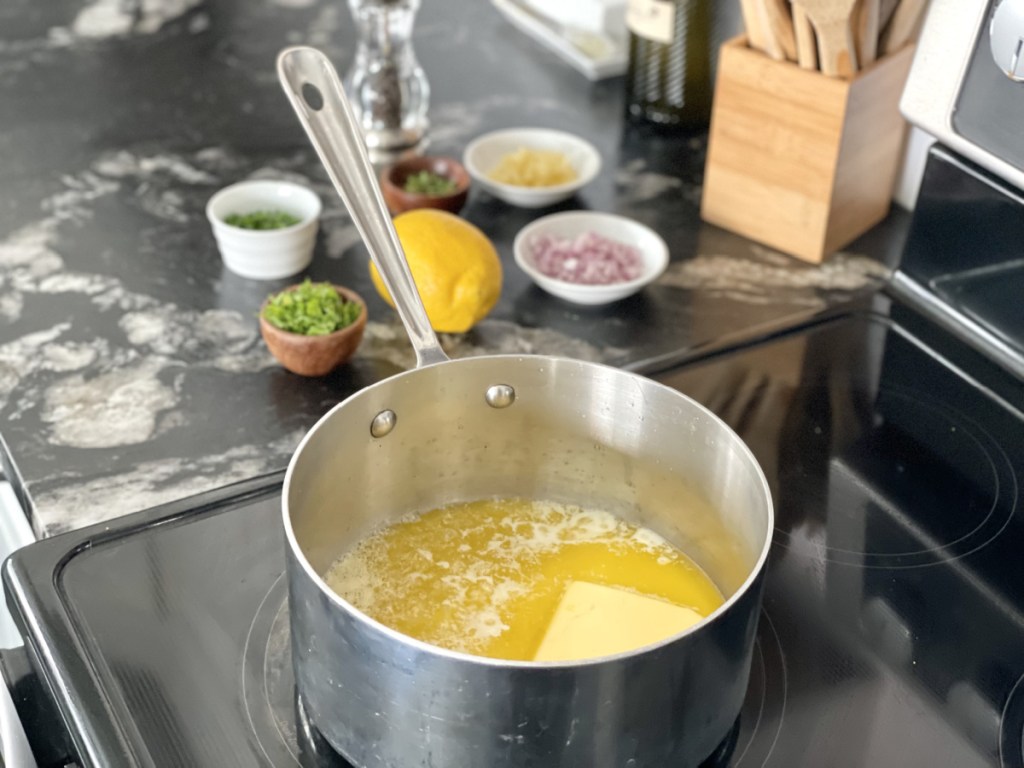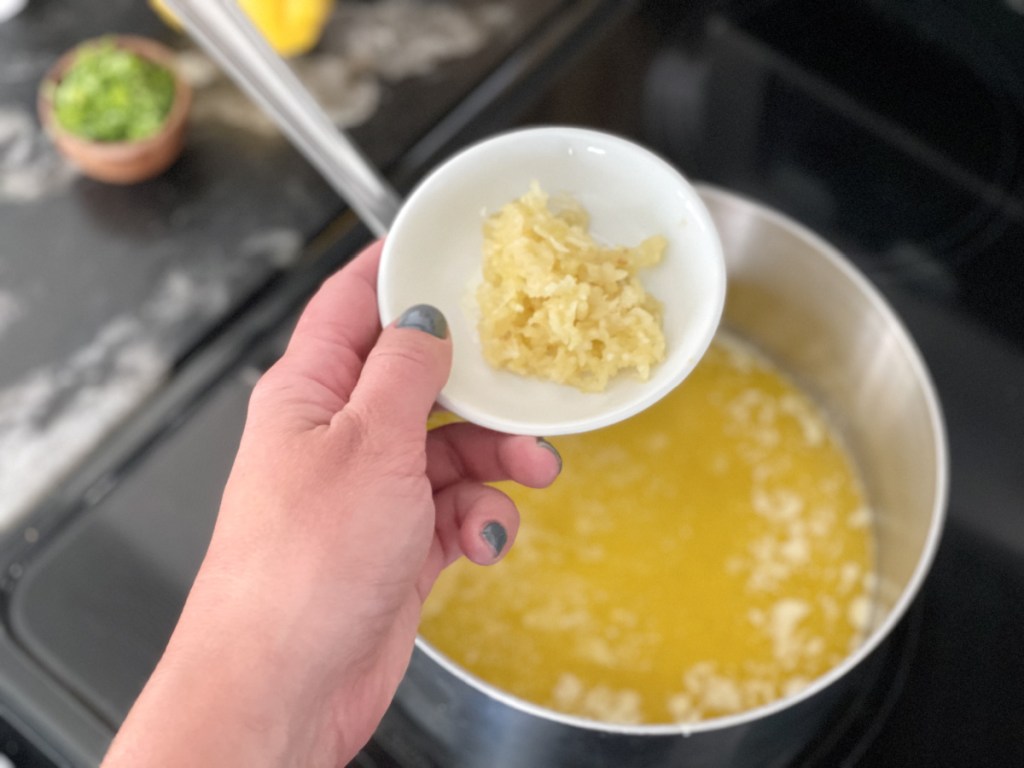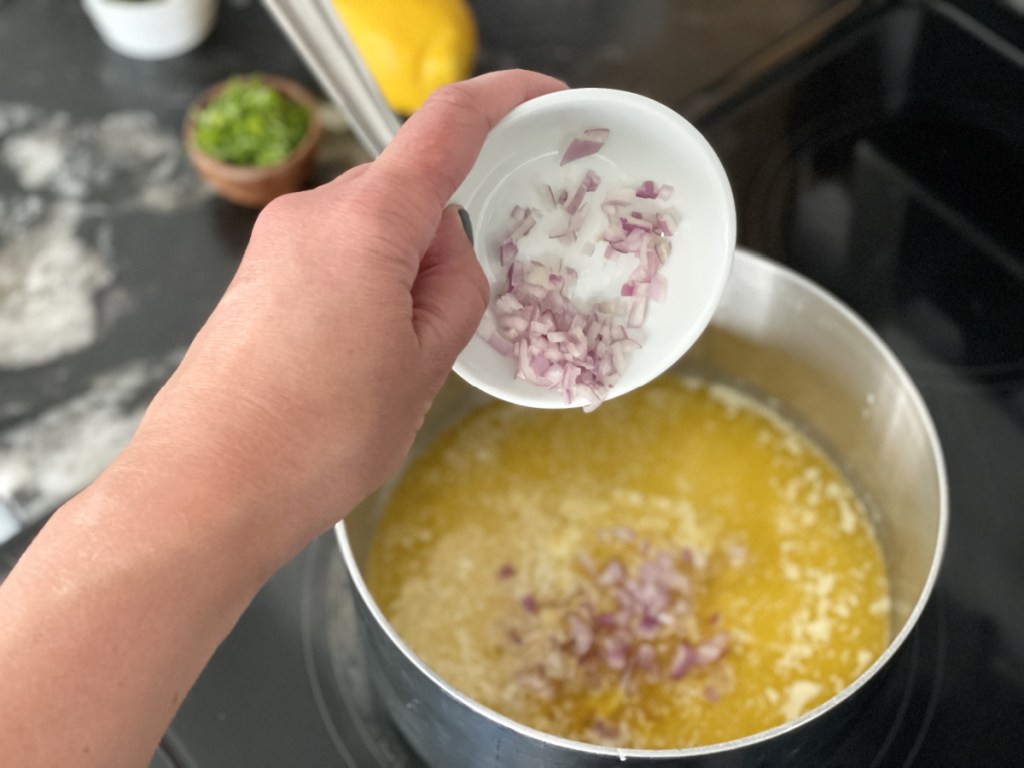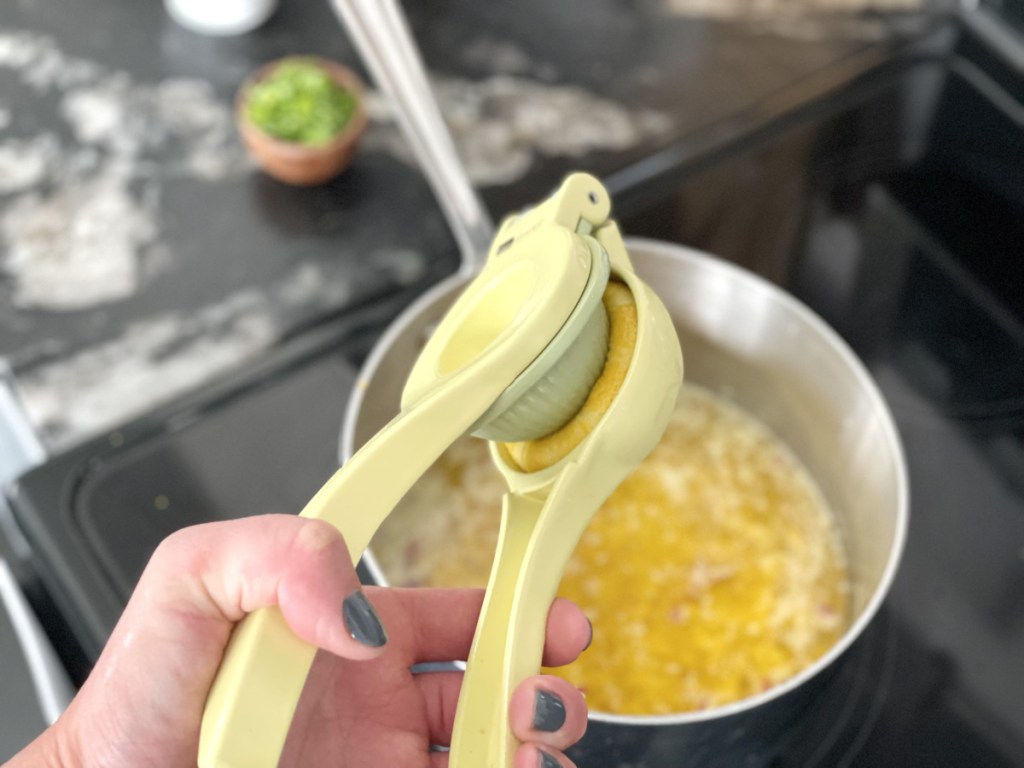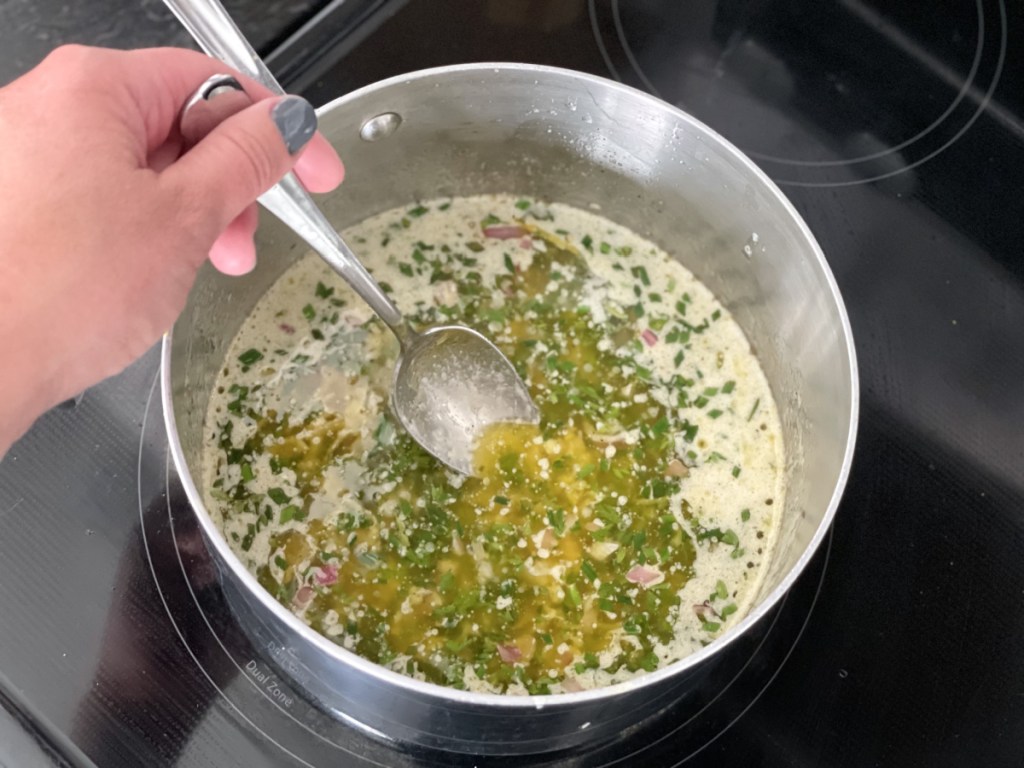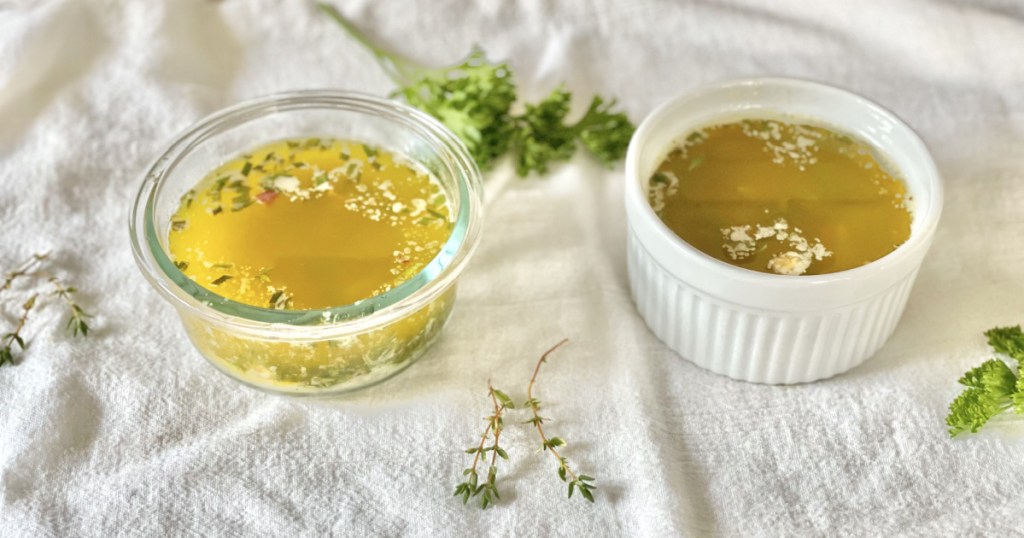 ---
yield: 16 SERVINGS
prep time: 5 MINUTES
cook time: 5 MINUTES
total time: 10 MINUTES
Delicious butter flavored with garlic, shallots, lemon, and fresh herbs.
Ingredients
8 oz. butter, salted (2 sticks)
4 garlic cloves, minced
1 shallot, small, minced
zest from 1 lemon
juice from 1 lemon
2 tablespoons fresh parsley, chopped
2 tablespoons fresh chives, finely chopped
1 tablespoon thyme, stems removed
1/4 teaspoon pepper
Directions
1
Melt butter over low heat in a small saucepan.
2
Add in garlic, shallots, lemon zest, lemon juice, parsley, chives, thyme, and pepper. Stir to combine.
3
Simmer over low heat for 5 minutes and then remove from heat.
4
Pour the melted butter mixture into a heat-proof dish or two ramekins. Place the dishes in the fridge to solidify, or you can use the cowboy butter while melted.
5
Butter will keep covered in the fridge for up to 4 months.
Nutrition Information
Yield: 16, Serving Size: 1 tablespoon
Amount Per Serving: 103 Calories | 11g Fat | 0.7g Total Carbs | 0.2g Fiber | 0.1g Protein | 0.6g Net Carbs
---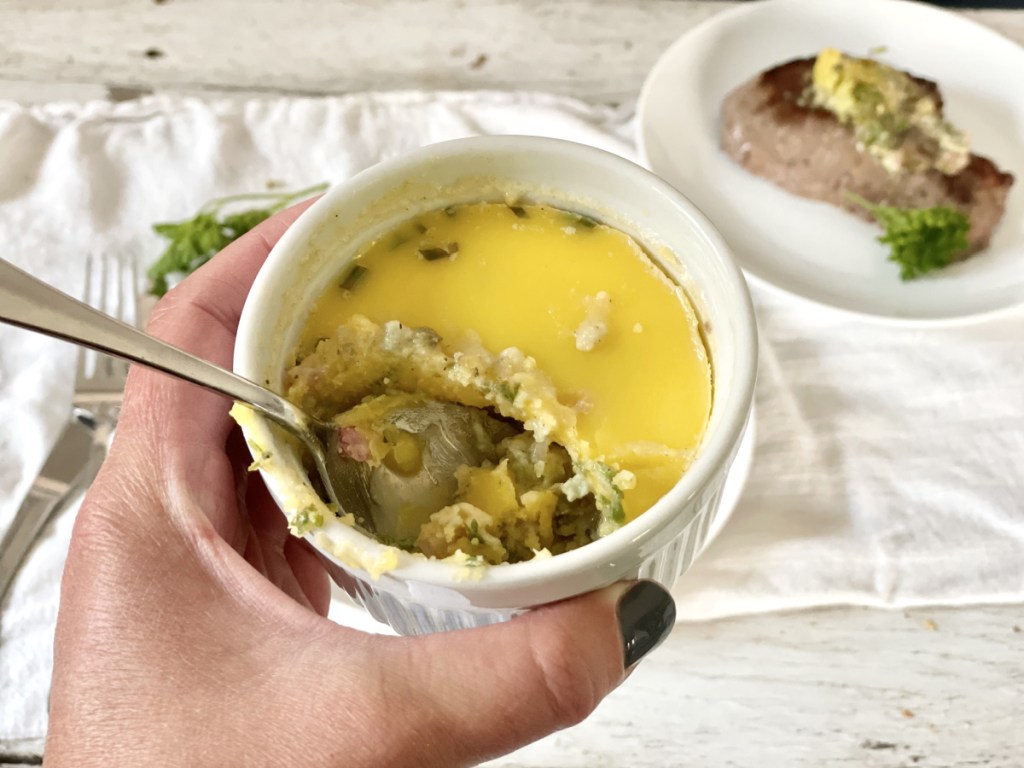 Use it on everything!
This cowboy butter really goes with everything. My favorite way to use it is on steak but it goes with chicken, shrimp, fish, and pork. You can even use it on your favorite keto vegetables or serve it melted as a dip… helloooo rich, savory, and buttery crab legs!
Flavored butter is one of my favorite ways to dress up a meal. Hope you enjoy it!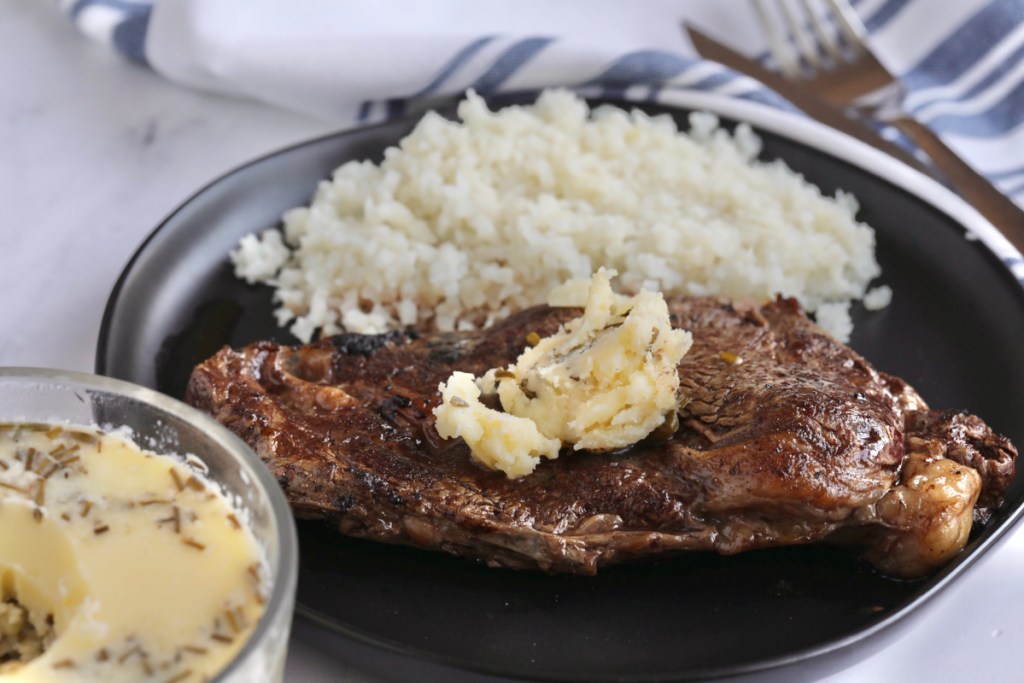 My Hip sidekick Jenna made this recipe and here's what she had to say:
"WOW this stuff is so good! I love how you just throw it all in a saucepan to heat and then cool, and you've got something amazing. The flavors go so well together! I put a large scoop onto my steak which was amazing, and I also put a dollop on some riced cauliflower and it was so full of flavor. I could see this going on so many things, so I plan to keep a batch of this cowboy butter in the fridge to add to all kinds of dishes!"
---
Excited to put this butter to good use? Pair it with our London Broil recipe!