Trader Joe's Carnitas are Perfect for a Low-Carb Weeknight Dinner
If you're looking for an easy dinner idea, Trader Joe's carnitas to the rescue!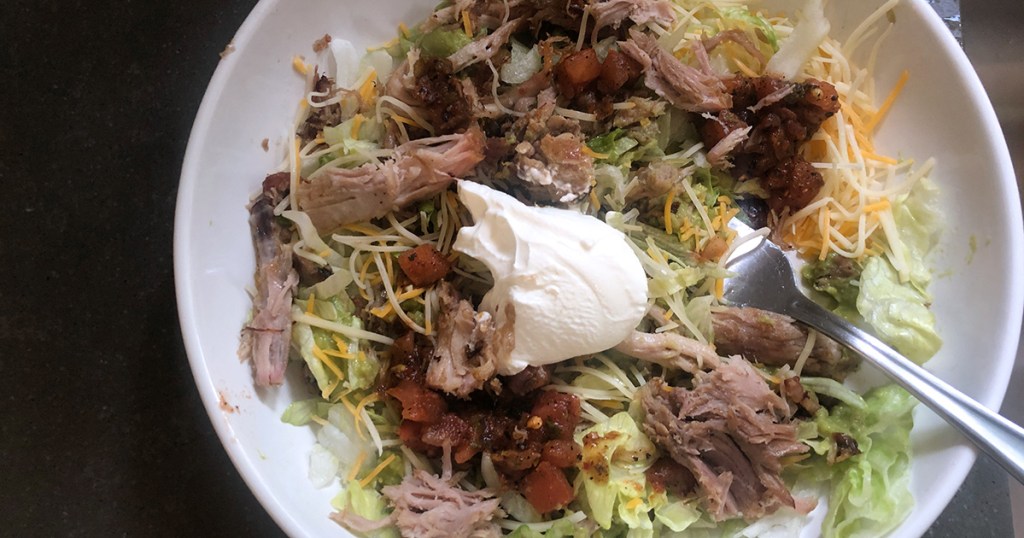 Trader Joe's pork carnitas… it's what's for dinner!
I don't need to tell you how much I love Trader Joe's… probably because you're just as big of a fan if you clicked on the title to view this post. More and more, I've been uncovering yummy keto finds in their aisles.
Recently, I stumbled upon a package of Traditional Pork Carnitas. Into my cart, it went, and I headed home to make an easy Mexican-inspired dinner!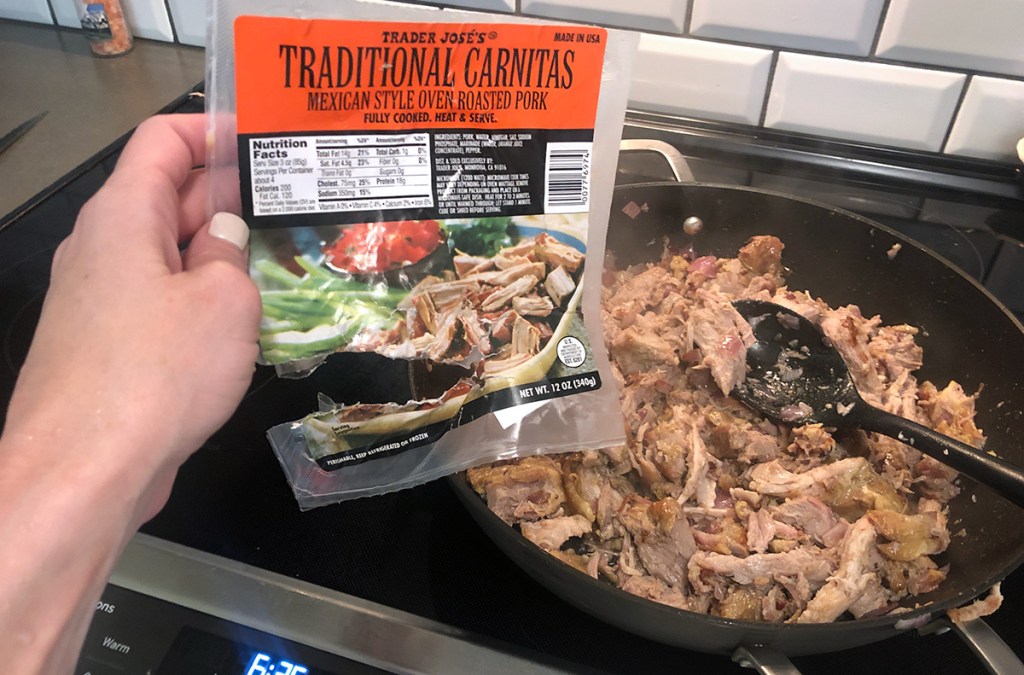 What I love about this carnitas pack is that it's already fully cooked; I mean, what can be easier than just heating and serving?! Even though the heating instructions are made for the microwave, I decided to toss the shredded pork into a skillet with some sautéed onion.
I like that stovetop reheating crisps up the edges of each pork piece for a tiny little crunch. Also, the carnitas comes mildly seasoned, so you don't have to season for flavor.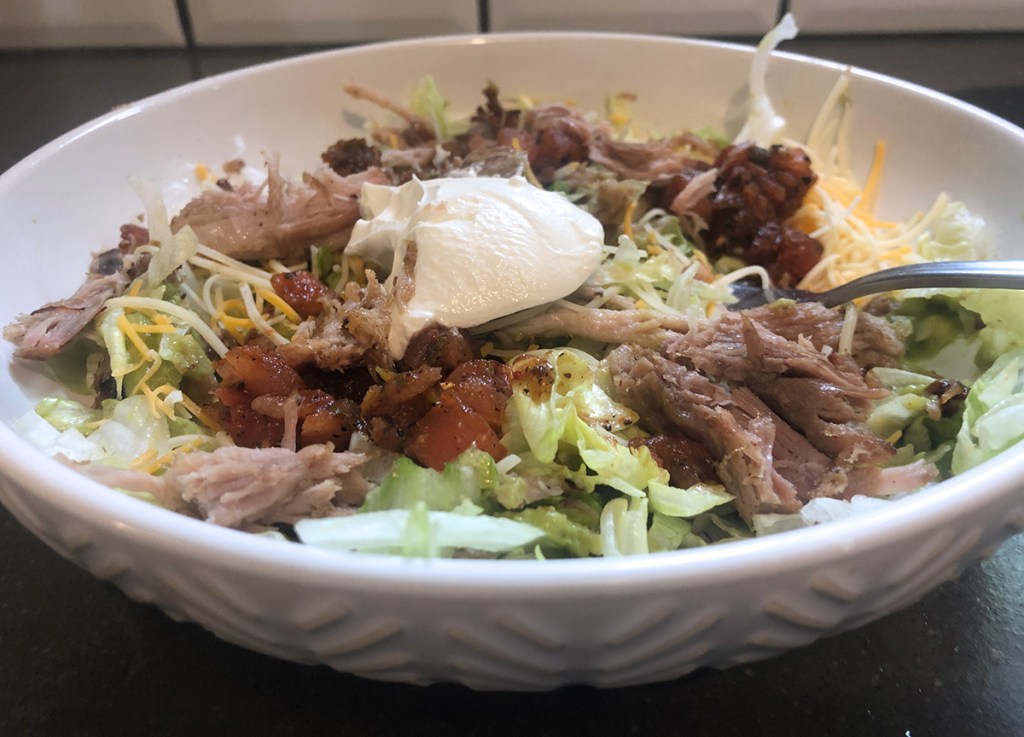 It makes the tastiest, easiest carnitas bowl! 😋
After the meat was warmed through, I added it on top of a bed of chopped lettuce and covered it with shredded cheese, guacamole (also one of my favorite foods from Trader Joe's), salsa, and a dollop of sour cream. It turned out to be a gorgeous carnitas taco salad bowl that came together in a matter of minutes!
Trader Joe's also has their own carnitas tacos recipe to follow. If you substitute the corn tortillas for a keto tortilla, this sounds just as delicious as a bowl!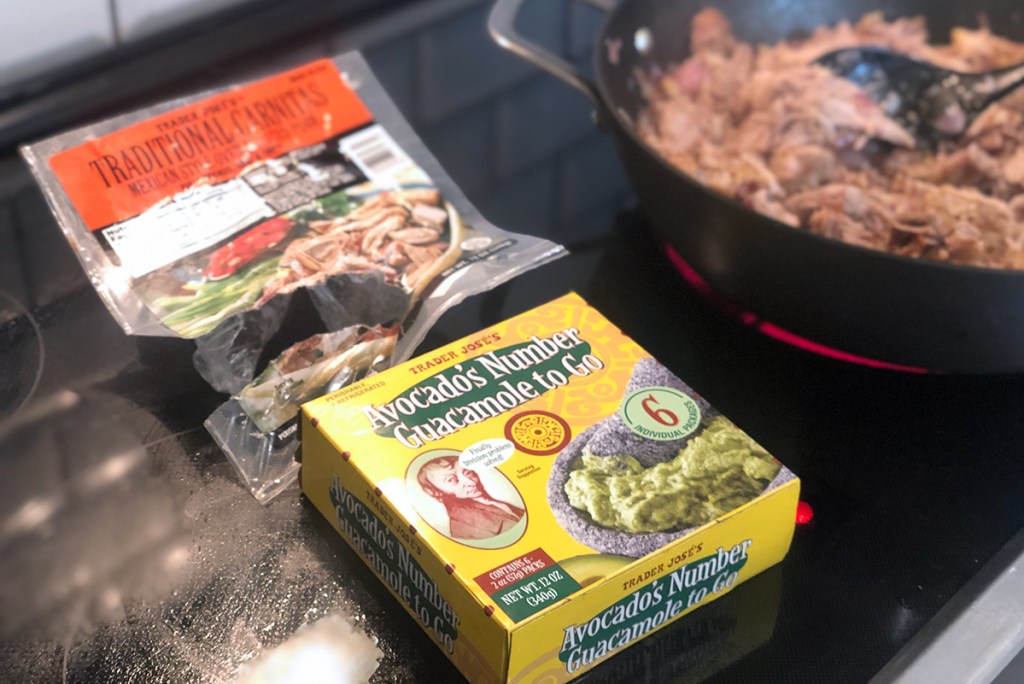 While I stuck with the traditional Mexican flavors, I'm sure this pork would be just as good doused in some sugar-free barbeque sauce for more of a BBQ pulled pork effect, perfect for an easy, crowd-pleasing meal.
Hands down, this pack of Traditional Mexican Carnitas from Trader Joe's has become a staple in my fridge. It has 14g of fat, 18g of protein, and only 1g of carbs! Not to mention, it's a pretty frugal dinner with 4 servings in each $5.99 package.
It's easy, affordable, and deliciously keto!
Don't have a Trader Joe's near you? Costco carnitas are just as delicious!
For those of you who aren't near a TJ, there is no need to panic. My Hip sidekick Erica absolutely loves the Costco Carnitas! Check out what she says below and how she enjoys them with Siete Almond Flour Tortillas, making the perfect taco!
"The Costco carnitas meat is SO GOOD!! You literally do not even need to add any seasoning or anything to the meat – it has the best flavor! I like to pair the carnitas meat with Siete Almond Flour Tortillas (they are so good, too), homemade pico de gallo, and cojita cheese! The combination is INCREDIBLE!! Such an easy dinner idea & my whole family loves it!" – Erica, Hip2Keto sidekick
---
Make your own crispy pork carnitas in the slow cooker!