Keto Strawberry Shortcake Chaffle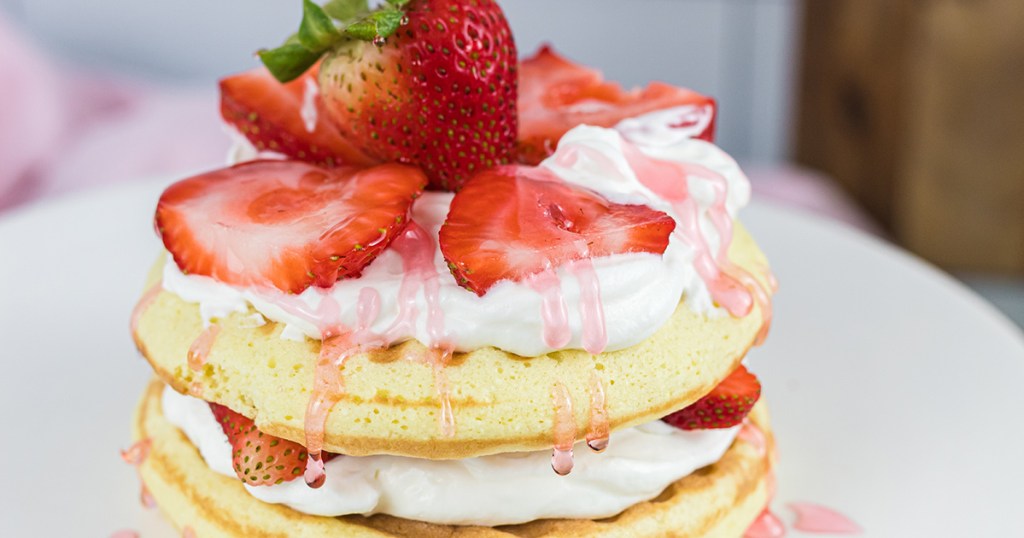 Say hello to your new favorite low carb dessert!
Craving Strawberry Shortcake but worried about the carb count? We've got a perfect-sized keto strawberry shortcake chaffle you can enjoy with a friend. While you could devour this treat by yourself, it is quite filling – so we do suggest splitting it, especially since it makes each half portion only 3 net carbs!
Better yet, it takes less than 10 minutes to make in the Dash Mini Waffle Maker. This is an easy to make keto dessert that allows you to indulge guilt-free! WINNING! 🙌
Need a visual? Check out our video below to see how easy this keto strawberry shortcake chaffle is to whip up…
---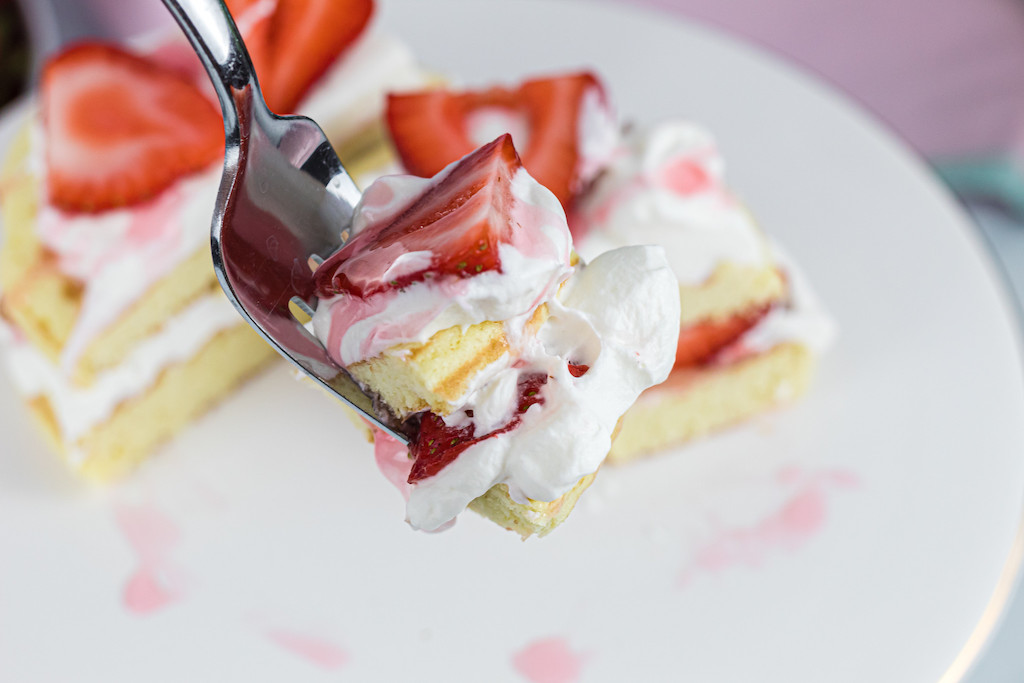 This shortcake is the perfect low carb dessert to cure your sweet tooth! Light and refreshing cakes are my favorite summertime treat and this one is so simple to make. It would even make a great birthday cake substitution, too!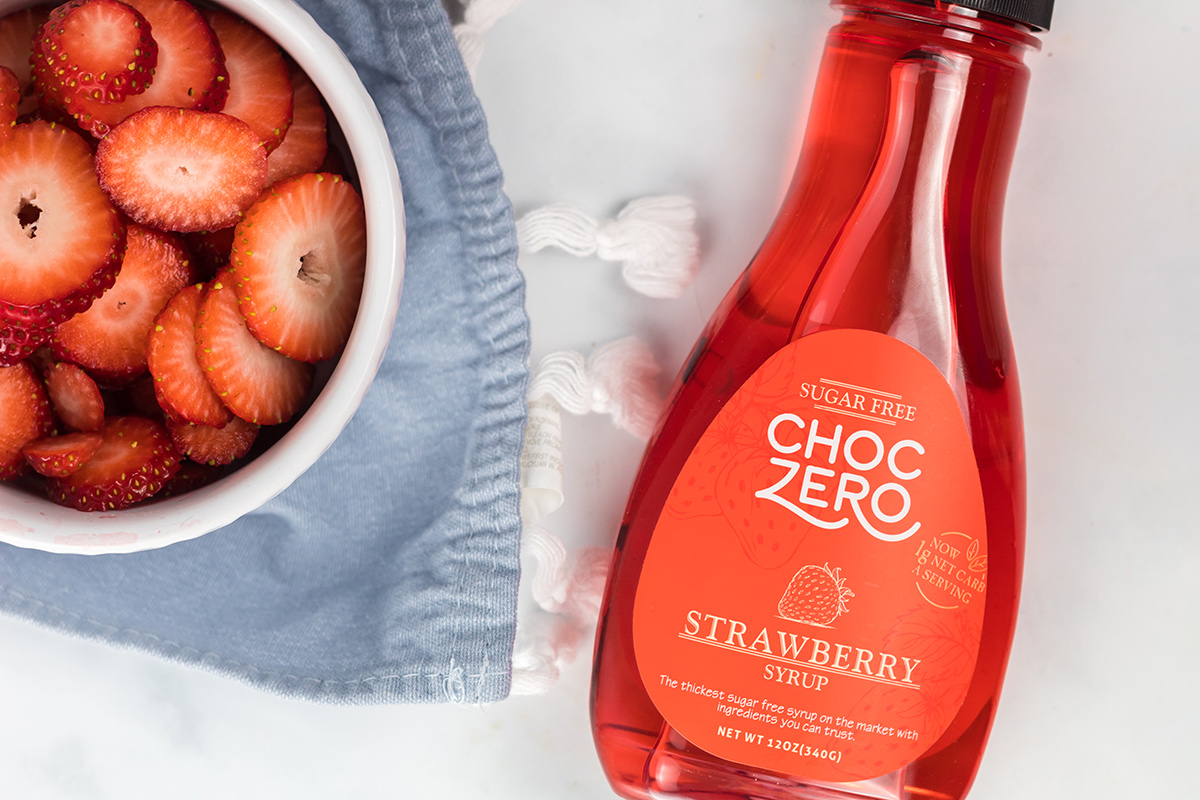 Keto Strawberry Shortcake recipe tips:
Haven't purchased yourself a Dash mini waffle maker yet? We love using this handy little kitchen gadget. Better yet, the grates are non-stick so no need to use an oil spray.
Want to try a chocolate shortcake? Add in 1 tablespoon of unsweetened cocoa to the batter — yum!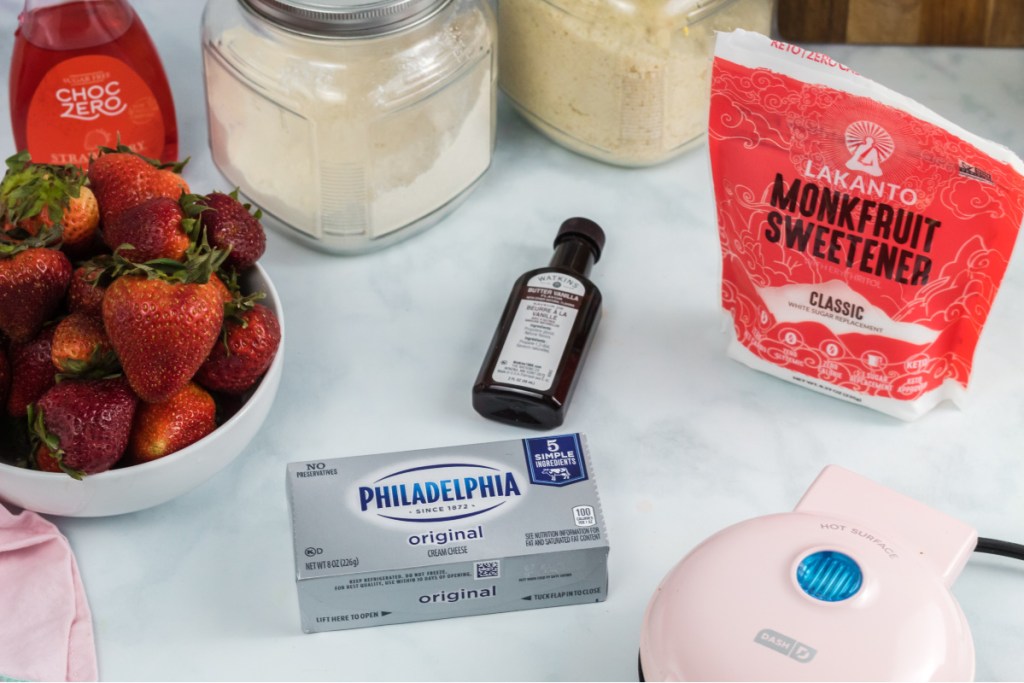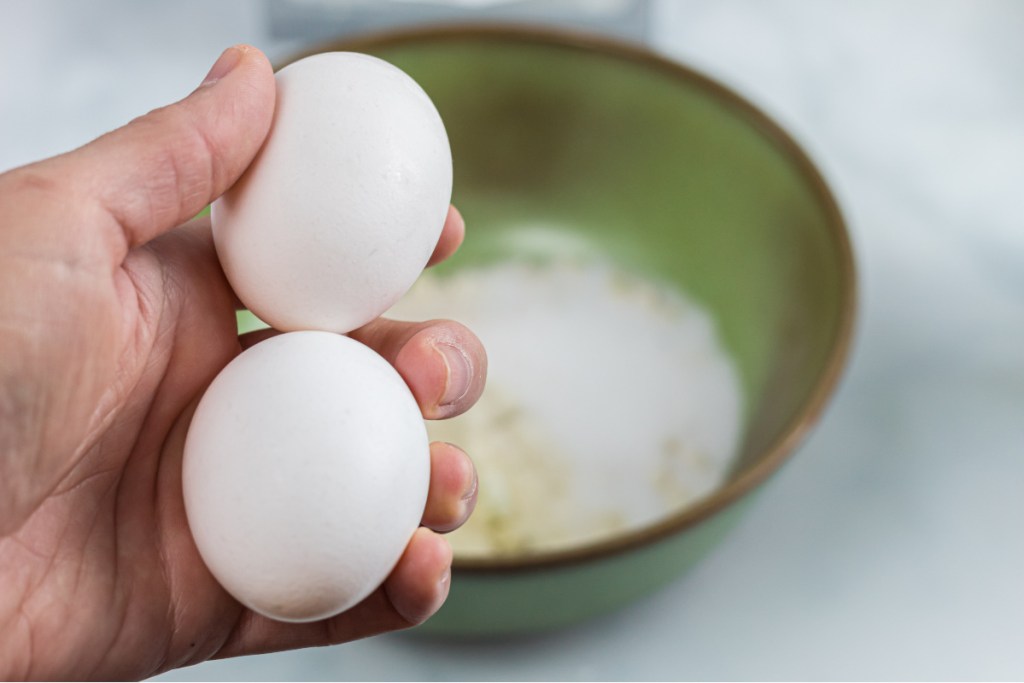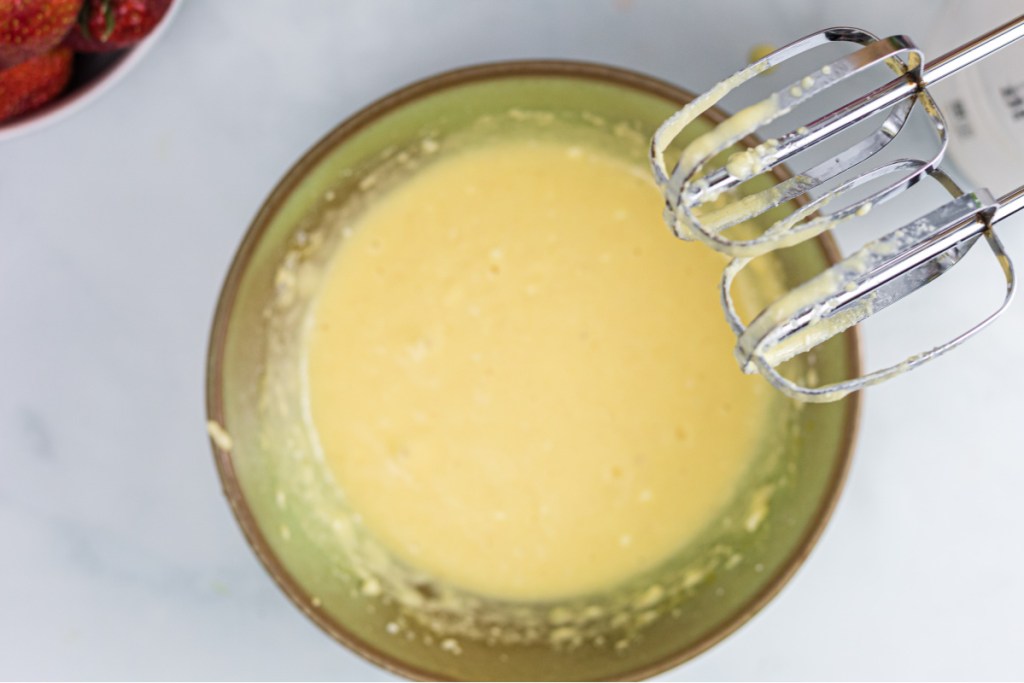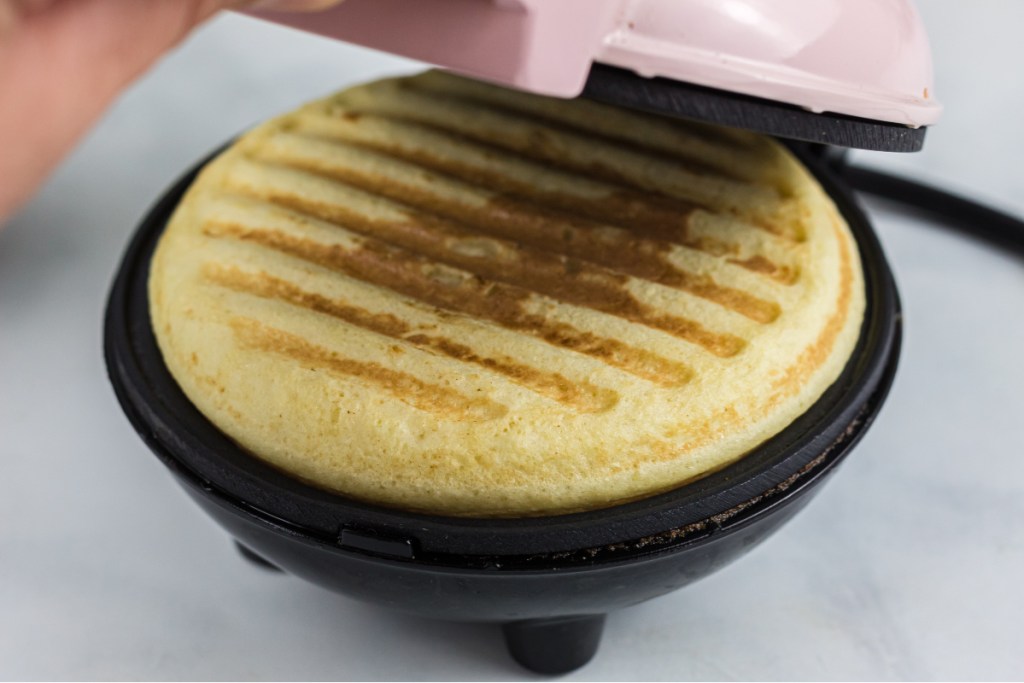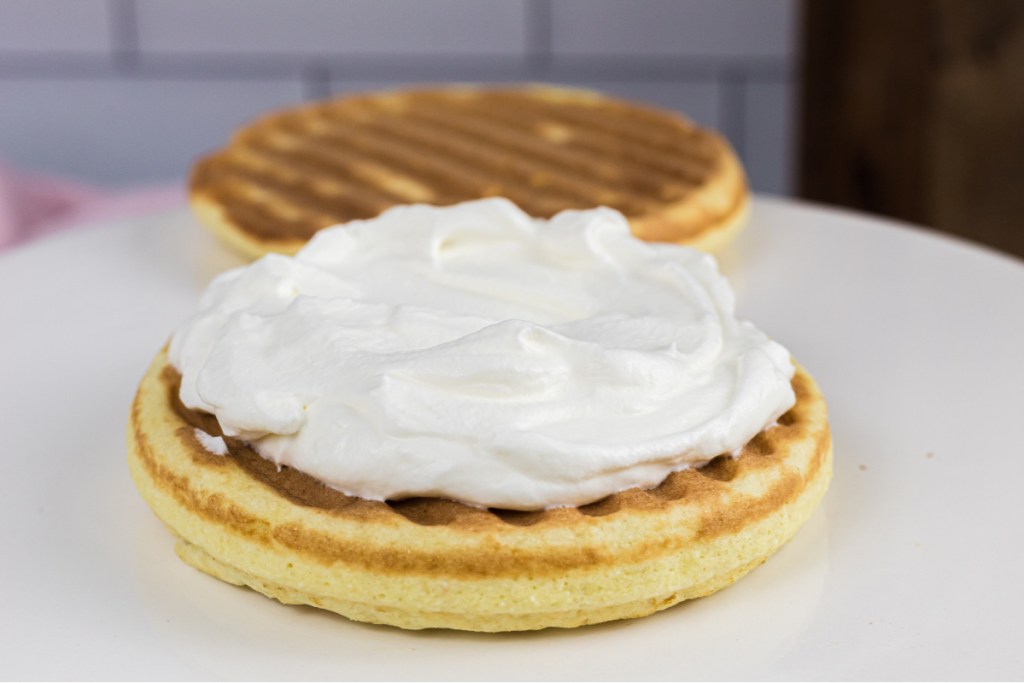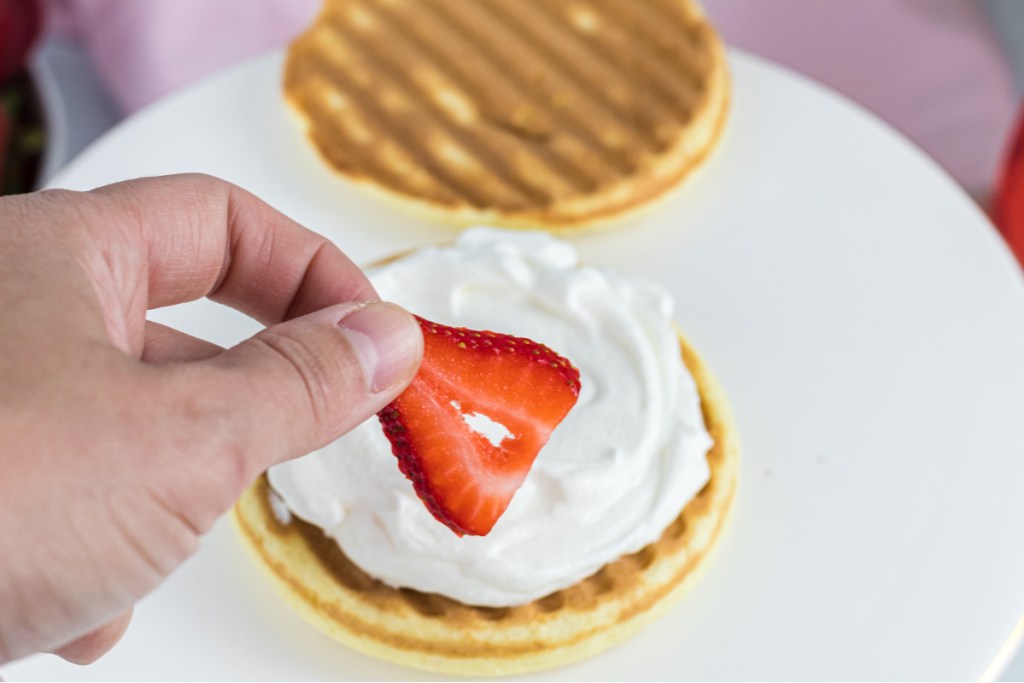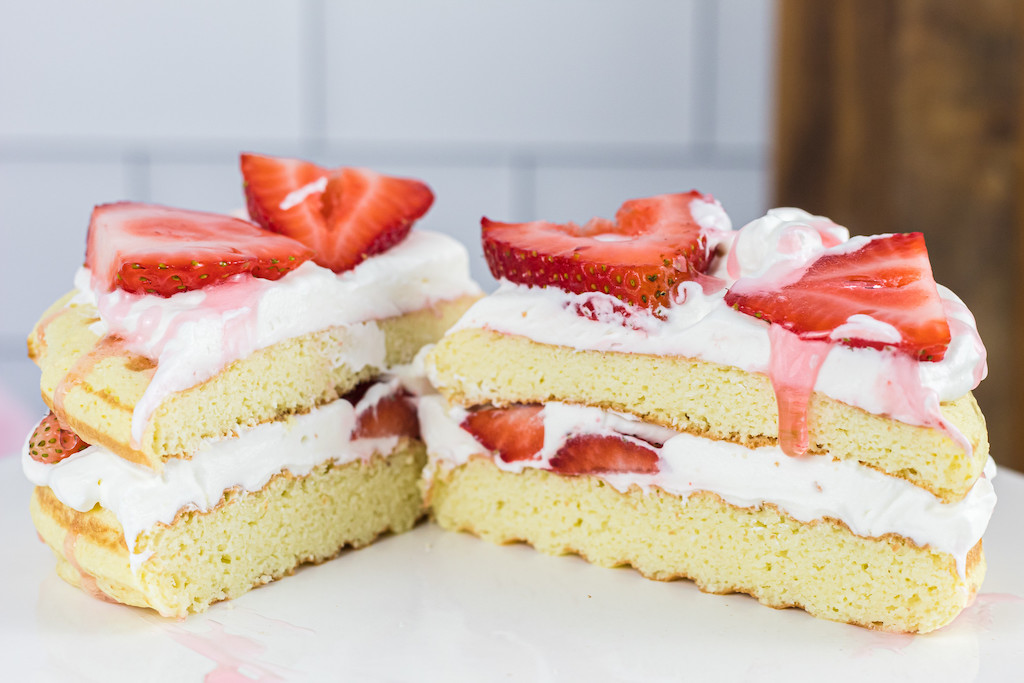 ---
Print
Keto Strawberry Shortcake Chaffle
yield: 2 SERVINGS
prep time: 5 MINUTES
cook time: 2 MINUTES
total time: 7 MINUTES
Fluffy whipped cream and strawberries sandwiched between keto chaffle layers.
Ingredients
Shortcake Chaffle:
1 oz. or 2 tablespoons cream cheese, room temperature
2 eggs, room temperature
1/2 teaspoon baking powder
1/4 teaspoon salt
Whipped Cream:
1/2 cup heavy whipping cream
1 teaspoon vanilla extract
Strawberries topping:
Directions
1
In a medium bowl, add all chaffle ingredients and mix together until you have reached a pancake-like batter.
2
Drop 3 tablespoons or 1 large ice cream scoop full of batter into your mini waffle maker. Let cook for 2 minutes and remove.
3
In a large bowl, add in whipped cream ingredients. With a handheld mixer, mix on medium-high until you have reached stiff peaks. This takes about 2-3 minutes.
4
Once you have 2 shortcake chaffles and the whipped cream made, you can now assemble. Start with a base chaffle, then add a layer of whipped cream and sliced strawberries. Repeat a second layer and top with whipped cream and a few slices of strawberries.
Additional Notes
Don't be alarmed by the high total carb count! The sugar alcohols in the Lakanto monk fruit sweetener blend do not affect blood sugar in the same way that regular carbs do, so we subtracted them from the total carb count. You'll see that the net carbs are much lower once you remove the sugar alcohols.
Nutrition Information
Yield: 1 stacked shortcake, Serving Size: 1/2 shortcake
Amount Per Serving: 258 Calories | 23g Fat | 14g Total Carbs | 4g Fiber | 7g Sugar Alcohol | 7g Protein | 3g Net Carbs
---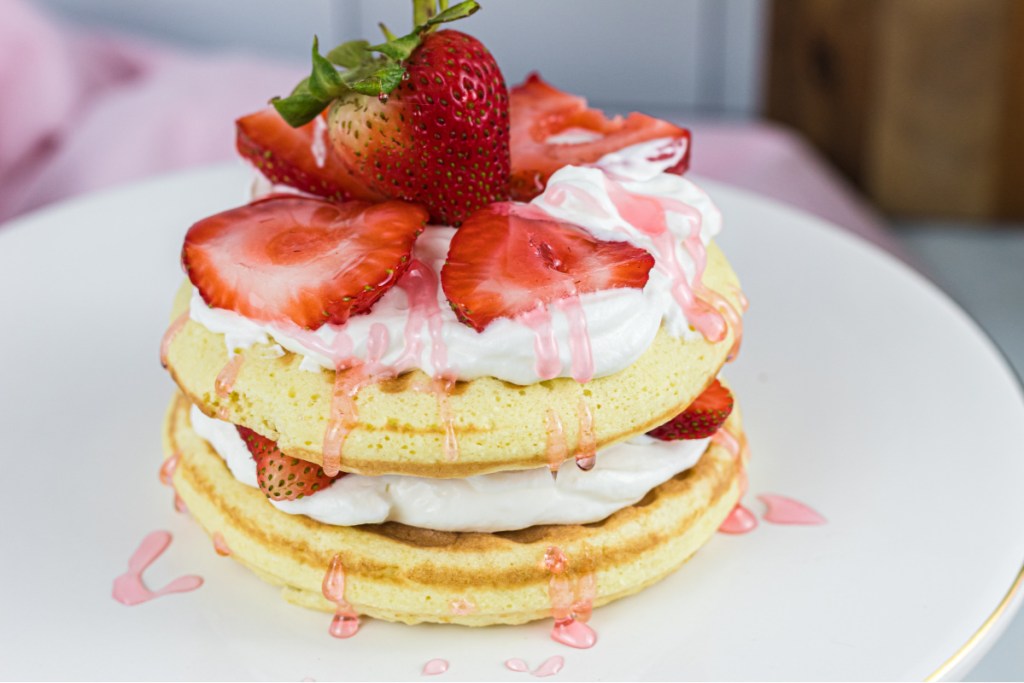 It's almost too pretty to eat… but we can't help but dive right in!
Assembling the layers of chaffles, whipped cream, and strawberries are so simple but results in an elegant looking dessert. It's so easy, even the kids can get involved and make their own creations. They could even add some yummy no sugar added chocolate chips for a sweet and chocolatey twist.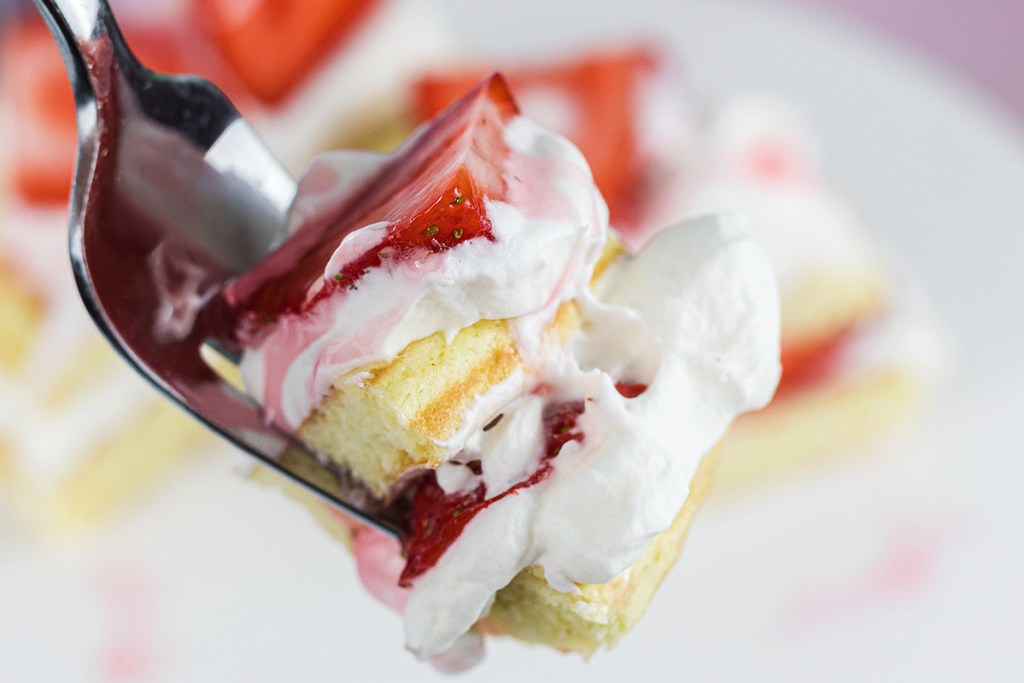 ---
Try this Wonder Bread Chaffle copycat recipe next!