4 Primal Kitchen Keto Products You Need to Try (+ Save 10% w/ Our Exclusive Promo Code)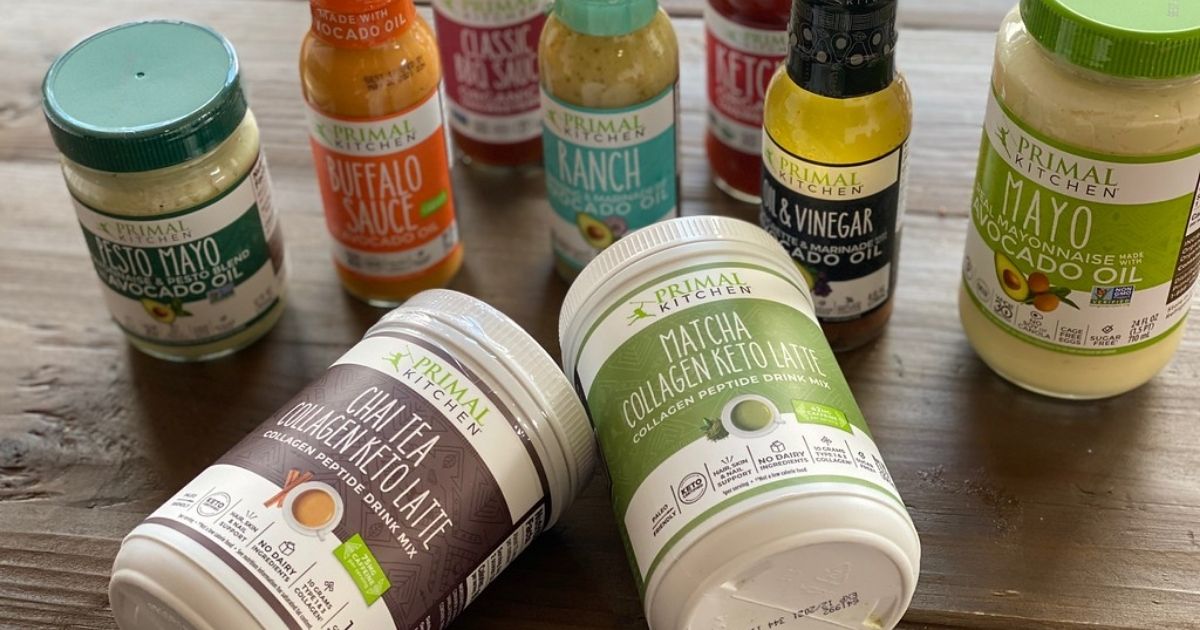 Thanks for making keto more tasty, Primal Kitchen!
When you're eating a keto diet, you usually spend a lot more time in grocery stores looking for the best low-carb foods and skimming nutrition labels to make sure you're buying keto-approved items. Believe me, it gets a little exhausting after a while.
That's why I love Primal Kitchen so much and am forever grateful to its founder, Mark Sisson, for bringing us back to a primal way of eating that doesn't include any dairy, gluten, grains, sugar, or soy. And even more grateful his team offered our Hip2Keto readers an exclusive promo code! Keep reading for more on this keto-friendly company.
---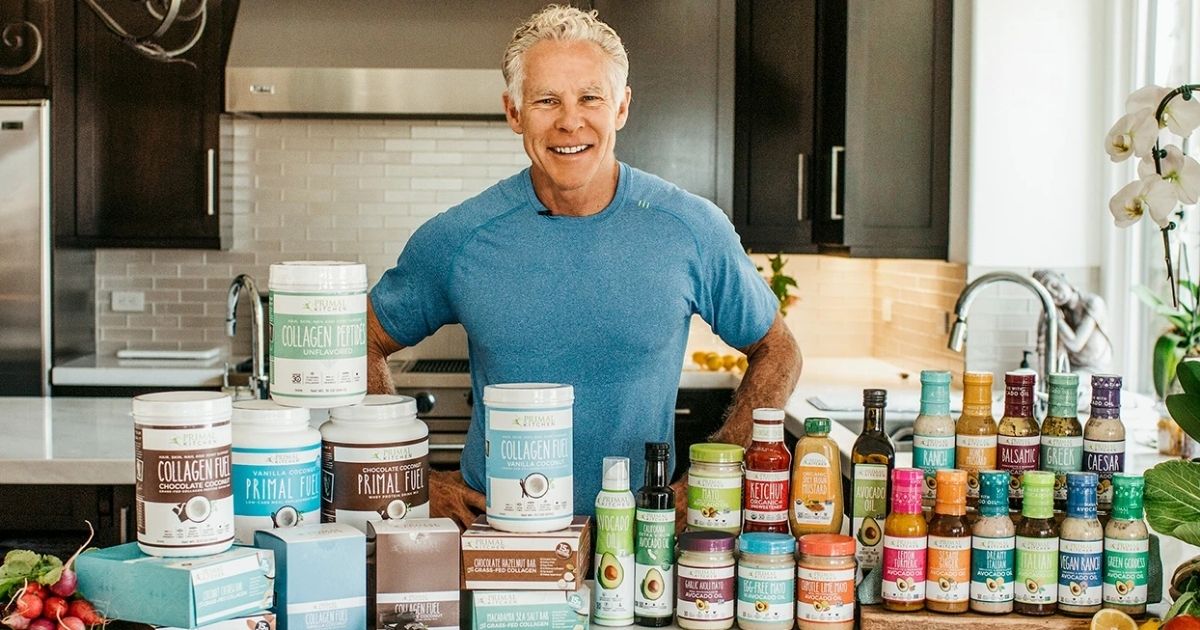 Primal Kitchen is on a mission to make keto condiments super tasty.
Before I share a few of my favorite Primal Kitchen recommendations, you should know a little bit more about the infamous brand and what sets it apart from other keto products.
Mark Sisson, pictured above (in his late 60's), spent three decades researching the connection between the foods we eat and optimal health. With an extreme passion for wellness, Mark began sharing his own personal transformation about the power of food and later went on to create the #1 selling mayonnaise on Amazon, along with quite a few other ultra-clean keto condiments and pantry staples.
If you're on a keto diet, you can trust that Primal Kitchen will always deliver the highest quality products that are pure and taste great.
Here are 4 Primal Kitchen keto items I LOVE:
Serving: 2 scoops | Calories: 80 | Total Carbs: 4g | Total Fat: 2.5g | Fiber: 2g | Net Carbs: 2g | Protein: 10g
Before I tasted Primal Kitchen's Matcha Collagen Keto Latte, I honestly didn't have high hopes that it would be great. I remember how delicious Starbucks matcha frappucinos were (quite well because I drank one nearly every week before my keto awakening), and I didn't think it was even possible to compete with the flavors that all that sugar delivers.
I've also tasted a couple of other keto matcha powders before and they were pretty bland and flavorless. However, that was not at all the case with Primal Kitchen's keto-friendly Matcha. It's sweet, but not too sweet and it has a very authentic matcha taste that isn't ruined by artificial flavors or additives. If you're looking for a good coffee alternative, I highly recommend this tasty low-carb tea!
"I have always loved the matcha latte at Starbucks, but it is full of sugar so I stopped drinking it. Now I don't have too! This Matcha Collagen Keto Latte drink is awesome! Just as good if not better than the one I used to drink from Starbucks. Now, I don't have to compromise my health with all that sugar! So happy about this!" – Primal Kitchen reviewer
---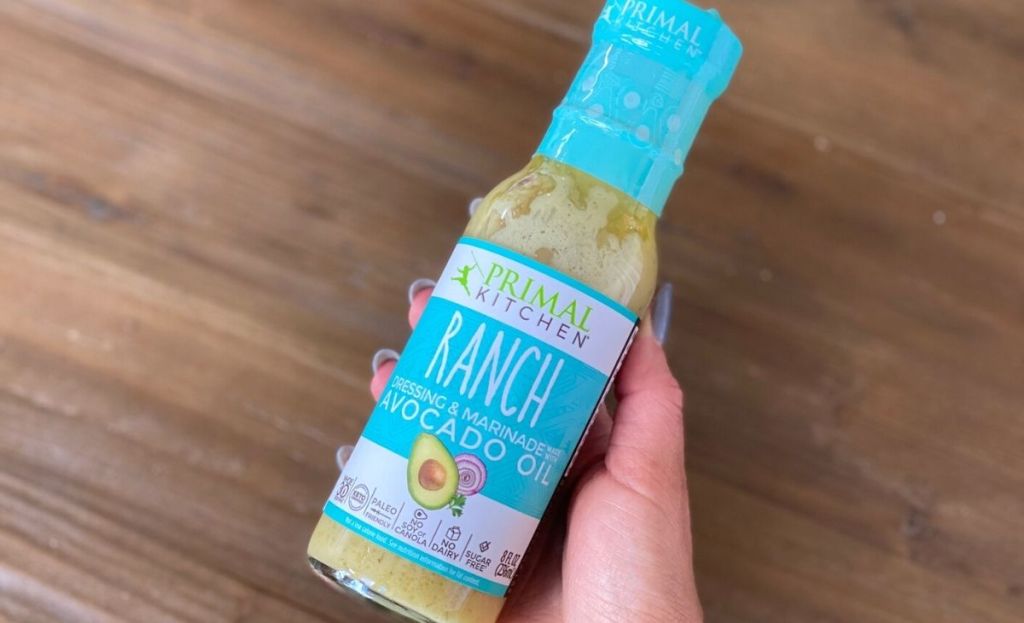 Serving: 2 tbsp | Calories: 120 | Total Carbs: 2g | Total Fat: 13g | Fiber: 0g | Net Carbs: 2g | Protein: 0g
It's pretty hard to emulate something as tasty as a carb-heavy ranch dressing, but Primal Kitchen really worked their magic to deliver one of the best-tasting keto ranch dressings I've ever had.
Does it taste like Hidden Valley? No, but it doesn't taste at all like a lot of other health-conscious salad dressings do with artificial flavors and weird aftertastes. It's zesty and pure with a consistency that's more akin to Italian dressing with an avocado oil base that doesn't leave out the good fats. Our homemade keto ranch dressing won't disappoint either!
"Thank you Primal Kitchen! These are delicious and any keto household needs these. Good flavors, lots of fat, many ways to use them – cooking, dipping, marinating… It is so hard to find keto-friendly foods/condiments which are not riddled with hidden 'bad stuff,' and I really appreciate having these yummy dressings!" – Amazon reviewer
---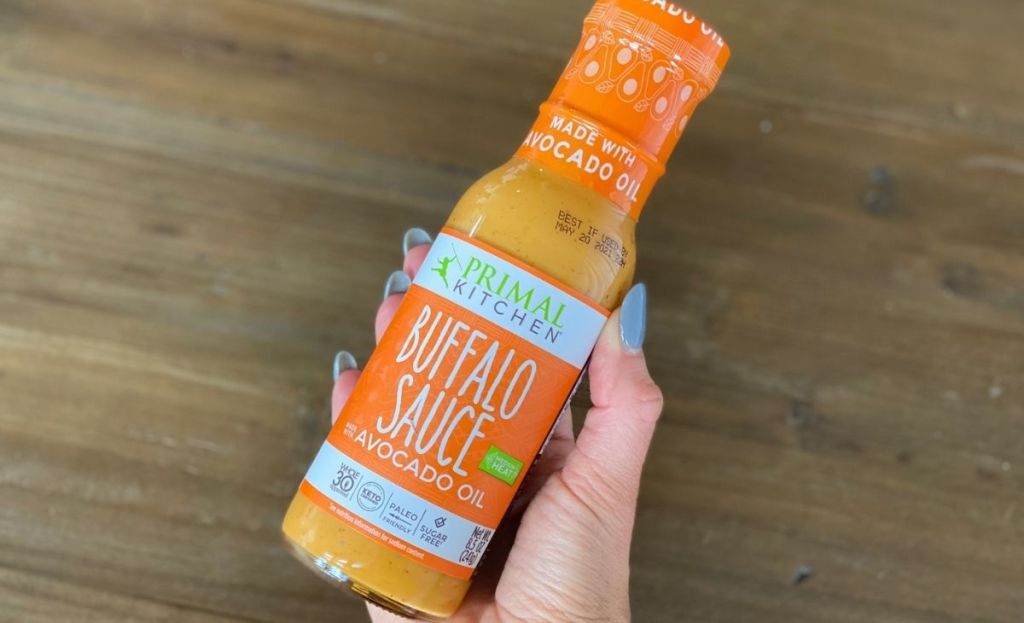 Serving: 1 tbsp | Calories: 35 | Total Carbs: 1g | Total Fat: 3.5g | Fiber: 0g | Net Carbs: 1g | Protein: <1g
If you like a little heat with your chicken and burgers, you'll love Primal Kitchen's spicy Buffalo sauce. While most Buffalo sauces aren't full of carbs, this one definitely stands out with a unique flavor thanks to clever ingredients like cashew butter and avocado oil.
So many Buffalo sauces taste just like a basic hot sauce, but this stuff is smooth, creamy, and has the perfect kick to it that doesn't overwhelm the other flavors in the mix.
"The best Buffalo sauce on the market. Plus, it doesn't have any of the bad stuff that the other brands have such as gums and preservatives! Definitely keeping this product on hand at all times!" – Primal Kitchen reviewer
---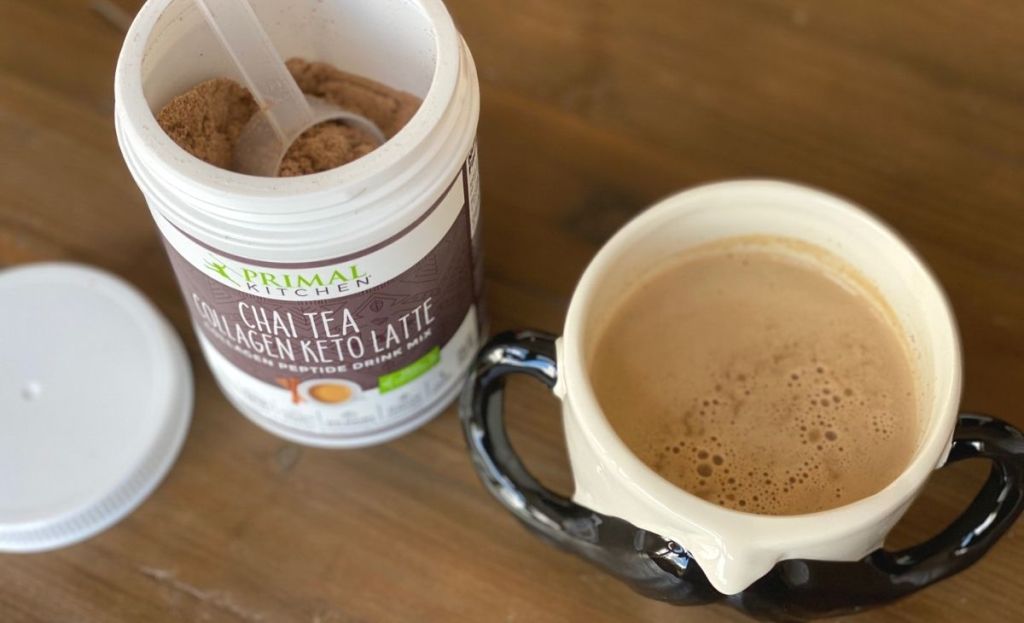 Serving: 2 scoops | Calories: 80 | Total Carbs: 4g | Total Fat: 2.5g | Fiber: 2g | Net Carbs: 2g | Protein: 10g
Yes, you can have yummy chai tea on the keto diet! This is one Primal Kitchen product that I can't stop raving about. Mix it into your coffee for extra flavor or whip up a creamy chai latte with some unsweetened almond milk and you're in for a tasty low-carb treat.
I also love this powdered chai for baking. I recently added it to an egg loaf and it was like eating cinnamon spice dutch babies. So yummy!
"Great taste. I needed a change in my normal coffee in the morning and this has been wonderful. Two scoops with some hot water and I'm out the door! Tastes like chai with the bonus health benefits!! Everyone needs some extra collagen in their life! Highly recommend!"– Amazon reviewer
---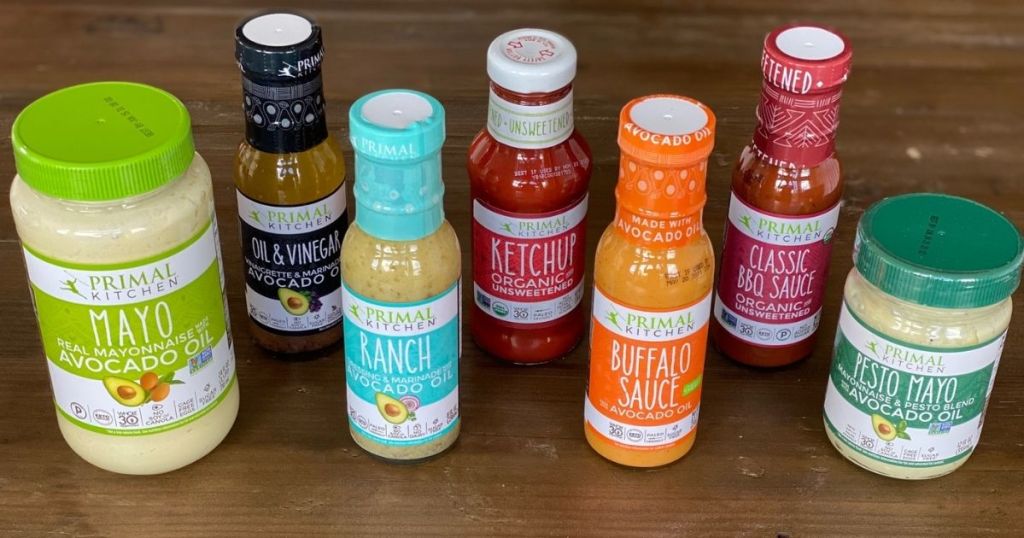 Want to save on some Primal Kitchen goodies?! Here's the deal:
Use our exclusive promo code Hip2Keto at checkout to save 10% on all orders, plus free shipping on orders over $50!
---
Want more low-carb condiment suggestions? Check out 12 of our favorite keto condiments!