Keto Chow – The Creamiest & Most Filling Meal Replacement Keto Protein Shakes (+ Save 20%!)
Keto Chow meal replacement protein shakes are satisfying, nutritious, and super easy to make!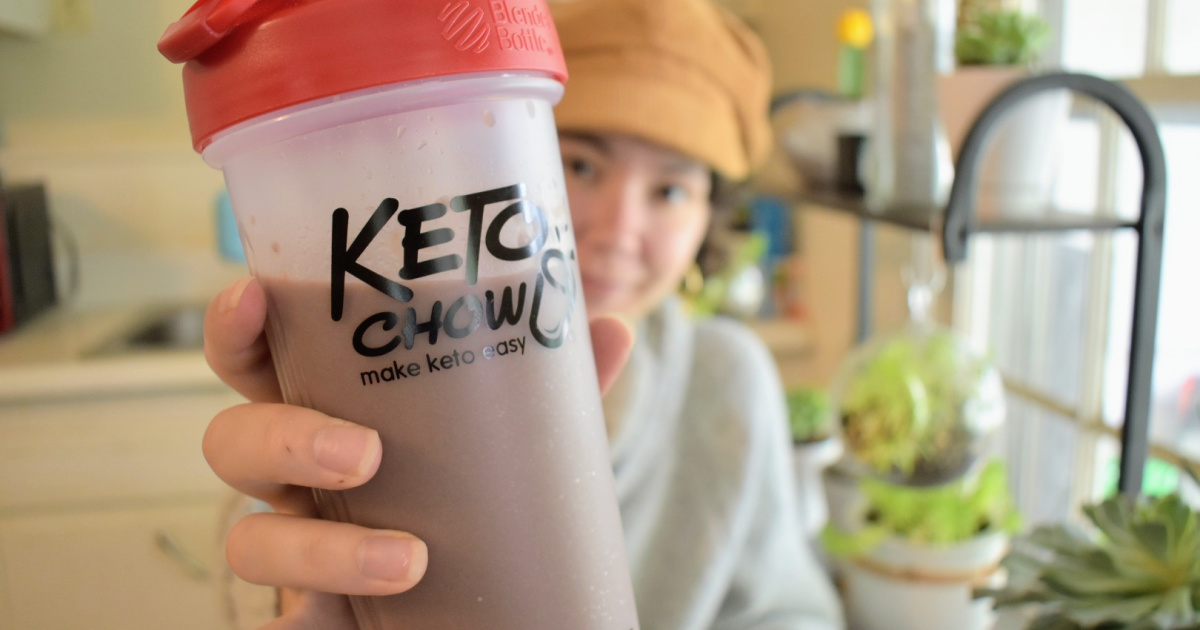 Craving something sweet + simple?
I'm a summer gal through and through, but these new Keto Chow fall flavors have got me in the autumn spirit like nothin' else. 🍂
I got the chance to try their new Eggnog, Apple Pie, and Pumpkin Spice Caramel flavors, as well as their savory soups. And my life has only been easier & more delicious since!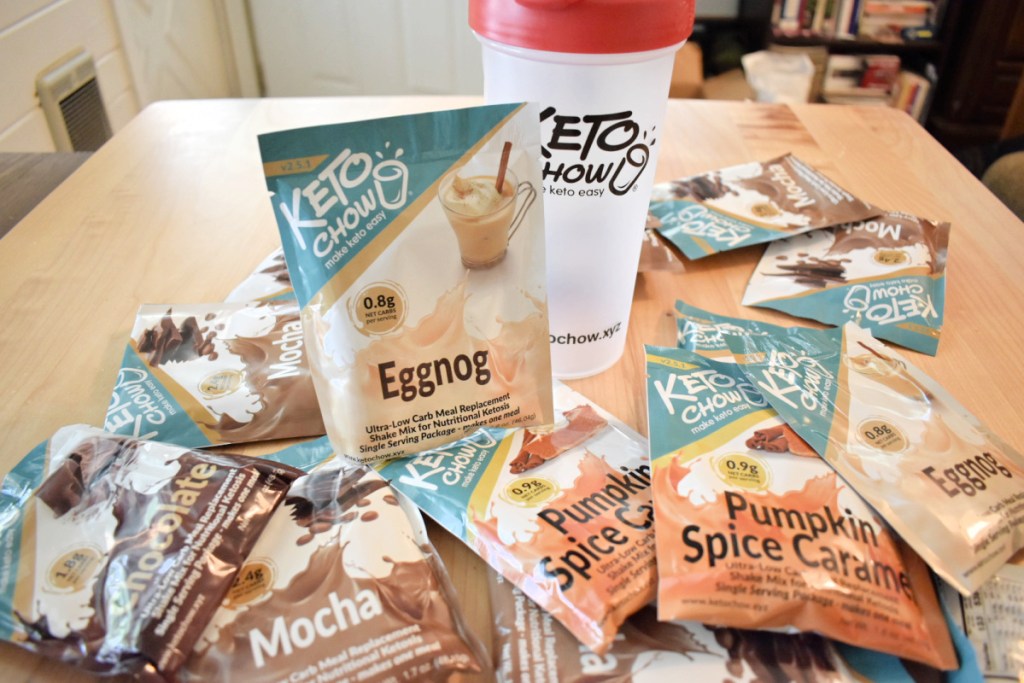 If you're not quite ready to start embracing the classic fall flavors I've been loving lately, Keto Chow has you covered! You can still score their Sample Bundle for a steal, which includes a blender bottle and 6 yummy staple flavors to get you started: Vanilla, Chocolate, Strawberry, Mocha, Snickerdoodle, and Salted Caramel.
After you've picked your favorites, be sure to check out their bulk 21 Meal Bags!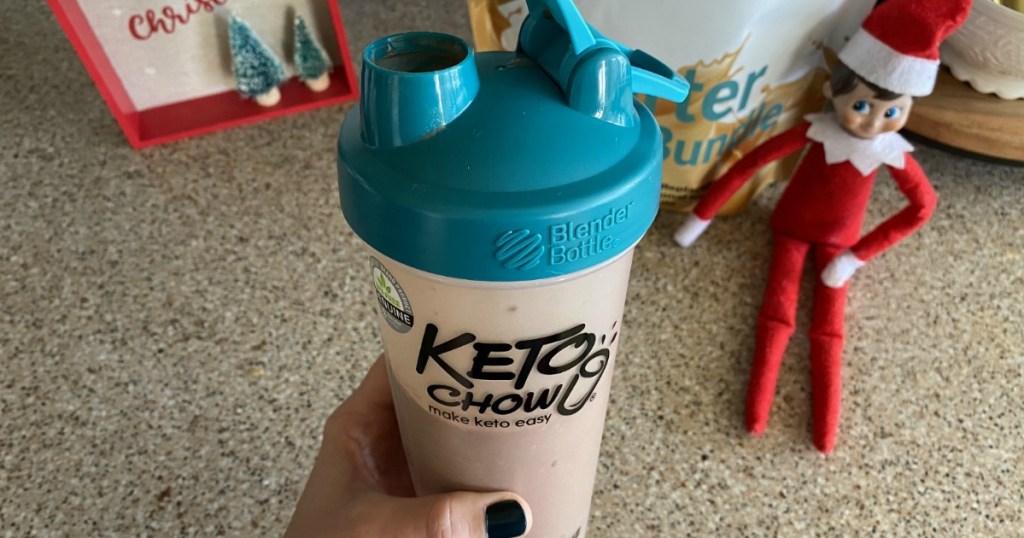 Here are some of our favorite deals available exclusively for Hip2Keto readers!
---
Keto Chow Bulk 21 Meal Bag* $70
Purchase through this link for 20% off at checkout
Score 2 Chocolate Keto Chow packets as a FREE gift!
Final cost just $56!
*Choose your flavor, then select the 21 Meal Bulk Bag option!
---
---
And a special shoutout to their fall flavors that I've been enjoying on the daily!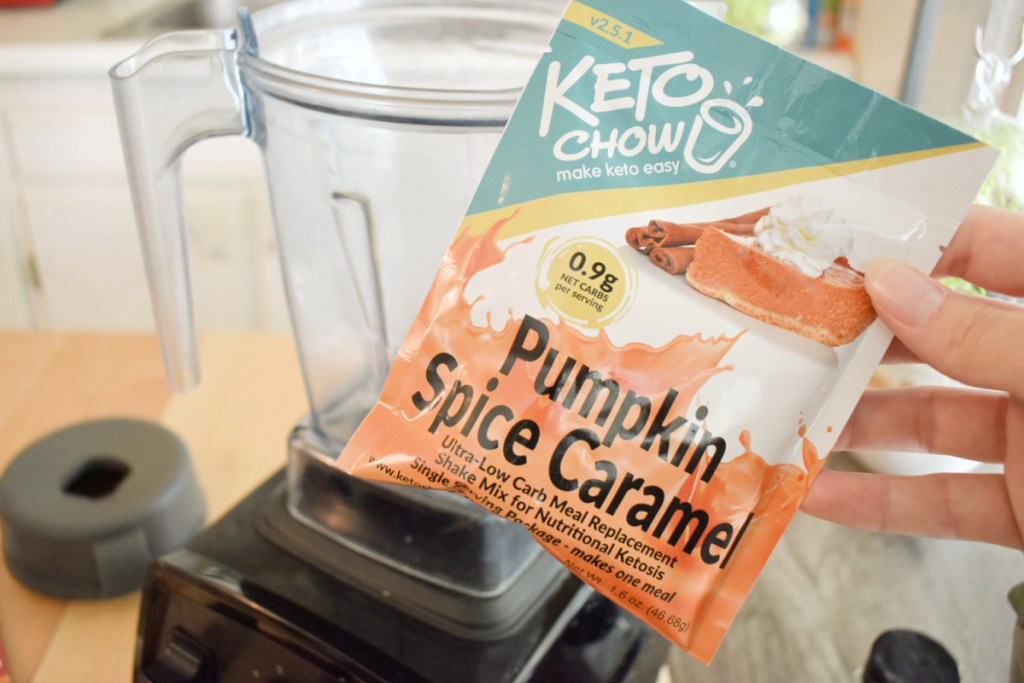 ---
---
*Shipping rates and times vary based on location.
---
So what's my absolute favorite thing about Keto Chow's keto meal replacement shakes, you ask?
It's that their meal-replacement shakes have made going keto sooooo much less stressful.
At the beginning of my keto adventure, I was pretty grumpy about having to give up carbs 🤣. I love cooking my own meals and my diet was pretty healthy by non-keto standards. Still, I relied a lot on staples like pasta, potatoes, tortillas, and bread products to create my meals.
And what happened when I couldn't have those things anymore? My lunches looked sad, y'all. We're talking nothing but cheese cubes and bacon on repeat. 😆
And don't get me wrong, I love cheese cubes and bacon! But I was strugglin' when it came to meal planning and variety. Plus, my meals weren't exactly the most nutritionally dense, you know?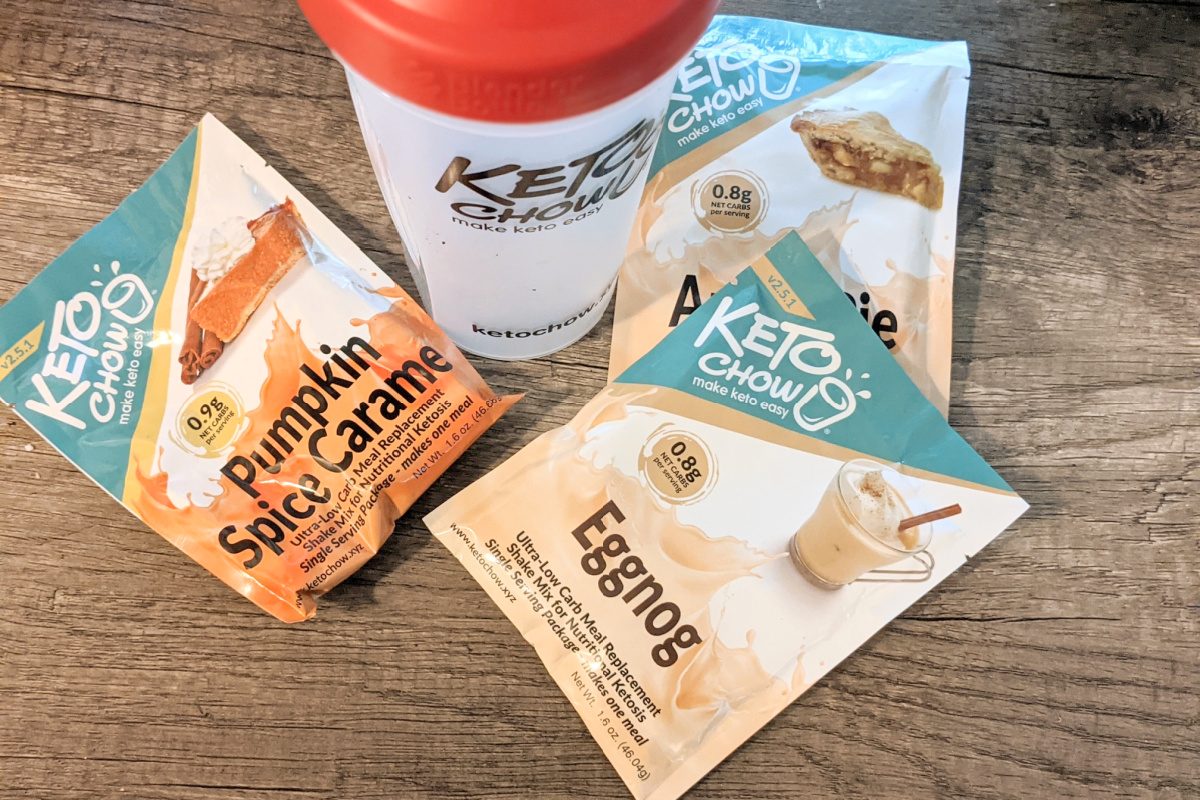 So what I loved about Keto Chow more than anything is that their shakes made meal-planning a breeze when I only had to worry about one meal per day 🙌 (I do intermittent fasting so I don't eat breakfast).
I can just pop a Keto Chow packet in the blender bottle, add a source of fat + roughly 14 ounces of warm water, chill it for a half-hour, and call it a day.
The fat sources Keto Chow recommends include heavy cream, butter, or oil, but I also used avocado for an amazingly rich shake–more on that later!
It's absolute bliss for busy people like myself, and it made non-keto options so much less tempting when I had an easy way to curb my mid-day hunger.
---
And did I mention that the meal replacement protein shakes are filling, healthy, and satisfying?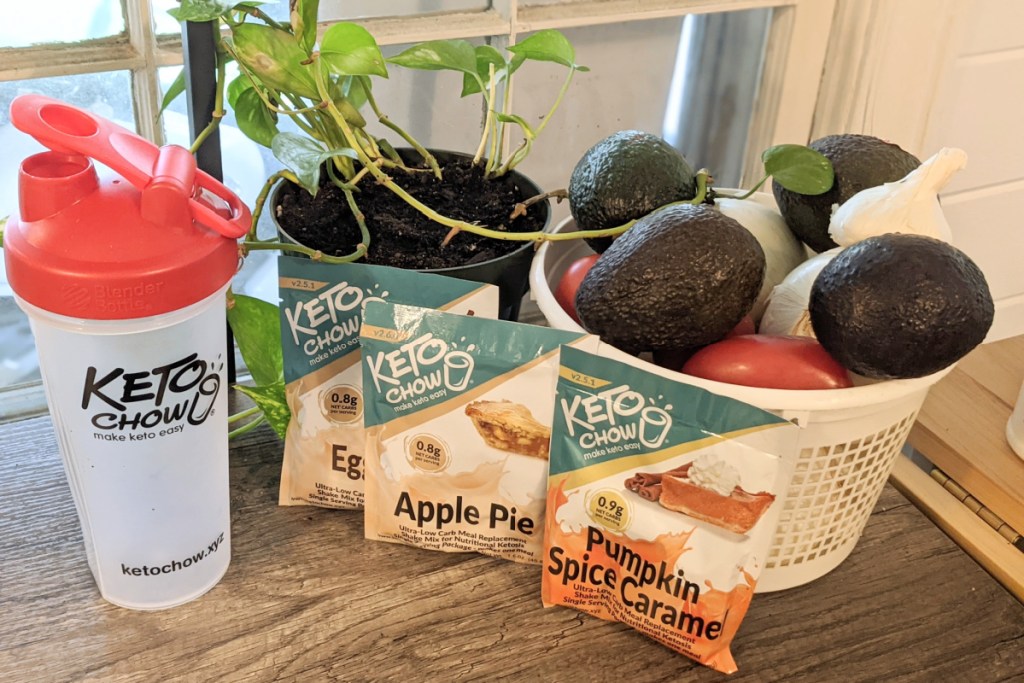 Like I mentioned, my prior cheese-and-bacon lunches were ummm…not exactly nutrient-rich. Sure, they had a lot of fat and were totally keto-compatible in that sense, but my overall fruit & veg intake went down along with my carbs. I was definitely missing out on those vitamins!
Luckily, Keto Chow shakes contain plenty of fat, vitamins, protein, and, most importantly, keto flu-fighting electrolytes!
They're also filling enough to actually replace a meal. When I have one at around 2 p.m., they keep me satisfied until dinner time & I can make it through my after-work exercises without feeling hungry or lightheaded.
Note: The nutritional information will vary based on the fat you choose, but in general, each serving has between only .5-1.5g net carbs and a whopping 25g of protein!
---
They're super tasty when you pop them in the fridge for 30 minutes, but I have some tips for making them even more crave-worthy.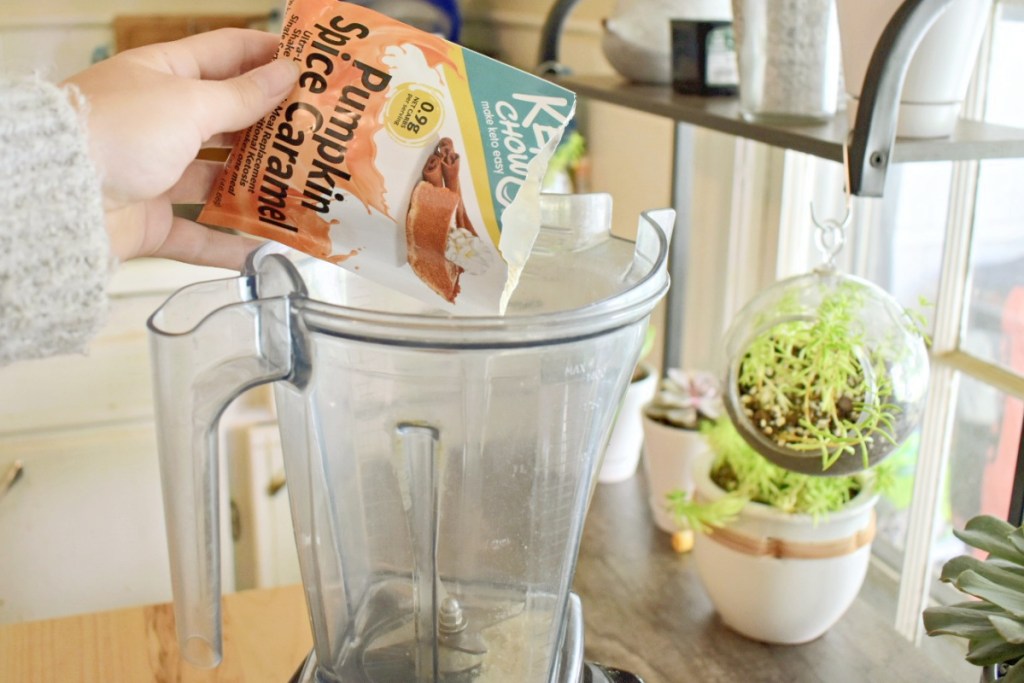 So like I mentioned before, they're totally creamy and good to go after chilling for 30 minutes. However, Keto Chow recommends letting them sit in the fridge overnight for the best flavor. I'll say that that does make a noticeable difference in taste and texture! I used heavy cream to blend most of my shakes, and I found that letting everything sit together overnight gave the flavors time to really meld.
But since I like breaking the rules (and don't always have time to wait), I made them in a different way and it was amazing! 😍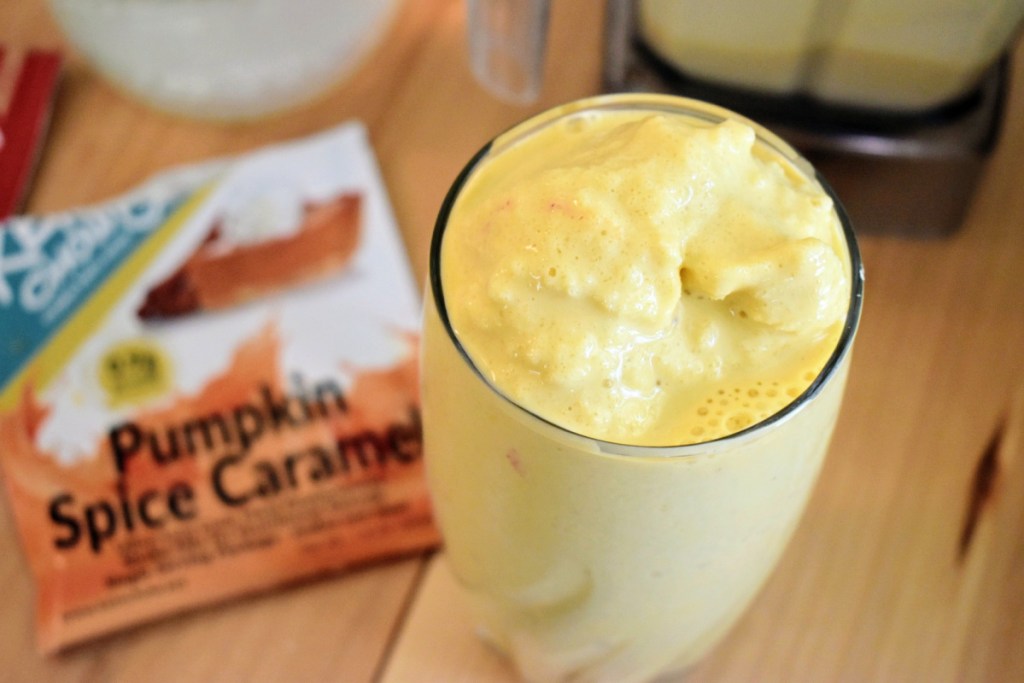 And here's where that avocado I mentioned earlier comes into play. When I was in a hurry, I blended the Keto Chow Pumpkin Spice Caramel Flavor with half an avocado, ice, and heavy cream to create a meal that tasted exactly like a creamy, frothy milkshake. I was totally hooked after that!
All the flavors were delicious when I tried them this way, but the Eggnog Flavor was especially out of this world! They were actually so good that I had to stop myself from blending them up for dessert. 🤣
---
And even though it's still like 90 degrees here in the south, that didn't stop me from digging into the Keto Chow soups!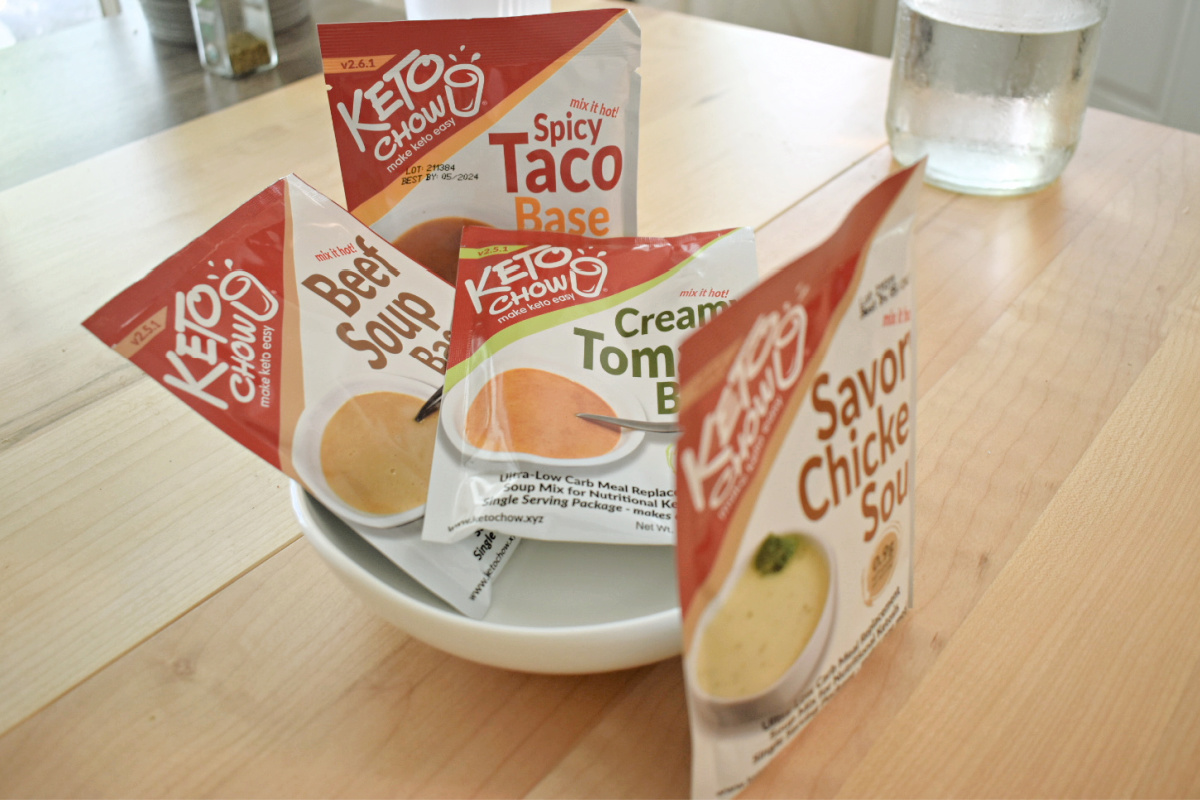 I think offering savory meal replacement options is super cool and accommodating, especially for folks who prefer salty flavors to sweet ones.
And their soups did not disappoint! Even better, they allow for a lot of customization, so you can add meats, cheeses, etc. to create a super easy dinner that's perfect for cooler nights.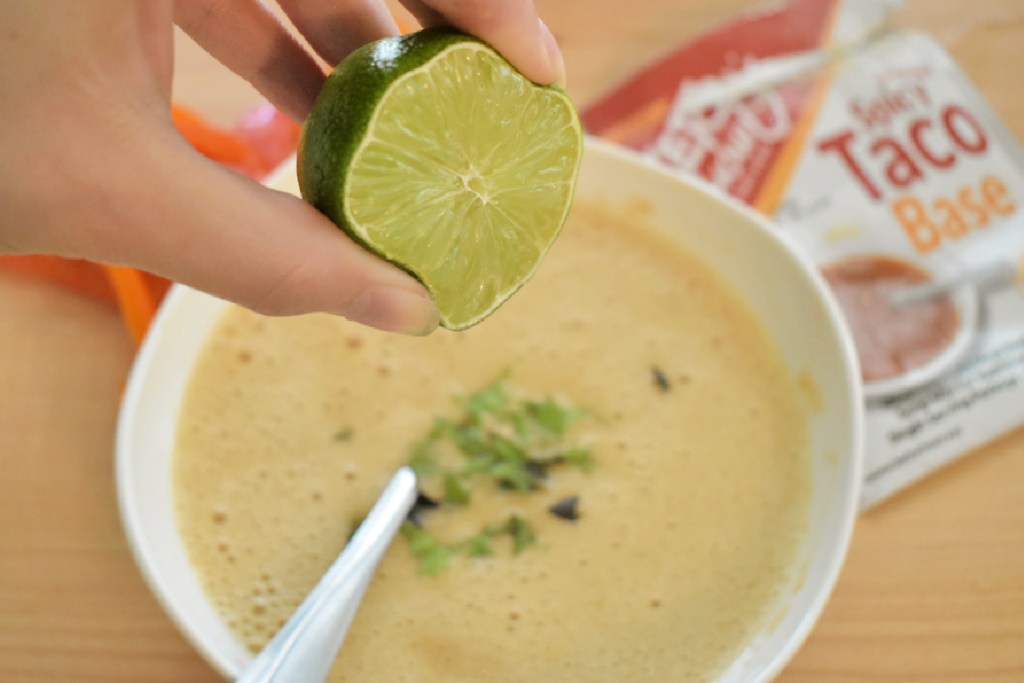 My personal fave was the Taco Soup with chicken, cilantro, cheese, and a tiny bit of lime juice added. It was so good and so simple. I also loved throwing the solo Tomato Basil, Beef, and Chicken Soups in a thermos and sipping them for lunch. 🤗
Hip Tip: These soups would be a great way to ease back into eating again after a long period of fasting!
---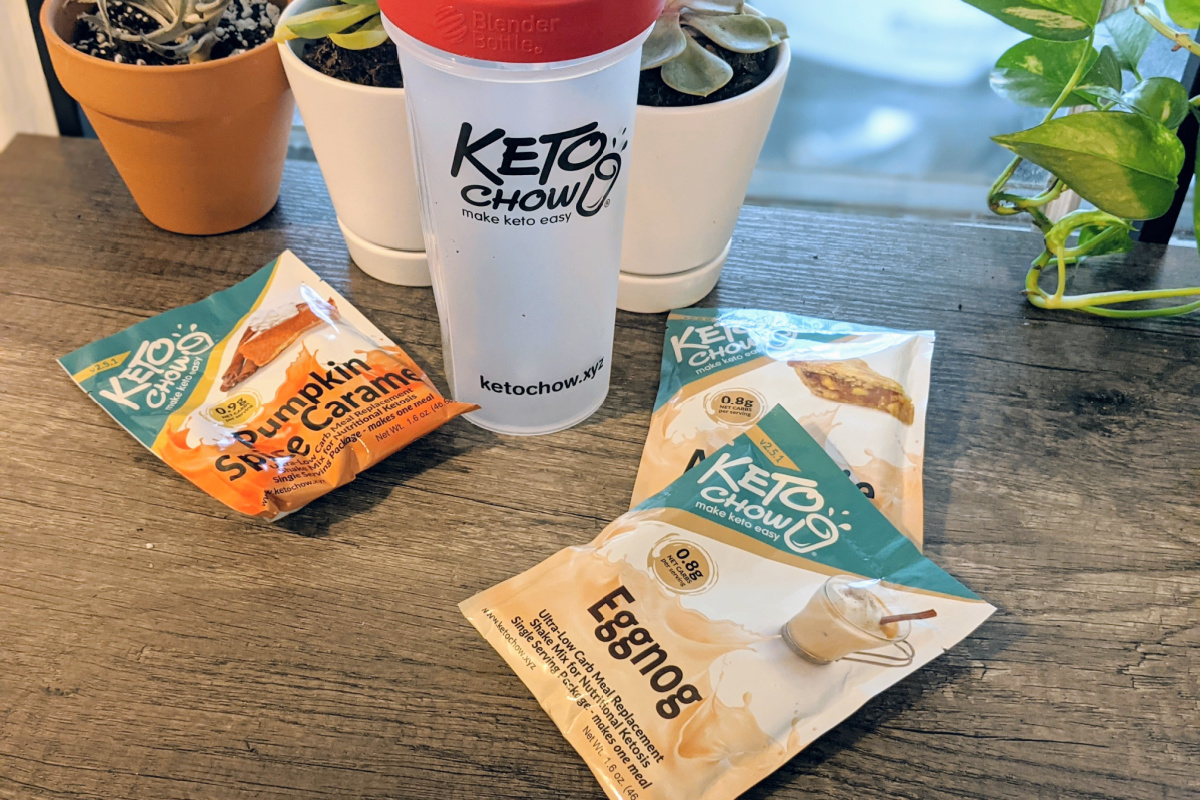 These shakes are SO delicious! There's no better time to try them out & stock up on your faves while you can score 20% off. 🙌
---
Looking for something other than shakes? These Eggwiches are the perfect easy + keto breakfast!